First time heard about dropshipping? Dropshipping is an easy way for 0-base online sellers to start their e-commerce business by cutting off nearly everything other than selling: product manufacturing, storage, and shipping, you name it.
How to make these things done, then? There should be somebody doing that for you. Don't worry, now here comes the helper — Shopify! The e-commerce platform with numerous assistance tools. With Shopify, you can easily build up your own online store, and get all the decorations done without having to learn coding. Then get another helper on product sourcing and shipping, which manages all logistics for you, like SupDropshipping. With these tools, dropshipping could not be easier for ordinary people.
Still confusing about how Shopify Dropshipping works? Here is a video for your reference.
Pros and Cons of Shopify Dropshipping
Dropshipping with Shopify sounds like a pretty sweet deal, but like in every business model, there are both benefits and risks involved. So let's analyze them to see if dropshipping will work for you.
Pros of dropshipping with Shopify
Easy to set up
If you already have an e-commerce store on the Shopify platform, you can just sync it with a dropshipping app, like SupDropshipping. If not, you can set up an online store on Shopify with templates (themes) in under ten minutes.
You don't have to be tech-savvy to do any of this.
Low initial investment
You don't have to buy the inventory upfront and cover the costs of stocking, insuring, and handling it to start making money on dropshipping.
To run your store, you can choose a Shopify pricing plan that suits the size and stage of your business.
Quick results
Shopify's platform for dropshipping enables you to automatically sync products and relevant information about your Shopify store with the Google Merchant Center via Shopify's Google channel.
People use Google Shopping with the strong intent to buy, so you can quickly see first sales coming in.
Simple store management
SupDropshipping and other Shopify dropshipping apps add extra functionality to your eCommerce store, so its management becomes a cinch. You can focus on implementing inbound marketing strategies to attract visitors.
There's zero hassle with shipping or warehousing—or cluttering your front room, in some cases.
Control over shipping costs
If you're dropshipping with SupDropshipping, you can check with customer service to make sure which shipping method is the best for saving your shipping costs.
Wide range of products to sell
A single app, like Oberlo, gives you access to a database of 30,000 products from AliExpress.
If that's not enough, you can try SupDropshipping, which could lead you to over 100,000 products all around China.
Easy scalability
Shopify platform lets you integrate Google Analytics and Facebook conversion pixel to measure traffic on your customer acquisition channels.
Best Shopify dropshipping stores focus on the channels that work best for them (e.g., a blog, paid advertising, or social media) and eliminate what doesn't.
Cons of dropshipping
Low-profit margins
Dropshipping business is a crowded one, so merchants compete with product prices which drives profits low. You're only paid a small commission for each sale, so you need to sell large volumes of items to make dropshipping profitable.
Dishonest or unreliable suppliers
Not stocking and managing inventory has downsides, too. Shopify dropshipping suppliers often provide the same goods to other merchants, so it's hard to predict their availability.
The solution is integration with a dropship automation system that updates your store when a product goes out of stock at the supplier, like in SupDropshipping.
There are also dropshipper scammers who exploit beginner vendors. So partner only with those that are screened by directory services. If you are not sure about whether your supplier is a scammer or not, try turn to a serving agent for help.
Products don't meet expectations
If drop shipped products don't reach customers in good condition, meet all their requirements, or aren't shipped in time, you're risking returns and bad reviews. And refunds.
One good idea is to ask for product samples, whether free or paid, to inspect them first.
High shipping costs
It sometimes happens that a customer orders multiple items from different suppliers or locations, which results in several different shipping rates. It increases the costs for you because the consumer assumes they are placing one order.
Customer support issues
Even though you have nothing to do with handling, shipping, and managing products in your store, you're responsible for dealing with customers' complaints about all sorts of issues you have no control over, like an incomplete order, wrong color, or damaged packaging. To avoid these problems, it is always better to work with a professional dropshipping service agency, like SupDropshipping.
Overspending on ads
Dropshipping model is hugely reliant on paid ads. Inexperienced vendors risk spending more than they make before they figure out all the cost calculations.
How to start dropshipping
Find your niche
The first step to building a dropshipping business is figuring out what you're selling and who your target customers are. In other words, you need to find your niche.
There's no shortage of advice on how to do this. Some people recommend turning to your passion and interests to figure out the right product to sell, while others say it's best to look specifically for profitable and trendy niches to ensure that you actually make money.
My advice? Do both. Choose a niche that you're genuinely interested in, but make sure that's there is demand — and profit to be made — in that market.
Here are 3 steps for you to do this:
1. Do keyword research
Start off by making a list of product keywords in your potential markets. As a cheap (free) way of doing this, try to make use of Google Keyword Planner and test out the products you're thinking of selling. This will give you an estimate of the level of interest in those products. Just type in your product keyword, and find out how much search volume can it get.

Kick things off by identifying possible markets (ideally using your own expertise and interests) then brainstorm keywords for those markets. Take the most popular keywords, and dig deeper to get more insights into their performance over time.
2. Determine product trends
Getting keyword data is great, but you also need to combine that with trend data to figure out if an item is gaining popularity or if it's on its way out. So, let's turn to Google Trends and try to figure out the search popularity of your keywords over the last several years.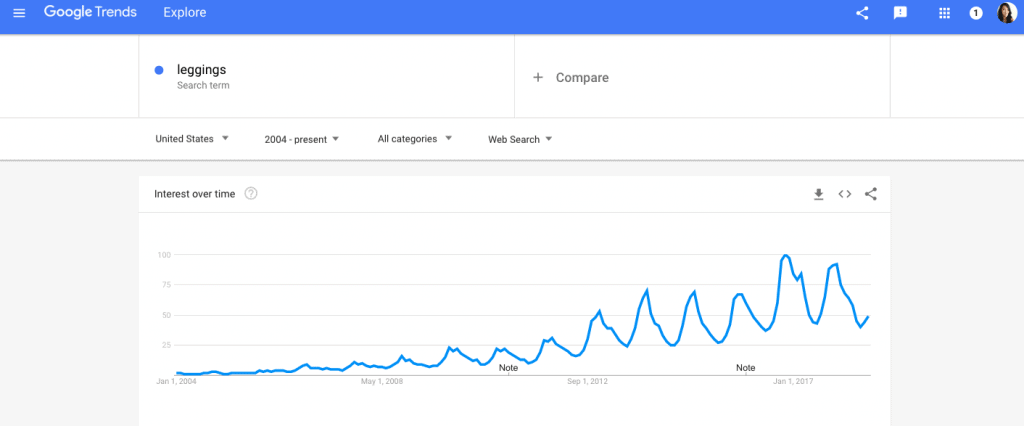 Keep this step in mind when you're looking for dropshipping ideas. Enter your keywords into Google trends to determine whether a product is trending up or down. If it's the latter, then you may want to go back to the drawing board. If it's the former, though, then you can move onto the next step, which is to determine profitability.
3. Figure out if your niche is profitable
Product popularity is certainly a good sign, but at the end of the day, you still want to make money. Before you launch your dropshipping business, run the numbers to gauge the profitability of an item.
Between the cost of doing business, shipping fees, marketing, not to mention the cut of your suppliers, running a profitable dropshipping business requires wide and healthy margins (i.e., 40% to 70% if not higher).
This means you want to look for low-cost products that you can sell at a premium.
Try to follow a similar process when you're validating your idea and determining profitability. Do your research on the costs and retail prices of your products. From there, calculate your profits using a tool like Shopify's Gross Profit Margin Calculator.
7 Steps to start a Shopify Dropshipping Business
Thanks to Shopify, dropshipping business can be started quite easily. With 7 steps, you could set up your own Shopify store. Below are the step-by-step guides:
1. Register for a Shopify Account
Registration of an account on Shopify is free. All you need is an email address to confirm your account with and you can sign on with them. No credit card or other payment method form is needed. Shopify offers all new users a 14-day trial on their system.
When doing your registration you will also need to provide a name along with your email address. This name will be used to generate your store URL during the free trial phase.
Once that's done, Shopify will need your name and other details for the handling of payments. It's a short form to fill so don't worry too much about that.
2: Install Dropshipping Apps
Once you've completed the registration process, you'll be brought to your store dashboard. From here you can start adding products to your site. This is where one of the highlights of Shopify for dropshipping comes in: Shopify Apps.
For new dropshippers, Shopify can be a one-stop resource. The first thing you'll need to do is head over to Shopify Apps. First, click on Apps and then select 'Visit the Shopify App Store'.
3. Search for Products You Want
Using dropshipping apps is as simple as if you were shopping on an e-commerce site yourself. First, choose the category that you wish to browse. Next, hover over the item you are interested in and click on 'Add to import list'.
4. Import Selected Products to Your Website
When you're satisfied that things are as you want, select the check box on the top left side of the product box and then click on 'Import to Store'. Repeat this for all the products you selected earlier.
5. Setting Up Your Shopify Store
Now that you've prepared all the products you want to sell, it's time to set up your store. Think of your Shopify store as the face of your retail outlet. It's how your visitors browse through the products you sell and select the items they wish to purchase.
To maximize your sales, your store needs to combine attractiveness with useability and speed. Don't worry though, Shopify has pre-designed templates that you can use. If you like you can use them 'as is'. If you prefer something more personal, you can customize the theme you choose.
Explore more unique features about Shopify.
6. Customizing Your Shopify Dropshipping Store
Shopify theme customizations are dependent on what theme you choose. The segments available by default can be enabled or disabled, or you can even add new segments that you want. To customize these sections it's just a matter of specifying parameters like what collection of products you wish to add to each section.
On the left navigation bar is a list of all the segments that are enabled in the theme by default. Clicking on any of those sections allows you to specify details such as what collection of products to show there, or even how many rows or columns to display.
If you want to disable any of those pre-set segments, just click on the eye icon and it will be hidden on your site. Right at the bottom of the left navigation bar is an option you can click on to add a new segment. Clicking on that will open an extensive menu of items you can choose from.
When you're done, remember to click on the 'Save' icon, even if you don't want to publish your store just yet.
Click here to see more Shopify themes.
7. Setting up Payments
Now that your products are selected and your store is set up, you need a means through which you can collect payments from your customers. Shopify works with a large number of payment processors so you have a wide range of choices.
To set up payments, click on the 'Settings' button on the bottom left corner of your dashboard. Next, select 'Payment Providers'. By default, PayPal is the enabled method, so you can either customize your account details there or choose other payment processors by region.
Some payment processors such as MOLpay will require that you have an existing account with them in order to use them on your Shopify site. Even PayPal will require that you have a merchant account, but they will email you details of that later on.
Shopify Plans & Pricing: How Much Does This Cost?
Shopify itself comes at varying prices depending on the needs of your store. Realistically, many smaller dropshippers can likely get away with their Basic Shopify plan which costs $29 per month. If your store grows and you find yourself in need of more features, then it might be time to move upwards.
You could find out more about Shopify pricing here.

Bottomline: Is Shopify Worth it for Dropshipping?
In a word: YES. Shopify brings so much value to dropshippers that there really isn't anything to wince about in their pricing structure. Remember, for the price you're paying, you are getting everything you need to run an e-commerce business.
In addition to that, Shopify has simplified so many things that virtually anyone can use their system. As long as you have some idea about the products you want to sell and are willing to spend some time on research, it's hard not to succeed on this excellent platform.