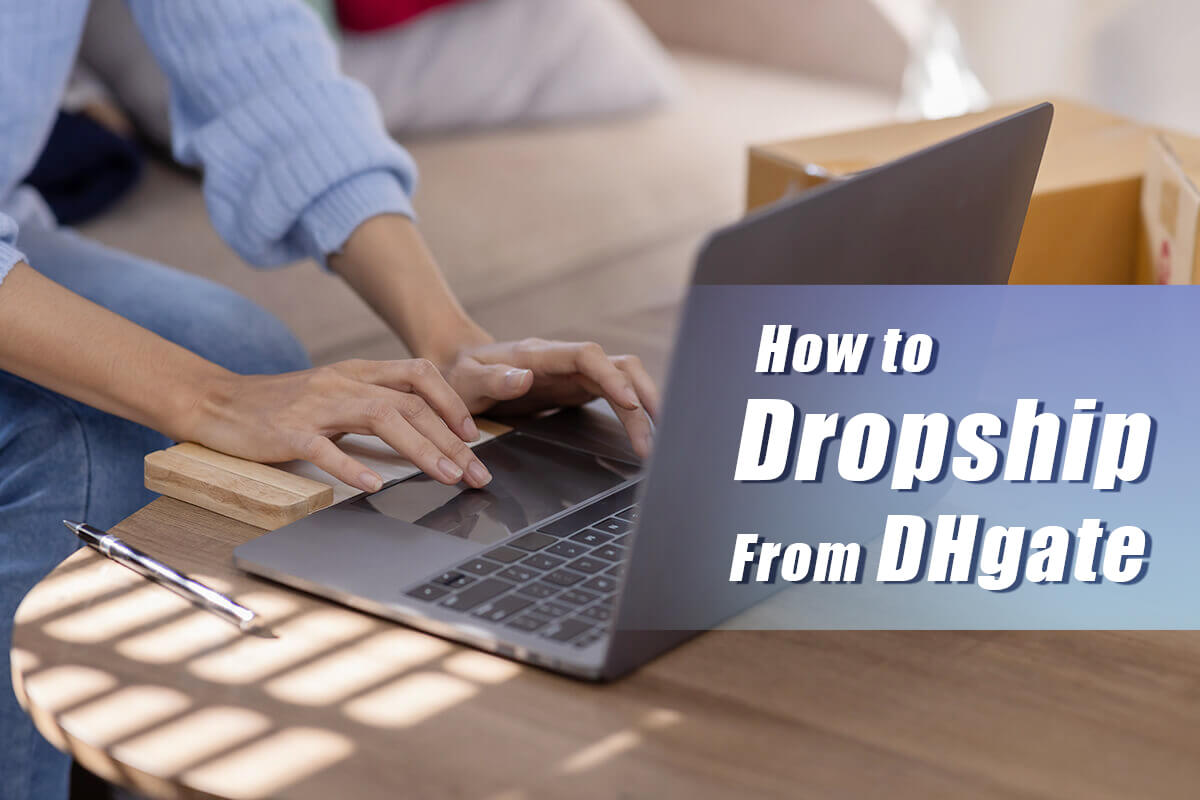 The story of the Silk Road is still popular among people. Have you ever heard of it? What about the stop Dunhuang along the Silk Road?
Well, we don't intend to tell you the story of Dunhuang here. Instead, we will introduce you DHgate, which aims to continue the role of Dunhuang. That is where the name "DHgate" comes from.
DHgate is one of the leading B2B wholesale markets in China. It connects China suppliers with global buyers. With various and affordable products, it becomes a choice of many dropshippers.
If you are curious about how to do DHgate dropshipping, keep reading!
We will give you a guide to dropship from DHgate step by step.
But first, let us cover some basics about DHgate.
What is DHgate?

DHgate is an online wholesale marketplace based in Beijing, China. It has gained a rising reputation since its launch in 2004.
DHgate serves as a gateway for Chinese suppliers to reach a vast customer base and for buyers worldwide to access a wide range of products.
This platform offers an extensive selection of goods, including electronics, home decor, garden supplies, fashion products, and more. These products are available at competitive prices and with low or no MOQ.
Beyond that, DHgate ships across the globe by leveraging its strong logistics network.
Is DHgate safe to buy from?
Yes, it is safe to use.
DHgate has a buyer protection policy in place to ensure your peace of mind when shopping.
Within the buyer protection period, you can get a full refund if your customer doesn't receive the product. Or you can get full or partial refund if the items are not as described.
When a dispute occurs and the seller fails to offer you a satisfying solution, DHgate can step in to fix the problem.
In addition, DHgate holds your payment on the whole buying process. Your payment won't be released to the seller until you confirm the delivery.
Pros and cons of DHgate dropshipping
Nearly nothing is perfect. So is DHgate.
Here are the pros and cons to dropship from DHgate.
Pros
A wide range of products DHgate has a vast base of products, which covers various categories from beauty products to electronics. Whether you want to find products in your niche or develop a new product line, DHgate can meet your demands.
Buyer protection As we mentioned earlier, DHgate takes multiple measures to ensure you a safe shopping experience. Your information and payment are secure with this platform.
Local warehouses DHgate provides warehousing services. If your target market is the US, their local warehouse is helpful to shorten the delivery time and improve your customer satisfaction.
Multiple payment methods Multiple payment methods are accepted on DHgate. You can choose the one that best suits your need.
Multiple shipping solutions DHgate has built a relationship with major logistics companies like DHL, ePacket, FedEx, and UPS. Their suppliers can tailor a shipping solution for you.
Discounts on plenty of products Discounts on a wide selection of products are available to you in this marketplace. The chance to increase your profit margins hence improves.
Cons
Unreliable sellers Like on any other marketplace, there are unreliable sellers on DHgate. They charge you more than they should and take no responsibility for post-sale problems. This will harm your business.
Long delivery time Though DHgate takes different shipping methods, many sellers tend to ship your orders with ePacket. It is cheap but slow. More than 15 days are needed for delivery.
MOQ A quite number of products have MOQ requirements. That means you can't buy an item at once, which is not friendly to dropshippers.
How to dropship from DHgate
Indeed, there are some drawbacks to DHgate drop-shipping. But with some smart tips, they can be avoided. We will discuss that later.
And now, let's focus on how to dropship from DHgate.
Here are the steps for your reference.
1. Register a DHgate account
To dropship from DHgate, you need to register an account first.
1) Go to the DHgate homepage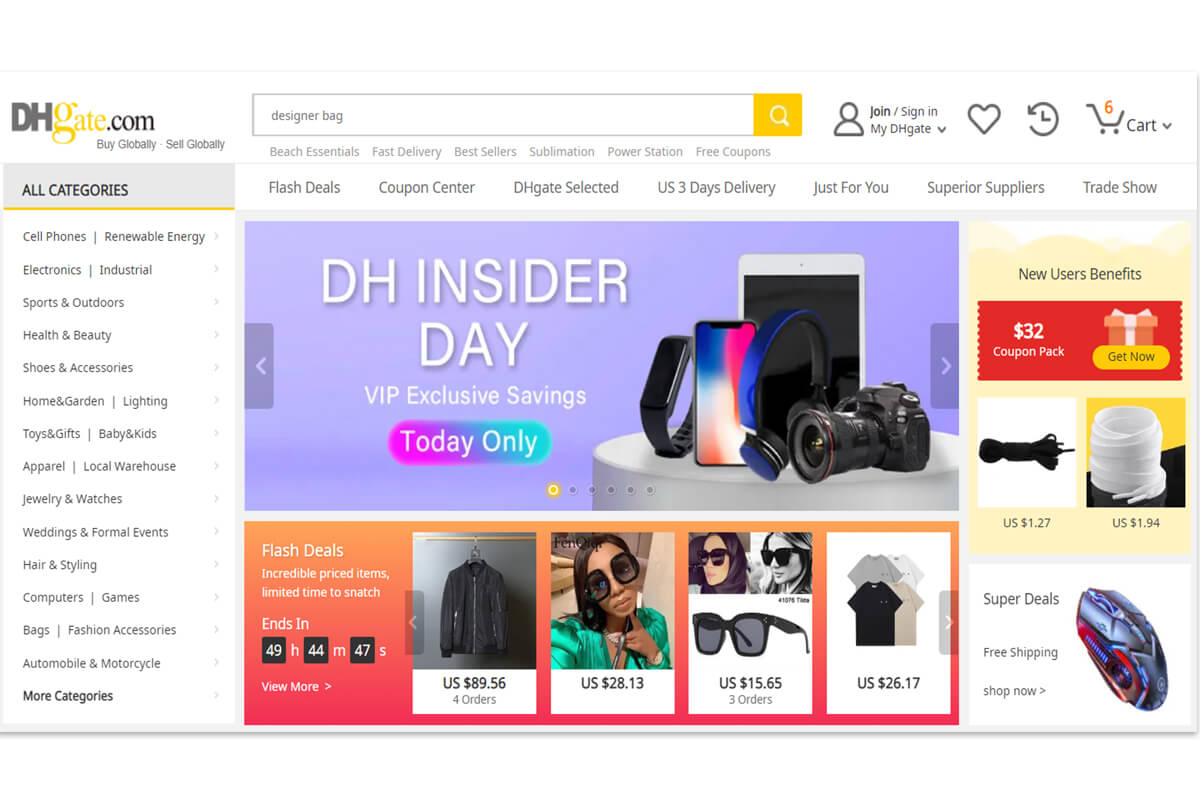 2) Click the button "Join free"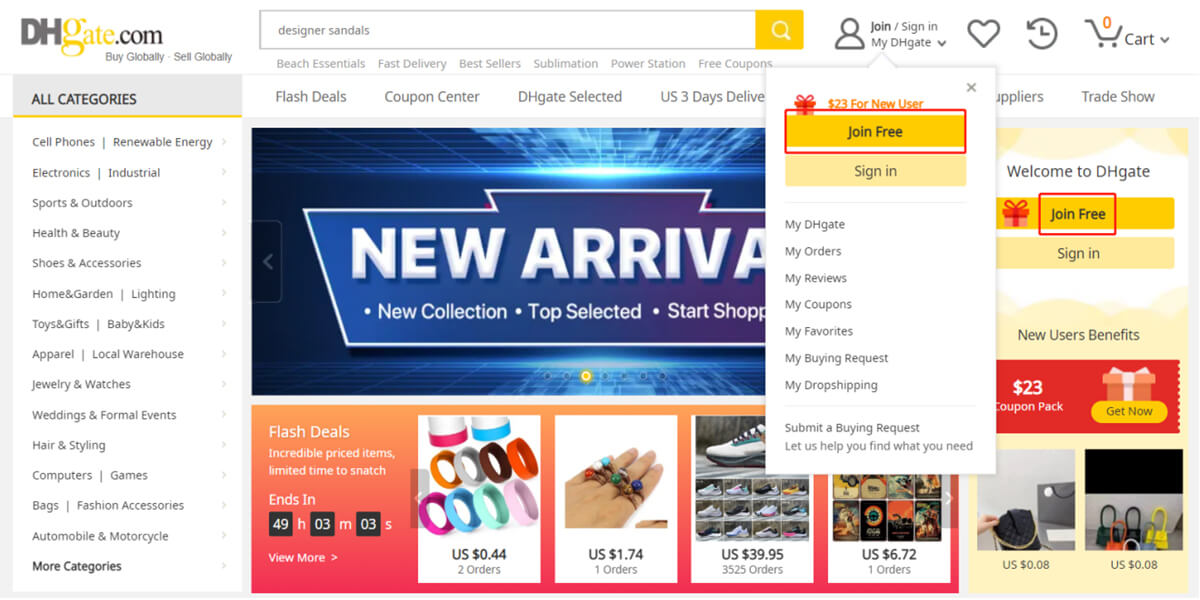 3) Enter your information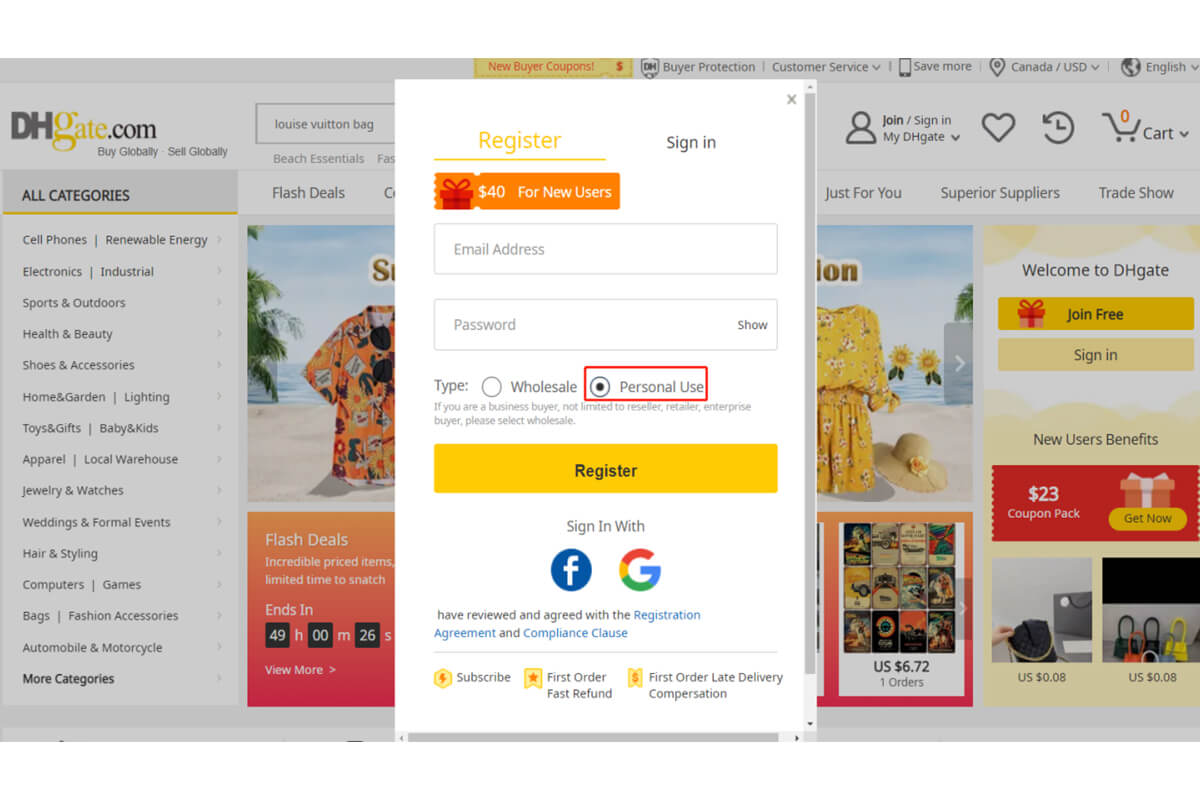 Type in your Email address and password, Choose "Personal Use" and Click "Register"
The password should include 6 to 30 characters (A-Z, a-z, 0-9 only)
4) Slide for security verification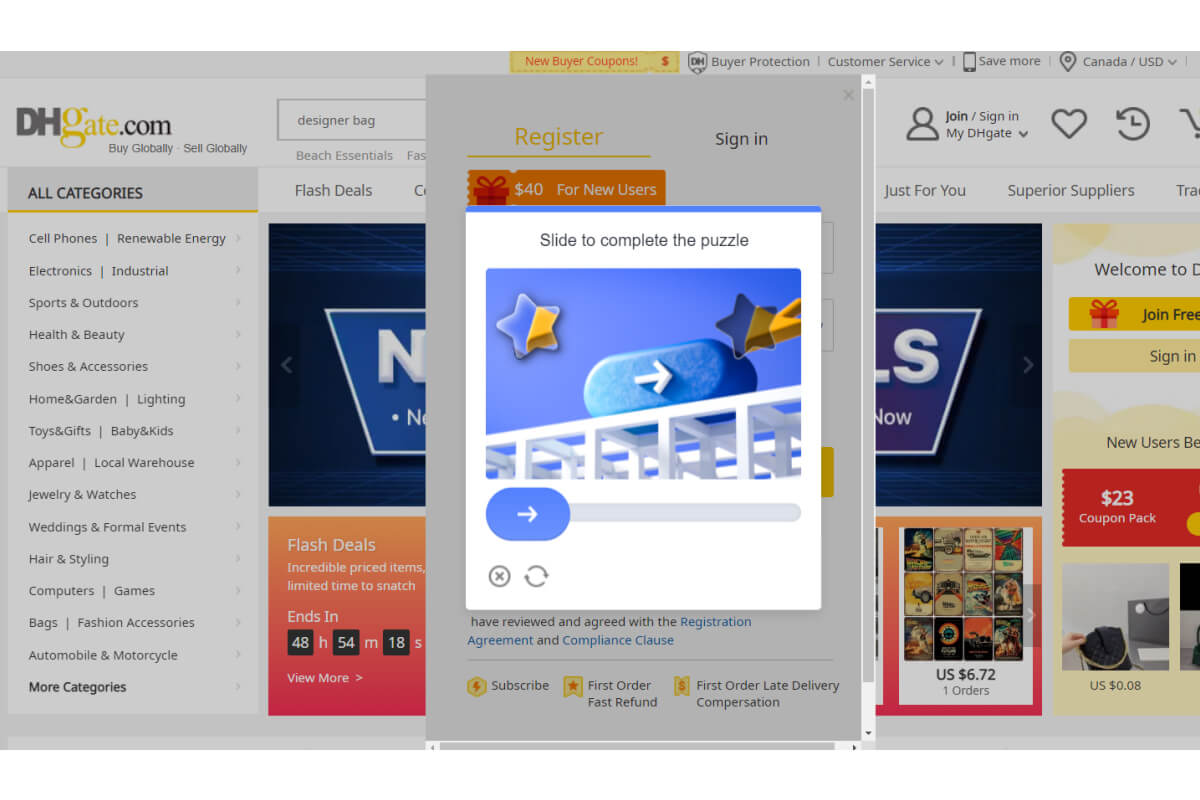 5) Verify your email for the account security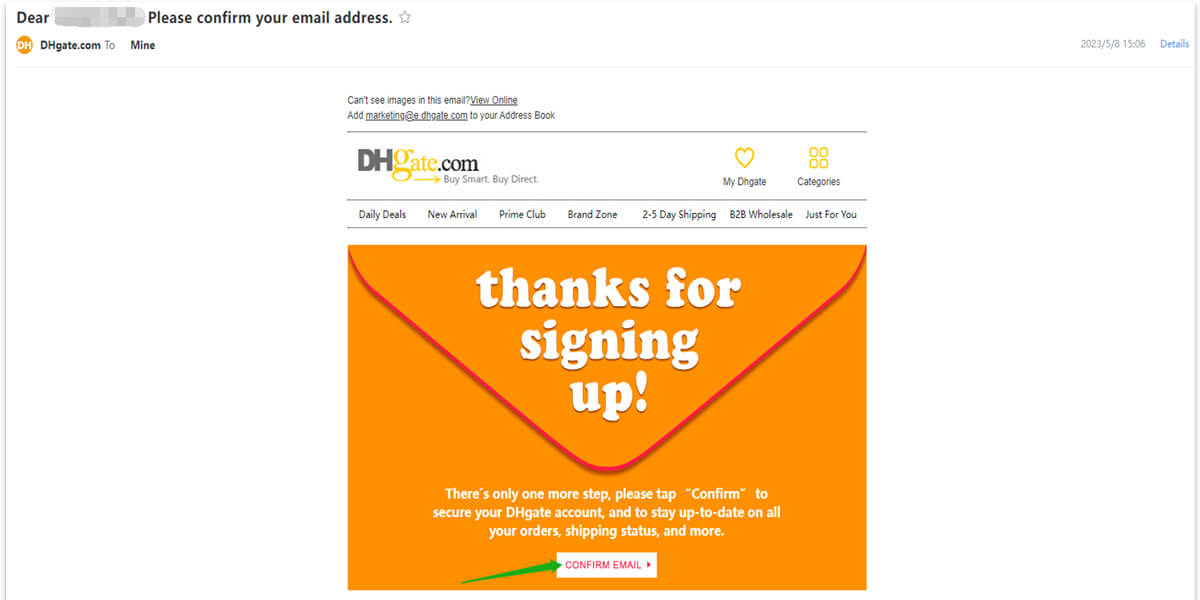 After finishing these 5 steps, you have a DHgate account now.
2. Source products for your store
With a DHgate account, you can find products for your store now.
Then the problem comes, what products should you import to your store? Will they be best-sellers?
According to our professional sourcing team, here are the products you may consider importing to your store.
Solve customers' problems or cater to their interest
Such products can be in high demand and stand through the test of time. So find out what your customers' pain points are and source products that address their concerns.
Not common to see in retail stores
Winning products must be those that are not often seen in a retail store. If you sell a common mug, why do customers bother to buy it from you instead of a local grocery store?
High-profit margins
Profit is king in a business. Legal products that leave you a high-profit margin are definitely worth selling.
Unique in appearance or function
Goods that are unique in appearance or function are easy to stand out from the competition. So they are more likely to be hot-selling.
With no risk of infringement
If you have sold online for a time, you probably know of a best-seller that is banned due to infringement. For sustainable development, your products should not infringe the copyright, trademark, or patents of other brands.
Not prohibited on leading ad platforms
To maximize the visibility of your products, you might need to advertise them on ad platforms like Facebook and Google Ads. Therefore, avoid sourcing items that are prohibited on these platforms.
Since you have known what products you can import, you may start sourcing from your niche now.
Giving you sell ice cream spoons, you can click Home & Garden>Kitchen, Dining & Bar>Kitchen Tools>Ice Cream Tools. And then scroll the search pages to find related and potential products. Or you can directly search for winning niche products by typing keywords in the search box.
3. Contact the supplier
After you find the item you want to import, it is time to contact the supplier.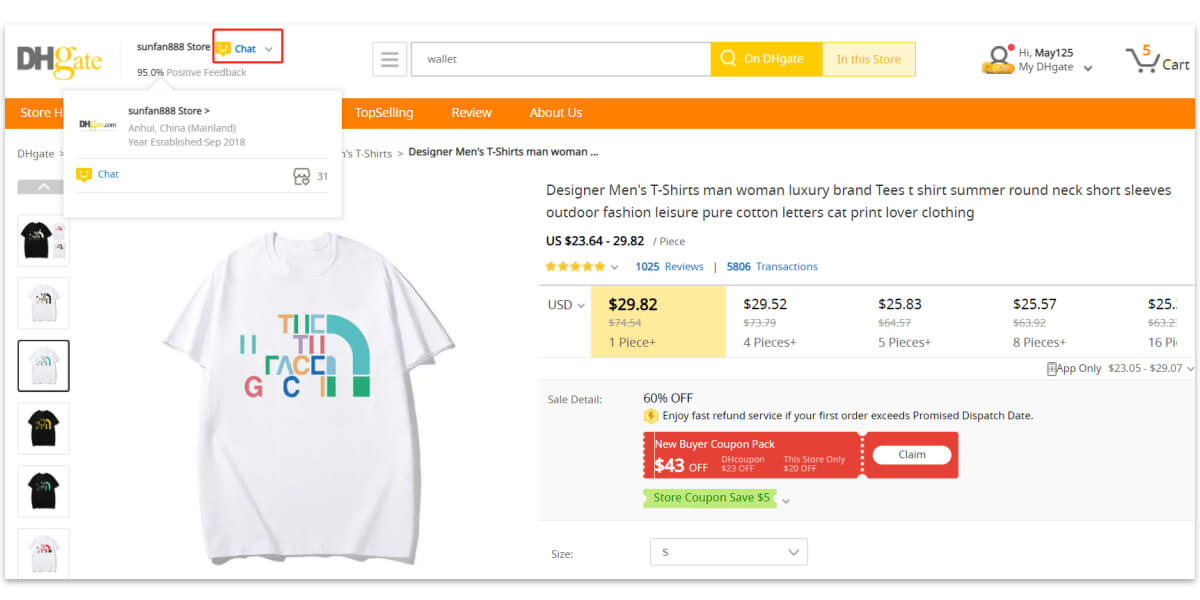 In this process, you can ask the supplier some questions to make an informed decision and get a clue about their service.
The following questions, for example,
What is the MOQ? Is it negotiable?
Do you offer a sample? How much does it cost?
How long does it take to process and ship my order?
How much does the shipment cost? How do you calculate it?
Are there any discounts available if I order from you?
Do you own the patent right or copyright for this product?
What is your return policy, and how do you handle defective or damaged products?
Can I use your product description, images, or videos in my store?
4. Import and list your products
After you make up your mind to buy a product and make the payment, you can list it in your store.
Just upload the product and edit its details including the title, features, description, images, and videos. You may make use of the source from the supplier if you two reach an agreement.
5. Market your products
The final step is to market your products.
Marketing is important to increase the visibility of your products among your target audience.
There are various methods to promote your goods, such as social media, emails, SEO blogs, and paid advertisements. Paid ads, in particular, can quickly deliver your products in front of potential customers. SEO provides a cost-effective approach for long-term marketing success. Meanwhile, emails and social media are valuable tools for maintaining communication and engagement with your audience.
To start marketing, you need to define your target audience and find which channels they hang out often. And then create tailored content and campaigns on these channels.
6. Forward your order to the supplier
When you receive an order from your customer, you purchase from the supplier accordingly and fill in your customer's address. Your supplier will prepare and ship the order to the customer directly.
Tips for DHgate dropshipping
Dropshipping from DHgate is not a straightforward process as you can see. You have to avoid untrustworthy sellers and fake products. Sometimes you may get bad reviews from consumers because of the long delivery. And you can even face a loss due to a surplus of inventory.
To minimize the negative effect of DHgate Dropshipping, you can try these tips.
1. Check the supplier's reliability before the purchase
Before you buy from a DHgate seller, check the seller ratings, the company file, and product reviews carefully.
On DHgate, if the on-time delivery rate, response time, and repurchase rate of a seller are above average and the dispute rate is below average, then you can choose to work with the seller.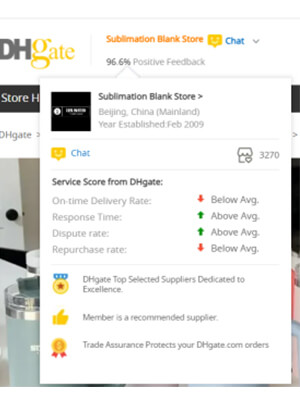 On the company overview page, you can see when the company was established, where it is based, and what the main products are. These data gives you a hint about the expertise of the supplier.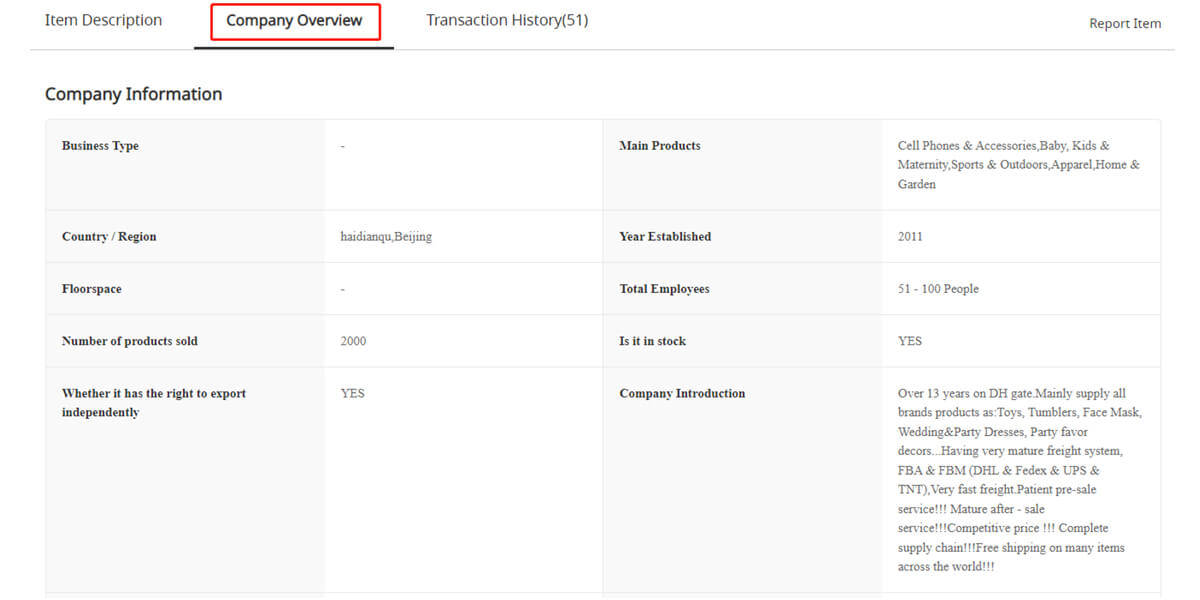 From the product reviews, you not only get a clue about what the product is like but also if the seller's service is good.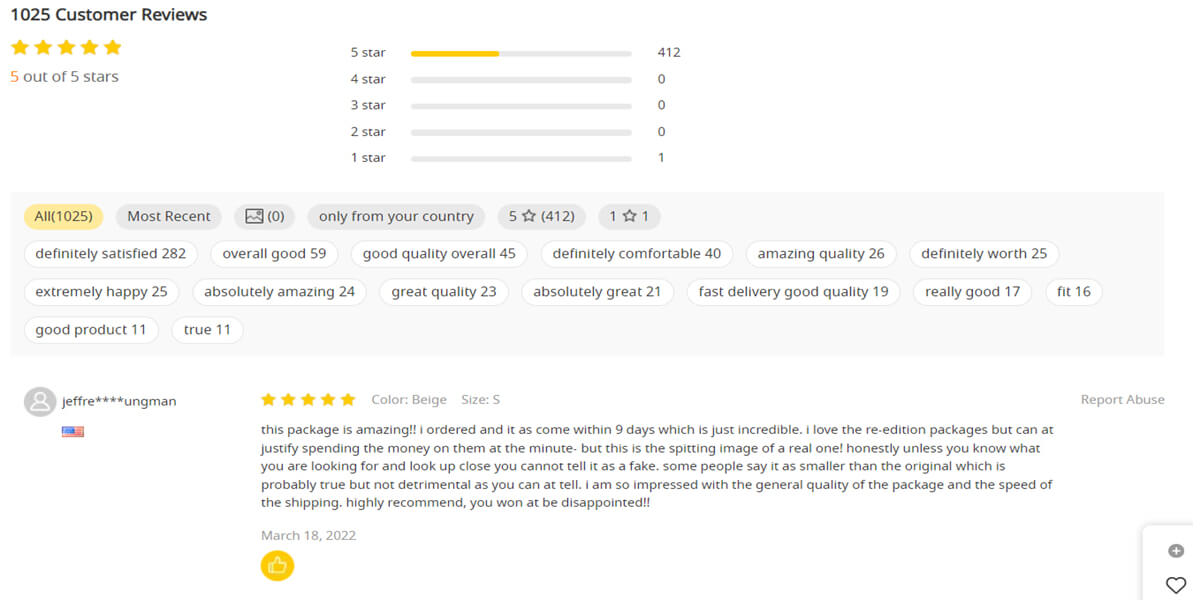 2. Avoid buying counterfeits and branded products
It is tempting to sell counterfeits and branded products because of their high profits. But these products are illegal and infringe other brands, and may cause losses and harm your business reputation. Remember to avoid importing these products.
3. Use Sup Dropshipping to source DHgate products
Sup Dropshipping can help you source DHgate products easily.
Our Chrome extension allows you to source any product with a few clicks.
Supposing you plan to source the T-shirt in this picture. Click "Post Purchasing Request" and our sales agent will find the same product from Sup for you.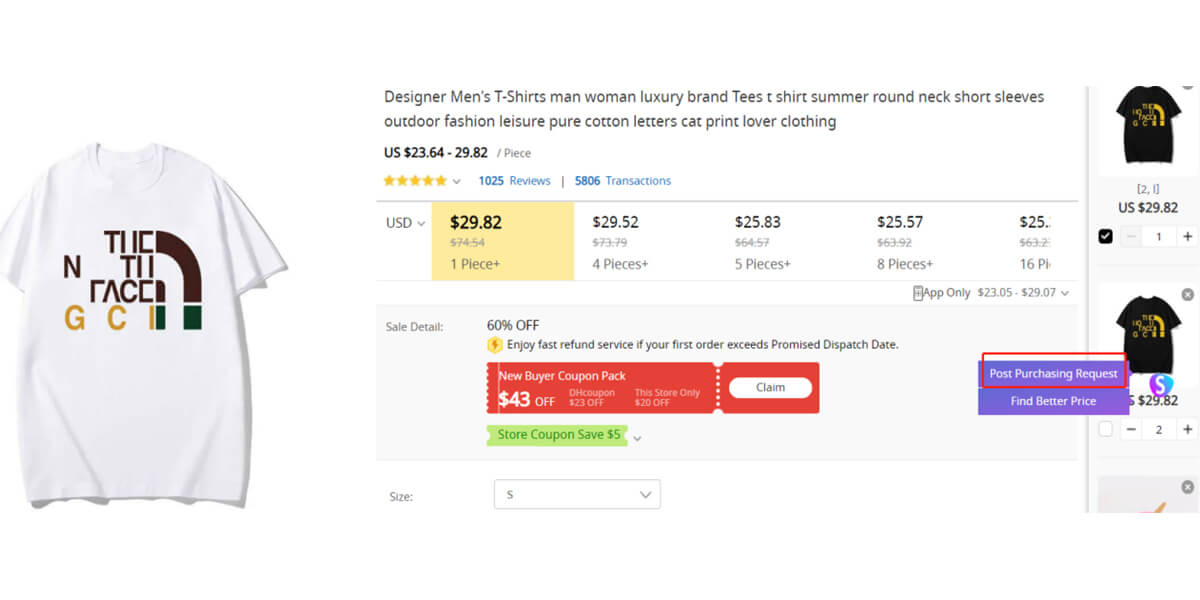 Or you can source by yourself by clicking on "Find Better Price". Then our system will recommend similar but cheaper products.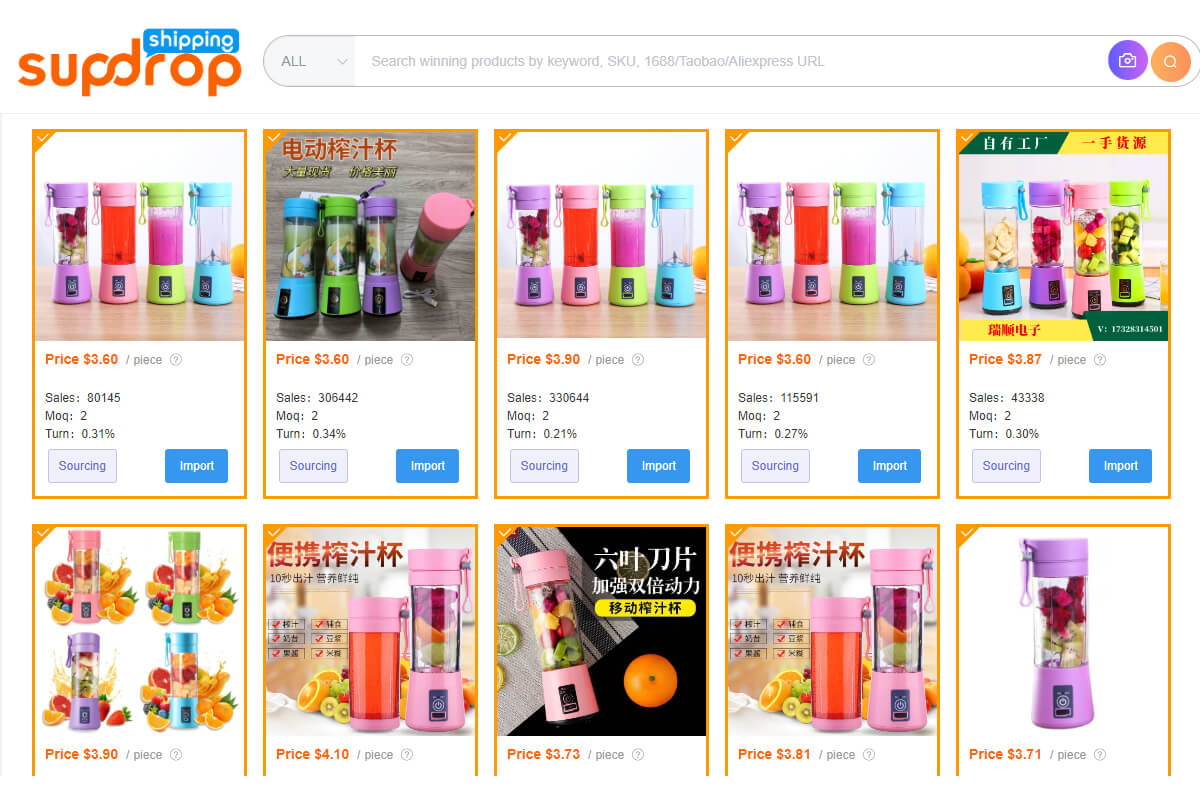 Having close connections with many manufacturers and suppliers, we can offer you quality but lower-priced products. And these products are no MOQ limit. You don't need to worry about overstock problems.
Meanwhile, we have built a relationship with different logistics companies. Some of them like 4PX are less popular than DHL or UPS but still reliable and charge an affordable price. We can tailor a cost-effective and fast shipping solution according to your needs.
On top of that, we provide you with flexible customization options, which I believe far more than DHgate can do for you. For example, you can print your products on demand with Sup Drop Custom. This design tool is free and simple to use. Tens of free design patterns are available to you. After your design, you are allowed to preview the product and check if it is to your expectation.
FAQs about DHgate dropshipping
1. Can I dropship from DHgate?
Yes, you can dropship from DHgate. DHgate is an online marketplace that connects worldwide buyers with Chinese suppliers. And many suppliers offer dropshipping services.
2. Is DHgate good for dropshipping?
Yes. DHgate is a good platform for dropshipping.
DHgate offers a wide range of products, which makes it easy to find winning products in your niche. In addition, massive products are at a wholesale price. This is beneficial to improve your profit margins.
However, you still need to consider the cons of using DHgate like MOQ and long delivery before your decision.
3. How to dropship from DHgate to Shopify?
To dropship products from DHgate to your Shopify store, you may follow these steps:
Step 1. Set up your Shopify store
Step 2. Connect your Shopify store with Sup Dropshipping
Step 3. Find your niche products on DHgate
Step 4. Import products to Sup Dropshipping
Step 5. List the products in your store
Step 6. Market your products
That is all you need to do. The Sup team will handle the rest for you. When a customer places an order from you, the order will be automatically synced to our system. And we will prepare and ship the order directly.
4. What payment methods does DHgate take?
DHgate accepts multiple payment methods, such as credit or debit cards, bank transfers, and e-wallets. Local payment options are also available. For example, if you are from Brazil, you can pay with Boleto.
Click here for detailed information about DHgate payment.
5. How long does DHgate shipping take?
The shipping time can vary depending on the shipping method and the destination. Usually, it takes 7 to 45 days for delivery. Learn about 4 Keys to Understand DHgate Shipping Time in 2023. 
6. Is AliExpress and DHgate the same?
No, AliExpress and DHgate are not the same even though they share some similarities. AliExpress belongs to the Alibaba Group and has a larger user base. It owns a vast array of suppliers and products. DHgate, on the other hand, operates independently and may have a smaller user base. Meantime, AliExpress can have a more robust logistics system than DHgate.
Conclusion
DHgate dropshipping is beneficial to your business. Especially the variety of products at a wholesale price can improve your chance to make profits. If you plan to start dropshipping from DHgate, remember to read our guide through.
If there are any questions, please leave a comment or contact us for an online chat.