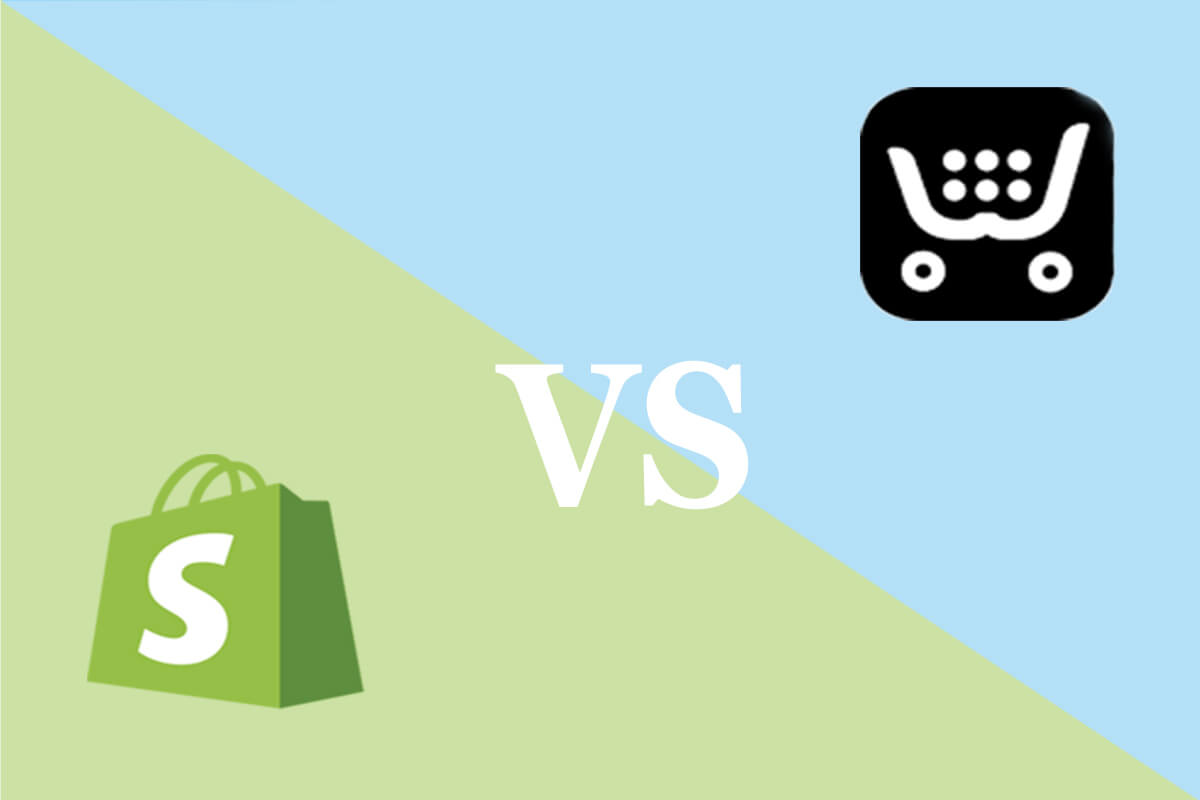 Shopify is the oldest eCommerce site builder that was created in 2006, while Ecwid was launched 3 years later. According to BuiltWith, Shopify has powered over 4 million websites, whereas the number goes down to 0.9 million for Ecwid. Which platform is better?
In fact, Shopify and Ecwid offer similar functions for eCommerce site-building. There is not much difference to use one of them to start your eCommerce business. In the long run, however, your initial decision could be a big deal. Therefore, in order not to regret your choice, it's important to take your time to research these two platforms as in detail as possible. In this article, we will list out the basic and advanced features of Ecwid and Shopify to help you choose the right eCommerce shop builder.
Ecwid vs Shopify: Basic features
Pricing plans
As you could see in the following screenshots, Ecwid offers four pricing plans including one for free forever, whereas Shopify provides three. They both provide progressive pricing options for new, growing, and advanced eCommerce businesses. The difference might not be so obvious for middle-scale businesses. But for starters, Ecwid offers a free plan and for advanced eCommerce runners, Shopify provides a Shopify Plus option so that customers could require additional services.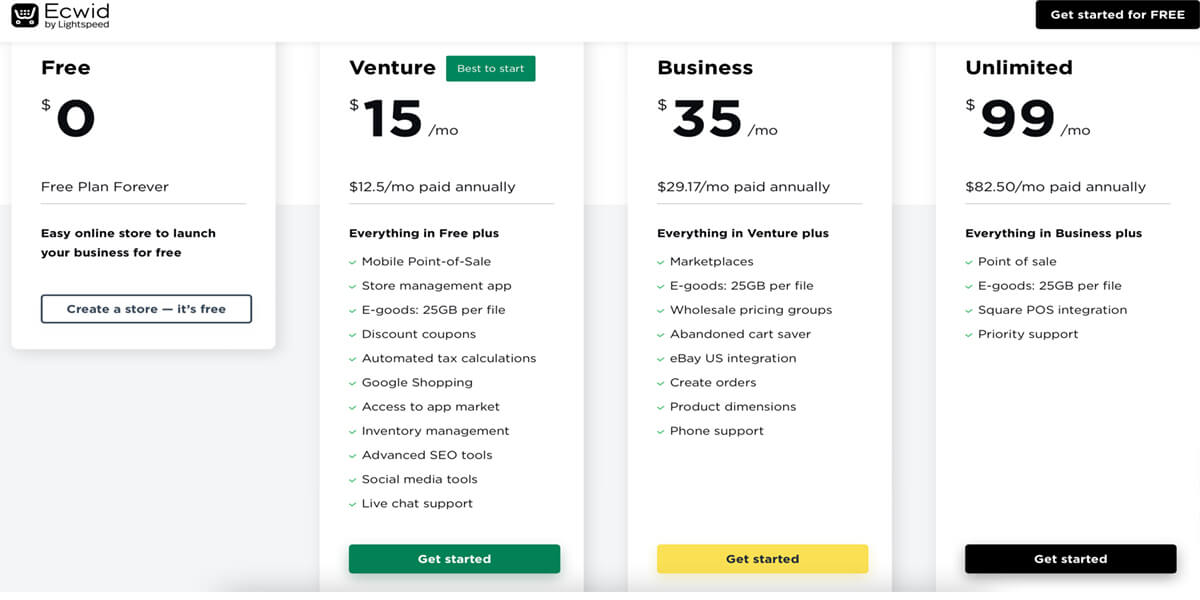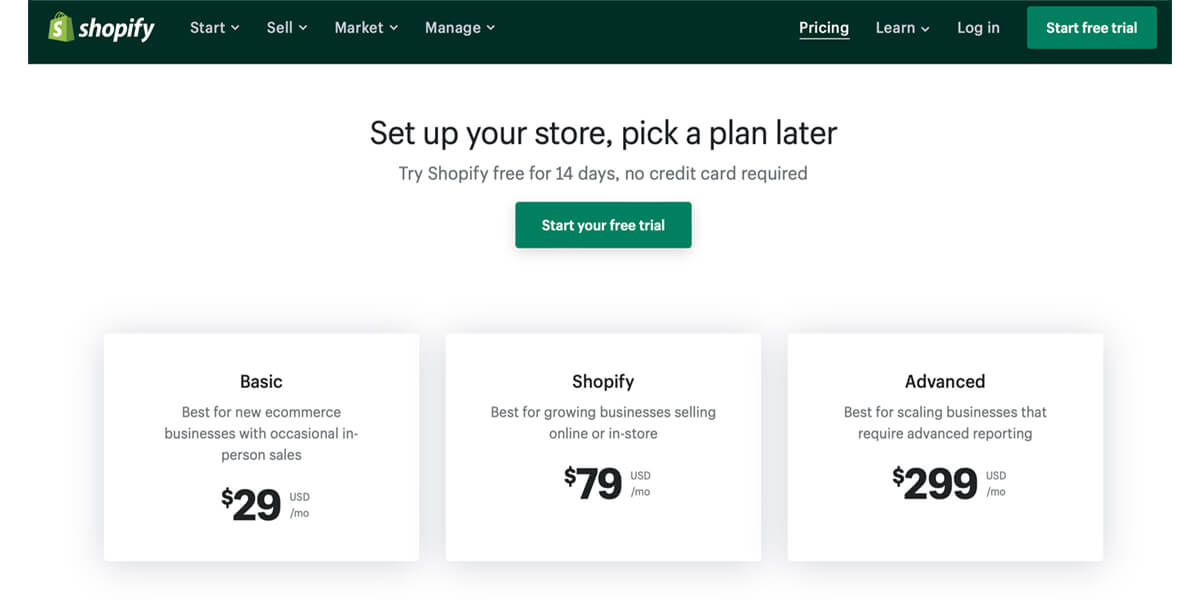 Product setting options
The product setting options on Ecwid and Shopify and summarized below.
Ecwid
Shopify
Product number limit
10 for free plan users
100 for Venture plan users
2500 for Business plan users
Unlimited number for Unlimited plan users
Unlimited number for all paid users
Product option limit
Unlimited
3 product options per product
Product category setting
Manual
Manual or automated
To sum up, if you are selling numerous products, Shopify might work better because the number of products you could sell is not limited and it could automatically assign products into categories. Even if the number of product options is limited to 3, you could remove this limit by combining two options into one or adding more options by code.
Payment gateways
Both Shopify and Ecwid offer a bunch of payment methods but with Shopify, you will have more options. Shopify also has its own built-in payment gateway that you could use directly. For Ecwid, however, you will have to configure your third-party payment gateway. Compared with Ecwid, if you use a third-party payment gateway, you will have to pay some transaction fee. But this will only happen when the Shopify payment gateway is not available in certain countries.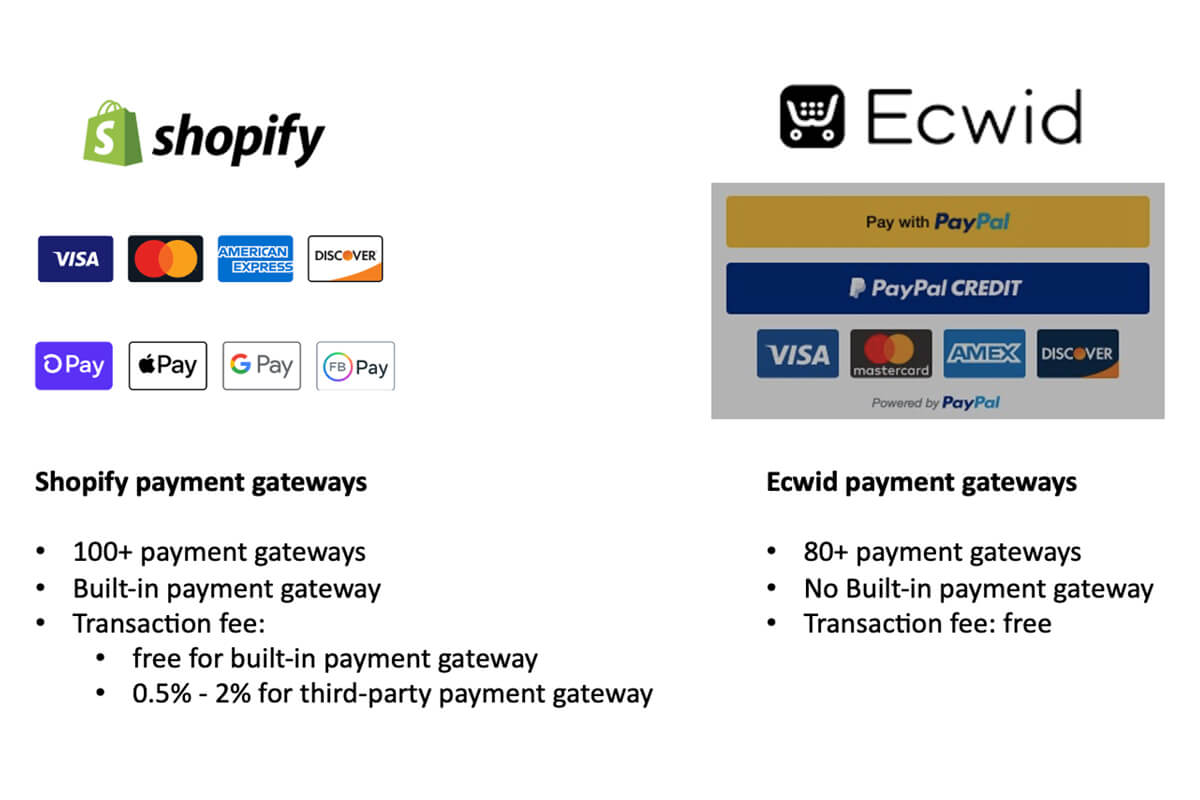 Ecwid vs Shopify: Advanced features
Site design
Site building is the main function of Shopify and Ecwid. Although both tools enable you to design your online store and integrate other applications, the origins are different. Shopify was initially invented to help eCommerce sellers create their own, brand new, unique online store, which means that the site-building functions Shopify aims to provide are comprehensive and full-scaled. Ecwid, however, represents an eCommerce widget. In other words, you need to have an existing site at first and by using Ecwid you could add a selling widget to your site.
Shopify
Ecwid
Site design
· Easy-to-use and complete design system
· Free and paid site templates are available
· Various customization options
· Limited basic design function
· Plugin for integration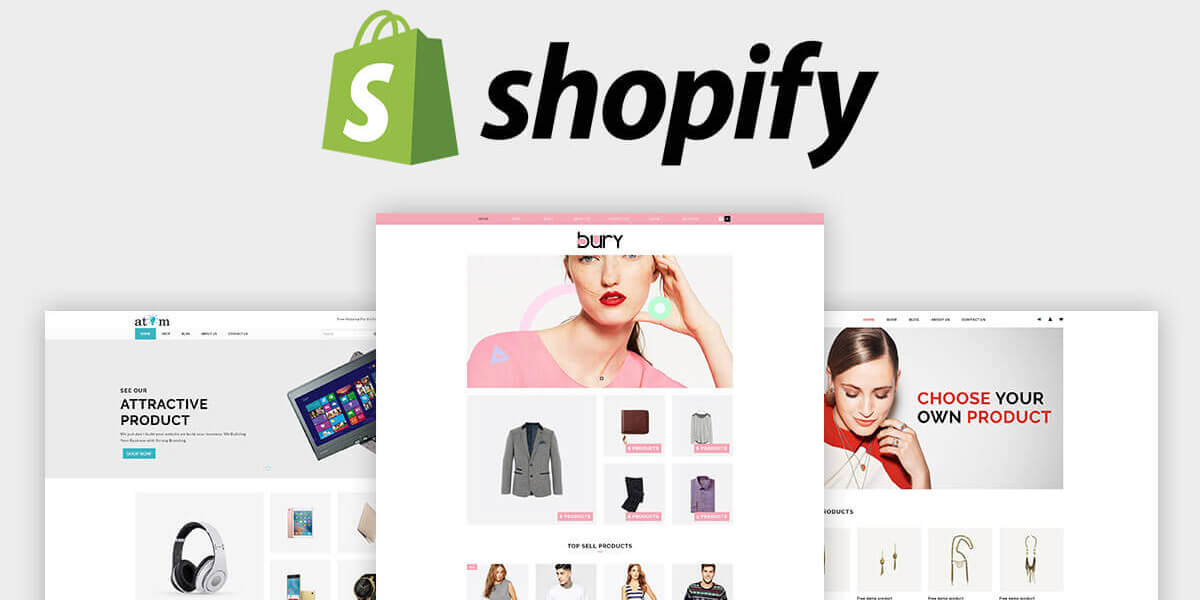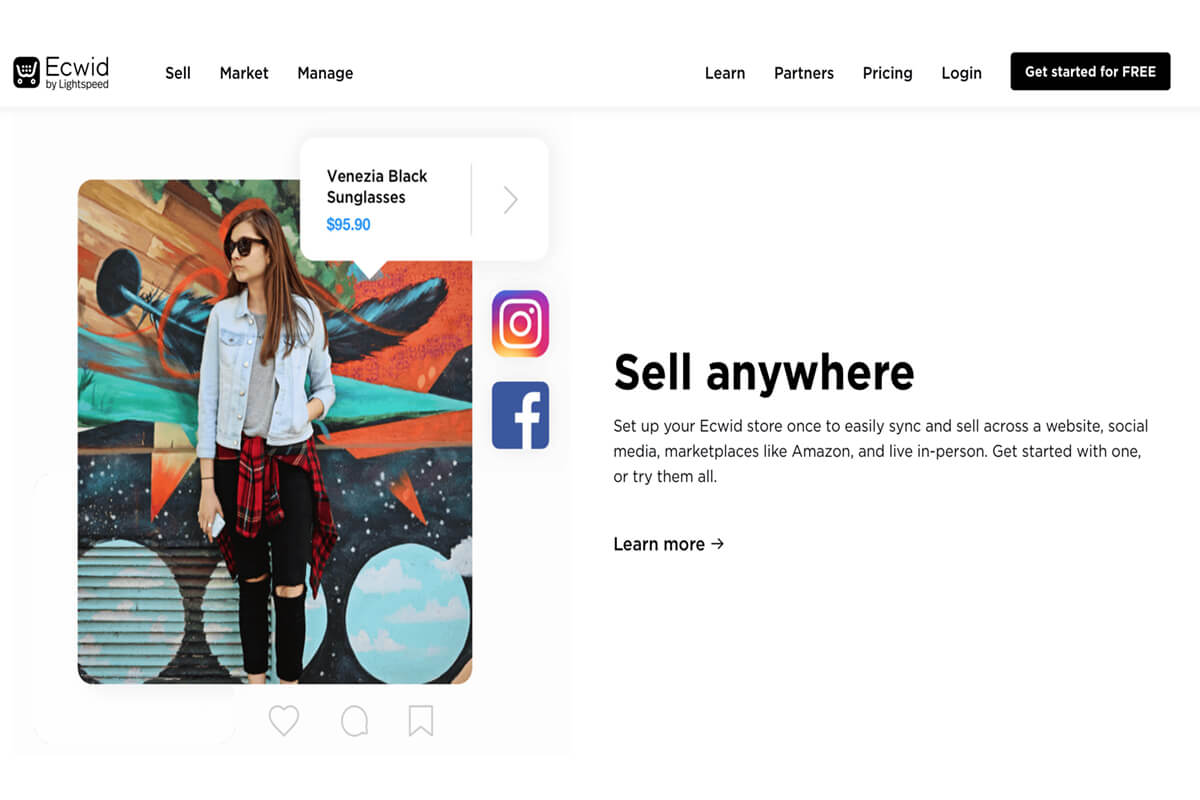 Dropshipping
Dropshipping is the trend of eCommerce nowadays. Not surprisingly, the efficiency and convenience of this business model led to its down side, which is the fact that it's very competitive to start a new dropshipping business.
Both Shopify and Ecwid are not created for dropshipping business. App integration is needed for dropshipping business on these platforms. As we have mentioned above, there are far more apps integration options available on Shopify, compared with Ecwid. Therefore, Shopify is definitely a better choice. Here are the links to the dropshipping apps available on Shopify and Ecwid.
SEO marketing
The comparison of search engine optimization of Shopify and Ecwid is listed below. Clearly, Shopify outperforms Ecwid in terms of SEO marketing.
You have total control of URL on Shopify, which is essential to keep your contents and products indexed more properly in search engines. You can easily make your URL more SEO-friendly to get more exposure. You will need to dig into the code if you want to achieve similar function on Ecwid.
AMP format stands for accelerated mobile pages format. AMP format helps pages to load faster on mobile phones, which improves customers user experience. This is only possible for Shopify with the ad of a third-party app.
Shopify
Ecwid
URL control
Can create
Can change
Can redirect
Can create
Can not change
Can not redirect
AMP format
Possible with a third-party app
Impossible
Customer support
Both Ecwid and Shopify provide customer support including live chat, phone, email, user guides. The difference is that all these channels are not always available on Ecwid, compared with Shopify. The more advanced plan you pay for Ecwid, the more in-time customer support you can get.
| | | |
| --- | --- | --- |
| | Ecwid | Shopify |
| Email | Free plan | All users |
| Live chat | Venture plan | All users |
| Phone conversation | Business plan | All users |
| Priority support | Unlimited plan | All users |
As you could see above, Shopify is more generous in terms of customer support. Therefore, if you are worried about getting efficient customer support for your business, Shopify might be a better choice. Shopify even provides support from their experts if you order the Shopify Plus plan.
Conclusion
To sum up, for basic functions, Shopify and Ecwid provide similar functions for paid users. When it comes to the advanced part such as dropshipping and SEO marketing, however, Shopify provides more possibilities as it allows integration of more apps. The conclusion is that, Ecwid might be more suitable for small business, whereas Shopify could offer more opportunities for relatively large business as it provides more customization options.