If you are about to start your eCommerce business, you might have heard of Ecwid. What is Ecwid? Ecwid is a platform that over one million sellers use to create and manage their online shops from more than 180 countries around the world. As Ecwid itself claimed, it offers one of the most convenient and easiest ways to integrate marketing applications including website, marketplace, social media, and online shop into just one interface. For an eCommerce starter, it takes less than 5 minutes to create an online shop by using Ecwid with its straightforward editing and designing tools.
What are the pricing plans of Ecwid? What features Ecwid have compared with other popular eCommerce platforms? What about the pros and cons?
If you are confused by these questions, this article will give you an overall review of Ecwid for your eCommerce plan. Keep reading to know all about Ecwid!
Ecwid Pricing
Before talking about the features and pros and cons of Ecwid, its pricing plans are the first thing you have to consider. Some of the advanced features and advantages are only available for a high-level pricing plan.
In fact, the pricing options itself is one of the advantages of Ecwid. Ecwid offers a wide range of pricing options for you to choose from, including a forever-free version. If you are just starting your online business, Ecwid might be the easiest, most satisfying, and affordable option for you.
Comparison
There are 4 pricing options for Ecwid, namely Free, Venture, Business, and Unlimited. The following chart offers a clear comparison of them, summarized from the official website.
| | | | | |
| --- | --- | --- | --- | --- |
| Pricing Option | Free | Venture | Business | Unlimited |
| Pricing | Free | $19.00, monthly | $39.00, monthly | $99.00, monthly |
| | Free | $14.08, billed annually | $29.08, billed annually | $82.50, billed annually |
| Online shop | √ | √ | √ | √ |
| Facebook, Google, Pinterest, and Snapchat advertising | √ | √ | √ | √ |
| Mobile responsive shopping cart | √ | √ | √ | √ |
| Facebook and Instagram shop | | √ | √ | √ |
| Android and iOS App store management app | | √ | √ | √ |
| Mobile point-of-sale | | √ | √ | √ |
| Sell on Amazon and eBay | | | √ | √ |
| Automatic Cart Recovery | | | √ | √ |
| Branded iOS and Android shopping app | | | | √ |
As you could see, unlike other platforms, Ecwid offers a forever free version with limited services for you instead of a free trial. In other words, you can try out how Ecwid could work for you anytime you want and decide whether you want to upgrade to a paid plan or not. There are two available paying options. You can either pay monthly or annually with a 17% discount, i.e., two months free.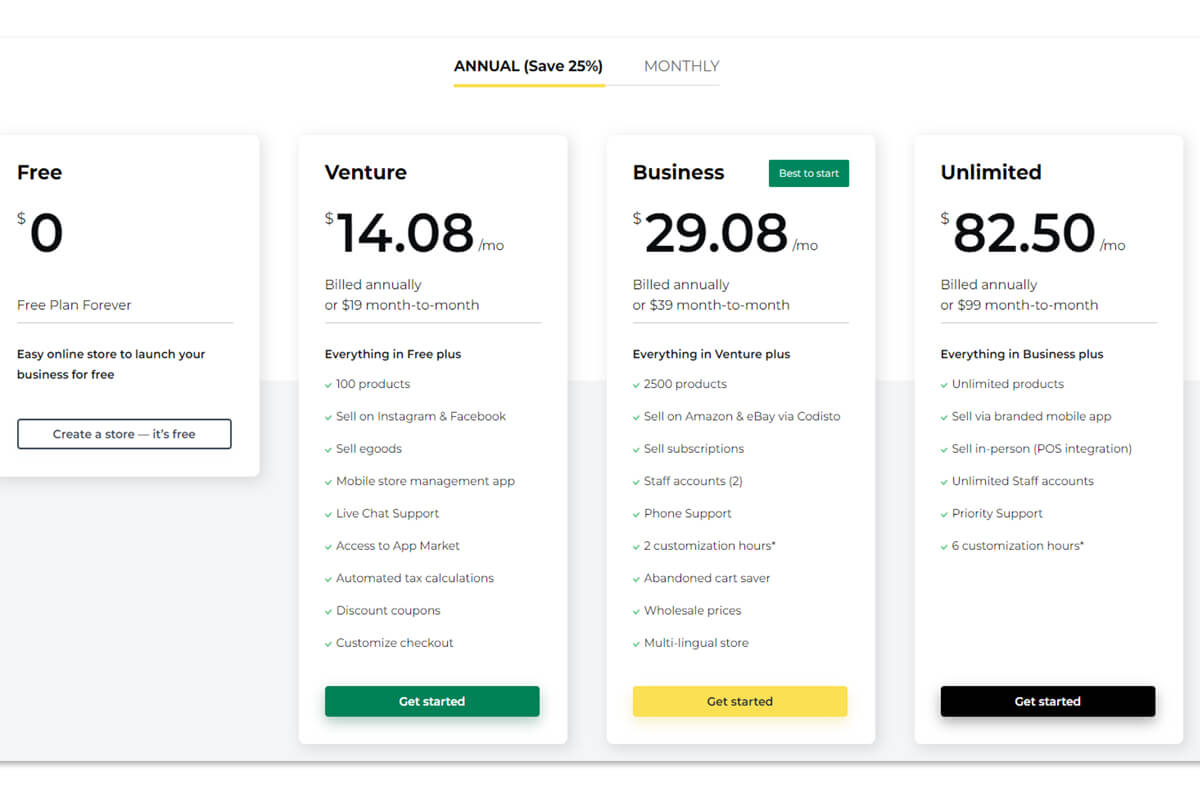 Features
Customer support
All Ecwid users including free users can get customer support, although in-time customer support is only available for high-tier plans. Venture users can get live chat support and Business users can get support via phone conversation.
Basic plug-in to create an online shop
Ecwid provides basic and handy design tools for all users to create their online shop easily just in 5 minutes. Ideally you can open an online shop right away on any website.
Multiple paying options
The 4 pricing plans Ecwid offers are based on your eCommerce business scale. The free pricing plan is set for eCommerce starters. The products they can put online are limited to 10 products within 2 product categories (only for physical goods). This could be unlocked by upgrading to a Venture plan. With a Venture plan, you can sell more than 100 products. At the same time, you will have the access to put your digital goods in your online shop. You can sell up to 2500 products or unlimited products if you pay for a Business version or Unlimited version.
Automated cart recovery
This is a feature that can be unlocked only for Business and Unlimited users. Customers are very likely to leave your online shop without completing an order due to a variety of real-life distractions. In this case, if automated cart recovery is activated, a recovery email will be sent to customers automatically, which contains a list of products that they left in the cart before making the purchase. What's more, you can also include a discount coupon in the email to encourage customers to finish their purchase. In other words, with this feature, you can definitely get more converted orders.
Branded iOS and Android shopping app
This is a unique feature that's open only for Unlimited version. With this function, you can have a unique shopping app designed for your brand without having to edit any code.

Pros and Cons
As you could see above, from eCommerce starters to advanced business entrepreneurs, Ecwid offers a range of services, depending on the pricing options. You might also want to know the pros and cons of Ecwid, compared with other platforms, before paying for an Ecwid pricing option. Luckily, the reviews Ecwid got indicate that users are generally satisfied with the services Ecwid provides.
Pros
The advantages Ecwid has include:
Most small business owners tend to work on their own. They have to complete various tasks at the same time and therefore it's difficult for them to be specialized for every skill. And of course, they don't have the ability to hire a team to manage an online shopping website. Therefore, the top advantage of Ecwid is that it provides a user-friendly interface to build your online shop. Also, a detailed step-by-step guide is available for everyone.
Physical Point-of-sale (POS)
ECommerce business is dominating nowadays. And for this reason, many similar platforms ignore physical POS directly because many small businesses have built their inventory completely online. Ecwid is one of the very few platforms that have the ability to sell in person.
This advantage offers a huge benefit if you are an international seller. Ecwid offers automatic and professional translation for over 50 different languages. And you can benefit from this even if you are a free-plan user.
Cons
Despite these advantages, Ecwid has two main drawbacks that you should know.
Trade-off between design simplicity and control
Ecwid is easy and simple to use. You can get a clear and beautiful page to sell your products by dropping in a few lines of code. But on the other side, it means you have very little control over the design. This is definitely not enough for large-scale businesses. In other words, the design tools are relatively limited in this case.
Although customer support is provided for all users, in-time support is only available for high-tier plans. Therefore, on lower-tier plans, if you encounter any problem, all you can do is contact Ecwid and wait for their response. This could be frustrating sometimes.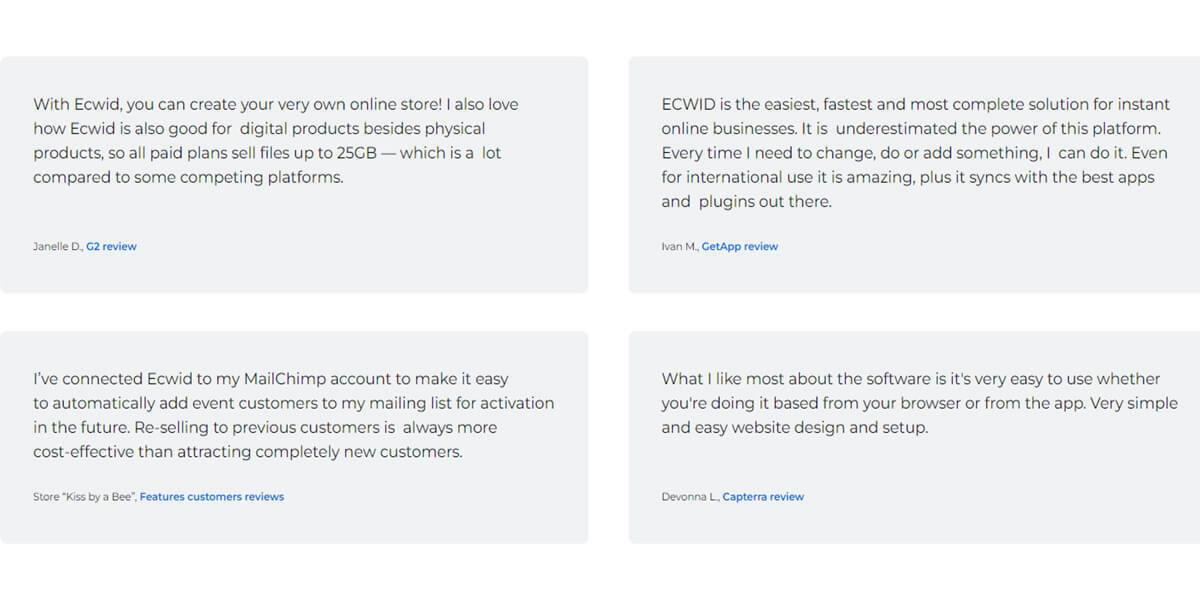 Conclusion
Ecwid is especially helpful for new eCommerce sellers as it is easy, free, and fast to create an online shop that can be connected with various platforms. In this article, we introduce the 4 pricing plans of Ecwid and the corresponding features. The pros and cons of using Ecwid are listed. If you are just about to set up a new eCommerce business, Ecwid is the best option.
I want to money but this apps is best for me

Thank you for liking Sup!