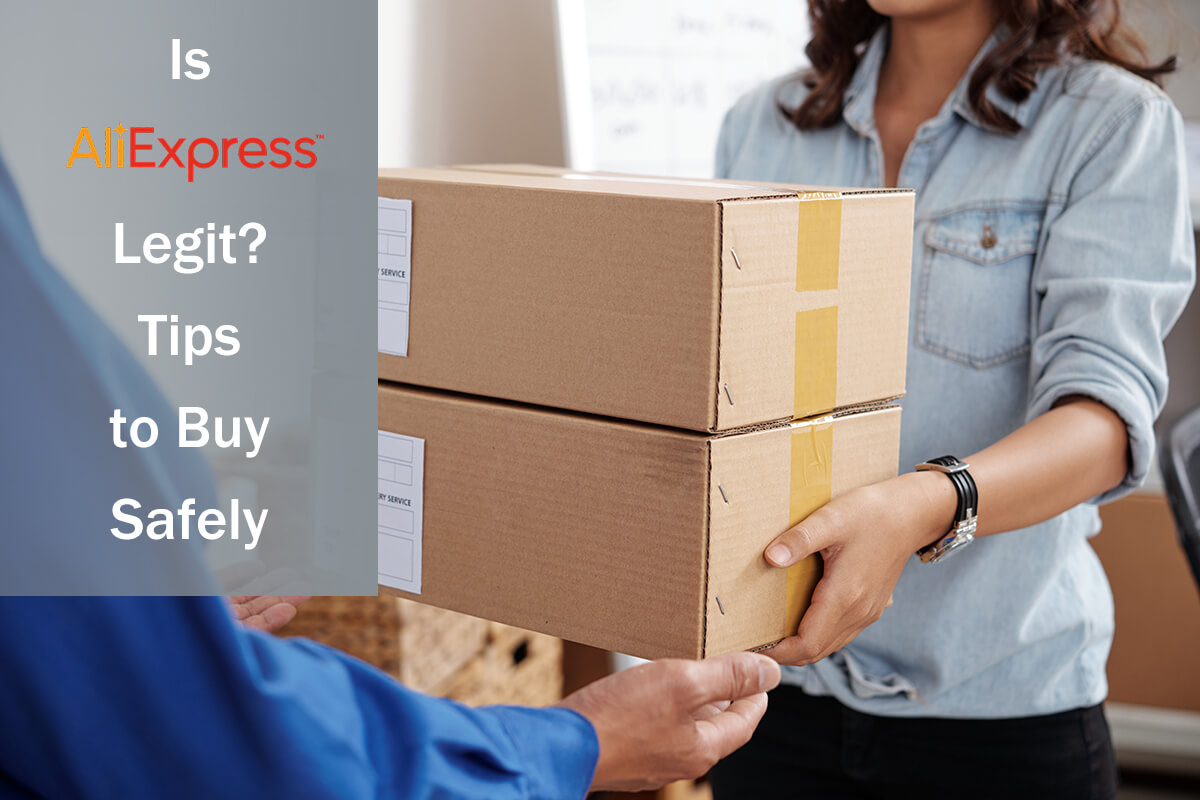 Aliexpress has been known by some people because of its scams. Buyers complain about the poor quality of the items they get and the long shipping times. So is Aliexpress legit?
Simply put, Aliexpress is legit. It is a legitimate shopping website owned by the Alibaba Group. Most of the time, it is safe to buy from. The question is that sellers on Aliexpress are not always reliable. They may sell cheap products of bad quality, lie about the delivery time, or send you the wrong time after your payment.
In this article, we will walk you to understand why Aliexpress is legit and how to buy safely and avoid scams on Aliexpress.
Let's dive in.
What is Aliexpress?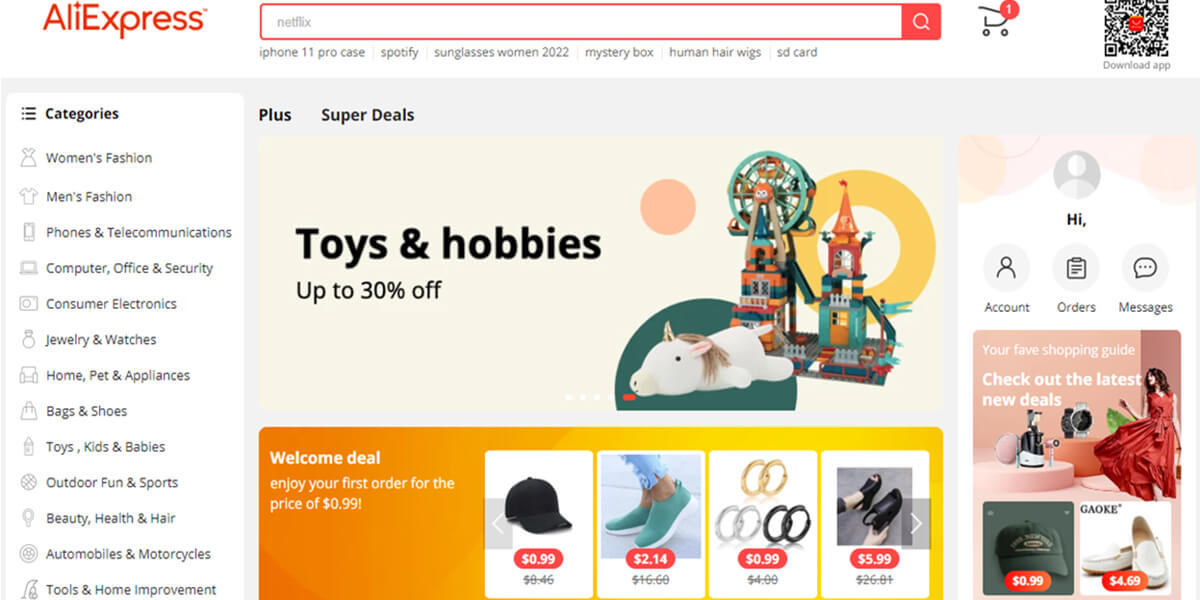 Aliexpress is an online retail marketplace based in China. It connects sellers mainly from China with buyers all over the world.
Aliexpress offers a wide range of products across various categories from clothing to electronics. These products are at lower prices compared to those on other marketplaces. Most importantly, they don't have minimum order quantity requirements. This makes it good for a dropshipping business.
Aliexpress operates like eBay. Third-party sellers instead of the Aliexpress team sell on this platform. It means you make deals directly with third-party companies or individuals, whether they are reliable or not. Therefore, there are chances that you may get scammed when you order from Aliexpress.
Alibaba VS Aliexpress
Alibaba VS Aliexpress? In many cases, people can't set Aliexpress apart from Alibaba. However, they are different in some important aspects though they are owned by the same company.
Alibaba is a B2B wholesale platform that connects China wholesalers, manufacturers, and distributors with worldwide buyers. On this platform, you can find products at low manufacturing prices. Most products have MOQ requirements, but they are available with discounts provided when you buy a large quantity at one time.
Unlike Alibaba, Aliexpress is a B2C marketplace. Typically, retail companies and individuals directly sell to end consumers on the marketplace. Products at Aliexpress have no MOQ, allowing you to buy a single unit per purchase. Overall, the product price is a little higher than on Alibaba.
The big difference between Aliexpress and Alibaba is that you can customize and private label products from Alibaba. But those on Aliexpress are already made and designed so you have minimal chances to customize them.
Is Aliexpress legit and safe?
Aliexpress is legit and generally safe to use though scams from unreliable sellers may occur at times.

Aliexpress is owned by Alibaba Group, one of the world's largest retailers and e-commerce companies. Aliexpress has been evolving rapidly since its launch. According to Statista, Aliexpress gained approximately 2.7 billion visitors between November 2022 and April 2023. This number indicates that Aliexpress is a legit site so people spend time on it to look for products they need.
Besides, Aliexpress takes precautions against scams to ensure safe shopping. For example, there is a buyer protection policy in place. It ensures that you can get a refund within the buyer protection period if your item doesn't arrive or it is not as described on the website.
Here is the process to ask for a refund on Aliexpress.
Go to your account and click "Orders"
Click on "Order Details" on the item you want a refund

3. Click "Open Dispute"
4. Choose the dispute details
You should choose the reason why you ask for a refund, the refund method, and the refund amount.
5. Provide proof including texts or images to support your reason
6. Check the status of the refund
The seller usually responds to your request within 5 days after you submit the refund application. If you agree with the seller's solution, you can click "accept" to confirm. If not, you need to provide more evidence to the seller.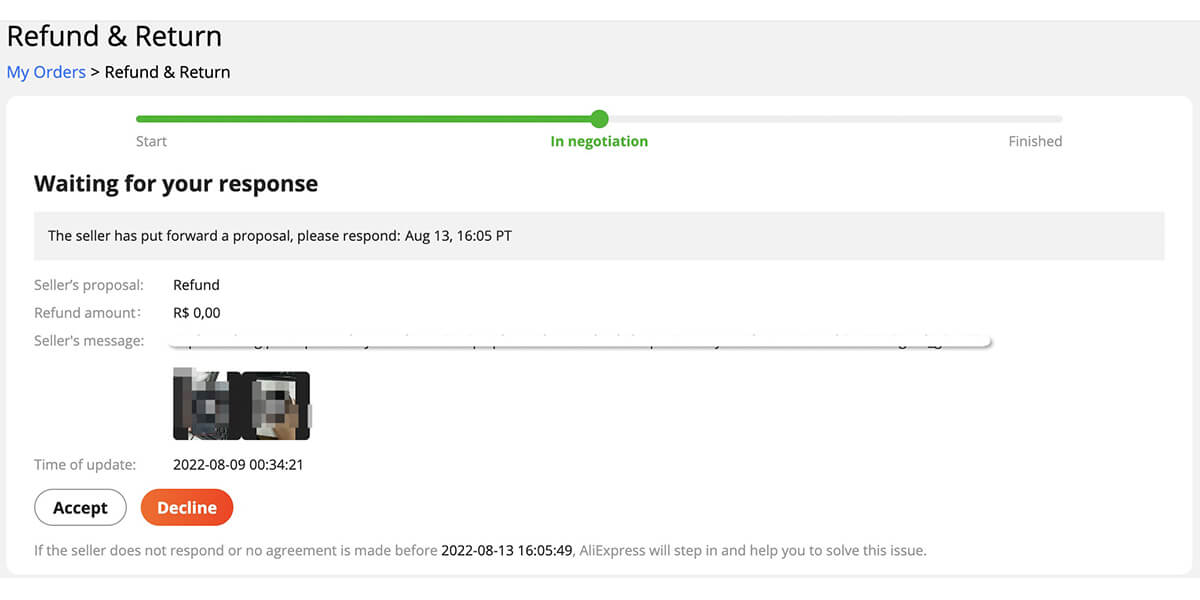 When there is no final solution after 5 days, Aliexpress will step in to mitigate your dispute as the middleman.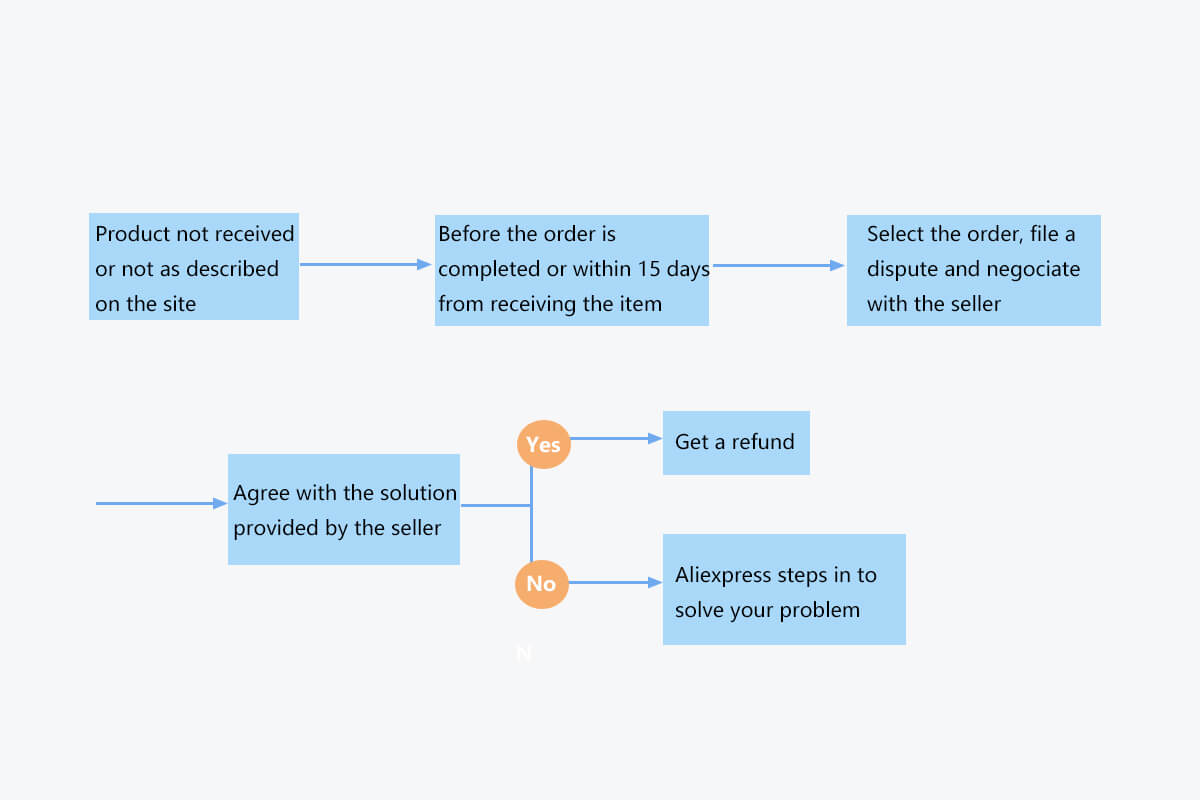 Why is Aliexpress so cheap?
It is easy for people to connect a low price with poor quality even scams. But they are not the reasons why products on Aliexpress are so cheap.
The majority of sellers on Aliexpress are from China. They take products from manufacturers or wholesalers near their locations. Because production and labor costs are low in China, they can get the products at low prices. Even if they resell to you at a higher price for profits, the price is still lower than on other retail platforms.
In addition, with increasing competition, sellers often offer discounts to attract customers. As a new customer in a store, you can get 3% or more off on a product.
How to buy from Aliexpress safely?
Even though Aliexpress is legit, unscrupulous sellers may cheat on you and take your hard-earned money.
To buy from Aliexpress safely, you need to keep the following tips in mind.
1. Read product reviews
Product reviews provide valuable insights from previous buyers who have already purchased and used the product. They can give you an idea of the item's quality, functionality, and whether it matches the seller's description. Always look for reviews with photos and detailed comments on the product detail page. With them, you can get a more accurate understanding of the product's actual appearance and performance.
2. Check seller ratings and reputation
Aliexpress has a rating system that shows the feedback and satisfaction level of previous buyers. You can see the seller ratings based on the criteria including item as described, communication, and shipping speed. A rating of 4.5 or higher generally indicates a reliable and trustworthy seller. Avoid purchasing from sellers with low ratings or a history of negative feedback.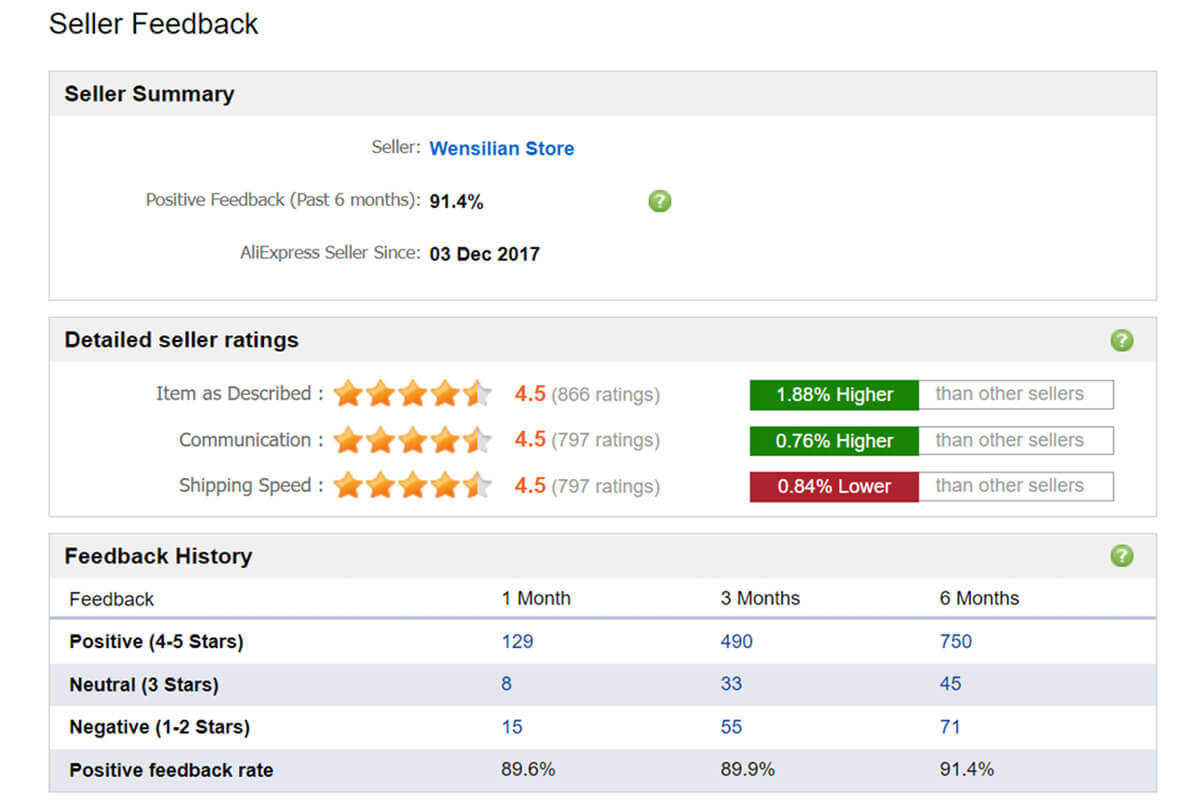 3. Check seller guarantees
Some sellers on Aliexpress offer additional guarantees for their products. Check if the seller provides any guarantees, such as an on-time guarantee, a return policy, or a money-back guarantee. This can give you extra assurance that you can resolve any issues with the product if they arise. And it shows that the seller is confident in their products and services.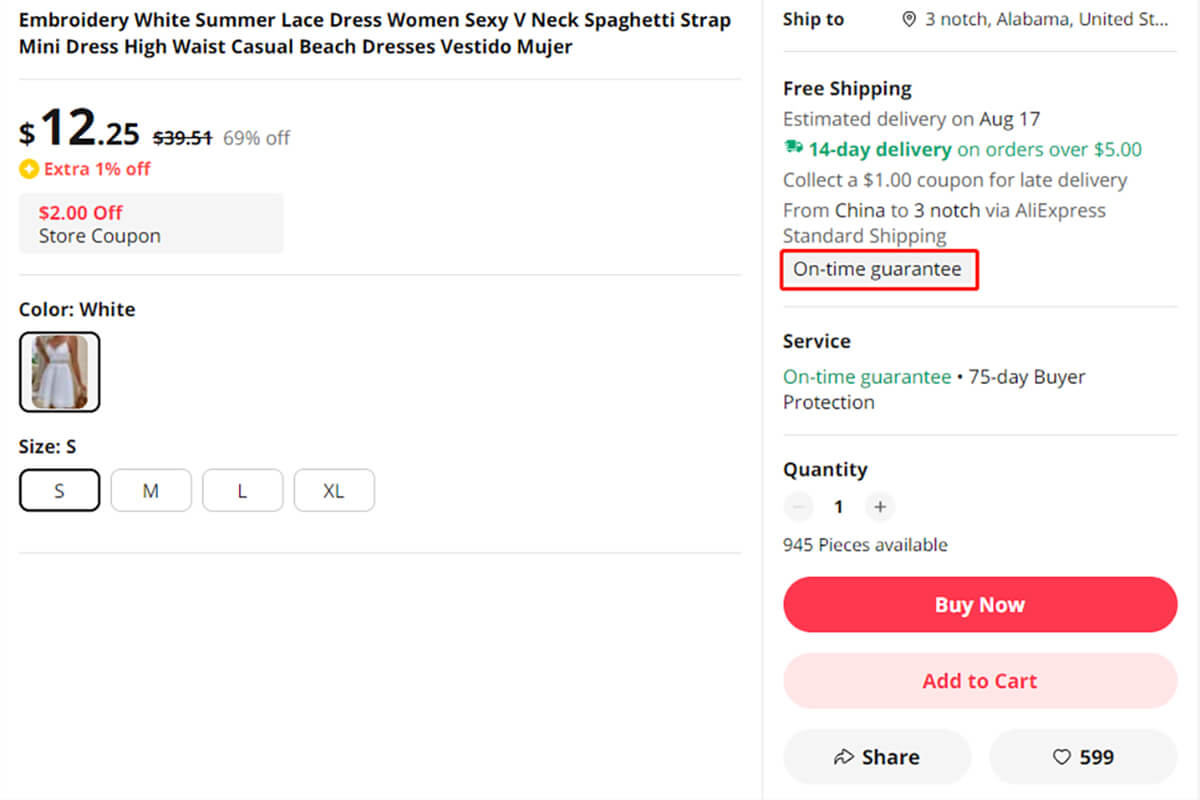 4. Verify product specifications and authenticity
It's tempting to place an order after you see the product title and photos. But to ensure you get what you expect, you must read the detailed product description and specifications. Some sellers write attractive titles to entice you to buy from them. After reading their description, you will find they are selling something else.
For example, a seller claims he is selling Nike shoes. In fact, he is selling counterfeits because it is hard for Nike to work with him and sell on Aliexpress.
To avoid being scammed, remember to check product details in the description. If the product's authenticity is crucial to you, look for sellers with a proven track record of selling genuine products.
5. Choose a safe payment method
AliExpress takes various payment methods, such as credit cards, debit cards, PayPal, bank transfers, and Alipay. You can opt for a payment method that is available in your region and safe to use. For example, you may use credit cards or PayPal. Credit cards typically provide the option to dispute charges if there are any issues with your purchase. And PayPal has a buyer protection policy that allows you to get a refund if Aliexpress doesn't solve your dispute.
Most importantly, you should never make payments outside this platform as your transaction is only protected on AliExpress.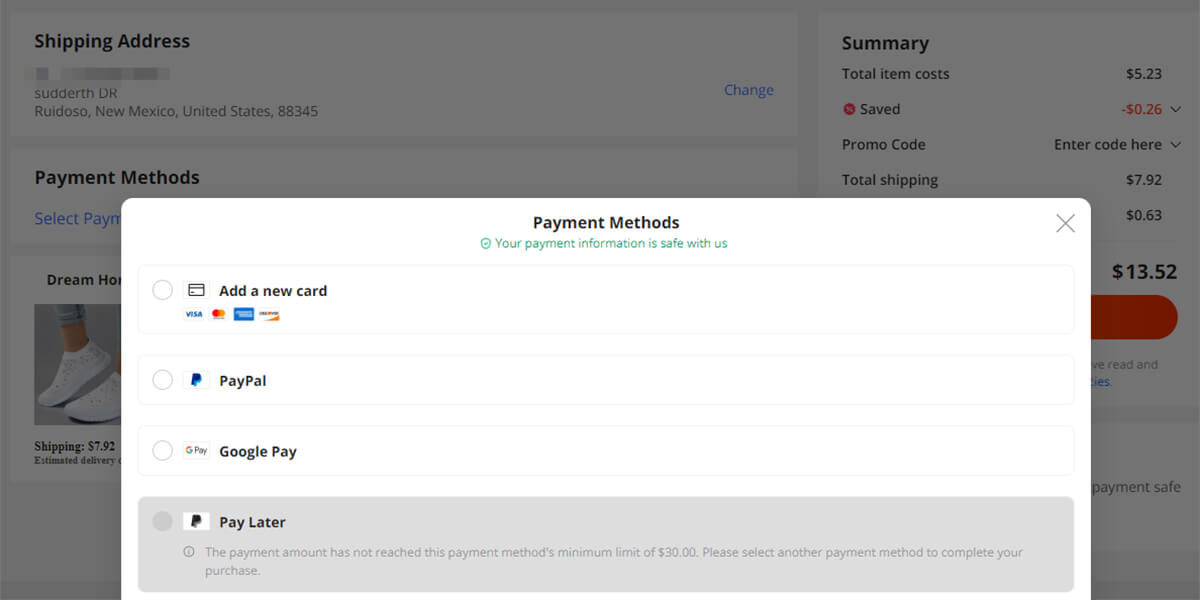 6. Understand shipping time and costs
Aliexpress supports multiple shipping methods including AliExpress Standard Shipping, AliExpress Premium Shipping, DHL, etc. The shipping time and costs vary by destination and shipping method. But usually, it takes 14 days to 2 months for delivery.
Many sellers offer free shipping on their goods. It is cost-effective while it takes a longer time to ship. If you opt for a slow shipping option or get free shipping service, wait for your order patiently and check the shipping status with the tracking information provided.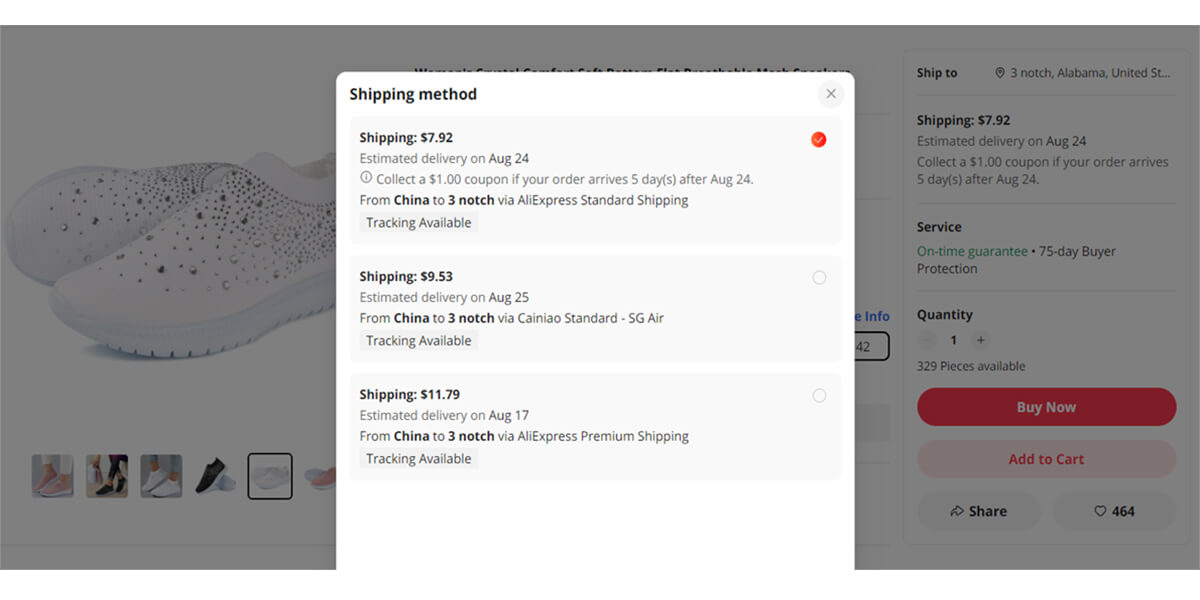 7. Understand the Buyer Protection policy
AliExpress launched a buyer protection program to safeguard your purchase. But the buyer protection policy works in certain cases and within a certain period. You can only file a dispute for a refund when your item is not delivered within the protection period, or it arrives damaged or doesn't match the description within 15 days from delivery. So be aware of the buyer protection time when placing an order and never confirm delivery of the order before you actually receive it.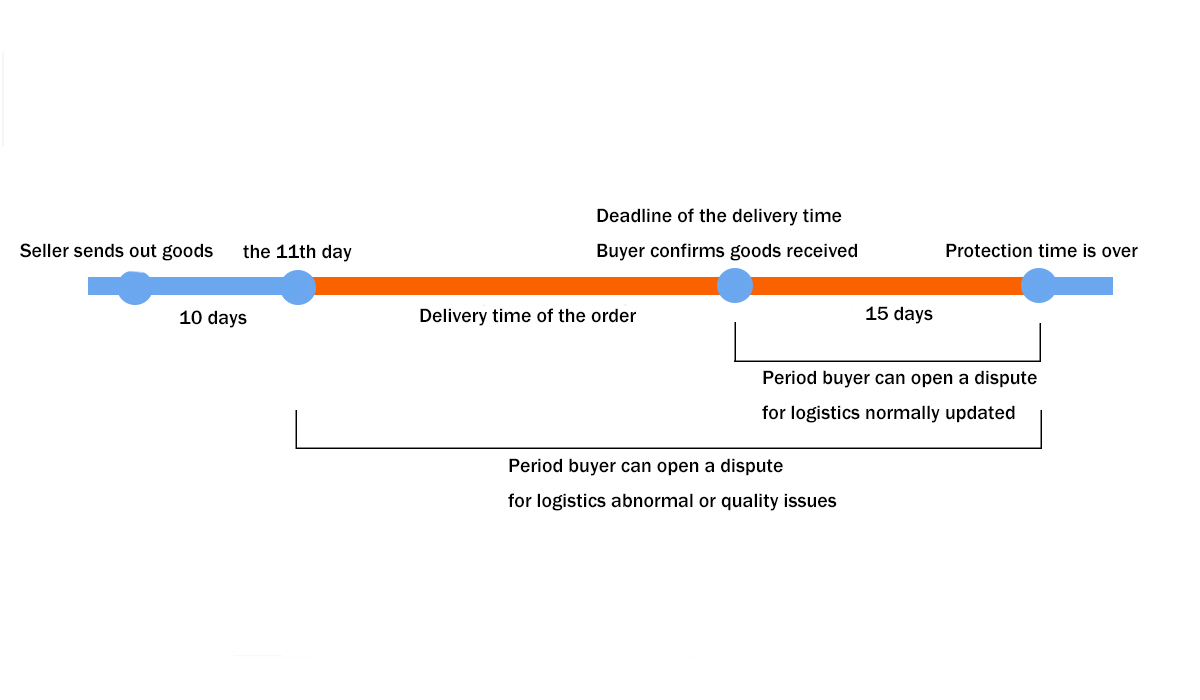 8. Check the item carefully upon its arrival
One effective tip to buy from AliExpress safely is to check the item upon its arrival. Once your package arrives, take the time to inspect the product carefully and ensure it matches the description provided by the seller. Check for any damages, defects, or discrepancies in size, color, or specifications. If there are any issues or if the item does not meet your expectations, promptly contact the seller and initiate a dispute through AliExpress's buyer protection program. Being diligent in this step can increase your chances of resolving any problem that occurs in a timely and satisfactory manner.
Aliexpress alternatives
With effective tips, you can buy safely and avoid scams on Aliexpress. But this platform is not the only choice out there. Alternatives to Aliexpress may expand your product choices and give you an equally safe shopping experience.
Here are the best Aliexpress alternatives for you.
1. Sup Dropshipping
Sup Dropshipping is a dropshipping company based in Hongkong. With a vast network of suppliers, we offer you a wide selection of products at competitive prices. Most products have no MOQs. You can either buy one single piece or more at once. Discounts would be applied when you buy in bulk.
On top of that, we provide you with customization options. You can design and sell unique products with our print on demand service. The design editor is free and easy to use. Plenty of free patterns are available to you. After designing, you can preview the design and check if it meets your expectations. If you are a startup with a tight budget, using white labeling to stand out from the competition is viable with us.
2. Banggood
Banggood is a direct-to-consumers marketplace in China. In this marketplace, there are more than one million products across different categories.
Banggood sells and ships products directly to customers. No third-party sellers sell on their platform, which reduces the chance for you to be scammed by unreliable suppliers.
When it comes to shipping time, Banggood ships faster than Aliexpress. They have their logistics solutions including Standard, Priority, and Expedited Shipping. It takes less than 14 days for delivery from China to the US. With their oversea warehouses, the shipping time can be shortened to a few days.
3. Temu
Temu is an online selling platform owned by PDD Holdings and based in the US. It is the sister company of the China shopping site Pingduoduo.
Temu offers a wide range of products including apparel, makeup, electronics, home-ware, etc. Most products are shipped from China and at low prices. The product price can even be lower when sellers offer you discounts of different values. Free shipping services are often provided on many products.
If you prefer low-priced products and fast delivery within the US, sourcing from Temu would be a good choice.
4. SHEIN
As a renowned fashion retailer, SHEIN offers a vast range of clothing, shoes, and accessories. It caters to consumers who have different tastes and preferences.
With its user-friendly interface and affordable prices, SHEIN has become a choice for dropshippers looking to source fashionable items.
If you specialize in clothing, SHEIN may give you an edge over your competitors. You can offer an array of items to your customers that are hard to find somewhere else. At SHEIN, you can also enjoy free shipping services if your order amounts reach a certain standard.
5. Made-in-China
Made-in-China is a trading company that bridges the gap between China suppliers and global buyers. This company mainly offers products in the category of electrical and industrial supplies. Most products are available with low MOQs.
In comparison with Aliexpress, Made-in-China can be more professional in selling electrical products. If you want to source products in this catalog, buying from Made-in-China can be a better choice.
Furthermore, the platform encourages communication and negotiation between buyers and suppliers. It is beneficial for you to foster successful business partnerships.
FAQs
1. Is it safe to buy on Aliexpress?
Generally, Aliexpress is a legit site and safe to buy from. But you may still come across unreliable sellers as you do on Amazon or eBay. Before placing an order on Aliexpress, you can check our tips to buy safely.
2. Does Aliexpress Accept Paypal?
Aliexpress takes Paypal as one of the payment methods. Paypal has a buyer protection program that allows you to get a refund if the seller and Aliexpress can't fix your dispute. Paying with Paypal on Aliexpress can add a layer of more security to your transaction.
3. Can you buy electronics on Aliexpress?
Aliexpress offers a wide selection of electronics at competitive prices. You can buy electronics from Aliexpress and sell them in your store to make a profit. Just remember to check the seller ratings and product reviews from other buyers. Before making more purchases, it is recommended to order a sample to check product quality and seller services.
Conclusion
Aliexpress is legit and safe to buy from. As a subsidiary company of the Alibaba Group, Aliexpress has taken various precautions against scams to ensure you a safe shopping experience.
But like any marketplace, there are still untrustworthy sellers who try to scam you on Aliexpress. Before placing an order, check our tips to minimize your chance of being scammed.
By the way, how about your last buying experience if you ever bought from Aliexpress?