Aliexpress vs Banggood: Which Is Better to Dropship With?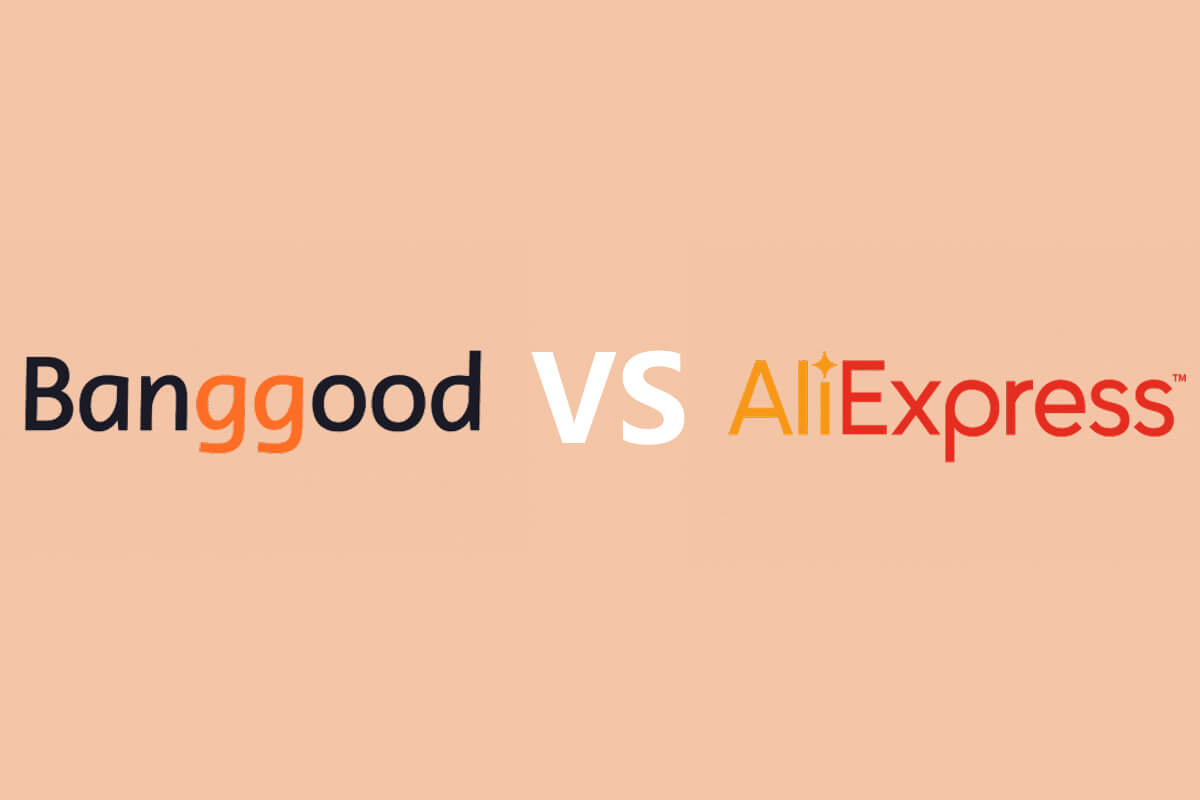 Aliexpress or Banggood? It can be a daunting question if you are considering to dropship with one of them.
Both Aliexpress and Banggood are based in China. They are renowned business-to-consumer marketplaces, where you have access to dropshipping services. And both of them sell and ship worldwide.
When you source products on Aliexpress, you buy from third party sellers. But on Banggood, you purchase from the platform directly but not from other third-party sellers.
It could be hard to choose the best fit for your business when these two platforms come with their pros and cons.
To help you make an informed decision, we will explore the similarities and differences between Aliexpress and Banggood in this article.
But firstly, let us cover some basics about these online shopping markets.
What is Aliexpress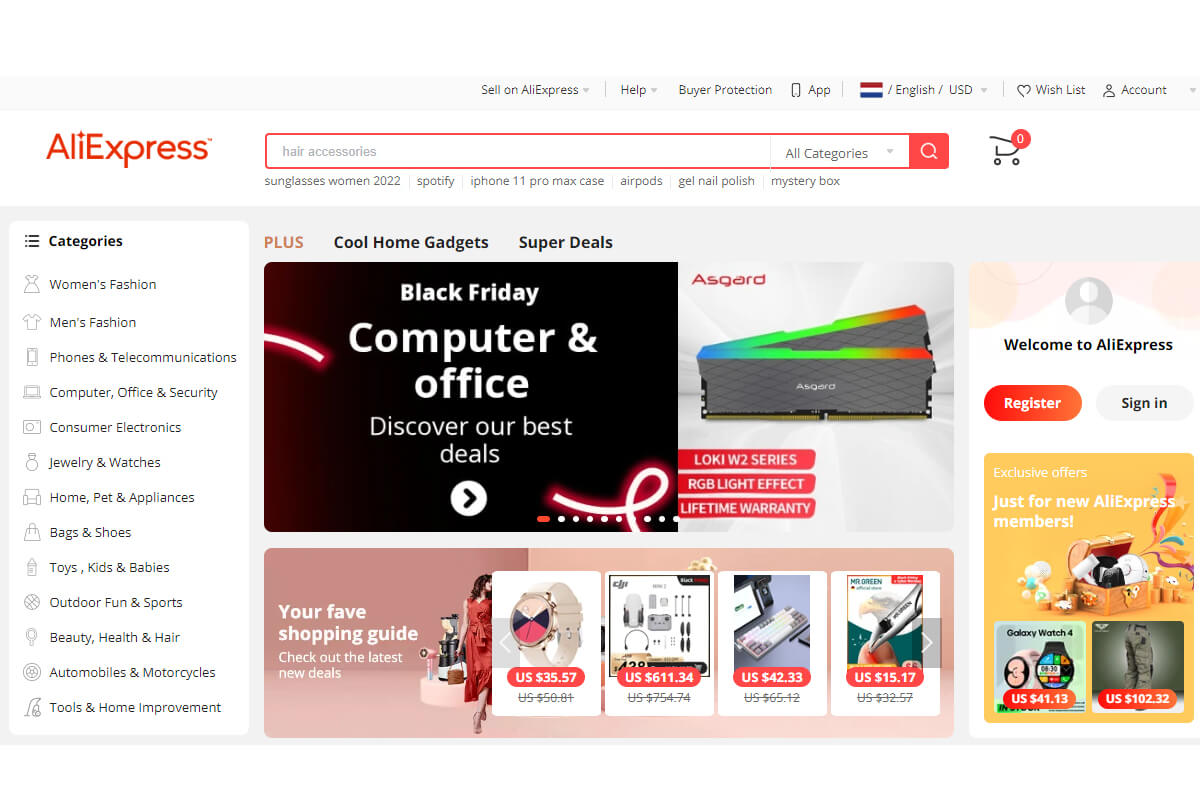 Overview
Aliexpress is a famous B2C marketplace launched in China in 2010 by Alibaba Group. Since its launch, Aliexpress has been evolving into one of the leading eCommerce platforms in the world. Between December 2021 and May 2022, Aliexpress garnered approximately 2.7 billion visitors, and in January 2022, it got more than 455 million hits worldwide.
What makes Aliexpress stand out from other shopping sites is its low-priced products. There are over 100 million products in various categories from kitchen tools and electronics to crafts and clothing. These products are from thousands of third-party sellers and at a competitive price.
Pros
A wide range of products
Competitive price
Reviews for both suppliers and products
Buyer protection over a long period
The site is in multiple languages
Most sellers provide free shipping
Cons
Potential scams from unreliable suppliers
Long shipping time
Inconsistent product quality
What is Banggood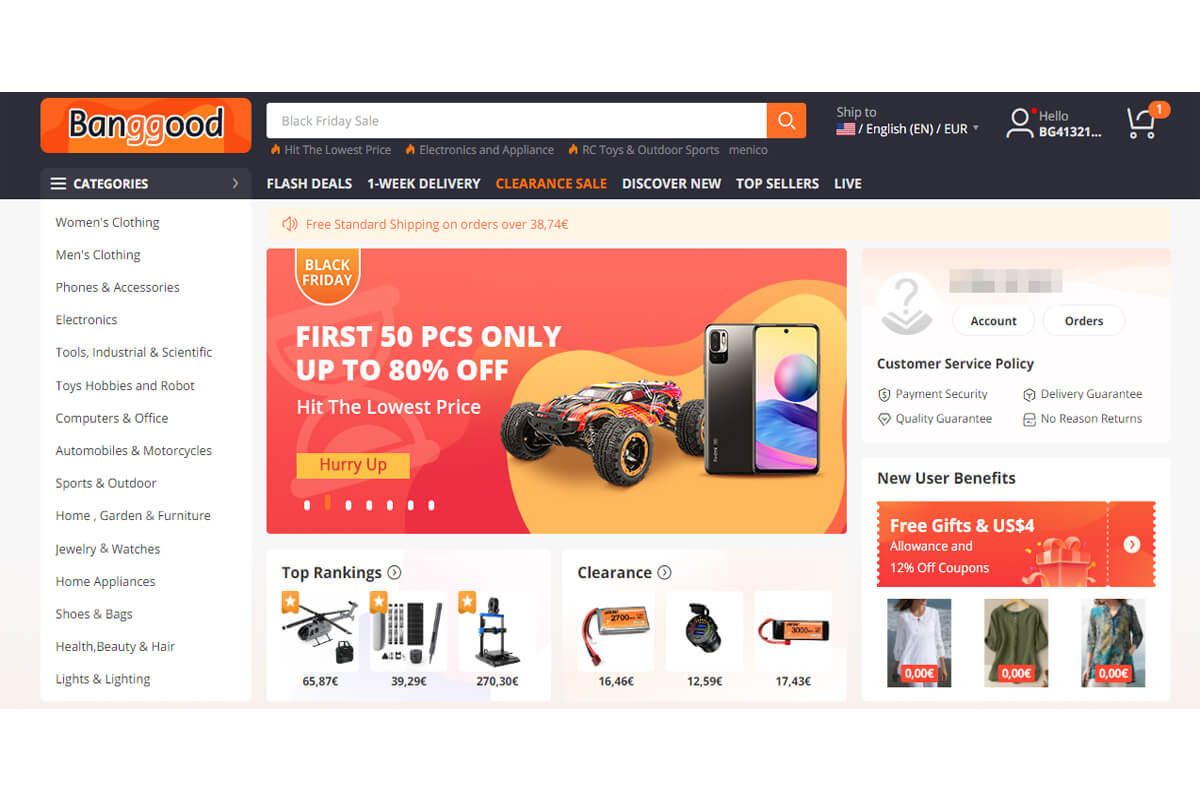 Overview
Similar to Aliexpress, Banggood is a direct-to-consumers marketplace founded in 2006 in China. There are more than one million products covering over 30 categories on this selling platform. And these products are sold and fulfilled directly by Banggood instead of other third-party sellers. With 37 overseas warehouses, this online retail company makes it convenient to deliver your order in a short period.
Pros
Little chance of being scammed by third party sellers
Faster shipping compared with Aliexpress
Global warehouses
5%-20% discounts on most dropshipping items
No watermark photos
No MOQ
Prompt customer service
Cons
Fewer product choices in comparison with Aliexpress
Products at a higher price
The product quality needs to be improved
Aliexpress vs Banggood: Similarities
Even though Aliexpress and Banggood are well-known for different reasons, they share some similarities.
International marketplace
Both Aliexpress and Banggood are international online marketplaces. Individuals, retailers, and corporations around the world can buy from these platforms.
No MOQ
Products on these two shopping marketplaces are sold with no MOQ requirement. Whenever your customer orders from you, you can make a purchase of the product on Aliexpress or Banggood accordingly.
Dropship discounts
Dropshippers can get discounts on most dropshipping products when working with Aliexpress or Banggood. Generally, the discounts vary from 2% to 20%.
A bit hard to return your order
Because Aliexpress and Banggood ship orders overseas, it sometimes can be hard to exchange or return a product. You may get a clue about this from their customer reviews on Trustpilot.
Aliexpress vs Banggood: Differences
Since now you have known the similarities between Aliexpress and Banggood. Next, let's take a close look at the differences between them.
Third-party suppliers
Banggood is a shopping market where no other third-party suppliers sell. That means you buy directly from Banggood. In this case, you can avoid scams from some shady suppliers.
Different from Banggood, Aliexpress cooperates with third party suppliers who sell on Aliexpress.com. All products in this market are from third-party sellers. If there are conflicts between you and the supplier, Aliexpress can step in to provide you with a reasonable solution.
Shipment
Though based in China, Banggood owns 37 warehouses around the world. Orders shipped from Chinese warehouses can be delivered within 8 days, and those from local warehouses can arrive within 2 days at the earliest.
In comparison with Banggood, orders from Aliexpress could take a longer time to be delivered. Usually, your packages need 15 to 30 days to arrive from China to the US. But with Aliexpress, you can enjoy the free shipping service provided by most suppliers and save money.
Dropshipping
If you dropship on Aliexpress, you import products from a third party supplier. When you receive an order from your customer, you share the order information with the supplier. Then the supplier packs and delivers the order directly to your customers.
Aliexpress also developed Aliexpress Dropshipping Center to help sellers find trending products and adopt product analysis. This tool is beneficial to streamlining your sourcing process.
However, if you participate in the dropshipping program of Banggood, you deal with all problems concerning your business with Banggood but not a third-party supplier. And with their free API system, you can automatically list products to your Shopify or eBay store.
Customer service
You can get support from Banggood via live chat, phone call, or email. Multiple contact channels, especially online chat permit you to get a prompt response to your queries.
On Aliexpress, since you buy from a third-party seller, you have to contact the seller for any queries about your product. And you can only get in touch with him or her by sending messages. Sometimes you need to wait for a long time to have your problem solved.
Aliexpress vs Banggood: which is better
Aliexpress and Banggood come with their advantages and disadvantages. They are distinctive from each other though they share some similarities.
For dropshippers who prefer to spend less on products and shipment, and can stand to wait for a long-time delivery, Aliexpress could be the best choice. Those who want to improve sourcing efficiency can also cooperate with Aliexpress. Their dropshipping tool Aliexpress Dropshipping Center is free and easy to use to find winning products. The ratings for sellers and products give you deep insights into whether a supplier is reliable.
But if you want to minimize the risk of being scammed, Banggood could be better suited. By dealing with Banggood directly, you can avoid scams from third-party sellers. In addition, you can access faster shipping services when you dropship with Banggood. The drawback is you have to bear a higher product cost.
Wrapping up
It's hard to conclude if Aliexpress is better than Banggood. Which to choose largely depends on your business budget, strategy, and preference. But no matter which you work with, you can use Sup Dropshipping to maximize your benefits. With Sup Dropshipping, you can source better-priced products by images or keywords. You can also place a sourcing request, and your dedicated agent will help you find the product you need within a few minutes.
Do you have any experience with Sup Dropshipping? If yes, remember to share it with us in your comment.