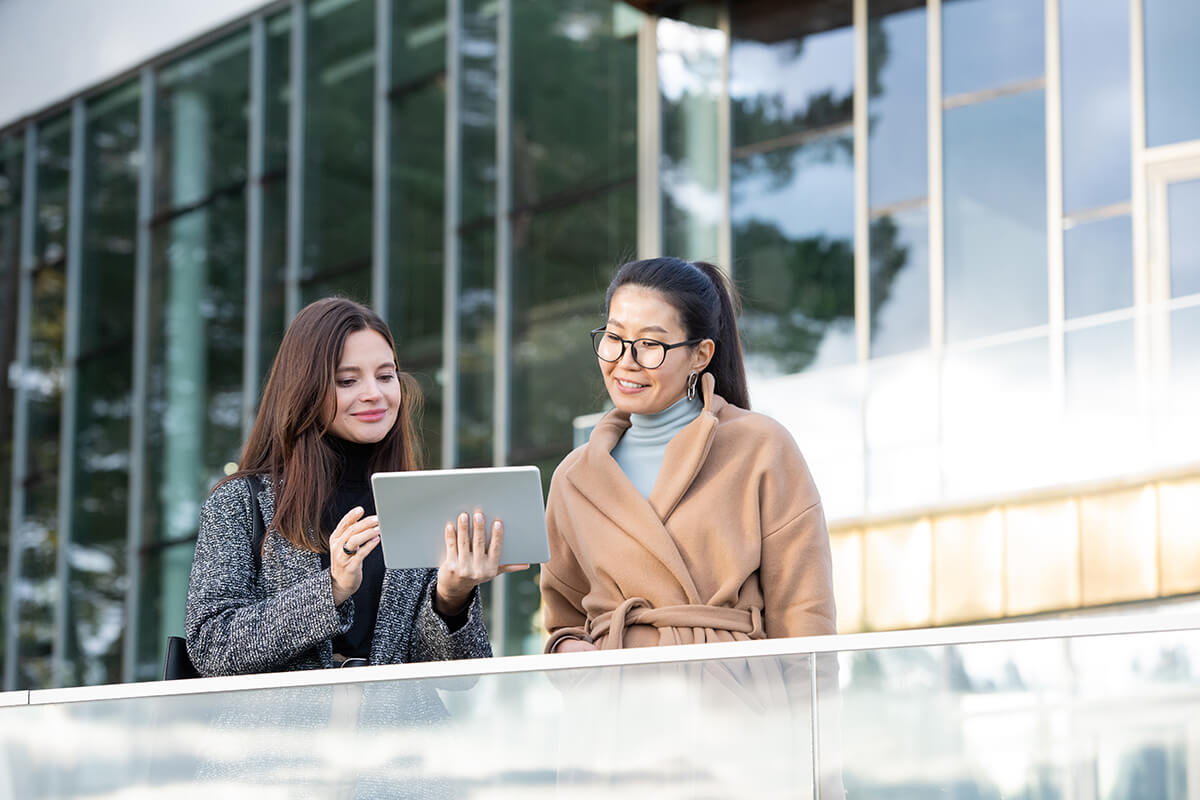 Tired of sourcing products from one supplier to another by yourself? Need to access 1-on-1 customer service for any query concerning your business?
Working with a dropshipping agent would be a great solution for you. Dropshipping agents can provide you with all-around and dedicated services from sourcing to shipment.
In this article, we will give you a complete guide to dropshipping agents. Read on to find out more about it!
What is a dropshipping agent?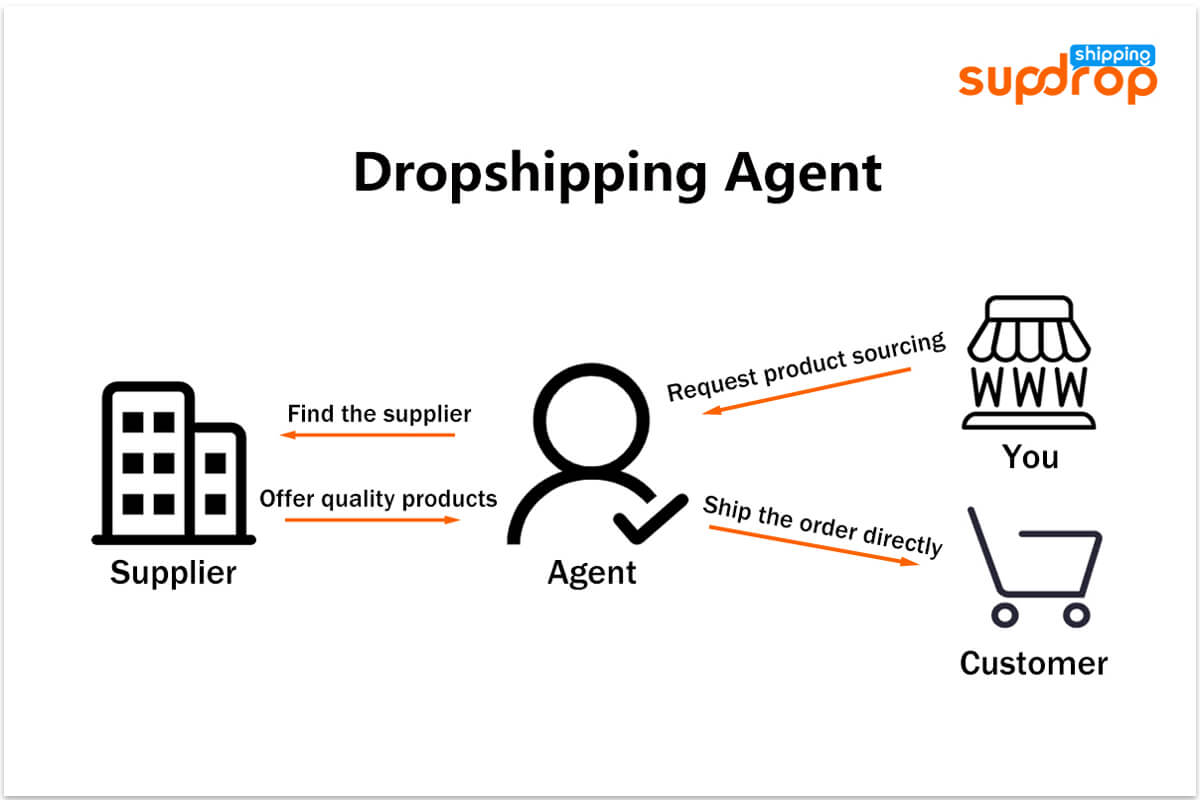 A dropshipping agent is a third-party service provider, who works as a middleman between the dropshipper and the supplier.
The dropshipper places a sourcing request, and the agent sources products from one or more suppliers according to the requirements of this dropshipper. Then the agent buys the products from the supplier(s) and handles quality checks, packaging, (branding,) and direct shipment to the customer.
With a dropshipping agent, businesses don't need to deal with trivial tasks such as negotiating with suppliers and product checks. Therefore, they can focus on marketing and sales.
But don't make confusion between a dropshipping agent with a dropshipping supplier.
Dropshipping suppliers are usually responsible for order processing and delivery. They don't source products for you. They neither manage inventory nor offer personalized customer services.
You may take a close look at the differences between a dropshipping agent and a dropshipping supplier in this sheet.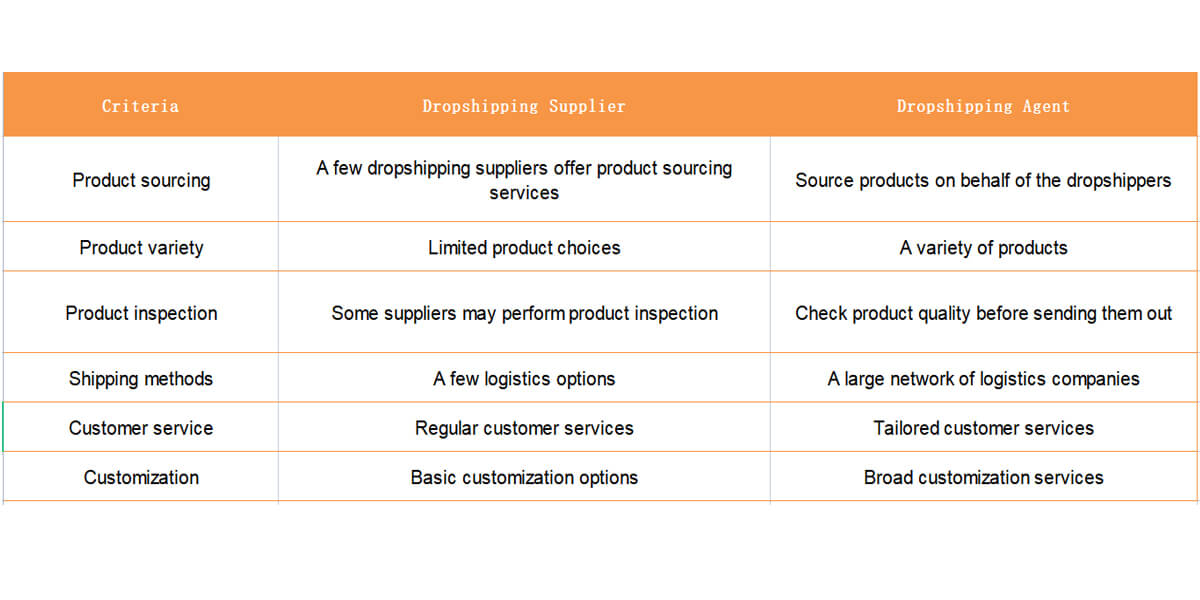 What does a dropshipping agent do?
Typically, a dropshipping agent manages tasks as follows.
Sourcing products
This is an important part of what a dropshipping agent does for you. The agent searches for a product from a supplier or multiple suppliers according to your requirements. And then they sell it to you.
As they are experienced in this aspect, they can get you a high-quality and fairly-priced product with little effort.
Managing inventory
Dropshipping agents manage inventory on your behalf. A professional dropshipping company usually owns an inventory management system. This system can automatically spy on the stock in your store and effectively prevent the out-of-stock problem.
In addition, they rent a warehouse in their location and even global warehouses in your countries. With their warehouse service, you can preorder in case of out-of-stock issues during a busy event or on holidays. Plus, it helps to shorten the delivery time to your customer.
Quality inspection
Quality products can be the cornerstone of the success of a retail business. Dropshipping agents provide quality checks to reduce returns and refunds and improve customer satisfaction. They carefully check if there are any defects or damages among your goods before the goods are shipped.
Order fulfillment
From searching for the product to shipping it to the customers directly, a dropshipping agent handles the whole process. And you, therefore, are free up from trifles and have enough time for marketing and sales.
Branding
Branding is crucial to set yourself apart from the others in your niche. A dropshipping agent enables you to brand your business in various ways. You can add fundamental changes to your products, such as adding your logo, brand name, and promotional messages to the product. Also, you may add a unique design with their print on demand service. Moreover, some agents offer private label services, which allow you to customize products at your will.
What are the pros and cons of having a dropshipping agent?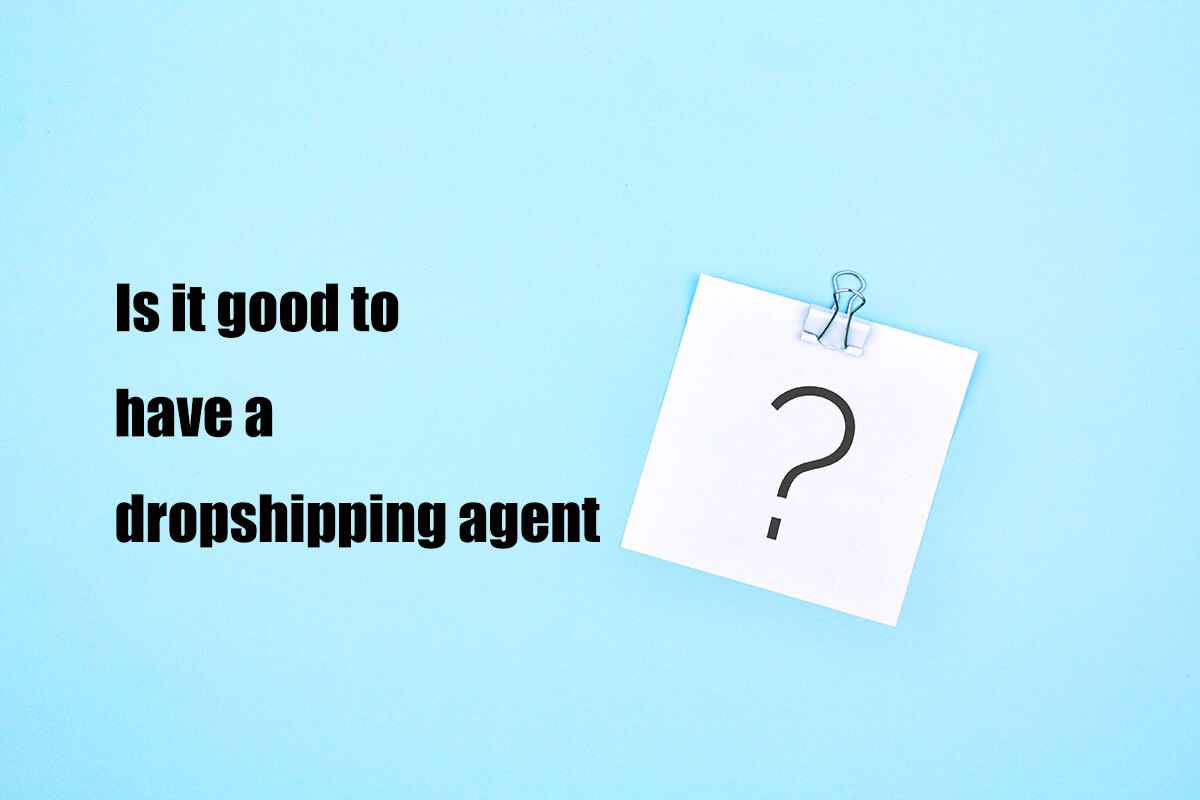 Nothing is perfect. A dropshipping agent is no exception.
Here are the pros and cons to use dropshipping agent services.
Pros
Wide product choices
Dropship agents have connections with many suppliers. So they can offer you a wide range of products to choose from. Some products may be hard to find from a supplier you contact.
Better priced products
A dropship agent can often negotiate better prices from suppliers. This means that you may get products at a lower cost and increase your profit margins.
Faster delivery
Dropshipping agents have established relationships with many logistics companies. They can provide you with a fast and cost-effective shipping solution.
Reduced risk of scams
A dropship agent can distinguish a reliable supplier from those not. So they can help you avoid potential scams from an unreliable supplier.
Insights into the latest trends
Dropshipping agents often stay updated with the latest trends in the market. They can give you valuable insights into trending products and industry development.
Tailored support
Unlike a supplier, a dropshipping agent offers you personalized support. 1-on-1 customer service is available to you on 7/24.
Customization
With a dropshipping agent, you have multiple choices to customize your products. You can print them on demand, private label them, or just do some regular customization like adding your logo or brand name.
Cons
Lower profit margins
Dropshipping agents charge fees for their services. Some may add a hidden fee on top of the product cost. These fees can eat into your profit margins.
Lack of control
When you work with a dropshipping agent, you're relying on them to handle the order fulfillment. This means that you have less control over the entire process.
Quality control issues
If the dropshipping agent doesn't check the product quality carefully, you may get negative customer reviews because of damaged or poor-quality items.
Do you need a dropshipping agent?
Frankly, you can build a successful business without a dropshipping agent. Doing right, finding a dropshipping supplier would be enough, especially for a startup.
But when you have 50, 80, or 100 orders each day, can you still manage your store all by yourself?
What about new niche stores? Where to find winning products for them? How to manage them when you have several niche stores?
It would work better to get a dropshipping agent.
A dropshipping agent like Sup Dropshipping can be an expert in the e-commerce industry. With more than 10 years of experience, we are clear about trending and winning products in Shopify and other selling platforms. Selling our recommended products can improve your chance of success.
In addition, our automatic inventory management system makes it easy to manage your stock when you scale your business.
In a word, finding a dropshipping agent is not necessary but helpful. It is recommended to work with one to improve the performance of your business.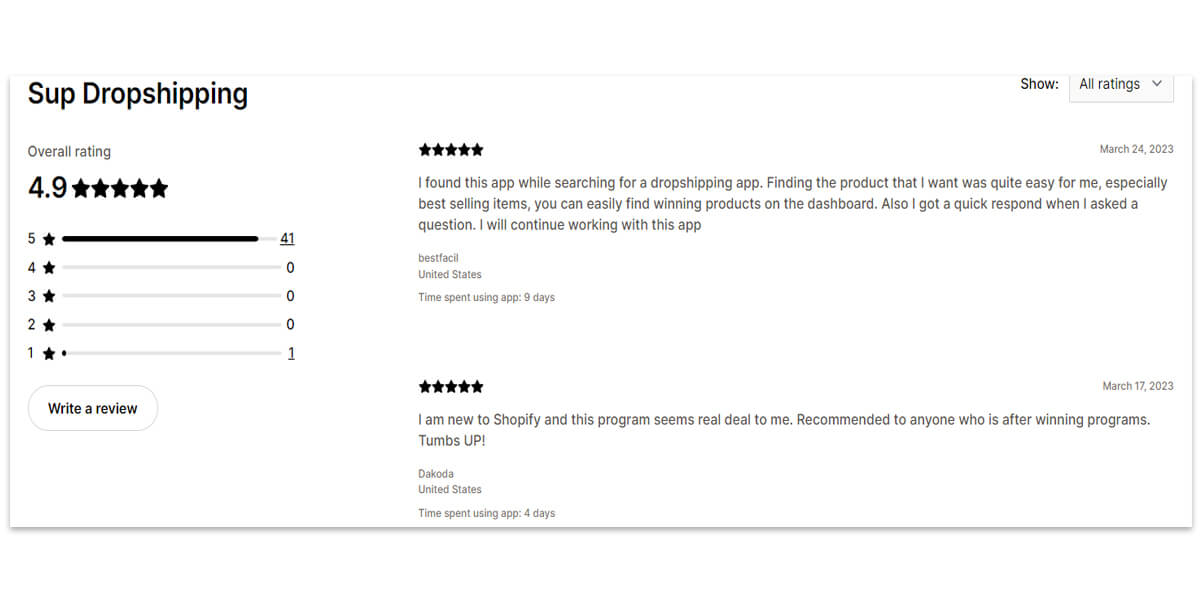 How much does a dropshipping agent cost?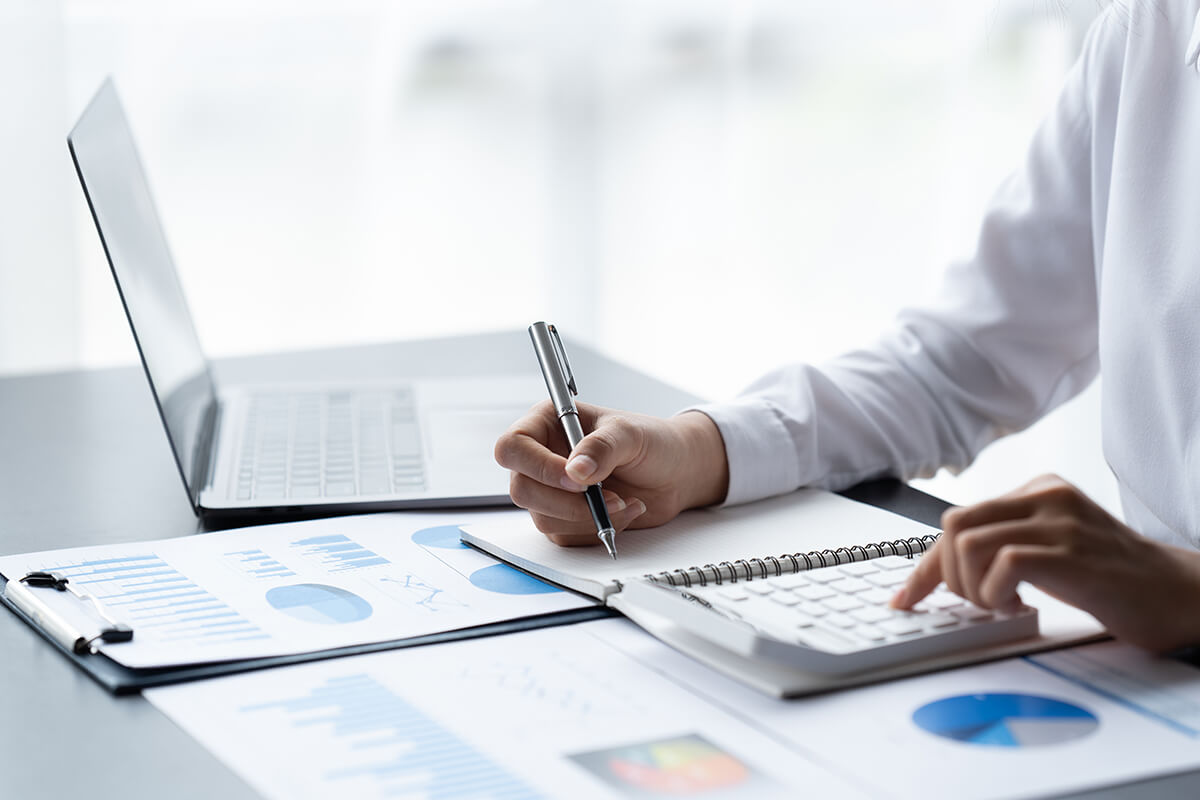 There are 3 charging models used by a dropshipping agent. They are the subscription fee, commission fee, and fixed price per order. Besides, you are charged for product costs and shipping fees. Some agents may ask you to pay for their additional services like photography, custom packaging, POD, etc.
Subscription fee
Monthly subscription fees can range from $10 to $300 per month. With different subscription plans, you are accessible to different features. Typically, a premium or higher-level plan with more advanced features costs more than a basic plan with common features.
For example, if you choose the premium plan of Printify, you need to pay $29 per month and have access to 10 stores per account and up to 20% discount on all products. However, you can only own 5 stores per account and have no access to discounts when you opt for a free plan.
Commission fee
Commission fees are a percentage of the total order and can range from 1% to 15%. For example, an agent may charge a 5% commission fee on each order. That means if a product costs $20, the agent would charge an additional $1 as their commission.
Fixed price per order
This pricing model tends to be used by private dropshipping agents. They often charge for their services based on the number of suppliers and products or service hours. For instance, a private dropshipping agent on Fiverr can charge you $5 to $100 per order for one or multiple suppliers they source.
How to find a dropshipping agent?
Multiple methods are available to find a dropshipping agent.
Below are some methods for your reference.
1. Fiverr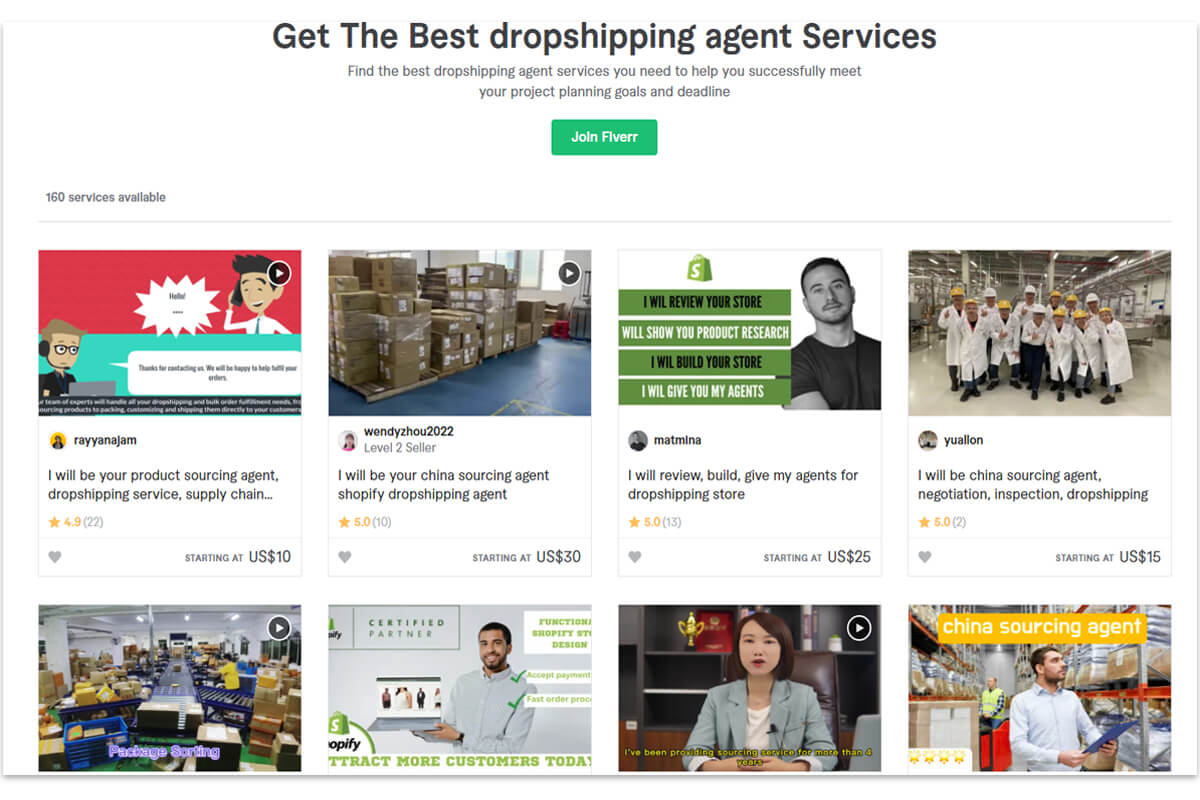 Hundreds of dropshipping agents are listed on Fiverr. Most of them are private individuals and small businesses.
Compared with professional dropshipping companies, they have limited resources for suppliers and products, but they embrace more flexibility and can provide more personalized services.
2. Upwork
Similar to Fiverr, Upwork is a platform that attracts a large number of talents. It is easy to find a dropshipping agent here. The fee they charge usually varies from $5 to $40 per hour.
Search with the keyword "dropshipping agent" on the search bar and plenty of related results will come out. And then your can pick up an agent according to the service fee, location, service description, and work history.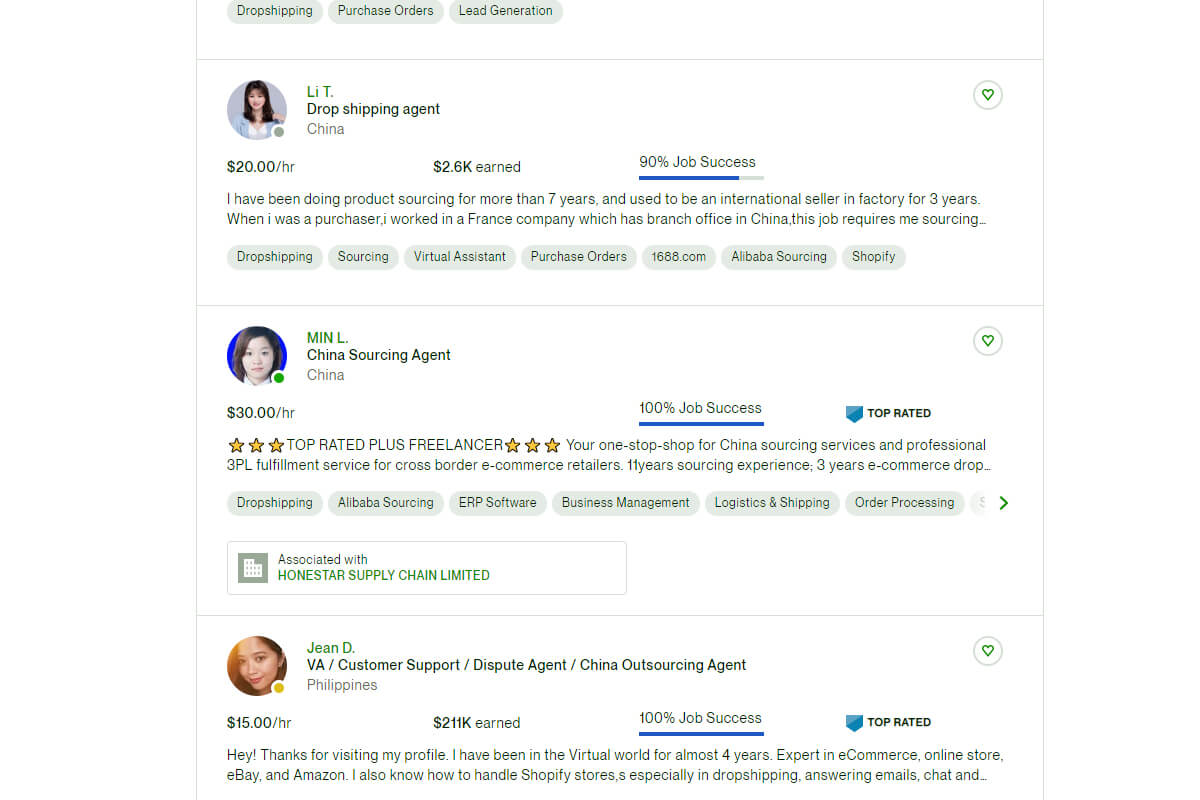 3. Search online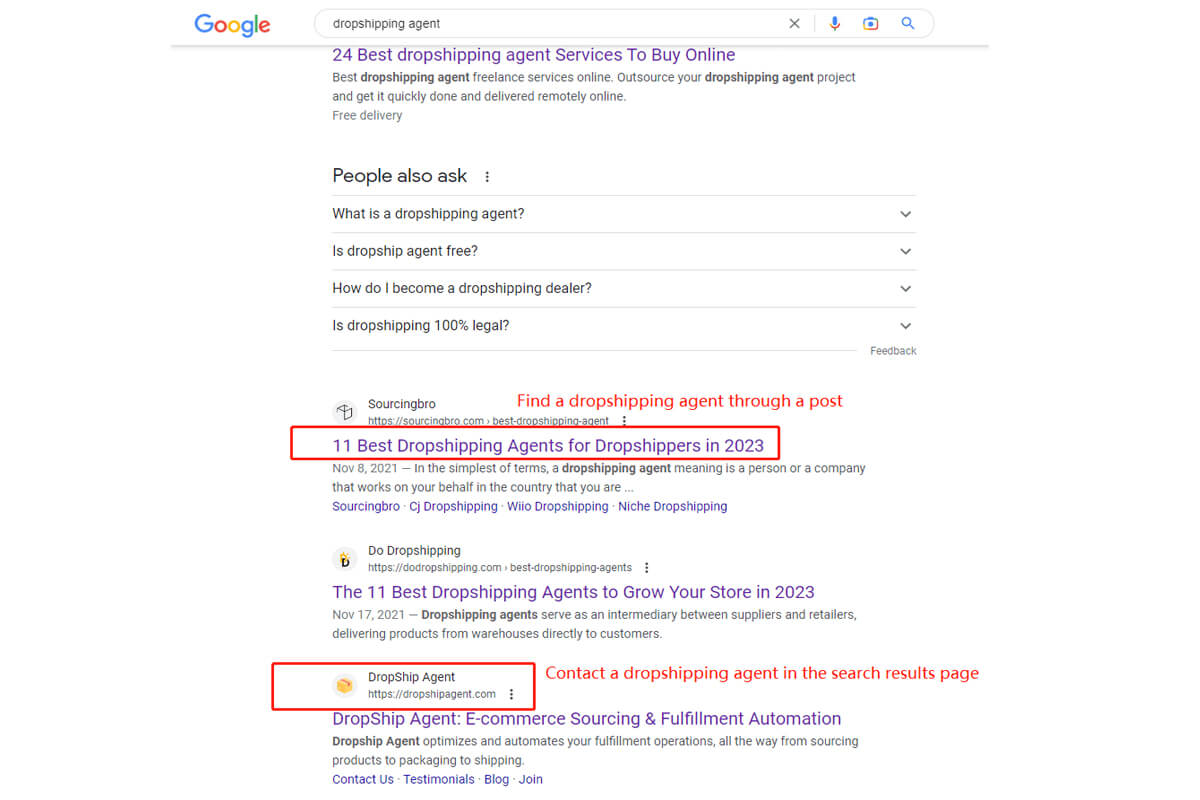 Searching for a dropshipping agent on your browser is simple.
You can search by keyword like "dropshipping agent" or "dropship agent" on Google. And then pick up an agent that ranks on the first or second page. You can also contact a dropship agent through a related post.
4. Search in the app store on your selling platform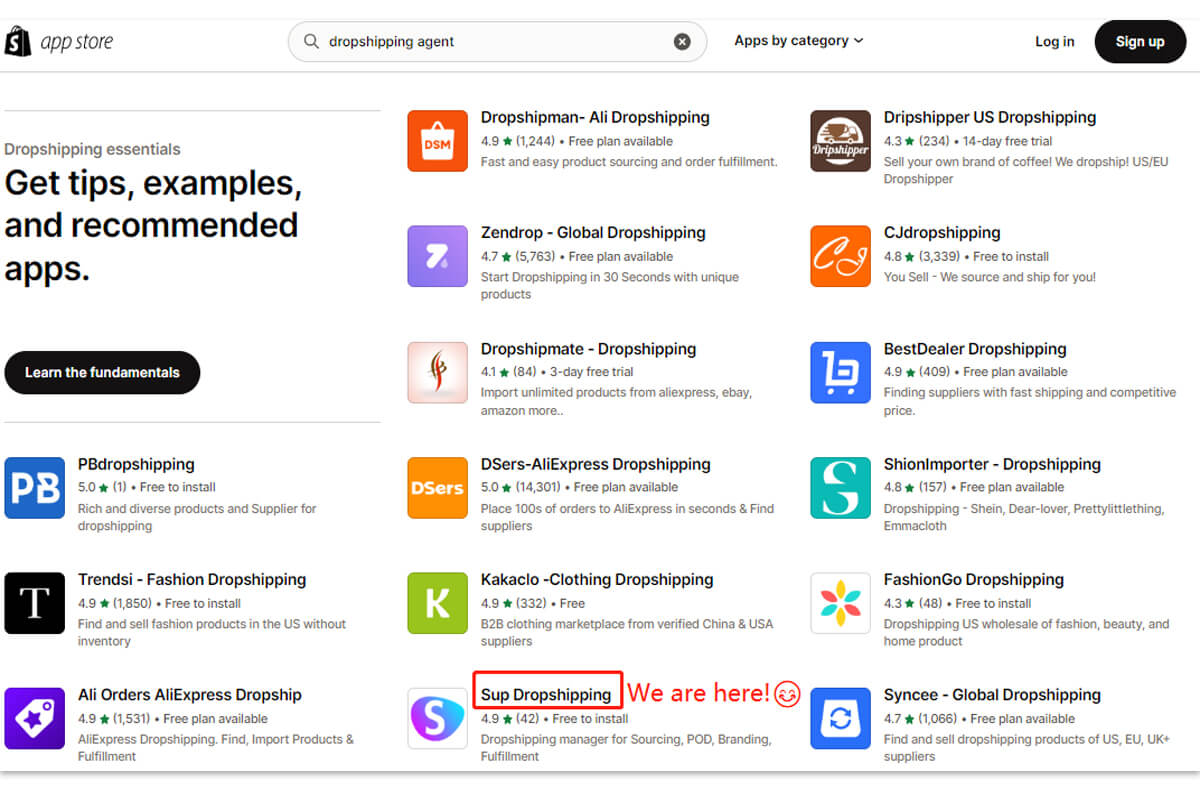 This is a good way to find an agent for your dropshipping business.
If you sell on Shopify, you can open the Shopify App Store. And then enter "dropshipping agent" in the search box. There will come up with tons of related results. Read their reviews carefully and contact them for further communication.
5. Write a post on the social media
Writing a post in dropshipping groups on social platforms can be an effective method. Many dropshipping agents and dropshippers linger on Facebook, Twitter, Reddit, Quora, etc. They pay close attention to updates on these platforms. You may get a response from them if you publish a post to look for a dropshipping agent.
Here is an example of the post.
"Hey, guys.
I'm looking for a reliable dropshipping agent to work with for my store, SimpleStyle.com.
Does anyone have any recommendations or know of someone who provides great service at a fair price? I'm specifically looking for someone who can provide a wide range of products, fast delivery times, and good pricing.
Please let me know in the comments or feel free to message me.
Thank you in advance!"
6. Ask for recommendations from other dropshippers
You likely know some drop shippers in your life or on the website. You may ask them to recommend a dropshipping agent for you. Since they have built a relationship with the agent, they can tell you details about the service of this agent.
If you still feel it's daunting to find the right dropshipping agent, this article of the 12 Best Dropshipping Agents to Scale Your Business in 2023 may do you help.
Wrapping up
A dropshipping agent is a service provider who connects the supplier and you. Working with an agent can bring you many benefits. Though there are multiple methods to access them, the most straightforward way is to work with Sup Dropshipping.
Sup Dropshipping is a dropshipping company located in China. We provide worldwide dropshippers with all-around services from sourcing to shipping. With more than 10 years of experience in e-Commerce, we can ensure you a happy and satisfying experience cooperating with us.
Click to learn more about us!