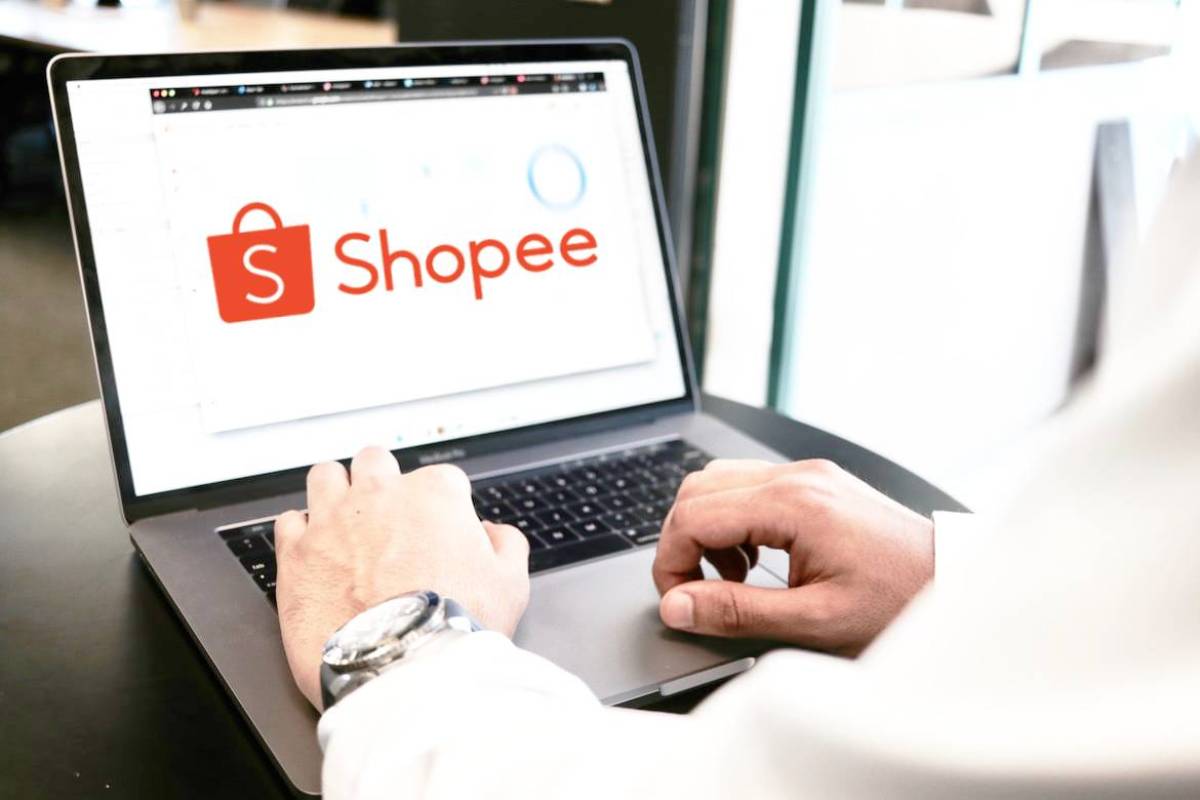 Are you planning to start a business in Southeast Asia? Dropshipping on Shopee may be one good option.
Southeast Asia has been one of the top emerging markets across the globe since the pandemic hits. The report from eMarketer shows that retail eCommerce sales in this area will increase to US$89.67 billion in 2022 and continue to rise in the next years. In addition, the number of internet users in Southeast Asia is predicted to reach 558.48 million by 2025. Thus, it is a great opportunity to enter this emerging market right now.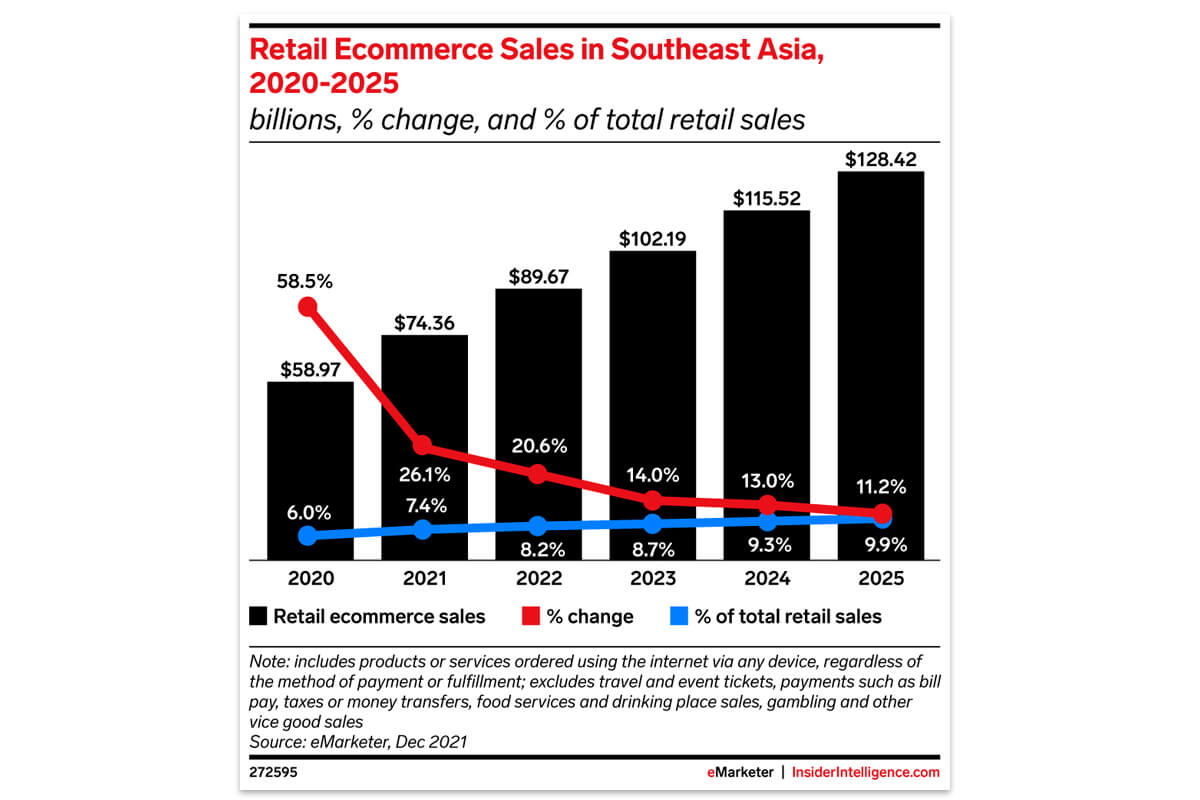 Shopee, as a leading selling platform in Southeast Asia, is no doubt the first choice for your business. And dropshipping on Shopee could provide the easiest way to take your chance.
In this article, we will give you an ultimate guide for Shopee dropshipping.
Let's get started.
What is Shopee
Shopee is one of the major online marketplaces in the world. There is a wide range of products in this marketplace, from health & beauty products to computer accessories, clothing to home supplies. You can nearly find whatever you want here.
Founded in Singapore in 2015, Shopee was only available in Southeast Asia and Taiwan at the beginning. But at present, it has been accessible to sellers in other countries like Brazil, Mexico, Colombia, Spain, and so on.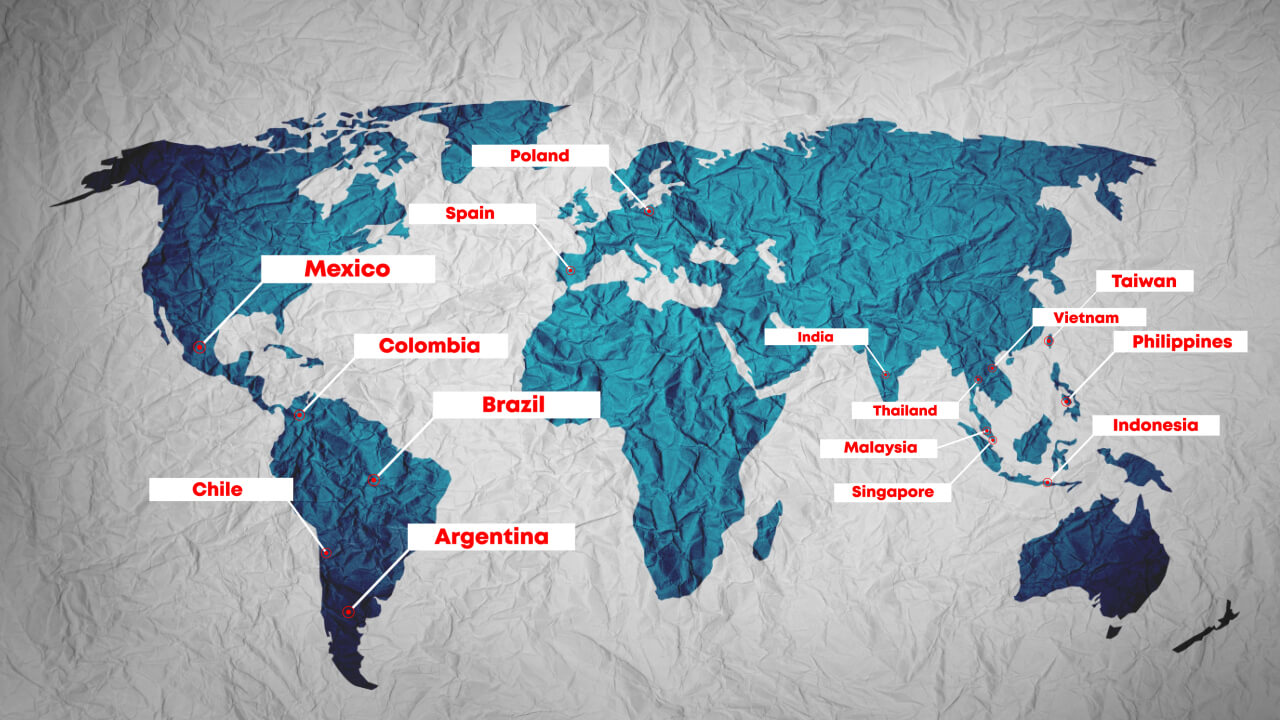 Why should you dropship on Shopee
Shopee has been developing rapidly in recent years. The popularity of Shopee on Google Trends shows a tendency of continuous increase. For data proof, according to Statista, the total gross merchandise value (GMV) of Shopee reached US$18.2 billion in the fourth quarter of 2021. The number is expected to grow continuously!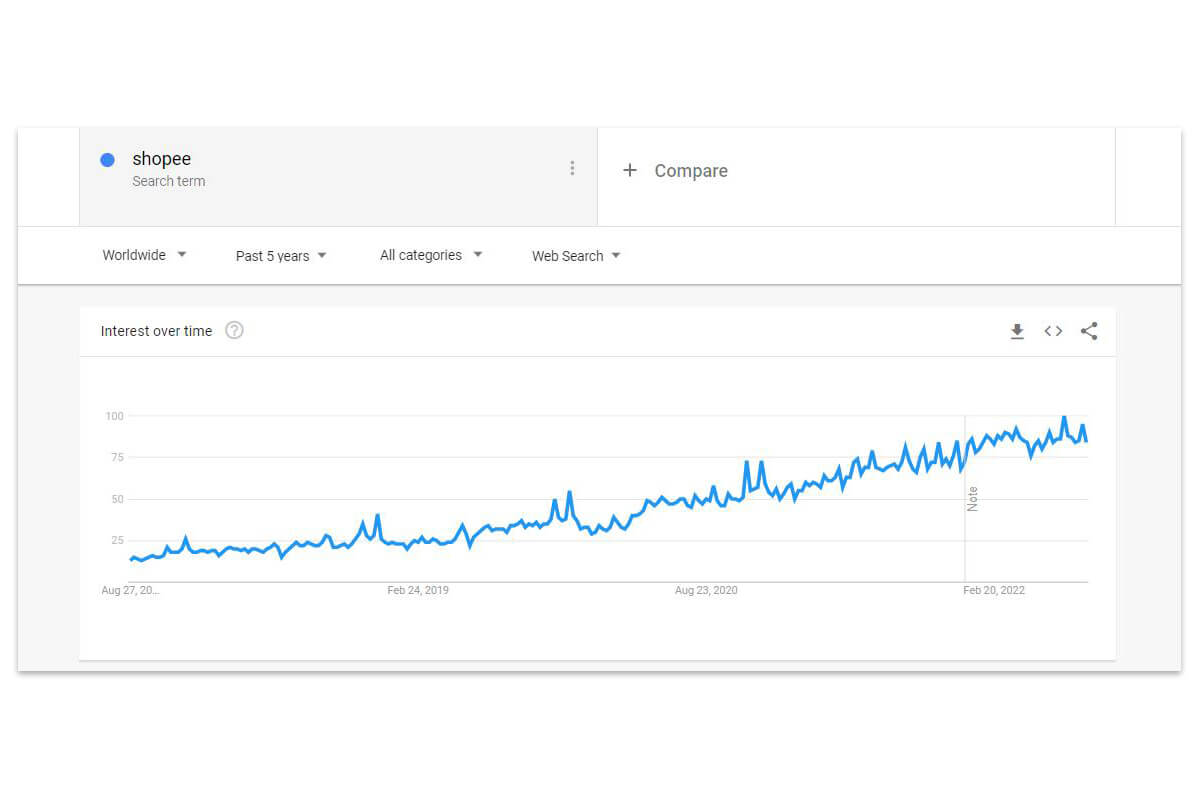 Besides that, here are some other important reasons why you should dropship on Shopee.
Potential traffic
Shopee is well-known to a great number of consumers. As long as you build a store with a qualified product detail page, you can get traffic without too much effort.
Convenient marketing
Shopee provides sellers with different marketing tools. With these tools, you can drive traffic to your store and increase sales easily.
Customer service
With the communication tools offered by Shopee, you are allowed to communicate with your customers promptly and effectively.
Low upfront costs
You don't need to spend on setting up and maintaining a website. If you are registered on Shopee within 90 days, you are exempt from commission fees.
Multiple payment methods
Shopee allows various payment methods, making it convenient for your customers to pay for their purchases.
How to Dropship on Shopee
Since now you have known the advantages to sell on Shopee, you probably want to explore how to be a dropshipper on this marketplace.
Here, we walk you through the process to dropship on Shopee with 6 simple steps.
A niche is a small part of a market, aiming to meet the specific needs of your target audience. For example, clothing is a market, and inside it, the dress is a small niche, which could be further divided into a few smaller niches.
When you sell in a niche, you devote your energy and time to a special field. This increases your chance to succeed. Besides that, you may become an expert in the field to increase your customers' trust. Focusing on a niche is also good for avoiding stiff competition in the dropshipping market.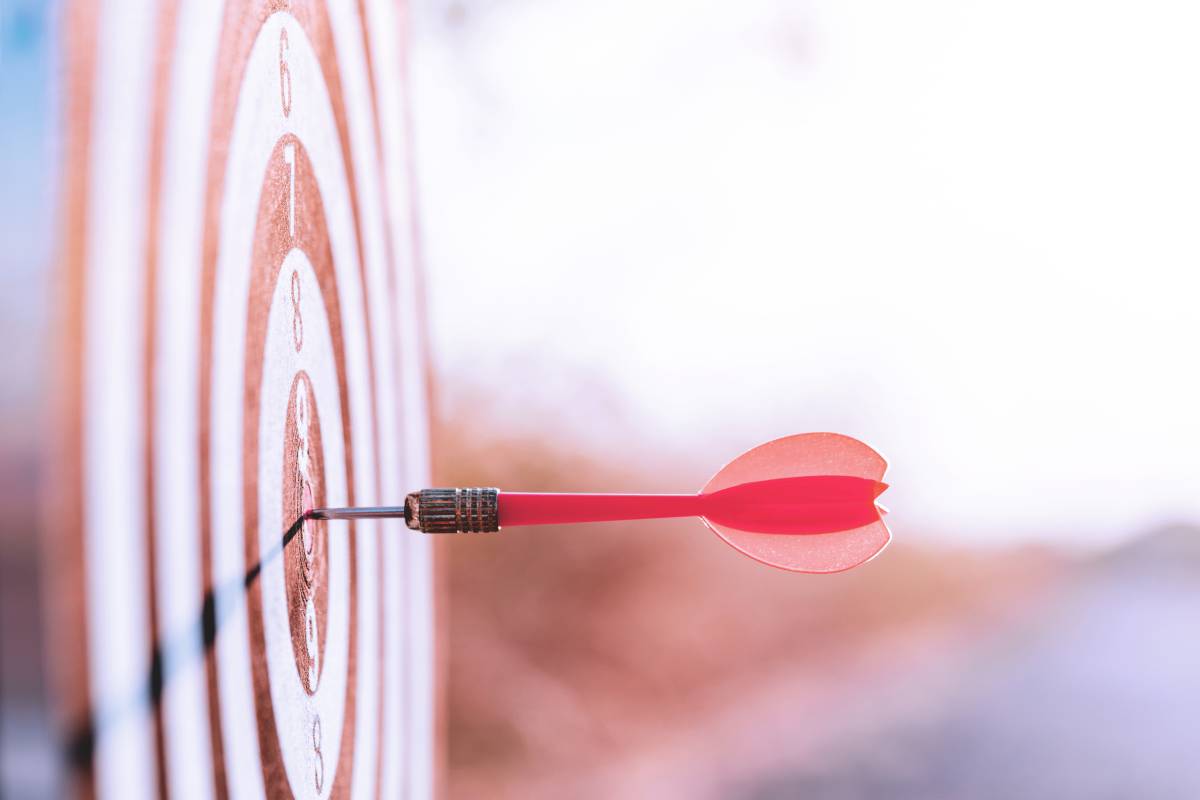 Then, how to find the right niche?
1) Understand your interests and strengths
Ask yourself,
-What are you interested in? Fashion? Cosmetics? Or Outdoor supplies?
-What are you good at? Are you familiar with a product category or skilled at marketing such products?
Explore the answers to these questions, and then you will come up with some niches you want to enter.
2) Identify what you can help with your customers
After you find some niches, you should explore problems customers encounter in these markets. Are you able to solve the problems? Or what service do the customers need? Will you meet their needs? Checking out such problems will help exmine whether you should take that niche.
3) Research your competitors
Your competitors could give you some inspiration of which niche to put invements into. Research what they are selling, how much their products are priced, and what is the profit margin of these products. Your research will suggest if you should enter such niches.
4) Narrow down your niches
Having known about your customers and competitors, you need to narrow these niches to one profitable niche. You should ensure that this niche is neither over-saturated nor too small.
That is, there is no fierce competition and too many sellers in this small market so that you have a chance to make profits. And meanwhile, there should be some competition, which proves other sellers also think the market is worth putting effort into.
5) Test this niche
The final step is to test your niche. Try to build a store and sell, then you will know if your idea is viable.
With low entry barrier and no need for inventory, dropshipping on Shopee is a good start to test it.
2. Start a store with Shopee
After you find your niche, it is time to set up your store.
The procedure is as followings.
1) Create a Shopee seller account
Choose the country you target and then register on this website. Your phone number, Facebook account, or Google account is needed here for registration.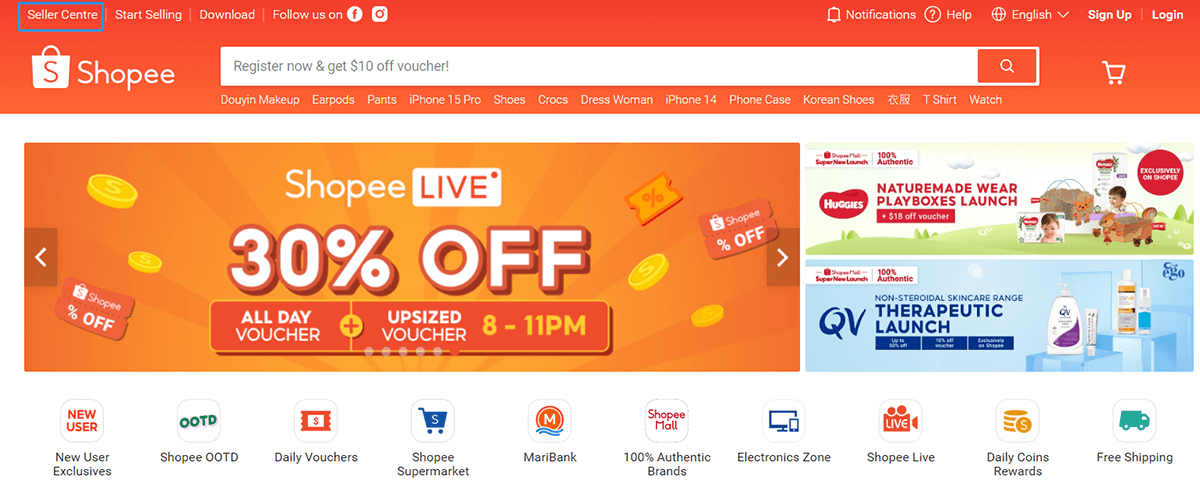 2) Fill in your personal information
Click on the My Account button, fill in your username and shop name, choose your gender and date of birth, and complete other information.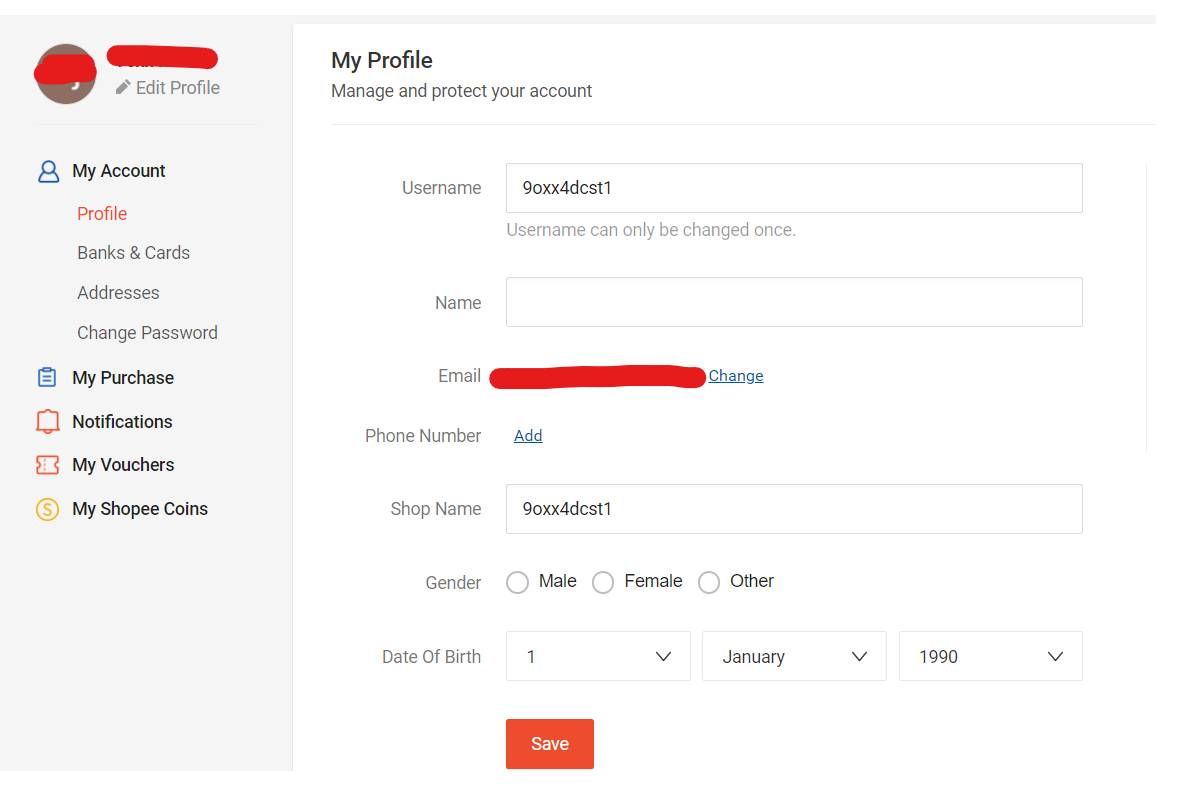 3) Complete your shop profile
Go to Seller Center and finish your shop profile including your shop name, images or videos of decorating your shop, and shop description.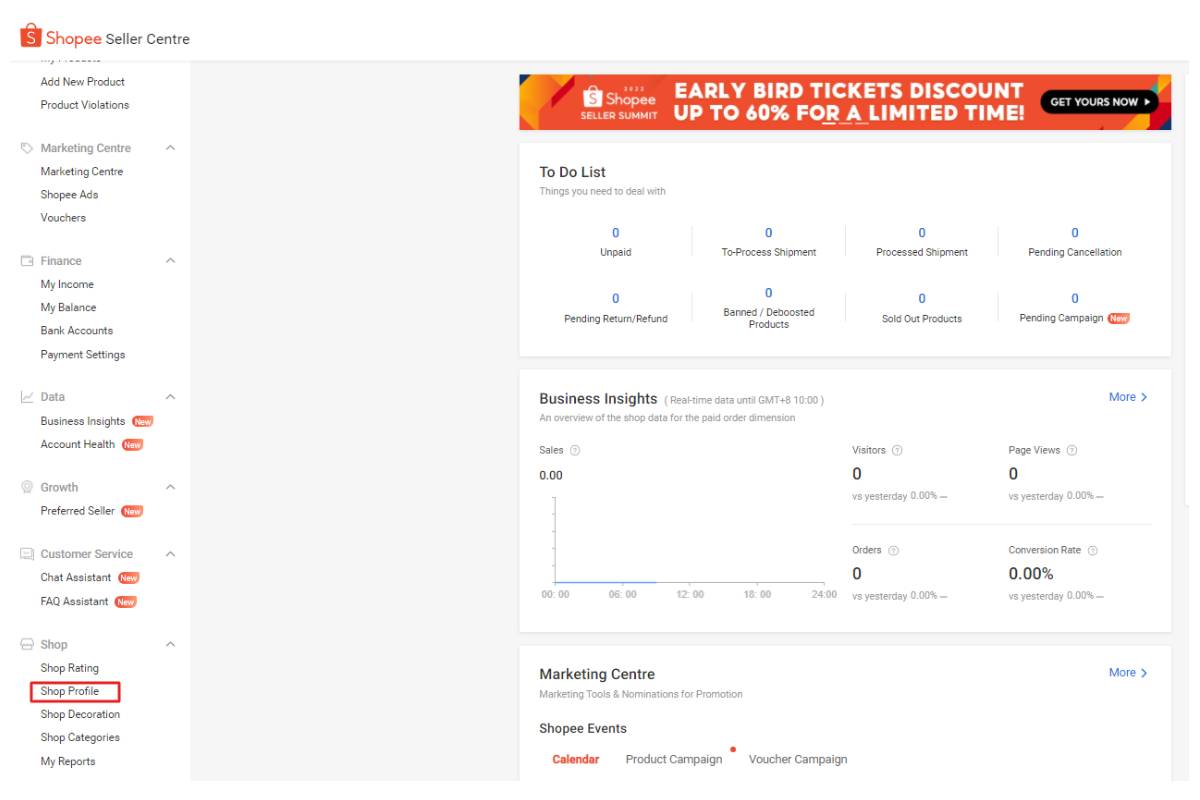 Remember that if you are not a local and want to sell on Shopee, you need to apply for the qualification to be a cross-border seller. You may contact Shopee customer service to further the application process.
3. Work with a supplier
Shopee in itself doesn't support dropshipping. But working with a supplier makes dropshipping on Shopee possible.
A supplier deals with inventory management, order fulfillment, and shipment for you. So the supplier plays a significant role in your dropshipping business.
However, it is not easy to find a trustworthy supplier in a short time.
For your convenience, we select some reliable supplier sources for your reference.
Aliexpress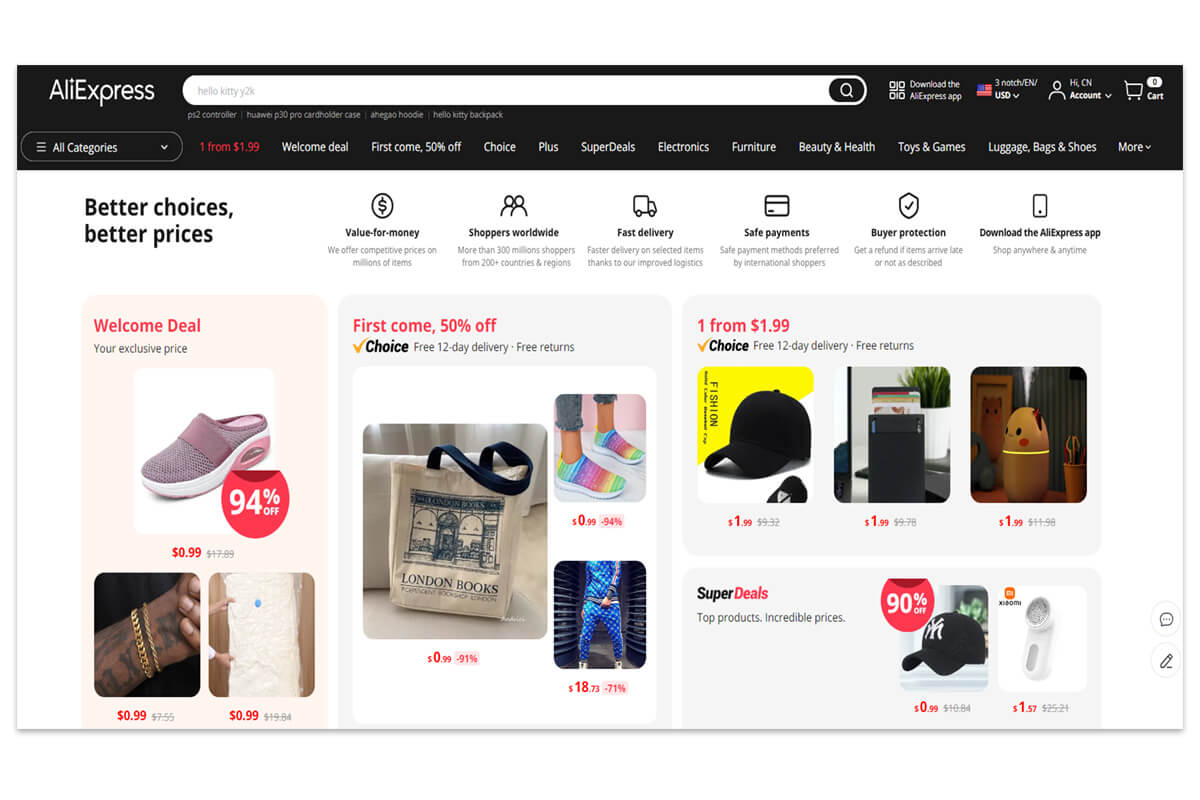 Aliexpress is a business-to-consumer(B2C) marketplace founded by the Alibaba group in China. There are over 100 million products in various categories on this platform. Many verified suppliers allow you to buy low-priced goods in bulk. They also offer dropshipping services and ship orders worldwide.
Plus, Aliexpress updated Aliexpress Dropshipping Center recently. This search tool allows you to find a reliable supplier and potential products more efficiently.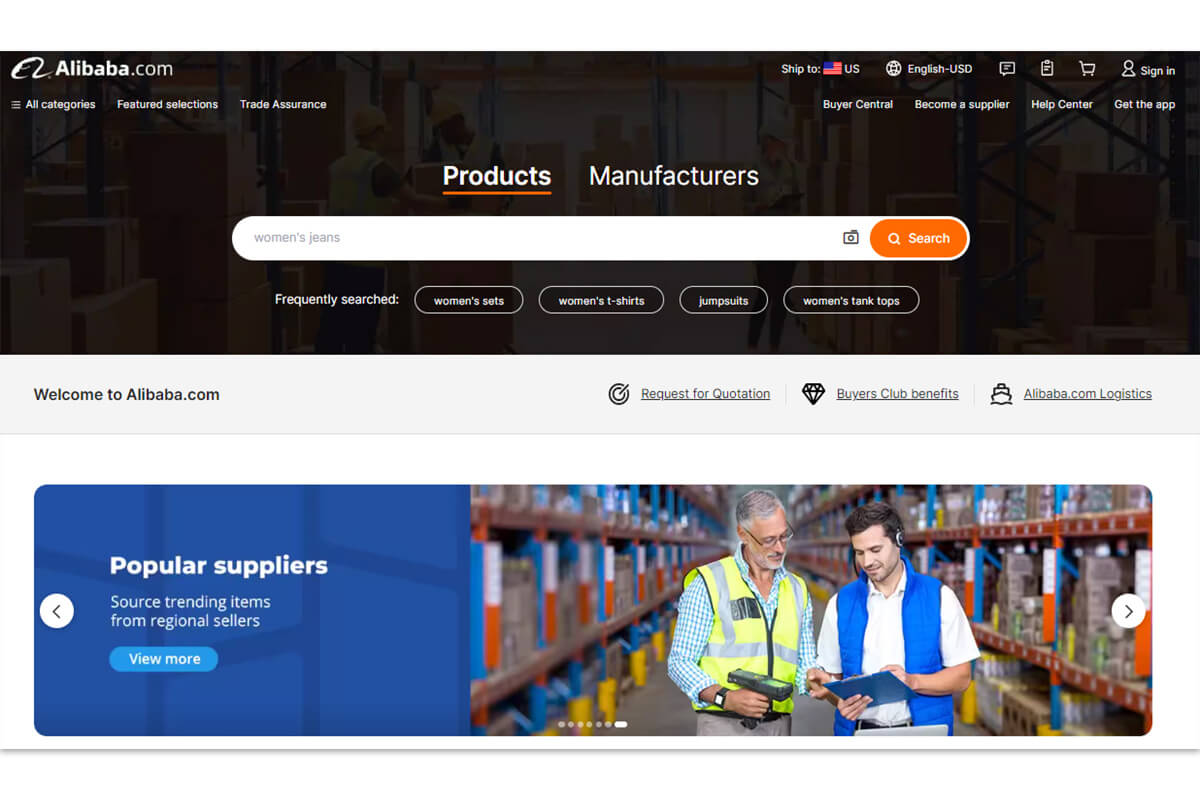 Founded by the same company as Aliexpress, Alibaba is an international business-to-business(B2B) platform. This platform connects China sellers, manufacturers, and wholesalers with worldwide retailers and dropshippers. Millions of products in various categories are available to you. Some are even not easy to find on other eCommerce platforms.
Most importantly, you can purchase products in bulk at a lower price on Alibaba. Many dropshipping suppliers also provide private-label and white-label products. You can customize your products to build your brand.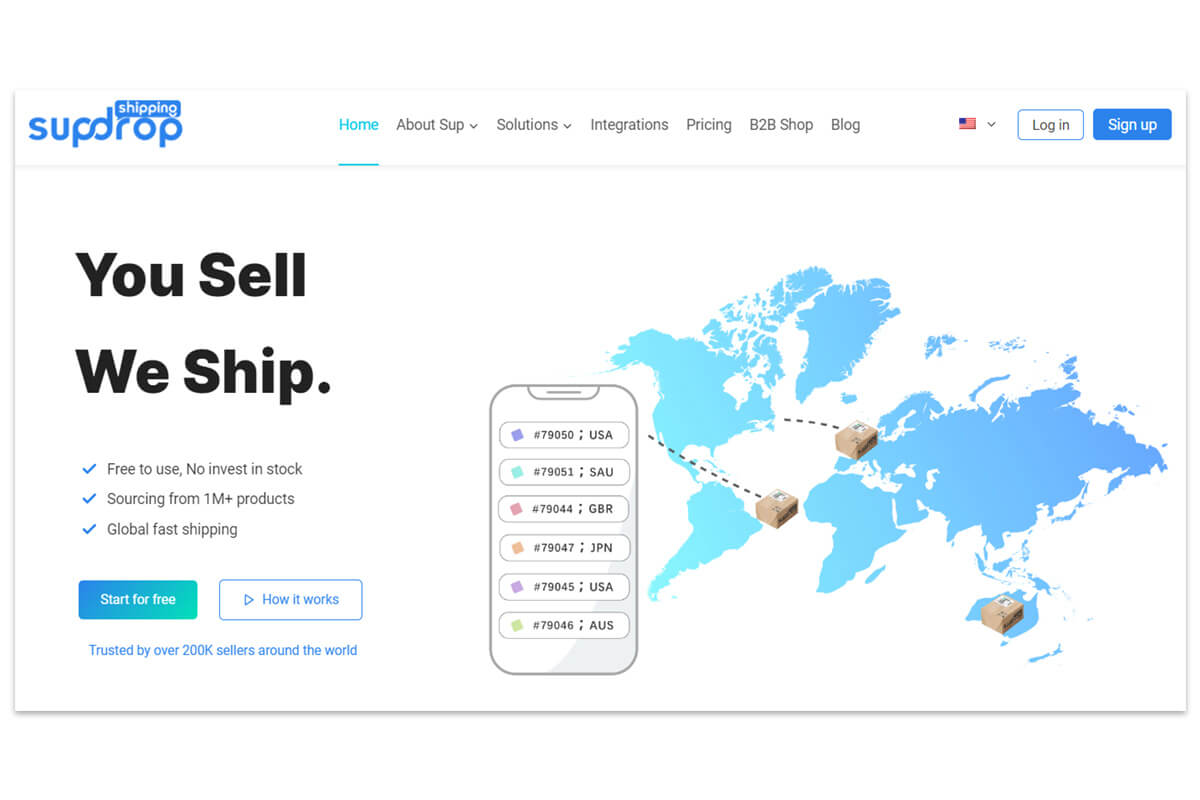 Sup Dropshipping is an all-in-one dropshipping service solution launched in 2010. Working with suppliers worldwide, Sup can help you source competitive products you need. Anytime you want to source an item, just place sourcing requests! Your personalized supporter is there for you.
Whenever you receive an order, you sync it to our system. Then we pick, pack and deliver the order on your behalf. You avoid plenty of hassles at a minimum cost.
In addition, we offer you branding and quality inspection services. You can add your logo, brand, and unique design to your products. Our print-on-demand tool even allows your customers to design the product. Also, you can customize your package. Before every order is shipped, our team checks the product to ensure it is in a good condition.
4. Sell proper products
Selling proper products is important to earning profit and running your business. However, choosing profitable products among a large quantity of items tends to be a challenge.
Here are some products we recommend selling.
Small, light, and high-profit-margin products
Items that are with unique designs or functions and easy to use
Trending products( Note: sell before your competitor begins to sell them, and update them when your competitor has been selling them. Keep an eye on your competitors all the time!)
Complementary products. For example, some sellers may sell eyeglass and eyeglass nose pads separately. It is an opportunity for you to combine these two products to sell as one set. It could be time-consuming to find a supplier selling two products, but you will find it worth the effort.
5. Market your business
Marketing is important to increase the product visibility. There are many marketing methods, such as social media marketing, email marketing, SEO, and Pay Per Click ads.
PPC ads can be the most effective way to deliver your products in front of customers in a short time. SEO is cost-effective to market a business in the long run. And email and social media are helpful for you to keep communication with you audience.
To start your marketing, you need to define your target audience and find which channel they stick to. And then create campaigns on this channel. Keep in mind that the content you create on every campaign should be in line with your brand voice(the way you speak to your audience in messaging).
Read Top 5 Digital Marketing Tips in E-commerce for 2023 to learn more about marketing.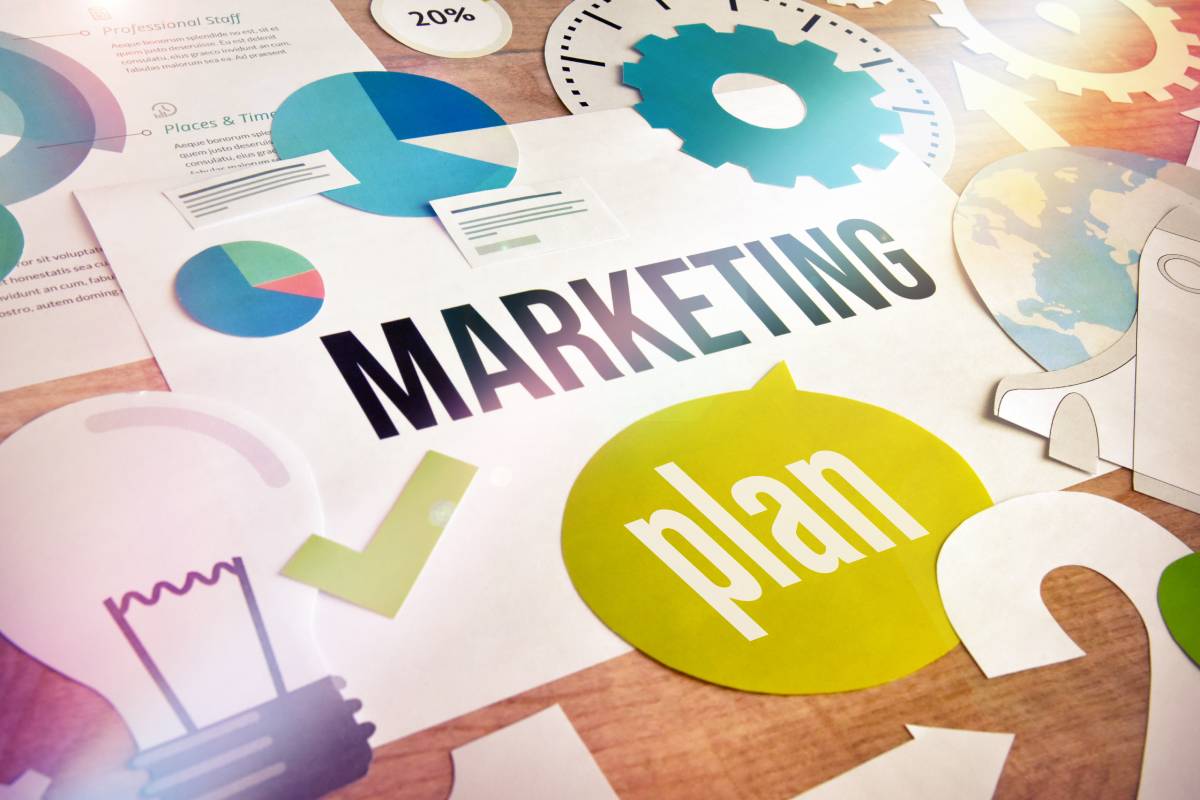 6. Offer excellent customer service
In the business world, customer service is always crucial. Anyway, no one wants to buy from a seller with bad customer service.
Therefore, you should offer outstanding customer service in the whole process of selling a product.
Before order shipment, remember to contact your customers via email, message or telephone and confirm order information with them.
Once the order is shipped, sync the tracking number in time so that they can keep track of their package.
After the customer receives the order, kindly send them a message to inquire about their shopping experience and improve what they are not satisfied with. For any queries concerning a return and exchange, answer them within 24 hours and provide a reasonable solution.
When you do so, you can increase your customers' satisfaction and loyalty to your brand.
FAQ
Is Shopee legit and safe?
Shopee is a legitimate online marketplace founded by Sea Group.
It connects buyers and sellers with a safe and user-friendly website. It has been a leading e-commerce platform in Southeast Asia.
Shopee takes various measures in place to ensure both buyers and sellers a safe transaction environment. For example, Shopee launched the Shopee Guarantee policy to keep online shopping and selling safe and easy.
Is it free to sell on Shopee?
Local sellers are charged for free to register and list products on Shopee, but need to pay a small transaction fee based on product category when an order is completed.
Selling in Shopee Mall will be charged for the registration fee, commission, and other fees.
Can I dropship in Malaysia?
Of course, you can. Shopee is available in Malaysia. Though this platform itself has no tools to support dropshipping, it allows a dropshipping business when you collaborate with a supplier or an agent. To start dropshipping in Malaysia, please refer to this article.
What cannot sell on Shopee?
Products you cannot sell on Shopee are classified as followings,
Animal and wildlife products
Artifacts and antiquities
Used cosmetics
Counterfeit currency and stamps
Credit and debit cards
Currency or credits
Drugs, prescription-only medicines, pharmacy-only medicines, drug-like substances and associated paraphernalia
Telecommunication equipment and electronic surveillance equipment
Firearms and weapons
Alcohol
Prohibited Food
Read the Prohibited and Restricted Items policy for details.
What payment methods can I take in my Shopee store?
Shopee supports multiple payment methods. But these payment options can vary in different countries and regions.
In Malaysia, you can get paid through
Credit / Debit Card
ShopeePay
Online Banking
Maybank2u
Cash on Delivery (COD)
Cash Payment at Convenience Stores
Installment Plan
SPayLater
Google Pay
Apple Pay
While in Philippines, you can not take Maybank2u, Cash Payment at Convenience Stores, and Apple Pay to get paid though you have access to other payment methods listed above.
Conclusion
Shopee is one of the most influential e-commerce platforms in. Dropshipping on Shopee will be the choice of more and more businesses based in the Southeast Asia area or even other regions. Grasping skills to dropship on Shopee, you will make your success sooner or later.
Or have you already successfully built your business on Shopee?
We would appreciate it very much if you can share your story with us in your comment.
Why i cannot list product sup dropshipping to shopee

Hi Nasir, your dedicated agent has contacted you, please check your inbox.

I can withdraw my money when have order pending???

Hello, I don't think so.
You would only receive the payments when your orders are finished. Then you can withdraw from your Shopee account.