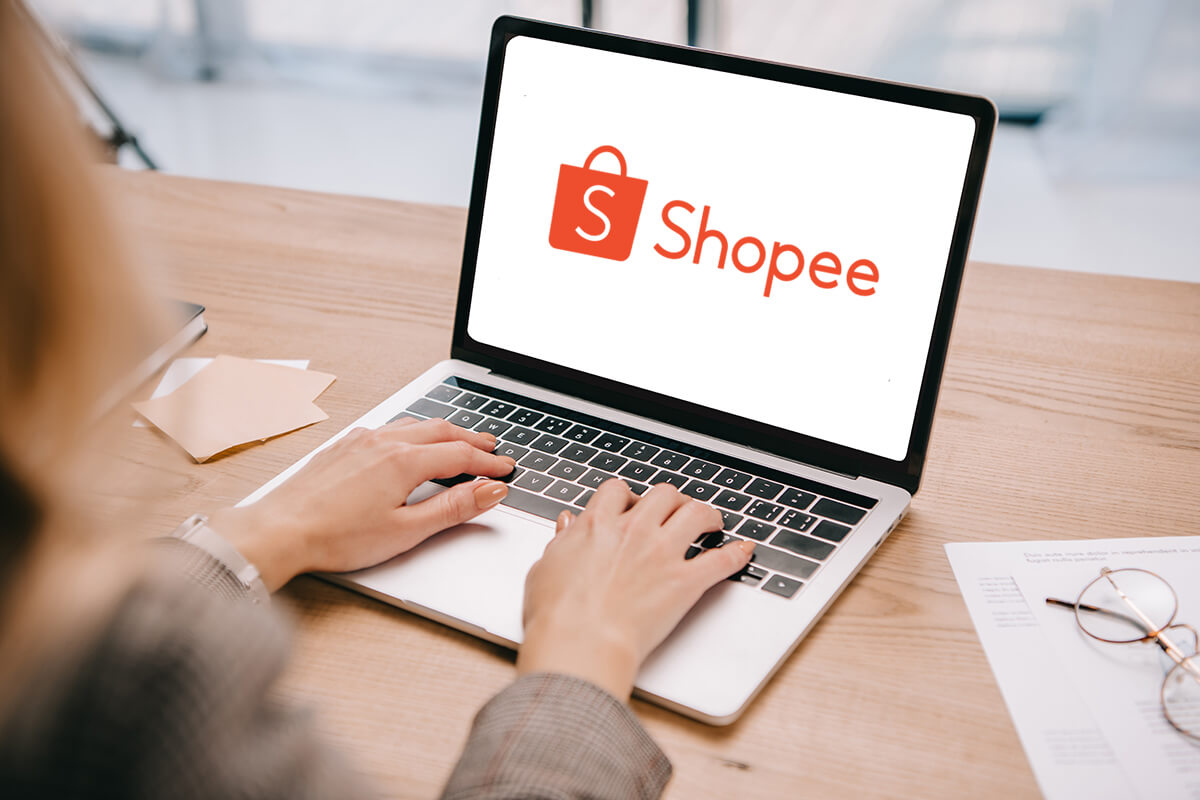 The eCommerce economy in Southeast Asia has gained momentum in recent years. According to a report from Statista, the internet economy size in this region was around US$194 billion in 2022, and it was expected to reach US$ 330 billion by 2025.
If you are looking to run a business in the Southeast Asia market, it is time now. Most importantly, you should never miss out on the selling platform Shopee.
Shopee is a leading online shopping platform in Southeast Asia. It has gained popularity since launched. Many retailers choose to start their business on Shopee.
This guide will cover everything you need to know about Shopee.
What is Shopee?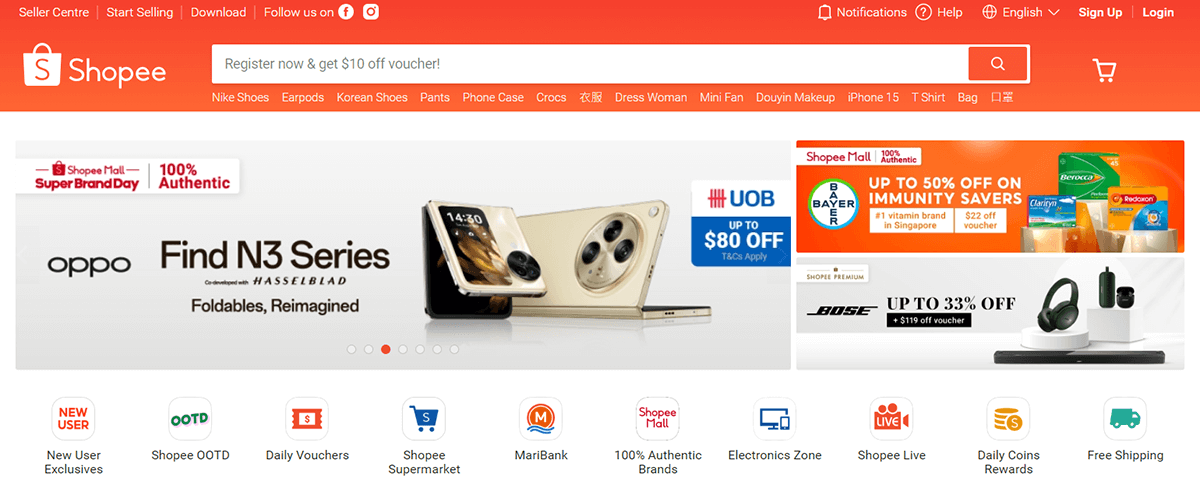 Shopee is a well-known B2C(business-to-consumer) and C2C(consumer-to -consumer) online marketplace owned by Sea Group. It was founded in Singapore in 2015 and has since become one of the largest e-commerce platforms in Southeast Asia.
Shopee is currently available in these countries,
Singapore
Indonesia
Taiwan
Thailand
Malaysia
Vietnam
Philippines
Brazil
Mexico
Colombia
Chile
It means if you are located in a country above, you are eligible to sell on Shopee. If not, you may apply for qualification to be an international seller.
Shopee connects sellers with buyers with a user-friendly interface. It offers a variety of products including clothing, electronics, household items, beauty products, and more. To help customers save money, Shopee offers various discounts on selected products.
Is Shopee legit and safe?
Shopee is a legit company founded by Sea Group and it is safe to use.
Since it was launched, Shopee has been evolving rapidly in the eCommerce world. The gross merchandise value of this marketplace amounted to US$19 billion in the second quarter of 2022. And 1.7 billion orders were processed on Shopee in the third quarter of the same year. From the data, it is not hard to know that Shopee has become a choice of many merchants and consumers.
In itself, Shopee takes various measures in place to ensure users' safe transactions. For example, Shopee launched the Shopee Guarantee policy. Payments from buyers are held by Shopee and not released to sellers until the order is completed. If the order is not received in the guarantee period, the buyer can request a refund.


Additionally, Shopee guides customers to buy safely on this platform. The company placed warm reminders on the help center and listed effective tips for buyers to avoid scams.
However, Shopee is only an intermediary between buyers and sellers. Like other marketplaces, most sellers are trustworthy while some may not. It is impossible to guarantee every seller is reliable. So buyers should always check the seller rating and product reviews before a purchase. Buy a sample to check whether the seller's service is up to standard and whether the product meets expectations if necessary.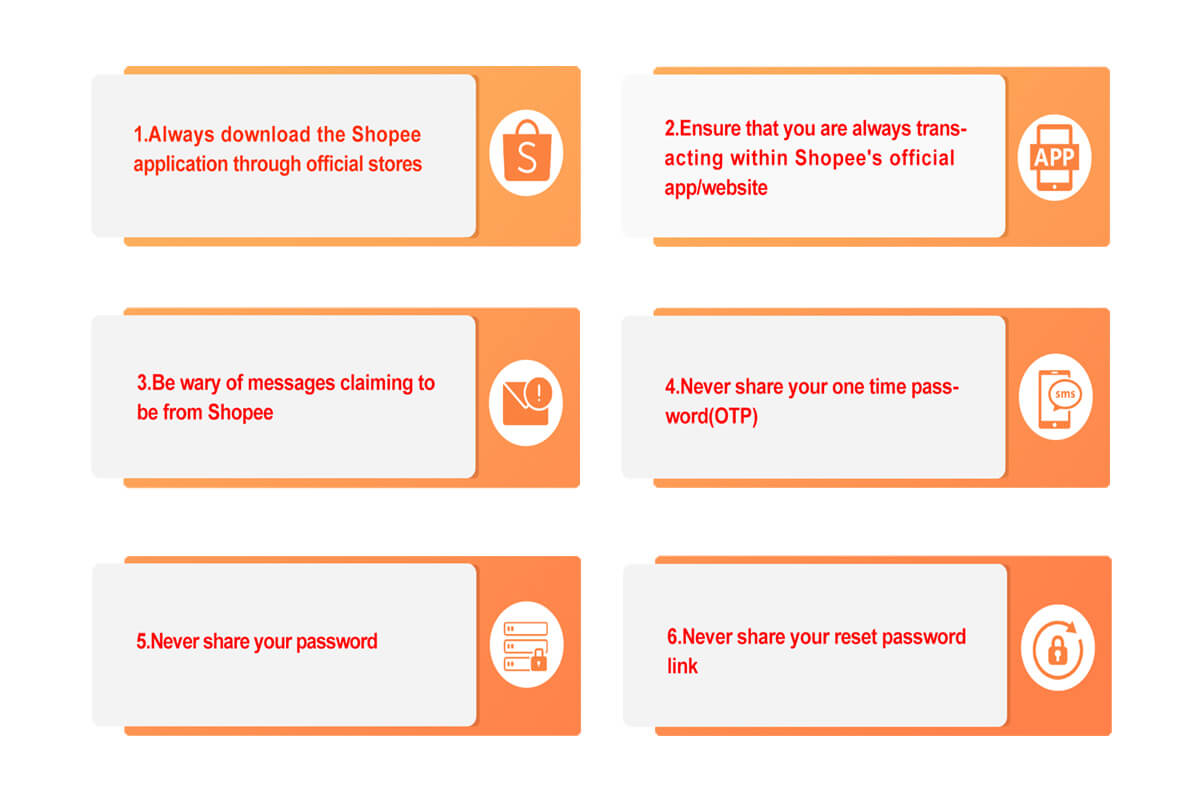 How does Shopee work?
Shopee is an online retail marketplace that serves as an intermediary between the seller and the buyer. Third-party sellers sell products to their target audience on this marketplace. After an order is completed, Shopee charges the seller several types of fees for their services, such as commission, transaction fee, service fee, and shipping fee.
Pros and cons of Shopee
Selling on Shopee has pros and cons. You decide on whether to sell on this platform by weighing its features.
Pros
Large customer base: Shopee is a renowned eCommerce platform. It has a vast and diverse customer base in Southeast Asia, providing you with access to millions of potential customers.
Easy to start: It is easy to set up your store on Shopee. No technical skills are needed, you can create an account, list products, and start selling within several hours.
Mobile-friendly: Shopee's mobile app is user-friendly. So you can manage your business on the go. It also makes it convenient for your customers to access your store on their smartphones.
Low upfront costs: Shopee provides an accessible selling platform for you, and you don't need to spend on setting up and maintaining a website. If you are registered on Shopee within 90 days, you are exempt from commission fees. So you can test the waters and scale your operations gradually.
Built-In marketing tools: Shopee offers various marketing and promotional tools, such as Shopee Ads, vouchers, and discount promotions. You can use these tools to attract customers and drive more sales.
Multiple payment methods: Multiple payment methods are supported on this platform, including credit or debit cards, PayNow, Google Pay, and more. It is convenient for your customers to pay for their purchases and for you to collect payments.
Seller support: Shopee offers responsive customer support for sellers, and you can reach out for assistance if you encounter any problems.
Cons
Intensive competition: Because of Shopee's popularity, a large number of sellers have been selling on this platform. It can lead to intense competition, particularly in certain product categories.
Fees: Shopee charges fees, including commission fees, transaction fees, and other potential fees for premium services. This can lower your profits.
Limited international reach: Shopee primarily focuses on Southeast Asian markets, so it may not be the best choice for sellers looking to reach customers outside this region.
Limited customization: While Shopee is user-friendly, it may not offer as much customization or branding opportunities as building your independent e-commerce website.
What can you sell on Shopee?
Shopee allows you to sell in various categories including clothing, electronics, household items, beauty products, pet supplies, etc. This means that you can sell most of the items you want to sell.
But there are also prohibited products that you should be aware of. Selling prohibited products is against the rules of Shopee and will cause undesirable consequences.
Below are some of the prohibited products.
Animal & animals related products
Artifacts and antiquities
Used cosmetics
Counterfeit currency and stamps
Credit and debit cards
Currency or credits
Drugs
Firearms and weapons
Alcohol
Lottery tickets
Pesticides
For more information about prohibited products on your market, you may refer to the Shopee official website.
How to sell on Shopee?
It is easy to set up a Shopee store and sell products even if you have no technical skills.
Here are the 7 simple steps to start your Shopee business.
1. Find a niche
Finding a niche is the first thing when it comes to starting an online business on Shopee.
A niche is a small segment of a market. If clothing is the market, the category of dresses or skirts will be a niche example.
By focusing on a niche, you can easily target your audience who are more likely to make purchases. Marketing to potential customers will also be easier. What's more, there is usually less competition in a niche market. So your chance to succeed will increase.
Here is the process to find a niche.
1) Understand your interests and strengths
2) Find out the problems your customers encounter
3) Research your competitors
4) Narrow down your niche ideas
5) Test the niche
2. Create a Shopee seller account
Before selling on Shopee, you need to register a seller account.
Let me walk you through the registration process.
1) Go to the Shopee homepage and click "Seller Center"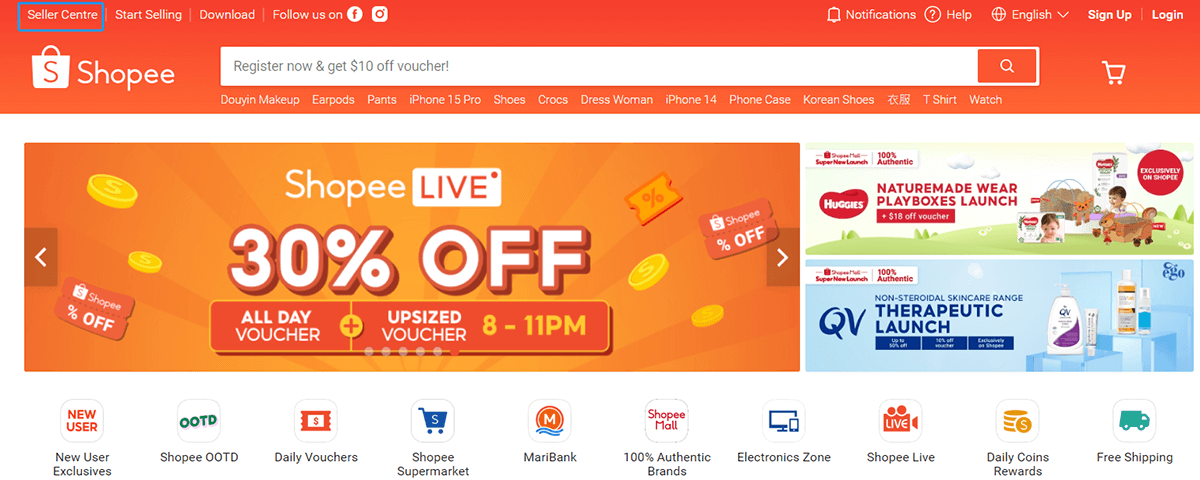 2) Click "Sign Up" and type in your phone number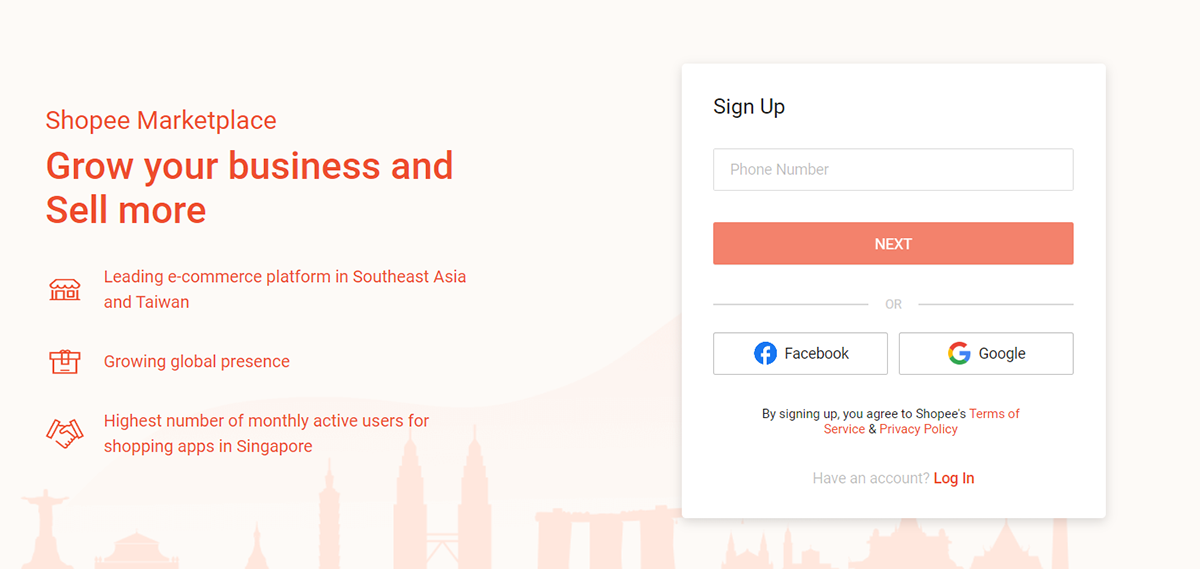 You may choose to register with your Facebook or Google account
3)Verify your phone number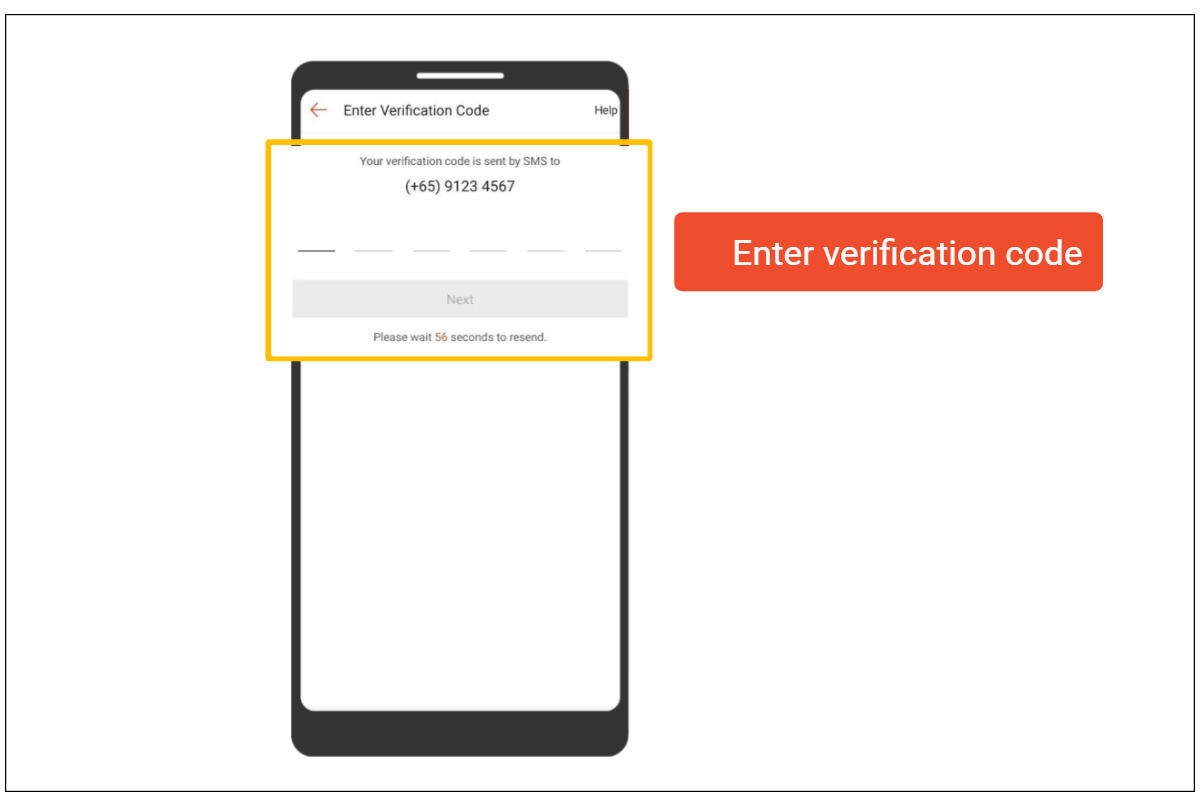 Shopee will send you a short message to verify your phone number. Verification can make your account more secure.
3. Complete your shop profile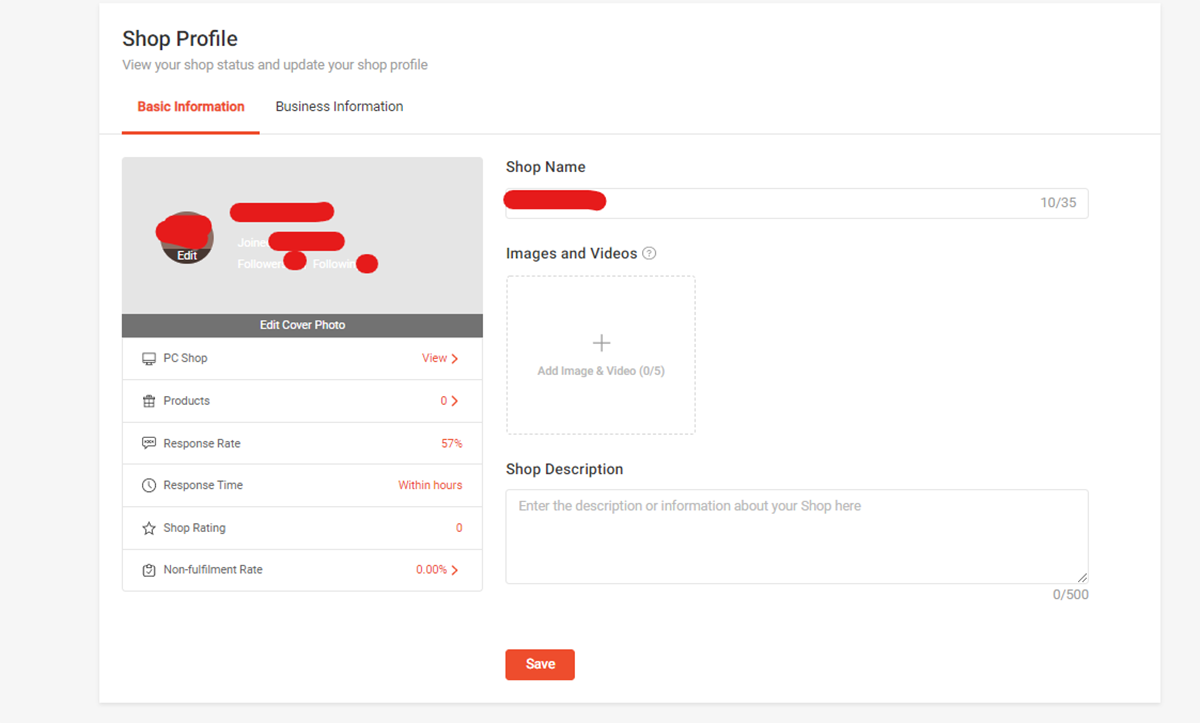 After creating your account, you'll need to fill out your shop profile. This typically includes information about your shop name, shop images and videos, and shop description.
4. Add products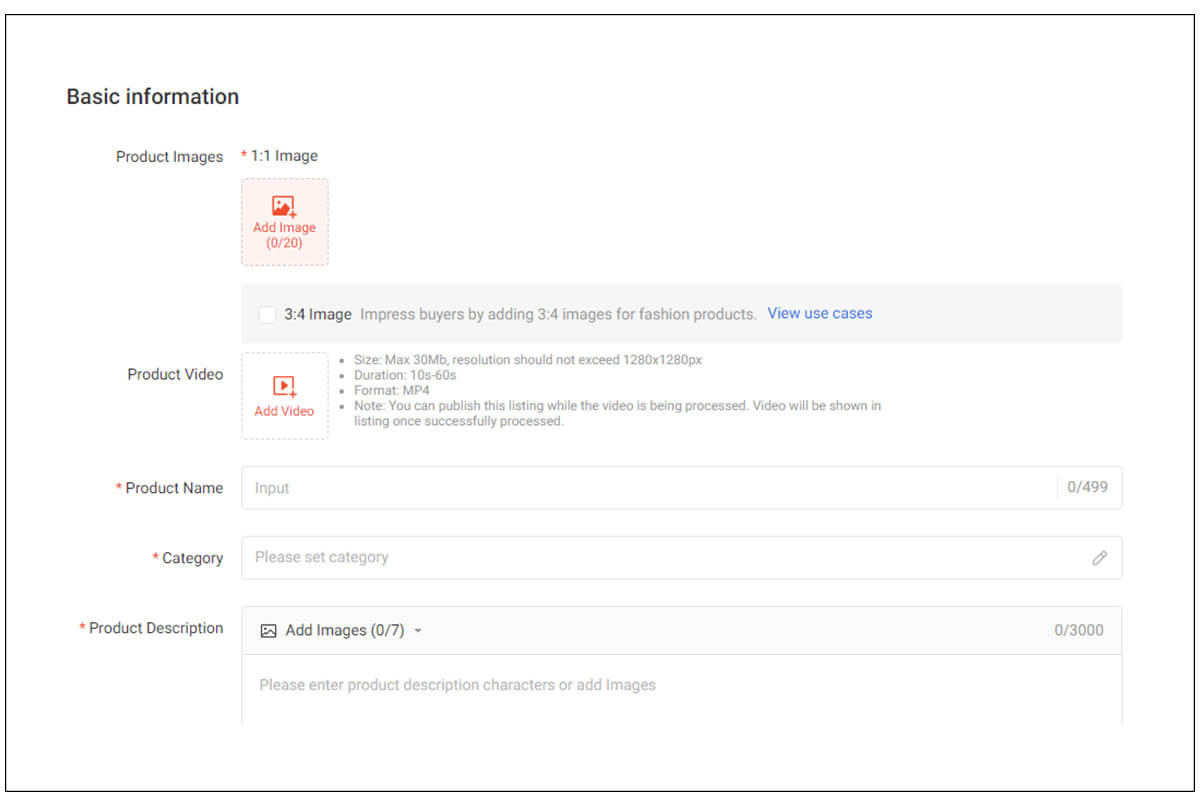 One of the important steps to sell on Shopee is listing products in your store. Though there are a vast variety of products that can be sold, selling winning products can improve the chance for success.
Typically, winning products share these features in common,
Solve customers' problems or cater to their interest
Not common to see in retail stores
Provide a healthy profit
Have a unique appearance or functions
Don't infringe the intellectual property rights of other brands
Not prohibited on leading ad platforms
After deciding which product to sell, you can start editing the product information, such as images, the video, category, title, description, etc.
Make your images visually appealing and reflect some important features of your product. Craft the description to tell your customers about the product specifications and how it can help with their problems. Meanwhile, keep the title attractive enough for visitors to click on your product.
Finishing the basic product information, you can set the product price and shipping fees.
Usually, the price should provide you a 30% or more profit after deducting all costs related to the product. If you are selling products with different variations (e.g., sizes, colors), you can set prices for each variation. This allows customers to select the specific variation they want when making a purchase.
As for the shipping fee, it depends on the destination and shipping methods you set up. We recommend that you offer free shipping to entice more buyers. Nowadays, customers are more likely to buy products with free shipping than those charged for shipping fees.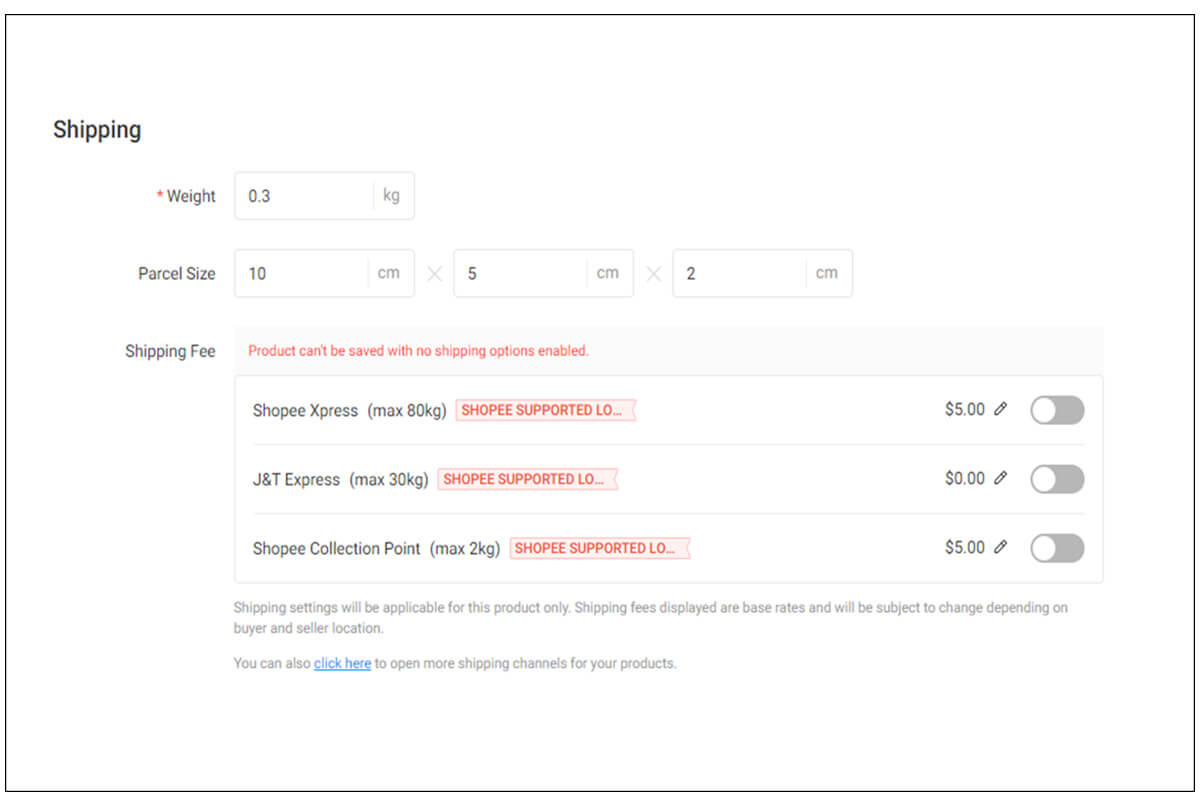 5. Add your bank account details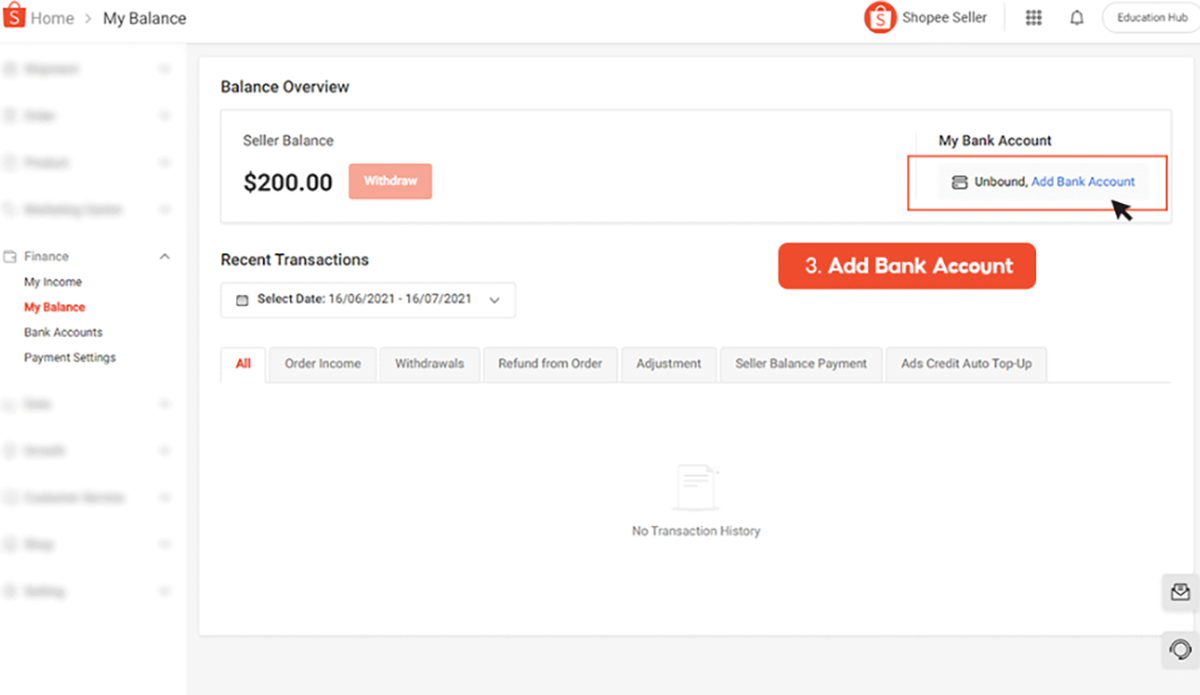 Once an order has been completed, payments from your customers will be credited to Seller Balance. You need to fill in your bank account information to withdraw these payments.
What is worth noticing is that you can add your bank account as a default account to deposit your income. This is helpful for managing your earnings off the Shopee platform.
6. Set up shipping options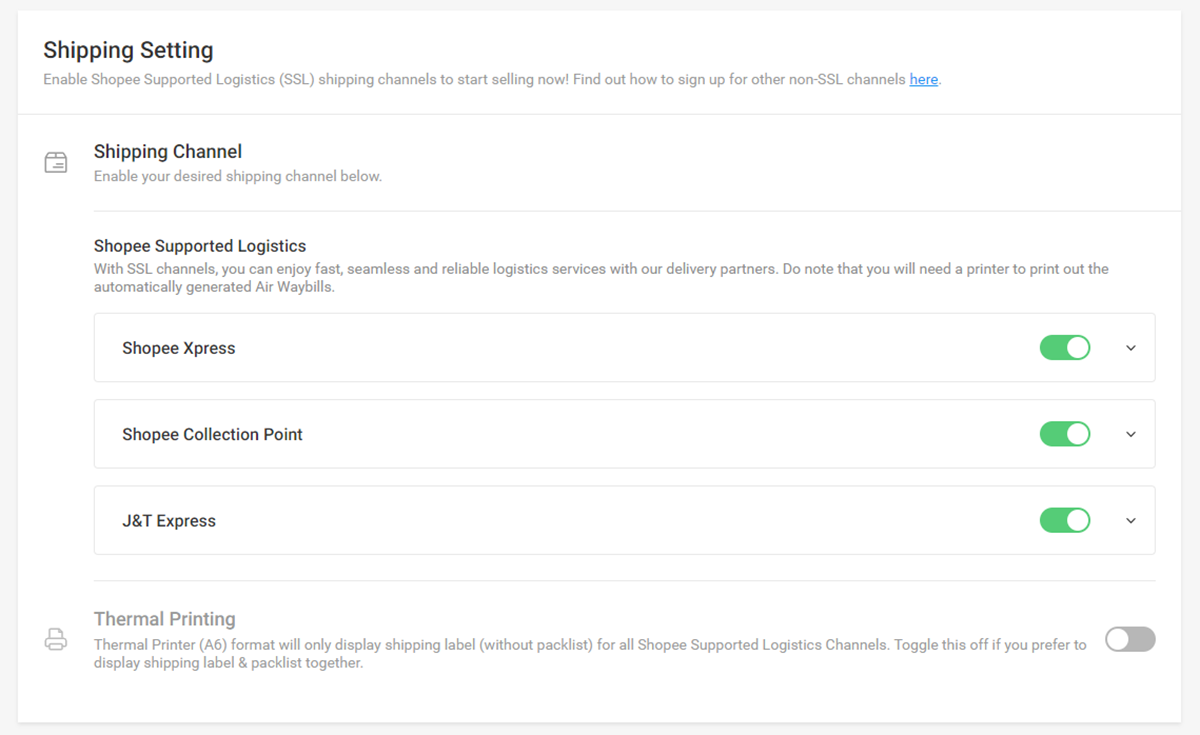 Setting up shipping options is a crucial step for selling on Shopee.
Firstly, you should add your shop address.
1). Go to "My Address" and click "Add a new dress"
2). Fill in the information required and click "Save"
Then you should add shipping methods in your store.
Shopee supports multiple shipping methods, such as SPX Express, Ninja Van, and J&T Express. You can fulfill your orders with the shipping options that best suit your needs. Read this guide for more information about Shopee-supported logistics if you are in Singapore.
Alternatively, you can use third-party logistics providers that are not supported by Shopee. This may make your shipping solutions more flexible.
7. Promote your products
Marketing is essential to deliver your products in front of potential customers. Shopee provides various tools to promote your products. You can offer vouchers or discounts on selected products. Or you may run Shopee ads to increase product visibility. Email marketing and pay-per-click ads are good options for driving sales, too. Here is a guide on digital marketing tips.
Shopee payment methods
Shopee takes various payment methods. The common payment methods are credit or debit card, ShopeePay, online banking, SPayLater, and cash on delivery (COD). Some regional payment options are also supported. For example, If your market is based in Malaysia, you can pay for your purchase through Maybank2u.
Let's take a further look at these widely used payment methods on Shopee.
Credit or debit card
Shopee accepts credit and debit cards as a convenient method for transactions. This payment method allows your buyers to link their cards to their Shopee accounts and make purchases by entering the card details during checkout. It is ideal for those who like a quick and cashless transaction.
ShopeePay
ShopeePay is a digital wallet provided by Shopee. With ShopeePay, you can collect money from your customers easily. And it often comes with promotions, cashback offers, and discounts, making it a good way to entice purchases.
Online banking
Shopee offers various online banking options for customers who prefer to make payments directly from their bank accounts. Your buyers can link their bank accounts to Shopee and complete transactions securely, with real-time updates on the payment status.
SPayLater
SPayLater is a convenient and flexible payment method. It allows customers to make purchases and defer the payment for a later date, often with interest-free installment options. This feature can be helpful for shoppers looking to manage their budget or buy expensive items without immediate payment.
Cash on delivery (COD)
You can set up COD as a payment method in your store. With COD, your customers can place orders and pay for their purchases in cash when the items are delivered to their doorstep. It's a secure and hassle-free payment option, especially for those who are wary of online transactions or prefer the convenience of cash payments.
FAQ
1. Is it free to sell on Shopee?
Selling on Shopee requires a low upfront investment. But Shopee will charge you some fees for operation. For example, you need to pay transaction fees, commission fees, and additional service fees.
2. Is it safe to buy from Shopee?
Shopee is a legitimate company and safe to use in most cases. But if you are a retailer who wants to source products from Shopee, you may still come across scams from unreliable suppliers as you do on other marketplaces.
3. How to sell on Shopee without inventory?
It is possible to sell on Shopee without inventory with dropshipping. Dropshipping is a business model where you sell without stock and your supplier fulfills the order on your behalf. In this case, you may work with a local dropshipping company to fulfill your orders.
Wrapping up
Shopee is a popular online marketplace in Southeast Asia. It lets you start a business without much upfront investment.
This platform also allows you to sell in various categories. For a higher chance to succeed, you may specialize in one category and find winning products to sell. If you are not sure about how to find a profitable niche and winning products, you can contact our customer service. Our professional sourcing team will help you find high-quality potential products at the most affordable price.