How to Find a Profitable Niche for Your Business in 2023(5 Steps)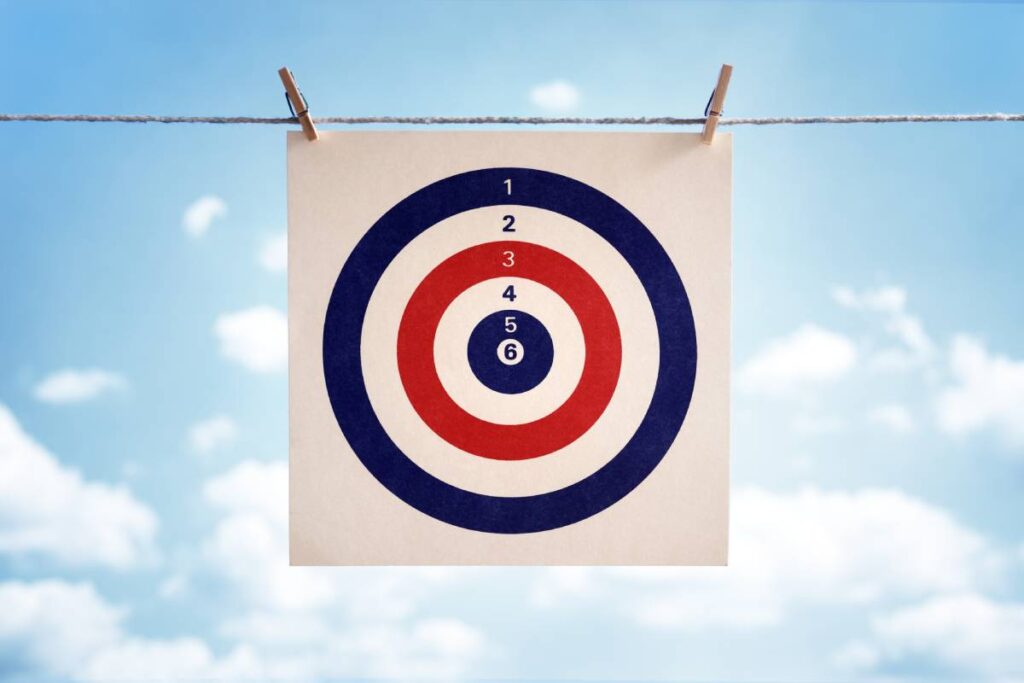 Finding a profitable niche is the first and crucial step to growing a business successfully.
However, it is easier said than done. That is why still 35% of start-up businesses worldwide failed because of no market need in 2021.
If you are an unlucky one like them or a newbie to starting a business, don't slip through this article.
In this article, I will give you a simple guide to finding a lucrative market that you specialize in with five viable steps.
First, let's kick off with the definition of a niche.
What is the meaning of niche
A niche is a small segment of a large market, which can be divided into smaller sub-niches. In this niche market, you deliver a solution to a group of customers with specific preferences and needs.
For example,
Market: Clothing
A niche: Dresses
A sub-niche: Casual dresses
A smaller sub-niche: long casual dresses
With an understanding of what a niche means, you can easily come up with several niches in any industry.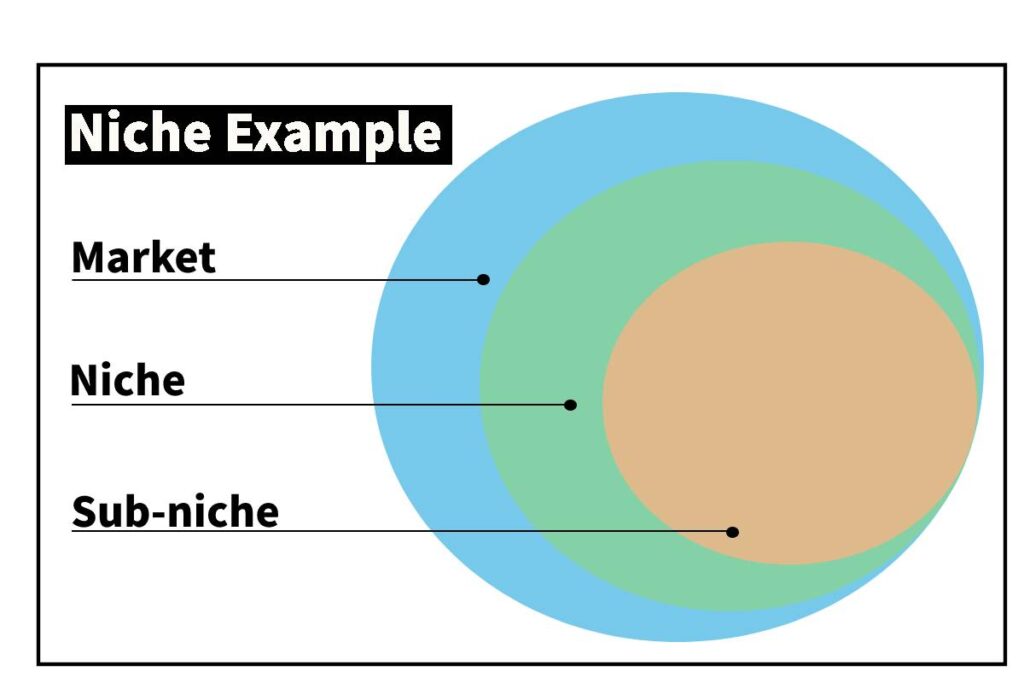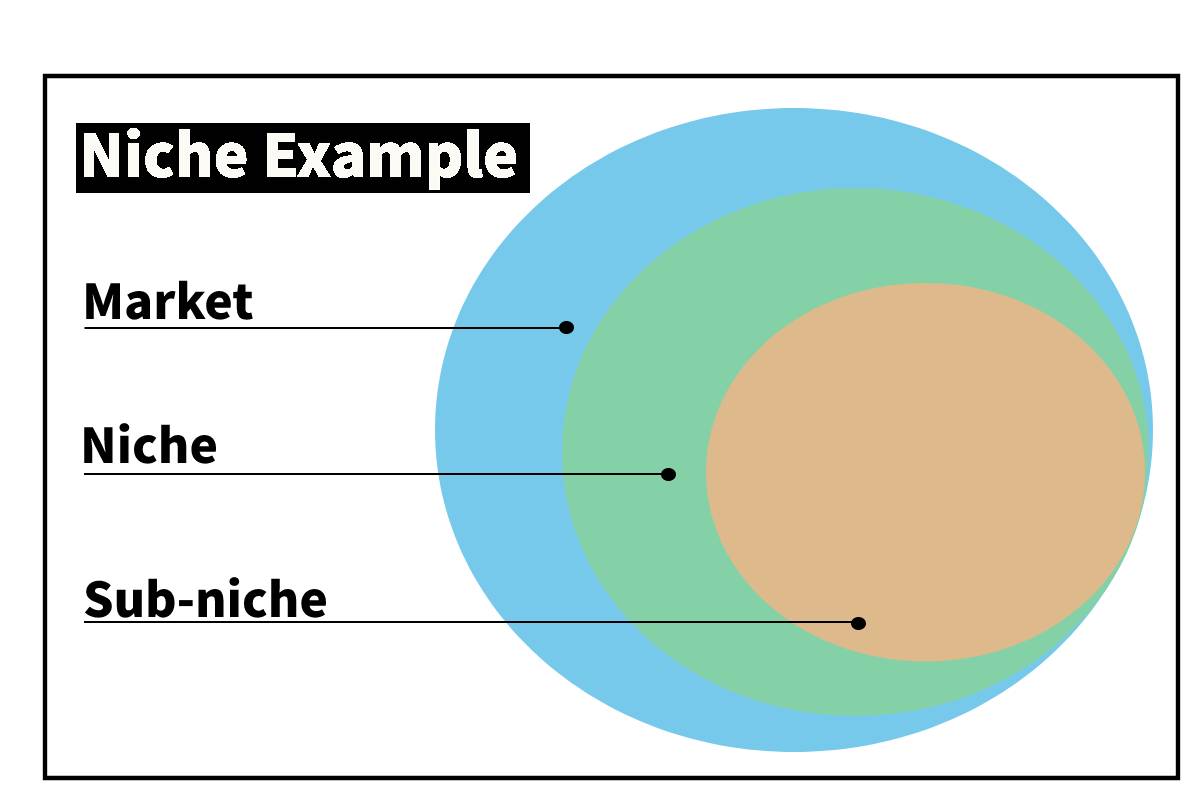 Why should you find your niche
Before you take action to find a niche to dive in, you may think about why it is necessary to do that.
Well, there are some good reasons to explain it.
Chances of success Dedicated to a niche, you are more likely to succeed when there is less competition. Think about it, if you focus on a special field, you don't need to compete with most general businesses. All you should consider is identifying what problem you can solve and stand out in your field.
Loyal customers Addressing issues your audience care about boosts their loyalty to you. Finding a niche in essence is finding what you can help with your customers and meet their needs. When you do so much for them, they will trust and be loyal to you.
Branding awareness Growing a business in one small field helps build your brand awareness. In-depth studies for a niche make it easy for you to become an expert. Then your profession can bring you potential customers and increase your brand recognition and awareness.
Time and energy-saving Less time and energy are needed when you focus on a small market. You don't have to research a lot of products in greatly different categories. Also, you are relieved from spending too much time managing your store or targeting your audience.
Easily targeting Selling vertically allows you to have a better understanding of your customers. What makes them feel a headache? What service do they want? Which social platform do they often hang out on? It is easy for you to answer. As a result, from selling to marketing, you and your team can target the audience easily.
How to find a profitable niche
"If you try to be all things to all people, you won't be anything to anybody."
That emphasizes the significance of a profitable niche again.
So how to find the niche?
Here are 5 steps we sort out for you.

Step 1 Figure out what you are passionate about
There is a lot of due diligence needed to find a niche. But first, you should figure out what you like and what you are skilled at.
Ask yourself,
-What are you interested in? Fashion, cosmetics, or outdoor supplies?
-Which newsletters of brands do you subscribe to out of interest?
-What does your ideal business look like?
-What are you good at?
-Are you experienced in a niche? Or have you known something about the niche?
Identifying where your passion lies may not be enough to succeed. But working on something you like makes it not that tough when facing challenges. Plus, choosing what you are good at increases the chances to monetize your hobby.
Step 2 Find what your customers need
Finding a niche is largely a process where you find out how you can help your customers with your skills. Only you know their needs and if the need is satisfied, there is potential that you find your role to play.
Below are some methods you may adopt.
Talk to your customers
Communicating with your customers is a straightforward way to identify what problems they have. Find the target audience in your local area and speak to them. Or you can reach them via Whatsapp, Skype, email, and WeChat.
Check out what customers ask on social media
Nowadays massive people have access to social media platforms. They address their issues on a platform where they hang out, like Quora, Reddit, Facebook, and Youtube. Check out what customers are querying and get your answer.
Take surveys to your customers
Taking surveys provides an efficient way to figure out your customers' problems. Just remember to set questions in your questionnaire skillfully.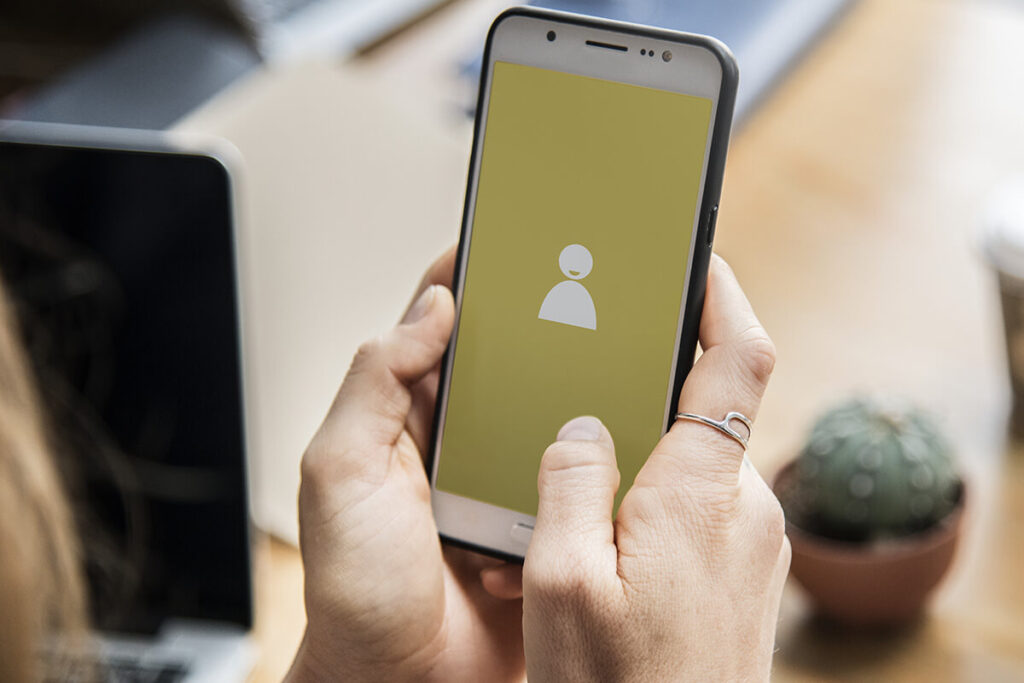 Step 3 Research the competition in the niche
Researching the competition in your ideal market concerns the following three aspects.
First, explore how fierce the competition is, which determines whether you should enter into a niche or not. If the data you collect tells you there are a lot of famous brands in your niche, you should consider adjusting your plan.
Secondly, research what your competitors sell, how much their products are priced, and how much profit they could earn approximately for the products. These questions give you a hint if your niche is worth your investment.
Most importantly, you should figure out if there is a space where you can differentiate yourself from your competitors. When most of them sell fashionable dresses, you should think about if you can sell fashionable and eco-friendly dresses.
Step 4 Check if your customers are willing to pay
No matter which niche you choose, you have to ensure you can make money at last. In another word, your customers are willing to pay you.
Think from the perspective of the consumer, will you buy your products? Or you can firstly recommend your products to your friends or colleagues who share in common with your audience. Check if they are willing to buy from you.
Step 5 Test your idea
Actions speak louder than thoughts. Whatever is in your mind, you need to test it. It is better if your niches have been already narrowed down to one, but if not, just test which is more suitable for you.
Tools to help you find a profitable niche
Whether you are still trapped in the process to find a profitable niche or prepared to start it, you may need the following tools to help you.
Google Trends is used for searching the trend of a keyword in terms of the regions and timeline.
For example, you want to check the trend of the keyword "long dress".
Type "long dress" in the search box
Choose "worldwide" and "past 5 years" in the filters. Add the category if you are sure which category long dress belongs to.
Click "Enter" on your keyboard.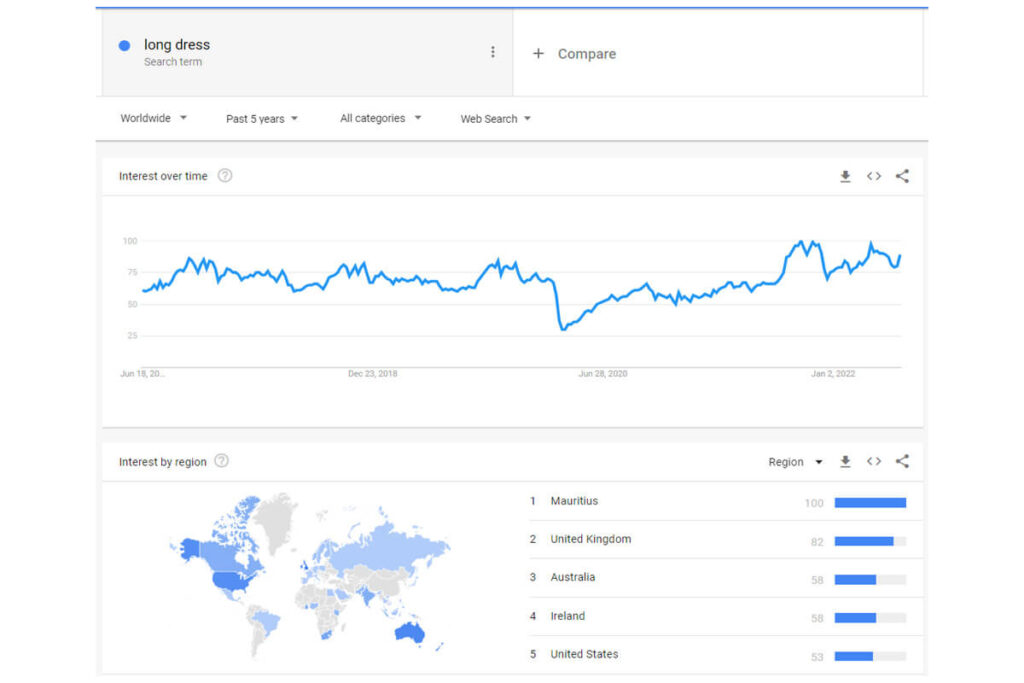 Through analyzing the result page, you can conclude that this niche is at its peak in winter, and is preferred by customers in Mauritius and the UK. That is, products in this niche are seasonal. Besides, they may sell well in the top 5 regions listed on the search page, but not in another country like China. If you want to excel in an evergreen niche, and you are not in these regions, consider carefully whether you should enter this field before you start your business.
Amazon is the largest retail market in the world. Referring to niches in this platform provides you with insightful ideas when choosing your niche.
Below are some steps to use this tool.
Visit the website and click "All" in the top left corner
Choose "Shop by Department", and click on one category you are interested in
Click a sub-niche and find selling products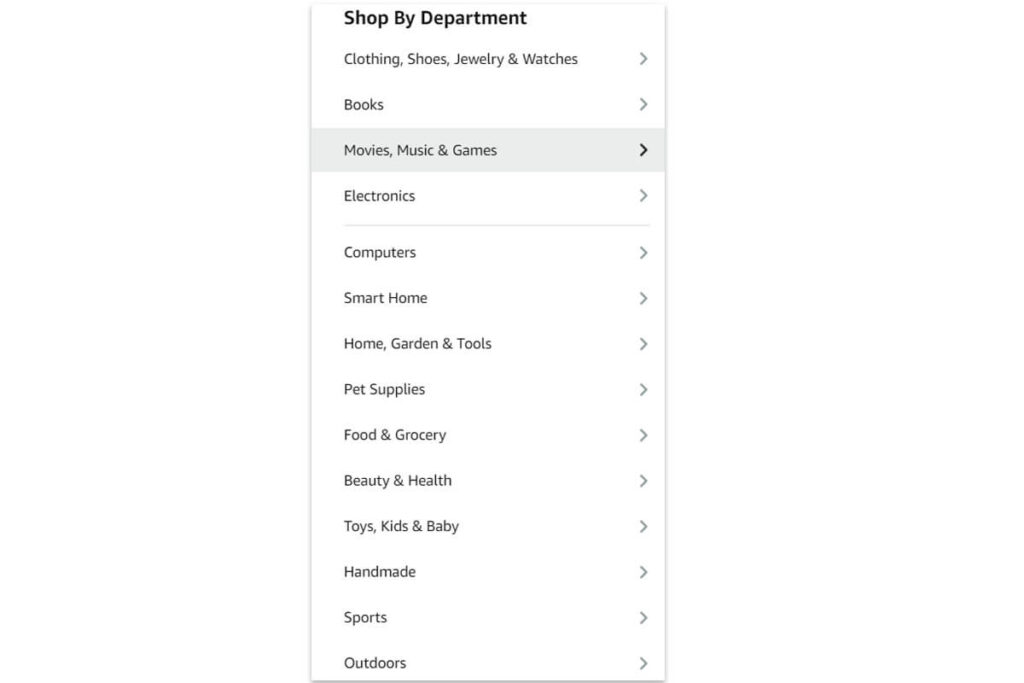 Except for the department in side search filters, you can refer to trending products. Which are best-sellers, hot new releases and currently trending items? Explore them and you may get some ideas about your niche.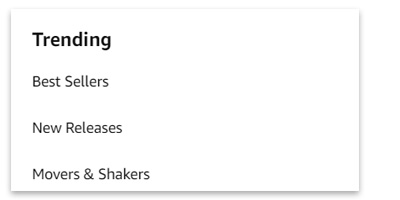 Sup Dropshipping serves as an all-in-one dropshipping service solution. There are a variety of products in plenty of categories on this platform.
Click "Winning Products" on the home page, and you will see the products category.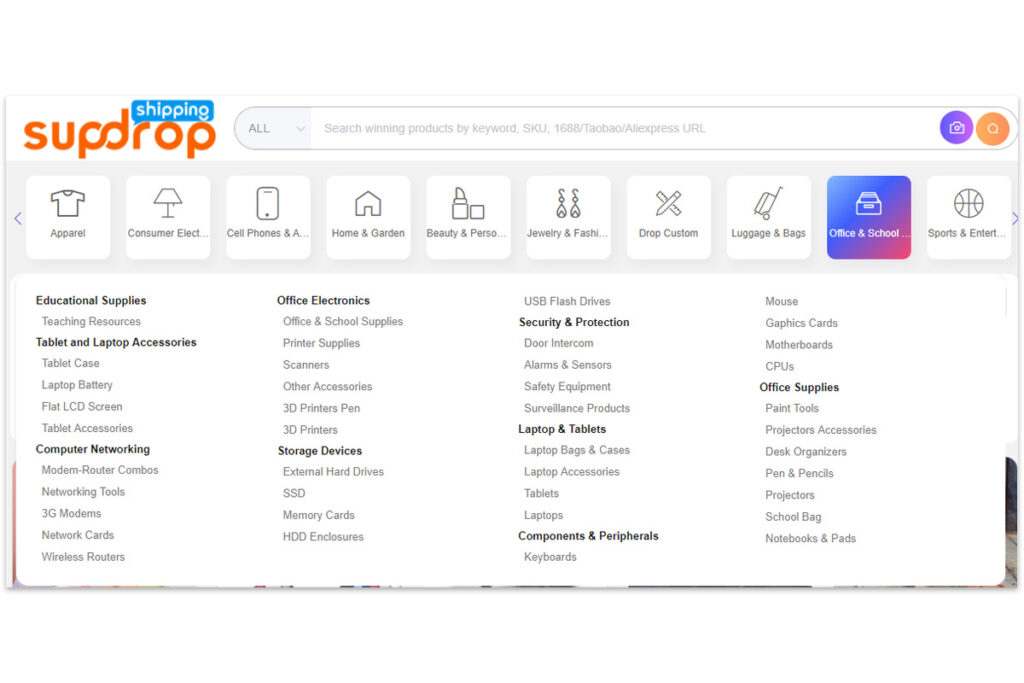 Then choose one niche, and you can access related products. Add filters according to your need.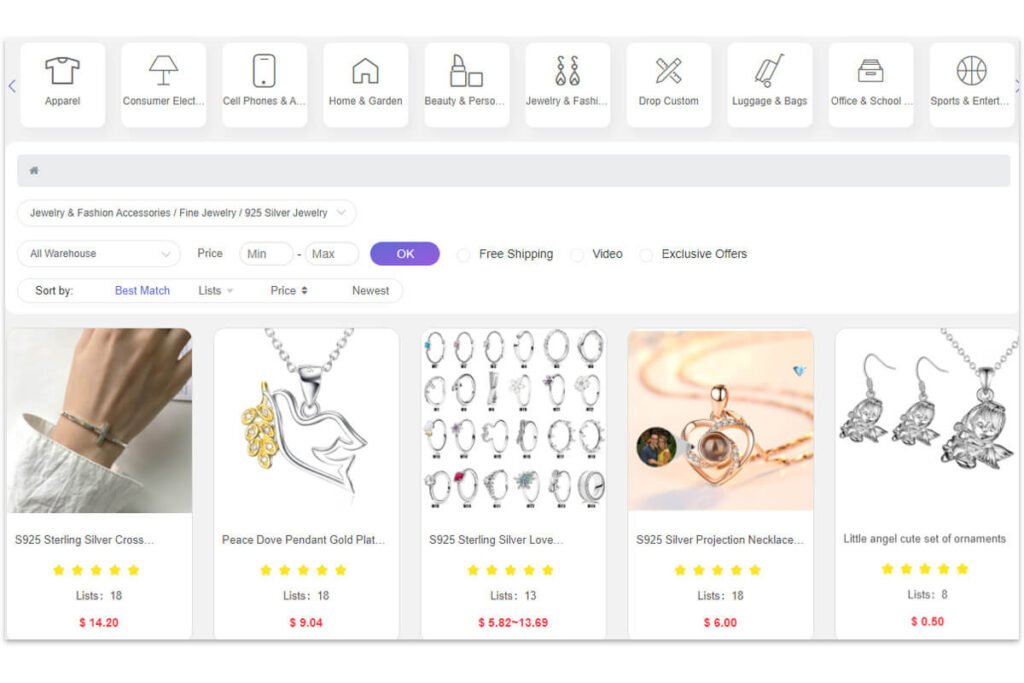 If many products in a certain niche are listed by other sellers, the niche could be one of your options. Next, you should research it in detail.
In addition, you may also get a clue on which niche you should choose from here.
Answer The Public is a search tool that visualizes questions concerning a keyword in the form of a tree.
Every time you enter a keyword, you get results from aspects like what, which, why, how, where, who, etc. By studying queries in these aspects, you can find out what problems your customers care for.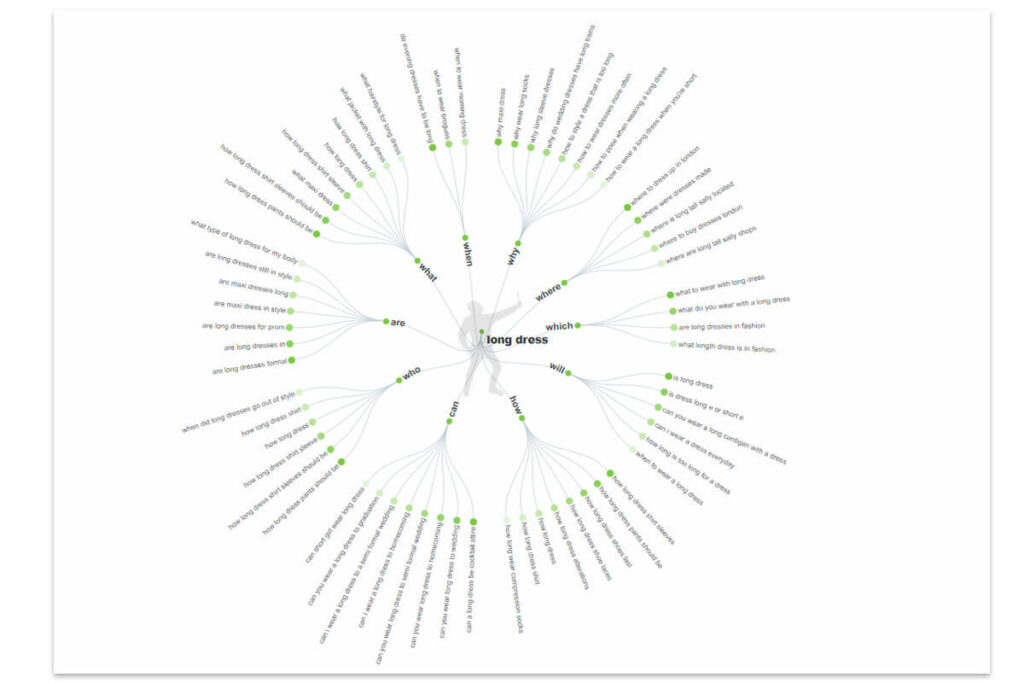 Statista is a database where statistics on a topic are accessible to you. For instance, fill in "dresses" in the search box, and you will find many results containing the word "dresses". You can apply filters according to your criteria in the side bar.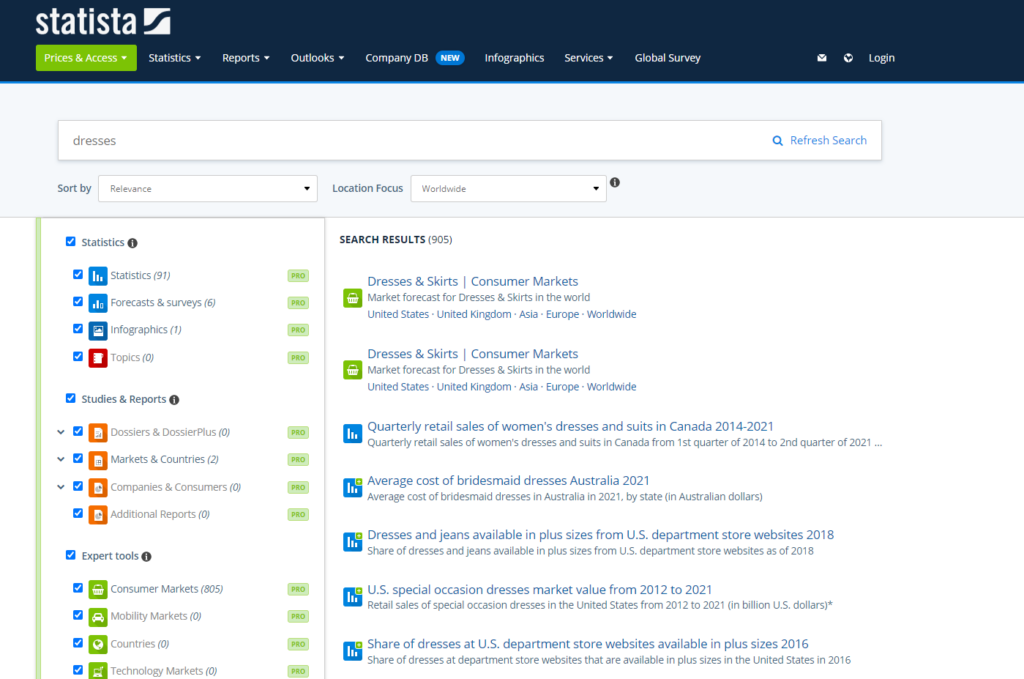 In conclusion
Finding a profitable niche tends to be more and more important for a dropshipping business, especially with increasing competition. Hopefully, our article can help you out with finding your right niche, so you can get out of the swamp that holds your steps toward dropshipping success.
If there are any questions, please leave your comment and we will contact you soon.