5 Best Customer Self-service Portals in 2022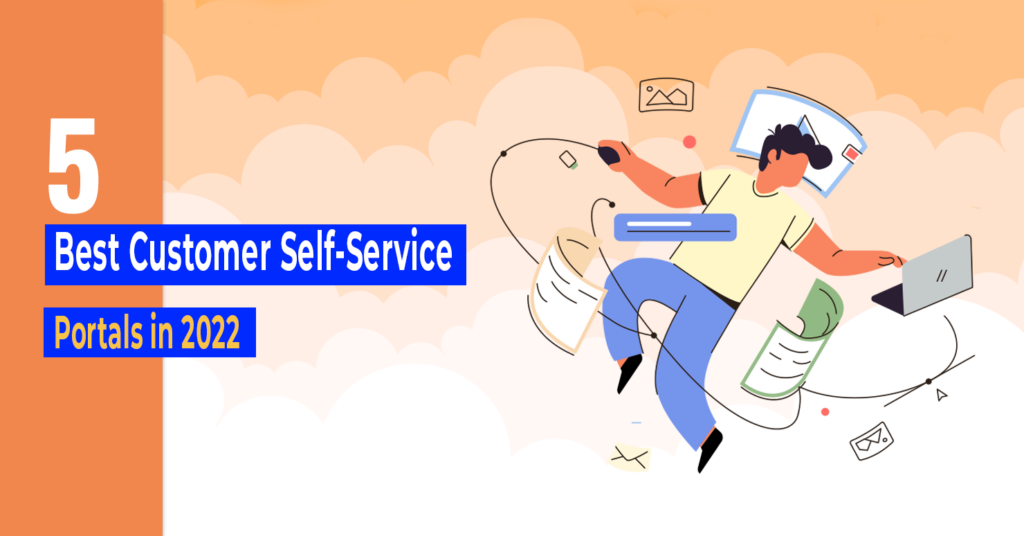 Most users like to solve their own problems as it is an easier and faster way than contacting a support agent. It also gives them an opportunity to learn more about the bought product or service.
You can help your clients by designing and launching a customer self-service portal.
Actually, the usual support interaction via phone, email, or webchat costs on average more than $7 for B2C and over $13 for B2B companies.
So, save your expenses and make your customers happy with self-service portals. Learn –
What is a user self-service portal? And why you should add them?
Top 7 Customer Self-Service Software
What is Customer Self-Service Portal? And Why You Should Add Them?
Every consumer faces some issues with a service or product and they contact your support team to resolve the problem. In case, your team spends on talking with clients even when their issue is a simple one, the complex ones will get delayed.
Therefore, to reduce the workload on your employees and to let the users solve their common problems, you need to create a customer self-service portal.
As per Harvard Business Review, across all industries, 81% of users attempt to resolve their issues before reaching out to the live support team. And, Statista reports that in the US 88% of customers expect enterprises to have self-service portals.
Thus, you should add the client self-service portal on your company's website and in a place where the customers can find it easily without any effort.
The self-service portal examples are
Knowledge base,
FAQs,
Online community or forums,
Chatbots or live chat, and
Any training materials like videos, blogs, etc.
Here are the top 5 customer self-service software that you can hire to build a self-service support system for your business.
Also, read A Beginners Guide to Servicedesk Automation
5 Best Customer Self-Service Portal Software
Helplama Helpdesk
Zoho Desk
LiveAgent
Zendesk
Hubspot Service Hub
1) Helplama Helpdesk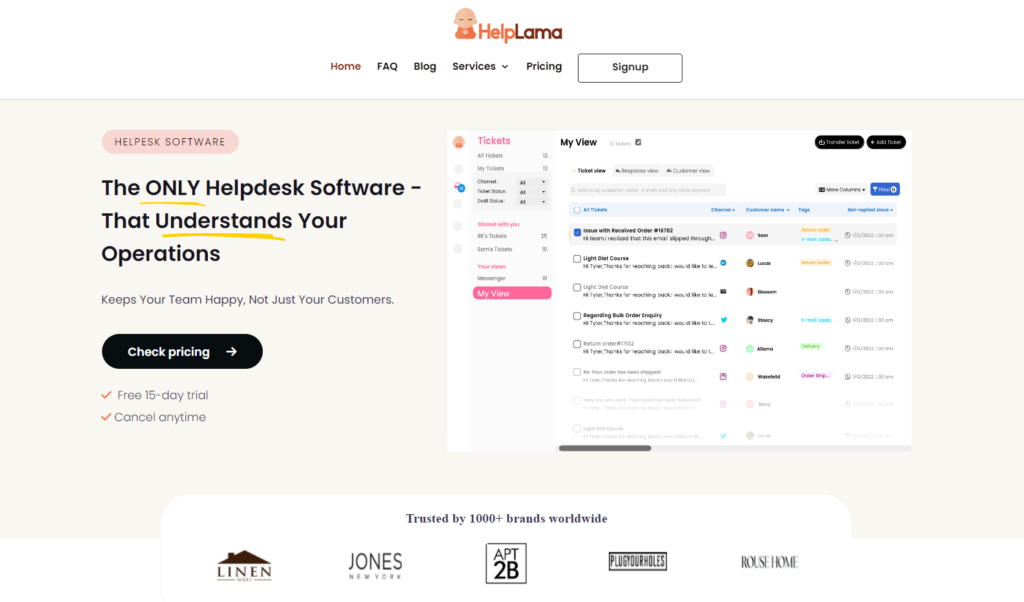 Helplama Helpdesk is an all-around software that appears with the tools required to set up a customer self-service portal. Along with basic service desk features, it also provides marketing and automation functions. Assists your team in offering the best support to your users.
Pros
Create Knowledge Base and display it on your site.
Send AI-drafted emails to respond to your clients and reduce workload.
View your customer's experiences in one place without having to shift between platforms.
Turn your buyers into marketing agents by identifying the happy consumers and automating the collection of their reviews from Google, Trustpilot, etc. Use them as testimonials to improve the visitors' trust in your brand.
Gives you the ability to offer proactive customer support by automatically tracking delayed orders.
Integrate with social media platforms like Facebook and Instagram.
It has an in-built portal to automate the return and exchange of orders.
Supports eCommerce integration with Shopify, WooCommerce, and Magento.
Add Live chat, emails, SMS, and phone call services to your business.
Recruit experienced agents from the Helplama marketplace and test and train your team members automatically.
Track the performance of your employee from your dashboard.
Cons
There is no free version available.
Each plan includes only 3 users and for each extra one, charges are applicable.
Pricing of Helplama Helpdesk
Free Trial – 15 days.
Standard – $99/ month.
Pro – $199/ month.
Enterprise – $399/ month.
2) Zoho Desk
It is an Omnichannel customer support software and is the ultimate tool for building user self-service portals. Hence, you can handle client conversions across multiple platforms. Zoho Desk is a context-aware helpdesk that manages cross-functional processes and has its AI-powered assistant called Zia.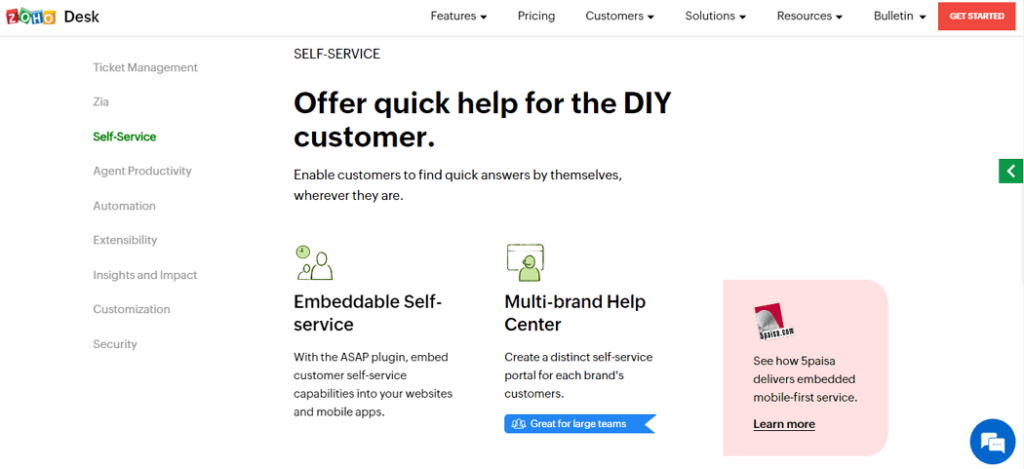 Pros
Include a knowledge base and user community on your website along with a SaaS product and mobile app.
Respond to your customers and perform follow-up activities across channels.
Spot obstruction in your workflow and rectify it.
Integrate Zoho Desk with other tools and add custom capabilities via REST APIs.
With Zia, analyze consumer sentiment and track anomalies in ticket traffic.
Monitor your teams' performance by generating reports and visualizations.
Control data access in each module.
Cons
The UI can be confusing for entry-level users as some of the features are not easy to implement.
There are some bugs in the ticketing system.
Maintenance is high for this software.
Some people have trouble integrating Zoho Desk with other applications.
Pricing of Zoho Desk
Free with fewer features.
Free Trial – 15 days.
Standard – $14/ agent/ month.
Professional – $23/ agent/ month.
Enterprise – $40/ agent/ month.
3) LiveAgent
A customer self-service software that even has cloud phone support for the latest businesses. It is equipped with a built-in call center system to take care of your client's issues. Also, various resources like webinars, articles, etc are available on LiveAgent's site for its new users.
Pros
Add a live chat widget to provide personalized real-time support.
Generate knowledge base articles, forums, and feedback boxes.
Enable your consumers to track their inquiries and history.
Answer your social media followers directly from LiveAgent.
The ticketing system automatically transforms customer issues into tickets for better task management.
WordPress, Mailchimp, Pipedrive, Prestashop, and so on integrations are supported.
Cons
Except for automatic responses, it does not have any other automation features.
It is expensive to use its services. Moreover, there are extra charges for social media integrations.
Does not deliver detailed reporting.
Pricing of LiveAgent
Free with limited features
Free Trial – 14 days.
Ticket – $15/ agent/ month.
Ticket + Chat – $29/ agent/ month.
All-inclusive – $49/ agent/ month.
4) Zendesk
If you run a business that is entirely based online, Zendesk could be the best choice to employ for customer support services. It is designed to streamline and manage communications that come from various online channels.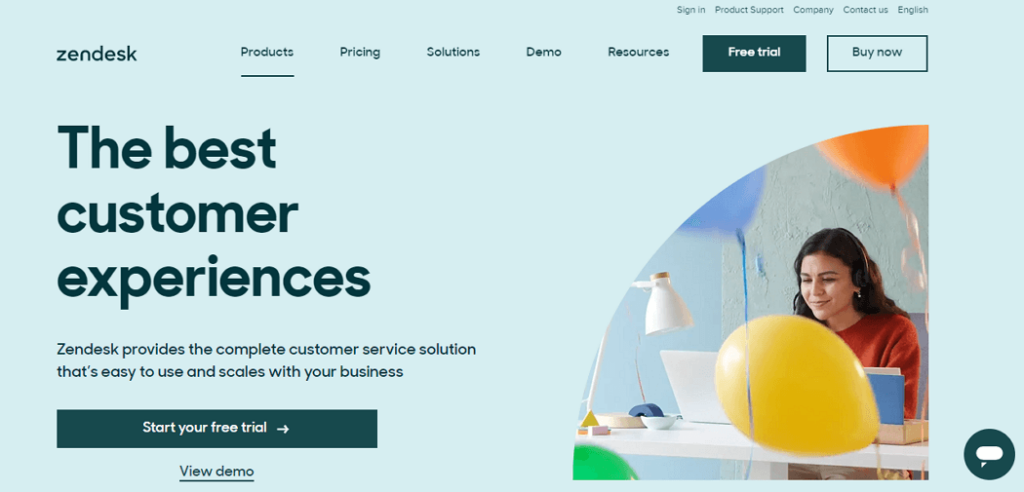 Pros
Has an integrated help center and community forums.
You can use chatbots to offer faster responses.
Create skill categories for agents.
Includes built-in intelligence routing that makes sure that the ticket is sent to the right agent based on their expertise.
Design an in-context self-service center inside your product or on your site through mobile SDK and Web Widget.
Organize and customize the help center to match your brand.
Identify problem areas in your workflow and fix them.
Cons
Data cannot be exported.
Their customer support is not satisfactory for most clients.
Software is expensive.
There are many complaints related to the ticketing system like users cannot update tickets or prioritize them.
Pricing of Zendesk
Free Trial – 14 days.
Suite Team – $49/ agent/ month.
Suite Growth – $79/ agent/ month.
Suite Professional – $99/ agent/ month.
Suite Enterprise – $150/ agent/ month.
Additional Enterprise-ready Plans starting from $215/ agent/ month.
5) Hubspot Service Hub
This customer self-service software is powered by CRM to give your organization a unified view of each user interaction. It has flexible support functions like ticketing, live chat, helpdesk, and reporting to improve your customer experience. Hubspot also allows you to build a client feedback survey form.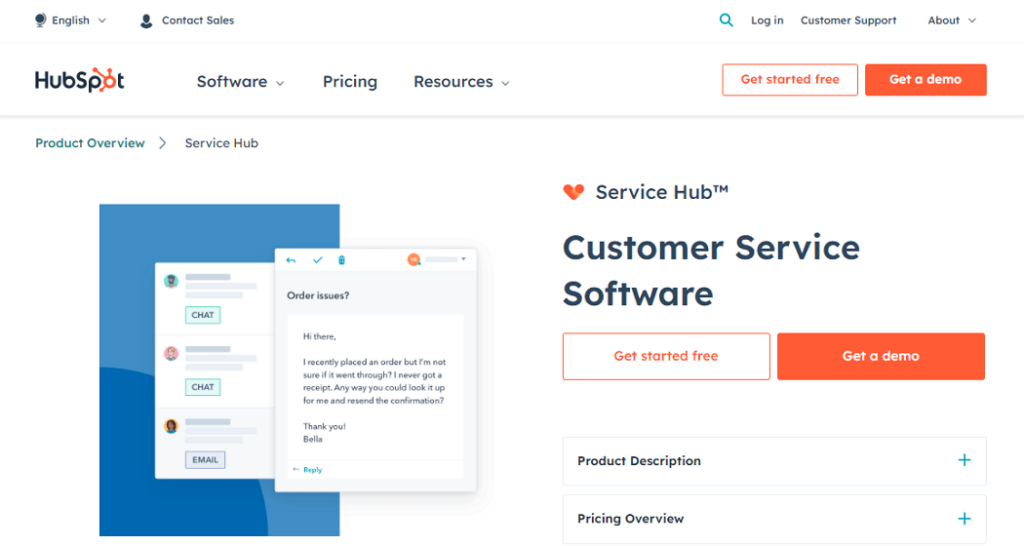 Pros
Connected to a shared inbox, the client portal keeps the conversation going between customers and agents.
Reduces the risk of duplicate work through the shared inbox.
Turn frequently asked questions and created tickets into an optimized knowledge base of helpful articles and documentation.
Hubspot records which articles are viewed by the consumers so your team can avoid sending duplicate content.
Customers can track and manage all of their open or closed tickets or simply create a new ticket from their portal.
Call prospects through Hubspot VoIP software where calls are recorded and auto-logged for future reference.
You can build and customize your user portal without any coding experience.
Cons
Free plan is limited to forums and does not have access to technical support.
Hubspot is very expensive to upgrade to professional or enterprise plans.
The lack of tags makes it difficult to track the tickets.
Its ticketing system is not designed for high volume, so you may face some problems if there are more tickets.
Does not support a multi-language knowledge base.
Pricing of Hubspot Service Hub
Free Tools
Starter – $45/ month.
Professional – $450/ month.
Enterprise – $1200/ month.
Also, read Best Customer Service Training Resources and Ideas
Conclusion
Keep in mind that integrating user self-service portals does not mean that there is no need to hire support agents. The customer self-service system is only there to take care of the most frequent issues that a client faces while dealing with your products or services.
So, design and set up a helpful portal by employing any one of the top 5 self-service portal software and successfully handle your consumers' common problems. Remember to choose a suitable plan depending on your company size.
If you have any questions, please feel free to contact us.