Best Halloween Products to Sell for Dropshipping Growth 2022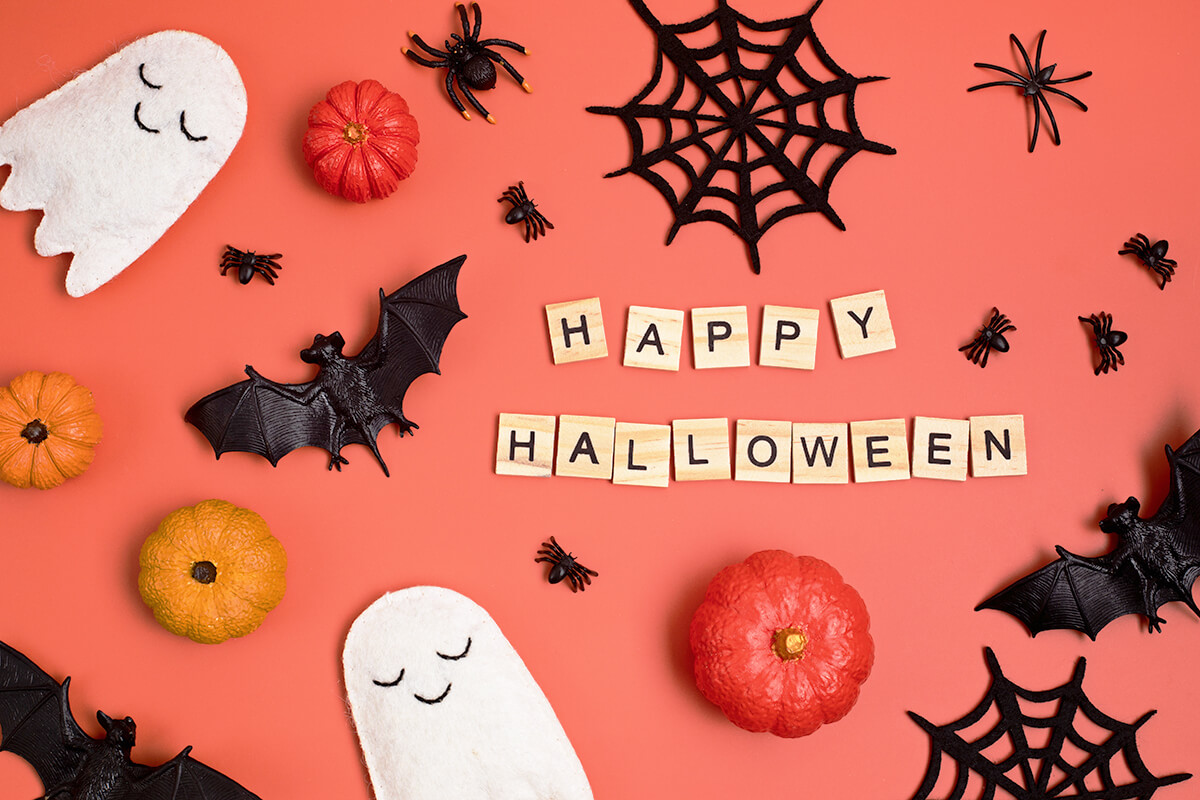 Has your dropshipping business already taken off? Or are you trying to realize it in the Q4 of 2022?
No matter which one is true of you, you shouldn't miss the coming Halloween. Selling Halloween products will provide you with a great chance to make sales and scale your business.
Then the problem comes down to what to sell for Halloween.
In this post, we will be giving you some Halloween product ideas.
Keep reading!
Is it worth selling Halloween products?
Halloween is a festival celebrated on October 31st every year. Online sellers usually prepare Halloween products during the time from September to early October. So the problem comes with it.
"Is it worth selling Halloween products? I spend a lot of time on preparation for this holiday. But the sale only lasts for a short period."
It is no blame on you to think like that. But be sure that it is worth selling Halloween products in a big market like the US.
Here are some important reasons.
Grow your revenue
Sales from Halloween could be one of the revenue streams for your business. Though the covid-19 has put a limit on parties and gatherings, people are still interested in Halloween celebrations. According to National Retail Federation(NRF), 65% of Americans were willing to celebrate Halloween in 2021. The number is an increase from 58% in 2020 and closer to the pre-pandemic level. And in the same year, average spending per person on Halloween-related items reached a peak of US$102.74. Along with that, the planned annual Halloween expenditure in the US was up to US$10.1 billion.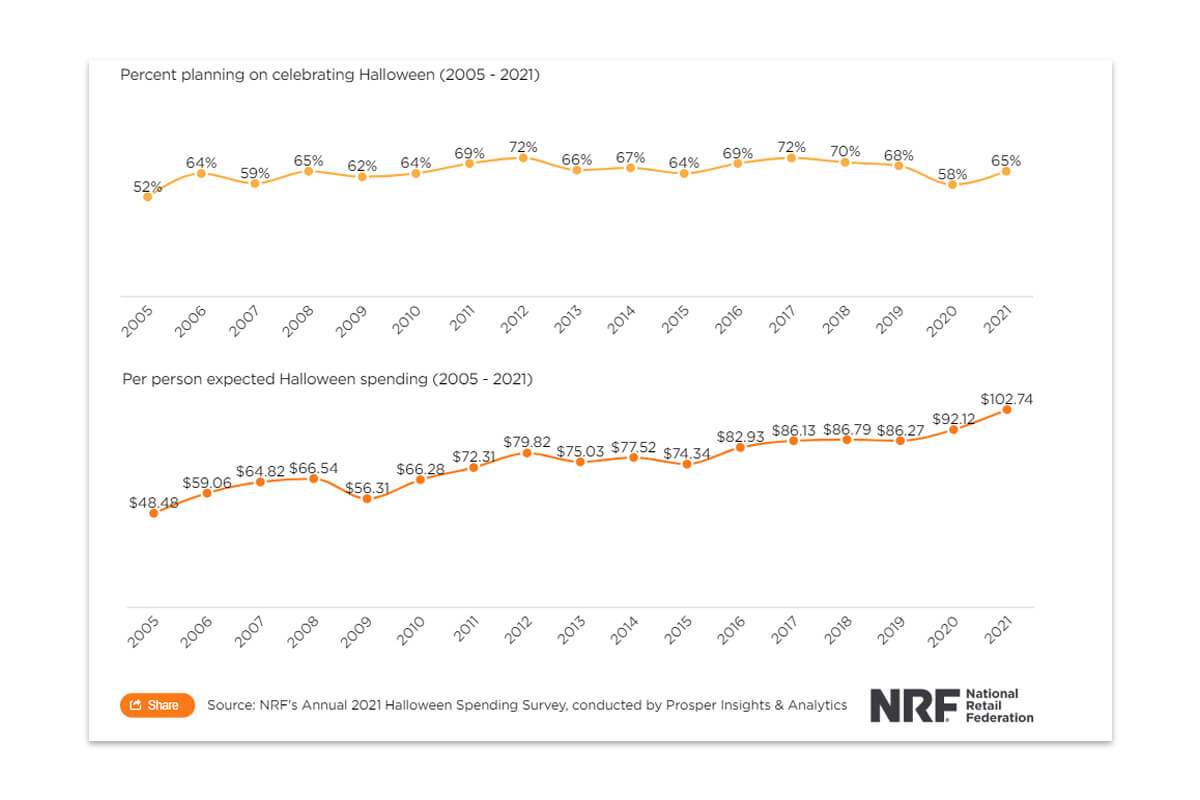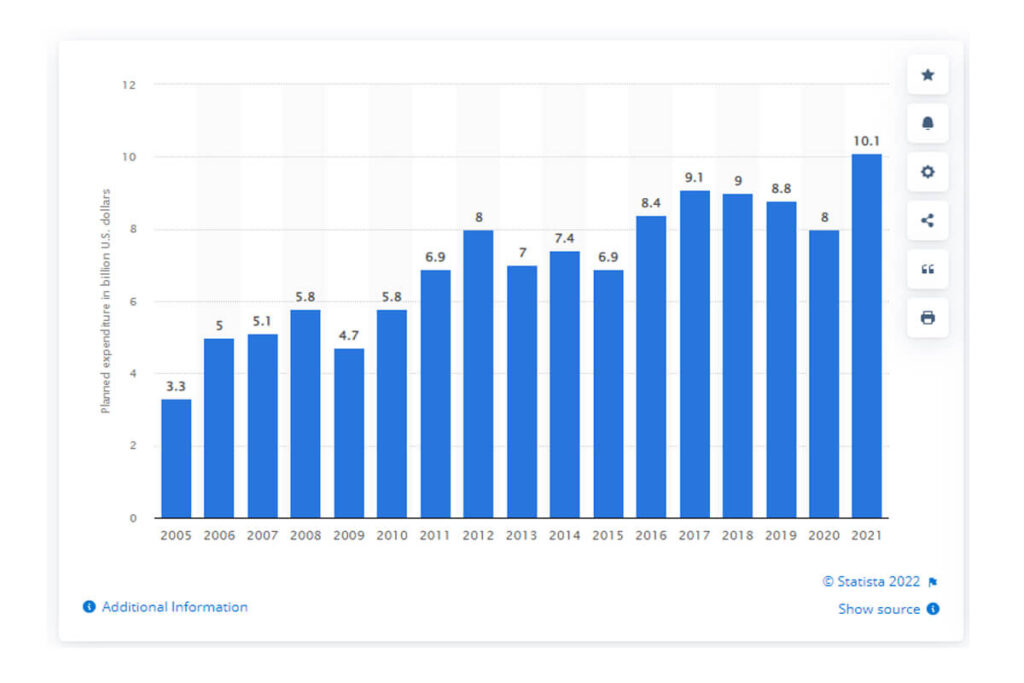 All examples above tell the reality of Halloween in the United States in 2021. But it is not hard to dictate that selling proper Halloween products in 2022 could increase your revenue to a higher level. With the wide application of vaccines and the recovery of the economy, more people will take part in this Halloween celebrations.
Increase your brand awareness
Selling Halloween products gives you another chance to increase your brand awareness.
While not as popular as Christmas, Halloween is a widely celebrated festival in some large markets, such as the United States and the United Kingdom. If what you sell becomes hot selling in these markets, you may get a good chance to increase your brand visibility and awareness.
By the way, some sellers could hold the opinion that it is not worthwhile to sell seasonal products, so you can fill in their space with proper items and build your brand.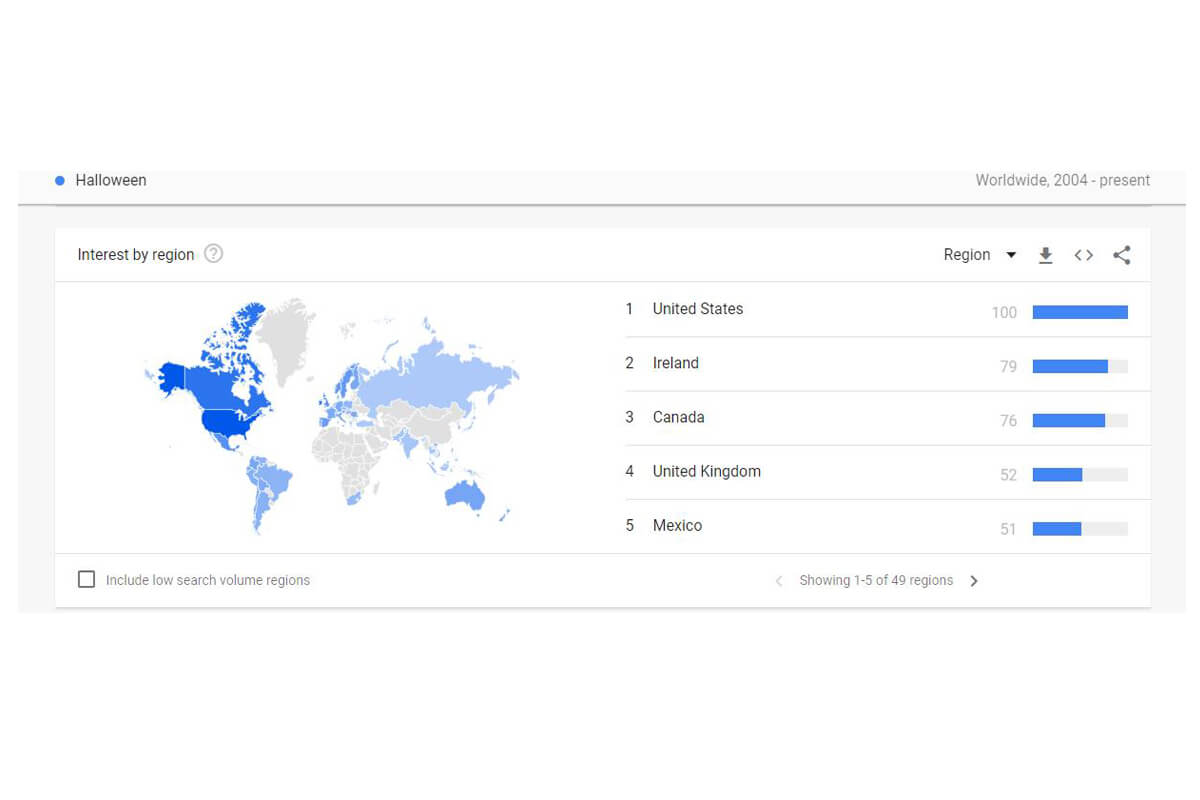 Boost customer loyalty
Following the Halloween trend can help you boost the loyalty of your customers.
Consumers like a seller who cares about the trends in society, frankly, the trends they care about. By participating in Halloween, you show your customers that you are paying attention to what they mind. As a result, they will think of you as a responsible and thoughtful seller and become more loyal to you.
What are the best selling Halloween products
It is worth being a member of the Halloween sellers.
But the problem is, what you can sell for this holiday?
Here are the best-selling Halloween products we recommend for you.
Halloween costumes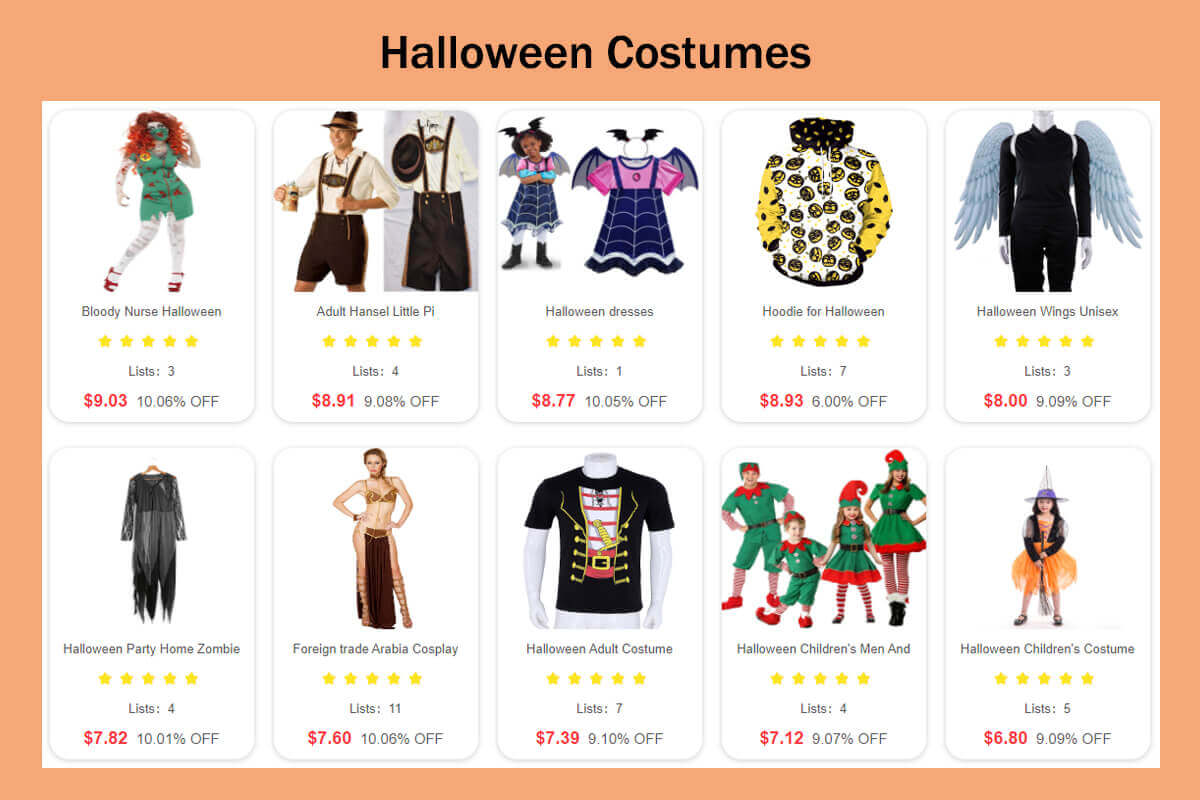 Costumes are a crucial part of Halloween. Many families dress them up with spooky or funny costumes on this special day. They even dress their pets up.
So these families are willing to spend on Halloween-related costumes. To the survey from Statista, planned annual expenditure on costumes reached $ 3.3 billion in the US in 2021, which exceeds the expenditure on Halloween decorations and candies.
In terms of what costumes consumers like, there could be different preferences among adults, children, and pet lovers. According to NRF, witch, vampire, and ghost costumes are the top 3 options for adults while children prefer Spiderman, princess, and batman. Meanwhile, pet lovers tend to dress their pets up in pumpkin, hot dog, superhero, and bumblebee costumes.
If you cater to your customers with trending Halloween costumes, you are likely to raise your revenue during this period.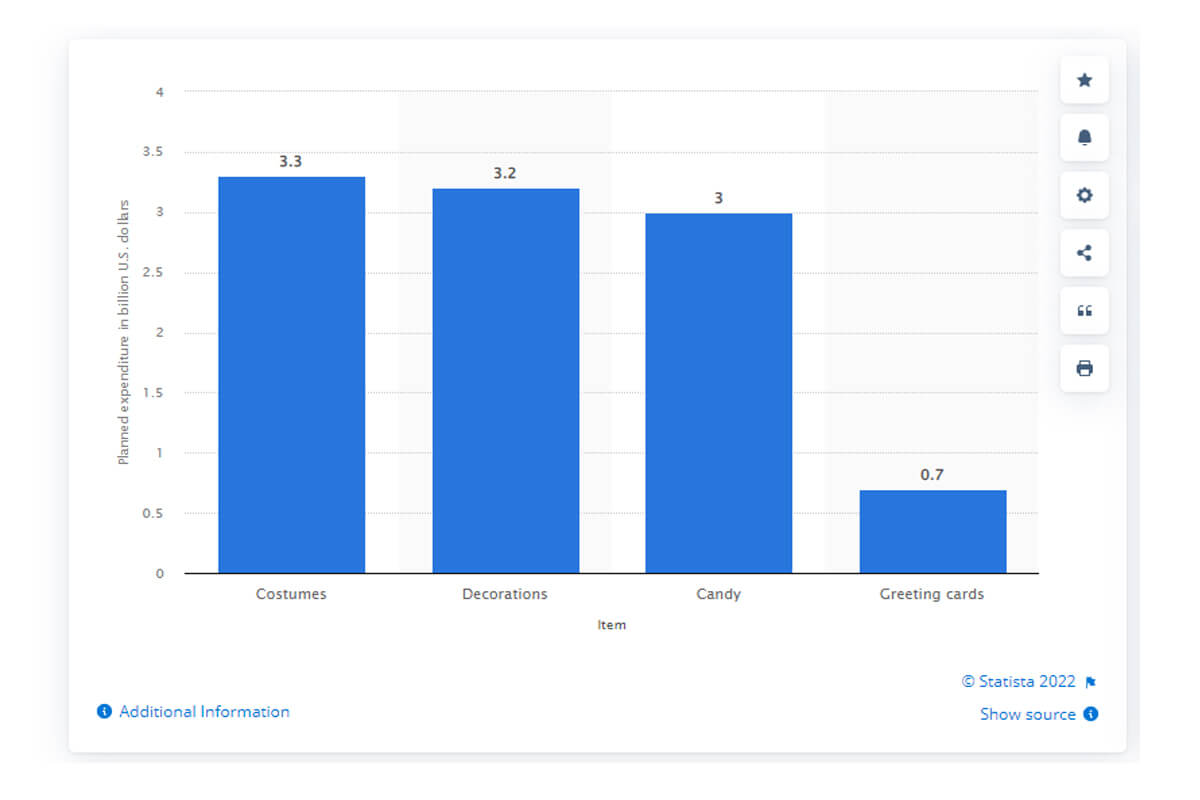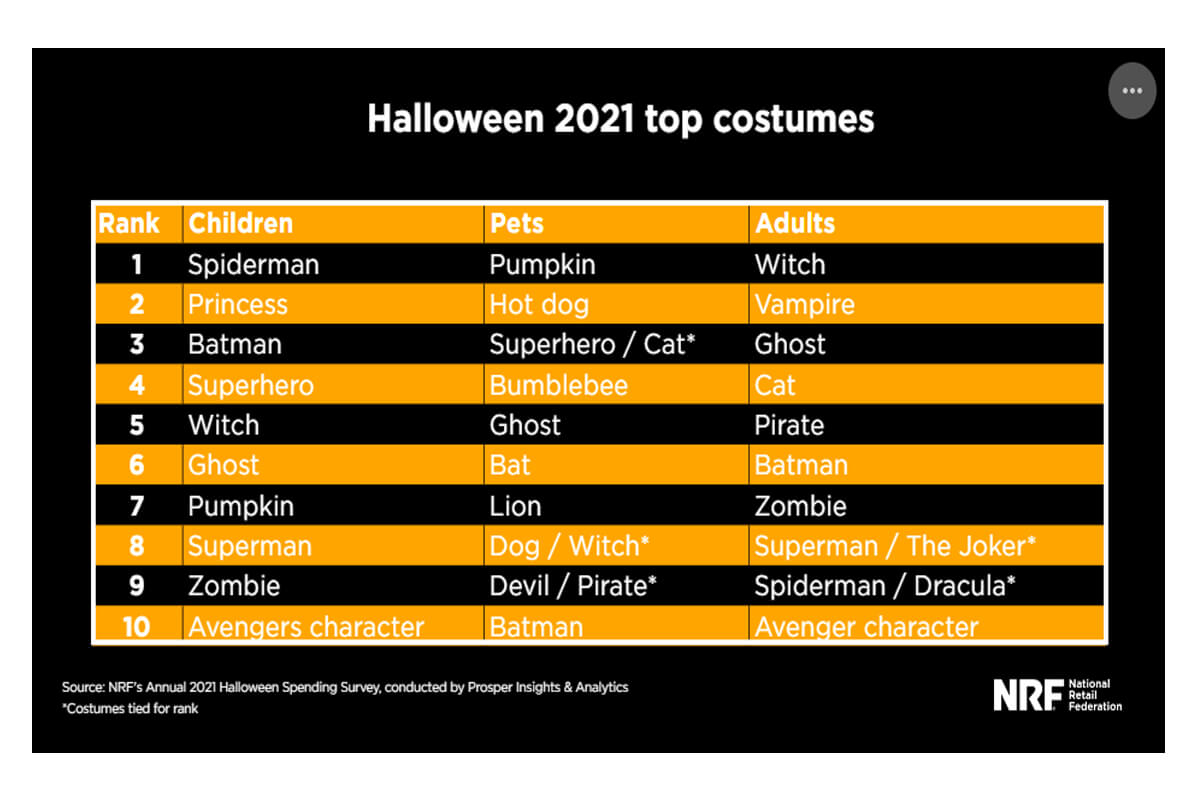 Halloween masks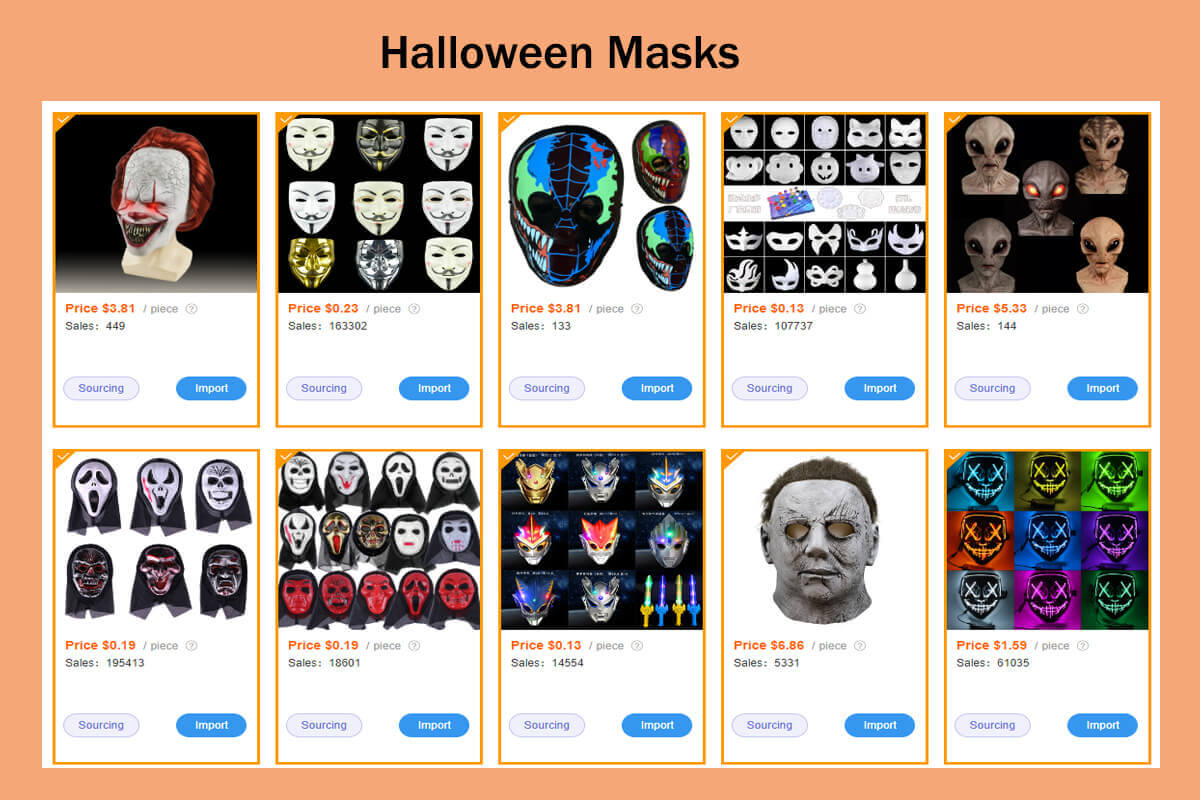 Masks are a great prop to set the mood for Halloween, especially for those who don't want to dress up in customs or make up.
Whether people want to have fun at a Halloween party or just scare their neighbors in the haunted house, wearing a mask makes the goal easy to achieve.
When you search with the keyword "Halloween mask" on Google Trends, you will find that mask is the most common topic with a 100 index. That suggests a good opportunity to earn money through selling masks.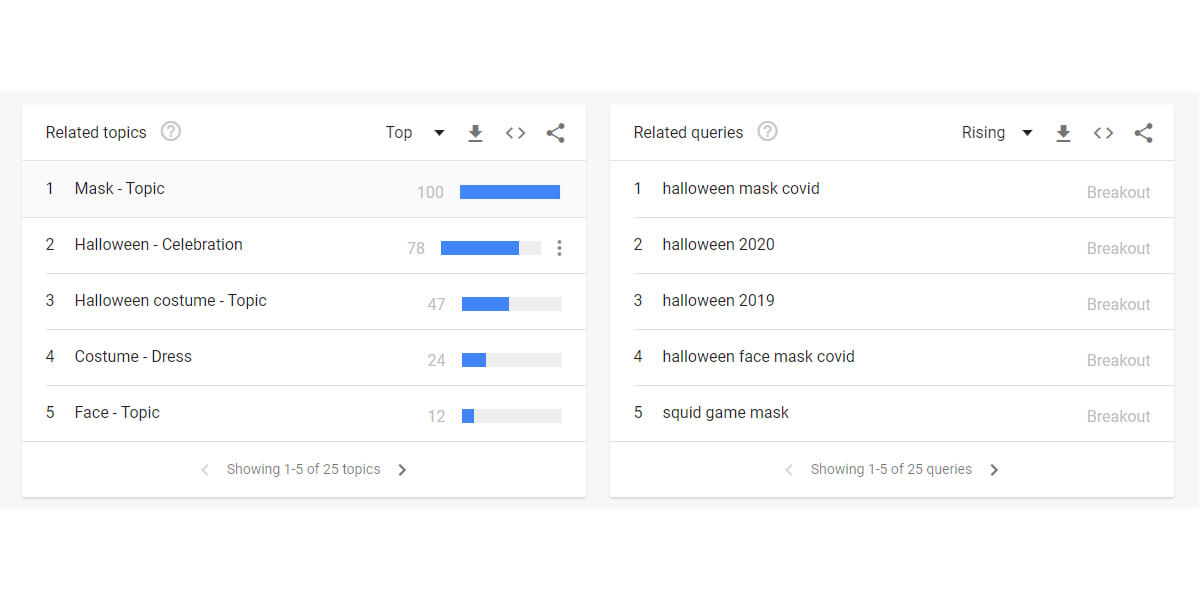 Halloween decorations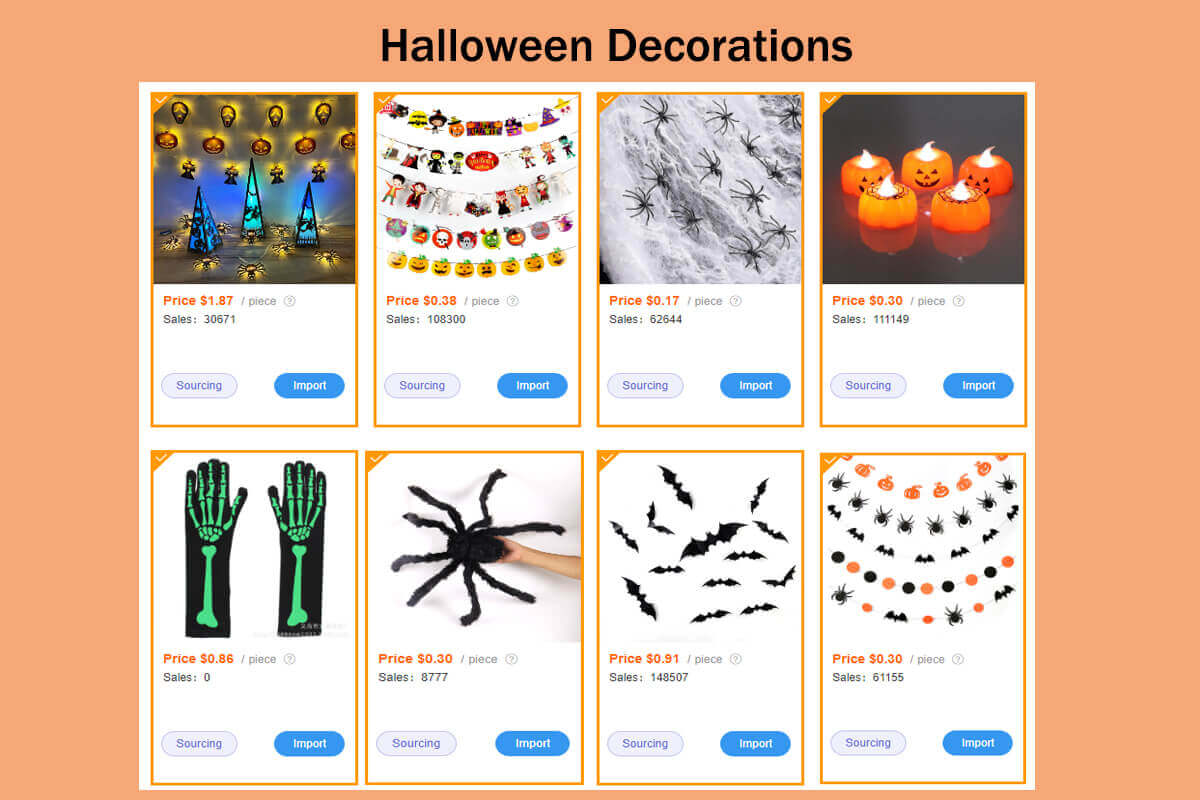 Whenever we talk about Halloween, a haunting ghost, scary spiders or some spooky decors may come to mind first. It is hard to imagine a horror Halloween scene without decorations. From the yard and porch to the outdoor garden, decorating with scary inflatables, spooky skeletons, zombies, jack-o-lanterns, fog machines, and fake tombstones will create a memorable Halloween. Many families also like to decorate their indoor rooms with Halloween pillow covers and hanging wall decors to impress their neighbors.
All of these make Halloween decorations one of the best-sellers in this holiday season. Last year, consumers in the United States alone expected to spend 3.2 billion on decorations for Halloween. You can predict that such products would be hot-selling in 2022 as well. Research on Google Trends will convince you if you are suspicious.
Look, when I search with "Halloween decorations" on the search bar, I find "Halloween decorations 2022" is a breakout topic among the related queries.
Besides, Ahref shows a global volume of 277K for this keyword.
So do your homework and find best-selling Halloween decorations for your store.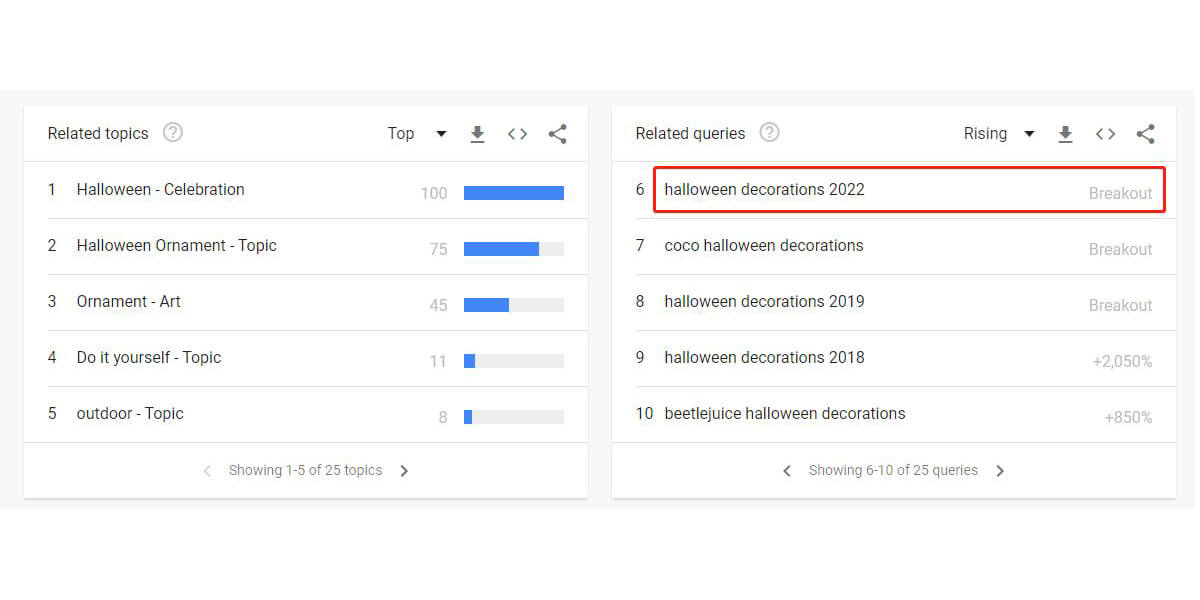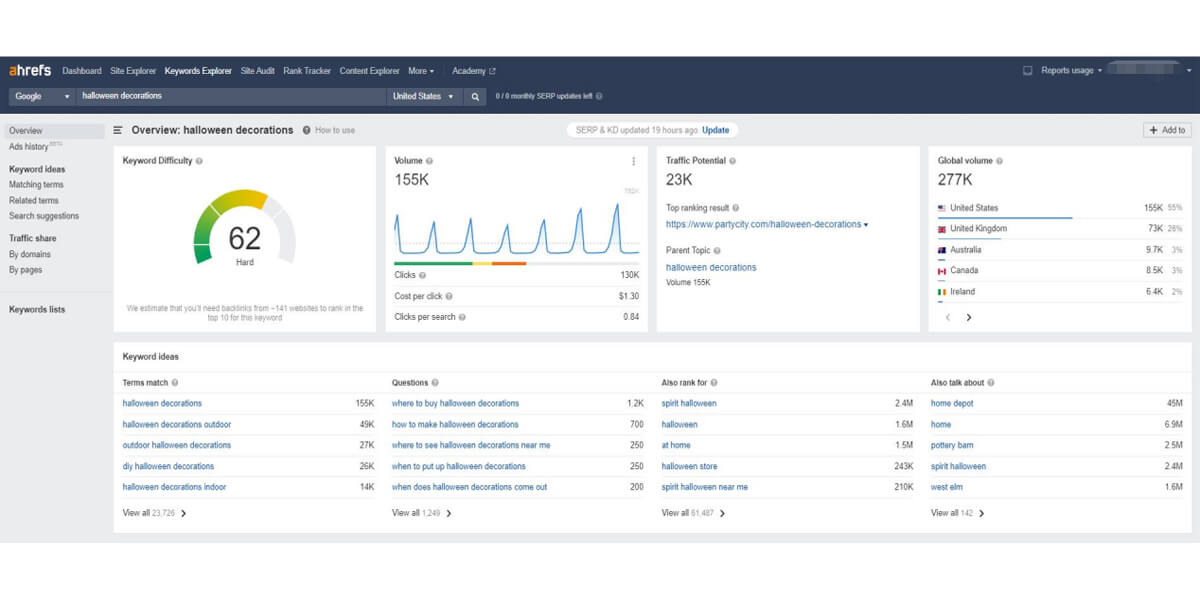 Halloween makeup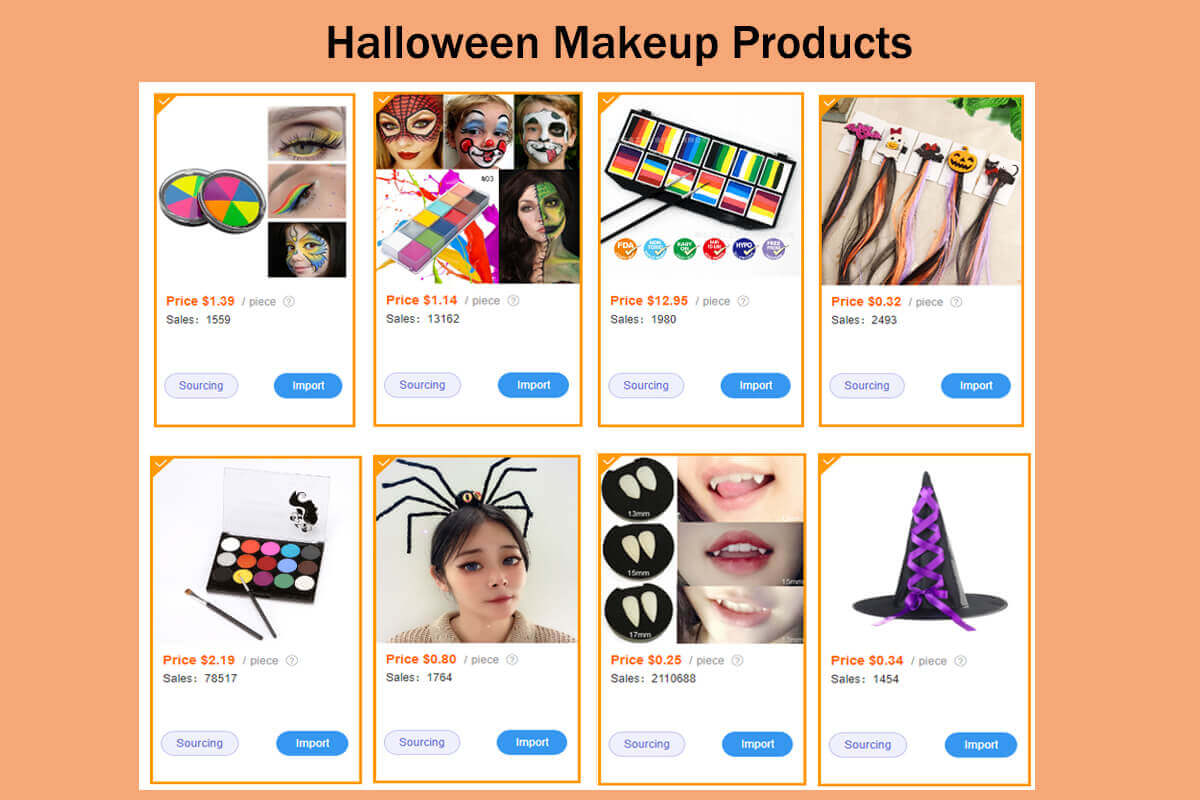 Makeup products for Halloween could not be comparable with costumes and decorations, but they are still in high demand. According to Ahrefs, the global search volume of "Halloween makeup" at present is up to 162K. A big number, right?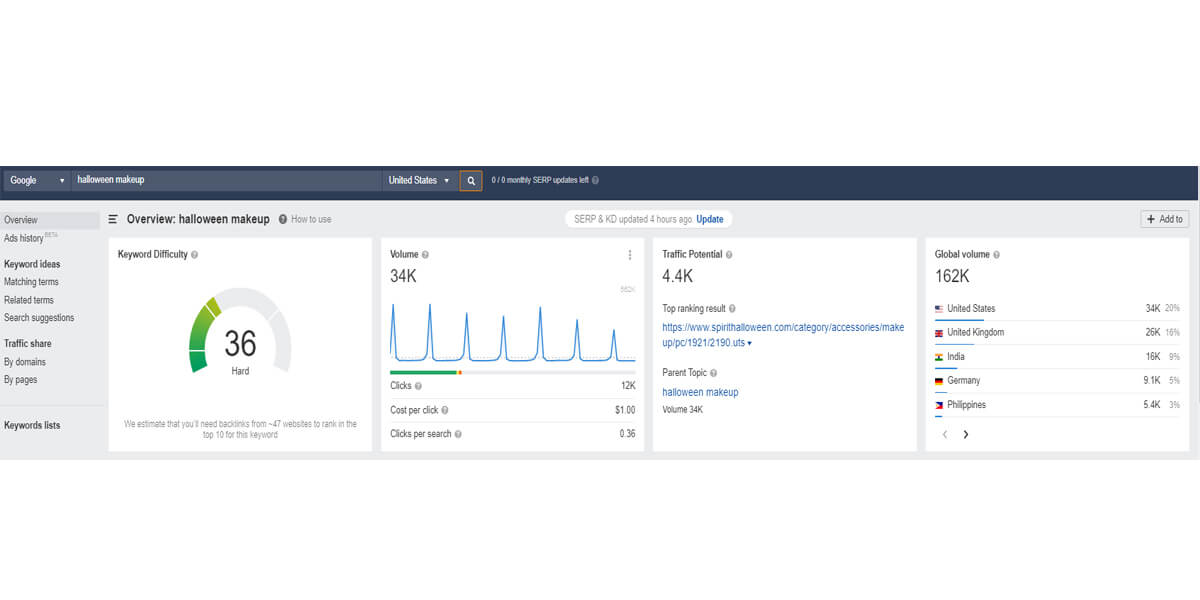 Then what comes to your mind first when it comes to Halloween makeup? A ghost face with a scary painting? A frightening hand with long nails? That is surely where makeup is applied. But people often use makeup with costumes to make their look more vivid. You may choose to sell a bundle of Halloween cosmetics and costumes, which can probably create a premium for you.
Halloween accessories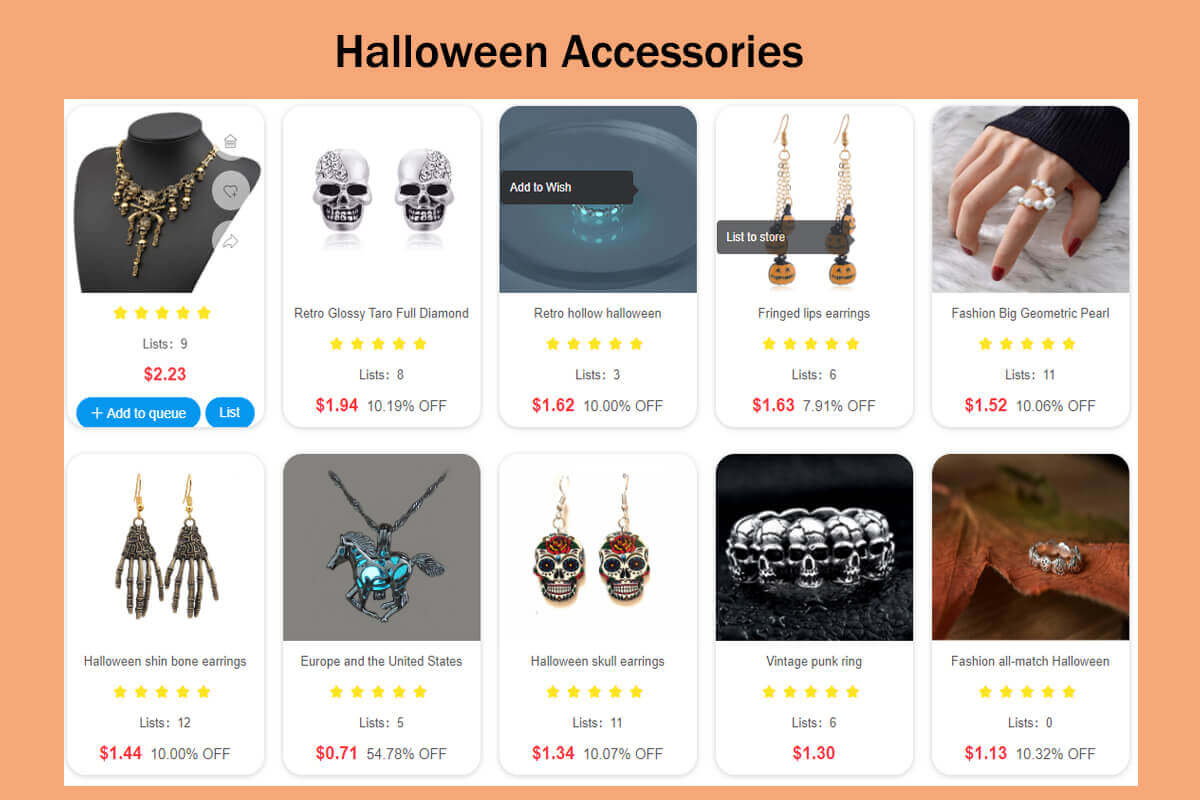 Accessories are complementary tools for a Halloween scene or dressing. Imagine that, a woman may look better when she takes a Halloween bag and wears a scary earnings or headband after dressing as a frightening figure, and a scene may be more creepy if added with spirit Halloween accessories.
But don't be lost in such imagination, you should take the chance to sell related Halloween accessories to cater to your customer's needs.
How can Sup Dropshipping help you for Halloween?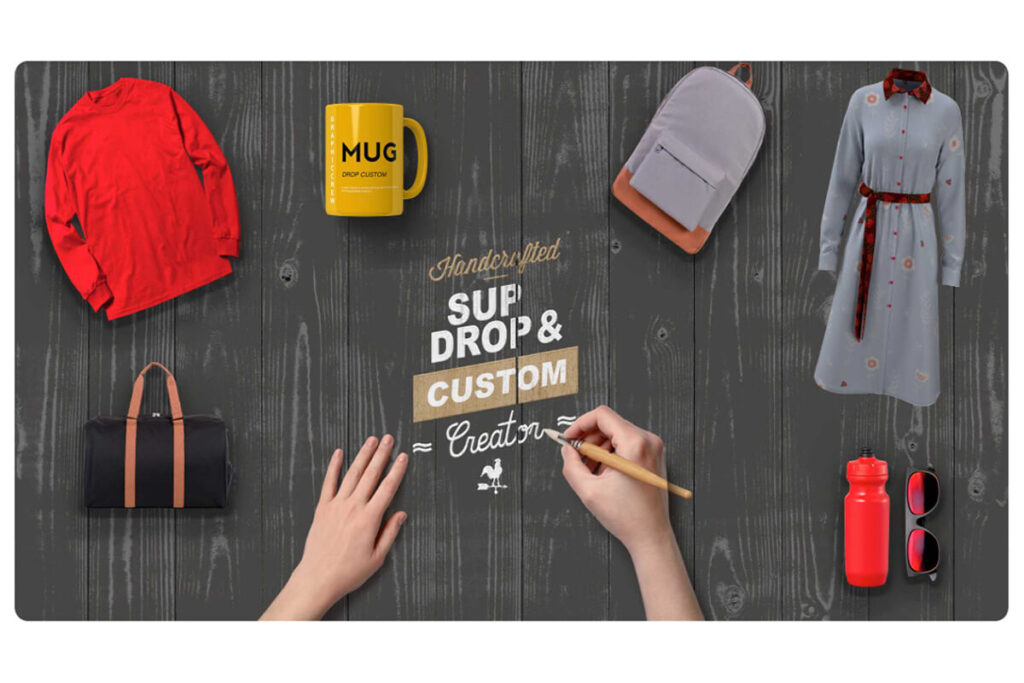 Sup Dropshipping is always with you.
To help you win on Halloween, we selected nearly 300 trending and winning Halloween products for your reference. They cover costumes, masks, decorations, accessories, and makeup products. Once you come across a product you need, you can import and list it to your store with a few clicks.
Apart from these 300 promising products, we offer you top-selected print on demand Halloween clothing and decors, like hoodies and tote bags. There are a handful of free design patterns available to you. Meanwhile, you and your consumers can add your unique designs to these POD products with Sup Dropcustom, which is free and simple to use. With these customizable Halloween items, you can differentiate your store from your competitors' easily.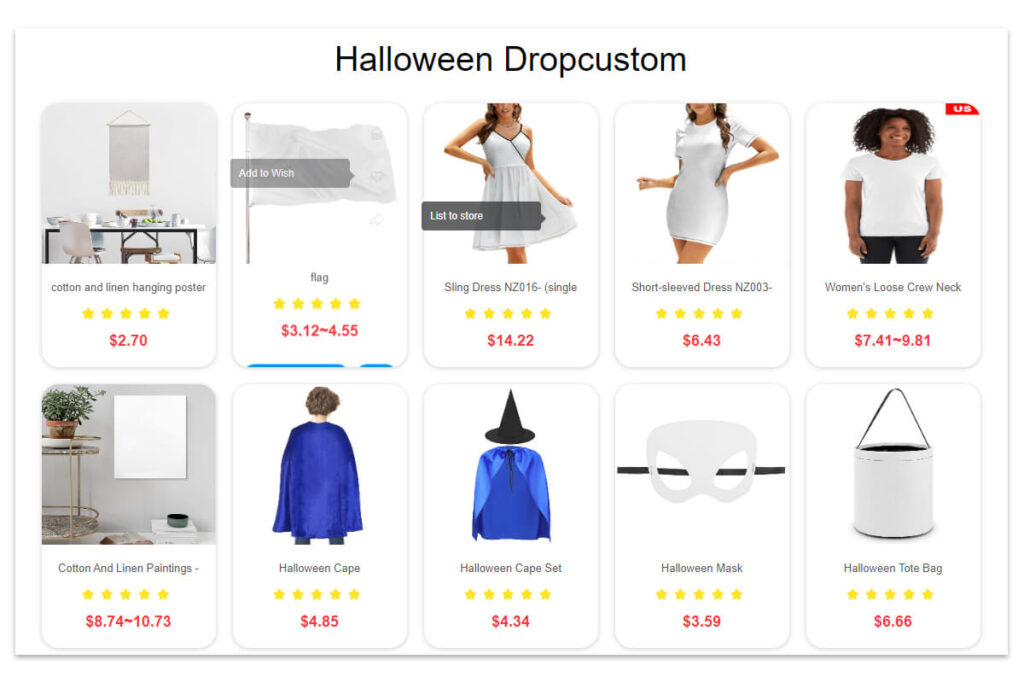 If you can't find a Halloween product on Sup that is fit for your store, you may source products from other platforms like Aliexpress with Sup Dropshiping. The SUP Chrome Extension will help streamline your sourcing process within seconds. And your dedicated agent is always there to help you if you place a sourcing request.
Wrapping up
Halloween is not only a well-known festival worldwide but also an opportunity to increase revenue for businesses. If you sell proper Halloween products, there is a great chance that you can boost your dropshipping growth. Whether these products are trending costumes, scary masks, frightening decorations, make-up products, or other accessories, just take this chance to sell.
If there is any questions, please let us know in your comment.
Wish all of you a Happy Halloween!