Google Trends Dropshipping: Top 10 Tips To Boost Your Success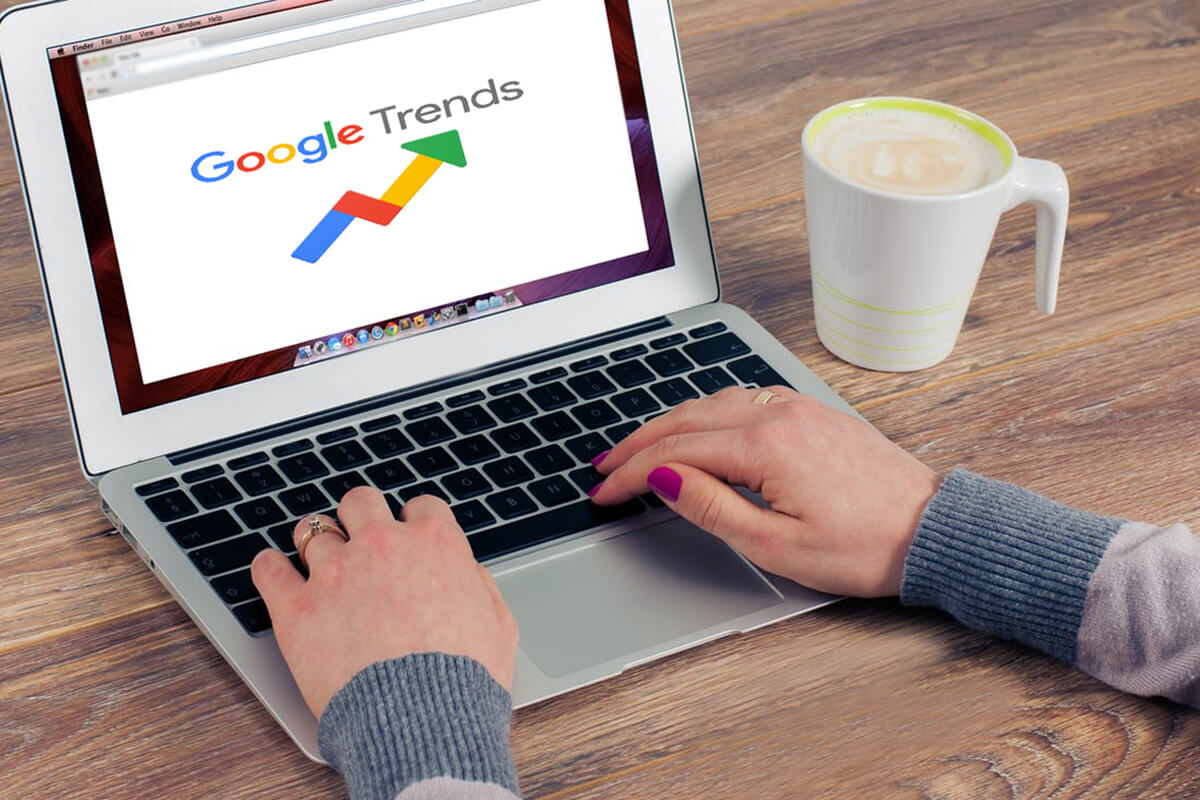 Do you feel it is a headache to find a niche and trending products for your dropshipping business? Or do you find it hard to identify a target market? If yes, then Google Trends is the way to go.
Google Trends is an amazing search tool developed by Google. As the name suggests, this tool allows you to find trends. Whether you want to explore a trending niche or product, Google Trends is the perfect tool for you.
But how to use Google Trends for your dropshipping business on earth?
In this guide, you probably can find your answer.
Let's dive in.
How does Google Trends work
Before you learn how to use Google Trends for your dropshipping success, you should understand how it works.
In this part, let's explore it in detail.
Interest over time
Google Trends shows the interest users have in a topic or search term over a period in a chart. In this chart, you are accessible to the interest volume from 0-100 and you can specify the time from the past hour, day, 7 days, 30 days, 90 days, 12 months, and 2004-present. You are also allowed to customize the time through the time filter according to your needs.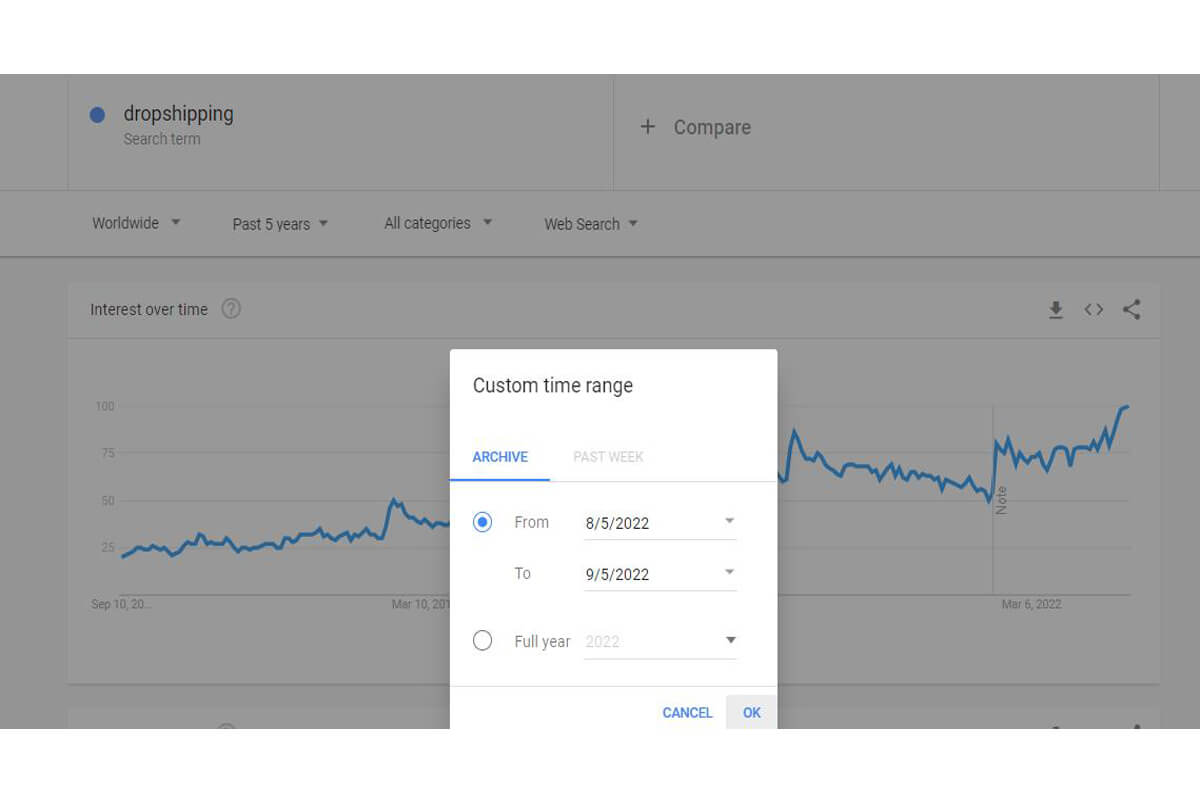 Then what does the figure in the chart signify exactly?
If the interest of a term is at the peak of 100, it could be a hot buzzword on Google search. Google users are extremely interested in the product, niche, brand, or topic behind the keyword.
On the contrary, zero or a small figure indicates people may not be interested in this term or topic during this time. Sometimes zero also means there is no data for your term.
The interest volume is not equivalent to the search volume. But it suggests the potential of being trending and successful.
Interest by region
Literally, interest by region indicates interest in a specific region or city during a period. The search interest is displayed on a map. The darker the color in a region is, the higher the interest volume is. And these regions are ranked on the right of the map.
You can figure out where your search term or topic is popular with this function. If you still hesitate about which region to market, choosing the one with a higher interest volume will be a good option.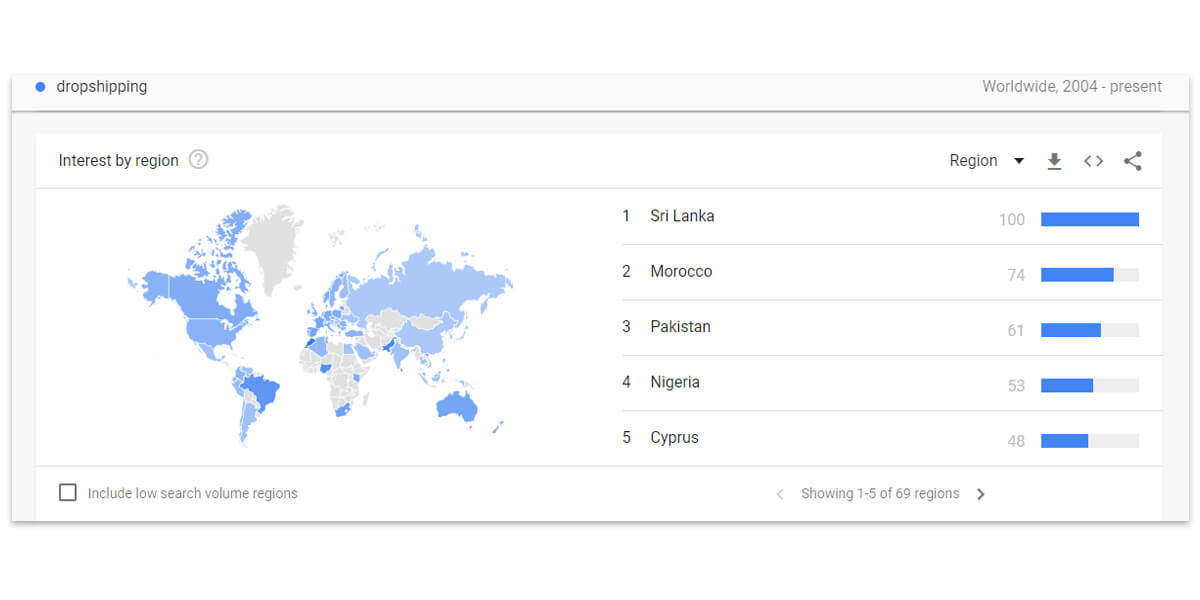 Related topics & queries
Related topics & queries are the words and phrases related to the term or topic you search with. Here, you can choose top or rising topics and queries. Their popularity is displayed with a percentage or breakout when you click on "Rising", and an index when hitting the "Top" button. Breakout topics and queries are the currently hot trends regarding your search term.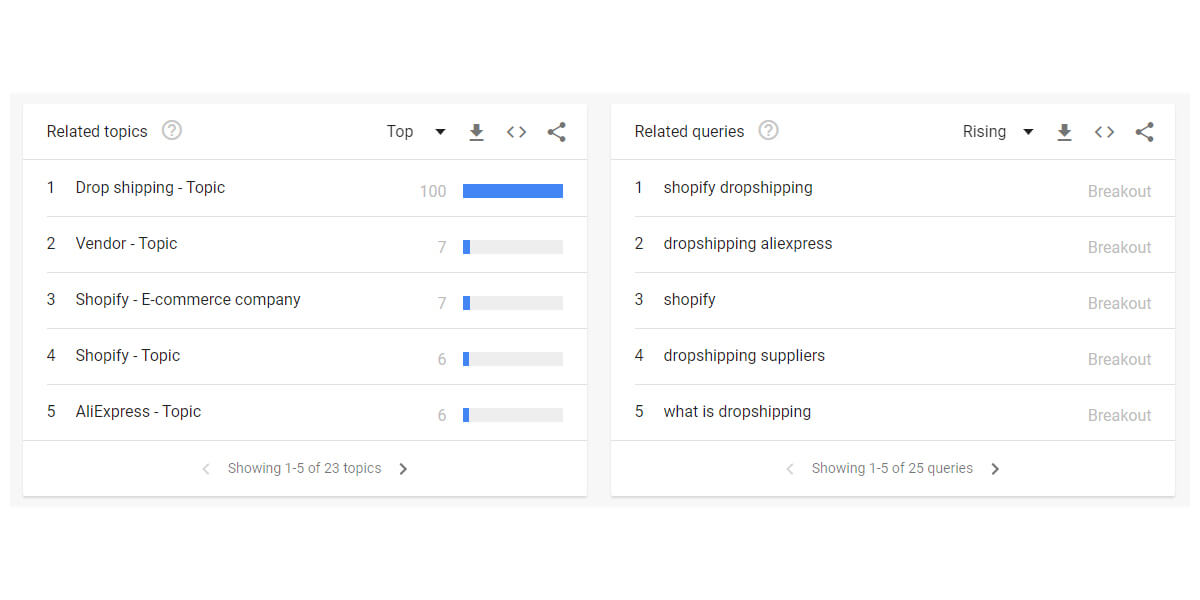 Trending Searches
This section is about daily and real-time trending topics that cover different categories in a country. Though many of them are about celebrities, you can still find some topics in the eCommerce field. Applying the related trending topics to your content marketing or SEO may drive huge traffic to your website.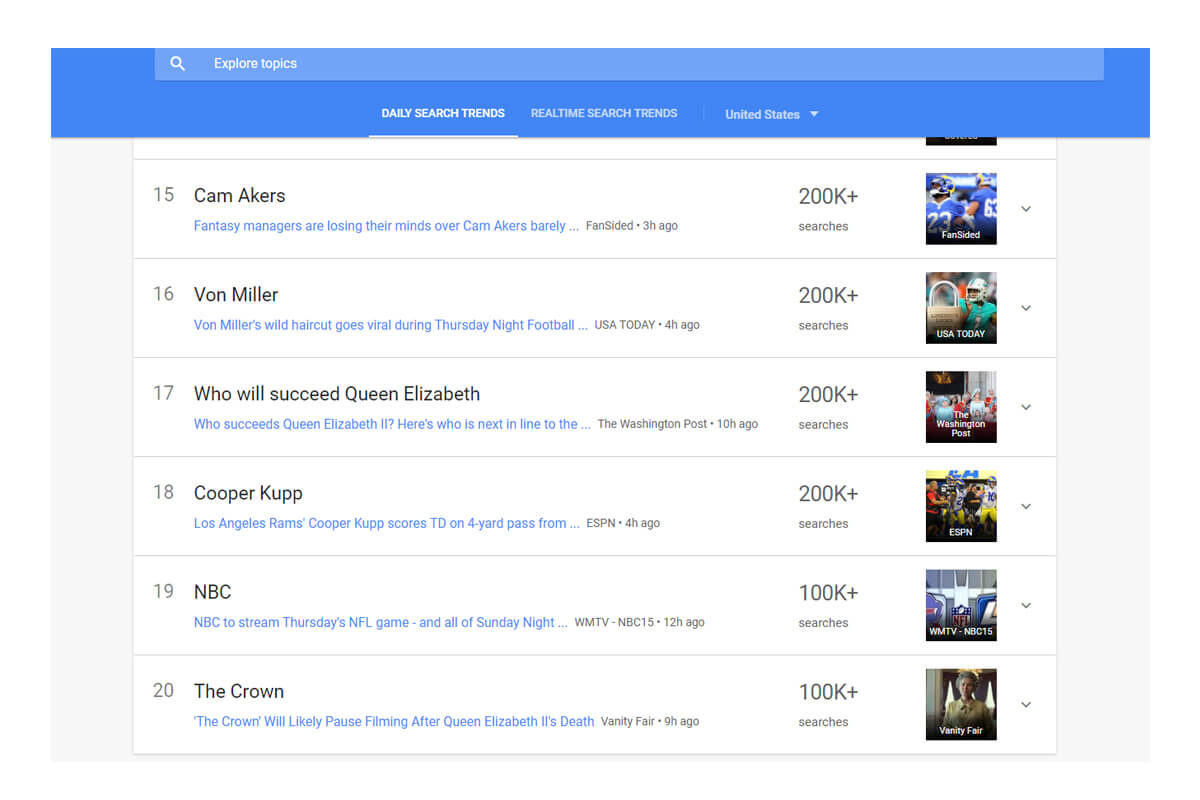 How to use Google Trends for dropshipping
Now that you know how Google Trends works, you could be wondering how it correlates with dropshipping and how to use it for your business.
Google Trends displays what people are interested in and care about. And in your dropshipping business, you sell what your customers like or need. Thus, dropshipping goes well with Google Trends.
But what can you specifically do with Google Trends?
Here are some tips that may give you an idea.
A niche is a small segment in a large market. Focusing on a niche is vital to survive in such a competitive eCommerce world. But it seems overwhelming for a beginner to find a proper niche.
If you are stuck in such a problem, Google Trends may help you out of it.
Given the niche ideas of bakeware, tableware, drinkware, and personal health care have come to your mind, but you can't make a decision among them. Then research with Google Trends to help you make the decision. Here is how to do it.
Enter the term "bakeware" on the search bar
Add terms "tableware", " drinkware" and "personal health care" one by one
Apply other filters, "worldwide", "2004-present" or past 5 years, "All categories" and "Web Search"
Analyze the result
Note: To get a more accurate reference, we recommend you to choose from a wide range of spaces, a long period, and broader categories.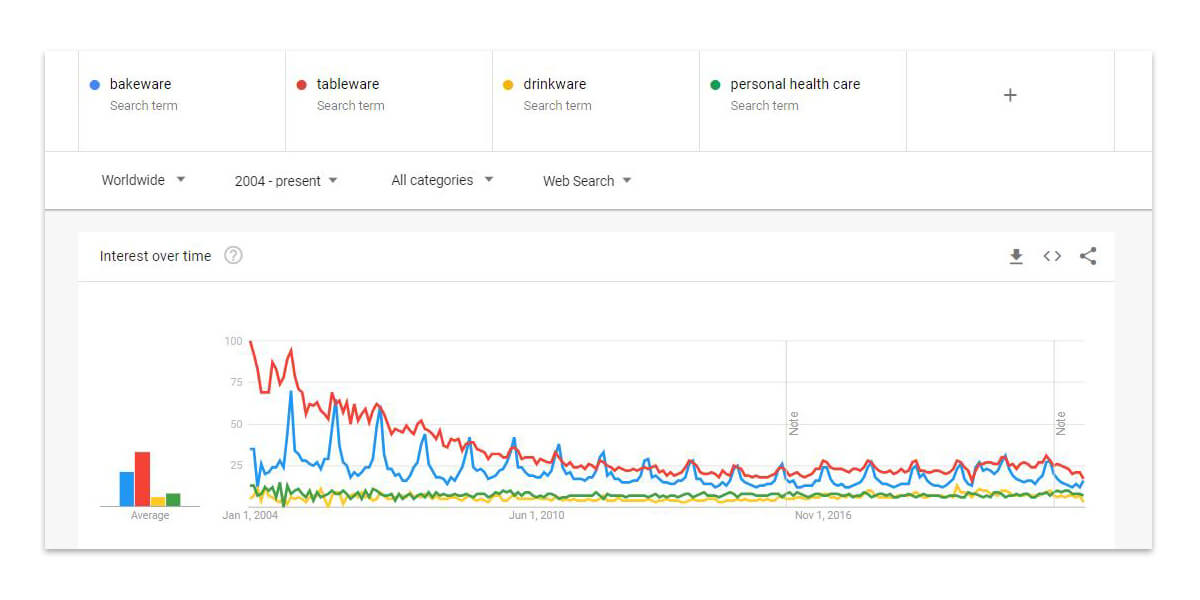 From the chart above, you can see that drinkware and personal health care are ever-green niches with a constant but relatively low interest volume. Meanwhile, there is a high need for tableware though the interest for this niche inclined before Jun1, 2010. And bakeware indicates seasonal needs. People are more likely to buy such products in winter.
Therefore, with this rough analysis, the niche of tableware is more suitable to enter if you want to avoid a seasonal niche like bakeware.
2. Choose a dropshipping platform
After you find a niche, it is time to choose a platform to sell your products. While there are a few platforms available, which one should you choose?
You can turn to Google Trends for help.
Enter the keyword "dropshipping" in the search box and scroll down the page to the bottom. You can find related topics and queries on the result page. Some popular platforms are included among them.
In this example of dropshipping, Shopify appears on the related topics, and Amazon is included in the related queries. So these two platforms may be the popular dropshipping platform you can consider. Next, you can begin to compare these two platforms to make your final decision.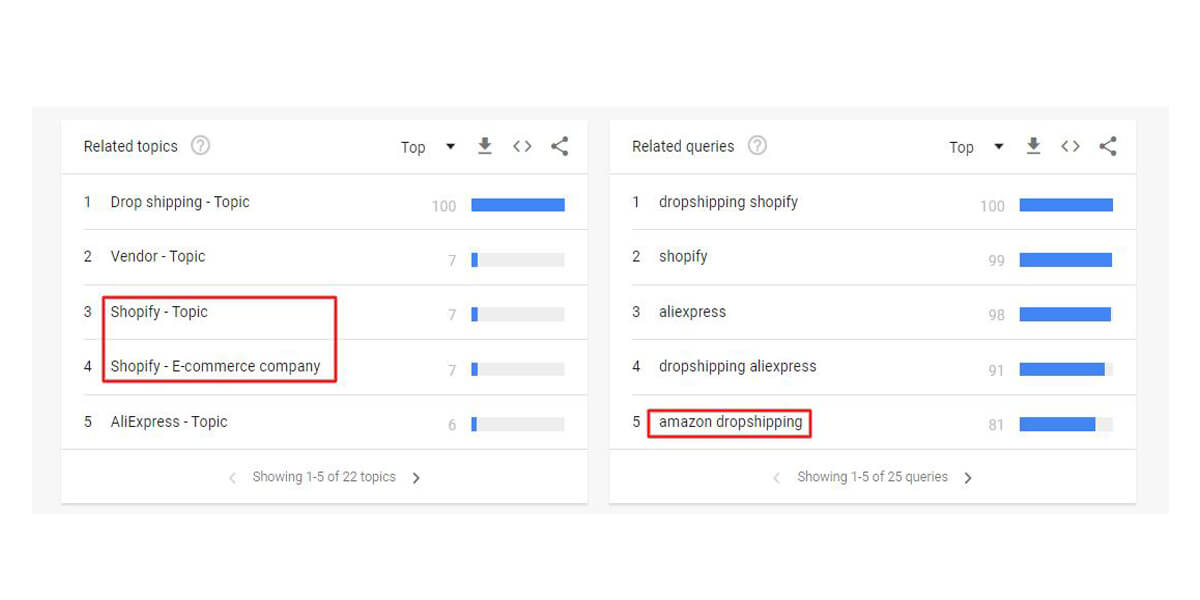 Winning products are crucial to the success of a business. However, finding successful winning products among a sea of products is not easy.
With Google Trends, your sourcing process can be much easier.
Take tableware as an example.
You have already decided to sell tableware, but you don't know what products to choose from. Just search with this term on Google Trends now.
Then in the related topics and queries part, you can find some sub-niches under tableware.
We compile them in a sheet below for your reference.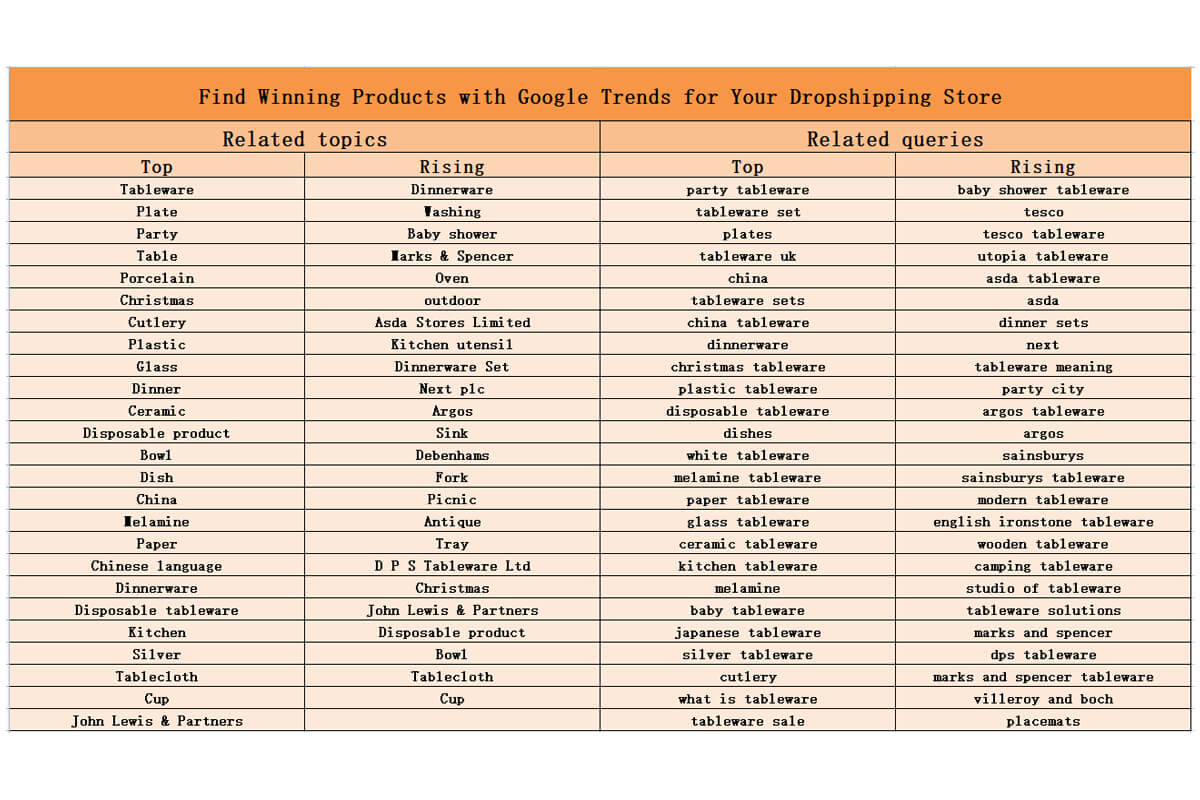 From these topics and queries, some products like tablecloths and placemats could be potential. Just research their trend by interest on Google Trends next. If the index in the chart shows a good sign, these products are worth selling.
4. Identify keywords for your website
Keywords are important for product or service visibility. Only when you add keywords to a detailed product page and website, there is a chance that your customers find your product or service on a search engine. So how do you identify such keywords with Google Trends?
Here I take the example of print on demand T-shirts to show you how to achieve the goal.
Supposing you are selling print on demand T-shirts in your store. In this case, you can search by term "print on demand T-shirts" on Google Trends. Then among the related topics and queries, you can find the related keywords which can be added to your product title, description, and catalog. Here keywords like "printed T-shirt", "print on demand t shirt", "print on demand shirts", "t-shirt printing", "print on demand t-shirts", and "print on demand shirts" are all you can add. With these keywords, your products or services are more likely to be found by your customers.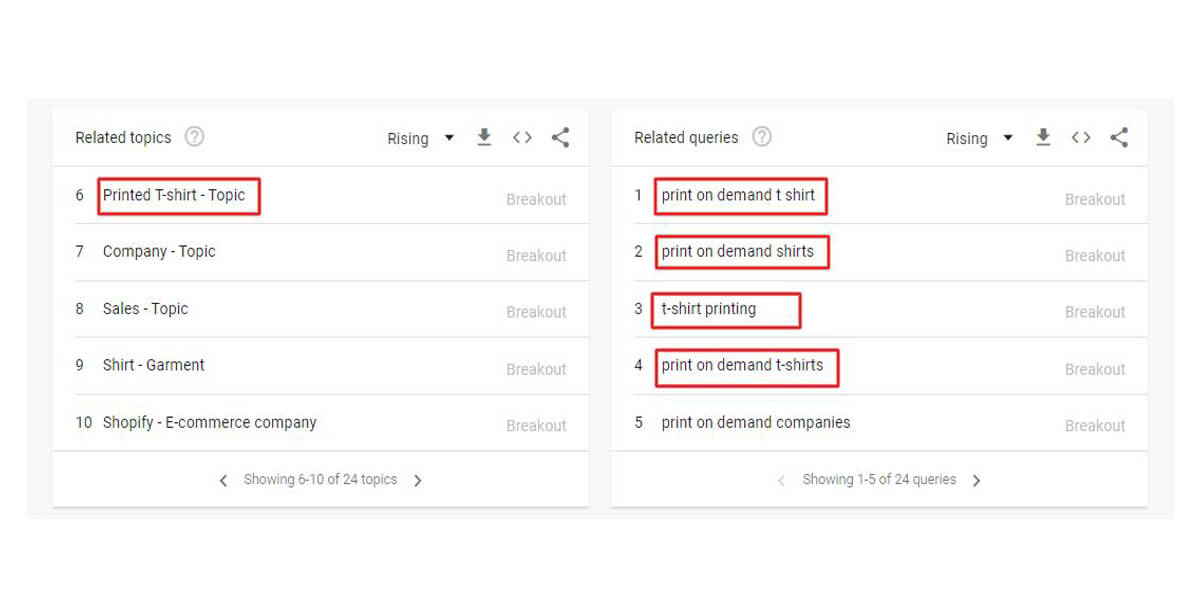 5. Target a specific market
Maybe you have decided on a niche and found some promising products, but you don't know which market you should target.
Then Google Trends comes to play its role.
Supposing you want to find your target market for tableware. Just type this word into the search box and add filters to start the search.
With the Interest by region function, it is easy to conclude that tableware is most popular in the United Kingdom. So you can make the UK your target market. Certainly, you can choose to target another region with a high interest volume as well.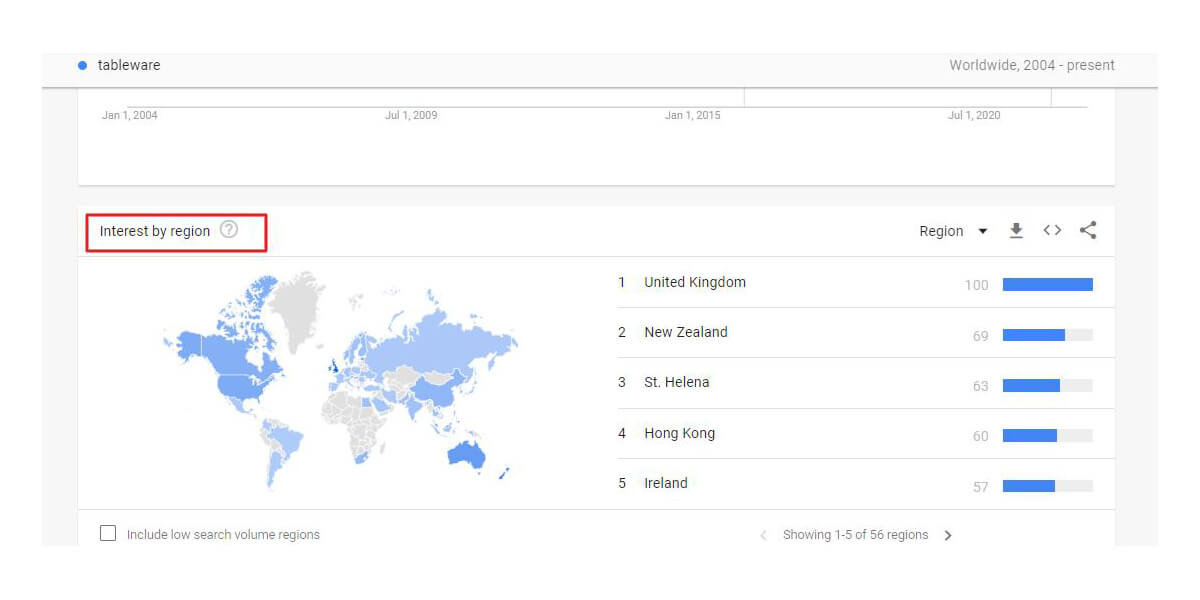 6. Get inspiration for a blog topic or products
Whether you are writing a blog or selling retail merchandise, Trending Searches on Google Trends will give you a good idea of what to write or sell.
Open the Trending Searches page and you access daily and real-time search trends in a country.
Here I find a trending topic "Labor Day". If I were an online seller, I can sell some products about Labor Day in my store, or I can write a blog to promote the related products.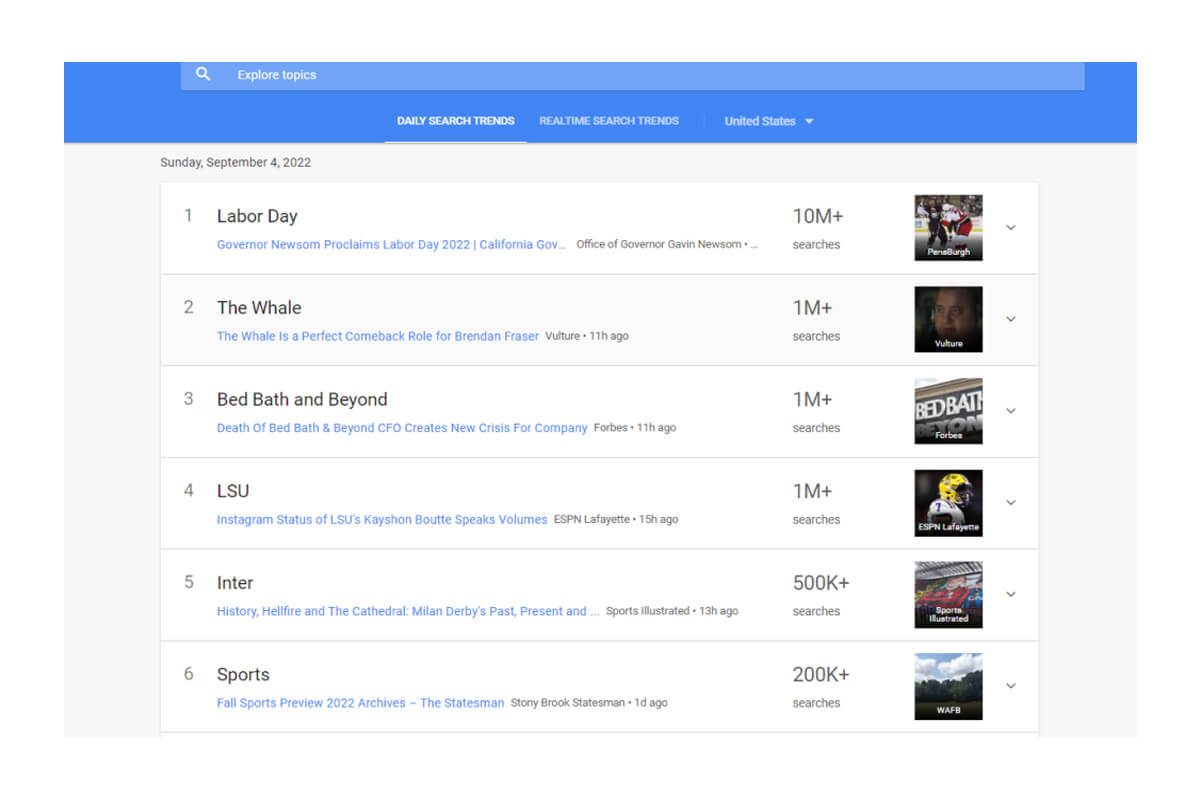 7. Improve your SEO performance
Google Trends is helpful for search engine optimization.
For one thing, it provides you with keywords for your content. If you plan to write a topic, search it on Google Trends and you can find some related keywords in the related topics and queries section. Incorporating these keywords into your content could increase traffic and improve your rank on the SERP.
For another thing, Google Trends can give you a clue about when to improve your SEO. When your focus keyword is trending in a certain period on Google Trends, you may take your chance to improve your SEO before or during that time.
I once find my focus keyword for the article How to Dropship on Shopee is a trending and breakout topic on Google Trends, so I spent some time optimizing this article. As a result, I was rewarded to rank on the first page of Google search and get more traffic in my target market.
8. Research your competitors
Want to know if you are keeping up or outperforming your competitors? With Google Trends, you may get a clue.
Here I will take the example of Printful and Printify to show you how to do it.
First, enter the two brands in the search bar. Then add filters to refine the result.
In the chart, we can see that Printful has been far more popular than Printify before August 2022. But since then, there is a tendency that Printify could keep up with Printful. So if you were the Printful leader, you might be wondering what actions your competitor takes to make such huge progress. And you need to research that to make sure you always keep ahead of your competitor.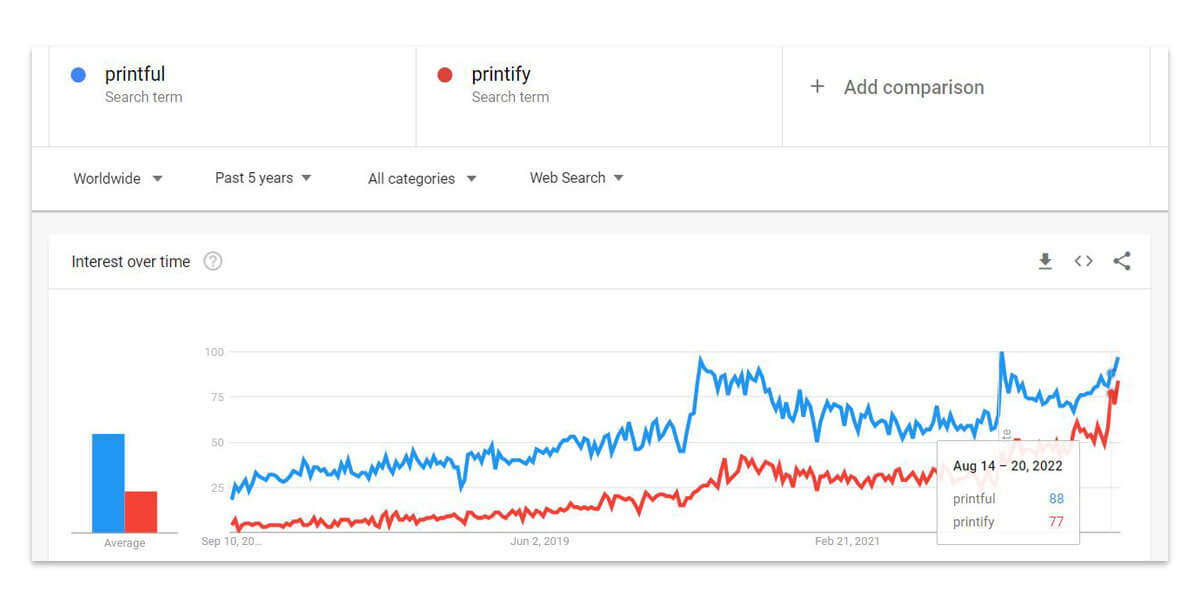 Furthermore, on the map, you may find that Printful and Pritify target different markets. Is it possible that Printify expands the business to the market where Printful takes up? That is a question the Printify team may consider.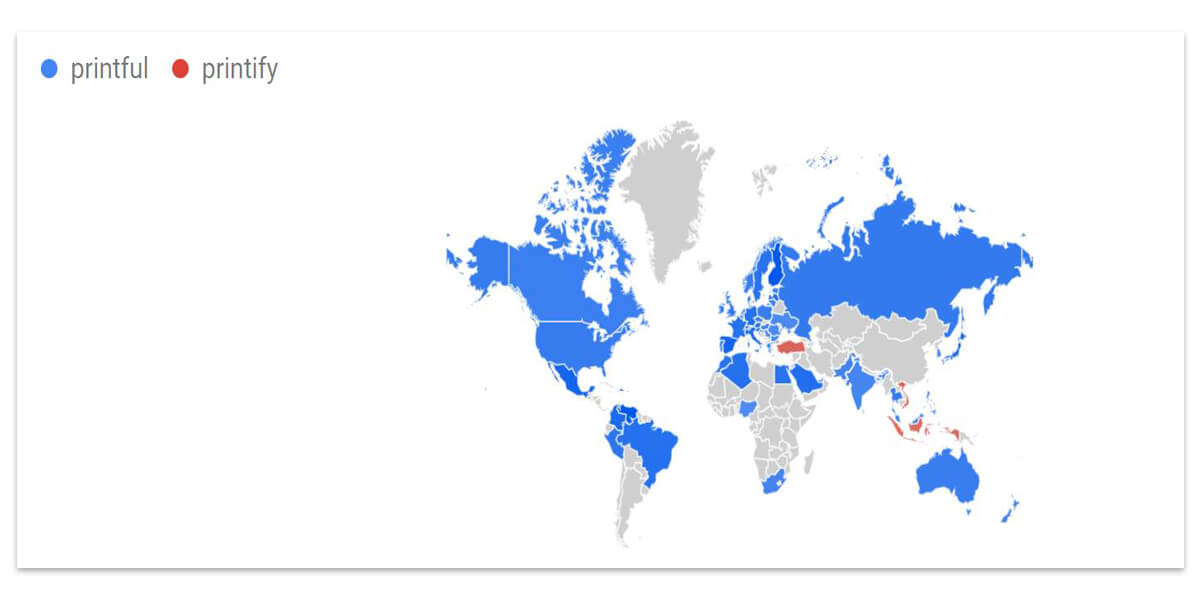 9. Identify seasonal trends
Seasonal products may not bring you sustainable profits around the year, but they can still increase your revenue in a short time.
To sell seasonal products, firstly you should make a rough plan of what to sell. Summer supplies or holiday decorations? Winter gear or party decors?
Here I suppose you are planning to sell Christmas products.
In this case, you can search with "Christmas" on Google Trends. Among the related topics and queries, you can see some trending Christmas products. You may sell them in your store.
Besides that, according to the "Interest over time" chart, the volume of search interest in Christmas tends to be at its peak in December. Therefore, you had better be prepared to sell your Christmas products during the time from September to November.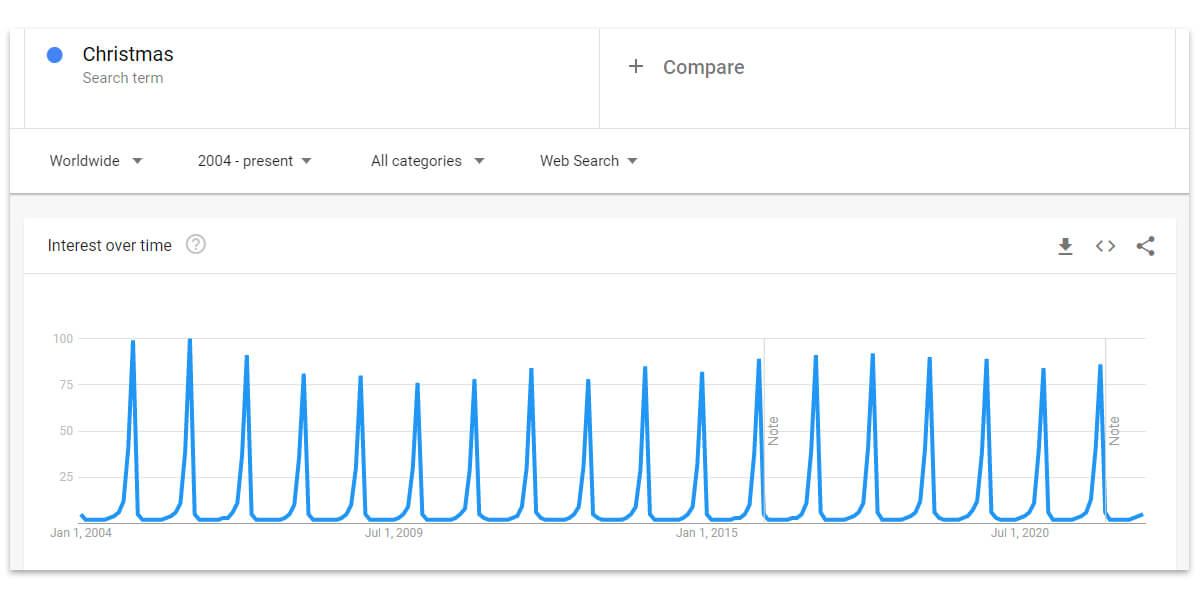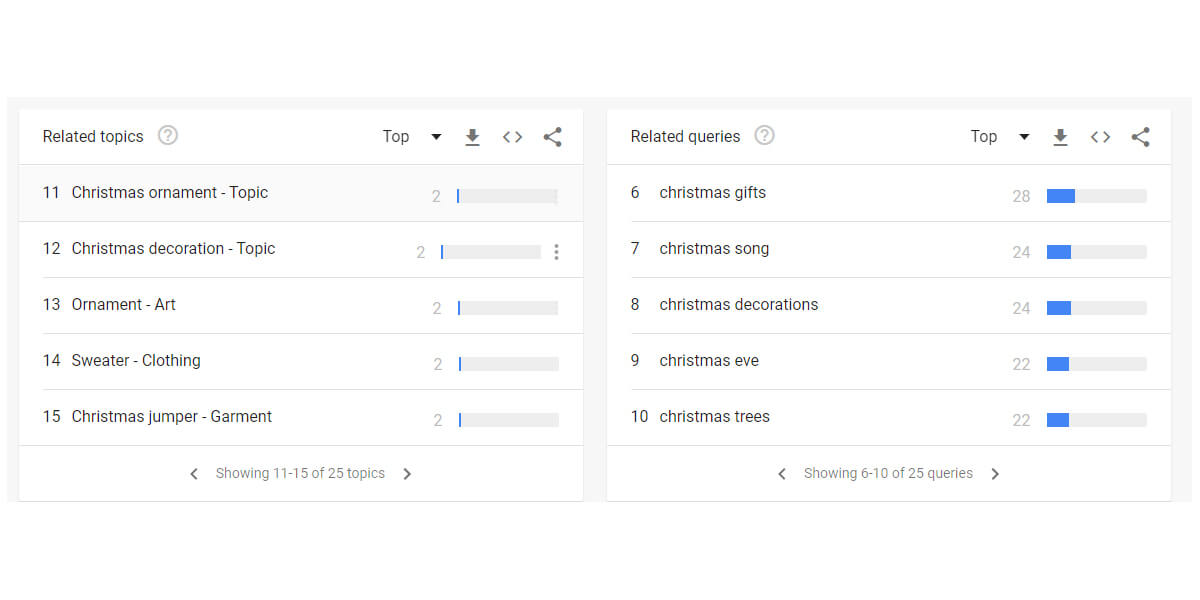 10. Tailor products for your target audience
When you have already identified your target audience, Google Trends is there to help you tailor products for them.
For example, your target audience is men. Search with this term on Google Trends, and in the related topics and queries section, you will find that they have a demand for hairstyles. Then search with hairstyles, and you will find your target audience has a high interest in hair twists. If you have not begun to sell such products yet, it probably rewards you to give these products a try.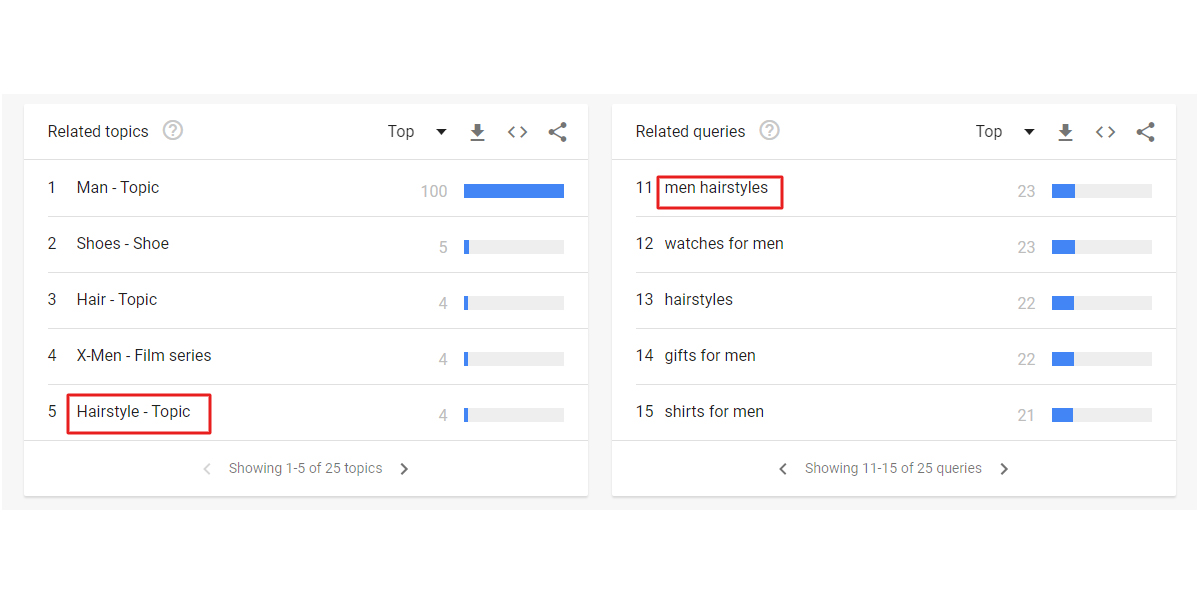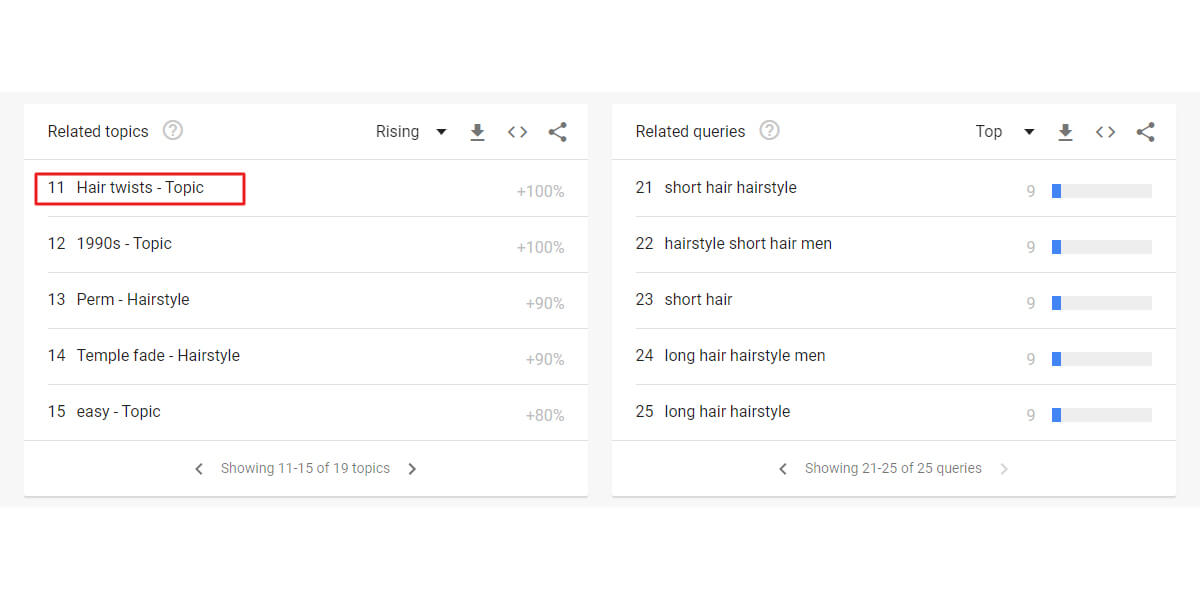 What you should pay attention to when using Google Trends for Dropshipping
Use Google Trends with other tools
Even though Google Trends is such a powerful tool, you still need to utilize other tools to get more comprehensive information.
For instance, you are finding keywords to start an SEO blog. The focus keyword is essential to the success of an SEO article. It is not enough to get keywords from Google Trends and decide on a focus keyword. You can use Ahref to make a well-informed decision in this situation. This additional tool can give you more information about a keyword.
Except for using Ahref, you had better refer to the data from your store and response from your customers as well. If you are a beginner, you can also take advice from an expert.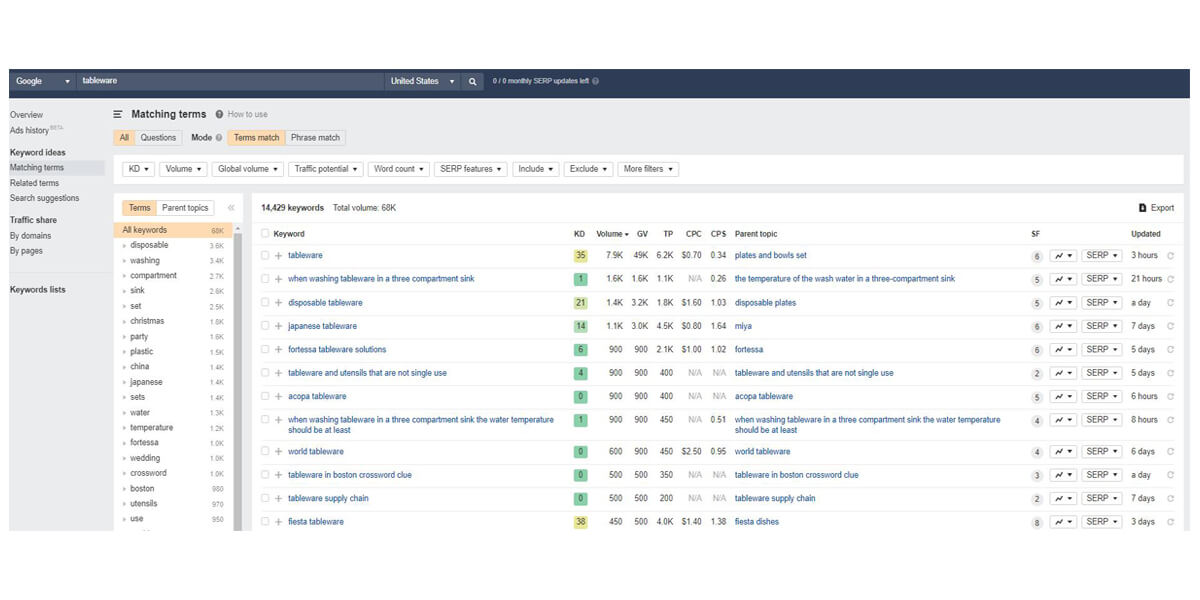 Consider the search intent
When you use Google Trends, you need to consider the search intent behind a term or topic. The search intent suggests what people really need. Only if you understand that can you provide a better solution for them.
There was a time people had a high demand for hand sanitizer. You can see that the interest volume for this term reached a peak at the beginning of the covid-19. It is a potential chance to increase your revenue with this product during that time. But for the sake of scaling your business, you should consider why people had such a great interest in this merchandise. Then you may find they actually need such products to keep hygiene and protect them from the virus. On this occasion, you can develop new products that function in this way. Consequently, you probably make progress in your business with high-demanded goods.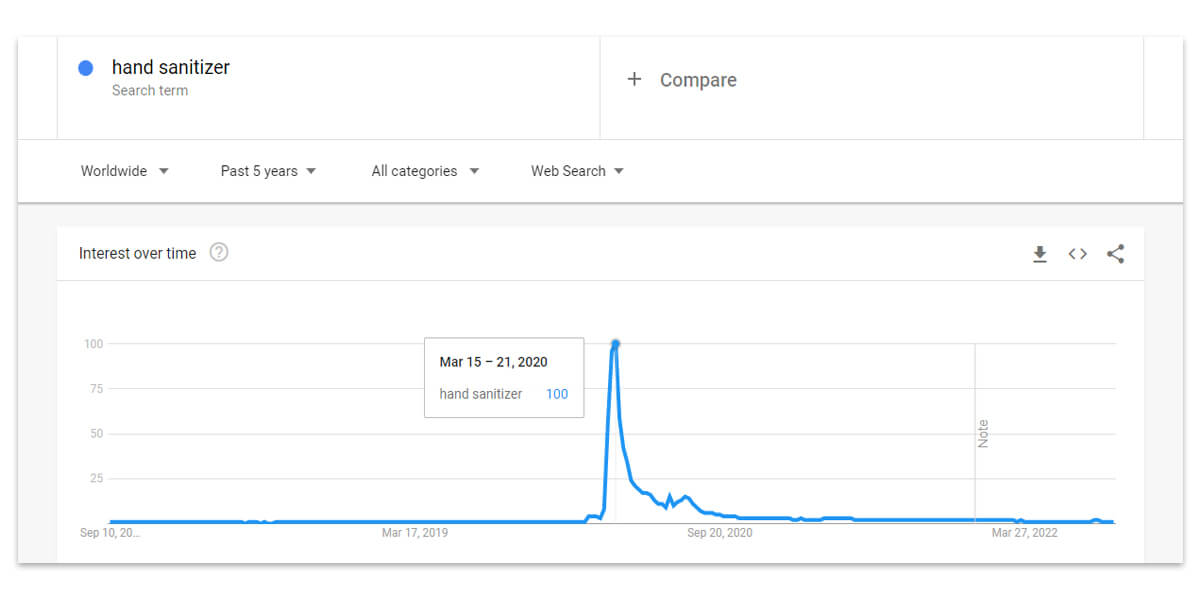 Search with proper keywords
Searching with proper keywords is important to access related data on Google Trends. You may search with synonyms of a term, but you should still pay attention to if it is a correct word. Or there could be no data about it.
For example, I research long dress with Google Trends. At first, I entered "long-dress" in the search box. This term automatically pops up from the drop-down menu. So I believe the keyword I used is correct. However, there is nothing shown for "long-dress". I changed the word to "long dress" then. And I got the data I need.
Therefore, you should be careful with the keywords you use.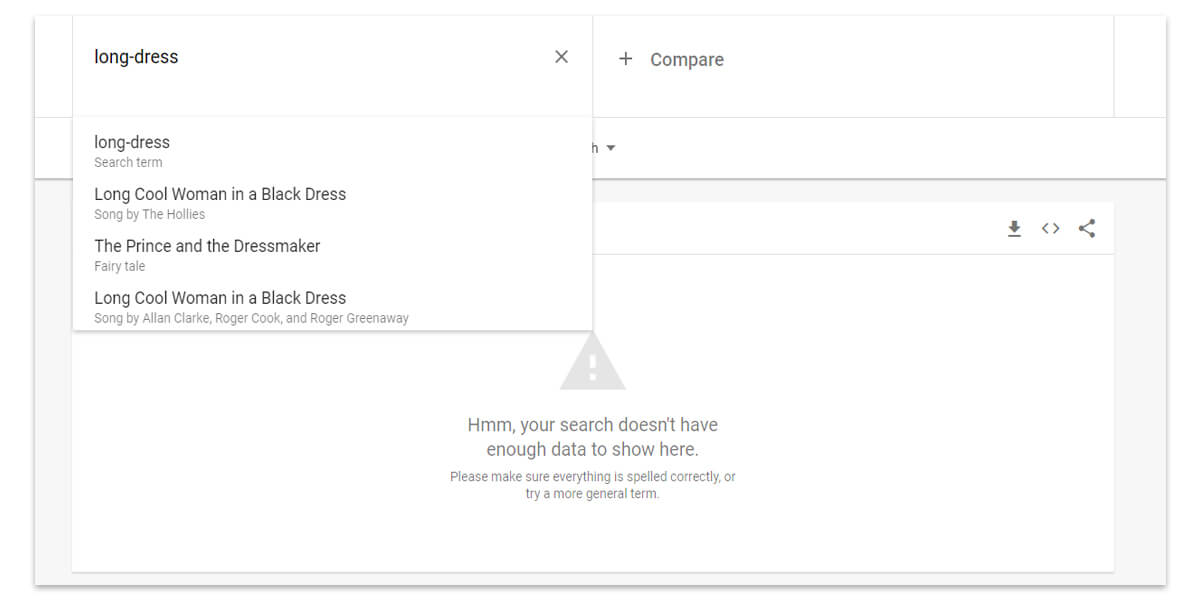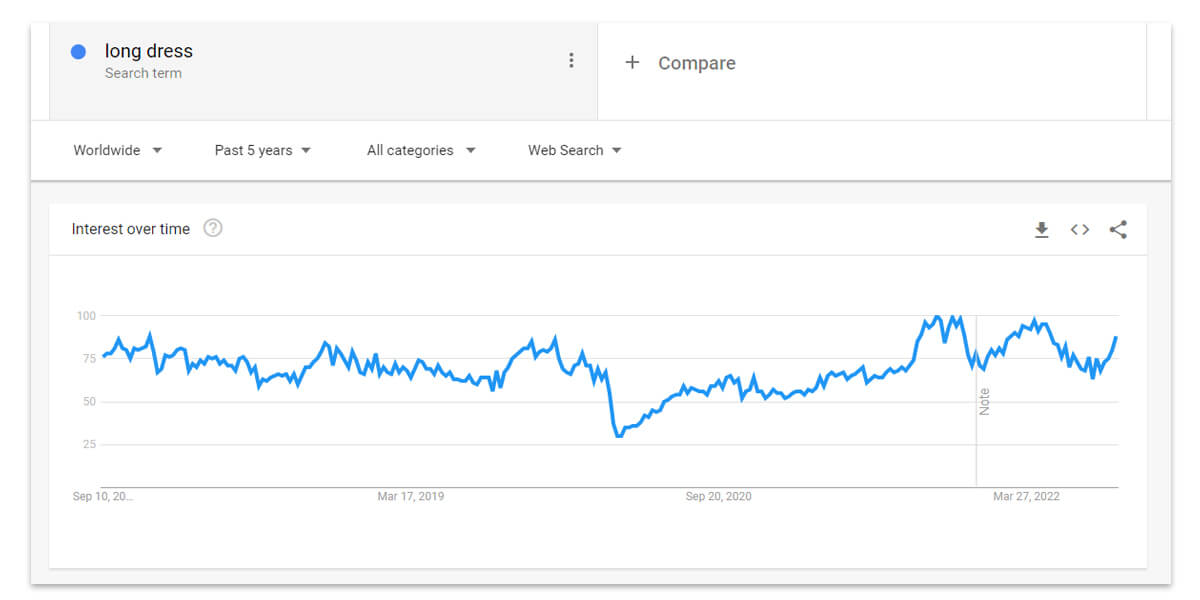 Conclusion
With increasing competition in the dropshipping industry, running a business could be more challenging. But with Google Trends, you can relieve yourself. What you need to pay attention to is to use this tool wisely. Referring to our tips and warning might do you help.
If you have any questions when using Google Trends for your dropshipping store, please let us know in your comment.