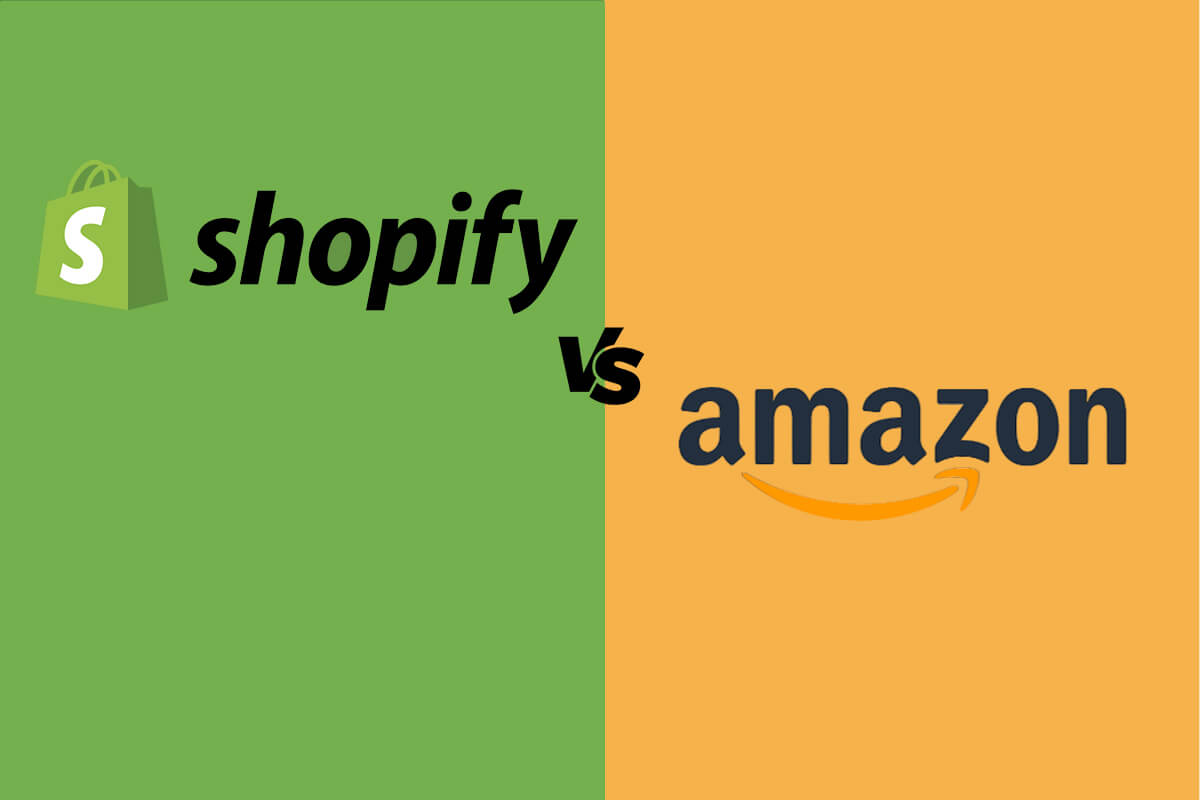 As a dropshipper, one of your most important decisions is deciding which e-commerce platform you should use to sell your products online. There are many feature-rich platforms to choose from, but we'll focus on two popular options in this article—Shopify and Amazon.
Shopify vs Amazon is one of the most talked-about battles in the e-commerce industry. Both of these platforms are known for providing significant opportunities for online sellers. So as a starter you may be wondering, which one suits you best? This post will compare both Amazon and Shopify from various aspects, which will help you choose the right selling platform.
Shopify vs Amazon: An Overview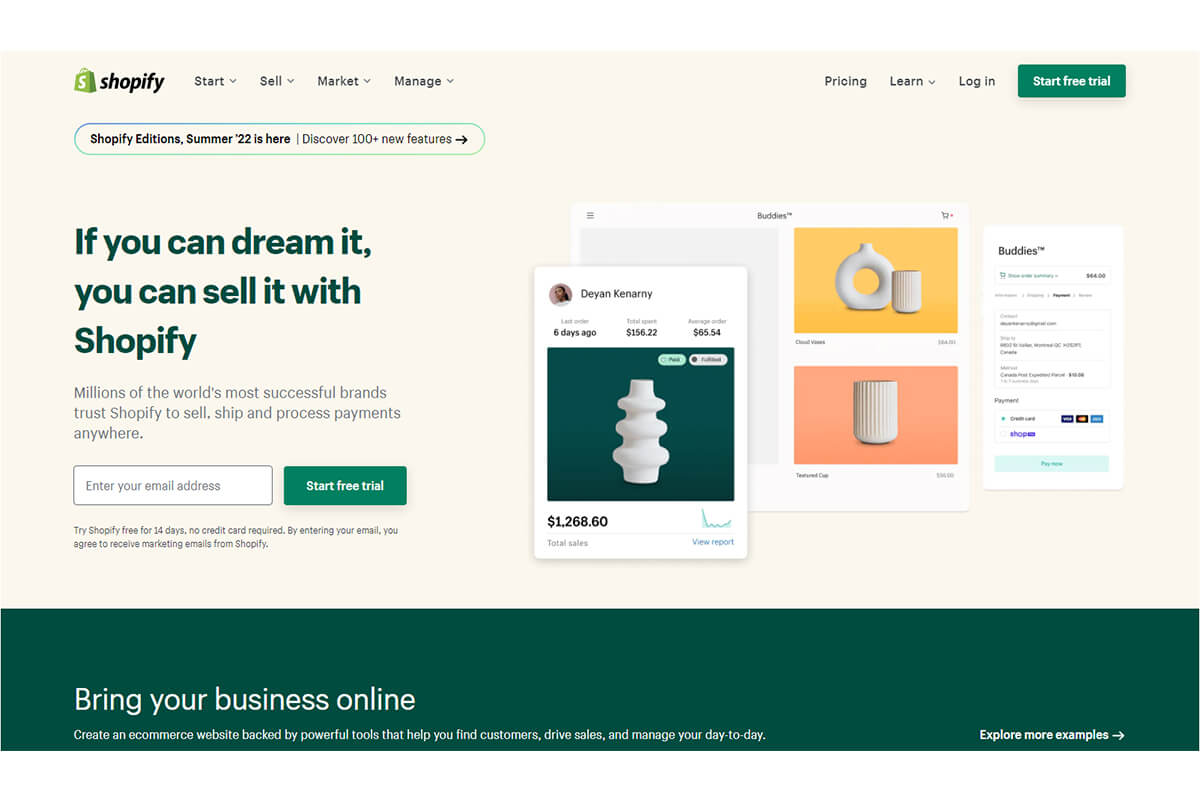 Shopify is a self-hosted platform that enables you to quickly build and manage a professional online store with your chosen domain URL. It's well known for its design flexibility and featuring Appstore. Users can build websites with easy-to-use and mobile-friendly themes. There are also features related to marketing, store management, analytics, and third-party integrations to enhance the site's functionality.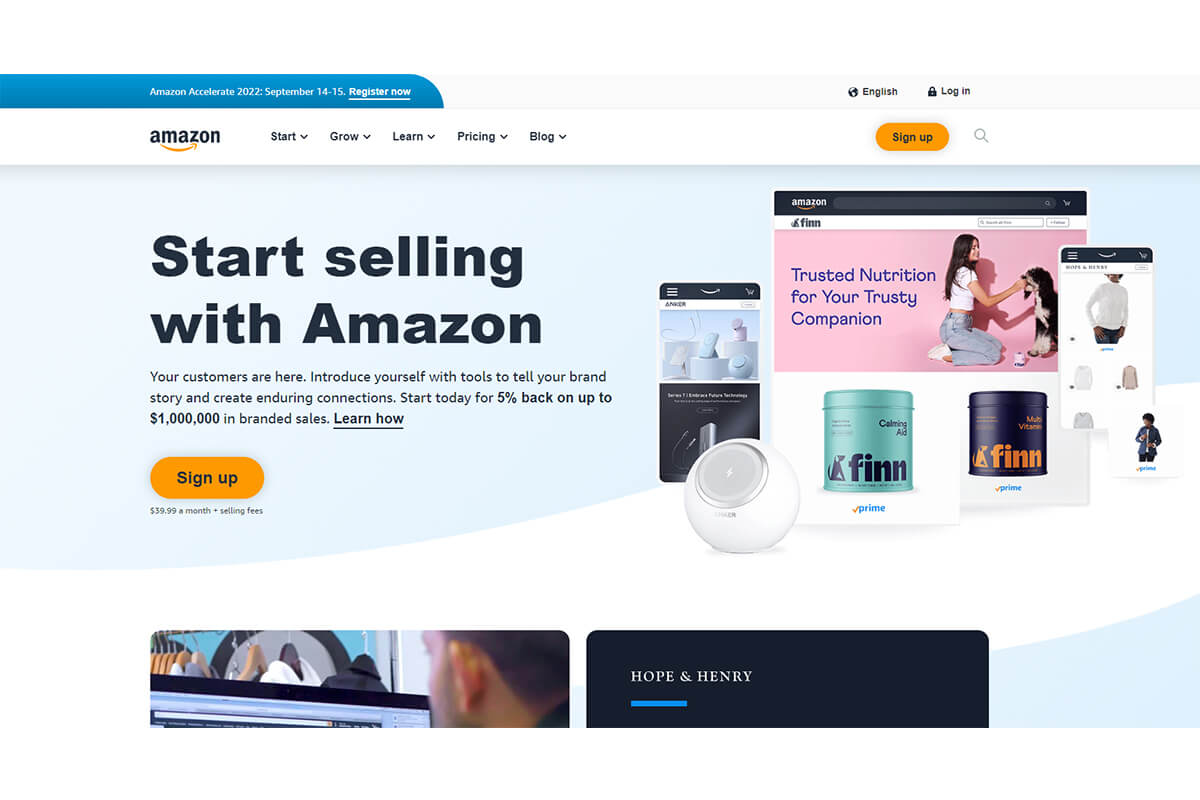 Amazon is a marketplace that lets you sell alongside other merchants. It accepts both B2C and B2B sellers and offers more traffic for your products. An astonishingly large number of products are available on Amazon, and half of them are sold by third-party sellers. Amazon offers a diverse range of options for selling and shipping products via the platform.
Shopify vs Amazon: Pros and Cons
When you're wondering, "Shopify vs Amazon, which is better?" It's critical to look at the pros and cons of each site to help you determine the best fit for your business.
Shopify Pros
Easy to build your own website: Setup is easy and the platform is simple to use. Hosting is there for you, so you don't need coding techniques and thus have more time on marketing your products.
A diverse range of e-commerce tools: When you use Shopify, you get access to numerous tools to help you build the best site for your dropshipping business. Some tools are recommended on the dashboard, and more are available at Shopify Appstore.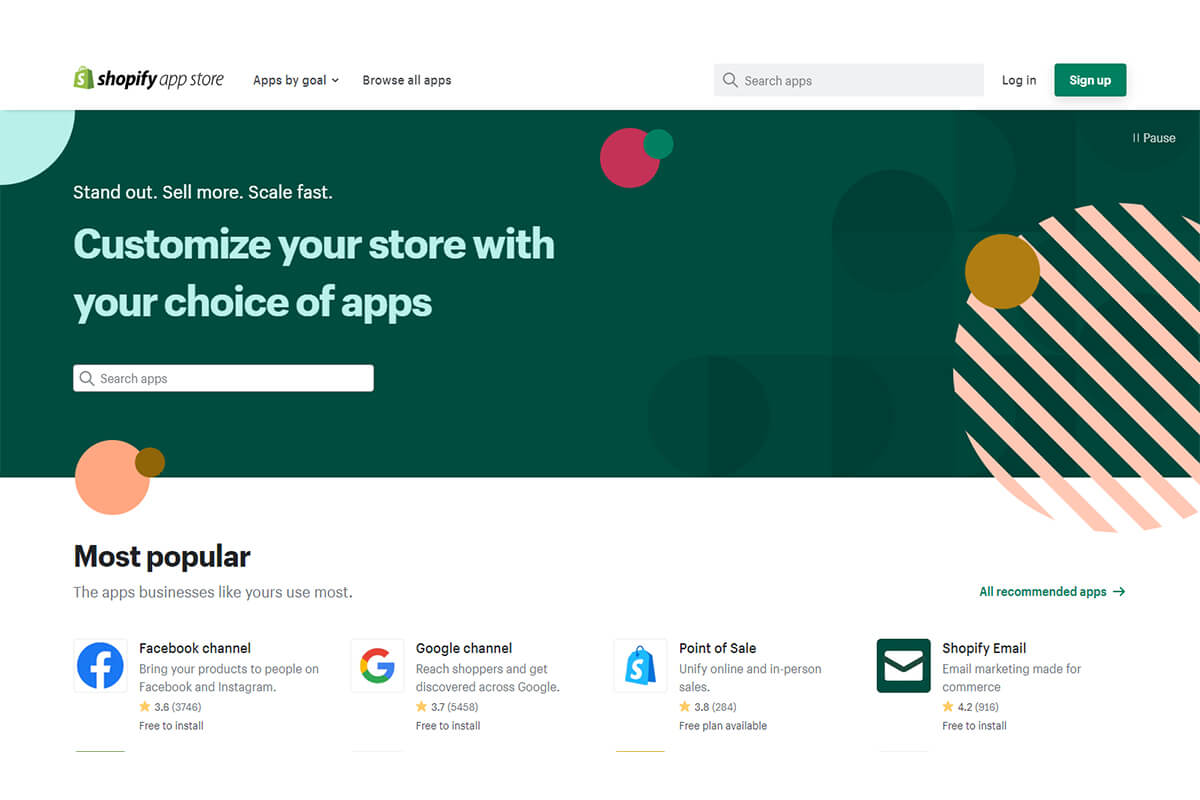 Fulfillment options: With Shopify, you have more fulfillment options. You can partner with third-party logistics providers to ship products or fulfill these orders in-house. Also, you can manage everything related to shipping within the dashboard, which makes it more convenient.
Shopify Cons
Marketing must be done by yourself: Unlike Amazon, Shopify itself is not an online marketplace, so you don't have Amazon's reputation backing your business. Instead, you are fully responsible for promoting your business and building your brand awareness. You must earn your audience's trust and show them how your products fit their needs.
Extra costs: Shopify has additional costs you may incur when you use their service. In addition to the cost of the monthly plan, you also have to pay to get a premium design for your website if the free one doesn't offer what you need. As you scale and need more functions for your store, the subscription fee for apps may begin to pile up.
Amazon Pros
Pre-existing customer base: Amazon has about 200 million visits to its marketplace every month. The best thing about choosing Amazon as an online selling platform is its massive audience. You don't have to worry about marketing your products. Instead, interested customers can find your products naturally in the Amazon marketplace.
The simplicity of operations: Setting up a store and starting selling on Amazon is incredibly simple, as most settings are already done. All you need to do is create an individual account, or a professional account and then list all your products following Amazon's regulations.
Fulfillment By Amazon: With more than 100 fulfillment centers around the globe, Amazon FBA assists in storing inventory, packaging, and shipping products from start to finish.
Amazon Cons
Strict rules: Signing up with Amazon naturally means that you have to agree to do all the things in their way. This includes following their guarantees, communicating with customers, selling only permitted products, etc. Not following these requirements would result in your products being removed or your store being shut down.
Extensive competition: Selling through Amazon naturally means working alongside your competitors. There are millions of products being sold on Amazon so the competition can get quite tough. It also gives you very little room for customization. Because of that, it's more challenging to stand out from the crowd.
Limitations on branding: It's very difficult to create unique brand awareness and build customer loyalty by selling on Amazon. Customers are buying believing in Amazon, not your brand, so it's very hard to build brand recognition.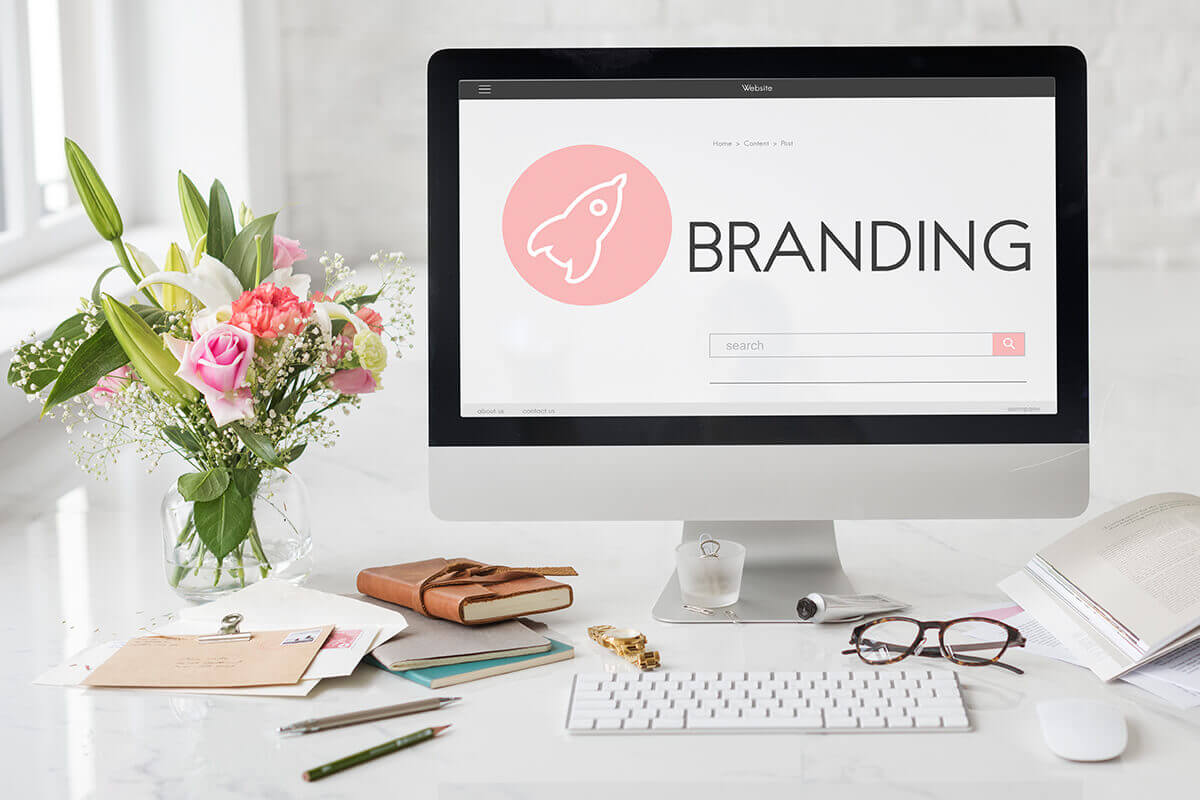 Shopify vs Amazon: Features Comparison
Amazon and Shopify may seem similar, but they work in different ways. Through the comparison of Shopify vs Amazon, we hope you have a better understanding of which platform suits your business.
1. Ease of Use
Shopify makes building an e-commerce website as easy as possible for beginners. You don't need coding skills to set up an online store with its drag-and-drop design. Once you have created your account, there are instructions that will guide you to through the setup process. The setup process is very straightforward, with tons of help pages, and super easy navigation. You can build your own online store in just a few clicks.
Starting with Amazon may be even easier, as most things are already done for you. Instead of building an entire e-commerce website, all you need to do is create an account, complete each set-up stage and then list your products. Once your listings are ready, you can simply publish them to the Amazon marketplace and customers will be able to start making purchases right away.
2. Pricing
Shopify offers a 14-day free trial and 3 pricing plans:
Basic plan: $29/month
Shopify plan: $79/month
Advanced plan: $299/month
All these plans give you access to core e-commerce functionality. You can also try a 14-day free trial to help you decide which plan you might need. The Basic plan is extremely suitable for small or newly-built businesses. It is the cheapest price to get a fully functional e-commerce website. As your business continues growing up, you may need to invest in superior features to deal with a sharp increase instore traffic. Then, the Advanced plan is the best option to help you improve your store management. With this plan, you are able to create up to 15 staff accounts. Additionally, this plan allows you to integrate third-party shipping carriers to calculate shipping rates during checkout.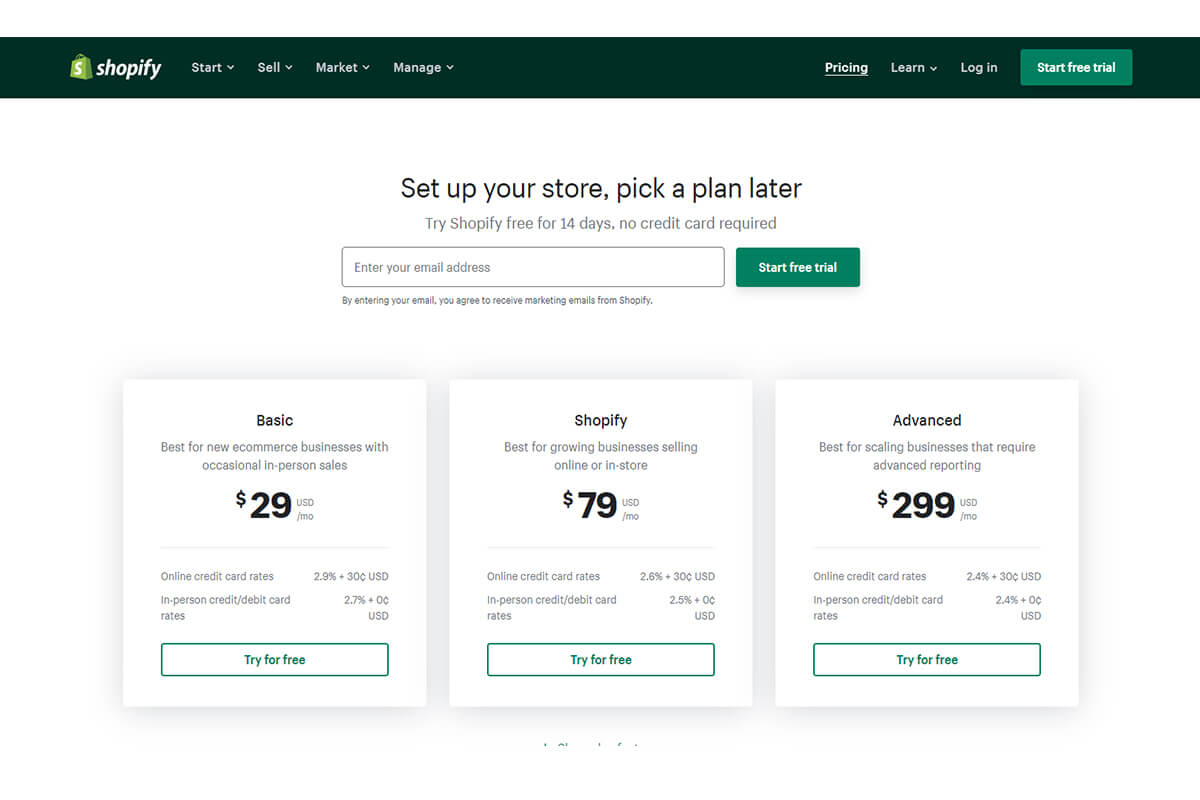 Amazon has 2 pricing plans:
Individual selling plan: $0.99 per item sold.
Professional selling plan: $39.99 per month.
The Individual plan has fewer features available. It is suitable for small-scale sellers who pay after sales. As your online business expands, you may want to access more advanced tools. Then it is more cost-effective to use the Professional plan. You only need to pay a fixed fee no matter how much sales are made. On top of your selling fees or monthly subscription, you also need to pay Fulfillment by Amazon (FBA) fees if you're using the service for order fulfillment and inventory storage. Amazon's costs can become a bit confusing to track and calculate, so you can take a look at the Amazon Fee Schedule for more detail.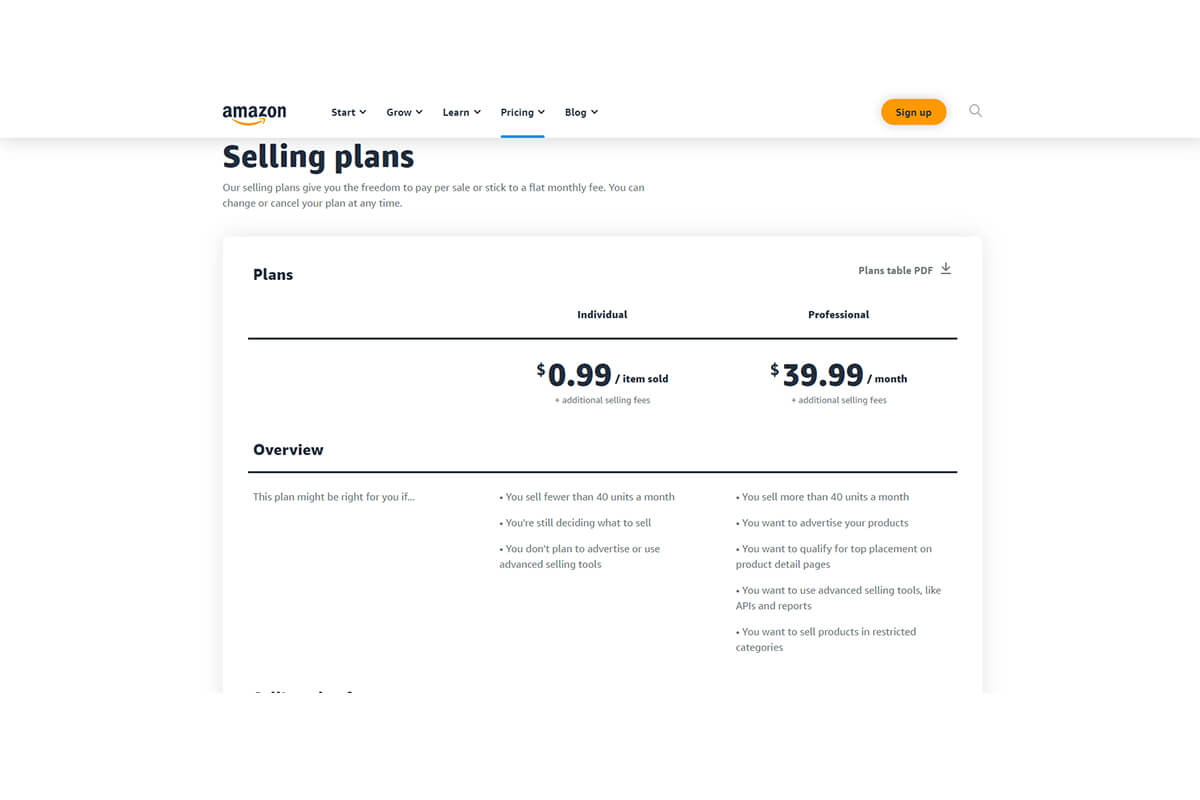 3. Payment Options
Payment options is an important consideration when you're building an online store.
Shopify has its own payment gateway, Shopify Payment. When you're using it, you don't have to pay any transaction fees. It is easy for you to collect payments in a whole range of ways, from credit card to Google Pay. The downside is that it isn't available in all countries. However, if you aren't eligible to use it, you can still use third-party payment gateways to set up such payment modes. However, you have to pay higher transaction fees, depending on your pricing plan.
Amazon takes a similar approach to Shopify with payment methods. Amazon Pay is the main payment gateway available, and it allows you to accept all kinds of debit and credit cards. However, it doesn't accept third-party payment methods like PayPal, which is inconvenient.
4. Design Flexibility
Shopify gives you control over the layout and design of your online store. You don't have to design it from scratch. There are 91 different themes you can choose for your store design, including 9 free themes and 82 paid themes. You can edit and personalize your theme design easily to create a unique brand image. However, a slight issue is that you can't change your theme after you've picked it without starting over, so find your own unique style and stick to it.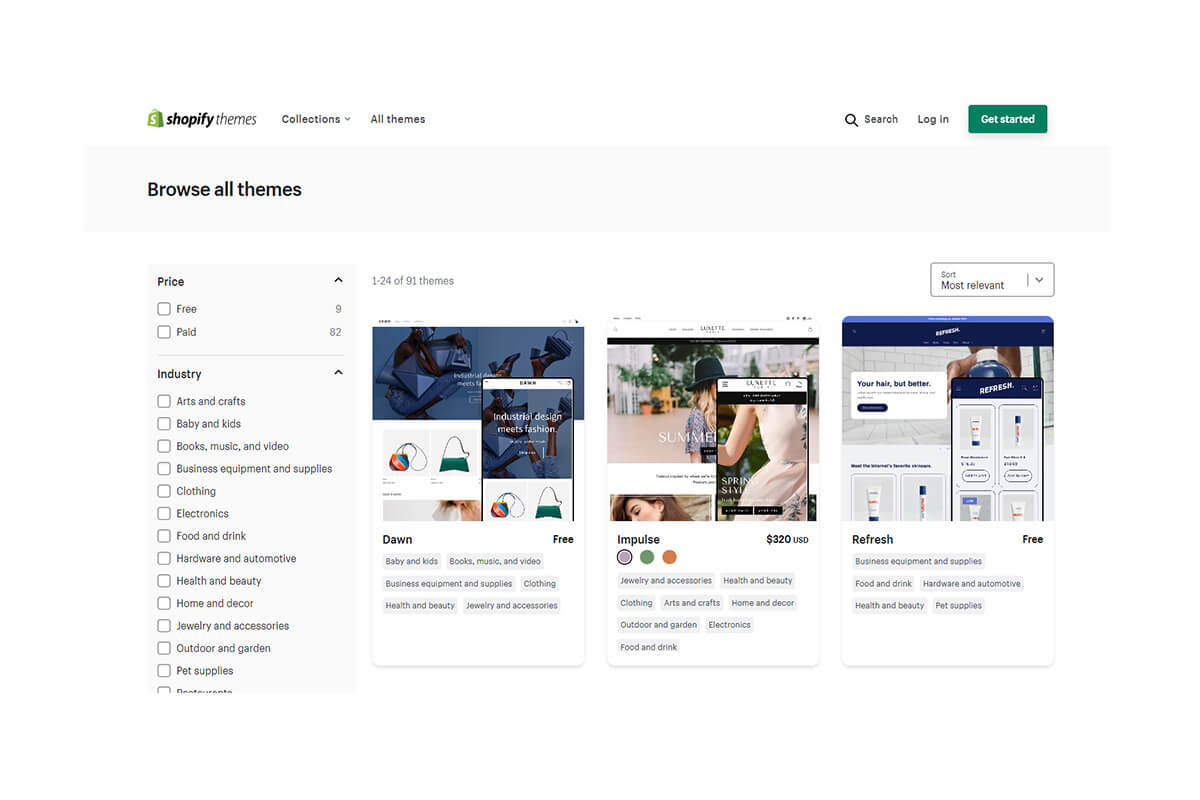 Unfortunately, Amazon's design flexibility is extremely limited compared to Shopify. While you can upload your own product images and descriptions, your pages are laid out in a similar way. Also, on the searching result pages, your products appear alongside those of your competitors. Although this is convenient for customers, it is difficult for you to direct customers to your store. They're unlikely to build much of a significant connection with you unless you can find your unique suppliers and products.
5. Marketing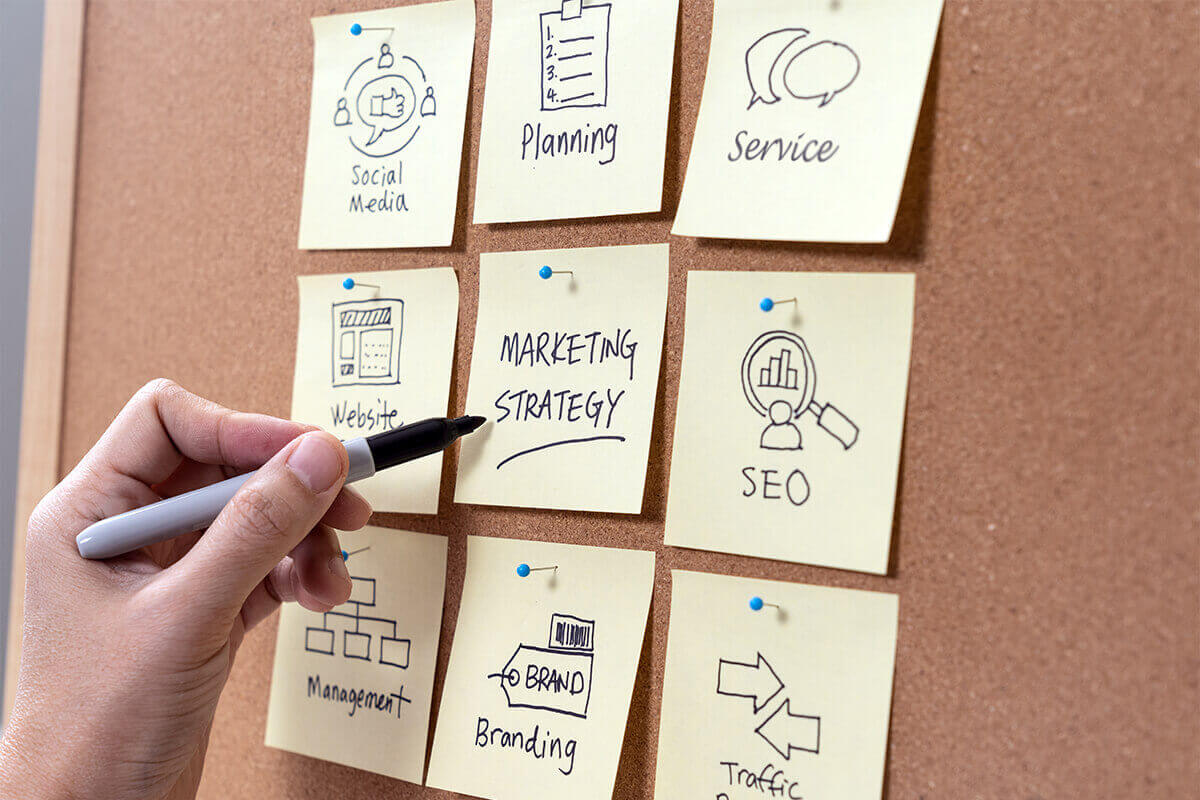 With Shopify, you have everything you need to build a store and attract customers through SEO features and advertising tools. Regarding SEO, it offers a basic set of SEO features for users to optimize the store-level content to ensure higher SERP positions. Moreover, you can also do email marketing easily with Shopify Email. Notably, it's integrations with Google and Facebook also help you create ads for these platforms seamlessly. If these tools don't meet your needs, you can always install more marketing apps in Shopify Appstore to enhance your marketing campaigns.
Amazon is a little trickier to master from a marketing perspective than Shopify. You may not need to worry about Google's SEO. But you still need to comply with Amazon's SEO to rank as high up in its search results as you can. This gives you the best chance of being chosen over your competitors. Besides, Amazon also has many marketing tools. For example, Amazon DSP is a demand-side platform that allows you to buy audio, video, and display ads on and off Amazon.
Shopify vs Amazon: Which Is Best for You?
So, which e-commerce platform is right for you? As you can see, it really depends on your needs and preferences.
If you are small sellers who just starting up, testing the waters, or still unsure if your products will really take off, it may be best to start on Amazon. This is because Amazon is generally cheaper in the short term, and has a ready-made audience for you to reach. But if you choose Amazon, don't assume that having access to millions of customers and supporting services will guarantee sales success. You still need to put in the effort on marketing to make your product stand out from the crowd.
Shopify provides a better solution in the long term. It offers you the best e-commerce tools to run your business smoother and create an online brand. If you're motivated to do your own marketing, it is definitely the way to go. You don't need coding experience, and the reasonable fee makes it ideal for dropshippers who want to control how they promote their products.
Final Thoughts
Shopify and Amazon are the top two choices for e-commerce marketing. Both platforms have their pros and cons. Shopify requires you to build and market your store. It gives you immense design flexibility and customization capabilities. If you're completely new to e-commerce and need a readily available customer base, Amazon would be the right platform. But it limits how much you can truly control your sales.
The 5 different features outlined above can help you determine the best option for your customers and dropshipping business. If you are still hesitating about which to start from, please contact our customer service assistants. A dedicated partner will be able to handle all management tasks. Plus, we will be able to guide you through the development process with our expertise and experience. We hope this post helped you understand the Shopify vs Amazon debate in clearer terms.