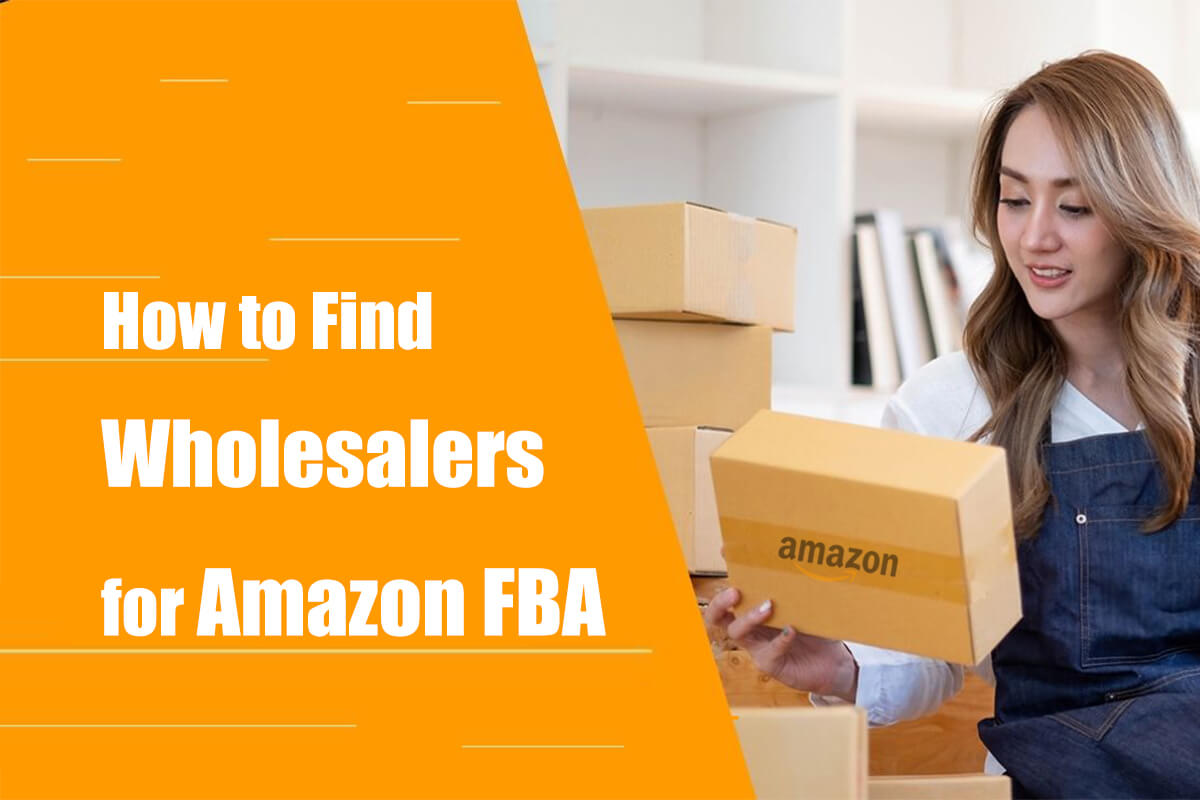 Buying from wholesalers and selling on Amazon FBA is lucrative. Wholesalers allow you to buy in bulk at competitive prices and resell with high profits.
The question lies in how to find wholesalers for Amazon FBA. And when there are so many wholesalers out there, which one is the best for you?
In this guide, we will go over everything you need to know about finding wholesalers for your Amazon FBA business.
What is a wholesaler?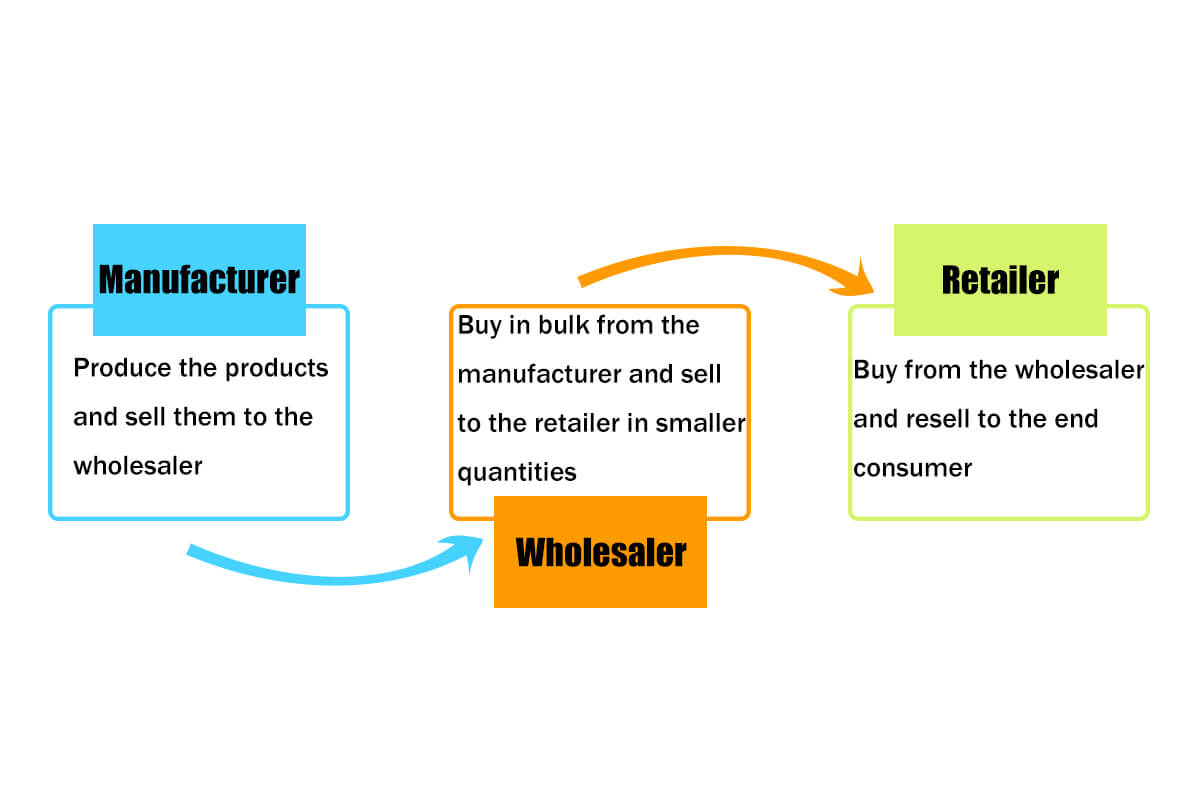 A wholesaler is a key player who acts as a middleman between the manufacturer and the retailer. The wholesaler purchases products in bulk at low prices from manufacturers and sells them at competitive prices in smaller quantities to retailers.
A typical example of a wholesaler is Alibaba. Alibaba sellers usually buy a large number of products at manufacturing prices from factories near them. And then they distribute the products to buyers in quantities of tens or hundreds.
One benefit of working with wholesalers is that you can access a variety of products. Wholesalers typically offer a wide range of goods across different categories. By sourcing from wholesalers, you can diversify your product offerings and save time as you don't have to contact multiple suppliers.
Wholesalers also provide significant cost advantages. They can negotiate better pricing terms with manufacturers. This enables you to obtain products at lower prices than you contact the manufacturer directly. Plus, wholesalers are willing to give you discounts if you buy more products at once. You can therefore save money and offer competitive prices in your Amazon store.
Except for cost savings, wholesalers offer convenience and efficiency in the supply chain. They often have built relationships with multiple manufacturers. When partnering with them, you can get products from different sources through a single point of contact. This streamlined process simplifies procurement and inventory management for you. As a result, you can focus on other critical aspects such as marketing and selling.
How to find wholesalers for Amazon FBA?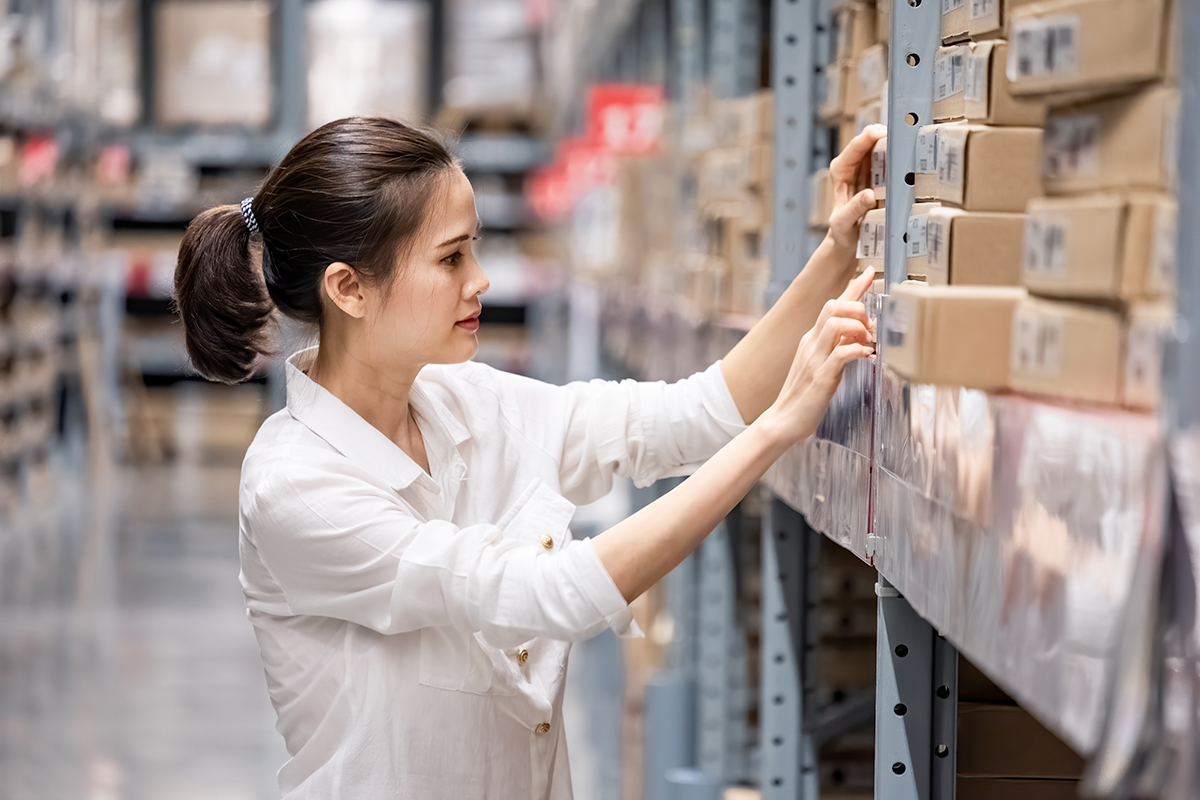 There are a lot of wholesalers available to you. Some are reliable, capable, and reputable while some are not. Finding the right wholesaler is often not an easy process.
Here are some effective methods to assist you in finding your wholesalers.
Decide what products to sell
Before reaching out to wholesalers, you must identify what products to sell.
Selling across different categories can diversify your investments. By offering a range of products, you reduce the risk of relying solely on one category. Even if a certain type of product has poor sales or no sales at all, another category may turn out to be a bestseller in the future. This minimizes the chances of wasting both your money and time. However, more energy and time are required to develop products that cover more categories.
On the other hand, specializing in niche products can be a compelling solution to stand out from the competition on Amazon. With the increasing competition on the platform, many businesses opt to focus on a small niche. This enables you to gain in-depth knowledge about your products. Your expertise can also help you build trust and loyalty among your customers. Most importantly, it is easy for you to target the audience and tailor marketing efforts when you sell in a niche.
After deciding on a niche, finding profitable products is your top task.
Consider products with the following characteristics,
Meet customers' demand
Not easy to find in retail stores
Offer you a high profit margin
With unique functions or looks
Light, easy to store, and not fragile
Not prohibited by Amazon
Use online wholesale directories
A wholesale directory provides a wealth of information and options for finding wholesalers.
You may start with Amazon's own wholesale platform, Amazon Business. This platform allows you to access millions of products from vetted wholesalers. The price comparison function can make your sourcing process easier.    
In addition, you can search for a wholesaler on popular directories like SaleHoo, Wholesale Central, or ThomasNet. These directories list wholesalers in different niches. By typing a keyword in the search bar, you will see a ton of wholesale companies.
Search on a wholesale marketplace
One effective method to find wholesalers for Amazon FBA is to search on a wholesale marketplace. These marketplaces, such as Alibaba, Global Sources, and DHgate, are aimed to connect retail sellers with suppliers. They provide search features that are used to filter products based on category, brand, price range, MOQ, delivery time, etc. You can use these filters to refine your search and find wholesalers that meet your specific requirements.
Related article: How to Sell on Amazon From Alibaba to Make Money 2023
Attend trade shows in your industry
Attending trade shows is another way to find Amazon FBA wholesalers. Trade shows are events where suppliers, manufacturers, and distributors gather to showcase their products and connect with potential buyers like you.
By attending trade shows, you can see the products a wholesaler offers firsthand and consult about anything regarding your products face to face. At the same time, you can build a relationship with the wholesalers and get insights into the latest trends in your industry.
Leverage social media and online forums
Social media platforms and online forums can be valuable resources for finding wholesalers. Many wholesalers hang out on social platforms such as Facebook, LinkedIn, and Instagram for potential buyers. They also answer questions on relevant forums like Quora or Reddit's r/Wholesalers to attract buyers like you.
To discover a wholesaler, you can join relevant groups or communities where members are active. You may pose questions, ask for recommendations, and participate in discussions to start a conversation. Additionally, you can follow and interact with industry influencers or leaders. They probably have valuable connections and insights to share with you.
Ask for referrals
Asking for referrals from trusted sources also works to help you find a wholesaler.
You can reach out to other Amazon FBA sellers, business partners, or industry contacts. Ask if they have worked with any wholesalers who offer high-quality products, competitive pricing, and reliable service.
Your contacts might have established relationships with wholesalers and can provide you with firsthand recommendations.
Besides, you can attend industry events, conferences, or local business networking gatherings. These give you opportunities to meet professionals from your industry who may refer you to reliable wholesalers.
Work with sourcing agents
Working with a sourcing agent is an alternative way to source products from wholesalers.
Some agent service providers like Sup Dropshipping and Mysoucify have an extensive network of suppliers. We can help you source FBA products from reliable wholesalers efficiently. Also, we offer warehousing services. So you don't need to invest in renting a warehouse for bulk orders. Instead, you can store your products in our warehouses for free or at an affordable price. Before shipping your orders, we conduct product checks to ensure your products are in good condition. Beyond that, we are familiar with Amazon FBA packaging and good at dealing with customs issues. Partnering with us would ease you a lot to develop your FBA business.
How to evaluate potential wholesalers for Amazon FBA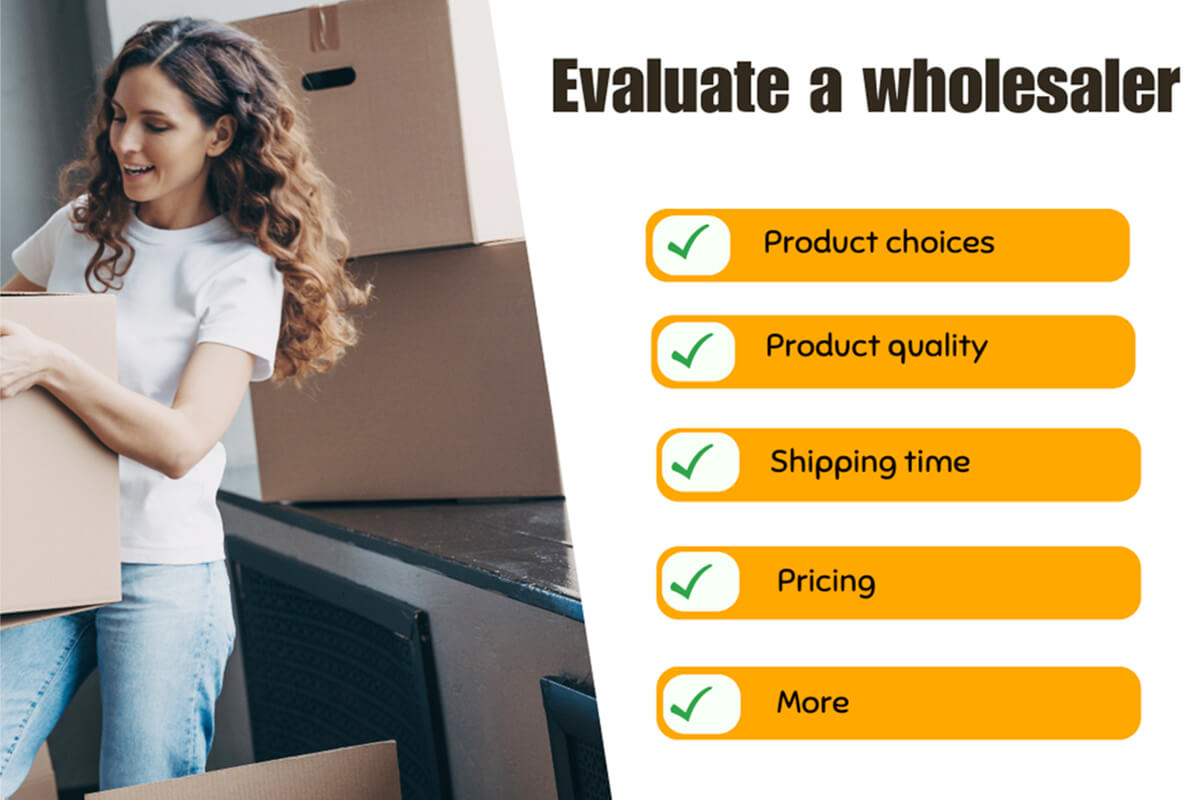 When you have collected contact information from many wholesalers, how to decide whether to collaborate with one or some of them?
Here are the criteria you can take into consideration.
Product choices
This is an important factor to consider when choosing a wholesaler. Check if the wholesaler offers a range of products in your niche. And can they expand the product selection as you scale your business?
Product quality
Product quality is crucial for maintaining customer satisfaction and building a reputable brand. Before deciding on a wholesaler, assess the quality of their products by ordering samples or researching customer reviews. Look for suppliers who consistently provide high-quality items.
Pricing
Pricing plays a significant role in your profit margins. You should compare the pricing of different wholesalers to get a better price. Evaluate whether the prices offered by the wholesaler allow you to maintain a healthy margin while remaining competitive in the market.
MOQ
MOQ is the minimum order quantity that a wholesaler requires for the products. Though this number often has been displayed on the product page, it is still negotiable. Consider whether the MOQ required suits your needs. If it is too high, you may have excess inventory.
Shipping time
Whether the wholesaler ships products to your warehouse for further packaging or directly ships them to an Amazon fulfillment center, the shipping time is a key element for considering. The faster the wholesaler delivers, the more stable your inventory. So inquire about what shipping method your wholesaler provides and how long it takes.
Customer Service
Responsive and supportive customer service is vital for a smooth partnership. Assess the wholesaler's customer service by reaching out with inquiries or concerns. Evaluate if they can respond to you timely and solve problems effectively.
Customization options
Nowadays it is more important to build your brand. By customizing your products, you can set yourself apart from others and boost customer loyalty. Therefore, check if the wholesaler allows you to add your logo, brand name, or slogan to the products, or do other customization.
Reputation
A wholesaler with a positive reputation is more likely to provide a satisfactory partnership. You can research seller ratings, product reviews, and trade records.
Verification
Verified wholesalers turn out to be more reliable than those not verified. So ensure the wholesaler is legitimate and verified. You may check out their business licenses and other certifications that prove their authenticity and compliance with industry standards.
The wholesalers you finally choose don't need to meet all the criteria above. But the more criteria they reach, the more likely they are worth to work with.
What are the best wholesalers for Amazon FBA?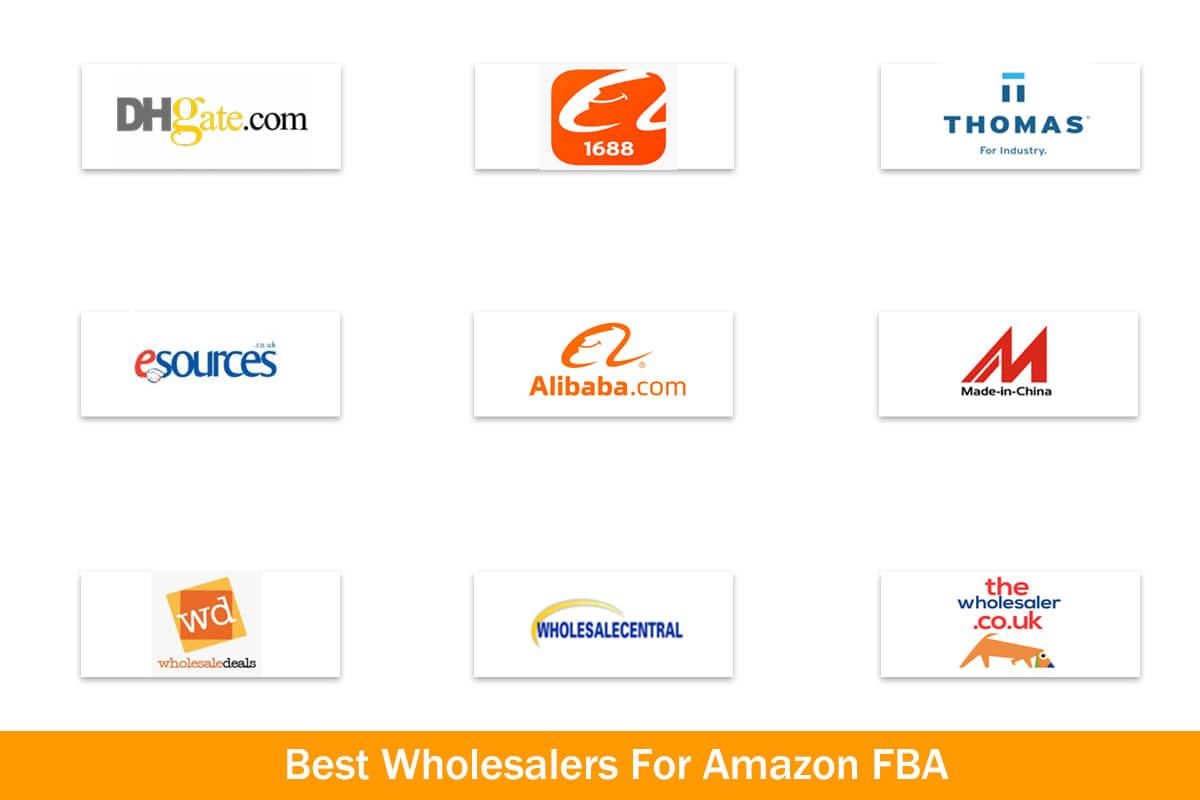 For your convenience, we selected the best wholesalers for Amazon FBA in 2023.
Let's learn about them in the following list.
1. Alibaba.com
Alibaba is a renowned global B2B (business-to-business) platform that connects buyers and sellers from around the world. It offers a variety of products that cover various categories, such as electronics, fashion, household products, and more.
Alibaba caters to both wholesale and retail needs. This means you can look for bulk orders or smaller quantities on this platform.
Most suppliers from Alibaba are verified and they join in the Trade Assurance program. So your transaction with them would be secured throughout the whole trade process.
In addition, these suppliers usually provide different customization options. You can customize or private label products to build your brand.
2. 1688
As the sister site of Alibaba, 1688 mainly caters to domestic businesses in China. And this wholesale platform typically focuses on fashion, clothing, beauty, and accessories.
With a vast network of manufacturers and wholesalers, 1688 provides a wide selection of products. Compared to those on Alibaba, these products are much cheaper as there are no international shipping costs to consider.
But some sellers on 1688 may not ship overseas because of logistics limits. You must check out if the wholesaler ships to your region before placing orders.
Another drawback of 1688 is that the website is in Chinese. You need to use tools like Google Translate to translate it into English if you can't read Chinese.
3. DHgate
DHgate is one of the leading B2B wholesale platforms in China.
With millions of suppliers, DHGate offers a vast product variety across categories such as electronics, home decor, apparel, and more. It caters to both wholesale and retail buyers, which makes it suitable for Amazon FBA sellers of all scales.
DHGate provides a buyer protection system that can ensure your secure transactions. Meantime, it offers various sources of trade shows in China. You may use these sources to meet wholesalers in person and build a relationship with them.
4. Made-in-China.com
Made-in-China.com is a well-known B2B platform that connects international buyers with Chinese suppliers. It offers a vast range of products covering electronics, machinery, and more.
Made-in-China.com is suitable for FBA businesses of different scales. You can buy bulk products when you have many orders one day or a single product at one time when you only have a few orders.
On this site, product customization options are also accessible to you. You may add the logo or customize the product package. Plus, secure payment methods are adopted to ensure you a safe and happy buying.
5. Yiwu Market
Yiwu Market, one of the largest wholesale markets in the world, is located in Zhejiang, China. It has been well-known as the city of small commodities.
On this physical market, you can find an extensive range of products, including fashion accessories, toys, electronics, renewable energy products, etc.
Yiwu Market serves as a hub for suppliers, traders, and Amazon FBA sellers looking for unique and affordable products. It hosts thousands of stalls and shops where goods are available at wholesale prices. You can explore different sections and halls dedicated to specific product categories.
If you don't have time to visit the Yiwu Market, sourcing from their website Chinagoods works as well. On Chinagoods, wholesalers are listed in line with their industries. Finding a wholesaler in your niche is a smooth process.
Wholesale Central is America's leading B2B directory. It connects wholesale buyers with suppliers across various industries in the USA.
Wholesale Central features a wide range of product categories, including electronics, apparel, beauty products, and more. The interface of this platform is user-friendly. And you can add filters on the left sidebar to refine your search results.
ThomasNet is a prominent B2B platform that primarily focuses on industrial and manufacturing products. It connects buyers with suppliers specializing in machinery, tools, and other industrial equipment.
The platform offers detailed supplier profiles, product catalogs, and RFQ (Request for Quote) functionality.
Based in the UK, eSources is a directory of local and international wholesalers, distributors, and manufacturers. This directory lists millions of products in various categories.
Though the website looks a bit out-of-date, it is still convenient to search for a wholesaler for Amazon FBA.
The Wholesaler is an online trade directory of UK wholesalers in general categories. It provides detailed information about a supplier and sources of trade shows and exhibitions in the UK.
Most importantly, this company verifies suppliers before partnering with them. It makes it easy for you to find trustworthy wholesalers.
The drawback of The Wholesaler is that it offers limited product choices in some niches. For example, only a few options on electronics are provided.
Similar to eSources and The Wholesaler, Wholesale Deals is a UK-based wholesale trade directory that connects buyers with verified wholesalers.
One incredible feature of this site is that it provides the RRP and gross profit. This can help you decide on a wholesaler quickly and save time. And the interface with alphabetical and category filters also makes it easy to source the products you need.
Conclusion
Finding wholesalers for Amazon FBA is not a straightforward process. You need to take many factors into account. The gain is that you can source low-priced products and get better profits. Your effort is eventually worth it.
Hopefully, this guide can help you find the best wholesaler for your Amazon FBA business.