Alibaba Alternatives: 15 Best Sites Like Alibaba to Source Products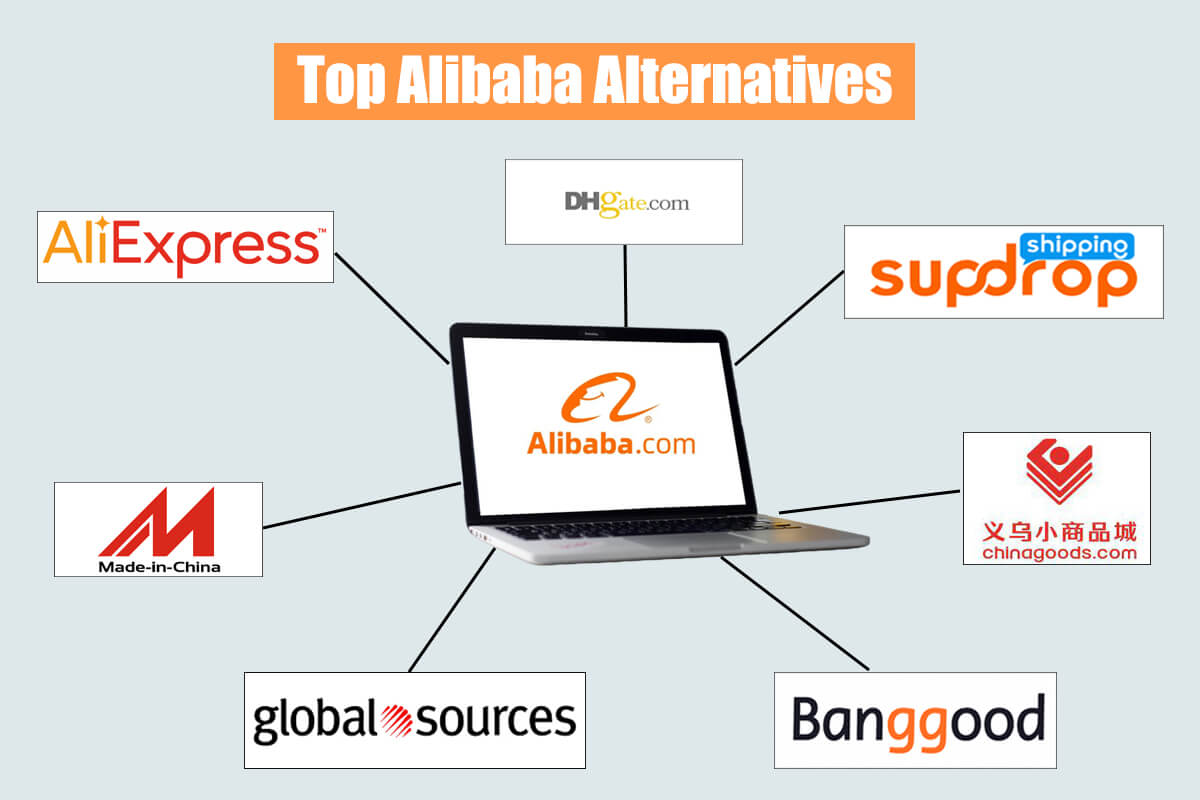 With the development of eCommerce, more online sellers choose to source from China today. As a well-known wholesale market in China, Alibaba is often their first choice.
Alibaba offers a sea of low-priced products in over 40 categories from millions of suppliers. It is obviously a good place for sourcing. But it still comes with some drawbacks. With Alibaba alternatives, you may find a more profitable product and get a better sourcing experience.
But choosing the right one among so many alternatives to Alibaba can be overwhelming. Therefore, we compiled a list of the 15 best sites like Alibaba you can leverage to source products.
Let's start to learn about them.
Why do you need Alibaba alternatives
Alibaba is an important sourcing platform for many sellers around the world. But it shouldn't be the only one you rely on for the reasons as follows,
Similar products As Alibaba is known by too many online sellers, the products you source here are likely to be similar to those from your competitors. So it is hard for you to set your store apart from theirs.
Minimum order quantity(MOQ) Suppliers on Alibaba tend to set a MOQ for their goods. This number varies from seller to seller and niche to niche. But overall, it limits the flexibility to import goods.
Not local suppliers If your business is based outside of China, sourcing from Alibaba can increase your shipping cost. Sometimes it will even increase your risk when the supplier disappears overnight and leaves you with a mess.
Not specific niches Generally, products from Alibaba fall under a wide range of categories. Their products in a certain category might be limited in quantity and quality, and not meet your demands.
Lower your risk It is not right to put all your eggs into one basket. So is relying only on Alibaba for sourcing. If you know well about any alternative to Alibaba, you can turn to it for help and reduce your loss whenever something unexpected goes with your supplier.
Alibaba alternatives in China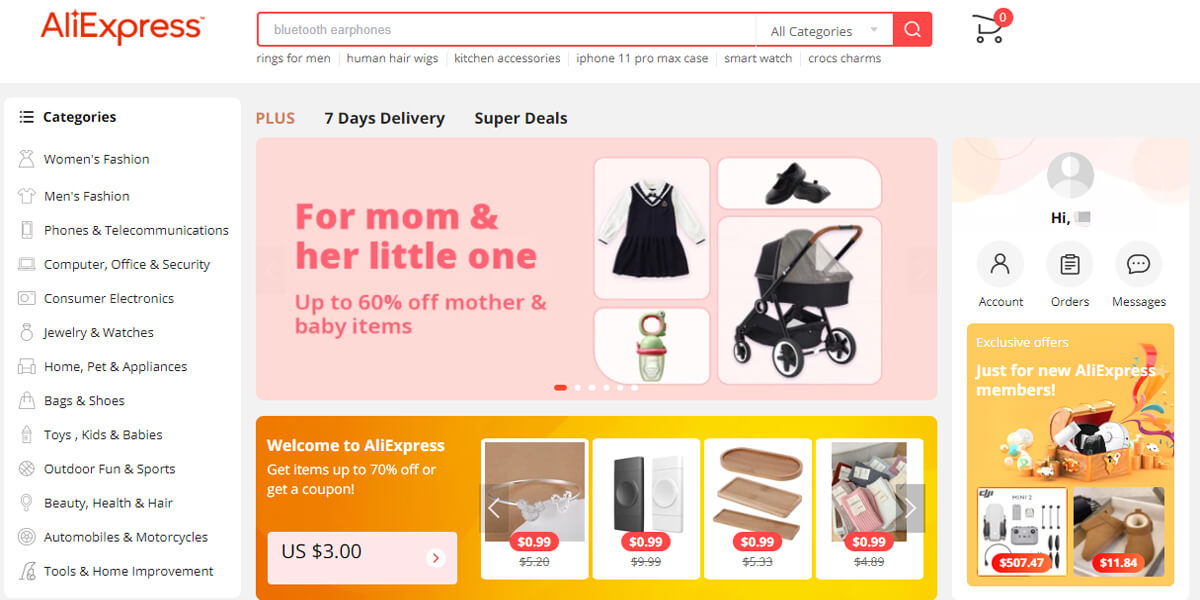 Founded by Alibaba Group, Aliexpress is a business-to-consumer marketplace, catering to buyers around the world. This marketplace owns over 100 million products in various categories. These products are low-priced and with no MOQ limit. So you can buy a few products every time and save money on the inventory.
Another highlight of Aliexpress is that it safeguards your payment with its money-back guarantee program. Also, it provides you with multiple affordable shipping options.
Pros
A vast variety of products
Low price
Buyer protection
No MOQ
Multiple languages
Free shipping for many products
Cons
Potential scams from unreliable suppliers
Long shipping time in some cases
Inconsistent product quality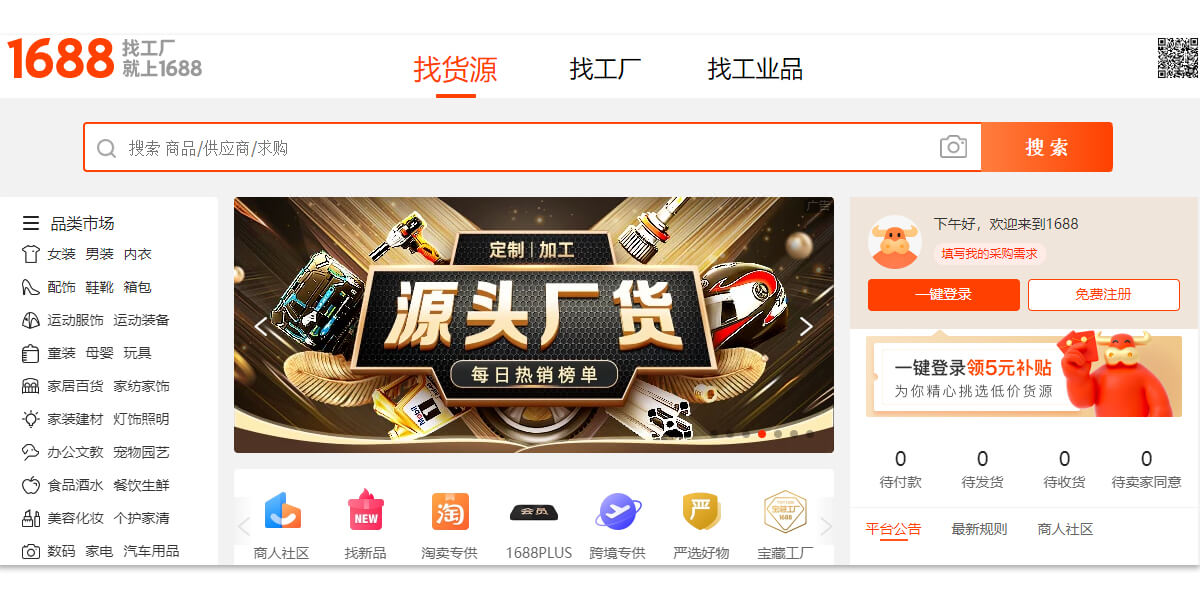 1688 is a B2B market owned by Alibaba Group as well, and it mainly caters to domestic businesses in China. Products in this market cover various categories. Most of them are from manufacturers and wholesalers and sold at lower prices than on Aliexpress. And these products are set with a MOQ requirement. But now you are allowed to buy one or a few items every time just at a higher cost.
Because 1688 is developed for domestic customers, its website is in Chinese. You need to translate it to your local language with Google Translate if you source products here.
Pros
Low-priced products in various categories
User-friendly interface
Safeguarded payment
Cons
Users in China oriented
The barrier to language and time
Many traders instead of original manufactures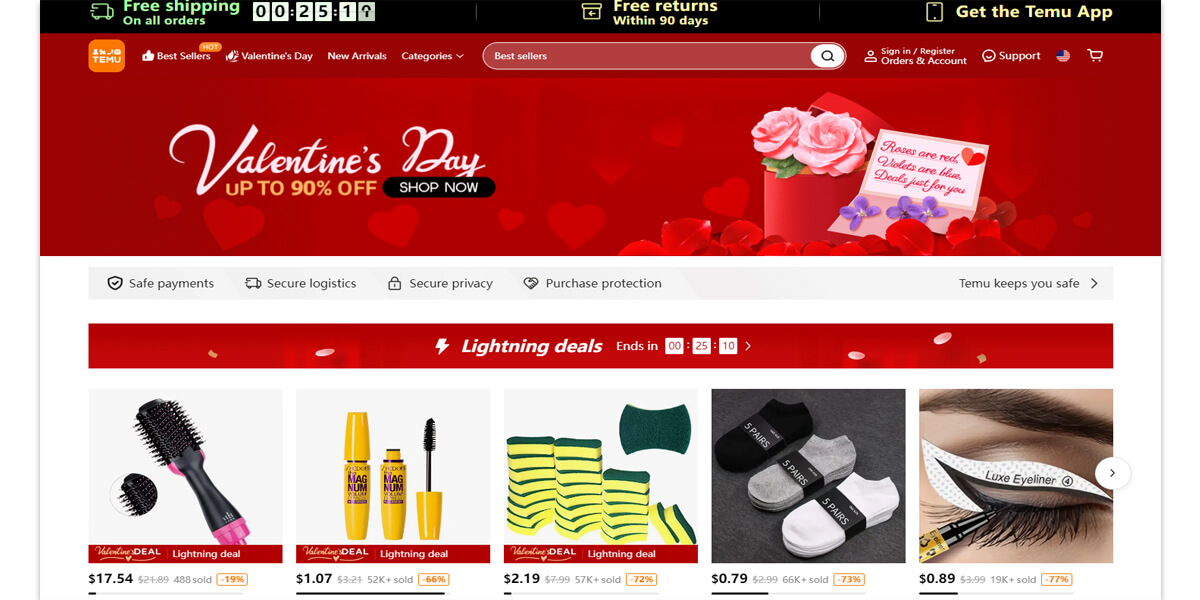 Temu is the sister company of Pingduoduo and launched in September 2022 in the US. This shopping website lists products covering different categories, mainly fashion and jewelry. The majority of products are shipped from factories in China and set at low prices.
Pros
Cheap goods
Steep discounts on most products
No MOQ
Cons
An emerging company, improvements needed in some aspects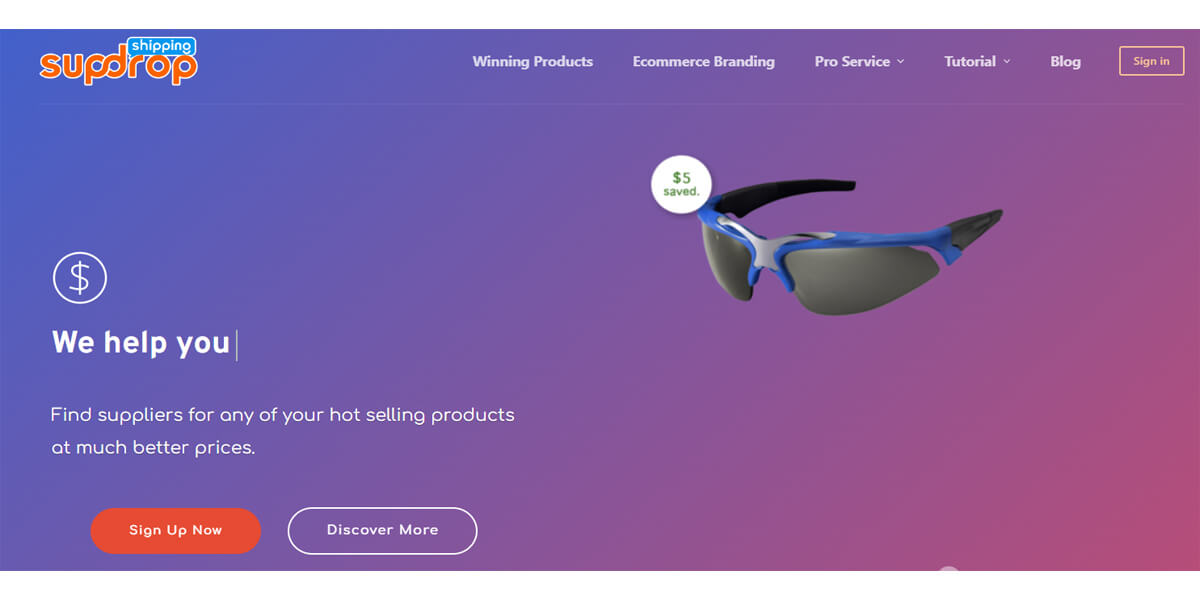 Unlike the Alibaba alternatives mentioned above, Sup Dropshipping is a dropshipping agent located in China. Sup owns a vast base of products in most categories. These products from vetted suppliers are of quality and reasonably priced.
If you work with Sup, the Sup team will source for you and fulfill your order on your behalf including preparing, packaging, and shipping.
Moreover, Sup inspects product quality for you before the shipment of the order. It can help enhance customer satisfaction.
Pros
A variety of products with competitive prices
Experienced sourcing service
Quality inspection before shipment
Product photography
Multiple shipping and payment methods
Cons
An emerging brand, some improvements needed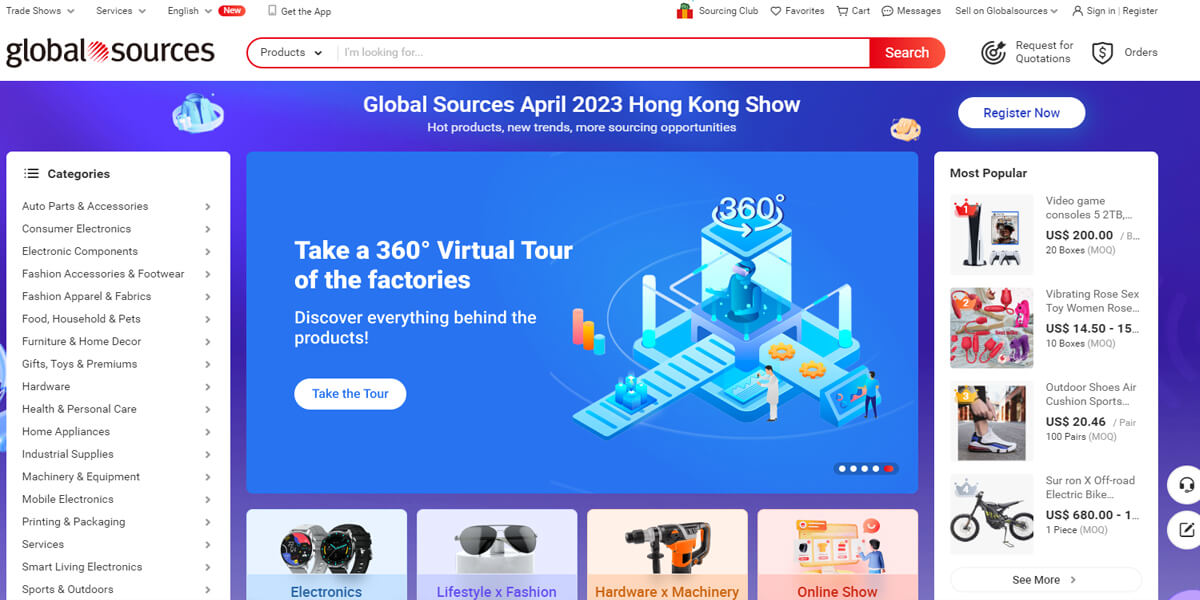 Global Sources is a Hong Kong-based B2B company, which facilitates online and offline trade between suppliers in China and customers worldwide. Goods on this platform cover different categories from auto parts to fashion accessories. The majority of products have MOQ requirements, usually more than 100 pieces. Hence, this sourcing company may be suitable for middle to large businesses.
One outstanding feature of Global Sources is that it provides sources of online and offline trade shows. This is useful for merchants to building a good relationship with manufacturers and learning about the latest trends in related fields.
Pros
Verified suppliers
Resources of trade shows online and offline
Easy to get samples
Cons
High MOQ
Products are more expensive than those on Alibaba
You need to inquire the supplier before your purchase for most products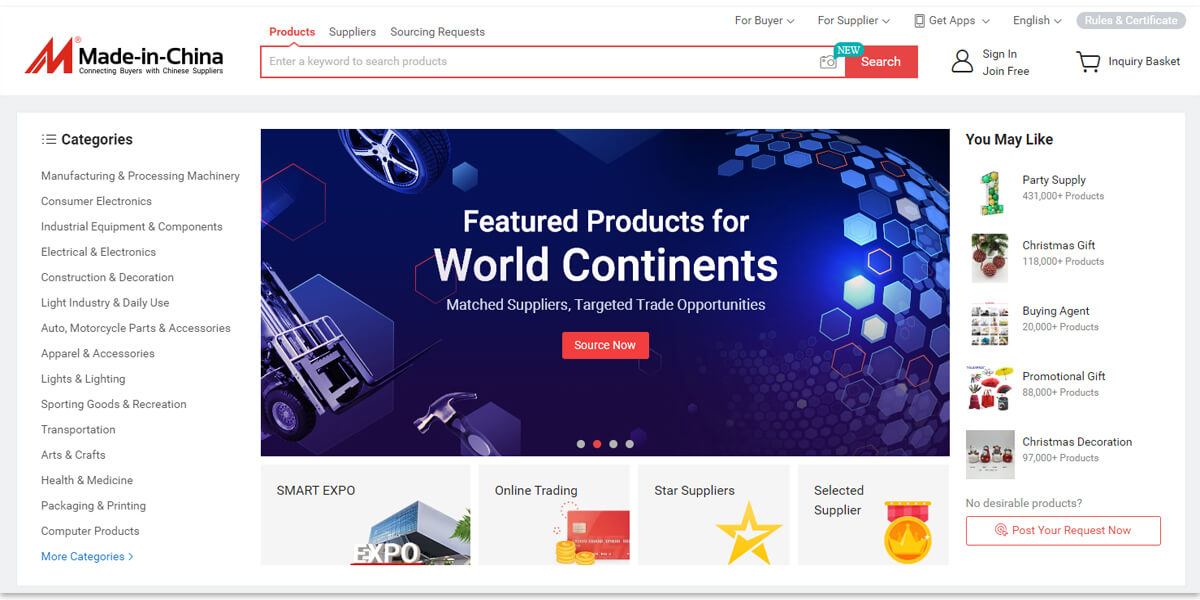 Made-in-China.com is a trading company in China. It connects worldwide buyers with Chinese suppliers. There are millions of products from more than 6 million suppliers on this site. But these products mainly fall under the categories of electronics and industrial supplies. If you sell in such fields, Made-in-China would be the right fit for your business.
Pros
Millions of quality products
Negotiable and lower MOQ
Customized products available
Verified Chinese Suppliers
Resources for trade shows
Multiple language choices
Cons
Mainly electronics and industrial supplies
Potential scams from unreliable suppliers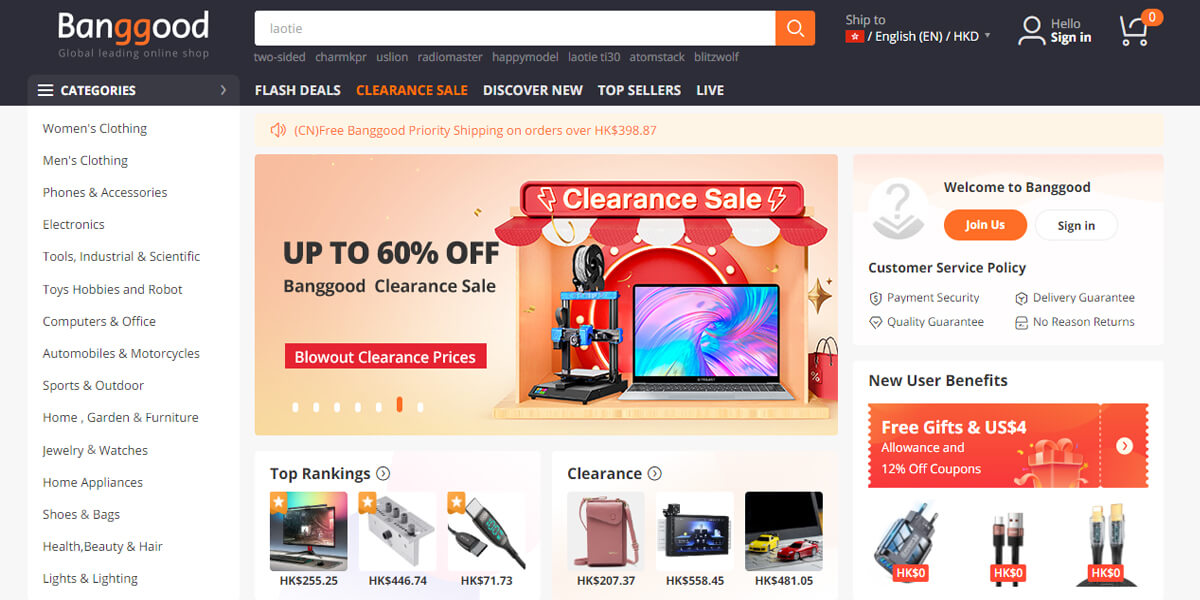 Banggood is a direct-to-consumers marketplace, where no third-party suppliers sell but the Banggood company. That means little chance for you to be scammed by an untrustworthy supplier.
On Banggood, there are one million products covering over 30 categories. With 37 overseas warehouses, you can have your order delivered timely by Banggood.
Pros
Little chance of being scammed by third-party sellers
Fast delivery
No MOQ
Prompt customer service
Cons
Fewer product choices in comparison with Alibaba
Products at a higher price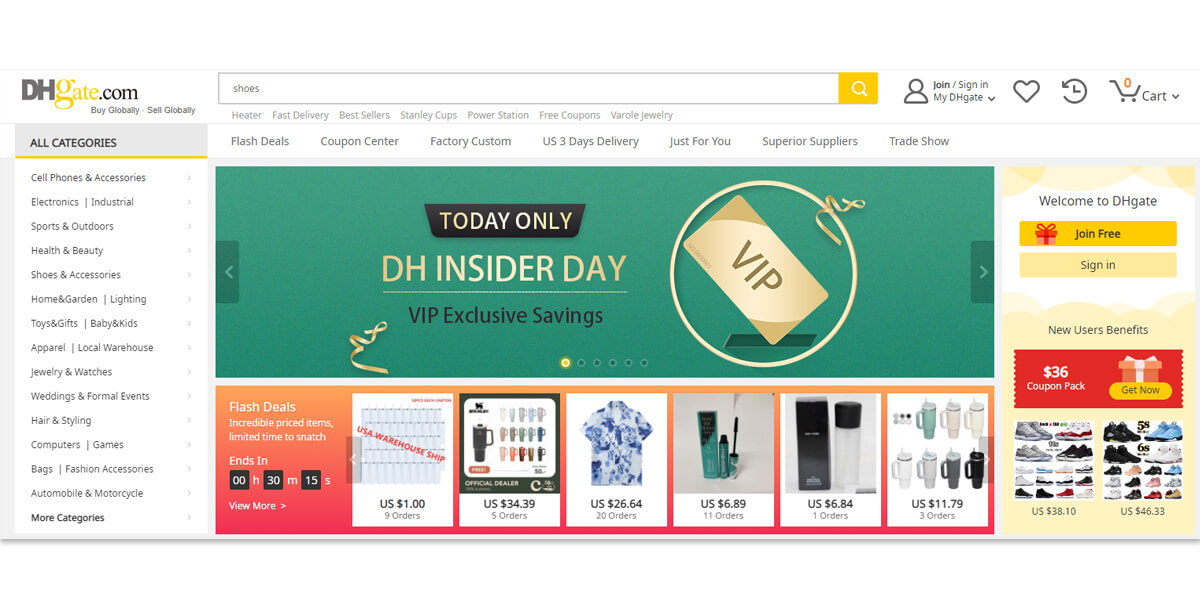 Like Alibaba, Dhgate is one of the leading online wholesale platforms in China. Thousands of sellers trade goods with buyers around the world on this site. Most products here are sold with MOQ limits, but they can be close to what you see on Alibaba.
With Dhgate, you have access to information about trade shows in China.
Pros
The website is in multiple languages
Information about trade shows provided
Escrow protection on every order
Intuitive interface
Cons
MOQ requirements
Frustrating customer service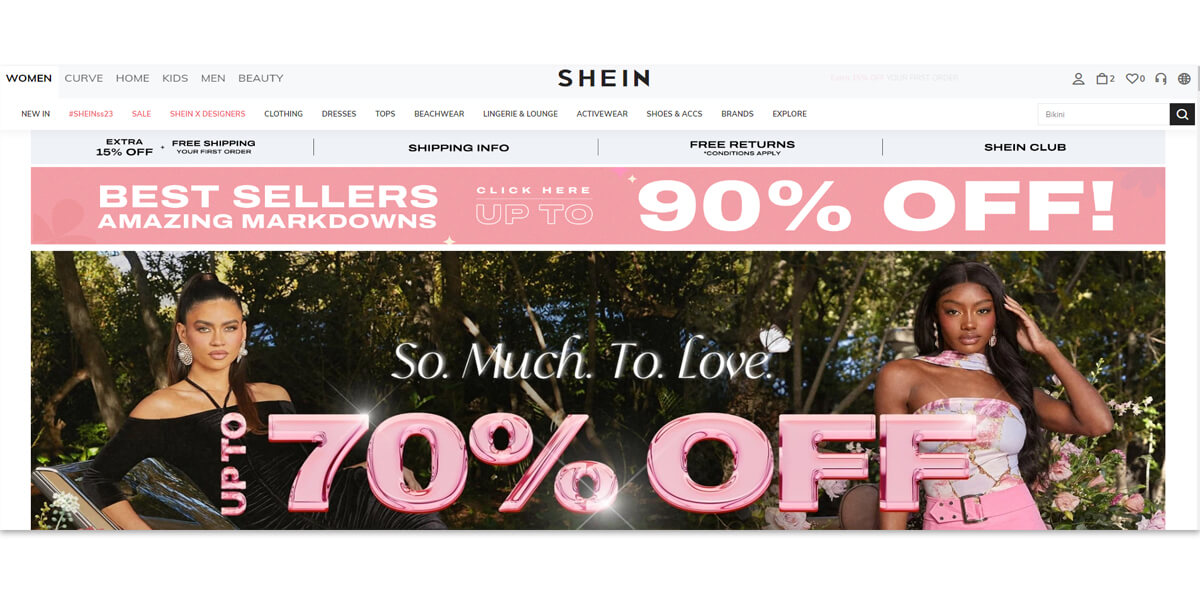 As a business-to-consumer retailer, SHEIN focuses on the fashion field. Products on this shopping site are mainly in the category of clothing, including dresses, tops, lingerie, shoes, jewelry, and so on. They are especially popular with young and middle-aged women with various style preferences.
If you focus on the clothing niche and your target audience covers SHEIN's, sourcing from SHEIN will give you more selling inspiration. And you can enjoy free shipping services if your order amounts reach a standard.
Pros
Specialized in the fashion field
Shipping globally
No MOQ
Cons
Poor customer service
Higher prices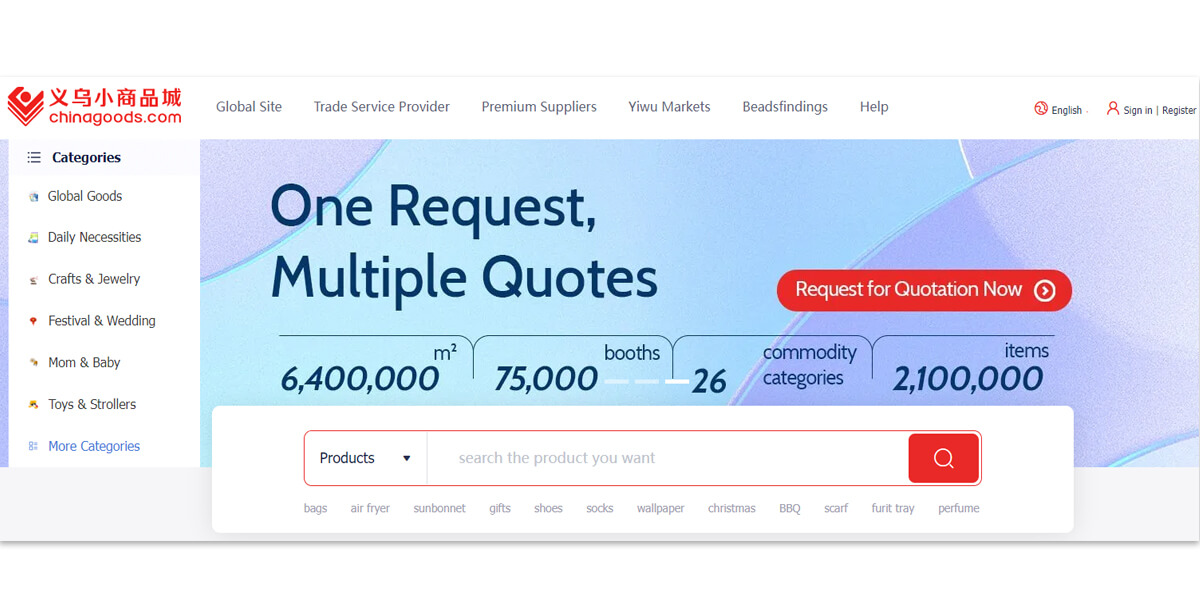 Chinagoods is the official website of Yiwu Market. It collects information about millions of low-priced products from thousands of suppliers in Yiwu.
Yiwu Market is well-known as the city of small commodities. So most merchandise on Chinagoods can be classified as small items like crafts & jewelry, festival & party supplies, toy, and baby supplies. If you are selling in other catalogs like electronics or machinery, we don't recommend you source on Chinagoods.
Pros
Millions of small commodities
Combination of online and offline stores
Competitive prices
Cons
The product information is not detailed
The interface is a little hard to navigate for beginners
Limited product choices in some categories
Alibaba Alternatives in the USA and Europe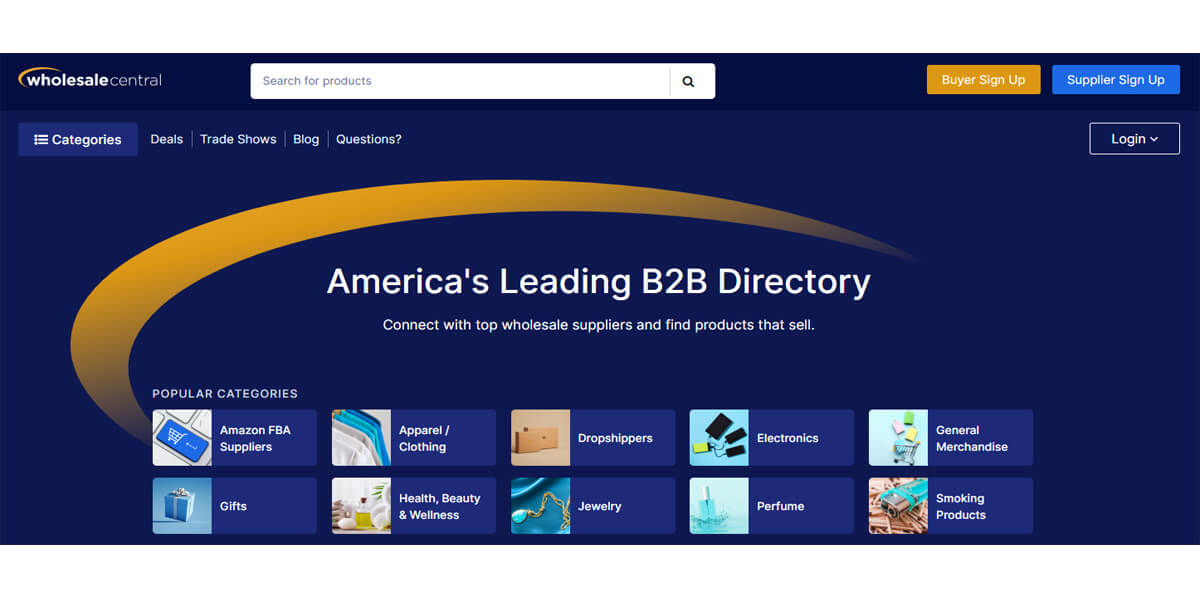 Wholesale Central claims to be America's leading B2B directory. It compiles hundreds of wholesale suppliers in the USA, and they are sorted out according to niches.
Pros
Verified suppliers
Trade shows in the USA
Cons
Fewer suppliers and product choices in comparison with Alibaba
Wholesale Central is irresponsible for any issues with suppliers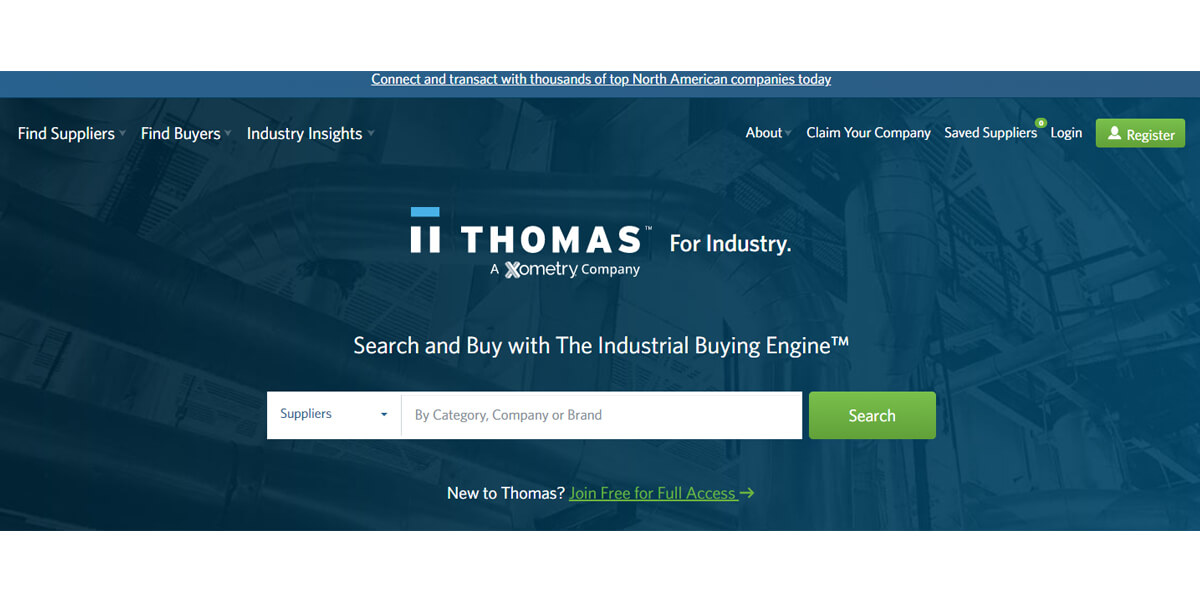 ThomasNet is a directory that lists manufacturers, distributors, and service companies in the US and Canada. There are more than over 50 thousand suppliers and 6 million products on ThomasNet. The filtering buttons on this platform allow you to search for the right supplier easily. However, keep in mind that products from this site are mainly electronic equipment and industrial & agricultural supplies. You may find limited product choices in other categories.
Pros
Thousands of suppliers( lots of manufacturers)
A great number of products
Easy to filter suppliers
Cons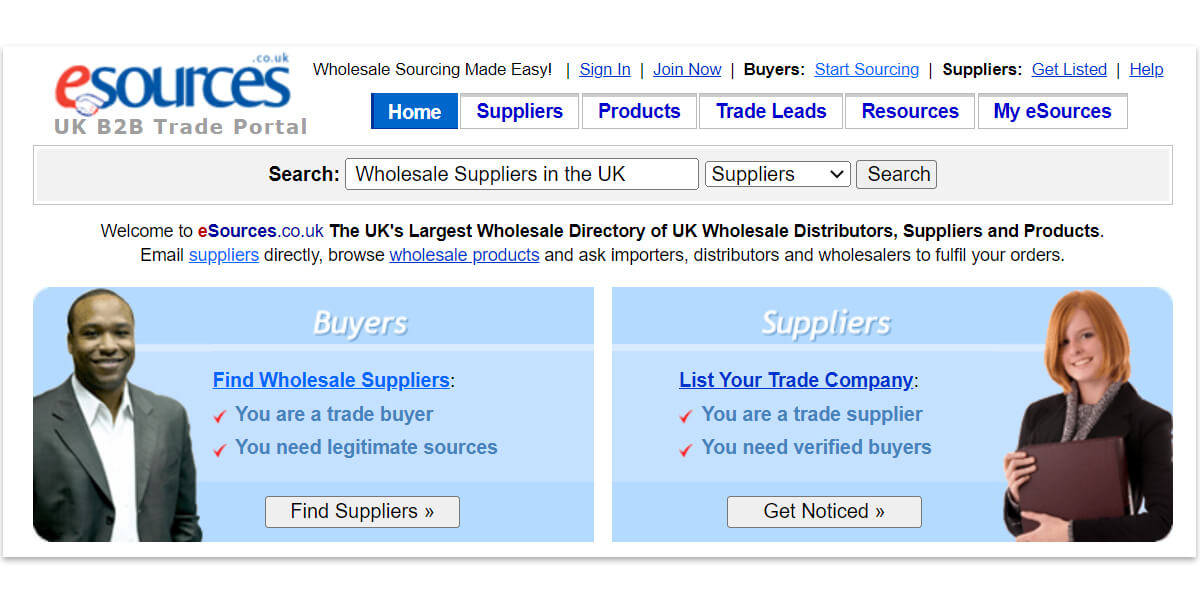 Located in London, eSources serves as a directory of UK and international wholesale distributors, suppliers, and products. There are more than 1.58 million live listings on eSources currently, including 244 thousand wholesale products.
Pros
Numerous UK and international suppliers
Comprehensive categories
Free access to all premium suppliers
Cons
Outdated website
Contact the supplier only by phone or sending messages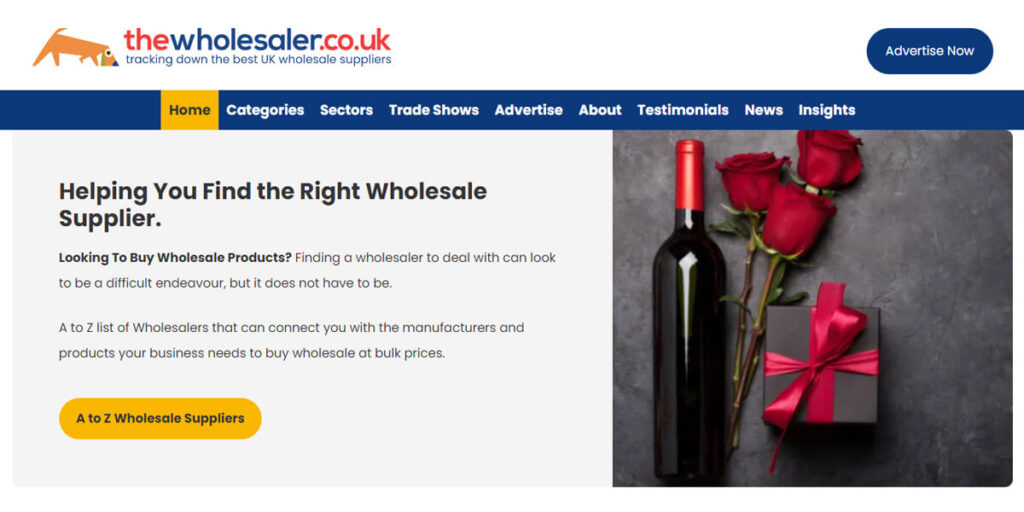 The Wholesaler is another site like Alibaba. It functions as an online trade directory of UK wholesale suppliers. In this directory, you can find many manufacturers, directors, and wholesalers.
Pros
Detailed information about a supplier
Vetted suppliers
Provide information about trade shows and exhibitions
Cons
No live chat
Limited product choices in some niches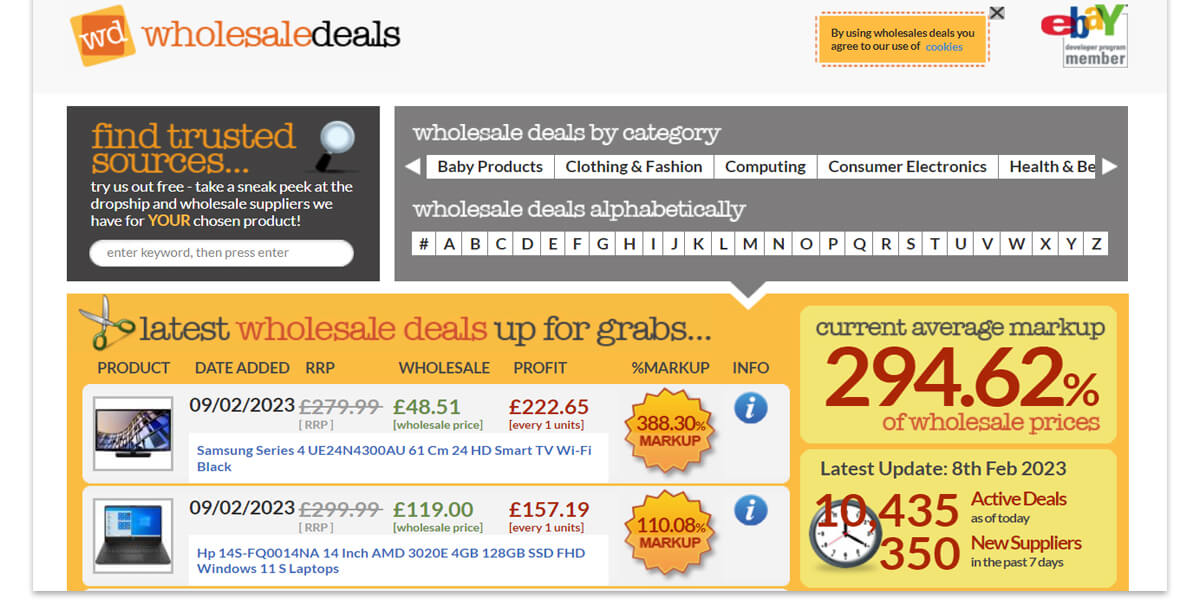 Similar to The Wholesaler, Wholesale Deals is a directory based in the UK. Tons of manufacturers, wholesalers, distributors, and dropshippers are listed on this website. And the interface with alphabetical and category filters makes it easy to source the products you need.
Pros
Easy to find a supplier or product
Money-back Guarantee
Excellent customer service
Cons
MOQ limits
All information about a supplier is accessible at a cost
Conclusion
Alibaba is a famous wholesale platform in China. A variety of quality products at a low price offer you a great chance to make profits when sourcing from Alibaba.
However, when too many sellers import products from Alibaba, it is hard to differentiate your business from your competitors'. An Alibaba alternative may offer you a better solution.
If you are not sure which alternative to choose from the list, you can contact our professional sourcing team for a query.