How to Do Alibaba Dropshipping in 2023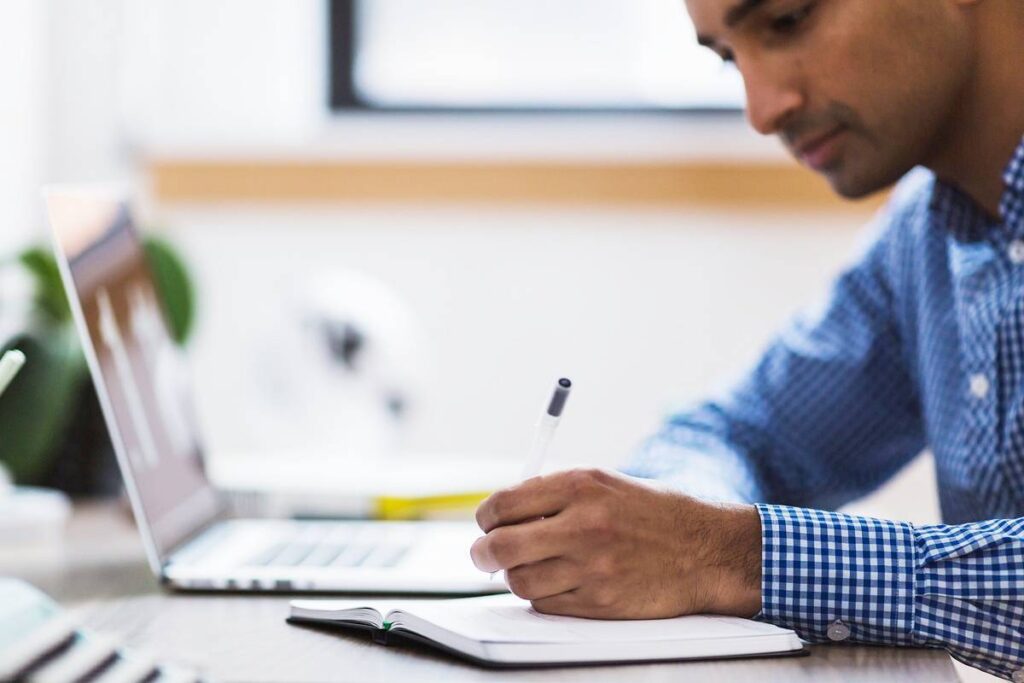 What do you want to get from your dropshipping business?
I believe most of you aim to earn profit. How much profit you make, how much money you earn.
In most cases, this purpose is realized by lowering the costs of the products. That is, you need to find better-priced products to sell for increasing your profits.
Dropshipping on Alibaba, one of the largest wholesale markets worldwide, can be a good solution. On this platform, you can buy at a low price and sell with a high margin.
Sounds great, right?
So how to do Alibaba dropshipping on earth?
Read on and you will find the answer!
What is Alibaba
Alibaba is a business-to-business platform, founded by Alibaba Group in 1999. Alibaba Group is one of the top 10 most valuable companies, and is rated as the 31st-largest public company in the world on the Forbes Global 2000 2020 list. Besides Alibaba, this group owns AliExpress, Taobao, and Tmall markets.
Connecting China sellers with worldwide buyers, Alibaba has been evolving rapidly over the two decades. By number from Statista, the net income of Alibaba was over 143 billion yuan in its fiscal year at the end of March 31, 2021. Meanwhile, the annual number of active consumers on its online shopping properties in China was up to 882 million by the end of 2021, increasing 19 million over the previous quarter.
Alibaba vs AliExpress
In many cases, people can't set Alibaba apart from AliExpress. In fact, they are two different platforms though owned by one company.
The former is a B2B platform where you can purchase products in bulks at a low price and resell them in your store. Suppliers on this platform provide white label products, easy to customize. However, AliExpress is a business-to-consumer(B2C) market like Amazon or eBay, aiming at selling to end consumers. In this market, the price of products is a bit higher. And most goods are designed already so that you have a minimum chance to customize them.
Want to know more differences between the two platforms? Get an overview in this form.
| Name | Alibaba | AliExpress |
| --- | --- | --- |
| Pricing | Low wholesale price | A little higher, but competitive than in other markets |
| MOQ | Most products have minimum order quantity requirements. | No MOQ |
| Customization | Product customization is available. | Products are already designed. |
| Reviews | for suppliers | for products |
| Payment options | Limited | Relatively multiple |
| B2B | Yes | No, B2C |
Differences between Alibaba & AliExpress
Why dropship with Alibaba
As for why you should dropship with Alibaba, there are several important reasons.
Low price
The majority of suppliers on Alibaba are manufacturers and wholesalers. They offer you a low manufacturing price when you buy goods in bulks one time. That allows you to save money for use in other aspects.
A Variety of Products
The Alibaba market covers various products in different categories, some of which you could not find in Aliexpress or somewhere else. So to some extent, dropshipping on Alibaba can help differentiate your business from the competition.
Negotiate with suppliers
Even though suppliers already set a price for a product, the price is still negotiable. Also, you may negotiate something else concerning your interest.
Product customization
Products from manufacturers on Alibaba are white-label products, allowing you to add your logo, brand, or designs. Therefore, Alibaba dropshipping is beneficial to building your brand.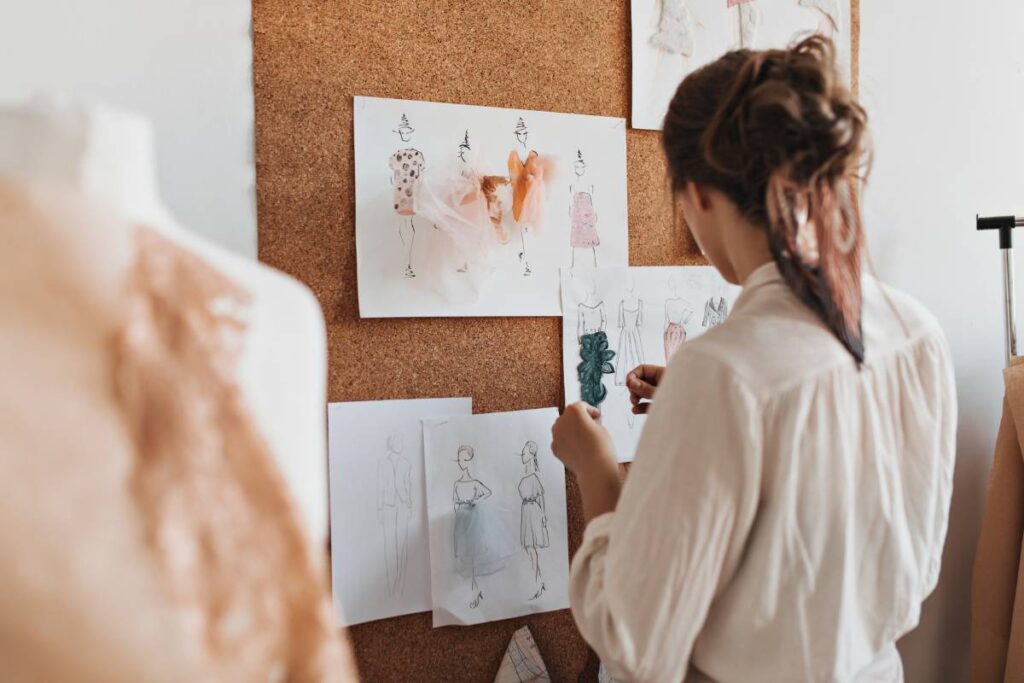 Reviews for suppliers
On Alibaba.com, you have access to other buyers' reviews for a supplier. These reviews are rated based on suppliers' service, shipment times, and product quality, thus providing you reference when picking a supplier.
How to dropship with Alibaba
Following the developing trend in the eCommerce world, many suppliers on Alibaba now provide dropshipping services for dropshippers. That means dropshipping with Alibaba is possible.
To start, you can follow our guide below.
Step 1 Register on Alibaba
The registration procedure is simple. Please refer to this article.
Step 2 Connect Alibaba with your store
After your registration, it is time to connect your store with Alibaba.
1. Go to the dropshipping center on Alibaba.com, and click My Store on the left bottom corner.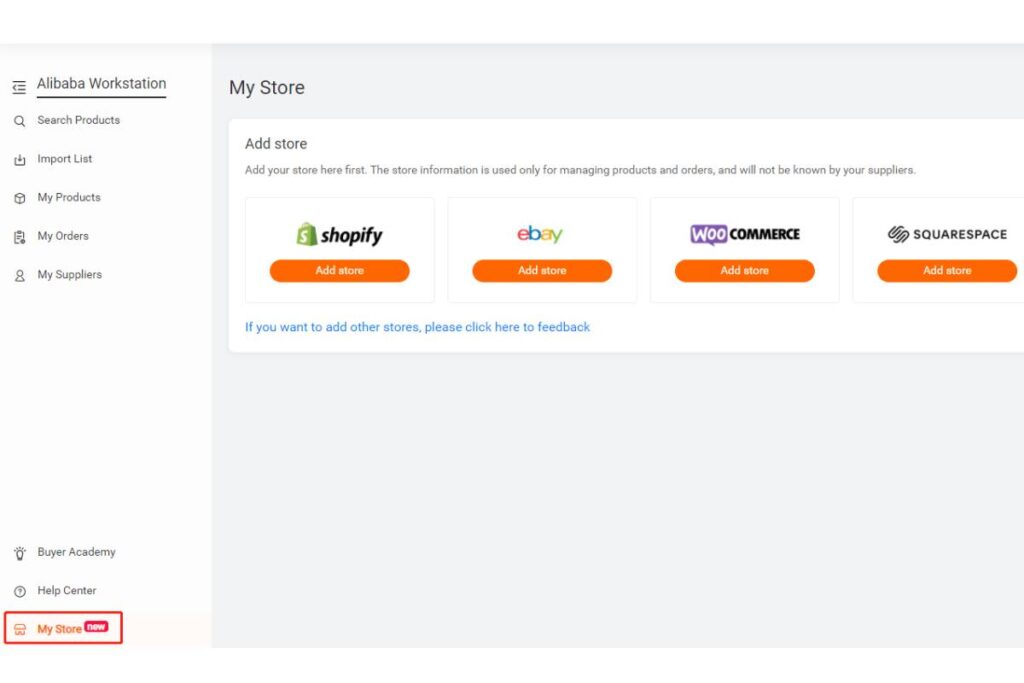 2. Choose the store type, click Add store and fill in your store URL(You should log in to your Shopify or eBay store before filling in the URL.)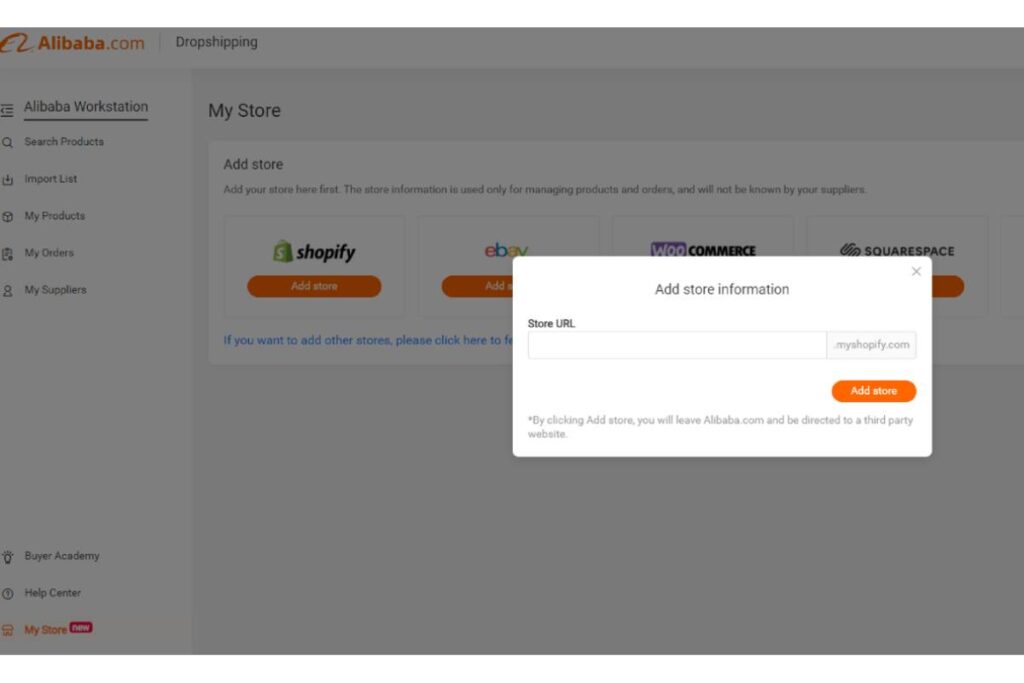 3. Click Add store again and then "Install app", and the connection process would be finished.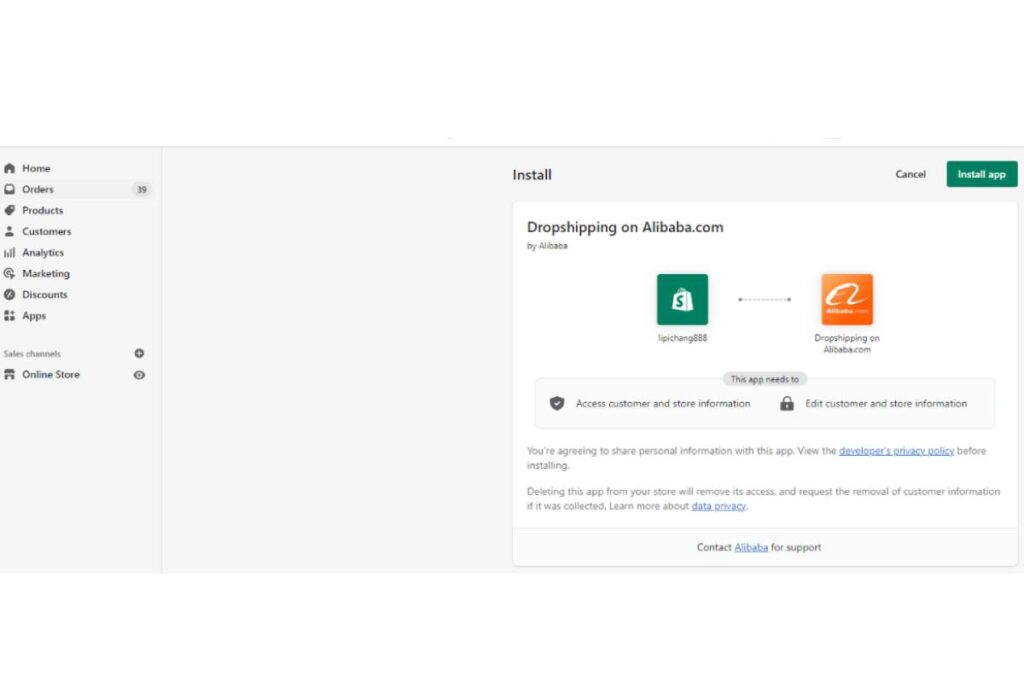 Step 3 Find products
There are a sea of products on Alibaba.com. What products are suitable for dropshipping?
Here are our recommendations.
Small, light, and high-profit-margin products Small size and light weight ensure easy storage and carriage, saving your shipping costs. Meanwhile, a high-profit margin is the base of growing revenue. (If you don't know how to calculate the profit margin of a product, please read the post.)
Items that are unique in design or function and convenient to use People tend to buy unique products. And the feature of easy usage will speed up their decision.
Top trending products Trending products have been proved welcome among people. Remember to sell them before your competitors begin, and update when your competitor has been selling them.
Supplementary products This means products that are complementary to function. For example, a toothbrush and toothpaste are supplementary products.
Prospective new arrivals New arrivals are usually products that appear in the market for the first time. Being the first to sell them will make you ahead of your competitors.
Products with no risk of infringement Like prohibited products, products that involve infringement will get you into trouble. Sometimes they may cause a massive loss.
Step 4 Select a supplier
For any products, there could be a handful of suppliers selling them. How do you pick up the right one?
Here are some tips for you.
1. Choose suppliers with Trade Assurance Trade Assurance is a service offered by the Alibaba team, which guarantees the delivery time and the product quality. With this service, your benefits will be better protected.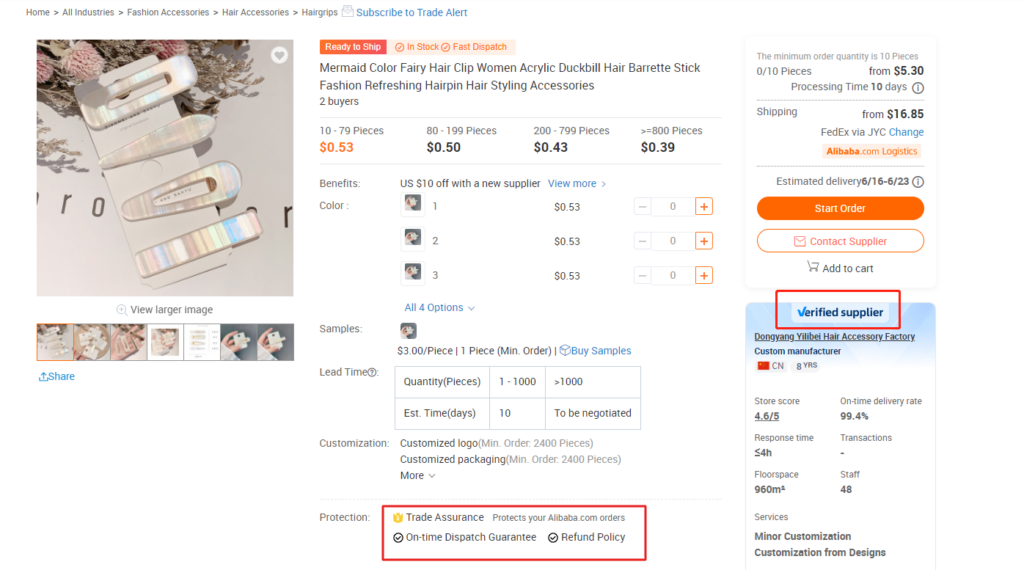 2. Select Verified Gold suppliers Gold and Verified suppliers are vetted through a strict process and are more reliable than those general suppliers.
3. Check out contact ways and the address Suppliers could write fake phone numbers, emails, and office addresses in their company profiles. Remember to check them before placing an order.
4. Consult the supplier with your questions Asking questions may be a better way to find out if your supplier is the right one.
For instance, you can ask about
What is the MOQ?
How much is each unit?
How long does it take to process the order?
How much is the shipping fee? And when will the order be delivered?
What is your payment method?
How much does a sample cost?
How to return the product if I don't need it anymore or if it arrives broken?
5. Make a sample before placing your order Making a sample, you will know if the product is as it is described and what the package looks. Moreover, you can test how long the supplier ships it and if the supplier is trustworthy.
6. Don't believe something too good Something is too good to be true. Just ignore it and stay away!
Step 5 Narrow the list of suppliers down
You may have a list of some suppliers then. Narrow it down and choose one to import your product by clicking "Add to Import List".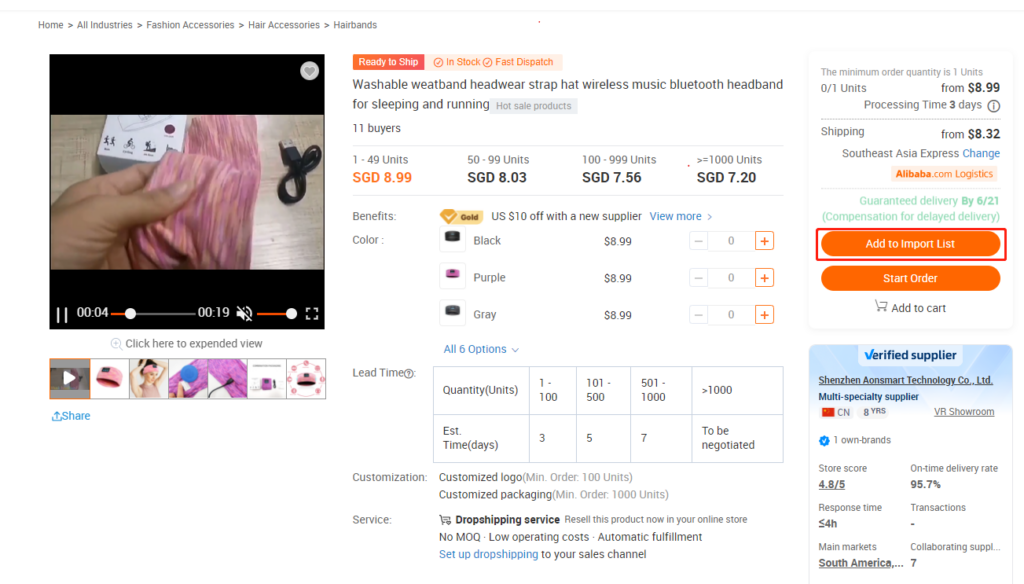 Step 6 Edit your product and then push to store
Go to the Import List, edit product details and push it to your store.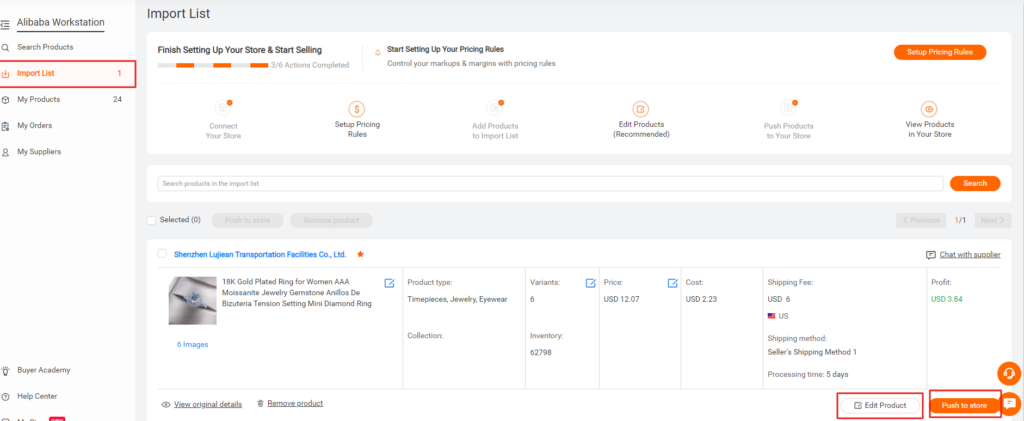 Step 7 Fulfill orders with your supplier
After you finish all the steps above, just let your supplier fulfill the order for you when you receive it from the end customer.
Optional: work with an agent to dropship on Alibaba
What problems you may face with a supplier
Though there are different suppliers for your choice and many tips for your reference, finding a reliable supplier is still challenging. Because you may encounter the following problems:
Long shipping time Some suppliers charge too much for the shipment, but they are not good at dealing with customs issues. As a result, you could face a delay in the order.
Intellectual property disputes Some Alibaba products are under famous brands or some brands you don't hear of, and some copy the design of other brands. If you sell these products without authorization from original brands, you are likely to get involved in an infringement.
Communication Barriers Not all Alibaba sellers are fluent in English, which sometimes could be a barrier to your communication. Additionally, you may not be in the same time zone and can't communicate with each other in time.
Unstable product quality Products from a seemingly right but not reliable supplier could be of bad quality. Not seeing the physical products or providing quality inspection, you cannot ensure your customers get the products they expect.
So why not try an agent then?
Collaborating with an agent
The agent serves as the supplier but does more for you. Working with them releases you from laborious tasks and saves time at a minimum of your cost. Moreover, with good skills, the agent helps you source products effectively and avoid the problems you may face with a supplier.
Additionally, Alibaba may not support integration with some selling platforms like Amazon. But partnering with an agent will help to realize the integration.
Sup Dropshipping, as such an agent, can provide you with all-around and automatic services.
Product sourcing Whenever you want to source a product, just put the URL, image, or keywords into the search box, or place a sourcing request. Once the supporter receives your request, they will contact you soon. Our customer service is 24/7 available for you.
Branding service Building the brand is an essential part of growing your business. With Sup, you can design your goods with plenty of free mockups, add your brand name or logo to the product, and customize the package. All of these will facilitate your brand-building process.
Automatic order fulfillment Sup team takes responsibility for inventory management and deals with your order fulfillment and shipment. When your customer places an order in your store, the order will be automatically synced to our system, and we will prepare and ship this order on your behalf. For users over Level.3, our product inspection service is available for free. This service will guarantee your customers' satisfaction with product quality.

If you are ready to cooperate with Sup or have any questions, please get in touch with us.
Frequently Asked Questions
Is Alibaba legit and safe
Simply put, it is.
Alibaba belongs to the Alibaba Group, one of the world's largest retailers and e-commerce businesses. As one biggest B2B market in China and even the world, Alibaba has been in a wide range of recognition. 87% of the reviews for it in the Trustpilot are positive.
And the Alibaba team is always making efforts to safeguard your orders. However, there are still some scams like in other B2B markets. To avoid being scammed, you only need to work with a reliable supplier or an agent.
Can you dropship from Alibaba
Yes, you can. Many suppliers on Alibaba.com offer dropshipping services now. In addition, some dropshipping agents can help you source products, fulfill orders, and ship packages to your customers when you dropship on Alibaba.
How long does Alibaba shipping take
The shipping time depends on the distance. If the order is shipped from China to a foreign country, it usually takes about 7 to 15 days to be delivered by air, and 25 to 60 days by sea.
Summary
The dropshipping business across the globe is developing fast. As one of the biggest wholesale markets in the world, Alibaba will be more important in the dropshipping industry because of its outstanding advantages. Take your chance to work with a reliable supplier or an agent to do Alibaba dropshipping!
Best wishes to you.