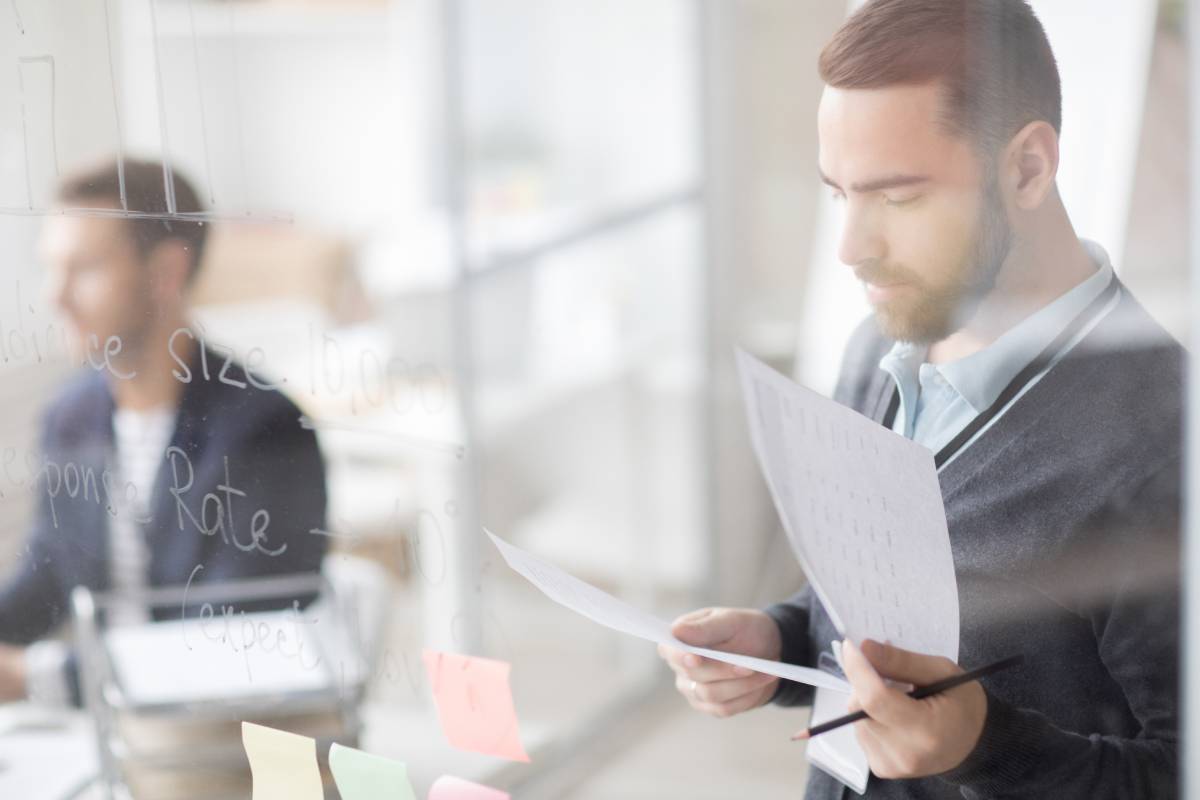 Working with a reliable supplier is crucial to growing a dropshipping business whether your target market is based in the UK or another country.
In the dropshipping model, the supplier manages inventory and handles fulfillment for you. When the customer places an order, your supplier is there to prepare, pack and ship the order on your behalf.
When it comes to starting a dropshipping business, the UK is no doubt a good market you can target.
Here are some important reasons.
Large population With a population of 67.3 million, the UK is apparently a prospective market for online selling, especially under the pandemic of the covid-19. The more people there are in the market, the more likely you can scale your business to meet diverse demands.
Disposable GDP per capita The GDP per capita of the UK in 2021 reached US$47.3 thousand. That means people there can afford purchases from your store even if you are selling with high margins.
Increasing online retail sales Online retail sales in the UK have been rising in the past decade. There is a big chance of starting and successfully scaling your dropshipping business in this country.
High internet user penetration The percentage of the UK population using the internet in 2022 was around 93 %, and the social media penetration rate was 90%. This data proves it is convenient to build and market an online business here.
However, you should never think it for granted that it is a piece of cake to set up your drop shipping business in the UK. For finding a reliable supplier is still challenging.
In this article, we will guide you to find a trustworthy UK dropship supplier.
But before that, you should have an understanding of what dropshipping means.
What Is Dropshipping?
Dropshipping is a business model where the seller sells online without inventory.
Generally, when the seller receives an order from the customer, the order information is automatically or manually forwarded to the supplier. And then the supplier fulfills this order and delivers it to the customer directly.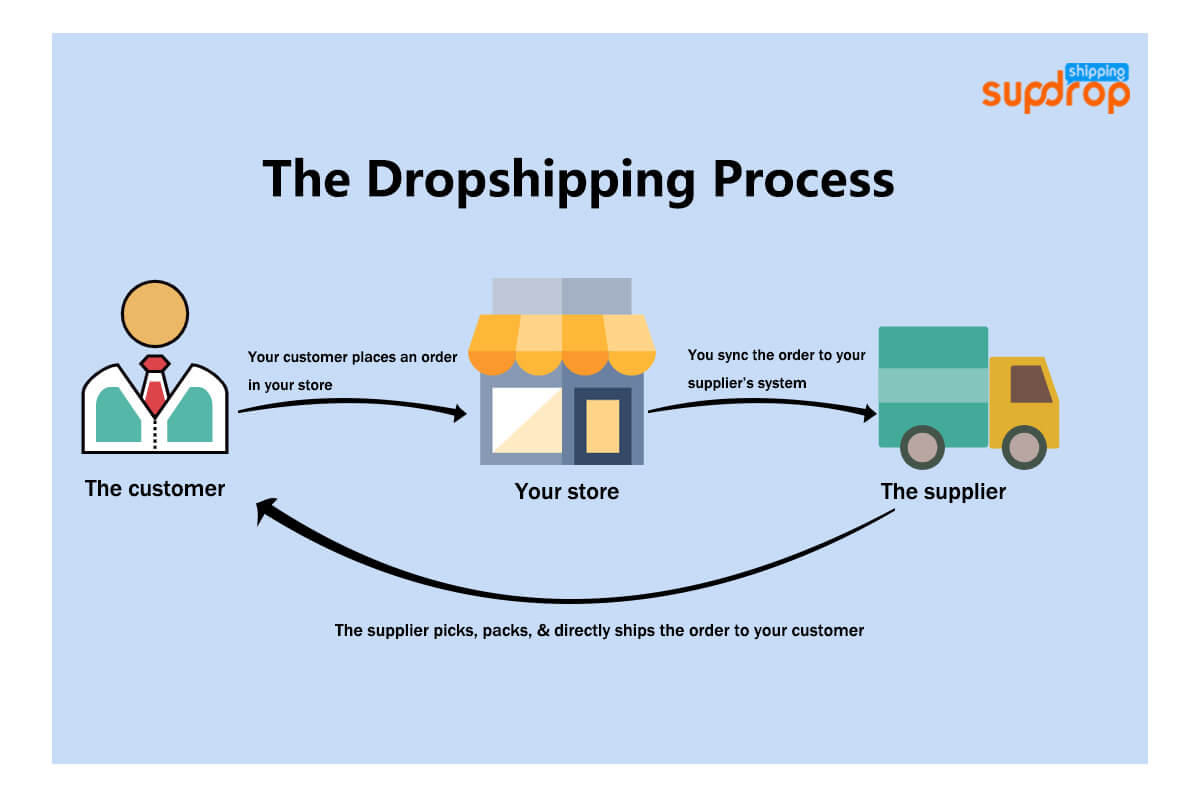 The Best UK Dropshipping Suppliers
Since you know what dropshipping is, you should believe that finding a reliable dropshipping supplier is critical to running a dropshipping business well. You can search on google for a supplier, or visit some websites to find one. Yet, it is always not easy to find a reliable drop shipping supplier.
For your convenience, we selected and made a list of the 12 best dropshipping suppliers in the UK market in 2023.
Get an overview of them in the following sheet or our video.
Platform
Membership
Features
1. Aliexpress
Free
Low price
Various categories
Millions of products
2. Sup Dropshipping
Free
Convenient sourcing
Branding service
Quality inspection
All-around service
3. Alibaba
Free
Low price
A Variety of products
Product customization
4. Avasam
Free/£19.99/£49.99/£99.99/£149.99 monthly
Fast shipping
Vetted UK-based suppliers
Excellent customer service
5. Syncee
Free/US$29/US$79/US$129 monthly
Easy access to suppliers
Chat with suppliers directly
6. SaleHoo
US$27/US$97 monthly
Vetted vendors
Quality customer service
7. Printful
Free/US$9/$49
professional POD service
14-day free trial
shipping gloabally
8. eSources
Free/£20 monthly/£50 6 months/£75 annually
The largest UK wholesale directory
numerous verified suppliers & wholesale products
9. The Wholesaler
Free
Provide detailed information about suppliers
10. Wholesale Deals
Free/£14.99 monthly/£34.99 6 months/£44.99 annually
Friendly user page
Recommended retail price
11. Printify
Free/$24.99 monthly/Custom pricing
more than 600 customizable products
global print providers
12. Spocket
Free/$24.99/$49.99/$99.99 monthly
Verified local suppliers
Discounts on products
UK dropshipping suppliers list
Let's take a deeper look at them one by one.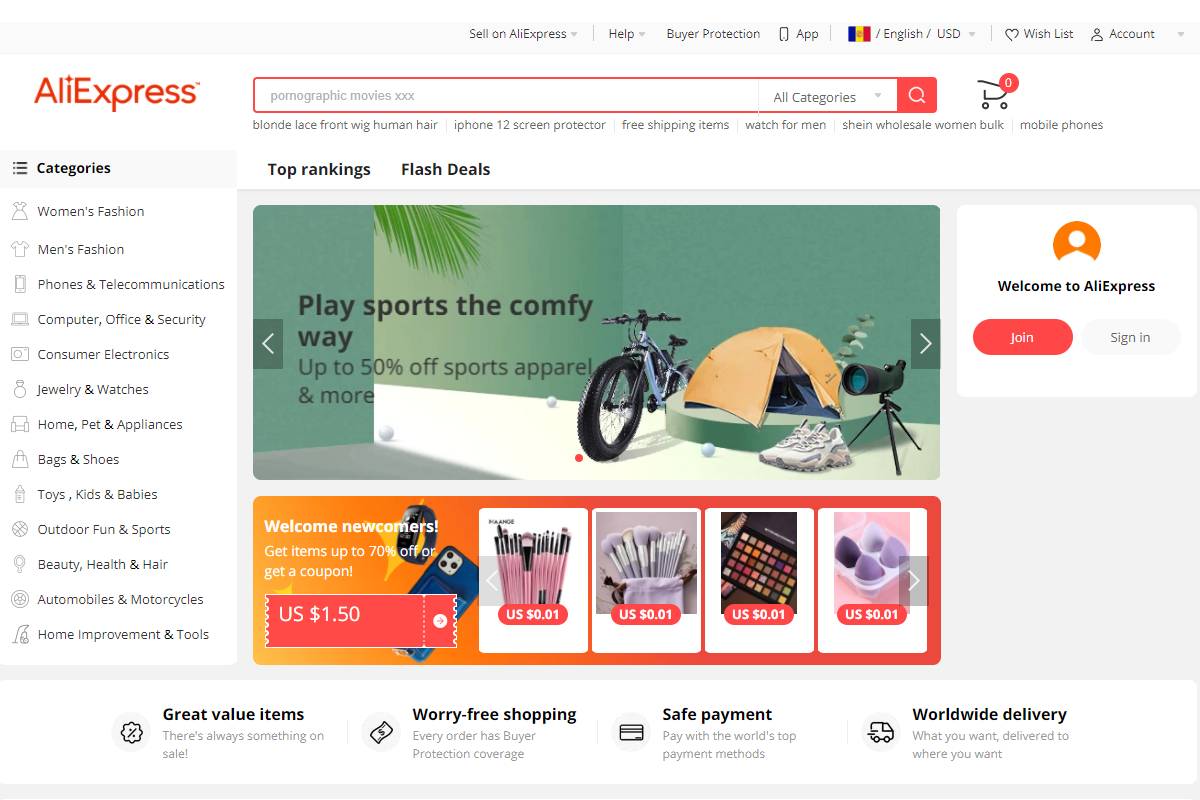 Aliexpress is a famous business-to-consumer(B2C) marketplace founded by the Alibaba group in China. The reason why we list it as a UK supplier here is that they serve businesses worldwide.
On this marketplace, there are over 100 million products in various categories and at a competitive price. Except for thousands of retailers, you also have access to manufacturers and wholesalers. They provide you wholesale services and allow you to buy in bulk with a lower price.
In addition, the Aliexpress Dropshipping Center can help facilitate product sourcing. With this tool, you are able to find potential products by keyword or image in a few seconds.
Pros:
Low price Products from Aliexpress are at a lower price compared to those from other e-commerce platforms. So selling with Aliexpress improves your chance to earn a high profit margin.
Worldwide shipment While the Aliexpress company is located in China, they ship to other regions and countries in the world, including the United Kingdom.
Various categories Goods from Aliexpress cover nearly all categories. You may easily find an item that you see elsewhere.
Cons:
Inconsistent product quality Product quality can be inconsistent with different sellers. For the same kind of products, sometimes you may find them of good quality in one store but bad in another one.
Similar products Other retailers could sell what you import to your store due to easy access to any product through Aliexpress sourcing. Similar products will make it not easy to differentiate your business with the competition.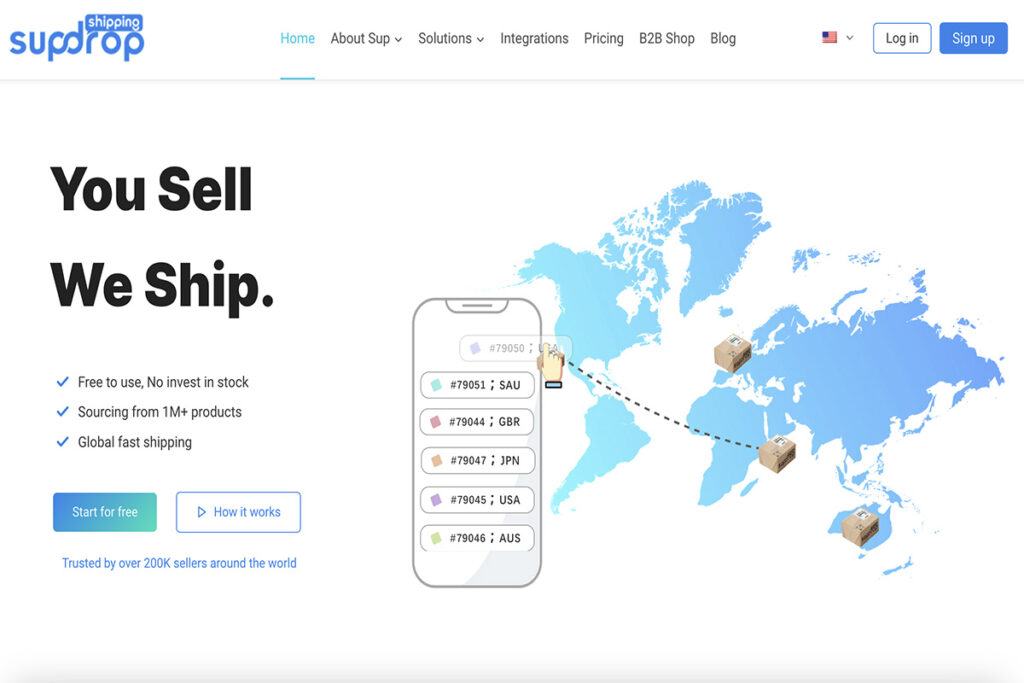 Founded in 2010 in Hongkong, Sup Dropshipping has been in partnership with thousands of businesses as a dropshipping service provider. Sup provides you not only product sourcing service, but also inventory management, order fulfillment, and branding services.
Pros:
Quality inspection Selling products of good quality is key to building and expanding your business. To ensure that your customer gets quality products and enjoy their buying from you, our Sup Dropshipping team check all products before they are shipped.
Excellent customer service Sup Dropshipping is deeply loved by the drop ship partners for the customer service. Reviews for it are nearly all positive.
Easy sourcing process Sup Dropshipping allows you to search a product by keyword, image, and 1688, Taobao, Aliexpress, Amazon, eBay, or Etsy URL. Also, you can place sourcing requests and get direct results from a dedicated agent.
Branding service Sup Dropshipping gives you chances to sell your branded products through print-on-demand service and package customization. Plenty of design mock-ups are free for you.
Free membership There is no monthly fee for using the Sup Dropshipping app. Your payment only concerns the products' cost and shipping fee.
Cons: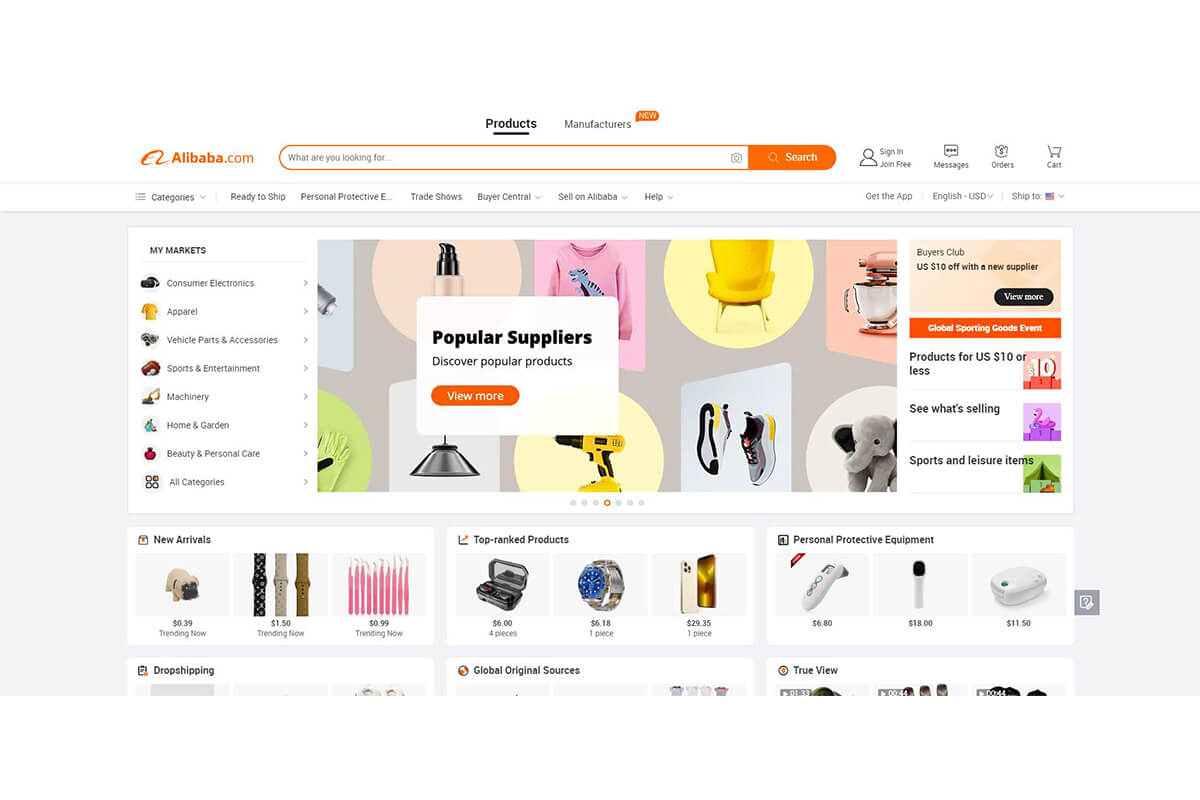 Founded by the same company as Aliexpress, Alibaba is a business-to-business(B2B) platform. This platform connects China sellers, manufacturers, and wholesalers with worldwide retailers and dropshippers.
On Alibaba, you can purchase products in bulk at a low price and resell them in your store. Many suppliers here offer private label and white label products, which allow you to customize and build your brand.
Pros:
Low wholesale price Many suppliers on Alibaba are manufacturers and wholesalers. They offer you a low wholesale price for your order when you buy in bulk.
Varieties of products The Alibaba market covers a wide range of products in different categories, from clothing to pet supplies, beauty products to hardware tools. Some products are not easy to find on its alternatives.
Product customization Most products from manufacturers on the Alibaba website are customizable. They can be added with your logo, brand name, or designs for brand building.
Cons:
Minimum order quantity: The majority of suppliers on Alibaba set MOQ requirements for their products. Only a few permit you to buy one single item one time.
Communication Barriers: Not all Alibaba sellers are good at English, and you may not be in the same time zone. That could cause some trouble in your communication.
Long shipping time: Most suppliers are from China. If you are based in the UK, your dropshipping order could take a long time to be delivered( usually 7-15 days by air, and 25 to 60 days by sea).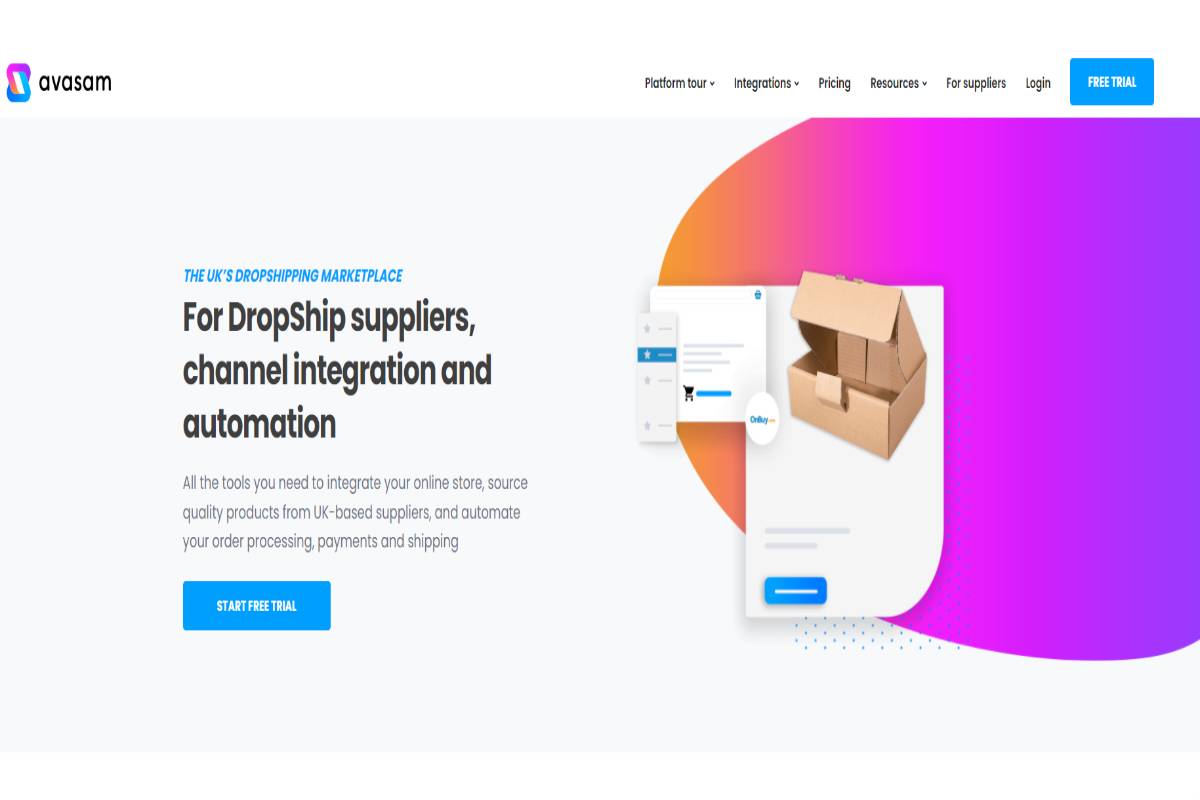 Avasam is a dropshipping platform with many different categories of products from verified UK suppliers. Launched in October 2019, it has been more and more popular with UK dropshipping merchants.
Pros:
Fast shipping Based in the United Kingdom, Avasam can provide fast shipping services for local drop shippers or retailers.
Multichannel Integration Avasam allows integration with various e-commerce platforms like BigCommerce, Shopify, WooCommerce, eBay, Amazon, Wish, etc.
Verified UK-based suppliers Suppliers who cooperate with Avasam are picked up through the strict verification process. Only qualified suppliers can be searched on the platform.
Excellent customer service There is an important factor for Avasam's popularity, that is, customer service. They do well in helping deal with dispatch confirmations and post-sale support.
Free to use before you sell You can browse their product catalog without a subscription before you decide to start selling.
Cons:
Shipping only in the UK According to our research, suppliers from Avasam don't ship to any other countries except for the UK.
PayPal is not used for payment Payment methods in the platform don't include PayPal. It may be a little inconvenient for customers who are used to paying by PayPal.
No product customization service Avasam doesn't provide product customization. That means you can't add your logo or brand to your products or package if your supplier doesn't offer such a service either.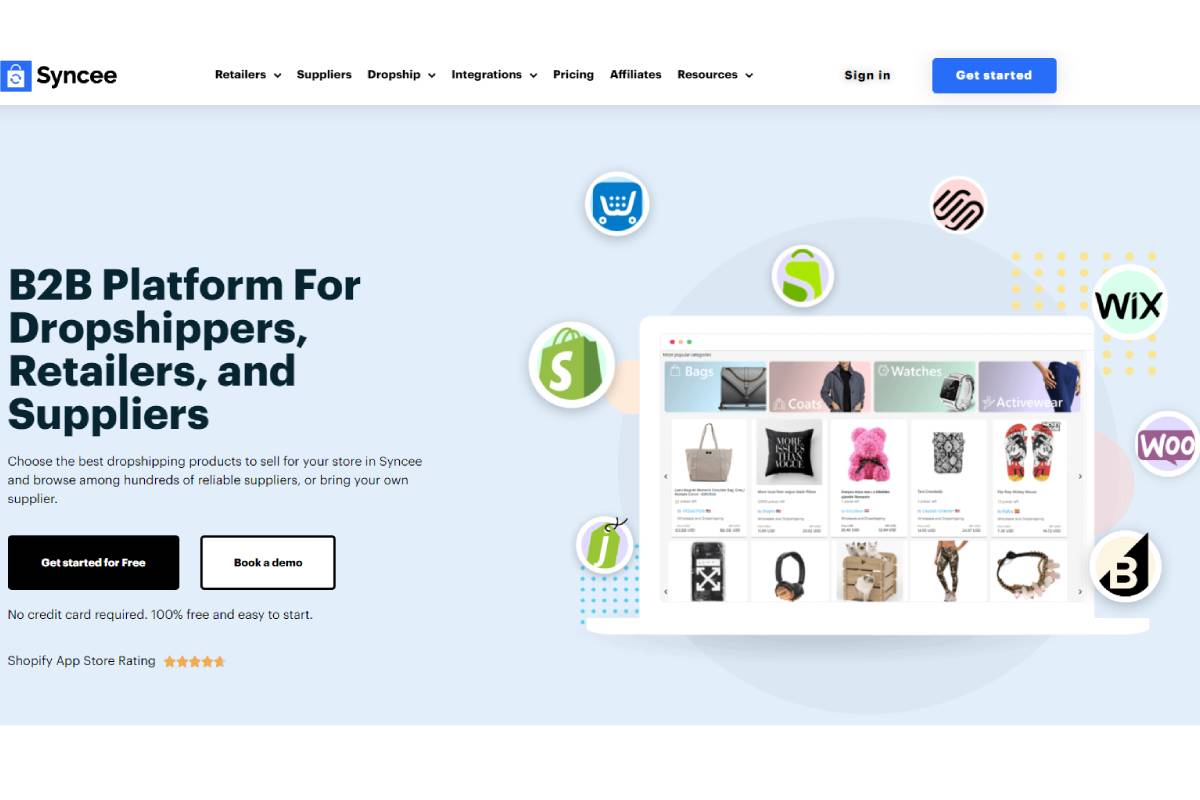 Syncee offers millions of products in various classifications for drop ship sellers. Their suppliers are from all over the world. So it is not difficult for you to choose a UK supplier for your business.
Pros:
No membership fee for 25 products or less When you sell no more than 25 products, you won't be charged for the membership fee. It is very friendly to those who have just started their dropshipping business.
Chat with suppliers directly On Syncee, you can chat with your suppliers directly, which makes it much easier to know about everything about the products you import.
Choose right suppliers through filtering In the products search page, you are allowed to filter the suppliers based on the location. Even with worldwide suppliers, you will find your suppliers easily.
Cons:
Complicated website design Their website is a little complicated and hard to navigate for those who begin to use it.
No detailed information about suppliers Though you can filter the suppliers, you cannot find the extra information about them, such as the performance, reviews, quality assessment rating, and statistics of how many clients have selected the supplier.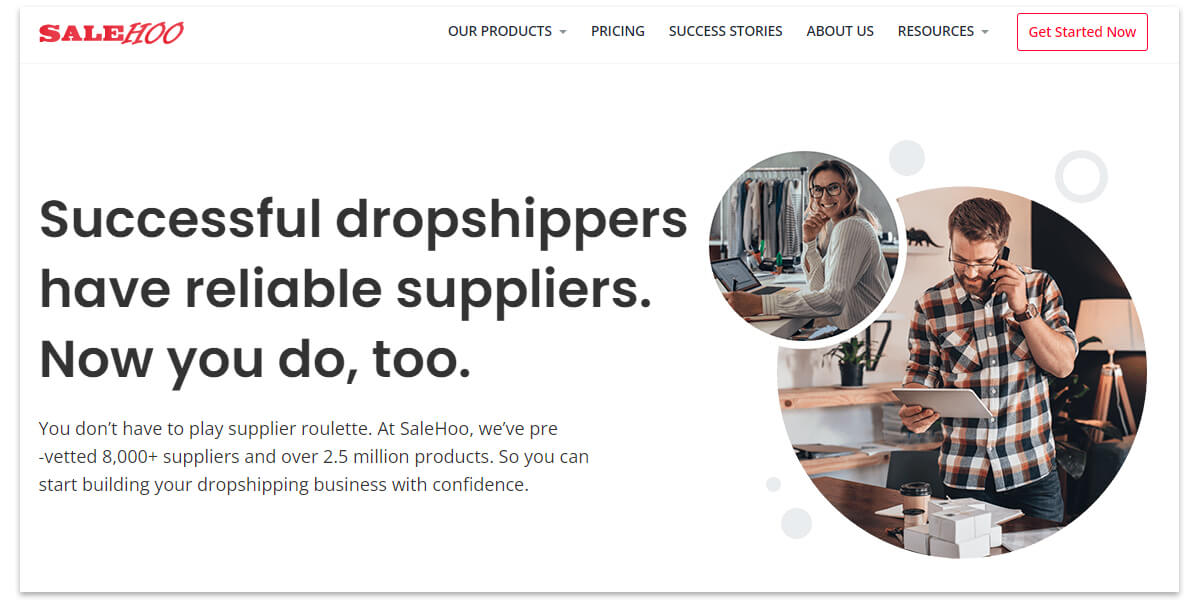 SaleHoo is a drop-ship service provider mainly for products sourcing. There are over 8,000+ suppliers for drop ship and wholesale in SaleHoo Directory.
Pros:
Amazing customer service Thanks to the outstanding customer service, SaleHoo is highly recognized by its customers. Over 90 percent of them have given a 5-star rating for SaleHoo in Trustpilot.
Qualified suppliers Suppliers on the SaleHoo market are all vetted, which ensures you collaborate with accountable and qualified suppliers.
Cons:
Limited integration You can only integrate SaleHoo with your Shopify store when it comes to the dropshipping business.
Membership You cannot browse the specific products and suppliers before you sign up for the membership.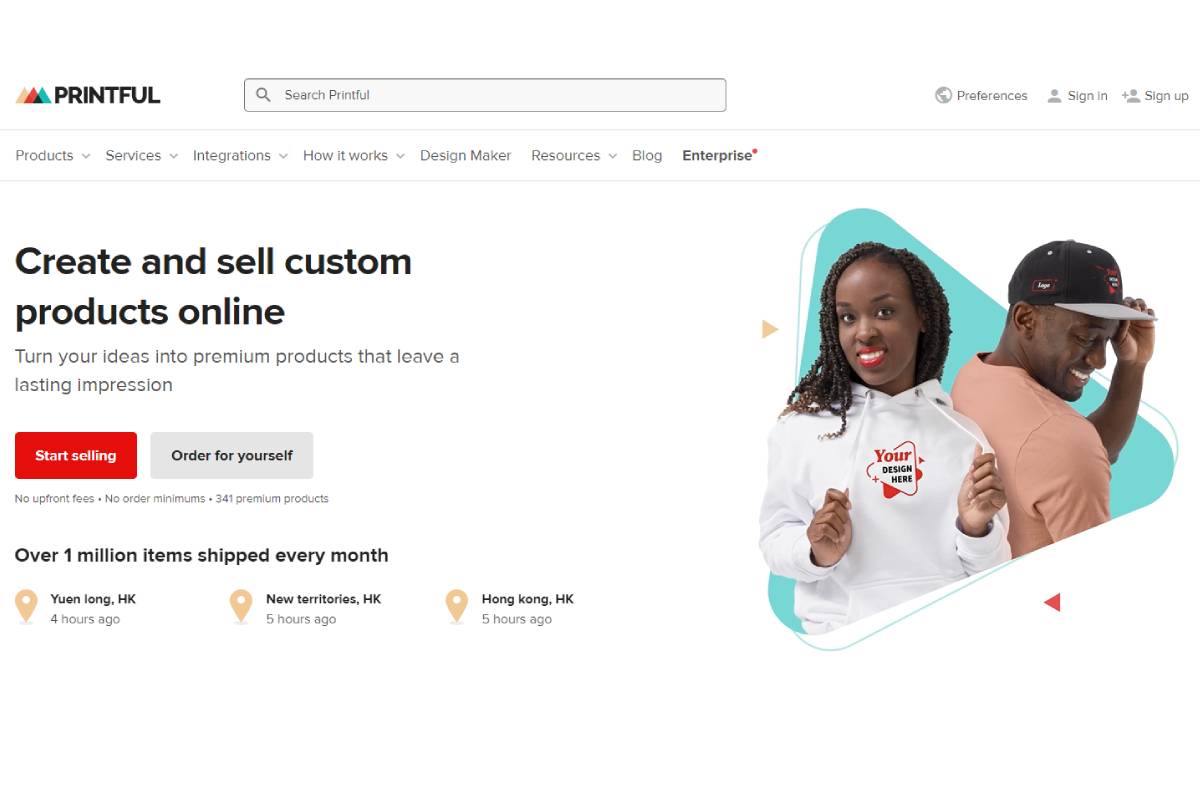 Printful is a print on demand service supplier founded in 2013. Focusing on providing retailers with customized products, they help a lot in brand building.
Print-on-demand Products on Printful includes clothing, jewelry, mugs, pillows, hat, phone cases, and so on.
Pros:
Special POD service Printful team provides all-around customization services including POD and branding services. There are plenty of unique designs for retailers to use.
14-day free trial If you choose Printful, you will have an opportunity to use their special custom products service like Printful plus for free within 14 days.
International shipment With worldwide warehouses, Printful ships your goods from the warehouse near your customers' location. Storage of your print-on-demand goods and non-Printful products is both available to you.
Cons:
Limited catalogs Printable products are in limited categories. Some products in a special catalog could not be printed by Printful.
Based in London, eSources is a directory of UK and international wholesalers, distributors, and manufacturers. There are more than 1.58 million live listings on eSources currently. Among them, 244,000 are wholesale products.
Pros:
Numerous suppliers Over 150,000 verified wholesale & dropship suppliers around the globe are listed on the eSources platform. Many of them are UK Suppliers.
Plenty of wholesale products The number of wholesale products from eSources is more than 240,000. It is easy to find low-priced winning products for your store.
Cons:
Outdated website The website design of eSources is sort of outdated.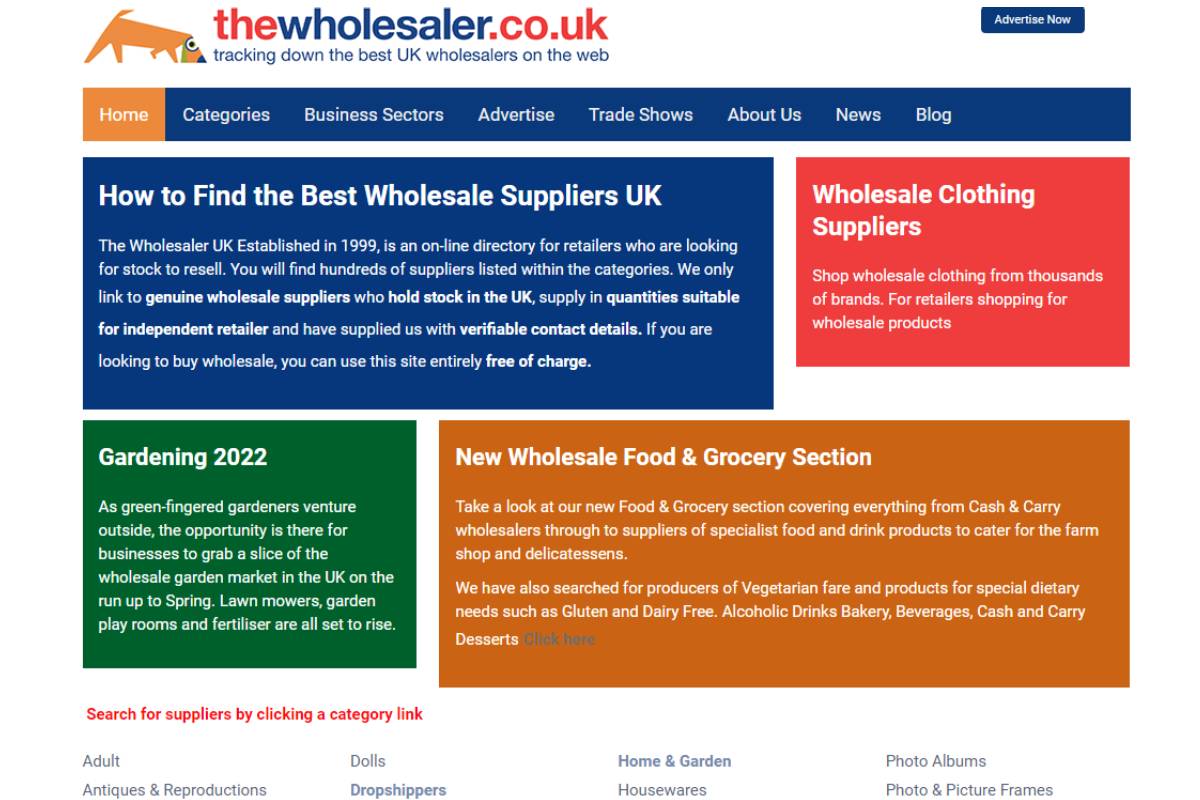 The Wholesaler is an online directory for sourcing UK wholesale suppliers.
Pros:
Detailed information about suppliers When you source a product, open the category and you will see relative suppliers. Their target market, trading method, delivery, and minimum order value are easy to access.
Trustworthy suppliers Instead of making a long list of suppliers, The Wholesaler opts for providing a list of reliable suppliers. So they vet suppliers looking for cooperation with them.
Cons:
Sourcing wholesalers only This company focuses on offering information about wholesale suppliers in the UK. For retailers looking for dropshipping services, it could be not very useful in some categories.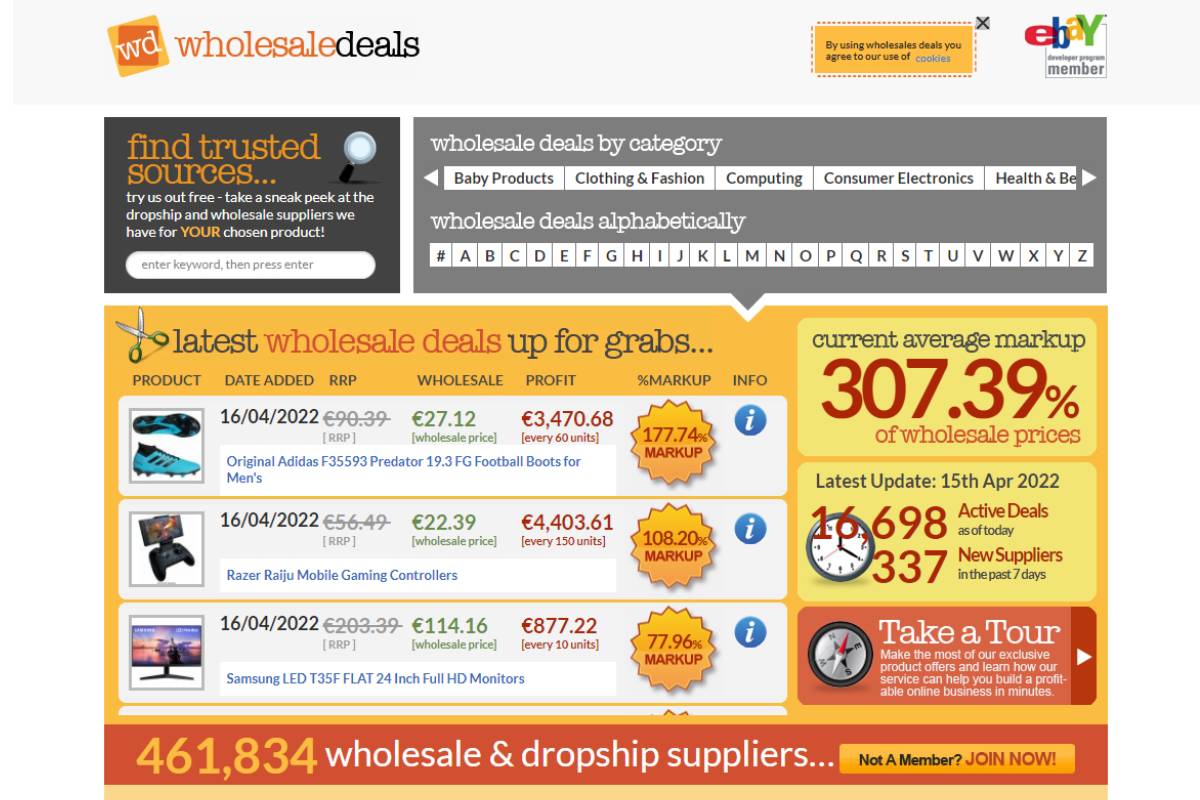 Similar to eSources and The Wholesaler, Wholesale Deals is a platform listed with dropship and wholesale suppliers. Its team is experienced in wholesale service.
Pros:
Friendly user page In Wholesale Deals, you can easily find a wholesale supplier located in the regions you search through filtering.
Recommended retail price For the products you want to import, the Wholesale Deals provides you the RRP and gross profit. This will help you make your decision quickly and save time.
Cons:
Mainly wholesale suppliers The main target of Wholesale Deals is to provide a list of wholesale suppliers. So it takes time to find a dropshipping supplier.
Minimum order quantity Many products on this platform have minimum order requirements.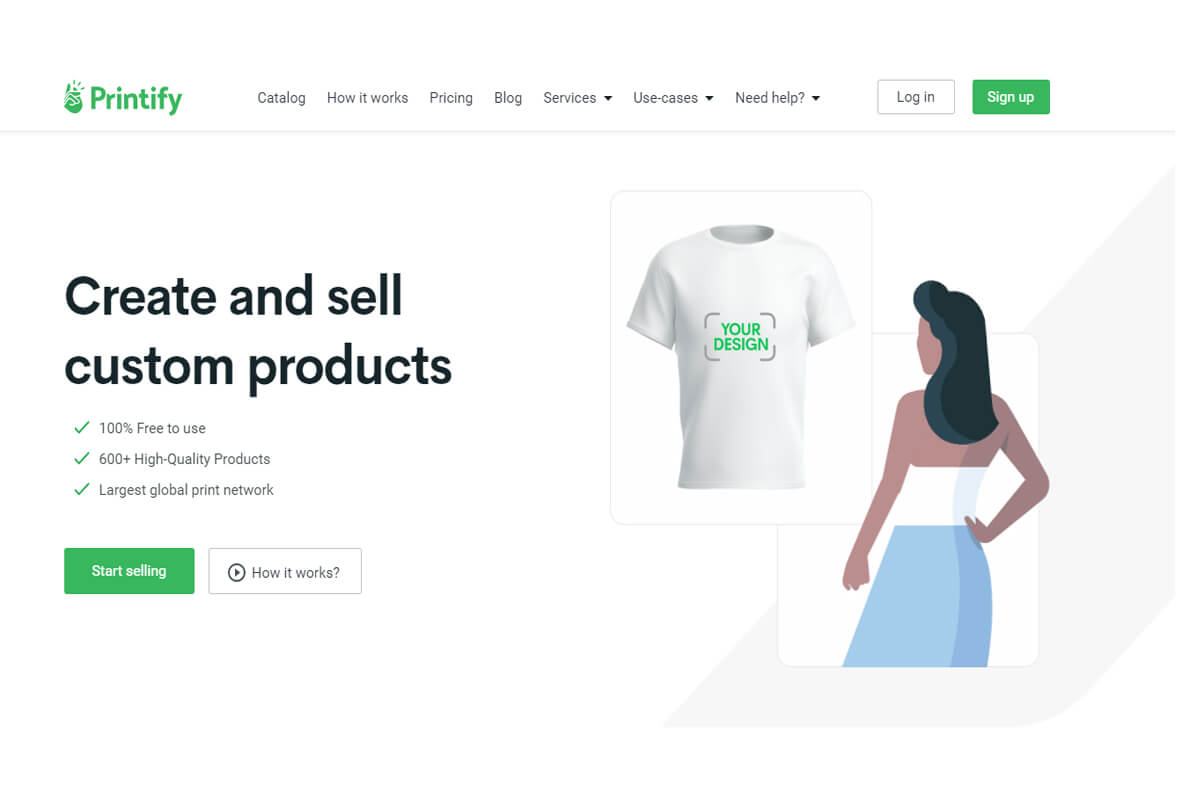 Printify is a print on demand business launched in 2015. This company provides hundreds of high-quality products in multiple categories. Their free design tool makes it possible to design a product within minutes.
Pros
Free to use Printify is free to use for a start-up. For businesses that are scaling, a premium plan of US$24.99 monthly is optional. This charge plan offers up to 20% off on all products.
Plenty of products There are more than 600 customizable products available on this platform. They cover clothing, shoes, bags, phone cases, mugs, etc. So you have multiple choices for products to sell in your store.
Global print providers Printify has been in partnership with reliable printing facilities in the UK. Working with Printify makes it possible for your orders to arrive within a few days.
Cons
Unstable printing quality The quality of your print on demand products depends on the print provider. If you are unlucky to choose the wrong provider, you may face a loss caused by the bad quality of products.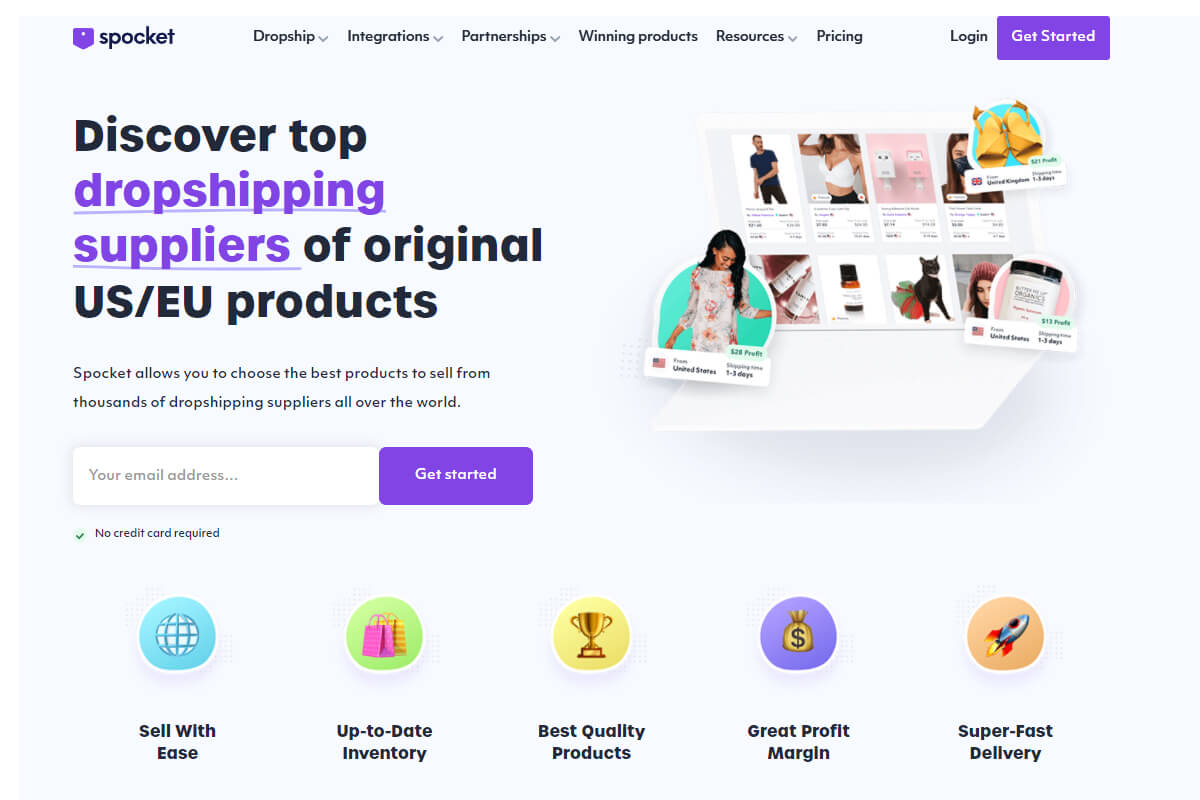 Spocket is another dropshipping solution for your UK business. Suppliers on this platform are located in the US, European and other regions of the world. They are vetted through a strict process, and provide you with the original local products.
Pros
Free of charge For a dropshipper who starts getting sales, Spocket is free of charge.
Verified local suppliers Suppliers who work with Spocket are verified under strict criteria. So they are trustworthy to help with your dropshipping business.
Discounts on products OnSpocket, you can get discounts ranging from 30-40% on all products; Suppliers will provide at least 25% off of their retail price. That might largely improve your profit margin.
Cons
Limited Integration Though Spocket allows integration with Shopify, BigCommerce, Wix, WooCommerce, and Square, you can't integrate it with an Amazon, eBay, or Shopee store.
Frequently Asked Questions
Is dropshipping legal in the UK
Yes, dropshipping is legal in the UK. You just need to obey rules and laws in the UK market and offer your customers a good buying experience. Before you start your business, you'd better consult a specialist about the rules and laws.
Is dropshipping profitable in the UK
Yes, It is. For one thing, there is no inventory fee when you collaborate with UK dropshipping suppliers, which is good for saving money. For another thing, you only need to focus on your selling and marketing. That makes it much easier for you to succeed in your field and earn profits.
How to choose a proper UK dropshipping supplier
With so many suppliers available in your market, it could be overwhelming to choose the right one in a short time.
So here are some suggestions to help you out with it.
Cover your niche Consider which niche the supplier should be in or which category of products the supplier should provide. If you are an apparel seller, you must find a supplier in the same niche or who covers the apparel category.
Integrate with your platform Which platform are you selling on? Shopify? Shopee? Or Amazon? Check if the supplier is in partnership with that platform. With integration, you don't need to manually fulfill each order in your store, thus saving you a lot of time.
Check the service fee Do you want to apply a solution for free or at a cost? In terms of the former, there are quite a few solutions free of charge in our list, which can save money for startup sellers.
Features of suppliers The UK suppliers we select are renowned for their outstanding features. Which feature do you prefer? Timely customer service? User-friendly interface? Or fast order processing time? Pick up a supplier with features that best fit your business.
Summary
Choosing a reliable supplier is critical for your UK dropshipping business. But finding the matching supplier always takes time and effort. If you are still not sure which supplier to choose, we recommend you work with a professional agent.
Sup Dropshipping is an experienced agent offering all-around dropshipping services. With the process automated from product sourcing to shipping, you can focus on your marketing and getting more sales. So why not use Sup for your business?
Contact us and start your trip now!