How to Use Updated Aliexpress Dropshipping Center(July 2022)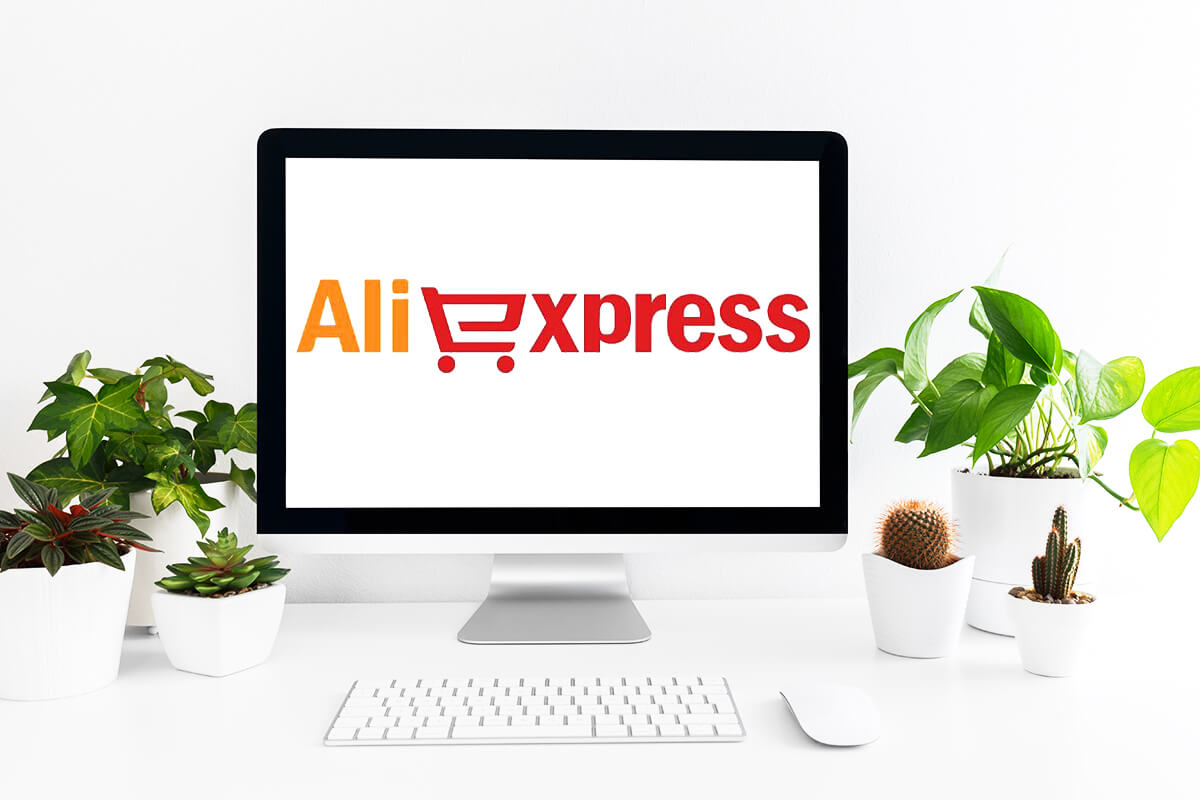 Aliexpress is a well-known supplier for dropshipping. But there are a sea of products provided by Aliexpress, so it may not be easy to find a winning product.
Well, Aliexpress Dropshipping Center is the tool to help you out of it.
In this article, you will get the ultimate guide to Aliexpress Dropshipping Center.
Let's dive in!
What is Aliexpress Dropshipping Center
Aliexpress dropshipping center is a free tool that Aliexpress developed to streamline your search process for hot-selling products. It has been updated recently to make the interface easier to navigate.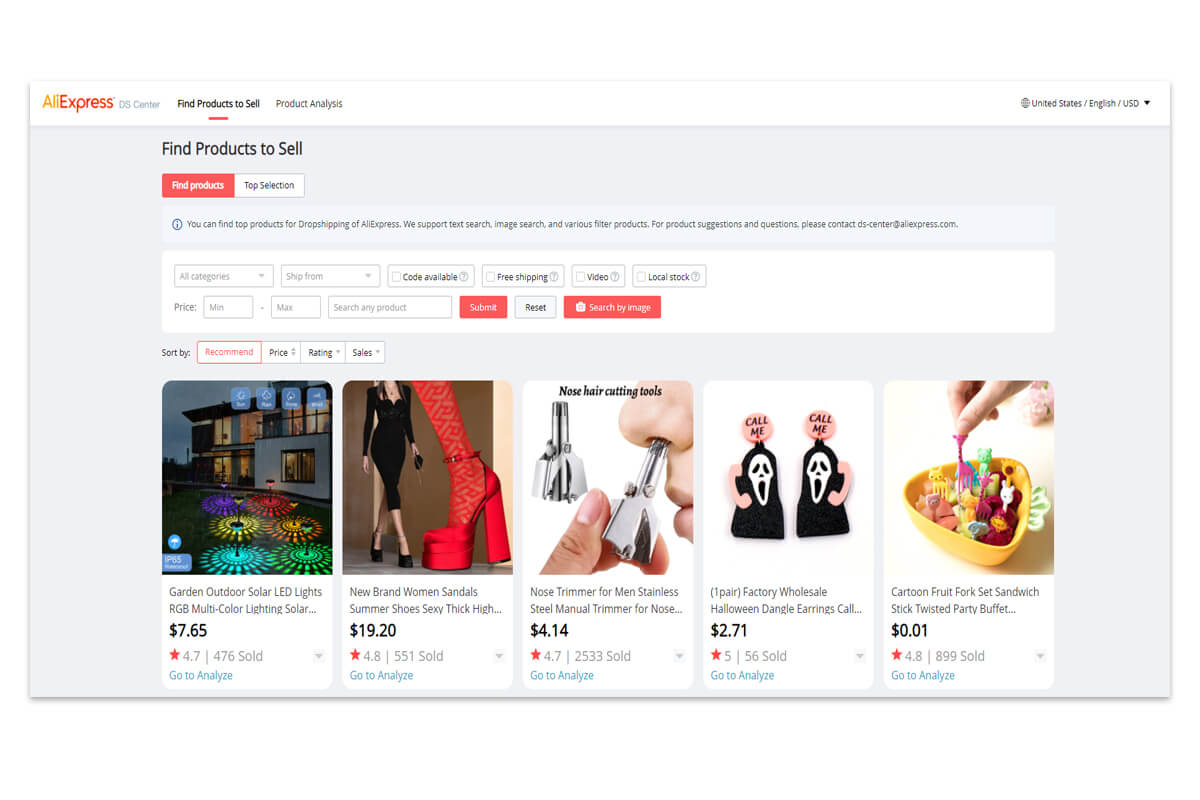 As you see in the picture, with this tool, you can "find products to sell" and make product analyses.
Want to know how to use it?
Keep reading!
How to join the AliExpress Dropshipping Center
To join the AliExpress Dropshipping Center, you can follow the steps below.
Register a buyer account on AliExpress.com or by clicking this link
Fill in your information and click "Create account"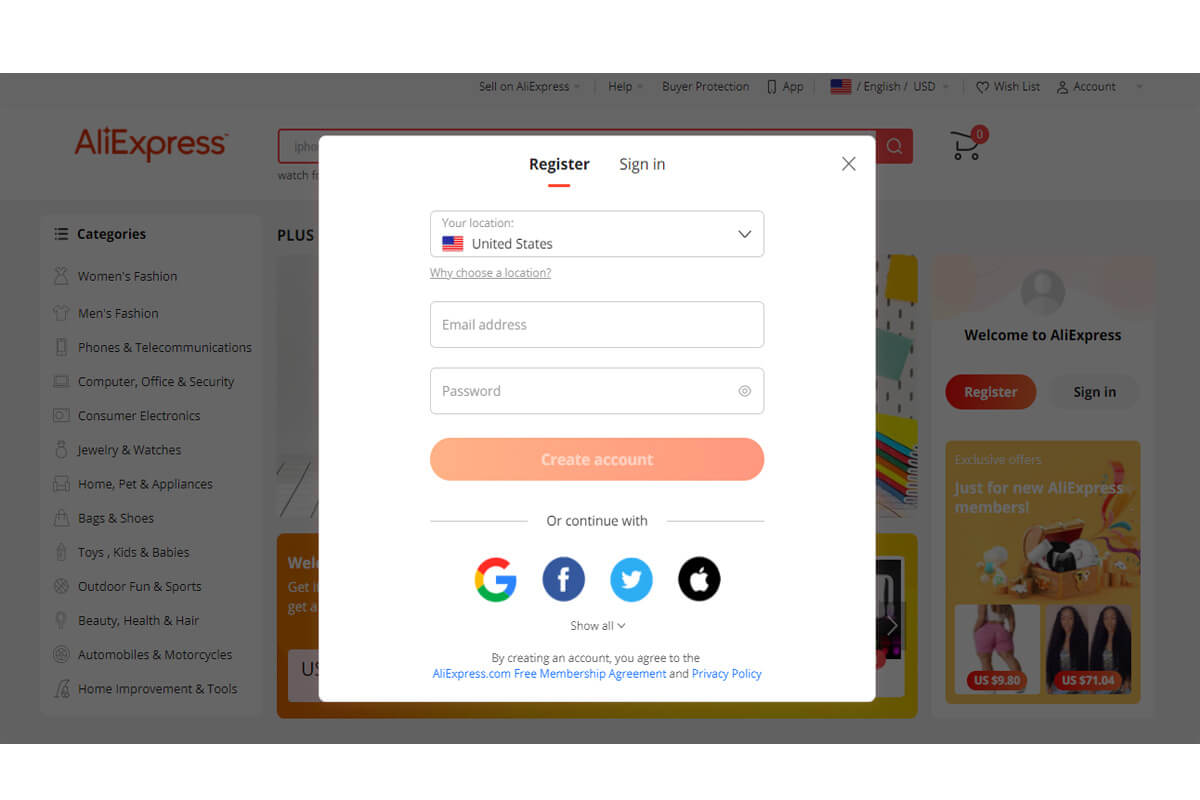 3. Agree with the Aliexpress Dropshipping Program User Agreement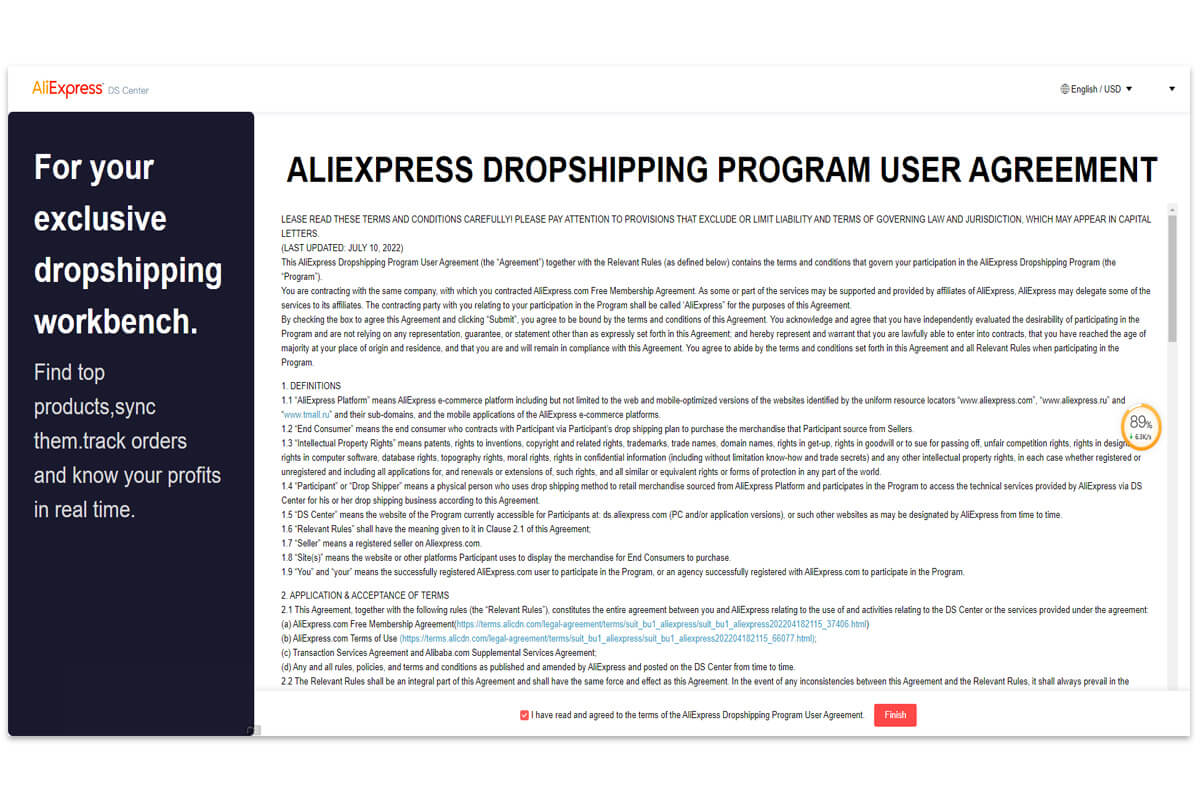 When you finish the steps above, you have now become a member of AliExpress Dropshipping Center.
How To Access Aliexpress Dropshipping Center
There are 3 methods you can adopt to access Aliexpress Dropshipping Center.
Through your account page
After you sign up on Aliexpress.com, you can access to Aliexpress Dropshipping Center by clicking "Account"on the homepage of Aliexpress.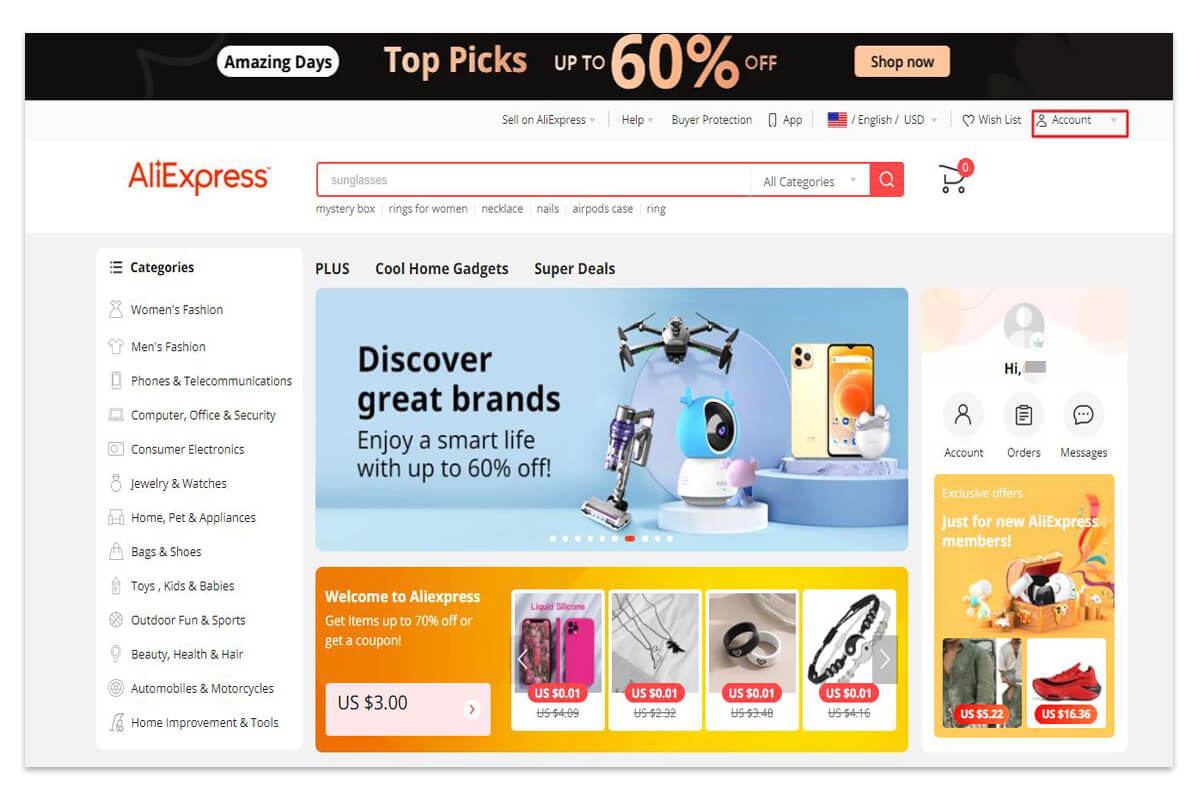 And then by clicking "Dropshipper center", you are here in the Aliexpress Dropshipping Center.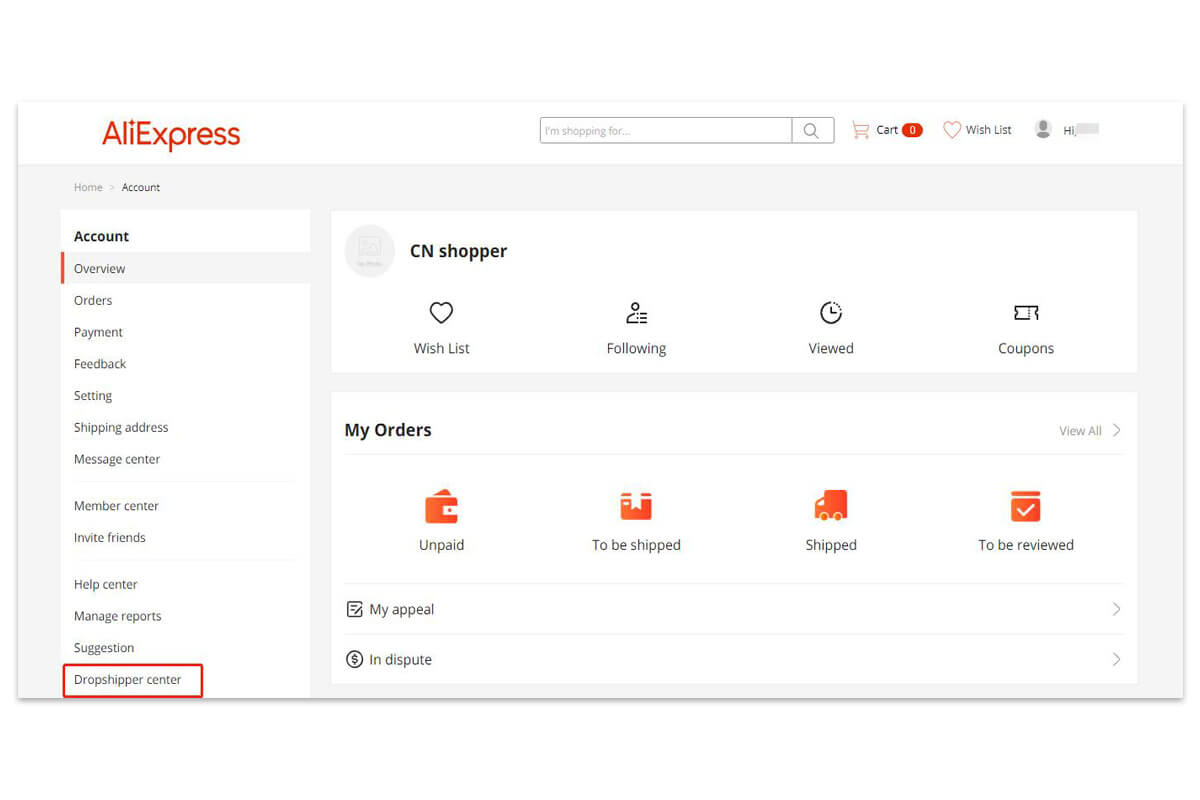 Get in touch with customer service on Aliexpress
If there is no "Dropshipper center" button on your account page after your registration, you can contact customer service to open Aliexpress Dropshipping Center. Remember to save the page on your bookmark for a direct visit next time.

By searching on Google
Google is a powerful search engine for your queries. Type in Aliexpress Dropshipping Center in the search bar and pick up the result you are looking for.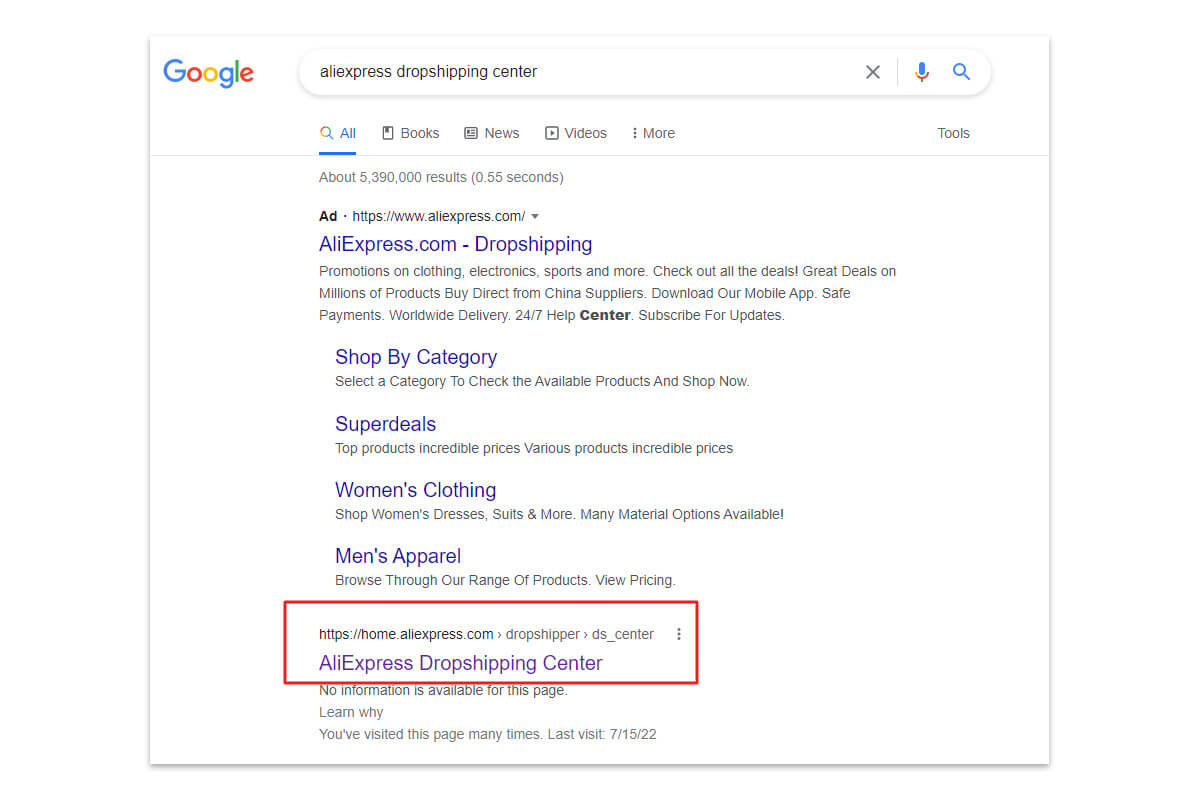 How to Use Aliexpress Dropshipping Center
Aliexpress Dropshipping Center is powerful in two functions, namely, finding products to sell and analyzing products.
So how to use these two functions in detail?
Find products to sell
This function is used to find a proper product for your store.
Find products by keyword
Aliexpress recommends top products for dropshipping with this function. If you don't add any filters, you can scroll what they recommend based on the criteria like price, seller ratings, and sales. For specific niche products, you can input the related keyword that describes your products and add other filters. You also have access to the 7-day growth rate and detailed seller ratings in the graph under the title of the product.
For example, you want to source long dresses.
Type the keyword "long dress" in the search box
Choose the category of Women's Clothing and add other criteria you need
Click the "Submit" button.
Pick up your potential products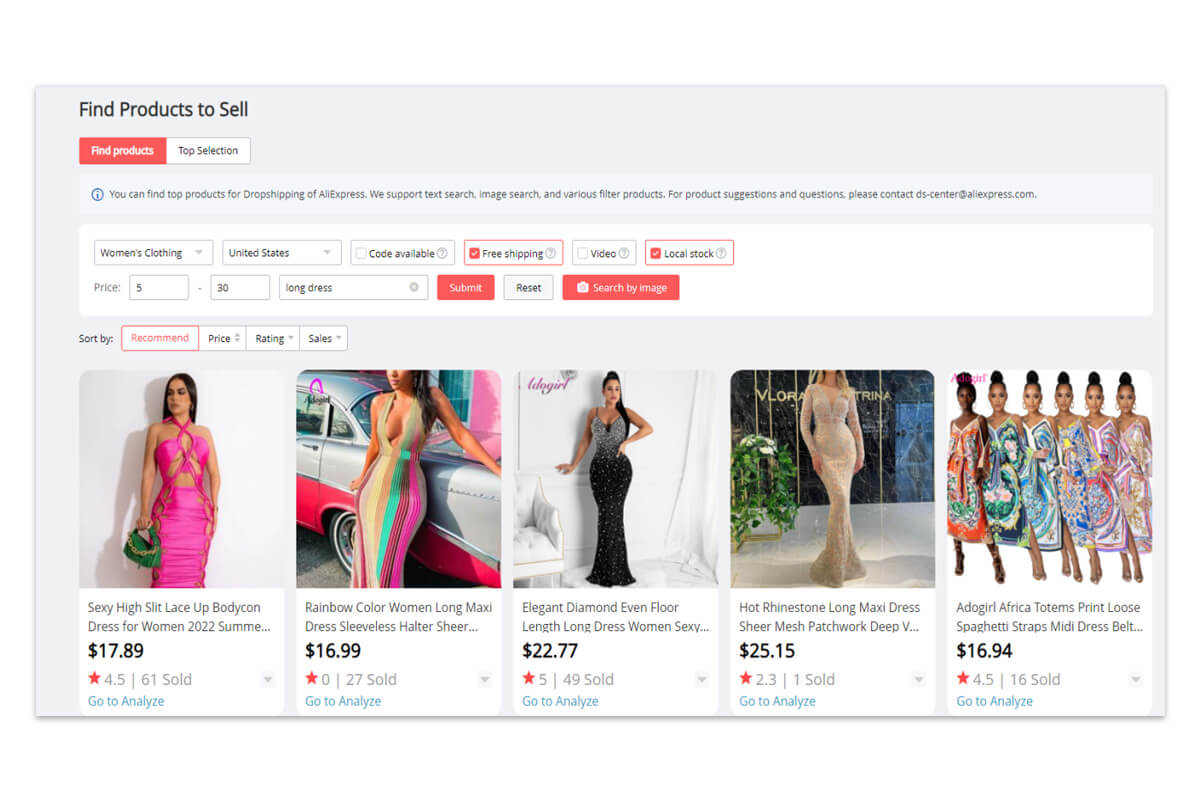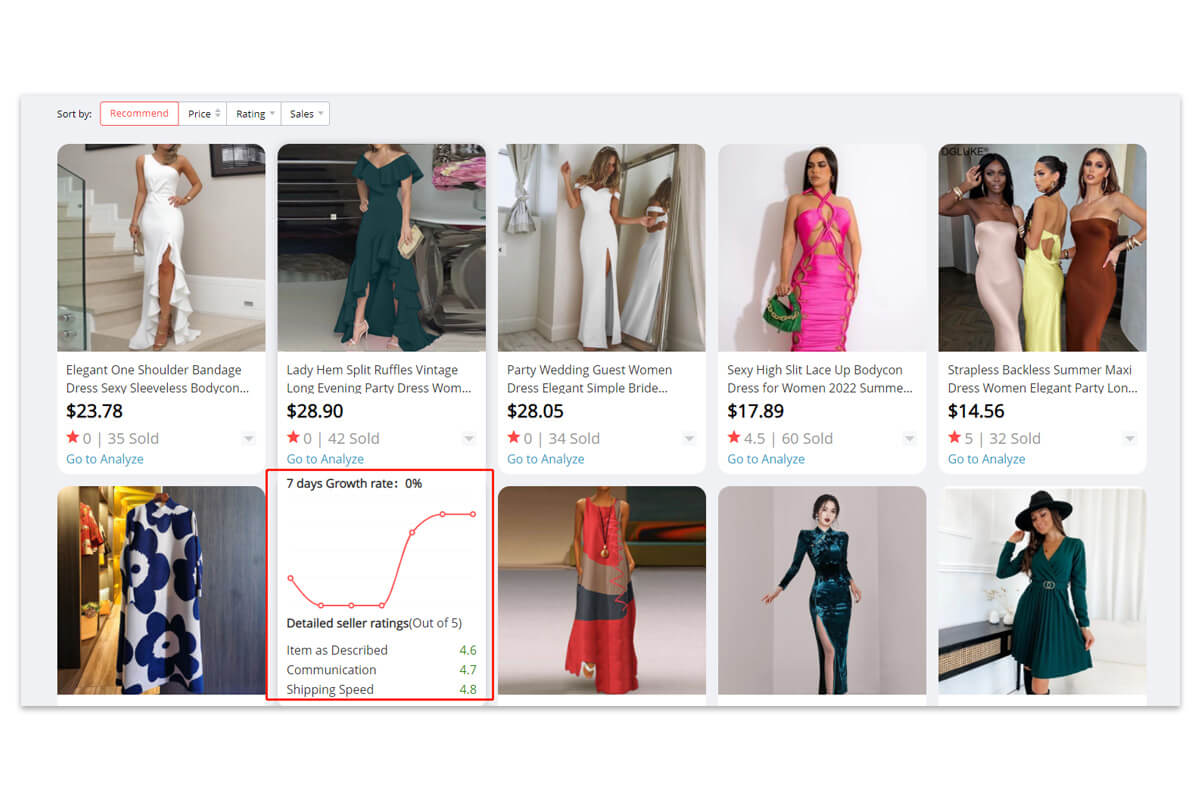 Find products by image
In addition, this feature supports you to search for a product by image. If you see a picture of a promising product on a social media or in another selling market, you can source the product on Aliexpress by clicking "Search by image".

For instance, you come across a dog life jacket on Amazon. It seems a winning product as it is Amazon's Choice and hot selling with a rating above 4.5 stars. You can save this image and upload it to Aliexpress Dropshipping Center. Then you may find some similar items on Aliexpress but at a lower price.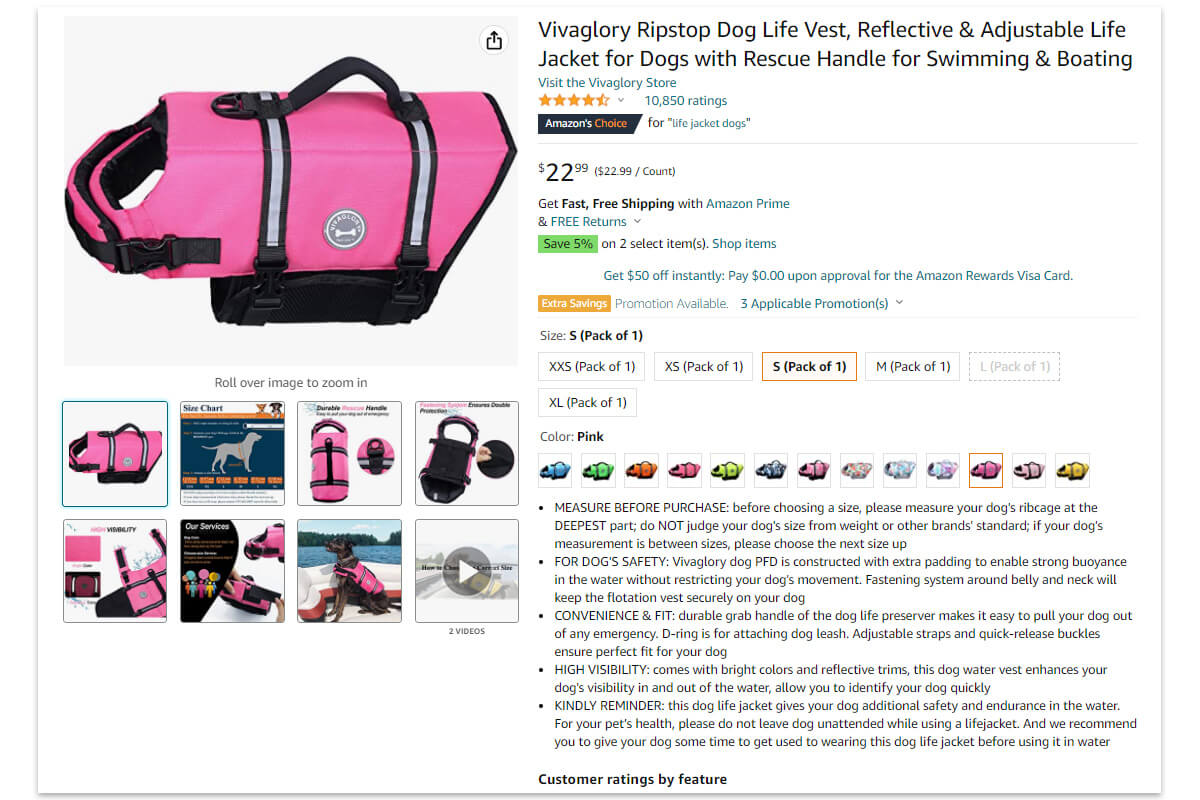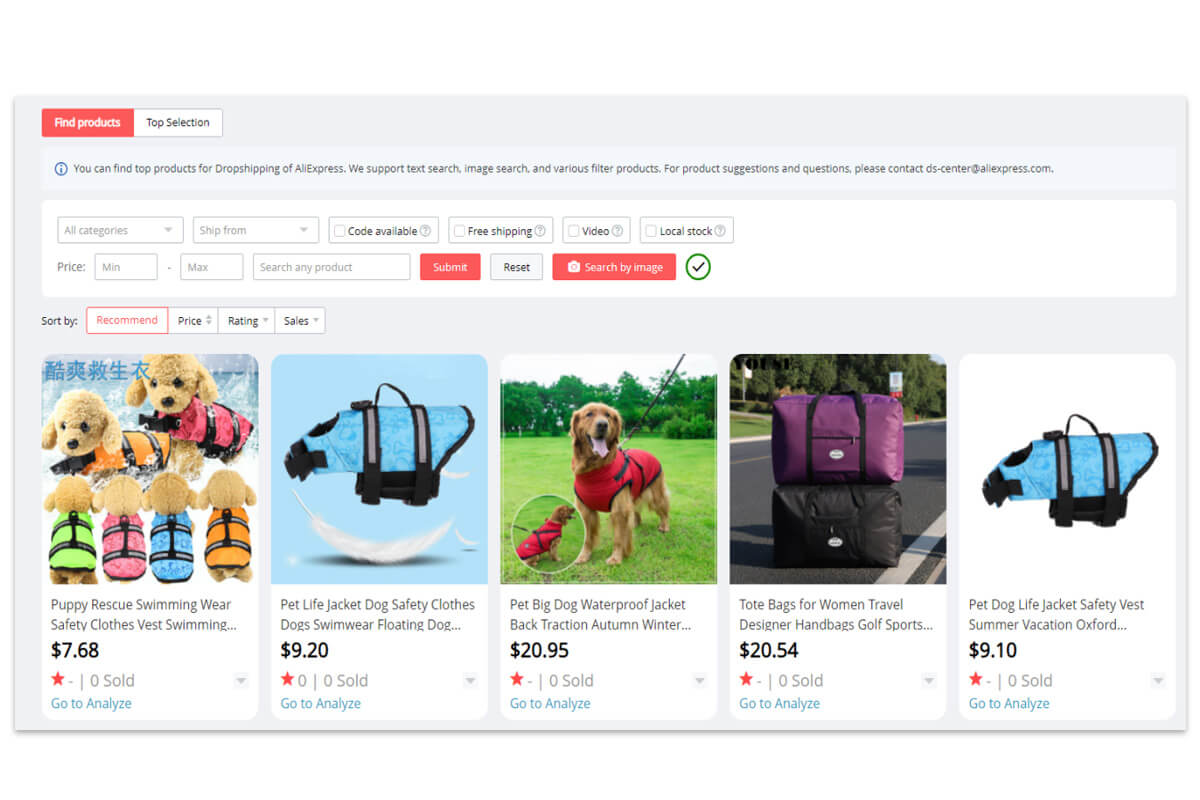 Top Selection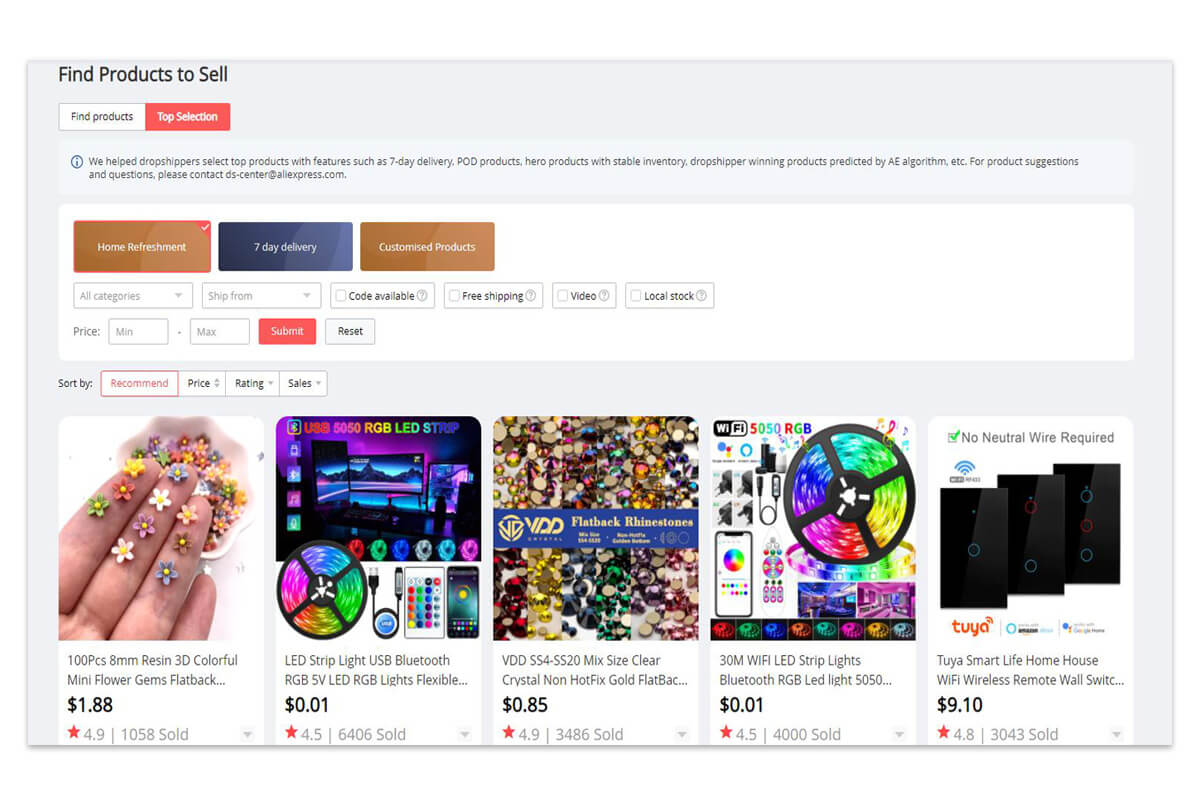 In this part, you can find top products that Aliexpress selects according to specific features like home refreshment, 7 day delivery, and customised products. You are also allowed to add other filters to make your search specific.
Home refreshment This section is about top-selling items that can decorate your house or make your life at home more convenient.
7 day delivery If you choose products with 7 day delivery, your order can be delivered within 7 business days after your payment.
Customised products Customised products are also print on demand products here. If you need to find products you can design, such as adding your logo, text, and image, just tick the button "Customised Products", and the related item will be presented.
Product analysis
As the name suggests, this function allows you to analyze a product. You can use it to find a cheaper product or a more prospective one by checking prices, shipping, order amount, logistic performance, and sales performance.
How to use it specifically?
Just paste the URL of a product from Aliexpress. Then click "Analyze" and you will get similar products or the same ones on the result page. Compare them and you may easily find your ideal product.
For example, you are planning to import the women's slippers in this link. Before importing, you need to analyze if it is at the most reasonable price and more likely to be hot-selling.
Fill the URL of the shoes in the search box and you come to the result page.
On this page, there are some slippers with a similar style but more popular than the one you want to sell. They are cheaper and have a higher order amount. Their logistics performance is good or top-rated. Then you should also consider them as your imported products or take place of the one in the link above.
What can you do for your Dropshipping Business with Aliexpress Dropshipping Center
Up to now, you may have a better understanding of how to use the Aliexpress Dropshipping Center. Then what can you do with it to facilitate your dropshipping business?
Here are our suggestions.
Aliexpress is a leading eCommerce market with a lot of quality products at a low price. Therefore, it is the choice of many dropshippers who expects to save product costs and earn high profits. These sellers come to this platform to find winning products among plenty of hot selling products.
So you can be one of them as well. Simply use the "Find Products to Sell" function on Aliexpress Dropshipping Center to find your potential products. Whether through searching by keyword or image, it is easier for you to achieve your goal.
Find a reliable supplier
The role of a reliable supplier can never be overlooked. In the dropshipping business, the supplier manages inventory and fulfills orders for you. How long your supplier prepares and ships the order has a great effect on your customer's satisfaction.
The Aliexpress Dropshipping Center tool makes it much easier to find a reliable supplier. When you find a product on Aliexpress Dropshipping Center, you can see the detailed seller ratings based on the following aspects.
Item as Described This means if the item you receive is as it is described on the product detail page.
Communication Communication suggests whether it is easy to communicate with the supplier, specifically, whether your communication is smooth, your supplier responds to your query in time and provides reasonable solutions to any problem before or after a sale.
Shipping Speed Shipping Speed is how long it takes for the supplier to deliver the order to your customer.
We recommend you to work with a supplier with a rating of above 4.5(out of 5). This figure largely suggests a good supplier.
Make product analysis
For a product you find on Aliexpress, you can use the Product analysis feature on Aliexpress Dropshipping Center to find a similar and better offer.
These similar products on the result page could vary in price, shipping methods, order quantities, logistics performance, and sales performance. You can compare these products and choose the best fit for your store on your criteria.
Analyze your competitors
A product you come across in your competitor's store could probably be found on Aliexpress. Then you can utilize it to estimate how much profit your competitor earns by selling this product.
Here we take a pillow from eBay as an example.
I find this bed pillow on eBay and want to sell it in my store.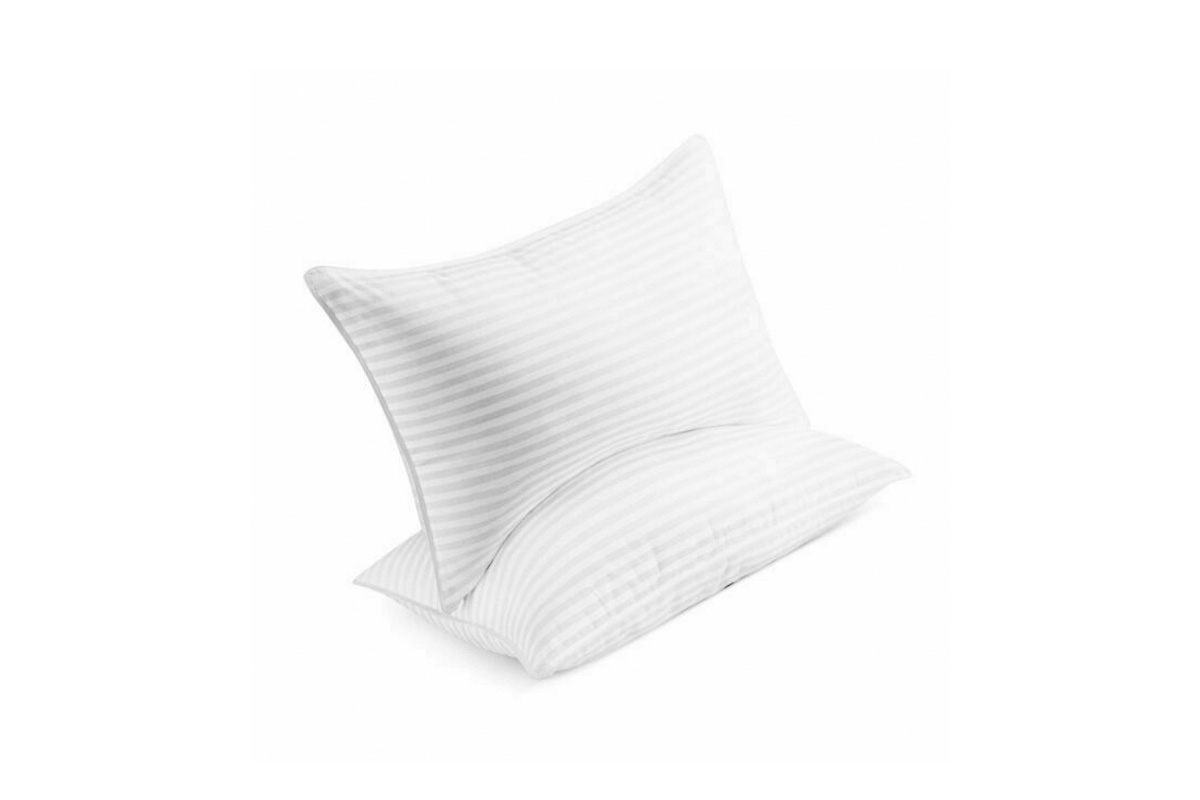 But before that, I need to research my competitor's profits from this product. So I search for this product by image on Aliexpress Dropshipping Center. After uploading the image, I see a handful of the same and similar pillows on the results.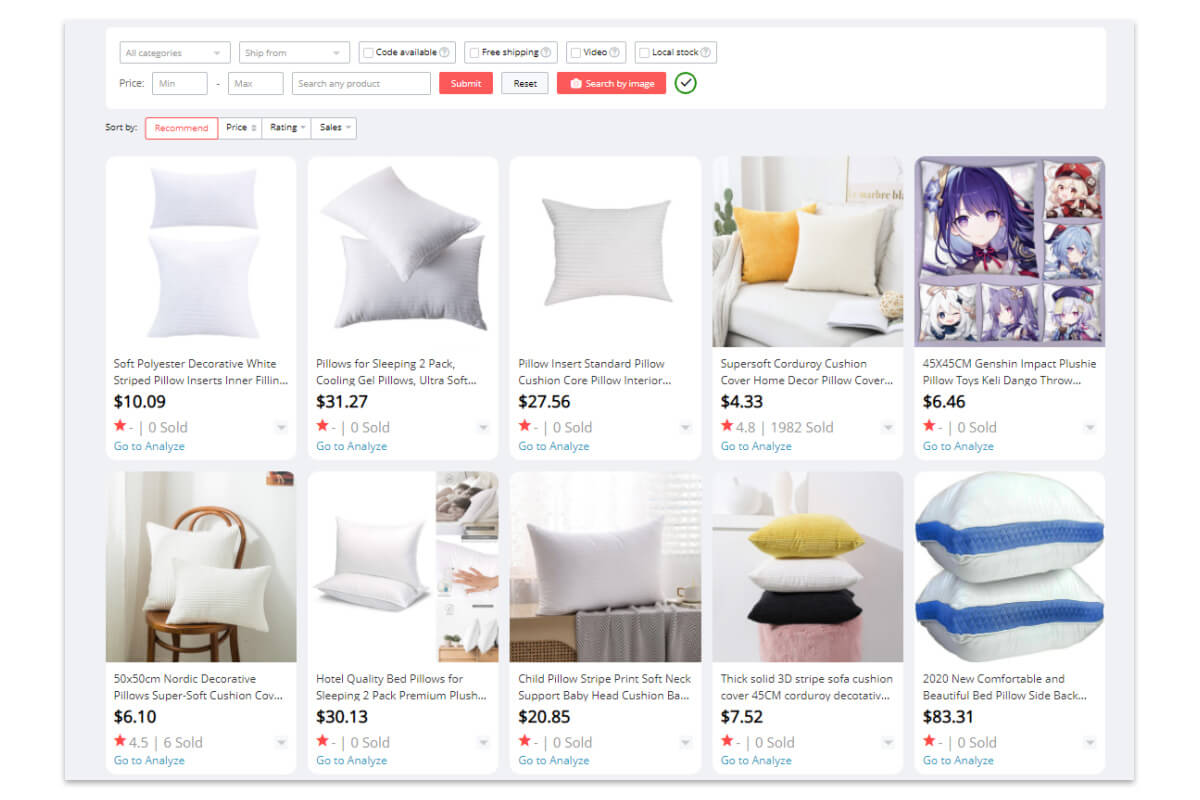 Every pillow that is the same as the one in my picture is set at a fixed price. I add the price with an estimated shipping fee and other costs to calculate the total costs of this product. Then after I deduct the total costs from the selling price my competitor sets I can get a rough result of his or her profit. That gives me a reference for how to price this pillow if I sell it in my store.
FAQ
Can I dropship from Aliexpress?
Yes, you can. Many suppliers on Aliexpress provide dropshipping services for online sellers now. You just need to find your winning products, list them in your store and sell them. When you receive an order, share the order information with the supplier. Your supplier will pack and deliver the order to your customers directly.
Is dropshipping from AliExpress profitable?
Of course, it is. Products on AliExpress are at a low price, which allows you to sell with a higher profit margin. In addition, many suppliers offer free shipping. You can save money on your shipping costs. Therefore, dropshipping from AliExpress is profitable.
Can I use Aliexpress Dropshipping Center if I'm not dropshipping with AliExpress?
Yes. You can use this tool to find product ideas as long as you have an Aliexpress account.
Scroll through products in your niche on Aliexpress Dropshipping Center and you will know what kinds of products are hot selling and then test such products in your store.
What to do if my AliExpress Dropshipping Center is not showing?
You can get in touch with customer service on AliExpress to get access to AliExpress dropshipping center. Google with the keyword "AliExpress Dropshipping Center" also works.
Can I use Aliexpress Dropshipping Center for my print on demand business?
To simply put, yes. On AliExpress Dropshipping Center, there are customizable products listed in the Top Selection section. But the quantity and categories of them are limited.
If you fail to find a POD item for your store, you may work with Sup Dropshipping. There are hundreds of POD products in a wide range of categories on Sup. The free design tool and patterns are available for you. You can add your logo, brand, image, and design in your favor. And you just need to pay for the cost of the product and the shipping fee.
Conclusion
AliExpress Dropshipping Center makes it more convenient to dropship on Aliexpress. Whether you intend to find a proper product or analyze it, I believe this tool is helpful.
So follow our guidance and use it to get your winning products and make your success.
If you have any questions about using AliExpress Dropshipping Center, please tell us in your comment.