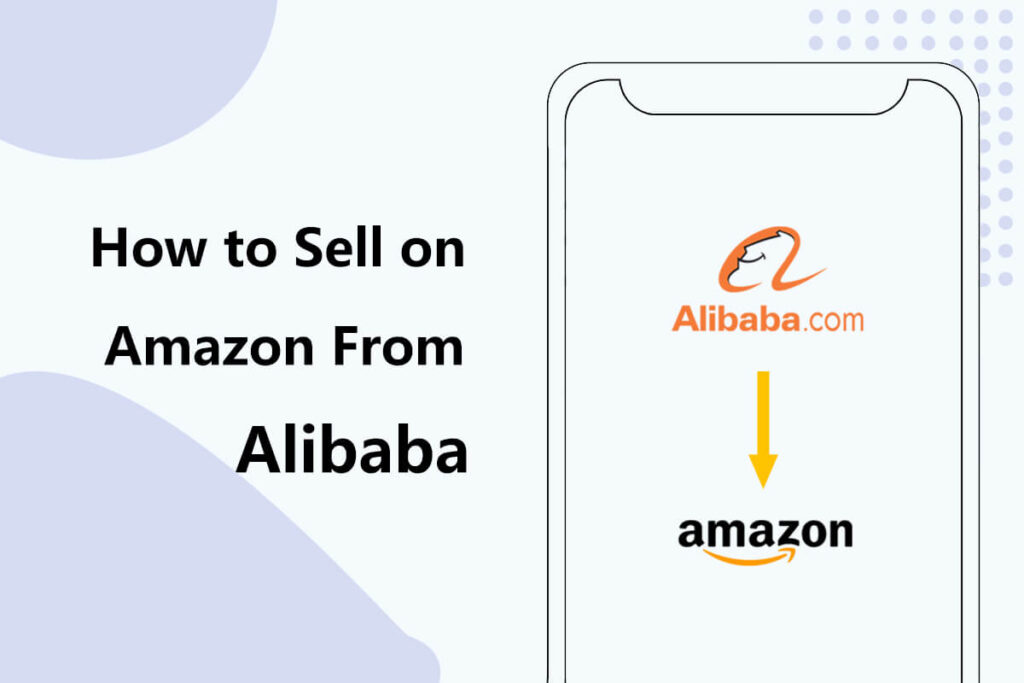 "Where to buy products to sell on Amazon?" That is a headache question for many AMZ sellers. Products are the king in a retail business. So where you get products is critical.
Alibaba, as a leading wholesale market worldwide, is a valuable source for buying products to sell on Amazon. Alibaba provides a wide range of products at low prices. It allows you to earn a high profit margin per sale.
In this blog, we will cover everything on how to sell on Amazon from Alibaba in 2023. Read on to find more!
What is Alibaba?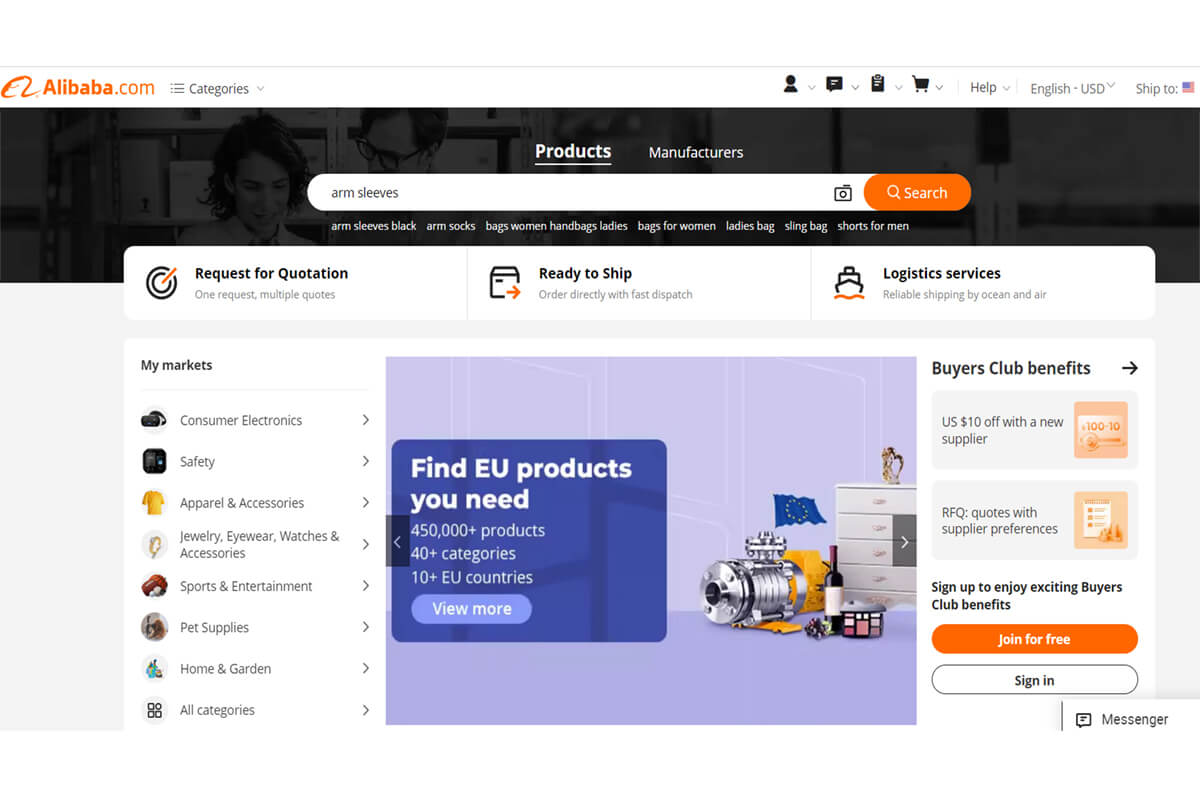 Alibaba(Alibaba.com) is a well-known B2B wholesale platform around the world. It connects manufacturers and wholesalers with potential buyers worldwide. On this platform, you can buy either as a business or as an individual.
Alibaba hosts a variety of products, which cover from electronics to fashions. These products are at manufacturing prices. So sourcing from Alibaba provides you big chances to earn high profits.
Though Alibaba is not directly integrated with Amazon, it can be used for sourcing products to sell on Amazon. Sellers can search for potential suppliers on the site, negotiate prices, and arrange product customization. As long as you comply with the rules and regulations set by Amazon, you can sell Alibaba products.
Is Alibaba safe?
Yes, Alibaba is safe to buy from. Alibaba is one of the leading wholesale markets all over the world. Many reputable suppliers have been selling here.
Besides that, Alibaba takes different measures to protect you against fraud. For example, there is a Trade Assurance program in place to ensure your payment safety. If you are not satisfied with the product quality or your order is not received, you can ask for a refund within 30 days after delivery.
Meantime, Alibaba accepts multiple safe payment methods like PayPal. PayPal is a secure payment option with buyer protection.
However, you may still come across scams as you do on other sites like Alibaba. Be sure to trade with reliable suppliers, especially Trade Assurance suppliers. And don't make transactions outside of Alibaba.com. Your payments are only safeguarded on this website.
Why do Amazon sellers use Alibaba?
Buying from Alibaba and then selling on Amazon is easy and beneficial.
The interface of Alibaba is user-friendly. Finding a product or supplier has never been easier. China-based suppliers on Alibaba offer low-priced products, which allows Amazon sellers to make high profits. In addition, manufacturers offer you private labeling services. You can customize and sell your branded products to set yourself apart from others.
How to sell on Amazon from Alibaba?
Selling on Amazon from Alibaba involves the following steps.
1. Create an Alibaba account
Before you buy from Alibaba, you need to register an account on their website.
Just open the home page of Alibaba and click on "Join for free". Then fill in the information required on the next page.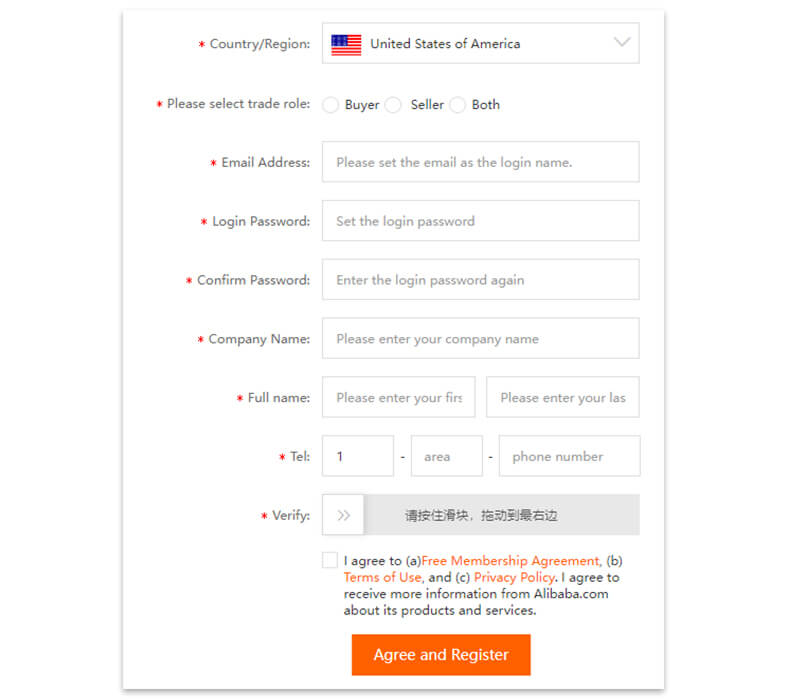 On the company name line, you can write your name if you don't have a company.
After you register an Alibaba account, it is time to consider what to buy from Alibaba and sell on Amazon.
The chances are that you can find most products on Alibaba. So the key is to find out what you should list on Amazon.
Here are some factors to consider.
Meet customers' demand
Your products should be in demand on the market. They can solve the pain points of your target or cater to their hobbies.
Not easy to find in retail stores
Customers shop online because what they need is usually not accessible offline. If they can easily get something in a local store, they won't bother to buy from you.
Worth selling
That is, you can earn a decent profit after you deduct all spending from the sale revenue. A profit of over 30% is common for Amazon sellers.
With unique features
Winning products have unique functions or looks. The unique features make them stand out from other products and grab customers' attention.
Light & small size
The weight and size have a direct impact on your shipping cost. Your products need to be light and in small size so that it is cost-effective and convenient for shipping overseas.
Not fragile
Fragile products like glass are not recommended. They are easy to break during transportation, which may cause you a lot of refunds.
Not prohibited by Amazon
Amazon is sort of popular because of its strict rules on products. You must ensure your products are not prohibited on this platform.
Related article How to Find Winning Products for Dropshipping 2023(for Free)
3. Find Alibaba suppliers
In this step, you can start to find suppliers on Alibaba.
1) Head to the homepage of Alibaba
2) Enter the keyword that describes your products on the search bar
3) Contact the suppliers who meet your standards
Say you want to import UV protection arm sleeves from Alibaba. You can type "arm sleeves" under "Products" or "Manufacturers" in the search box. And choose "arm sleeves UV protection" from the drop-down menu. Then you can see various UV protection arm sleeves on the result page.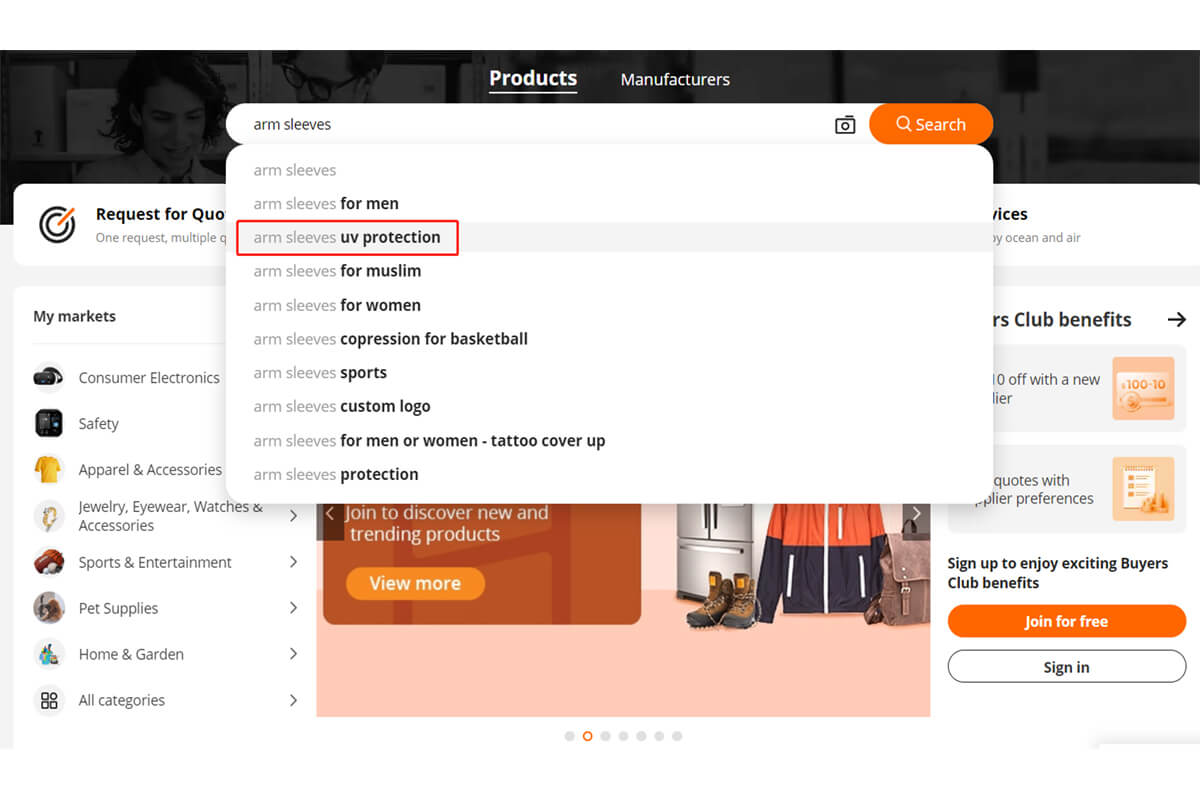 In fact, you don't have to enter the exact keywords. Some broad keywords also work to find related products or suppliers. In this case, you can use "arm sleeves for women", "arm sleeves", "arm sleeves protection", etc.
4. Contact potential suppliers
Possibly, there are a handful of suppliers for you. You can pick up and contact 5 to 10 suppliers who meet your standards. Even if you buy from one supplier at last, the other suppliers will be helpful whenever something unexpected happens.
Here are the criteria to choose a supplier.
Verified suppliers under the Trade Assurance program
With 3 or more years of experience
Specialize in your niche
Offer customization services
Require low MOQ
Offer samples
Reply to your queries timely
A 4.5 or higher(out of 5) rating score for the company's performance and product
You can either chat with the suppliers online or call them. But some suppliers may not answer your calls if they can't speak English.
Also, you can choose to send an inquiry to the supplier and wait for a reply.
Below are some questions you may ask.
What is your MOQ, and is it negotiable?
What is the product price? How about the sample?
How long does it take to process the order and ship it to the US?
Do you offer customization options? Can I add my logo or brand name to the item?
What is your returns and refunds policy?
May I use photos and videos from your website?
What payment method can I use?
5. Pay your suppliers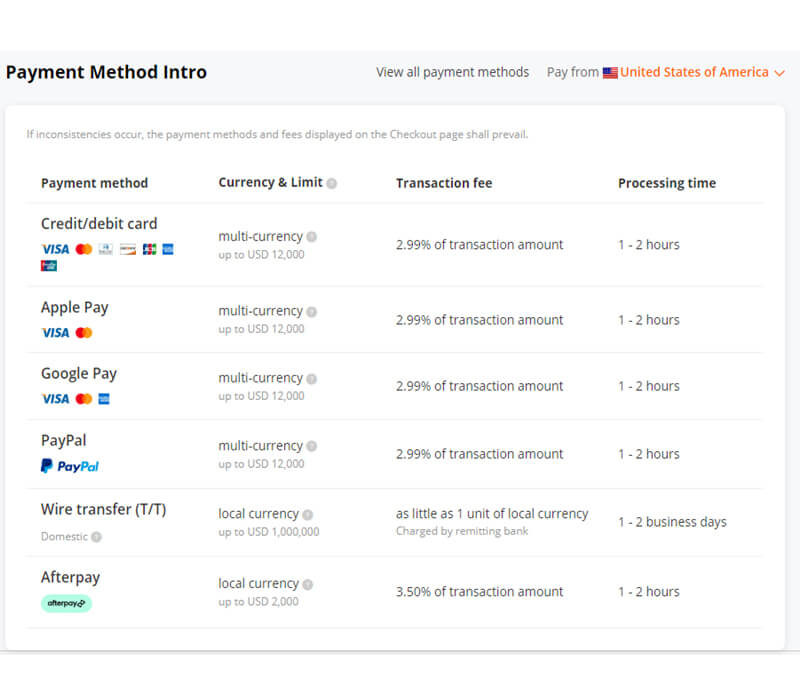 Now you have been clear about which suppliers to buy from on Alibaba. You can place orders and pay for them.
Alibaba takes multiple payment methods, which vary from country to country. If you are from the US, you can pay with the following methods.
Credit or debit card
Paying via credit or debit cards is one of the most common payment methods on Alibaba. The cards Alibaba accepts include Visa, Mastercard, JCB, Discover, UnionPay, and local bank cards. By linking your cards to your Alibaba account, you can make payments without registering on a third-party service app. It is beneficial to keep your data safe.
Apple Pay
This payment option caters to users with Apple devices. Apple Pay allows for secure and convenient transactions using iPhones, iPads, or Macs. By authorizing the payment with Face ID, Touch ID, or the device passcode, users can easily make payments on Alibaba. Apple Pay ensures the privacy of user information and adds an extra layer of security to the payment process.
Google Pay
Google Pay is a payment service provided by Google. It is secure and easy to use. With this payment method, you can use the cards saved to your Google Account to pay. Or you can add a new debit or credit card to your Google Pay account, and then pay for your purchases on Alibaba.
PayPal
PayPal is another payment method Alibaba takes. It is a secure payment option many consumers in Western countries prefer. PayPal offers buyer protection in the transaction process. If your order is not delivered, or the item you receive is not as described, you can file a dispute and get a refund.
Wire transfer(T/T)
For users who prefer traditional banking methods, Alibaba supports wire transfers, a.k.a telegraphic transfers (T/T). This payment method allows users to transfer funds directly from their bank accounts to the designated Alibaba account.
Compared to other payment methods, wire transfers take more time to process but offer a secure method for completing big transactions. They work well for business-to-business deals and users who prefer bank-to-bank transfers.
Afterpay
Alibaba provides the option to use Afterpay. Afterpay is a flexible payment service that allows you to buy now and pay later.
You can make purchases immediately while paying for them over time. So it is easy for you to afford larger orders.
For Trade Assurance orders, there is a transaction fee charged for every transaction.
In some cases, the supplier may negotiate with you to send payments in the way they prefer.
6. Ship your products to customers
Three fulfillment methods can be adopted to ship your products to the end-consumers.
Dropshipping
Dropshipping involves finding products from Alibaba suppliers or wholesalers and listing them for sale on Amazon. When a customer places an order, you forwards the order details to the supplier. And the supplier picks, packs, and ships the product directly to your customer. This fulfillment method eliminates the need for you to handle inventory or logistics.
Besides, by dropshipping, you buy products from manufacturers and ship them to end consumers directly. There are no middlemen to take your profits.
FBM
FBM is short for Fulfillment by Merchant. It means you buy products from Alibaba, stock them in your warehouse, and arrange shipment to your customer. One advantage of this method is you can inspect the products and ensure their quality before delivering them to customers. By doing so, you can improve your customer satisfaction. In addition, it makes it flexible to manage your inventory by yourself.
However, choosing FBM means you have to pay more upfront. For example, you need to rent warehouses and hire someone for inventory management. It is costly for small businesses with tight budgets.
FBA
FBA stands for Fulfillment by Amazon. It involves the process of sending your products to an Amazon warehouse by yourself or your supplier. Once your customer places an order, Amazon takes care of shipping it to customers and handling post-sale tasks.
Using FBA services, you can save time and focus on other important aspects of your business. The delivery time will be faster. But you need to pay service fees such as inventory storage fees, fulfillment service fees, and returns processing fees. Therefore, your profits would be thinner finally.
Some suppliers on Alibaba are even not familiar with FBA packaging requirements. You have to tell them how to pack your orders before they ship to an Amazon warehouse.
Related article: How to Find Wholesalers for Amazon FBA
Tips to buy from Alibaba safely
There are still potential risks when you buy from Alibaba and sell on Amazon. These tips can help you minimize the risks.
Evaluate the supplier
Like on other B2B platforms, there are scamming sellers on Alibaba. So before you choose a supplier, evaluate if the supplier is qualified and reliable.
Order samples before buying in bulk
Placing a test order is important in a cross-border business.
By purchasing samples, you can check if the product meets your expectation. You can also get a clue about product quality and the supplier's services. If the product is of low quality, or the supplier is unreliable, look at another supplier at once.
Avoid branded and counterfeit products
It is tempting to sell branded and counterfeit products for growing sales. But Amazon forbids products that infringe on intellectual property rights. If you sell branded products or replicas without authorization, your account can be suspended.
Choose a safe payment method
Not all payment methods available on Alibaba are equally safe. You should choose a widely used and safe payment method in your region. Additionally, some suppliers may ask you to pay them outside of Alibaba. Don't do that for your payment security.
Get an invoice for every order
Sometimes, Amazon deletes your listing by mistake. They require you to submit the invoice to reactive the listing. Without the invoice, you will lose the right to sell the product. So remember to get an invoice for every order in case of any loss in the future.
Conclusion
Selling on Amazon from Alibaba is a good way to improve your profit margins in 2023. With economic inflation, customers tend to buy more affordable things. Alibaba offers you a wide selection of products at wholesale or manufacturing prices. Buying from Alibaba and selling on Amazon gives you an edge on pricing. Your chance to earn high profits increases as a result.
But Alibaba is not the only source you can rely on. As an alternative to Alibaba, Sup Dropshipping provides you with better products and services.
Click here to learn about us.