Printify vs Printful Deep Comparison: Latest Review in 2022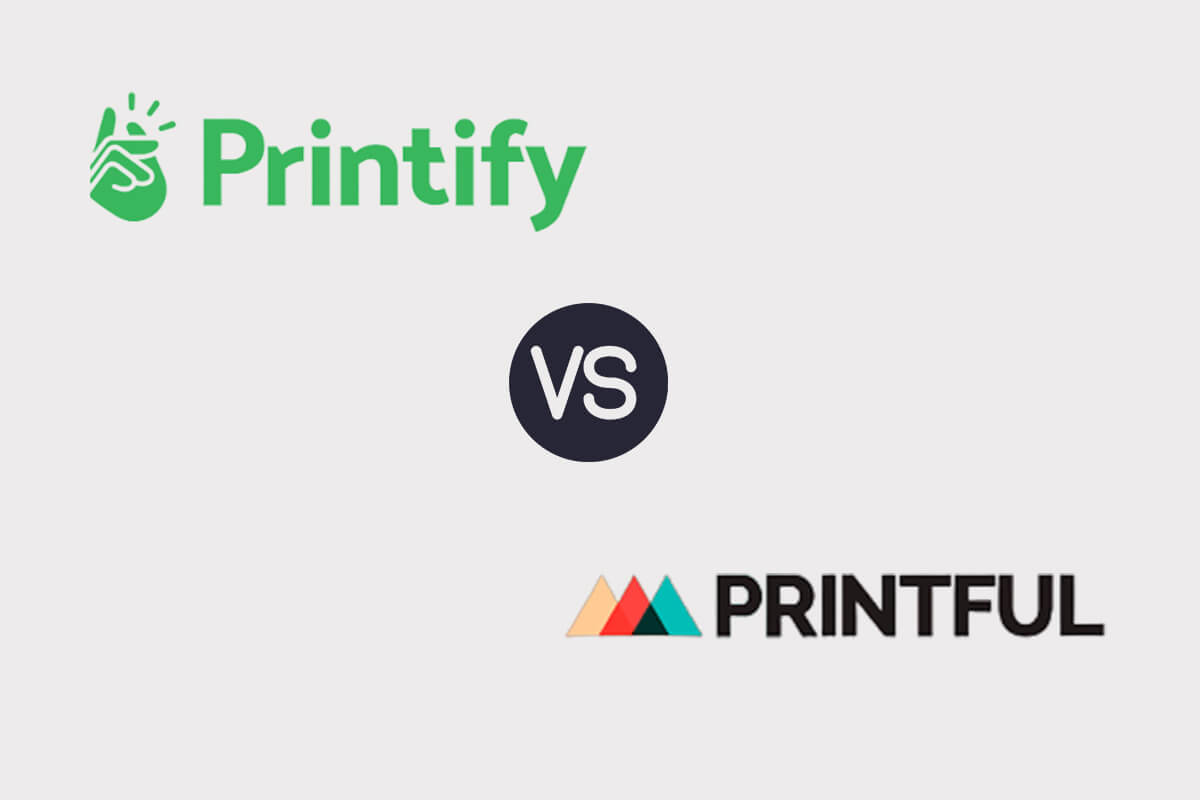 Are you looking into selling T-shirts with your designs on them? Or maybe you want to be a part of the growing print-on-demand industry which is forecasted to be worth 3.1 billion dollars in the global market for t-shirt sales alone by 2025? So, if you have the idea of earning income from a print-on-demand business, now is the time.
POD business model has taken a blooming knock in the e-commerce industry which is suitable for beginners looking to start a business. With regards to printing your personal customized merchandise on demand, there are several choices out there. Two of the most well-liked selections are Printify and Printful.
Choosing the right print-on-demand platform is very important for dropshippers. In this post, we'll provide an in-depth review of Printify vs Printful. If you want to make an informed decision about which service is best for your e-commerce business, keep reading!
What Is Print on Demand
Print-on-demand, also called POD, is a popular fulfillment method where dropshippers design products and suppliers fulfill the order after a sale is made. This business model is extremely popular with businesses selling custom products, such as T-shirts, mugs, phone cases, etc. POD companies take care of the entire manufacturing process, which means you only have to focus on marketing and selling your products.
The supplier makes custom-label products under the seller's brand or customer's design. You don't have to hold any inventory or pay any upfront fees until the product is sold to the customer. Therefore, it is ideal for newbies to test out business ideas. If you've built an audience whether organically or through campaigns, print-on-demand is an option to help you grow your brand.
It's always a good idea to outsource the job from a service provider. One with just the right level of expertise and equipment to produce high print quality. Depending on what you'd like for your business, there are different companies you can choose from. Let's take a look at Printify and Printful and see which one is better.
Printify vs Printful: An Overview
Before we get into the in-depth comparison between Printify and Printful, let's cover the basics of these two platforms.
What is Printful
Printful is a print-on-demand and fulfillment warehousing company that lets dropshippers create and sell custom products online. It takes responsibility for the production, fulfillment, shipping and has invested more than £70.7 million into their printing equipment. Printful has several categories of blank products, like clothing, hats, accessories, etc. What's great about Printful is you can test the water. This means you can choose a blank product, design it, and order it to check if it is what you expect.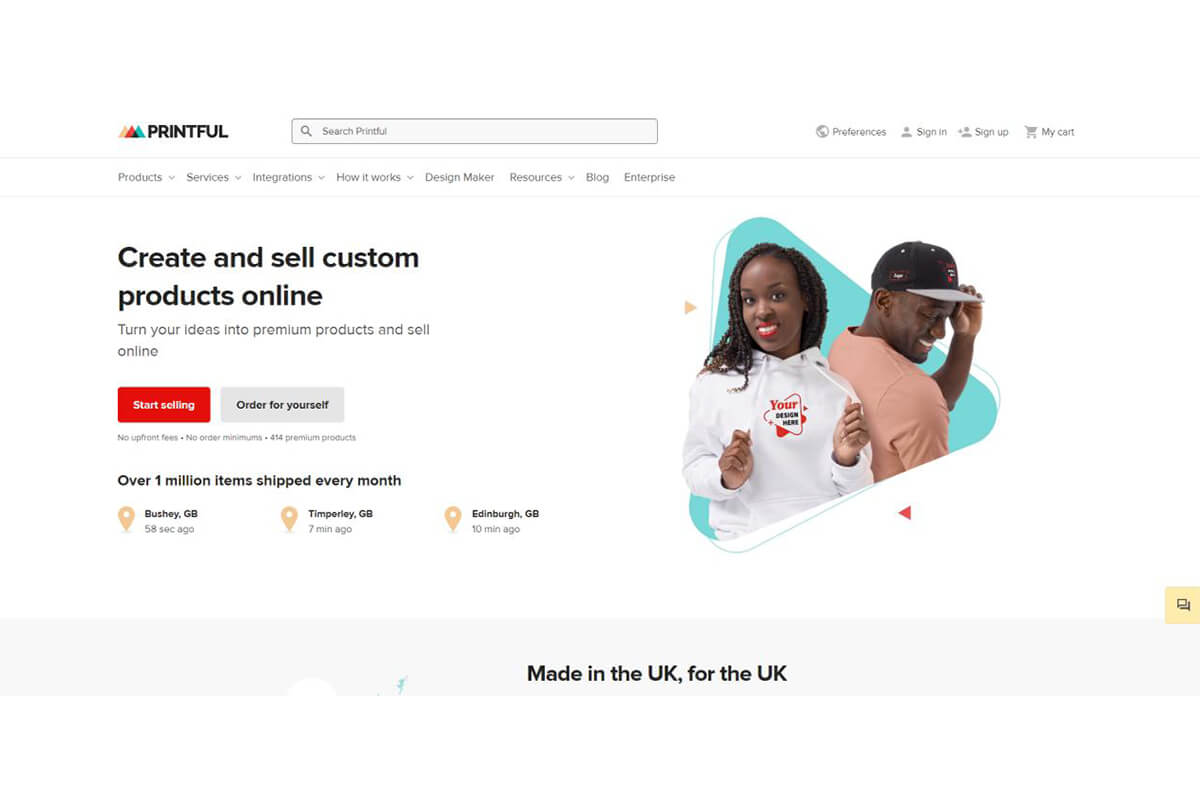 What is Printify
Printify is a dropshipping print-on-demand network that works with different print providers around the world, allowing you to create and sell custom products online. Unlike Printful, Printify doesn't do any of the printing itself. Instead, it provides a POD network to connect you to partner providers, who you can choose from to fulfill your orders. Their partners are located in North America, Europe, China, and Australia. This diverse geographical location enables it to ship items worldwide. Also, you get access to 300+ products to choose from and design the custom product according to your customer's tastes.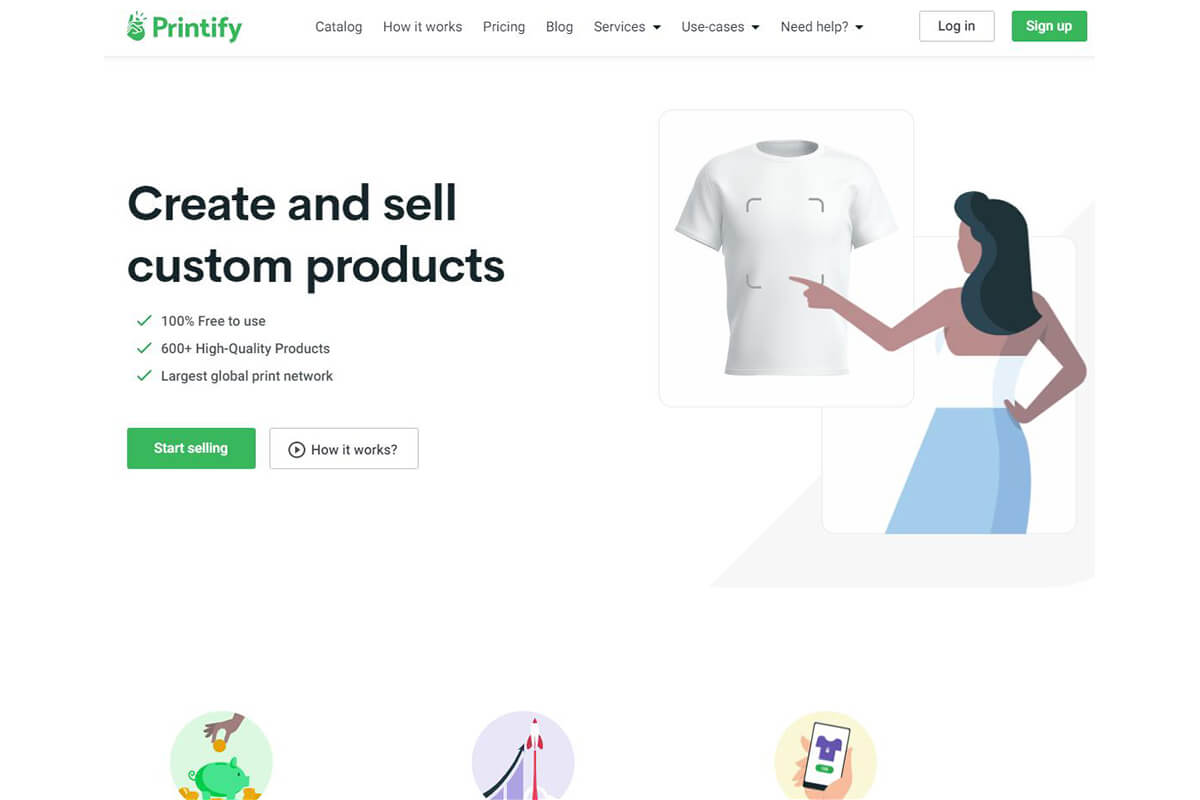 Printify vs Printful: Ultimate Comparison
Printful and Printify both allow you to choose from different products, upload your own logos or slogans, and create your very own online store. To select the best option for your business, let's come to 5 factors to compare the two platforms mentioned.
1. Pricing
Printify Pricing Plans
Printify has three plans that offer dropshippers benefits including advanced mockup generator, integration with e-commerce platforms, manual order creation, and self-serve help center.
Free plan
This free plan is curated for new dropshippers who have recently started their businesses. With this plan, you can integrate a maximum of 5 stores per account. Also, there are unlimited product designs for you to import to your online store. You can access basic features that initially meet your needs and help you grow your business.
Premium plan
If you get sales and you want to scale up a little more, this plan is highly suitable for you. Spending just $24.99 monthly on the subscription, you can integrate a maximum of 10 stores per account, unlimited product designs, and up to 20% discount on all products.
Enterprise plan
The enterprise plan is the way to go for those who get massive orders each day and have to fulfill them on time without any delay. Printify gives you a custom API integration that allows you to connect unlimited stores and product designs. This plan's significant perk is that they offer a dedicated account manager and branded customer support that help resolve any issues. Also, whenever Printify adds a new feature on its site, the users using the enterprise plan get informed instantly.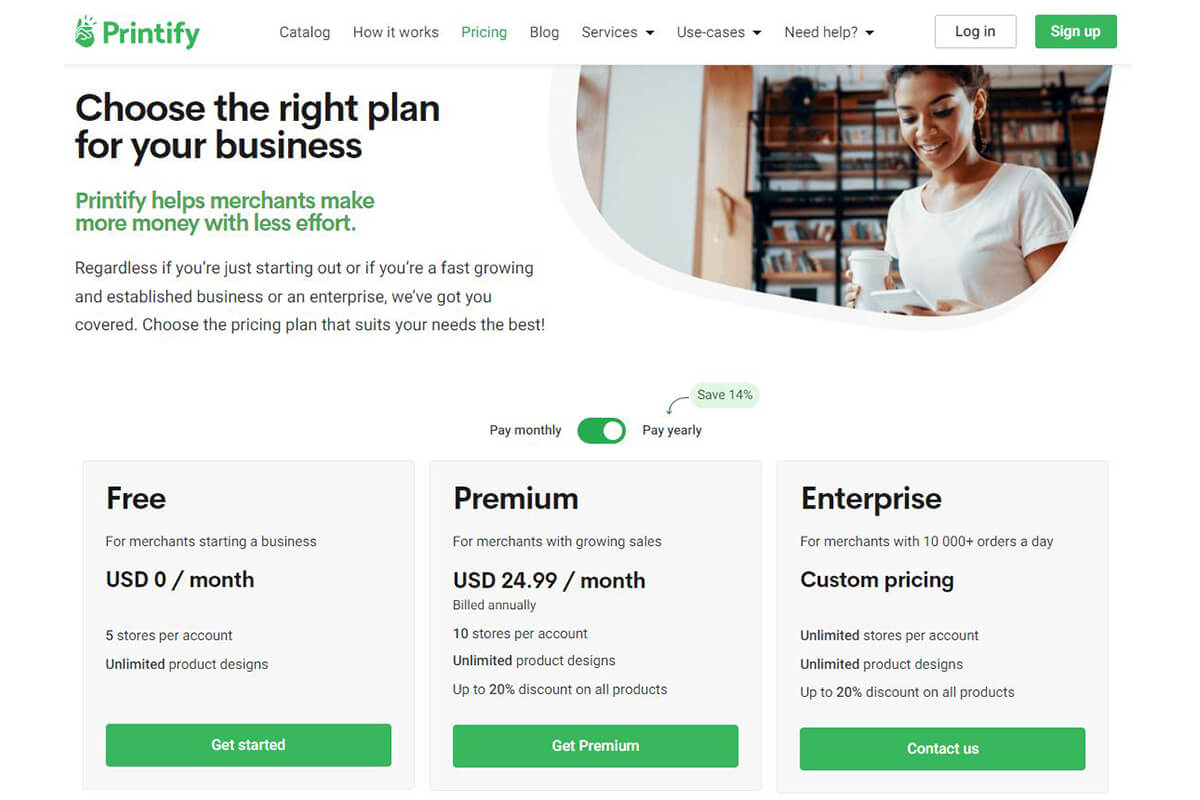 Printful Pricing Plans
Printful is free to start with no contract or hidden fees. However, Value-Added-Tax is charged for orders shipped to the EU from any Printful location. It's placed on each stage of the supply chain (eg. production, sale) for goods and services. Each customization has its price and the actual cost is based on the type of order and specification from customers. To display your brand on your products, Printful charges $2.49 per label which can help you to make your brand more professional in the market.
They also offer a Pro plan that costs $49 per month, allowing you to use premium features such as free digitization, premium stock photos, and background removal in images. Printful additionally offers up to 20% discount for bulk orders.
If your business is just starting, Printful's free plan is the right choice for you. When your business starts to grow, you can choose to subscribe to the Pro plan. And Printful also offers you a 14-day free trial of its Pro plan, so you can test it out before deciding if you really need its service.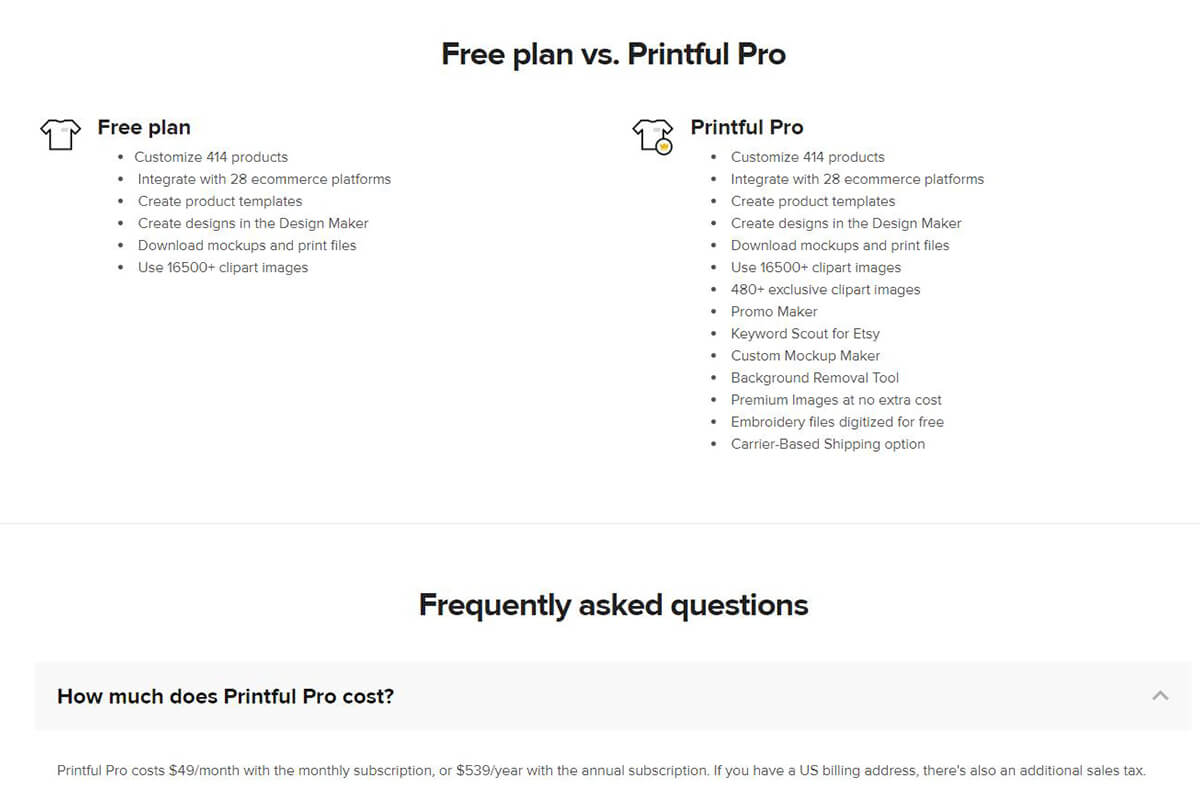 2. Fulfillment and Shipping
Besides the pricing, you also need to compare fulfillment and shipping time before you choose your POD partner. Here, let's look at the fulfillment and shipping options available with Printful or Printify.
Printful
The main difference is that Printful's manufacturing and shipping are done in-house. When someone places an order, they pack and ship it to your customers under your brand. The process begins right after an order is placed. Printful estimates that it can take between 2-7 business days to make apparel products, and 2-5 business days for non-apparel products. The company also has fulfillment centers in Los Angeles, CA; Toronto, Canada; Birmingham UK; Charlotte, NC; Barcelona, Spain; and Riga, Latvia.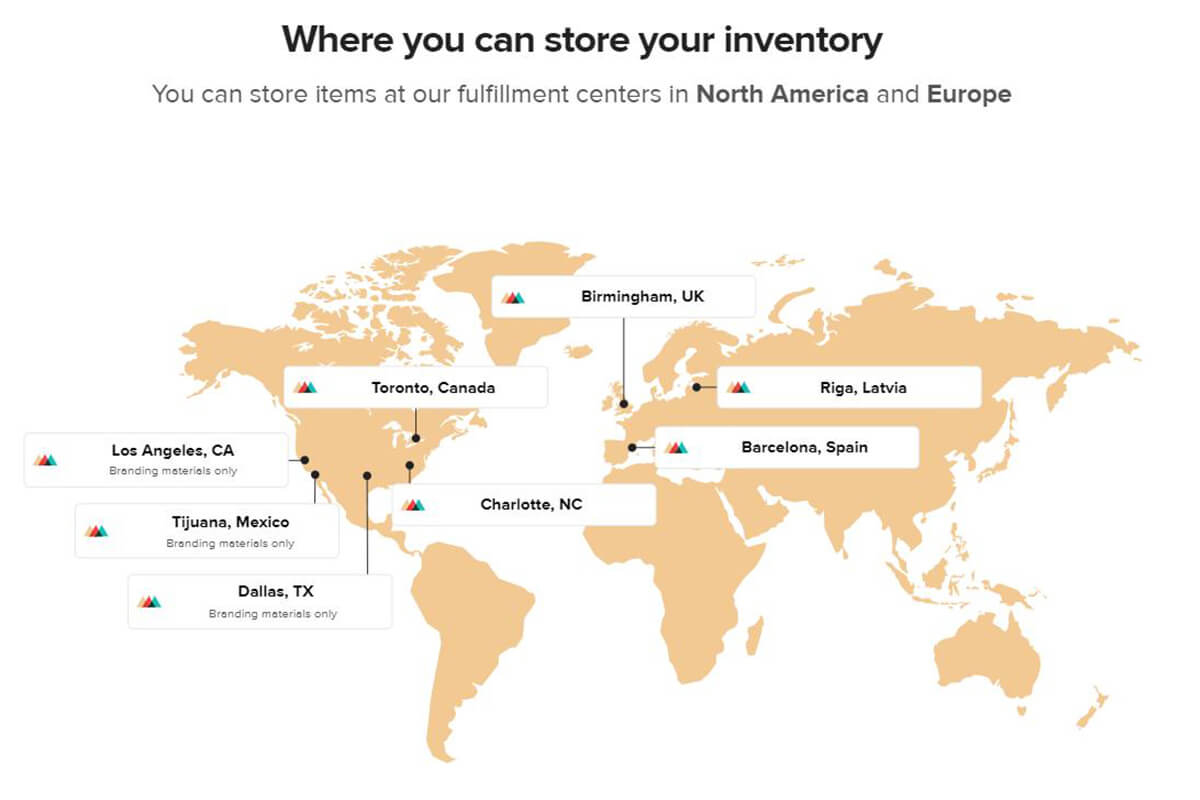 Printful classifies products into shipping categories based on their size, weight, and packing. They compute standard shipping costs based on the average shipping time and rates for each product category. Some of the listed shipping solutions include FedEx, DHL, USPS, and DPD. The company has a full-detailed guide on how to calculate the shipping rates. Printful shipping time depends on where the product is heading to.
For the US, Canada, Australia, New Zealand, and European countries, the shipping time is 3-9 business days on average.
For the rest of the world, the shipping time is 10-20 business days on average.
To calculate the shipping time by yourself, you can do it through Printful's shipping calculator.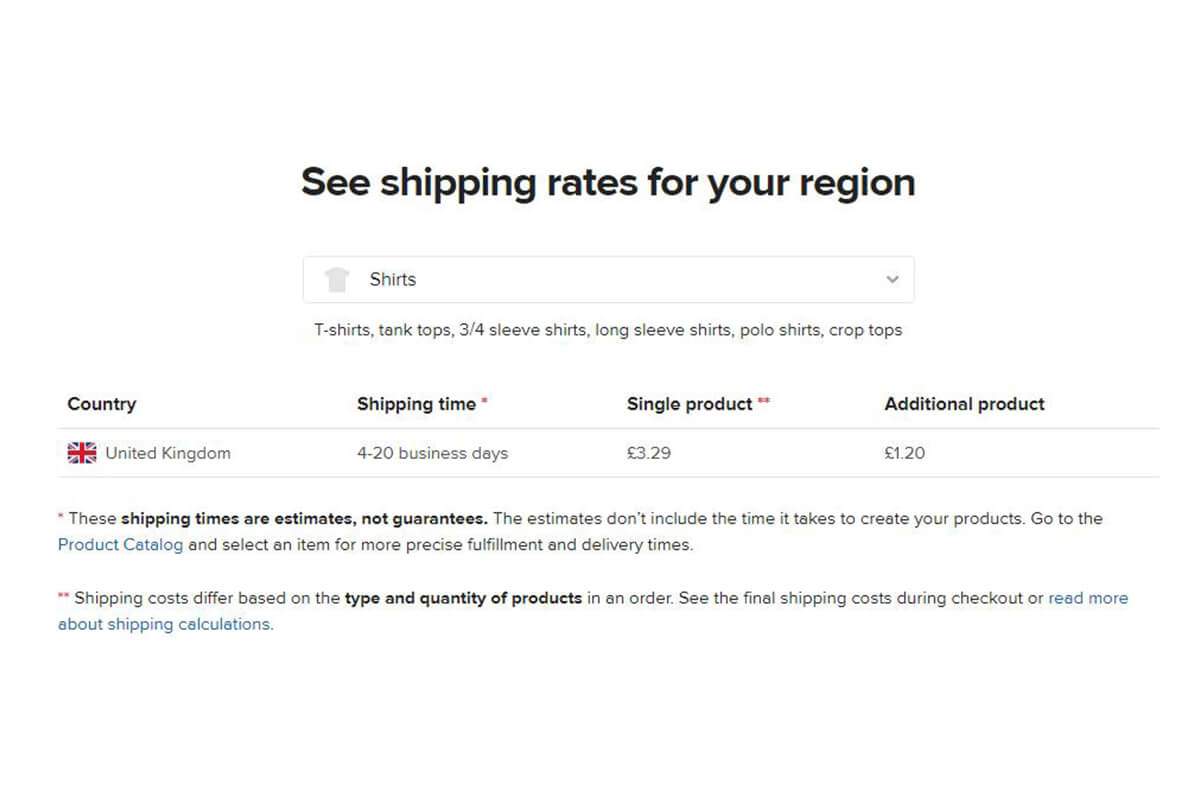 Printify
As mentioned, Printify outsources printing services from third-party providers. Therefore, the shipping time and cost depend on your preferred print provider and the customer's location. They have print providers across North America, Europe, and Asia to fulfill your orders. The average order production time of Printify's print providers is 2-7 business days from the order submission date for print-on-demand products.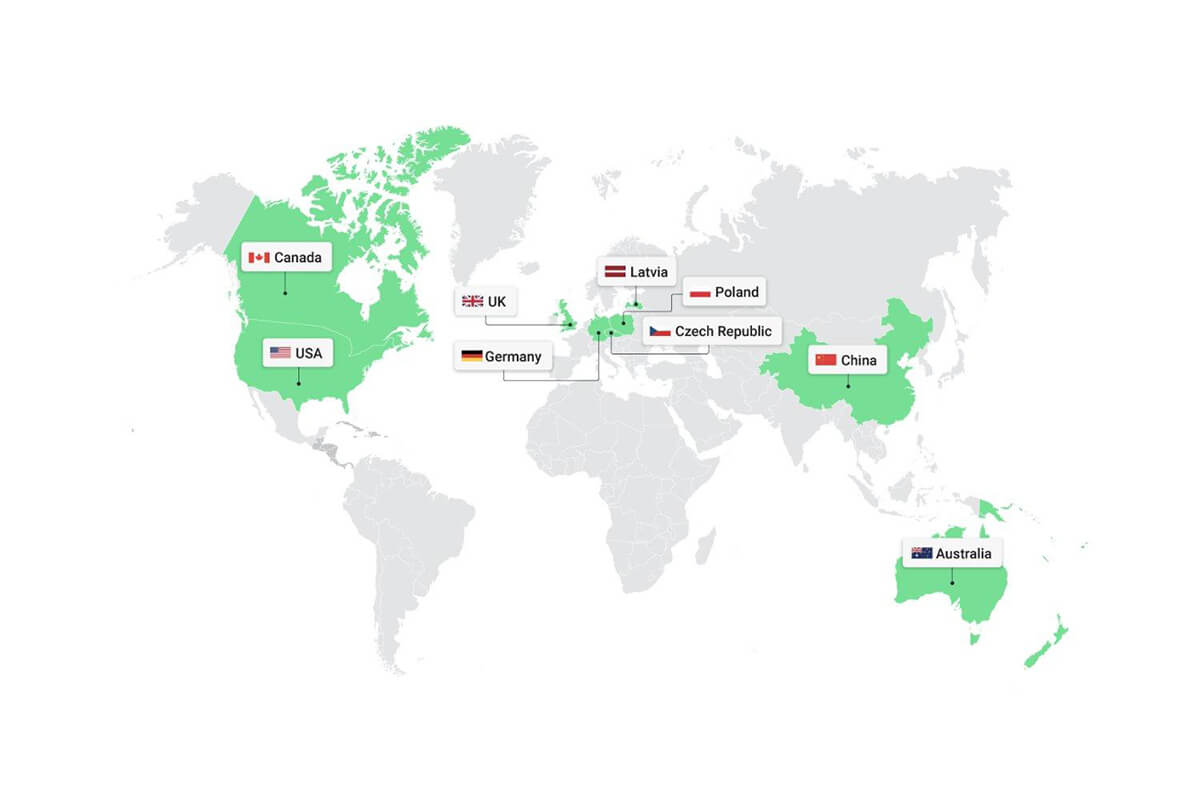 With the many suppliers that Printify works with, all these tasks translate into a complex set of variables that affect not only the order delivery time but also the shipping costs. The suppliers are spread out across different locations and each has its own way of handling the deliveries. So, the delivery time and shipping rates could vary quite significantly from one case to another.
Here's a breakdown of the average shipping time:
US & Canada: 3-9 business days
Europe: 10-15 business days
International: 10-30 business days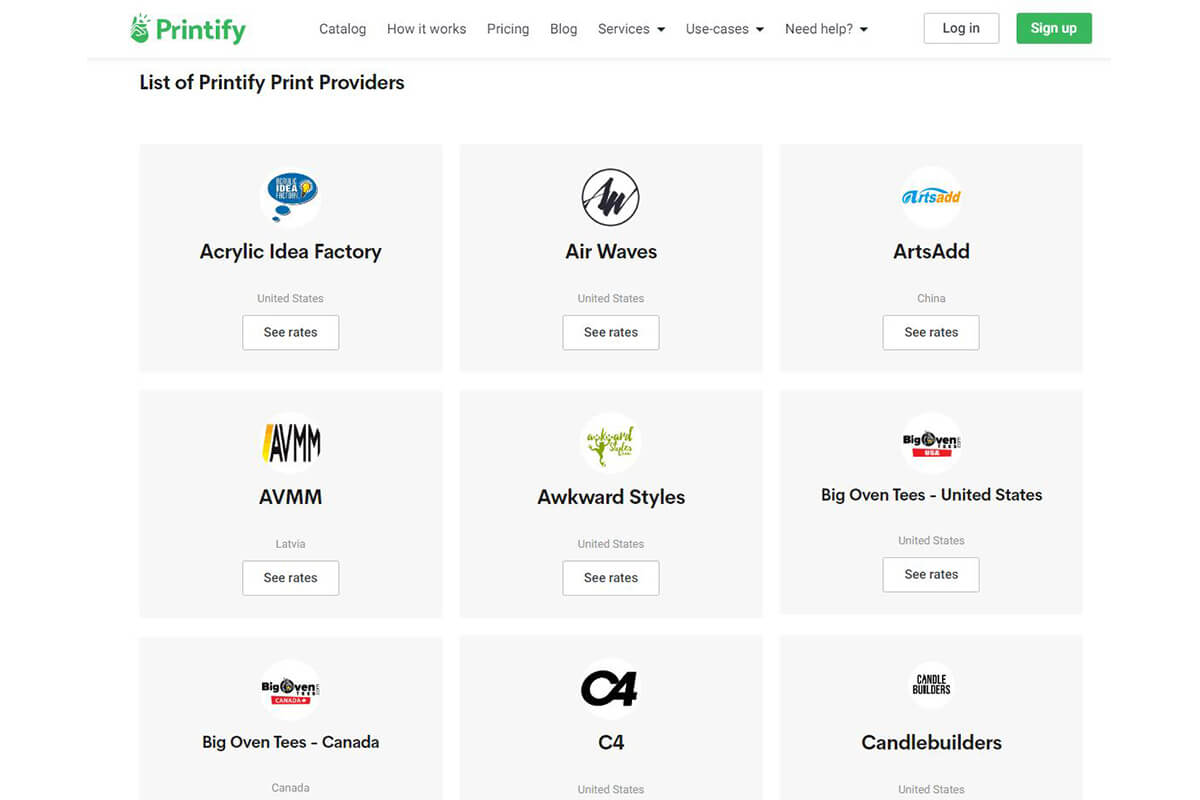 3. Customer Support
Printful
Printful boasts several customer support channels.
You can easily contact their 24/7 customer support service through emails, live chats, or even phone calls.
Also, You can go through their blog section to see some of the useful content that can be of help to you.
Along with this, they present an extensive help center with a searchable database.
Additionally, they supply loads of precious content material on their YouTube channel.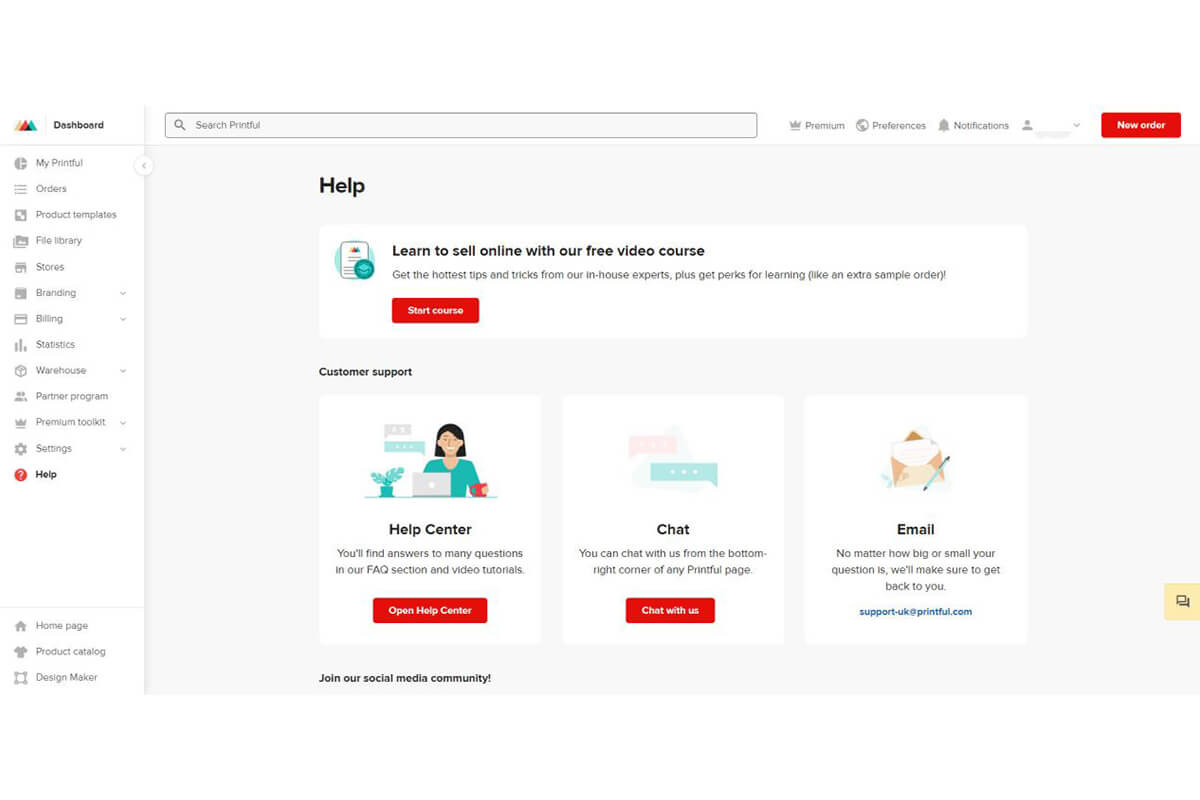 Printify
Printify customer service is more limited.
You can only get in touch via their contact form or email support. You can begin a real-time dialog by choosing the chat bubble and selecting a subject that matches your inquiry.
Also, they have a FAQ part that covers quite a lot of related matters like printing strategies, design templates, transport, and extra.
For individuals who are visually inclined, they supply a couple of video tutorials on their YouTube channel.
Since they work with third-party services, a lot of customer service requests end up having to be relayed to another company. Additionally, Printify does provide "Enterprise plan" members with a dedicated account manager and branded customer support.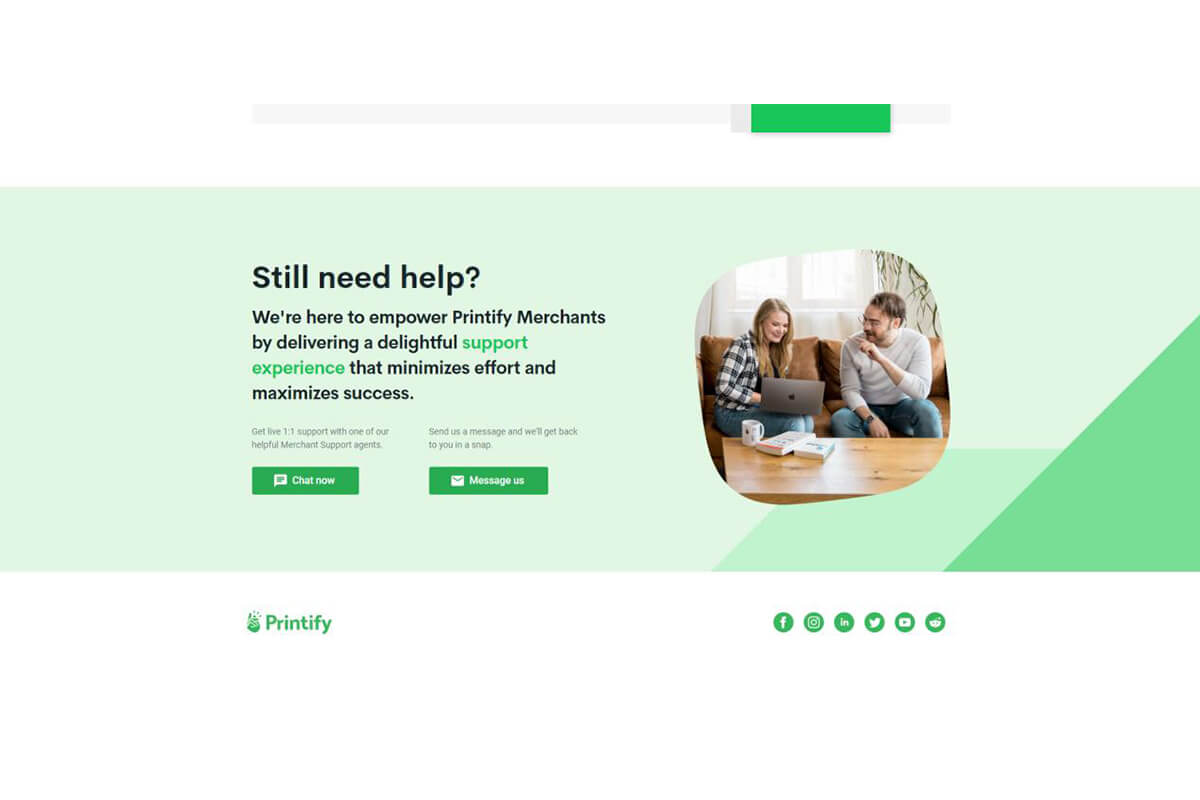 4. Branding
Around 60% of customers prefer to buy branded products, especially online. Building an online business is not just about selling a couple of products. Those products have to be cohesive and under a unifying brand that buyers can recognize. The good news is that both Printful and Printify have a white-label service. They don't leave marks on labels and packaging, so your products will entirely be your own.
Printful helps you create a unique brand image and turn your site visitors into loyal customers. It allows sellers to upload logos, slogans, or any design they can come up with and start building their online store. With print-on-demand, you have the option to personalize the label to display your brand. Printful charges $2.49 per label. This is a proven marketing skill used by most dropshippers to make their brands visible on the market.
As part of building authentic customer loyalty, you might want to set a budget for packaging. Printful allows you to create a design that captures your logo and prints it on the packing slips for free. Most sellers use this option to build better customer relationships, issue discounts, and launch new products on existing marketplaces. For pack-ins such as flyers, business cards, or stickers, you need to pay $0.5 per order. You can combine packaging with pack-ins and create branding presets for specific holidays and your marketing events.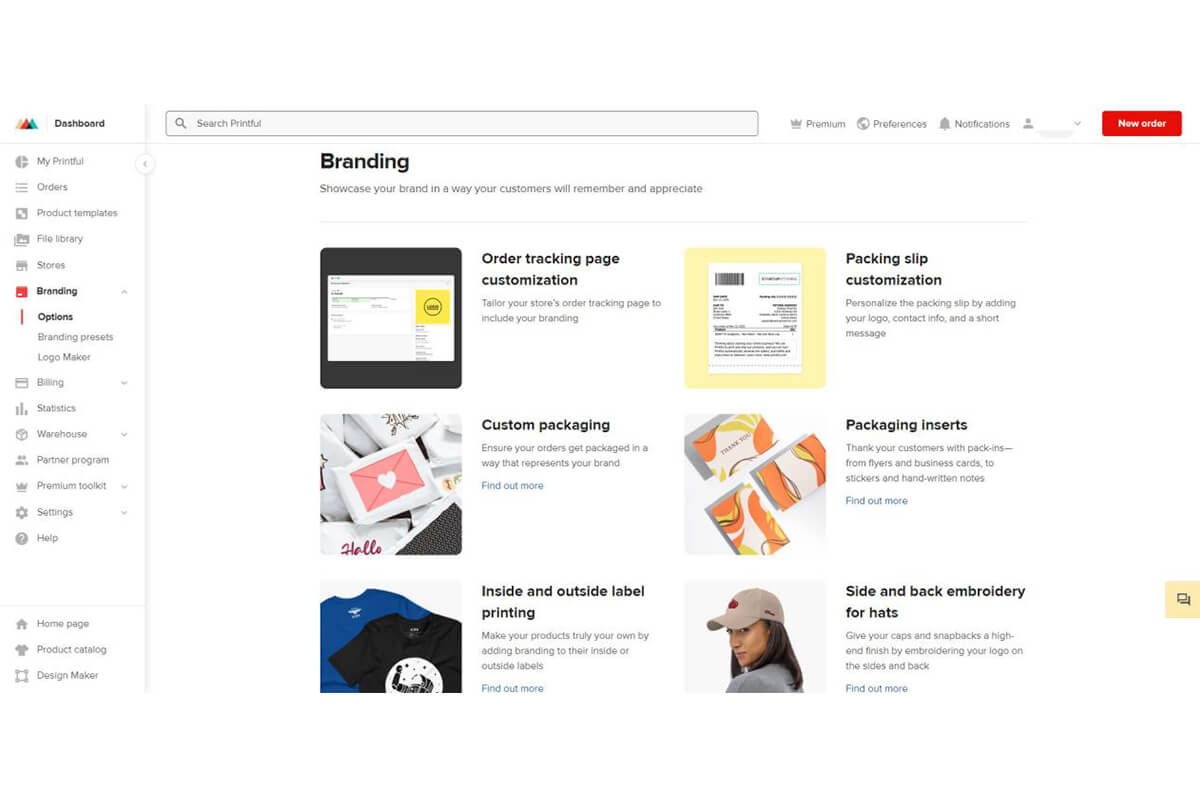 Printify Branding Options
Printify relies on different print providers for adding branding to their orders. All of their partnered print providers let you add print on two areas, Front and Back. If you're selling t-shirts, it's possible to add branding to them by choosing a printed neck label (inner or outer) or a sleeve print. At present, Printify's print partners do not offer branding options for hats or other clothing products.
Currently, neck label printing is offered by:
Textildruck Europa (Germany)
Stakes Manufacturing (US)
Printforia (US)
Print Clever (UK)
JAMS Designs (US)
Sleeve printing is offered by:
Textildruck Europa (Germany)
OPT OnDemand (Czech Republic)
For packaging, Printify allows you to add your store name as text only. Printify's name does not appear anywhere on the package or the shipping label. However, there are a few print providers that don't support custom shipping labels, which means that your store name will not be displayed on the shipping label (instead, it will say "Fulfillment Center" or "Store", for example). It does not support adding custom messages to shipping labels. But it is possible to set up a custom return address for your orders.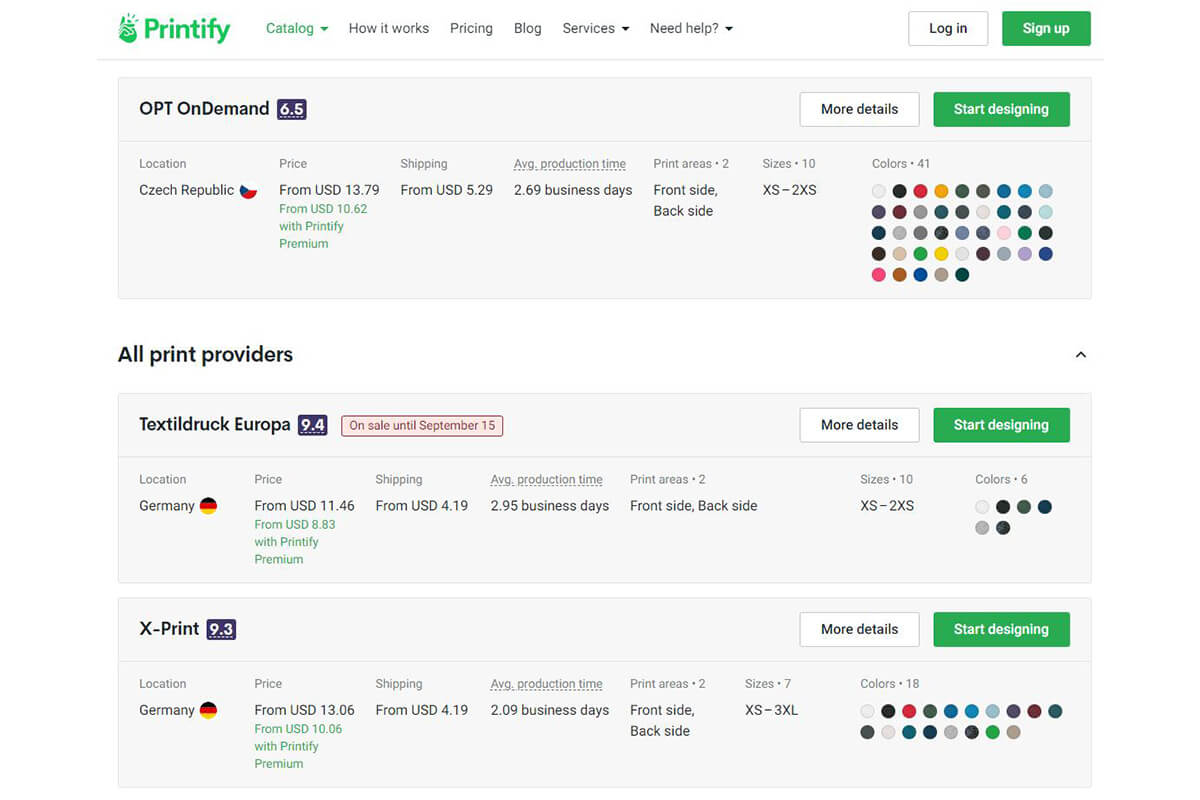 5. Integrations
Printful and Printify require you to have an existing sales channel and that means you need an online store where customers browse and purchase your products. Fortunately, both of them integrate with various e-commerce platforms and other third-party services.
Printful has by far the most extensive list of integrations:
Shopify, BigCommerce, Ecwid, Big Cartel (Hosted e-commerce platforms)
Woocommerce, Magneto, Prestashop (Self-hosted e-commerce platforms)
Etsy, Amazon, eBay, Wish, Storenvy, Bonanza (Marketplaces)
Wix, Weebly, Squarespace, Webflow (Website Builders)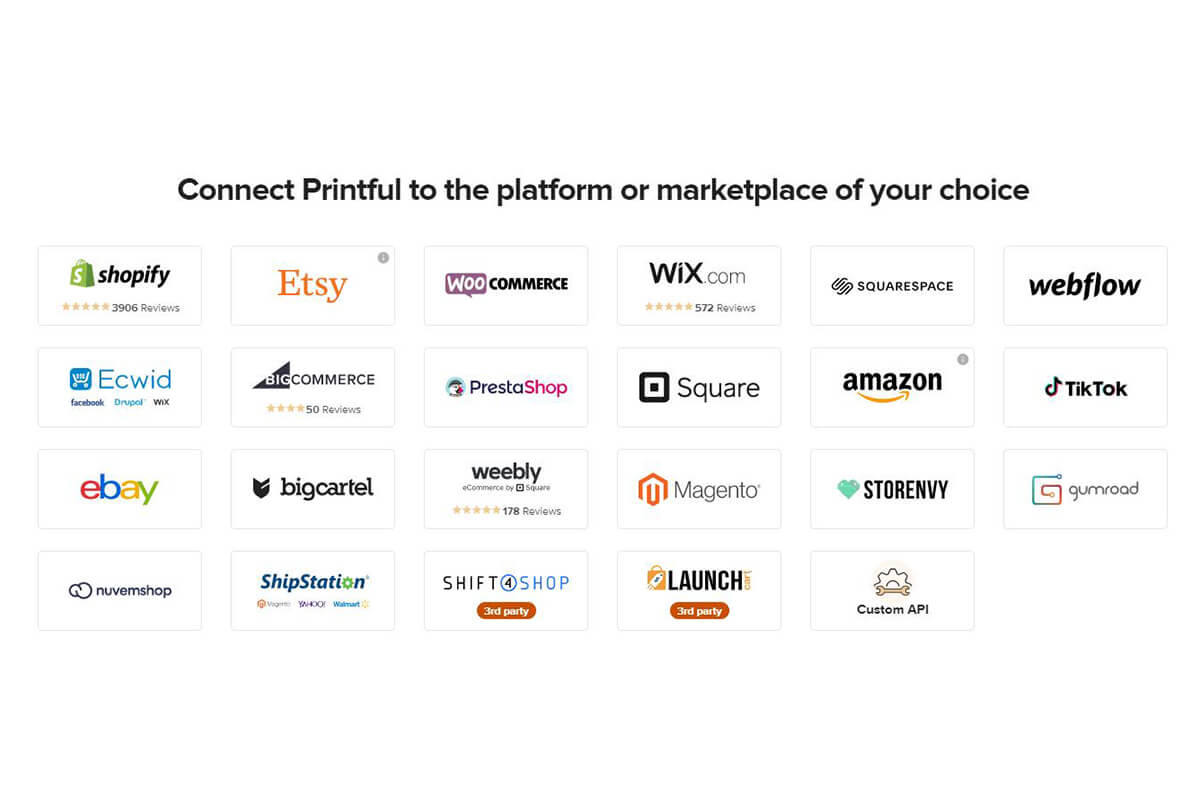 By comparison, Printify only integrates with Shopify, WooCommerce, Etsy, eBay, Wix Prestashop, Squarespace, and BigCommerce.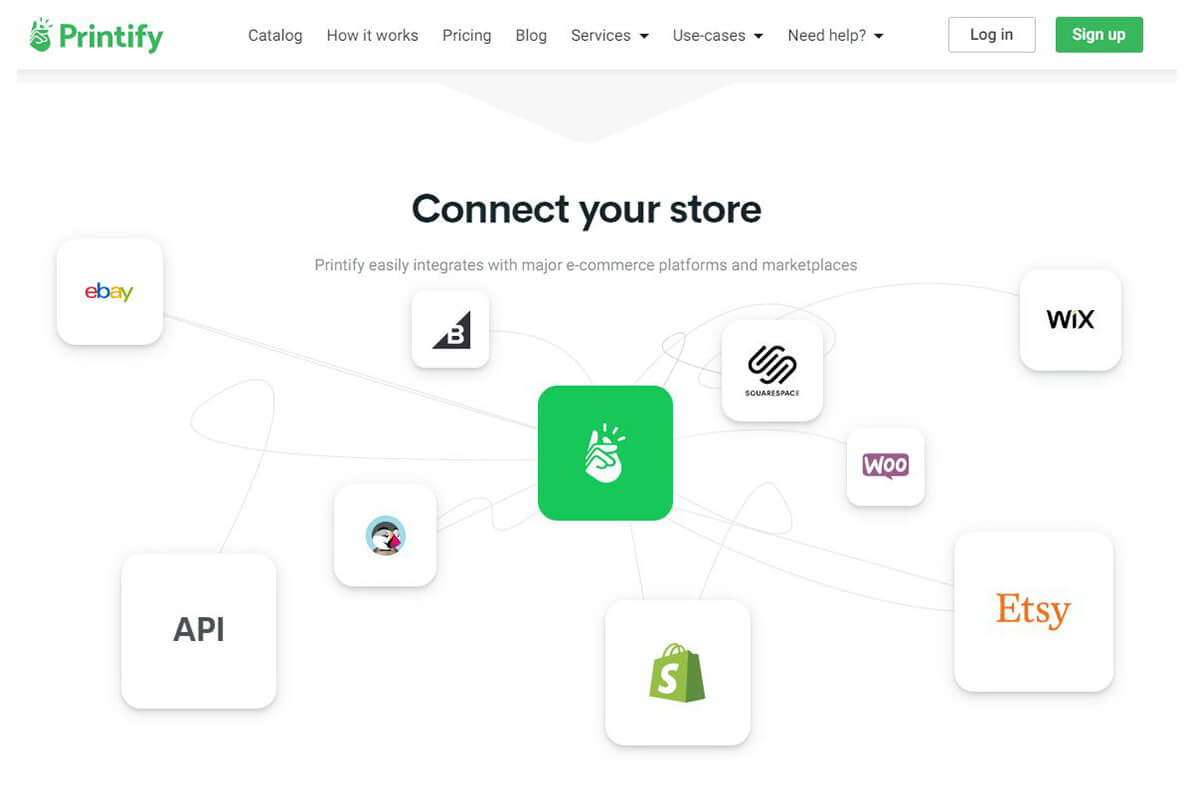 Printify vs Printful: Which Is the Better Choice
Finally, which would you choose, Printful or Printify?
Overall, Printful is better than Printify in many aspects when it comes to starting your online store but it depends on what you value the most and what your priorities are.
Printful does all of its work in-house, has shorter lead times, tons of custom branding options, and integrates with more e-commerce platforms. On the other hand, Printify uses third-party suppliers, which gets you more selections and better prices, but this comes at the cost of longer lead times.
Consequently, each platform has its pros and downsides. So you can choose to test both POD services to see which works perfectly for your dropshipping goals. After all, it's free to integrate both POD services to your dropshipping store. That way, you can learn better which service is likely to drive more repeat customers to your online store.
Conclusion
In this Printify vs Printful comparison, we compared two of the most popular platforms that offer print-on-demand products and dropshipping services. But if you also consider other options, Sup Dropshipping also provides customers with print-on-demand service. In Sup's POD section, there are nearly 300 print-on-demand products in general niches. With the free SUP DROPCUSTOM Creator, both you and your customers are allowed to add your exclusive designs.