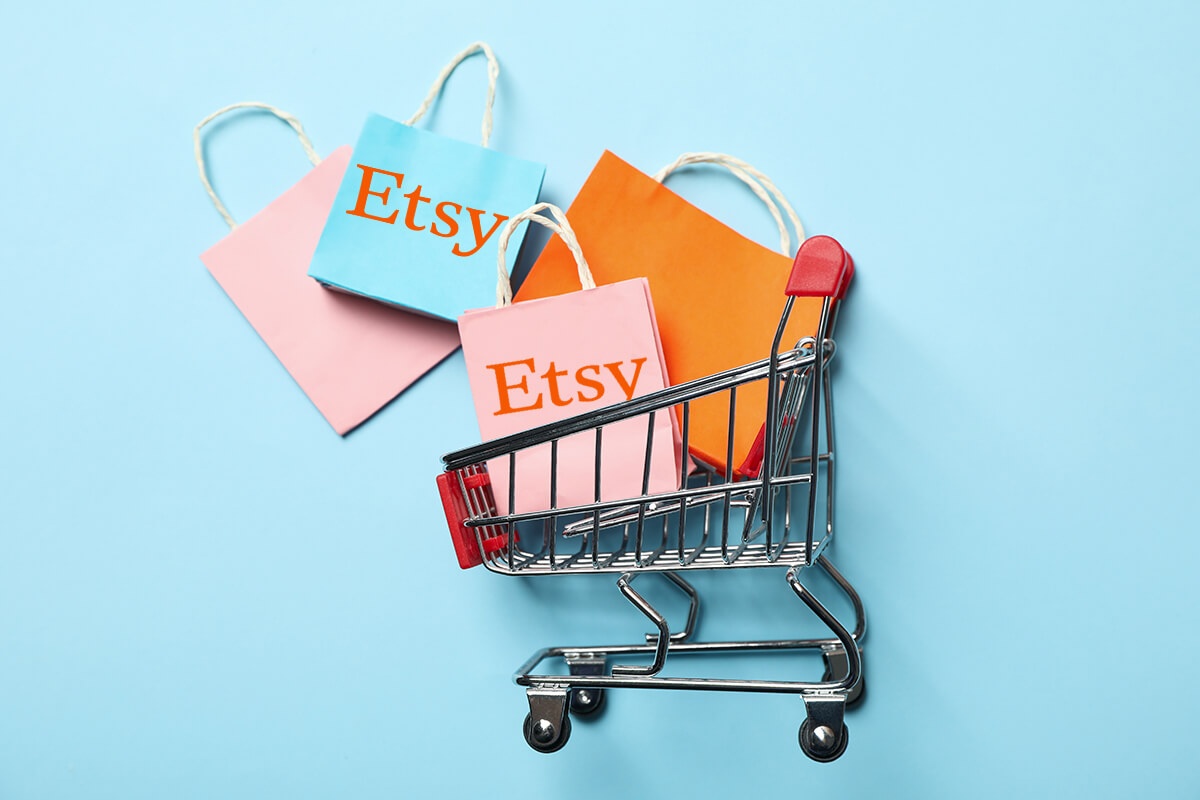 Want to sell your designed products with little upfront investment?
Print on demand (POD) on Etsy can be a great way to fulfill your dream.
Print on demand is a business model similar to dropshipping. You sell what you design in your online store. After your customer makes a purchase from you, you forward the order to your supplier. And then the supplier prints this order on the customer's demand and ships it directly.
To set up a POD business, Etsy can be the right platform for you. Etsy is a selling marketplace that features unique products. People around the world sell and buy designed and creative items here.
In this blog, we will guide you on how to start a print on demand business on Etsy.
No further ado, let's get started.
What is Etsy?
Etsy is a leading marketplace for handmade items, vintage items, and craft supplies. The marketplace offers a wide range of products, including jewelry, clothing, accessories, home decor, vintage collectibles, and more. It connects independent sellers with worldwide buyers who look for unique goods.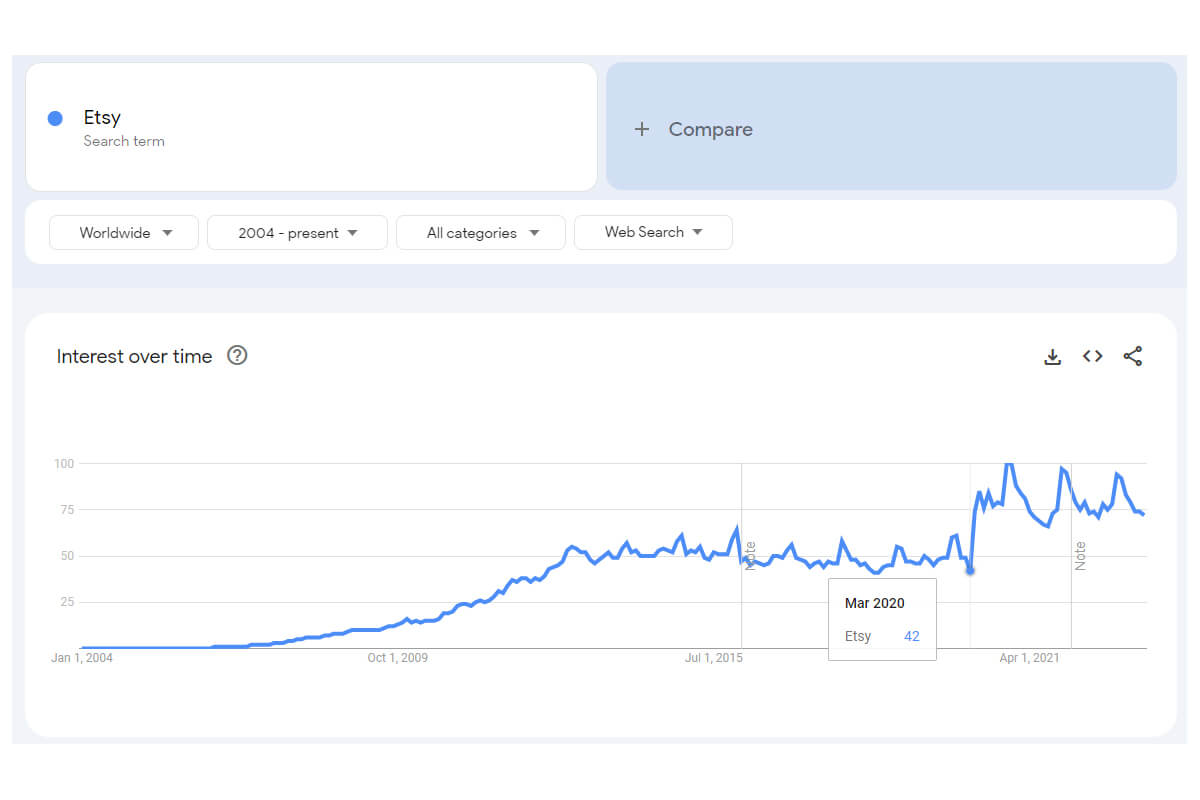 Launched in 2005, Etsy has been developing fast with the increasing demand for personalized items. According to Statista, Etsy's gross merchandise sales volume reached about US$13.5 billion in 2021.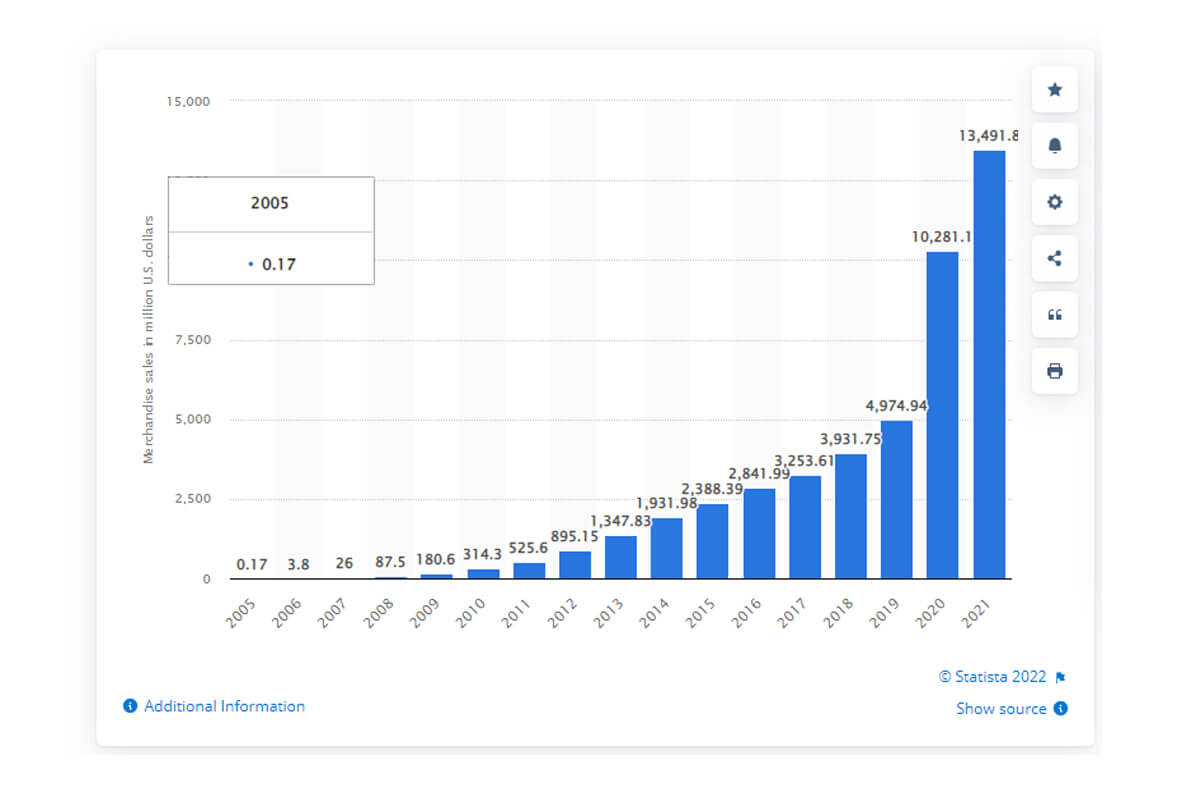 In the same year, the number of active Etsy sellers in the world was around 7.5 million. And active buyers were over 96 million. Competition to sell on Etsy may increase as a result. But meantime, you can reach a vast customer base.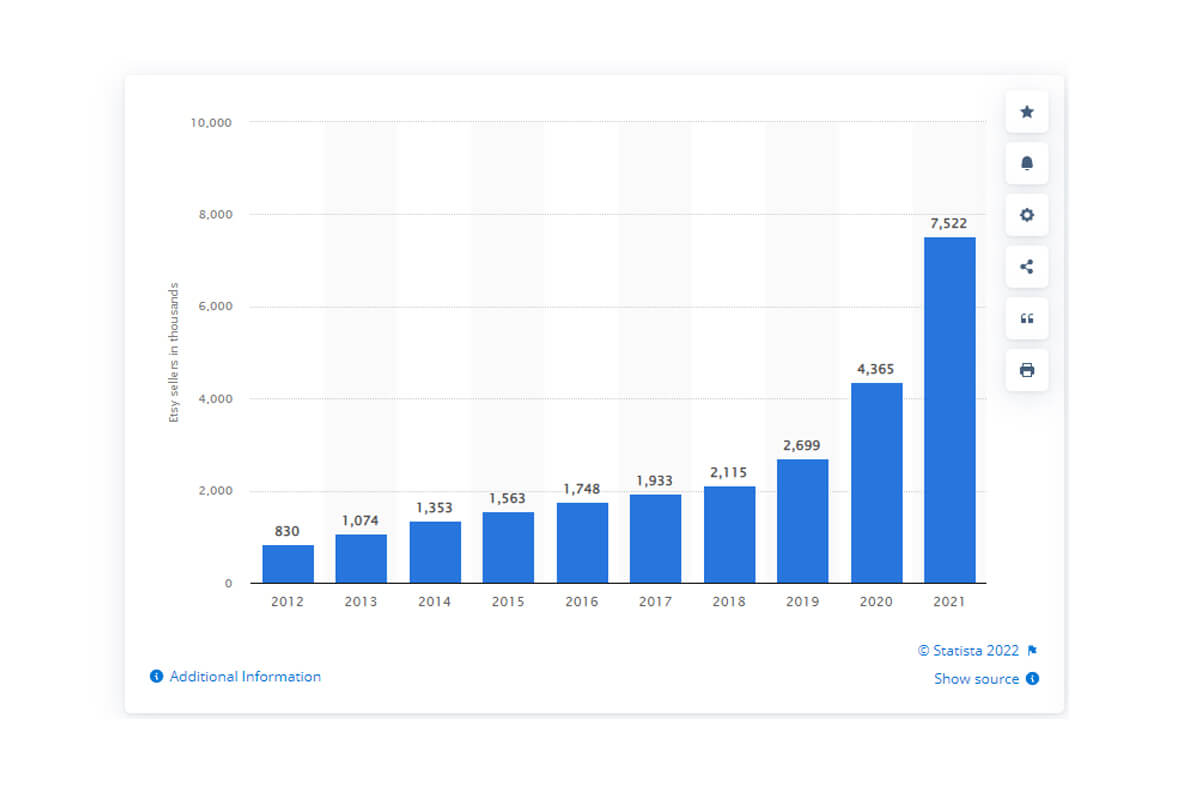 What is print on demand?
Print on demand refers to a business model where products are created and fulfilled only when the customer places an order. Instead of maintaining inventory, the items are printed or manufactured on demand by a print service provider and shipped directly to the customer. This business model requires little upfront investment and is friendly to startups and small businesses.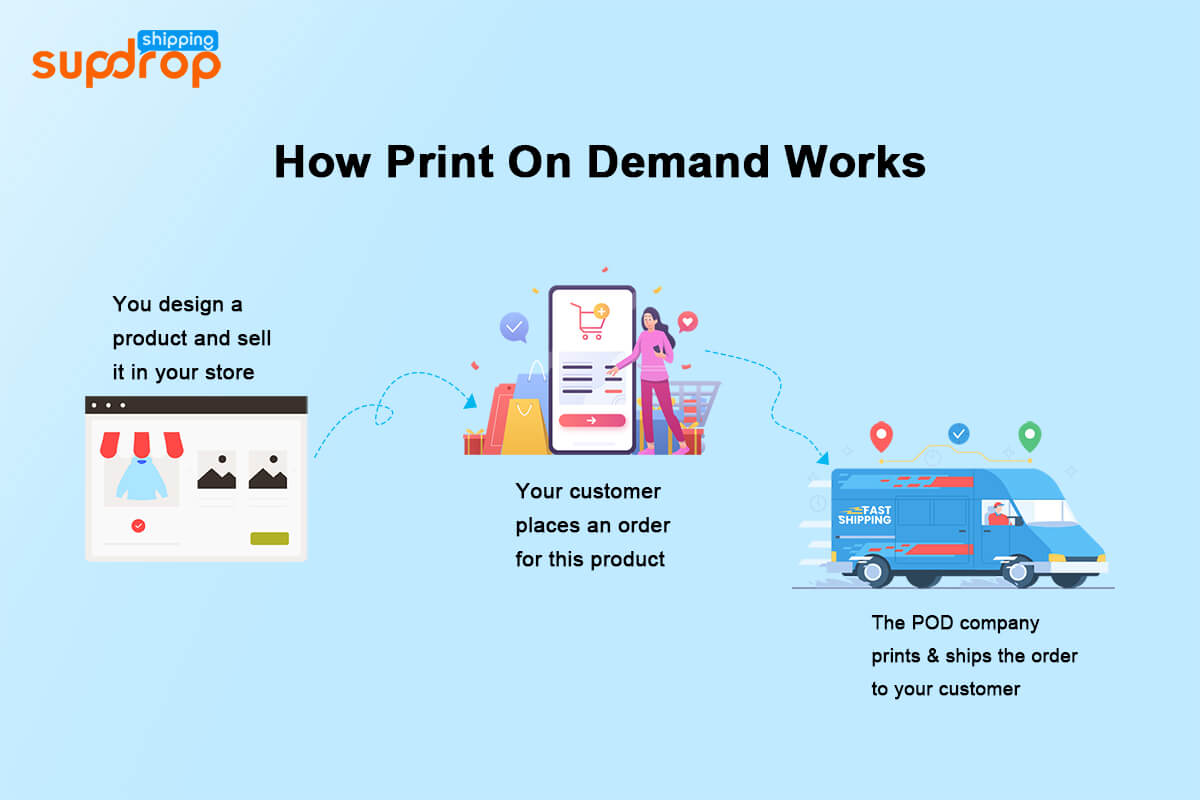 Why print on demand on Etsy
Etsy is well-known for selling handmade, vintage, and crafted items. It aligns well with the print on demand business, which focuses on personalized products.
By utilizing print on demand services, Etsy sellers can sell a wide variety of customizable and printable products like designs, crafts, and artworks.
Beyond that, here are other reasons why you should print on demand on Etsy.
Easy to start Starting a print on demand business on Etsy is simple. You just need to find a niche, create a storefront, and work with a POD service provider.
Free to use There are no membership fees to sell on Etsy. It is friendly for beginners or sellers with a tight budget.
Potential market The number of active Etsy buyers was approximately 96.3 million in 2021. This means you can own a huge customer base if you market your business properly.
Transparent fees Costs for listings and services on Etsy are transparent. So you can be assured to earn your profits without worrying about hidden fees.
What to prepare before printing on demand on Etsy
Before you start to print demand on Etsy, make sure you are prepared in these aspects.
Find a niche
A niche comes first when we talk about running a dropshipping business, especially with increasing competition nowadays.
With a niche, you are dedicated to a specific field. The chance you become an expert and succeed can improve. Also, it is much easier for you to stand out from millions of competitors.
To find your niche, here are some steps you can take.
Find out what you are interested in and skilled at
Identify what products or services your customers need
Research the competition
Test your niche idea
Pick up a POD supplier
The POD supplier plays an important role in your print on demand business on Etsy. They are responsible for printing your designs and fulfilling the orders. With the right supplier, your business can run smoothly and you will gain a solid base of loyal customers.
However, there are many suppliers available on the market. Some factors need to be taken into account before a decision.
Free membership For a startup, the less you spend, the less risk you take. Besides that, free membership helps you save money when your budget is tight.
Fast delivery Fast shipping time can increase customer satisfaction rate. Customers wish to get what they buy as soon as possible.
Qualified printing skills The quality of a printed product closely correlates with the printing skills of the supplier. A supplier with good printing skills is more likely to provide something that meets your customers' expectations.
Easy-to-use design tool The core of developing POD products is to design. So the design tool should be easy to use and affordable.
Product selection The more product choices, the easier you scale your business. A supplier who can offer you a wide range of products will benefit you in the long run.
On the criteria above, Sup Dropshipping can be the one for you.
Work with Sup Dropshipping
Sup Dropshipping provides print on demand services for free. Our app or site can integrate with Etsy seamlessly.
On Sup, there are hundreds of POD products in various categories, from clothing to home decor.
Our design tool is free and easy to operate. With or without design experience, you can customize products within minutes. Besides uploading your design, you can also make use of our free patterns and fonts. After designing, you are allowed to preview the item and check if it is to your expectation.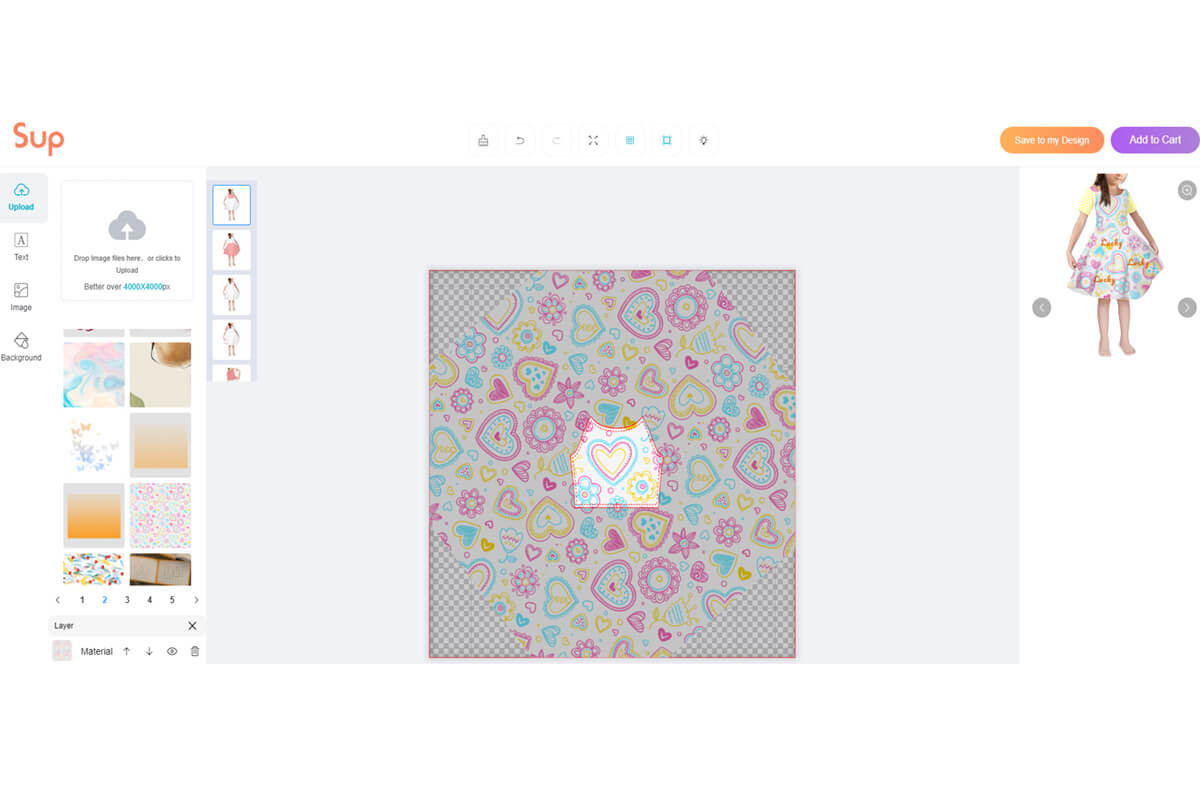 Having been in connections with skilled POD suppliers, we can have your products printed perfectly and process your orders within 3 to 7 days. Plus, we can tailor the fast and cost-effective shipping method for you with our robust logistics system.
Understand Etsy seller policy
It is a must to learn about Etsy seller policy before selling on Etsy. Because this policy can guide you in your selling activities and ensure you comply with the regulations on this platform.
Etsy seller policy covers multiple aspects, including selling fees & payments, prohibited items, Etsy Payments policy, etc.
Let's talk about what you most care about, Etsy fees.
Generally, you will be charged US$0.20 for each listing on Etsy. And you need to pay again for the listing in 4 months if you fail to sell it. When a sale is made, you should pay a 6.5% transaction fee of the total price for the order. For detailed fees, remember to read Etsy's Fees & Payments Policy.
How to start a print on demand business on Etsy
Now that you know the basics of Etsy print on demand, next, I will guide you to set up your business on Etsy.
Follow me and let's finish the whole process together.
Step 1. Register an Etsy account
To sell POD products on Etsy, you have to create an account.
Here is how you can do it.
1. Go to the Etsy homepage and click "Sign in"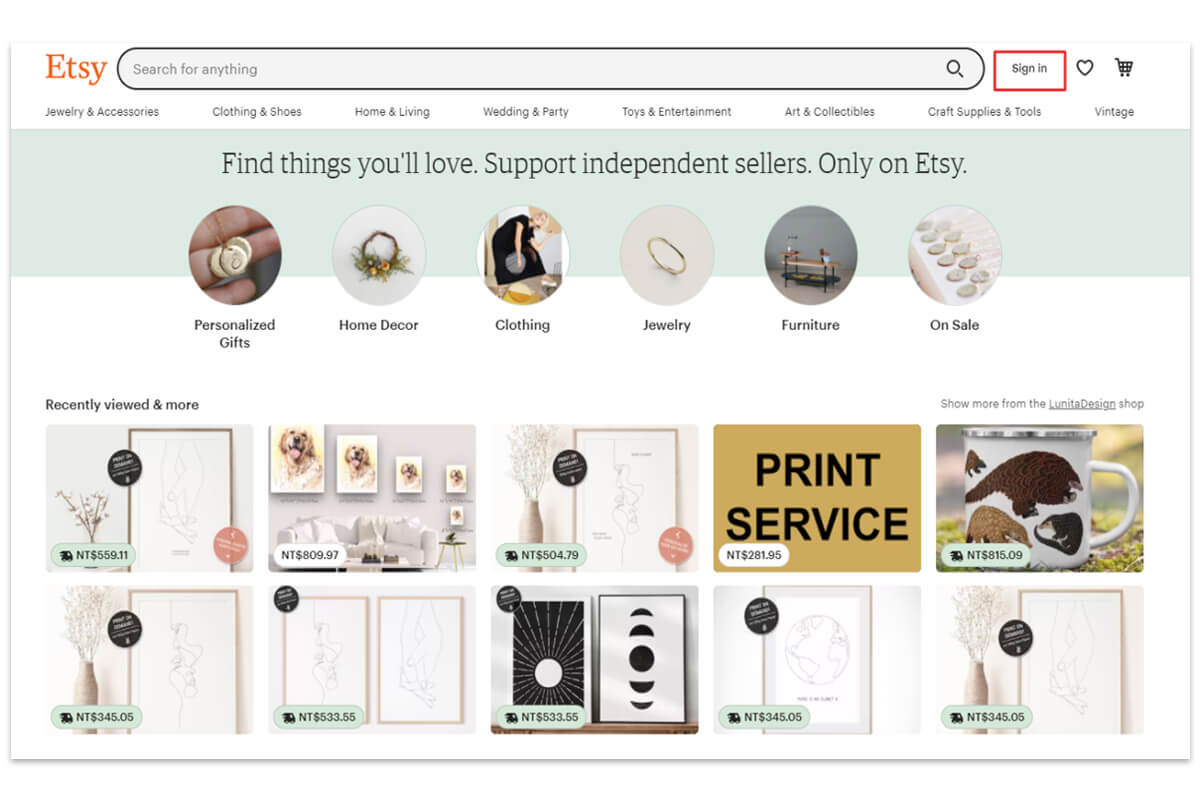 2. Click "Register" on the top right corner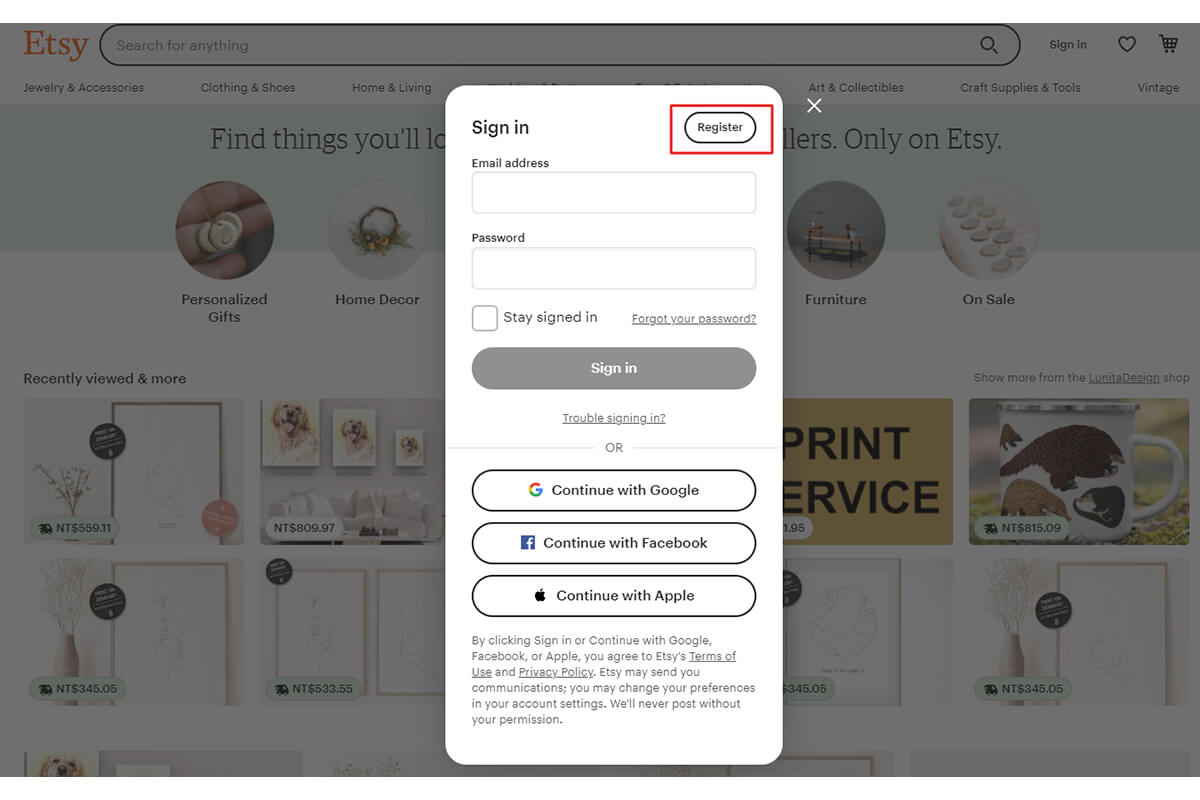 3. Input your information and click "Register"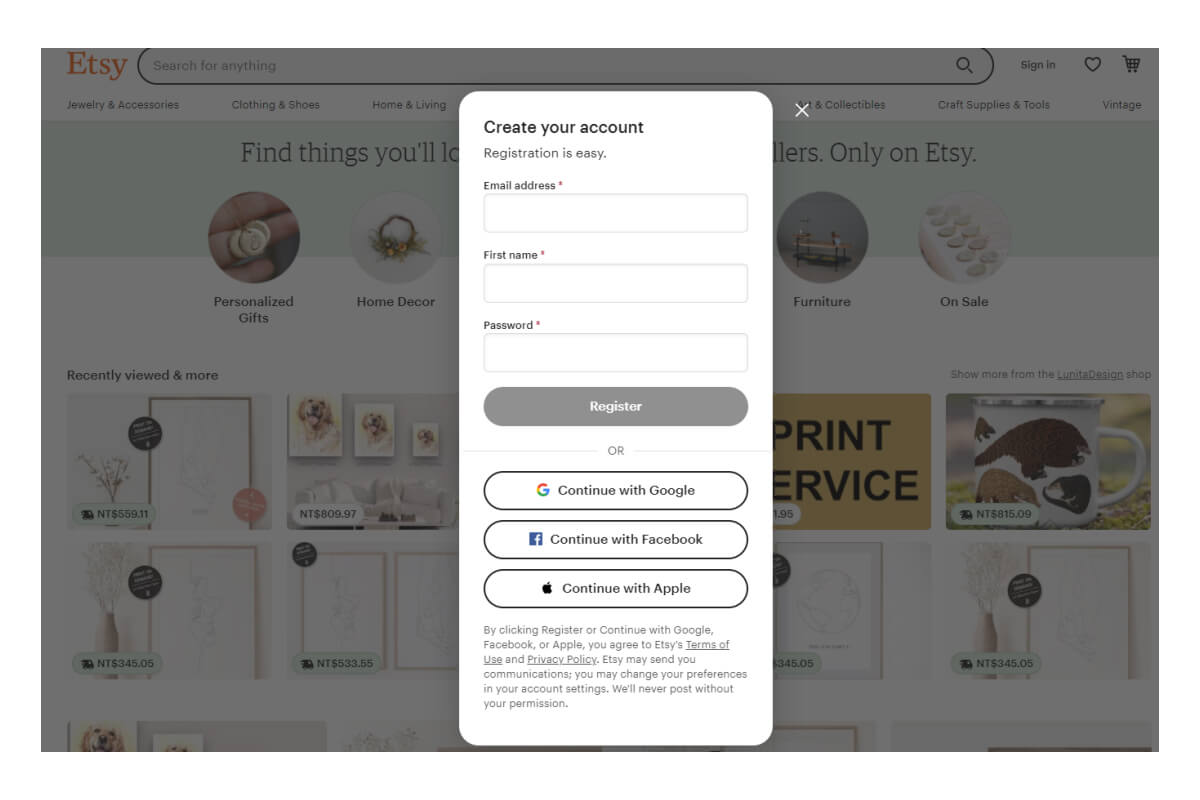 After you sign up, you will get an email from Etsy to verify your email address. Remember to finish it and confirm your account.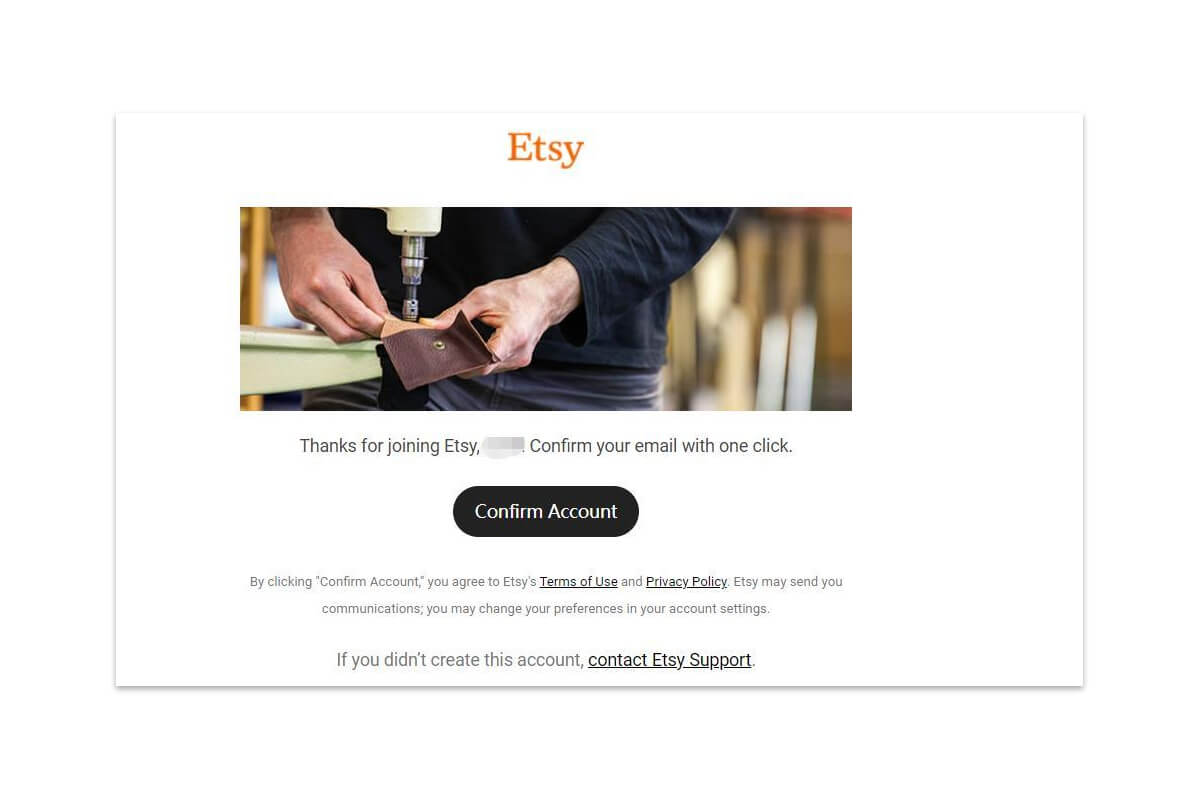 Step 2. Create an Etsy store
After you sign up for an account on Etsy, it is time to create your store.
Here are the steps to get started.
1. Click on the icon of your account and open "Sell on Etsy"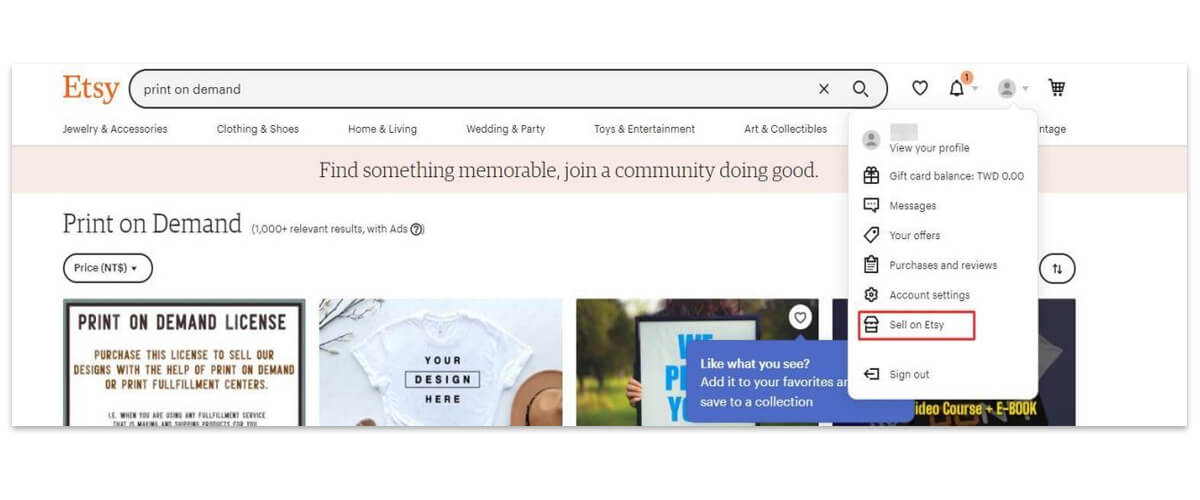 Notice: If you have ever clicked the button "Sell on Etsy", you cannot see it on the drop-down menu of your account anymore. Instead, you can see a shop icon, through which you go on with the setup steps.
2. Click "Start your shop"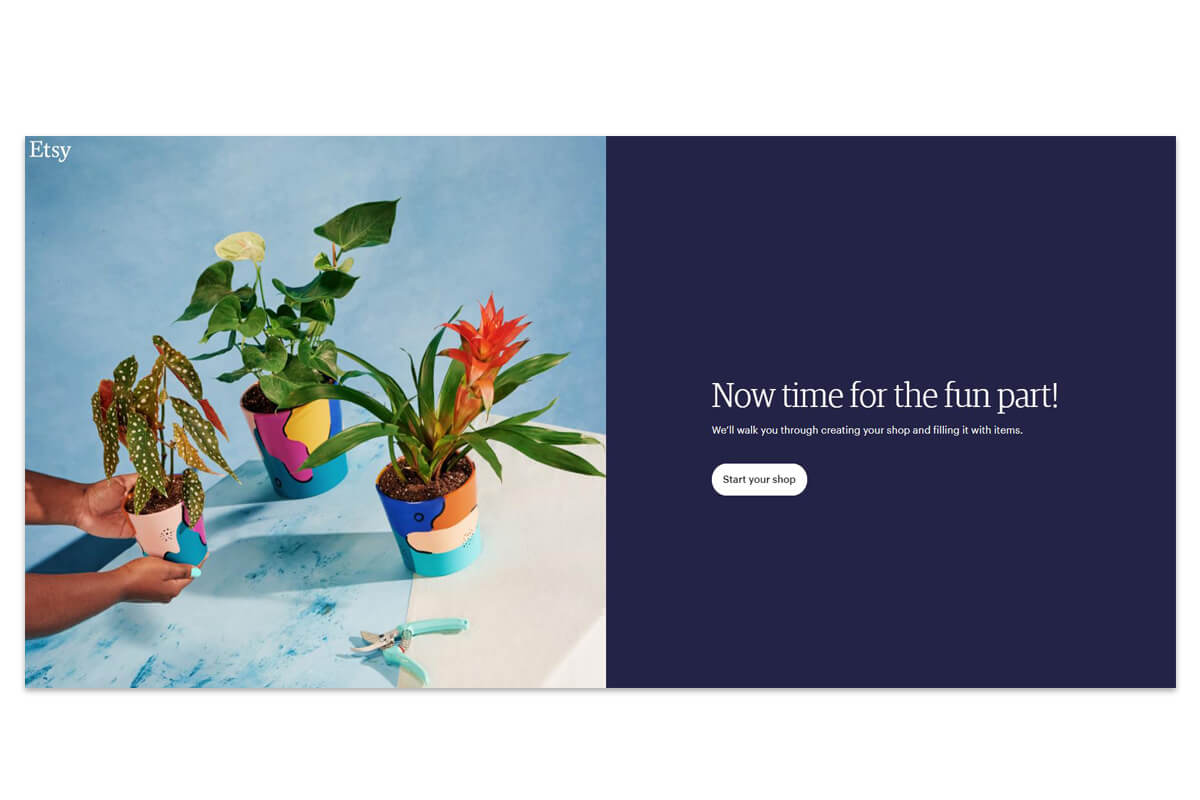 3. Set your shop preference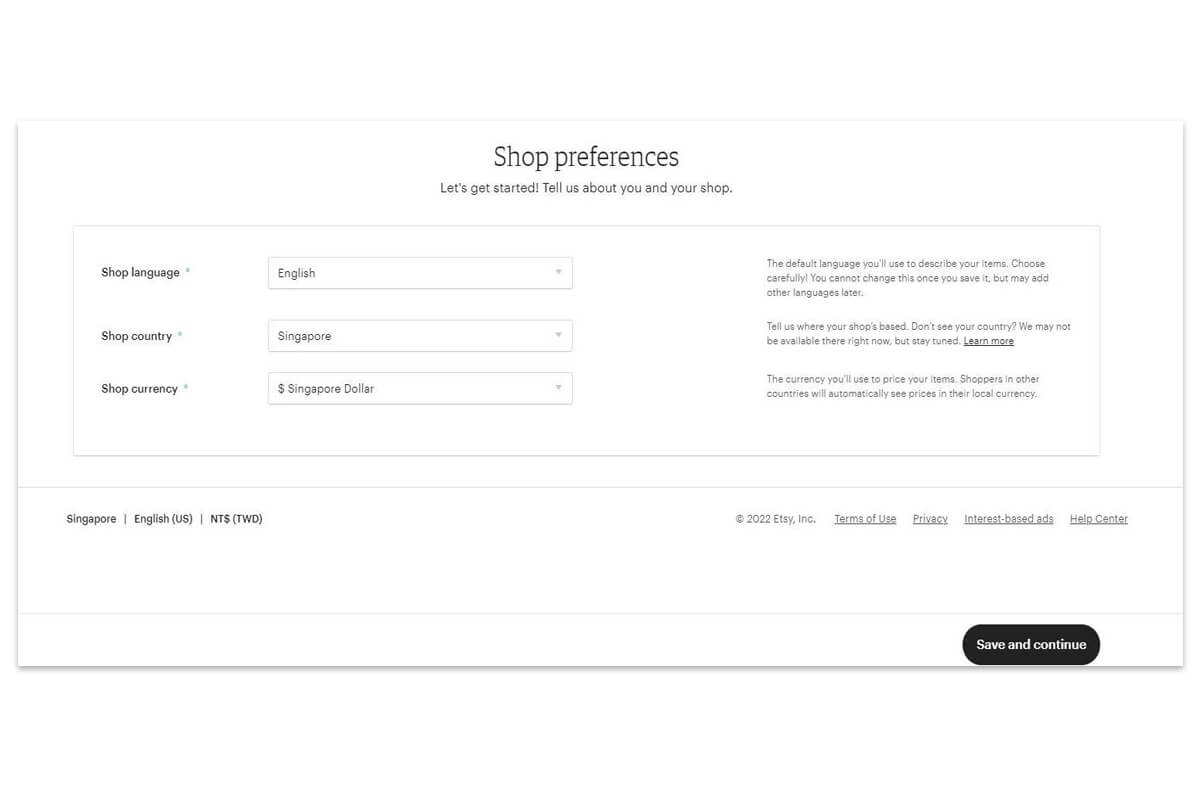 Shop language is the language you will use to describe your listings. It cannot be modified once set up.
Shop country refers to where you are located.
Shop currency is the currency you will use to price your items. It usually aligns with your country setting.
4. Set your shop name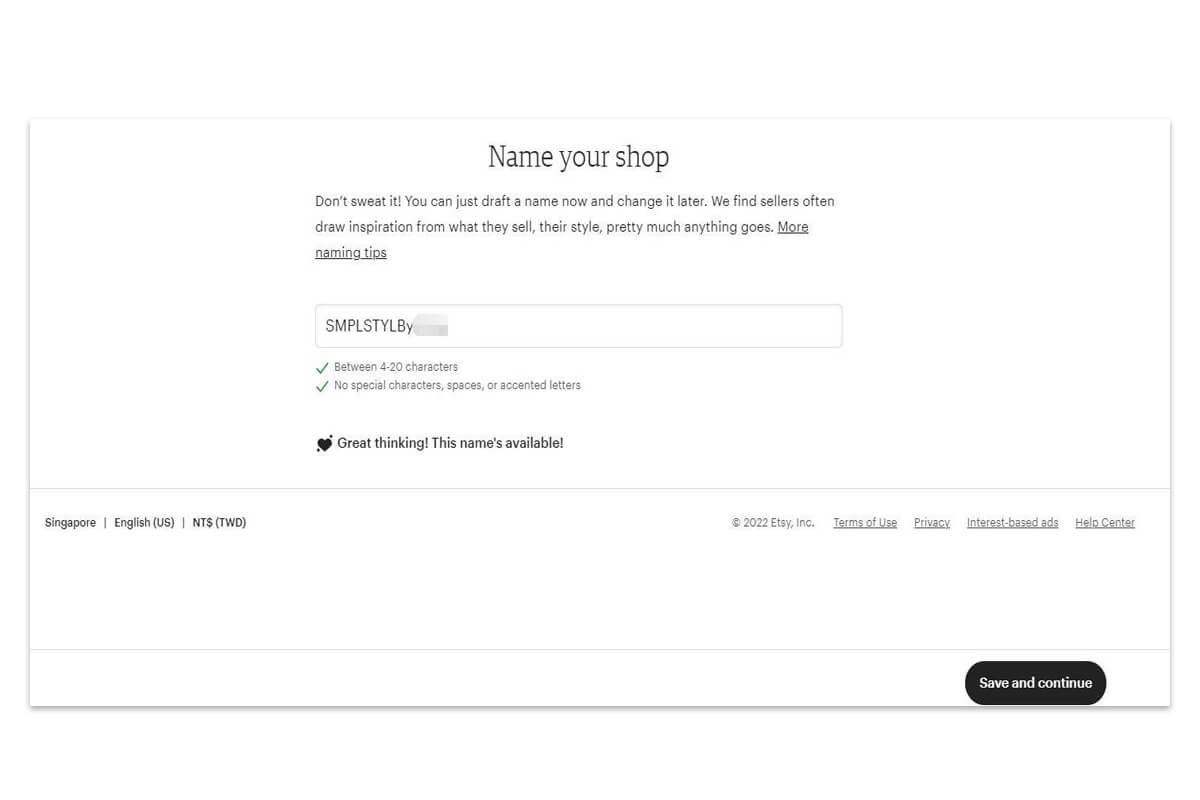 The shop name is a crucial part of your brand. It should be simple for people to memorize and related to your business. For example, if you sell customizable mugs, you may set the shop name as "CustomMugs". At the first sight of your shop name, consumers will know what you sell and regard you as a specific mugs seller.
You can generate the shop name with some tools, such as Shopify business name generator, Namelix, and NameSnack. Finding shop name ideas with ChatGPT works as well.
If you are not satisfied with the shop name already set, read our guide to change your Etsy shop name.
5. Create your first listing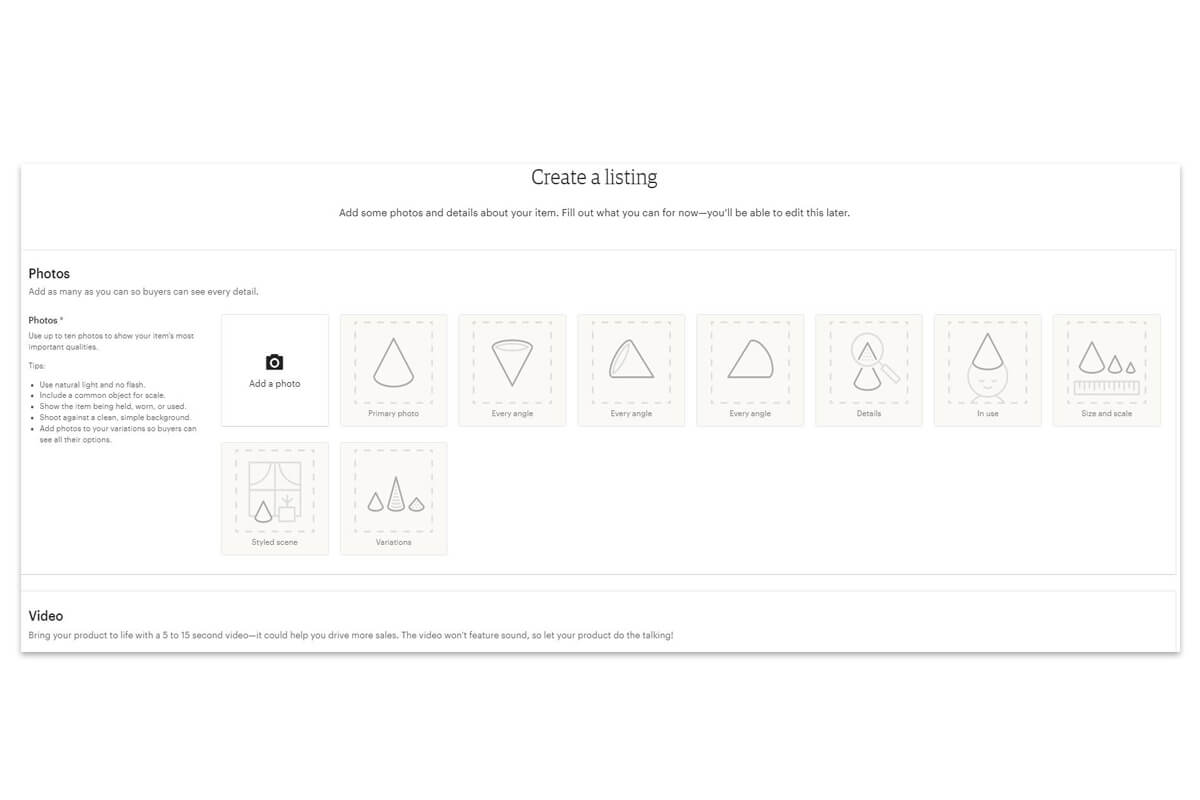 Creating the first listing is required to start a print on demand business on Etsy.
Choose the product you want to list in the store. And then edit photos and details of this product.
For customizable products, it is essential to have high-quality photos that attract potential customers and motivate them to make a purchase. In addition, uploading a vivid video can boost sales and engagement.
Meanwhile, a detailed description also matters as it helps consumers to understand the features of the product. Pay careful attention to the title, tags, and keywords in the description, because they can influence your product's ranking in Etsy's search engine results pages (SERPs).
Warm tip:You can list a random product here and delete it after you create your shop.
6. Set how you collect payments from customers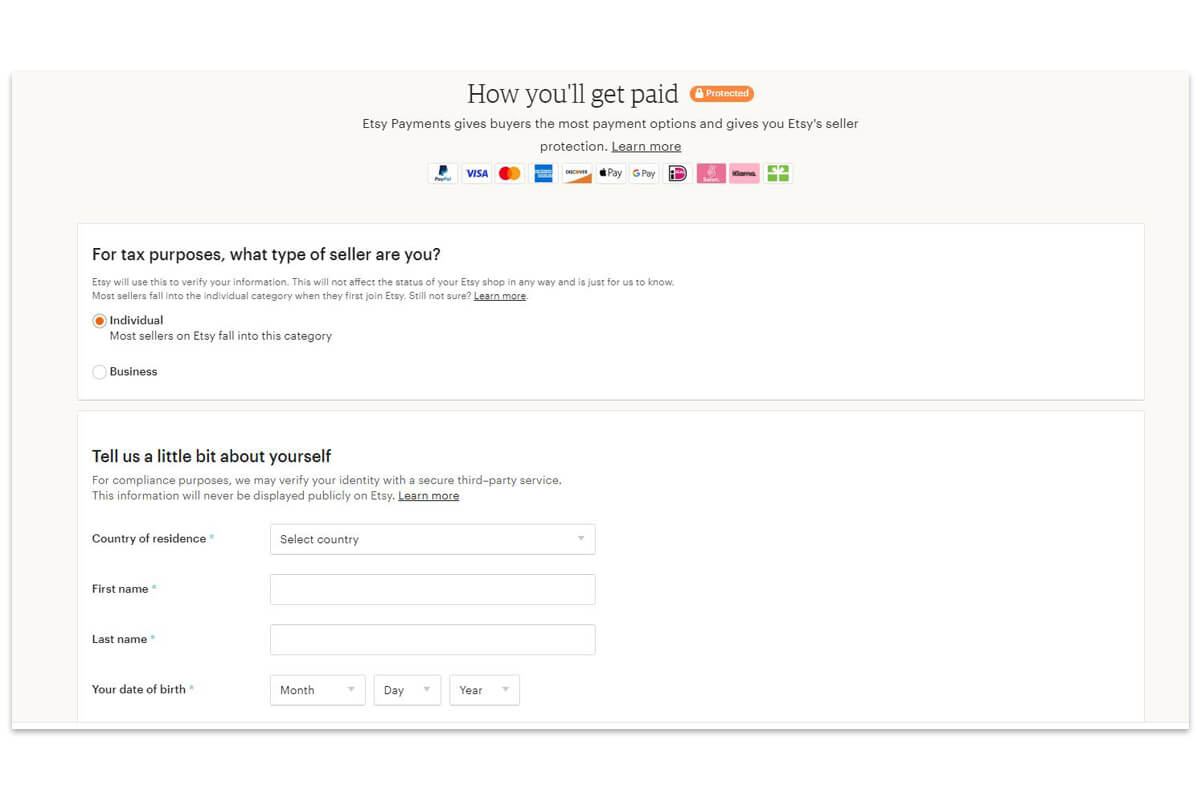 This is where you decide on how you get paid by your customers. You need to fill in your bank information like the bank address and account number.
To facilitate your customer's payment, you can use Etsy Payments. Etsy Payments gives your buyers multiple payment options like PayPal, Google Pay, and Apple Pay. This service even lets the consumers pay in their local currency.
The downside is that you will be charged payment processing fees for Etsy Payments. Payment processing fees are a set rate plus a percent of the total sale price of the product. This rate and percentage can vary by country.
7. Set how you pay your Etsy bill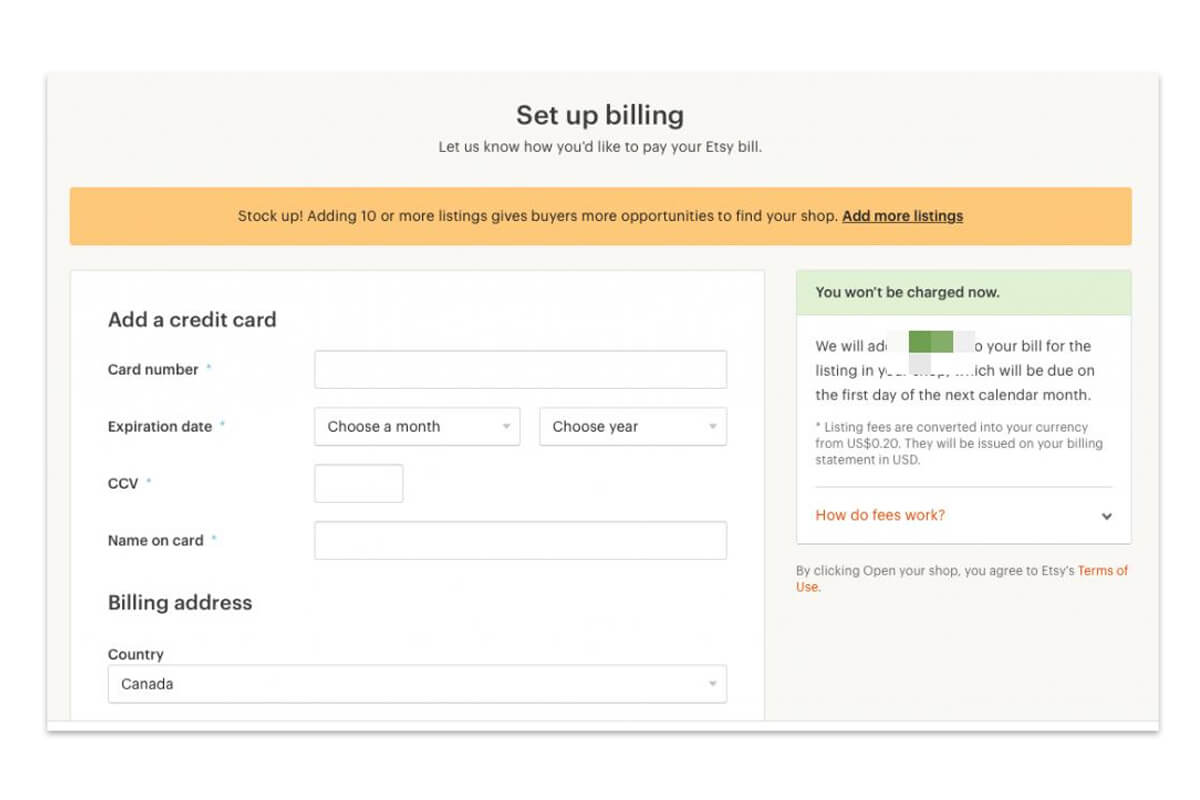 As the picture shows, you fill in the information of your bank card, which you use to pay Etsy fees. Etsy will deduct your selling fees on a regular basis later.
8. Secure your Etsy shop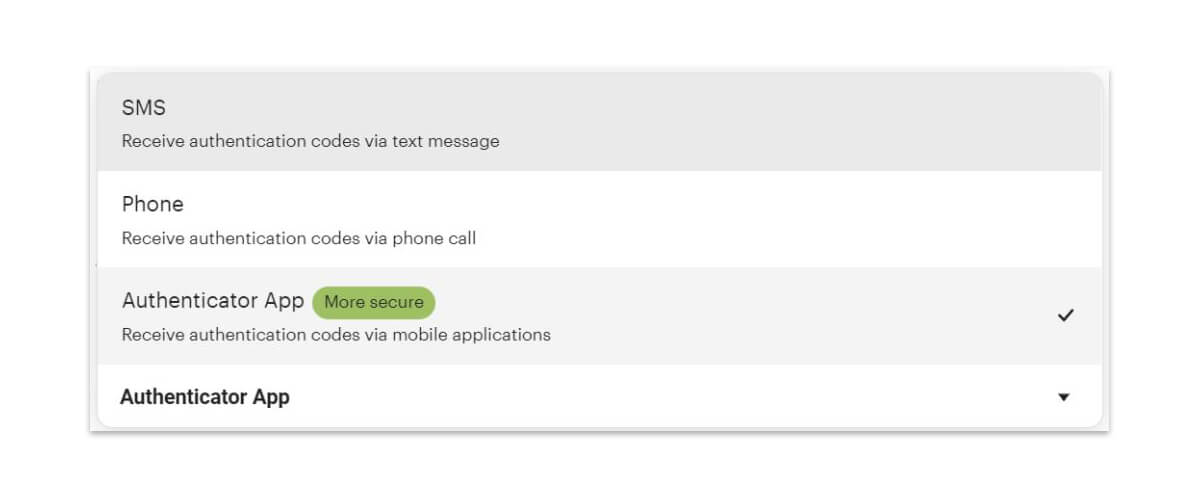 Finally, you come to ensure your Etsy shop security via text message, phone call, or Authticator App verification. After this, you will have finished creating your Etsy store!
Step 3. Connect your Etsy store with Sup Dropshipping
Connecting your store with Sup Dropshipping is one step to print on demand Etsy. After connection, your orders will be automatically fulfilled by us.
1. Sign in to your Sup Dropshipping account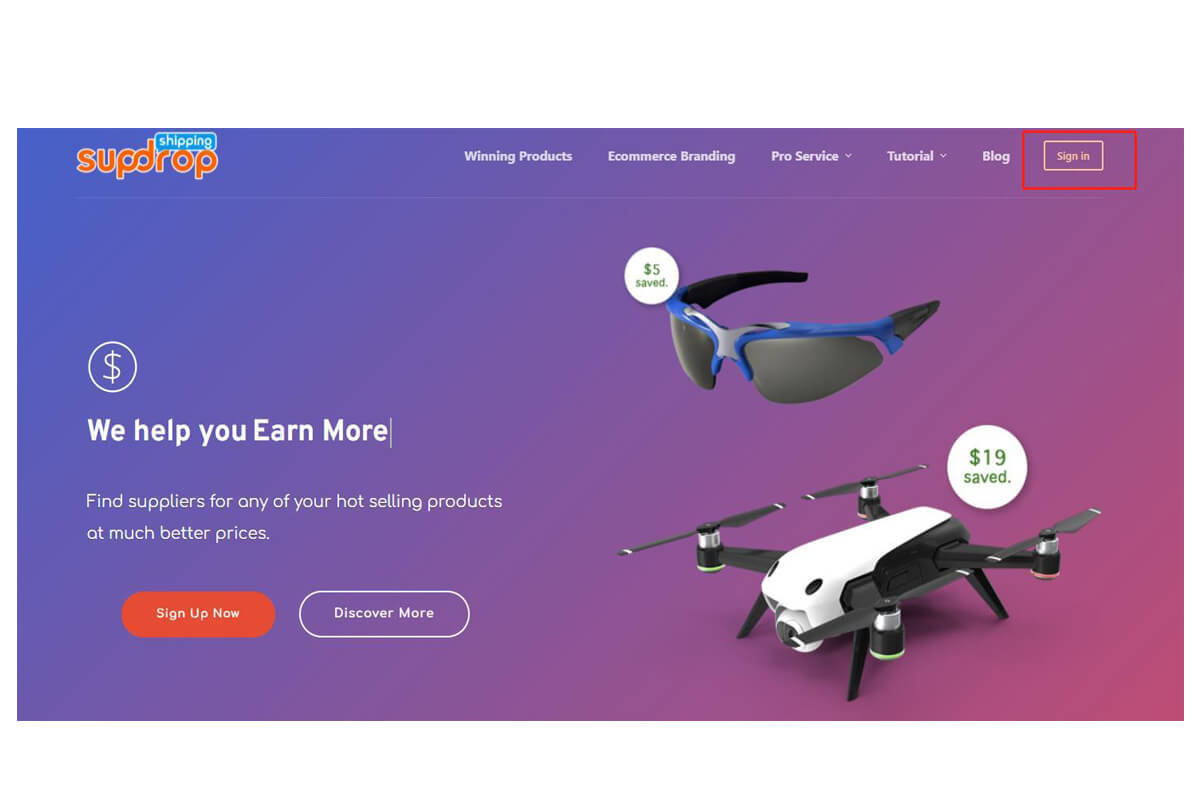 Warm Tip: If you have never registered on Sup, remember to create your Sup account before you log in.
2. Click on "Dashboard" under "My Sup"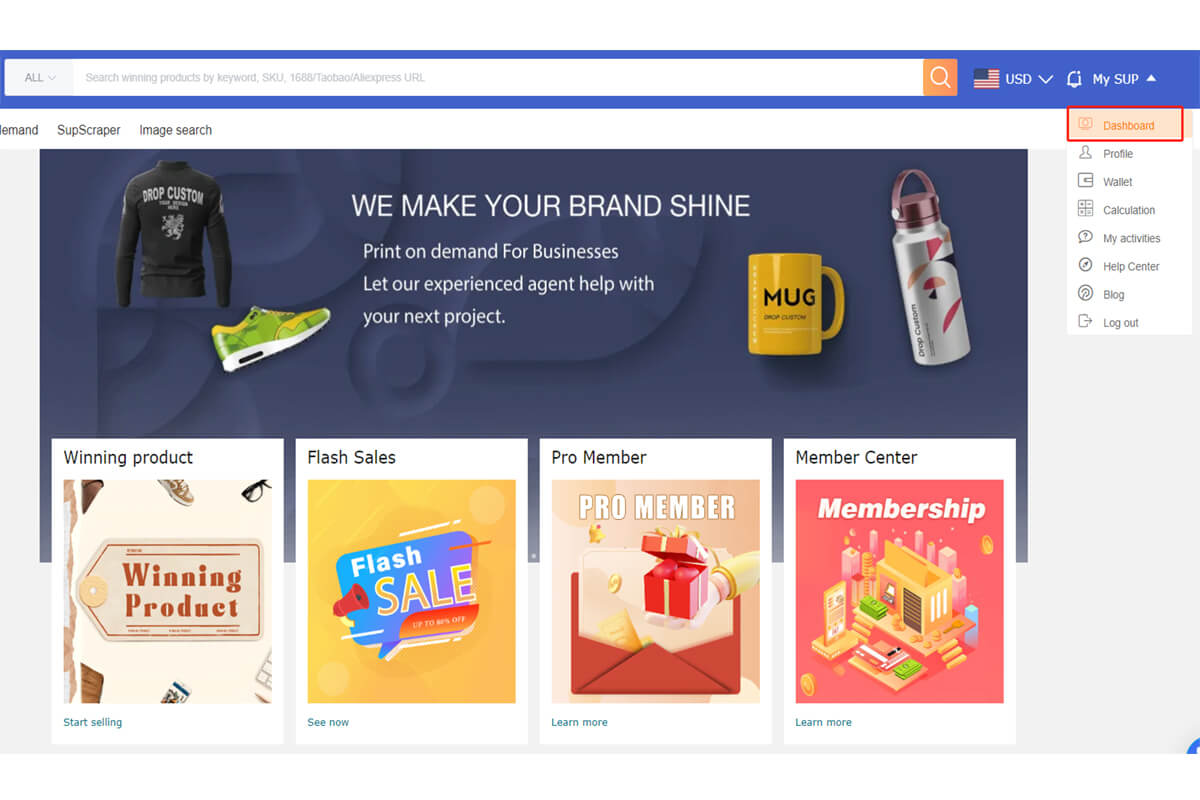 3. Choose your store type "Etsy" under "Stores" on the left sidebar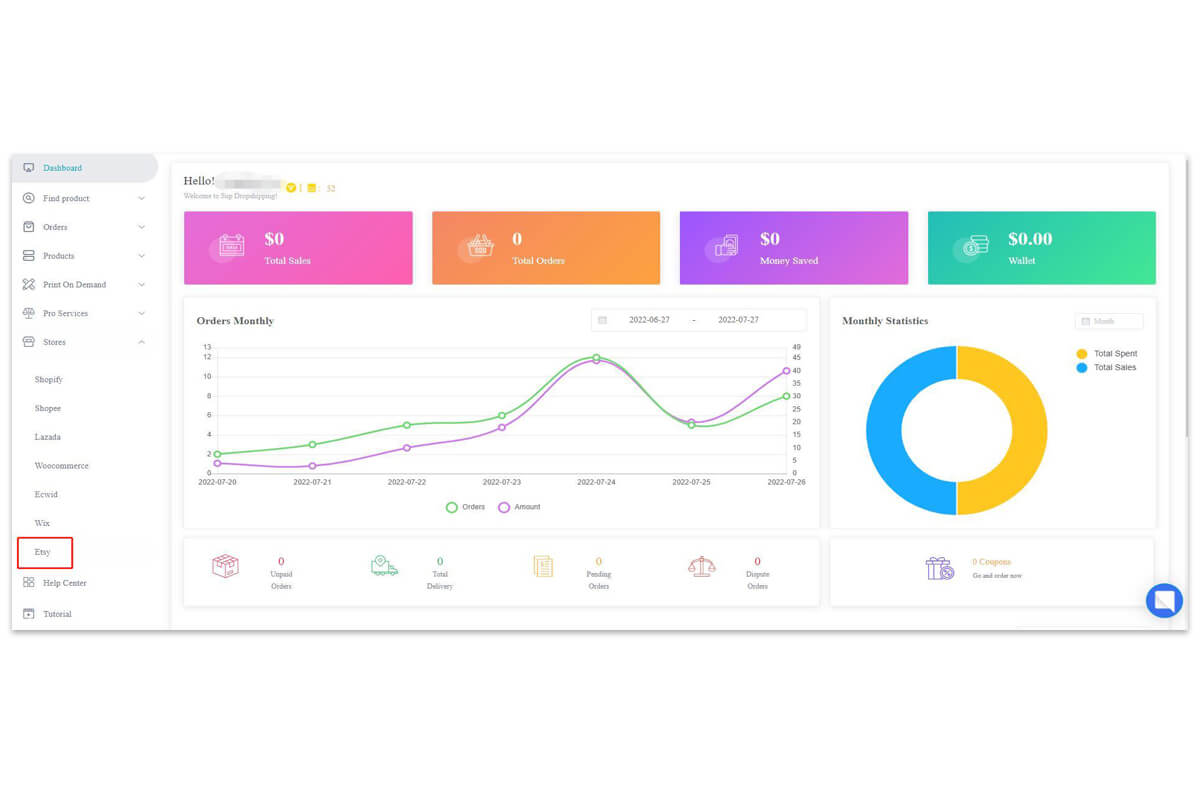 4. Click "Authorize" and grant access to your Etsy store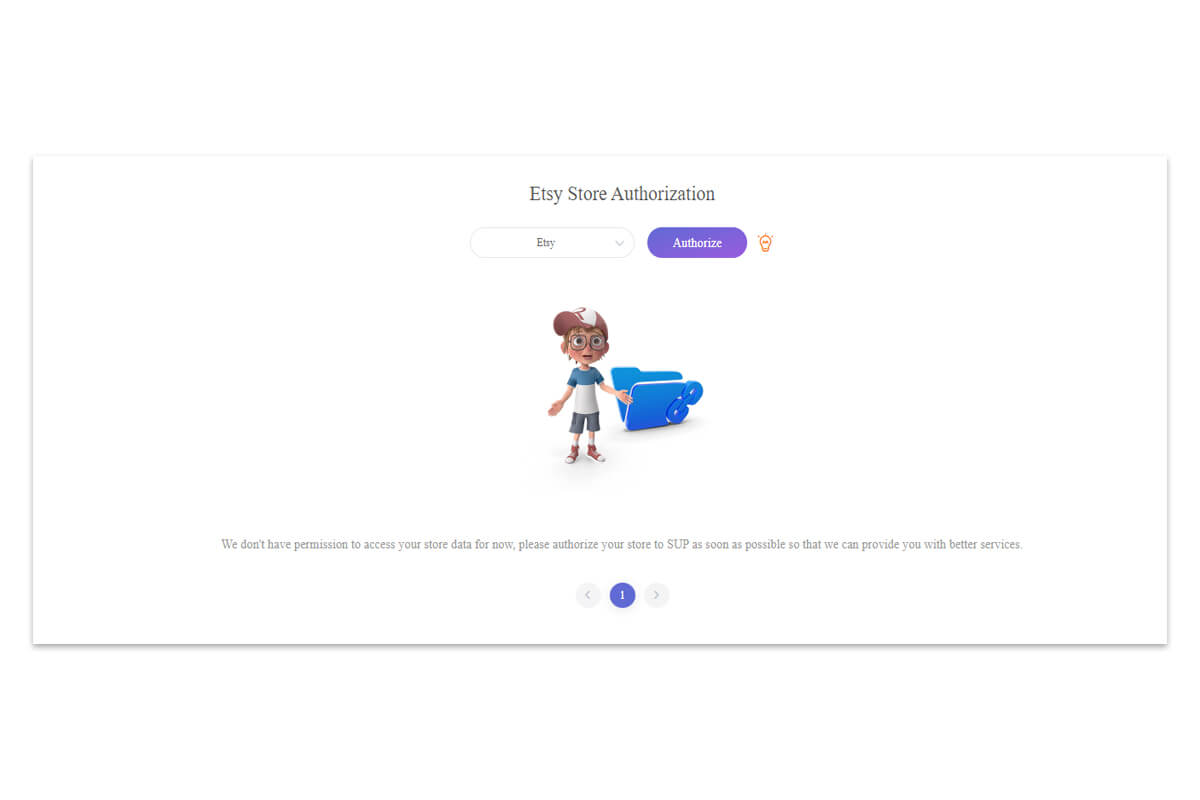 Be mindful that you should sign in to your Etsy store before the authorization.
After successfully connecting your store to Sup, you can access to our all-around services now. If you have any questions, please get in touch with us.
Step 4. Add products
It is time to add products to your store.
Remember how you list your first product to create an Etsy store ealier? That is it. You add more products as you added the first one.
But you can list a random product as the first listing. What next? What products should you sell?
Here are some important characteristics of winning products.
Solve customers' painpoints
Not common to see in retail stores
Leave you high-profit margins
Be unique in appearance or function
With no risk of infringement
Not prohibited on leading ad platforms
You can find winning products which are printable and list them in your store. Take a look at our print on demand products and weekly recommendations to get some ideas.
Once you find a promising product from Sup, you can list it in your store with a few clicks.
Read how to list product to your store.
Step 5. Market your business
Marketing is vital to increase the visibility of your products.
There are various marketing methods to promote your goods, such as social media marketing, email newsletter, SEO blogs, and PPC advertising. Paid ads, in particular, can quickly deliver your products in front of potential customers. SEO provides a cost-effective approach for long-term marketing success. Meanwhile, newsletters and social media are valuable for maintaining communication and engagement with your audience.
To start marketing, you can define your target audience and find which channels they hang out often. Then create tailored content and campaigns on these channels.
Tips for printing on demand on Etsy
It is not complicated to start a print on demand business on Etsy. Yet, with some smart tips, you can be more successful.
Check the following tips for reference.
Build your unique brand
Building a unique brand is crucial to set yourself apart and boost sales on Etsy.
A brand is the way customers feel and think of you when they buy your products or engage with your service. The brand can be perceived in every aspect of your business.
Making a catchy logo, crafting a unique shop name, and offering tailored customer service can all help you build your brand.
Tell your story with the About Me page
Creating an About Me page can build trust with your customers and bring them closer to you. This page provides a chance to tell your story, showcase your passion, and share your journey behind the brand.
To make the page outstanding, you can use photos and videos to visualize your story. Meanwhile, remember to keep your content concise and easy to read. At last, periodically update your About Me page to reflect any changes.
Upload high-quality product photos
Using high-quality product photos is important to attract potential customers and drive sales. Quite many buyers make a decision based on product images, esp. when they cannot touch the item.
Therefore, try to take high-quality photos. Hire a photographer if necessary.
Below are some photography tips for you.
Choose a clean background for your primary photo
Use props to present the size of your product
Show product details from different angles
Take a picture to tell your customers how to use the product in a certain scene
Add descriptive texts to help buyers understand the photos
Offer products with variations
Offering products with variations adds versatility to your Etsy shop and caters to diverse customer preferences. By providing options such as different sizes, colors, materials, or styles, you can appeal to a wider audience and make more sales. Variations allow customers to find the perfect fit for their needs. So they are more likely to choose your shop over others.
Provide exclusive product packaging
Providing exclusive product packaging can improve the overall customer experience and increase customer satisfaction. Customized and thoughtfully designed packaging not only protects the product but also creates a memorable unboxing moment.
Consider incorporating your brand logo or name, unique designs, or personalized thank-you notes within the packaging. This can leave a lasting impression on the customer. As a result, they may buy more from you and recommend you to others.
Conclusion
Etsy is a potential market to sell print on demand products. With a good understanding of Etsy seller policy, you can start your business easily with our guide. Hope this article is helpful for you.