Shopify Dropshipping Complete Guide to Shipping Solutions
This guide will cover all the topics you need to know about shipping for Shopify Dropshipping. We are here to support you from sourcing, purchasing, and warehousing to shipping around the world. Grow your dropshipping business and leave the hard work to us.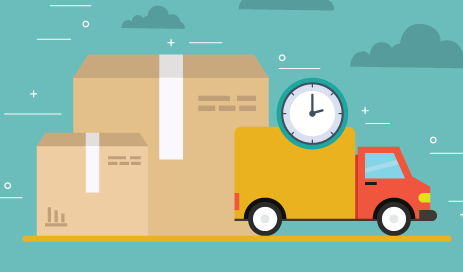 Shipping from China to the USA
The USA is considered as the largest market for most drop shippers and is the country where we ship the most packages for our clients.
Yes you need an agent to support.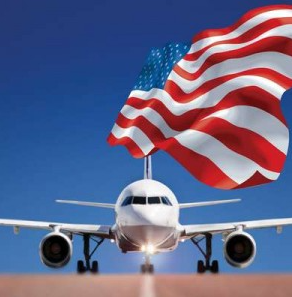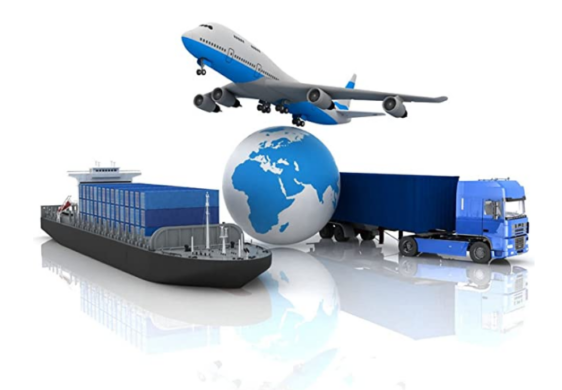 Price and timeframe are the primary two aspects to consider when choosing a shipping method. We can tell from the table below, the most cost & time-efficient choices from China to the USA are USPS, Yunexpress,(add our shipping line if have), and Yanwen Ordinary.
100g Ordinary Products
Data as of 7 August 2020 ( Need to review this data?)
Notice: The shipping costs given above are estimates. Shipping rates are subject to change at any time, especially during special times such as epidemics. For the latest shipping rates, you can register and check with our shipping calculator.
Taxes & Customs
In 2016, the USA increased the minimum threshold for customs duties from $200 to $800, which means most goods valued below $800 are not subject to duties or taxes.
If the package has duties applied, it is your customer who is responsible for paying customs duties (or import taxes) on the items shipped from China across the US border. Make sure you add such information on your store so that your customers are aware that the items they ordered may come from abroad so they should expect to pay customs duties. The point of being upfront is to protect you from complaints or refund requests because of customs costs.
Prohibited and Restricted Items
There are items that are prohibited or restricted by law to enter the US. You need to avoid or pay attention to these items when deciding on your dropshipping products if you want your customers to receive their packages with no problems.
Such items are listed below:
















Game and Hunting Trophies

Haitian Animal Hide Drums

Prior Notice for Food Importation



Food Products (Raw and Prepared)

Defense Articles or Items with Military or Proliferation Applications

Cultural Artifacts and Cultural Property

Trademark and Copyrighted Articles
For details, please refer to Prohibited and Restricted Items
Shipping from the USA to the USA
It would be best if you had private inventory in the local warehouses. Providing lightning delivery is one of the practical ways to win a customer's heart. Keep reading and you'll learn the fastest way of bringing parcels to your US-based customers.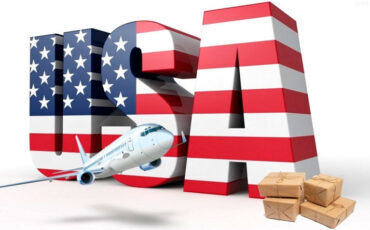 Shipping Cost & Time from the USA to the USA
Shipping from the US warehouses costs a little bit more than shipping from China to the US but in return, it improves shipping times by triple.
100g Ordinary Products Data as of 7 August 2020
Note: The shipping rate given above is an estimate. Shipping rates are subject to change at any time, especially during special times such as epidemics. For the latest shipping rates, you can register and check with our shipping calculator.
Register to Get the Latest Shipping Rates!
How can shipping from the US warehouses boost your dropshipping business?
Let's see the truth: Dropshipping as a business model isn't perfect. The feature of dropshipping has the attraction of flexibility, which you don't need to pay upfront for inventory. Yet that's precisely where its limitation lies. Holding no inventory means you lack control, especially during high seasons and holidays such as Christmas and Chinese New Year, when products may run out of stock and shipping times may be extended.
At a certain point in your dropshipping journey, when you are ready to scale, you can make good use of our US warehouses to bring your business to another level. Let's take a look at the benefits that using our US warehouses can bring you.
Keep selling on holidays
Many experienced drop shippers suspend their Facebook ads during the Chinese New Year as Chinese suppliers and logistics companies go on vacation. By purchasing inventory at our US warehouses in advance, you can keep running ads and have your orders shipped without delay. That will get you ahead of your competitors who have to stop due to being out of stock.
Meet the needs of country-sensitive customers
Some customers may be sensitive to which country or region the package is being sent from. By shipping from the US warehouses, parcels won't show information such as "Ship from China".
Expedite order processing and delivery


2. Shipping Solutions by Shipping Methods for Shopify Dropshipping

Which one is the best shipping carrier out there? We selected the most popular shipping methods for dropshipping and gave answers to frequently asked questions regarding their delivery service.
YunExpress, What is It?
YunExpress is a Chinese logistics provider, famous for providing reliable and affordable shipping solutions for cross-border B2C e-commerce. YunExpress is favored for its low cost and consistent service quality by not only sellers but also shoppers on Aliexpress, eBay, Gearbest, and other popular online marketplaces.
How much does YunExpress cost?
YunExpress is known as a cost-friendly shipping method. The shipping costs depend on the destination country/region and the weight and size of your package. You can use our shipping calculator to get the latest shipping rates for YunExpress by creating a free account.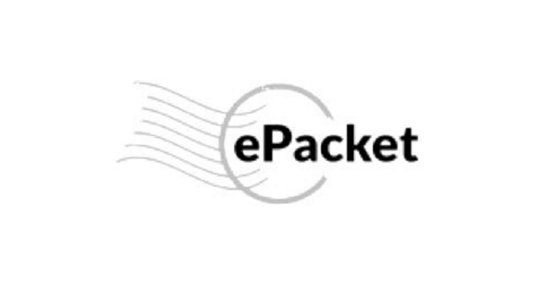 What is ePacket?
ePacket is an affordable and faster shipping solution to the cross-border delivery of lightweight parcels, which is provided by China Postal Express & Logistics in cooperation with partner posts such as USPS, Canada Post, Royal Mail etc.
What are the restrictions to use ePacket and shipping requirements?
There are certain requirements that need to be met if a parcel wants to use the ePacket delivery service.
Size: There are limits on the maximum size and minimum size of a package.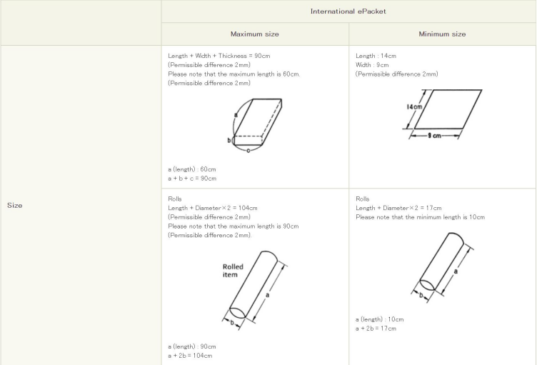 Source: Japan Post
Weight: The weight of the parcel including the packaging cannot exceed 2kg.
Value: The package value cannot exceed $400.
What is ePacket tracking?
ePacket is trackable all the way to the recipients allowing them to monitor and locate their parcels on the carrier's official websites or sites like 17TRACK.
With ePacket tracking, customers won't worry about scams nor keep inquiring, "Where's my order?"
What is ePacket delivery and how does a ePacket parcel get delivered?
ePacket delivery is fulfilled by more than one carrier. The ePacket parcel will first go to the China Post's postal office and be sent to the mail processing centers. Then it will be handed over to the international transport. After the parcel arrives at the destination country, it will go through customs. Once the customs release the parcel, a local carrier will pick it up and be in charge of delivering it to your customer's address.
How to calculate ePacket Shipping Rate?
EPacket shipping rate is calculated based on the destination country/territory and package weight. You can register and check our shipping calculator to get the recent shipping rate of ePacket.
Register to Get the Latest Shipping Rates!
Which countries support ePacket delivery?
Not all countries support ePacket delivery. The countries and regions where ePacket is available are:
Australia
Belgium
Brazil
Canada
Denmark
Finland
France
Germany
Greece
Hong Kong, China
Indonesia
Ireland
Israel
Italy
Japan
Kazakhstan
Korea
Luxembourg
Malaysia
Mexico
Netherlands
New Zealand
Norway
Poland
Portugal
Russia
Saudi Arabia
Singapore
Spain
Sweden
Switzerland
Thailand
the United Kingdom
the United States
Turkey
Ukraine
Vietnam
How long does ePacket take to deliver from China to the US?
Normally it takes 12–25 days on average for ePacket to deliver from China to the US. However, shipping can get delayed due to various factors, including holidays, customs, weather, epidemics, and the like.
Will the customer have to pay customs duties and taxes for ePacket delivery?
Yes, the recipient may be asked to pay custom duties and taxes when the package arrives at the destination country. All international shipments going through customs clearance are subject to the local customs duties and taxes, so is the ePacket package.
How does ePacket work on Aliexpress?
If working with Aliexpress suppliers, ePacket is an ideal shipping option considering its low cost, fair delivery time, and trackable feature. You can even find lots of Aliexpress suppliers that offer ePacket as free shipping, which enables you to offer free shipping to your customer.
How does ePacket work with a dropshipping agent?
Dropshipping agents can provide you with a wide selection of shipping options, usually including ePacket. Check how a dropshipping agent gets your orders delivered.
What's the benefit of the ePacket?
There is no doubt that customers are more likely to buy from you if they can enjoy a faster delivery at the lowest cost. By leveraging ePacket shipping, you can make a more appealing offer to your customer and improve the customer experience.
How to ensure the delivery time during special occasions such as the covid-19 pandemic?
Package shipped with ePacket is usually expected to be delivered in about 20 days. However, in the event of a holiday or epidemic, shipping times can be extended. Your customer may wait months without receiving the package. To cope with this situation, you either have to find a local supplier to work with or use a local warehouse to stock and ship the goods. Check out how our customer managed to dropship with 2–5 day shipping in the US during the covid-19 pandemic.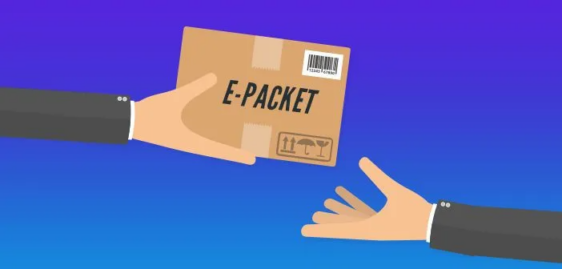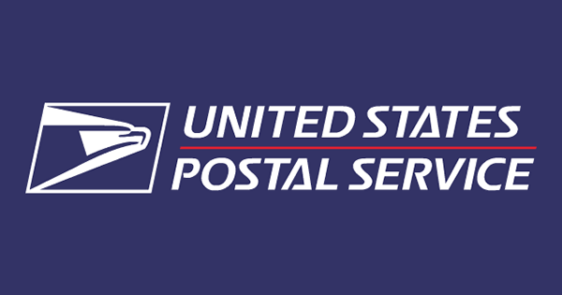 What is USPS?
USPS stands for the United States Postal service, and is an independent executive agency of the United States federal government. USPS provides domestic and international delivery services for mail and small parcels less than 70 lbs (31.75 kg).
USPS provides the following mail and shipping services:
Domestic: Priority Mail Express
Priority Mail
First-Class Mail
USPS Retail Ground
Media Mail
International: Global Express Guaranteed (GXG)
Priority Mail Express International
Priority Mail International
First-Class Mail International
First-Class Package International Service
Airmail M-Bags
Shipping from China to the US with USPS. How does it work?
You are able to choose USPS as the shipping method if using our service. Here is how we deliver your orders with USPS shipping:
We collect small packages that use USPS and pack them into large parcels, and hand them over to DHL each day.
DHL ships the large parcels from China to our US warehouses.
USPS picks up the small packages from our US warehouses and is in charge of delivering them to your customers.
How long does it take to ship from China to the US with USPS shipping?
It usually takes 10–20 days for the delivery of our USPS parcels from China to the US. Parcels may be delivered earlier or later than usual due to epidemics, customs, weather, and other factors.
How to track USPS packages?
There are several ways you can track the package with the USPS tracking number.
Visit USPS official site:

https://tools.usps.com/go/TrackConfirmAction_input

Send a text to 28777 with the tracking number.
Install USPS mobile app on your iPhone or Android devices.
Use a third-party package tracking system such as

17track

.
If using our service, you can keep track of each order on our platform.
What do USPS tracking statuses mean?
Below we've listed the most common USPS tracking statuses and their meanings.
Pre-Shipment
Pre-Shipment means USPS has received the parcel information from the shipper or shipping partner and they are waiting for the item to arrive at a USPS facility.
Accepted
Accecpted indicates the item has been received by USPS.
In-Transit
In Transit means the item is on its way to the final destination.
Delivered
Delivered means the item has reached its destination.
Alert
If the status shows Alert, it means there was an issue during the delivery of the item. You need to pay attention to the detailed tracking information and contact USPS Customer Service for further details or help if necessary.
What to do if USPS tracking info shows delivered but the package isn't received?
The tracking information shows the package is delivered. Still, you can't find it? First, you need to check all the potential delivery locations around your indicated address. Also, don't forget to ask your family member if they received it for you. There is a chance that the package will arrive a little late after it was marked as delivered. If you still can't locate your parcel after 24 hours from the delivered status, you can contact your local postal office for the detail of the delivery and ask for help.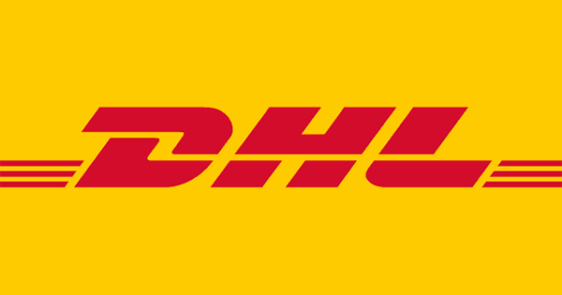 What is DHL?
DHL is a division of the world's leading logistics company Deutsche Post DHL. The company name DHL is a combination of the initials of the founders' last names, Dalsey, Hillblom, and Lynn. DHL serves more than 220 countries and territories with its wide range of logistics solutions.
How much does DHL cost?
The cost of shipping a parcel with DHL depends on the destination country/territory and the size and weight of your parcel. You can register for free and enter the shipping details into our shipping calculator to get the latest shipping rate of DHL.
Register to Get the Latest Shipping Rates!
How long does DHL Express take to deliver?
DHL Express is among the most efficient shipping methods to deliver a package worldwide. Delivery times vary by country/territory of origin and destination. Parcels with DHL Express dispatched from China usually reach the USA in 3-7 business days, as fast as in 1 business day.
Sign up now to view delivery times to the globe for DHL and other available shipping methods we provide.
How to track DHL packages?
You can track your DHL packages by visiting DHL official website with the tracking number provided by your shipper. If you are using multiple shipping carriers to deliver your packages, we recommend using a package tracking platform such as 17TRACK. By using our service, you are able to get all tracking updates on our platform.
What are the restrictions on using DHL shipping?
There are certain items that are prohibited from being imported to other countries as each country has its own import laws and regulations. You can take advantage of DHL Express Global Import Guidelines to help you spot the prohibited items for different countries and territories.
Under no circumstances may the following items be shipped via DHL:
Live animals
Hunting (Animal) trophies, animal parts such as ivory and sharks fin, animal remains, or Animal-by-Products and derived products not intended for human consumption, prohibited for movement by the CITES Convention and/or local law.
Human remains or ashes
Bullion (of any precious metal)
Cash (current legal tender)
Loose precious and semi-precious stones
Complete firearms, ammunition, explosives / explosive devices