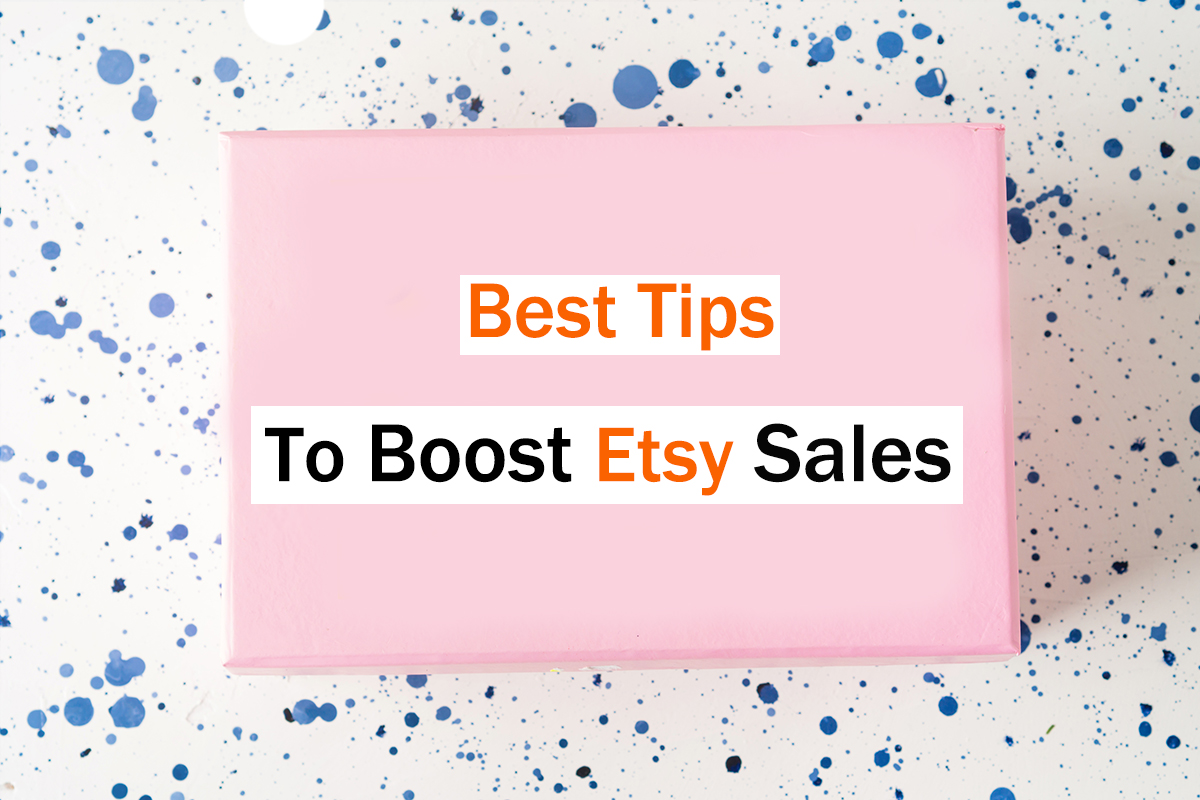 How to get more sales on Etsy? Many Etsy sellers could be expecting an answer to this question.
Etsy is a well-known marketplace for handmade, vintage, and crafted products. With its increasing popularity, more and more sellers have been starting their businesses on this platform. To outperform your competitors and grow your revenue, you may need some good tips.
Here are 15 brilliant tips to help you increase sales on Etsy.
1. Build your brand
Building your brand is crucial to stand out from your competition and boost sales on Etsy.
A brand is the way customers feel and think of you when they buy your products or engage with your service. From your shop appearance to customer service, the brand can be perceived in every aspect of your business.
To establish your brand, you can
Make a catchy logo and shop name
Offer customized products
Take unique product photos
Provide customized packages with your brand
Tailor customer service to your audience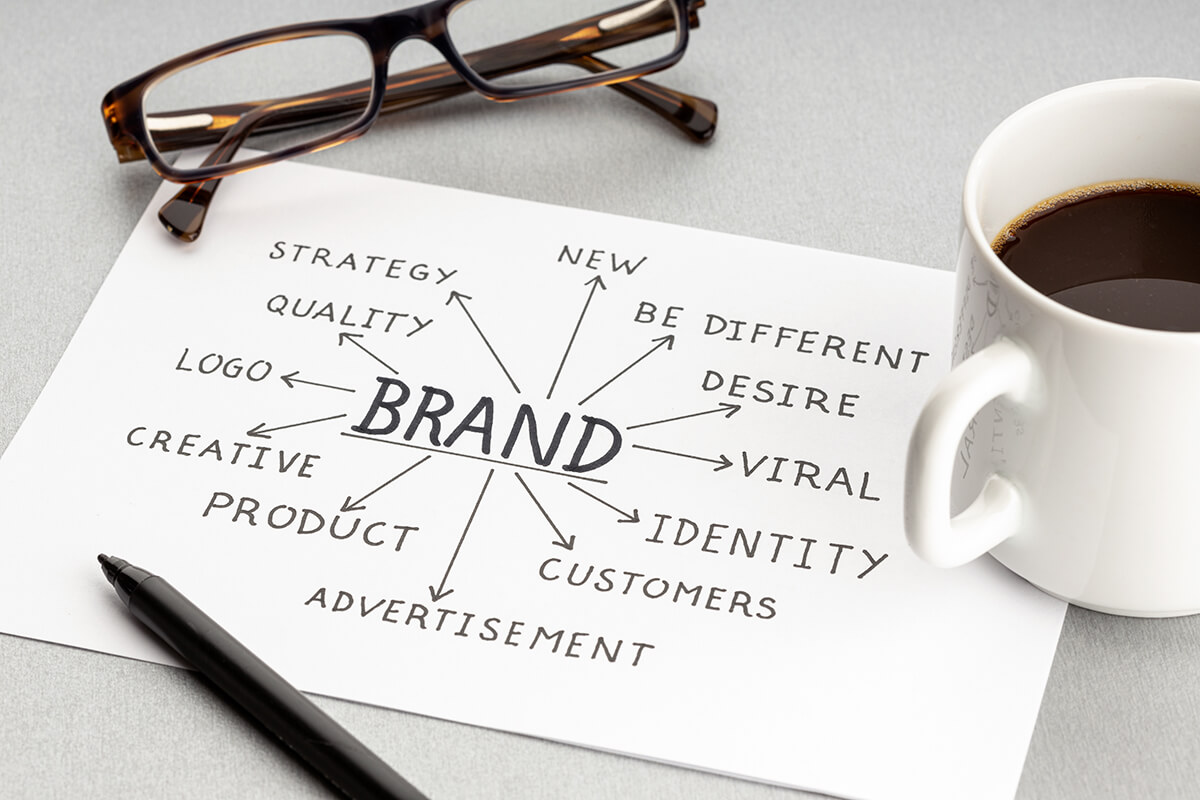 2. Fill in keywords in your website content
This is important to increase your products' visibility. Because
The consumers type keywords in the search bar to find your product
Etsy identifies if your product is a fit for the query through keywords
The more precise and relevant your keywords, the higher the chance that your product ranks at the top of a result page.
When it comes to choosing keywords, long-tail keywords make a higher conversion than highly competitive short-tail keywords. Usually, if people search with a specific term, they could have had a target and tend to order the product on the result page. So it is a good idea to incorporate long-tail keywords with high traffic into the title, description, tags, attributes, and categories.
To find such keywords, you may refer to terms in the drop-down menu on the Etsy search box.
For example, you are selling a long dress for women, but you have no idea what keywords to write in the title or tags. In this case, enter "long dress" in the search box, and quite a few terms will pop up automatically, like "long dress for women", "long dress for girls", "long dress sewing pattern", "long dress long sleeve", etc. These descriptive and relative phrases can be included in the product title and tags.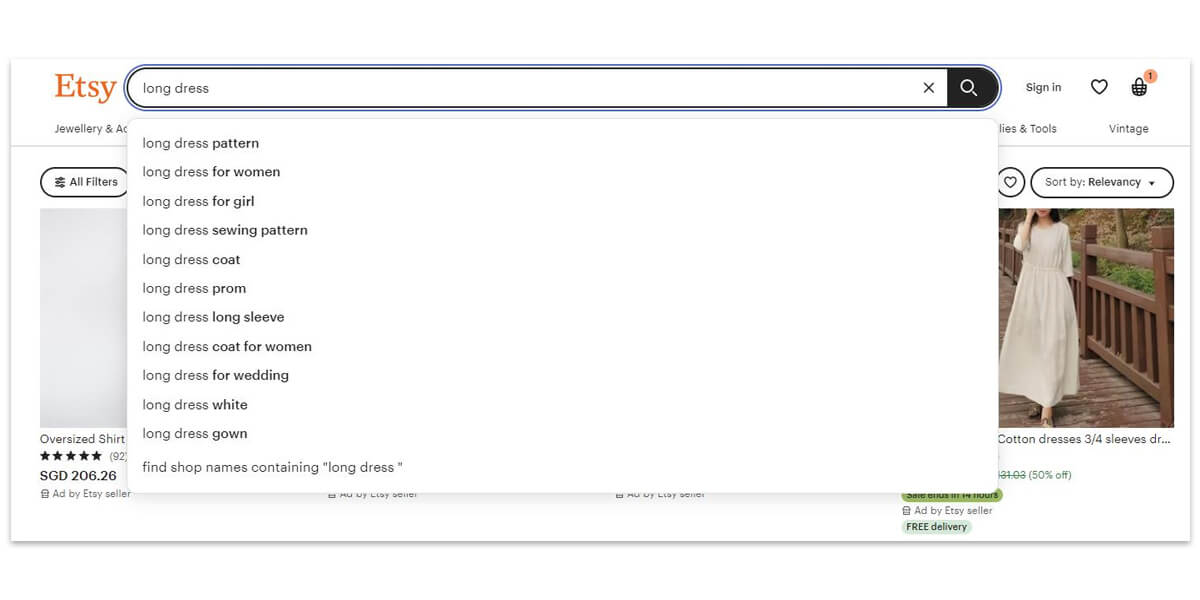 In addition, you can search for keywords from other search engines or keyword tools, like Google Chrome and Ahrefs. These tools are also helpful in assisting you to find proper keywords.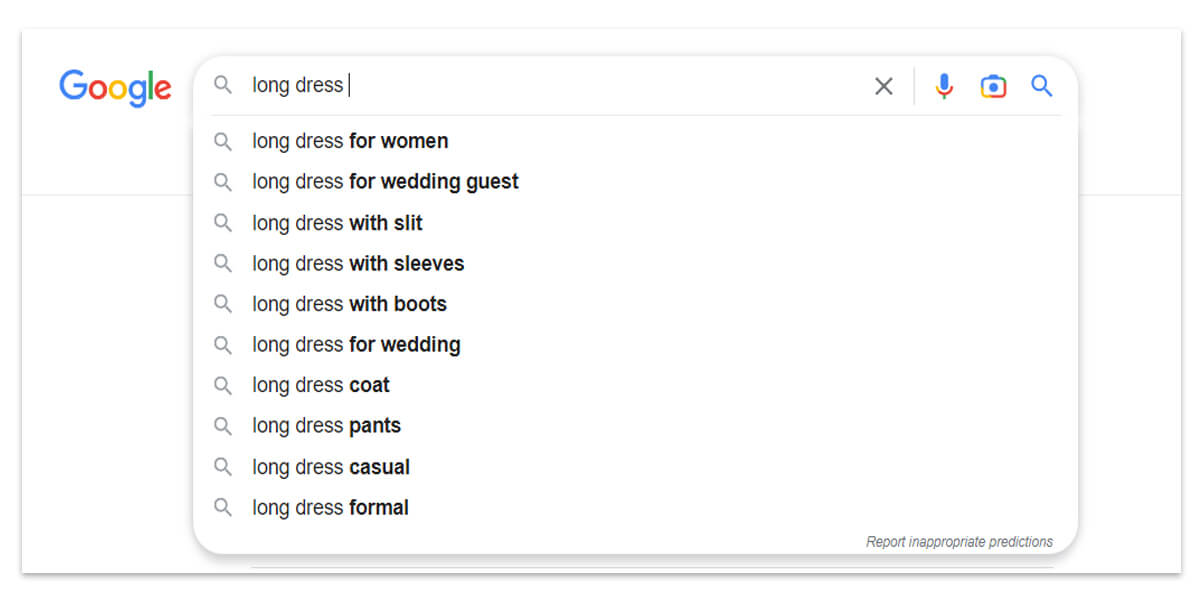 3. Write an attractive product description
An attractive description shows more details about your product and entices customers to make a purchase. It tells not only what the product is, but also how to use the product step by step and what benefits it will bring to customers.
In the description, you should
highlight unique features of your products
include product material, color, size, style, variations, package quantity, and other specifications
clarify how your product functions and make an ultimate how-to guide
explain how it can bring convenience to your customers
The first few lines of the description always come at the first sight of your customers on the product detail page. So be sure to write the most important points first when editing the description.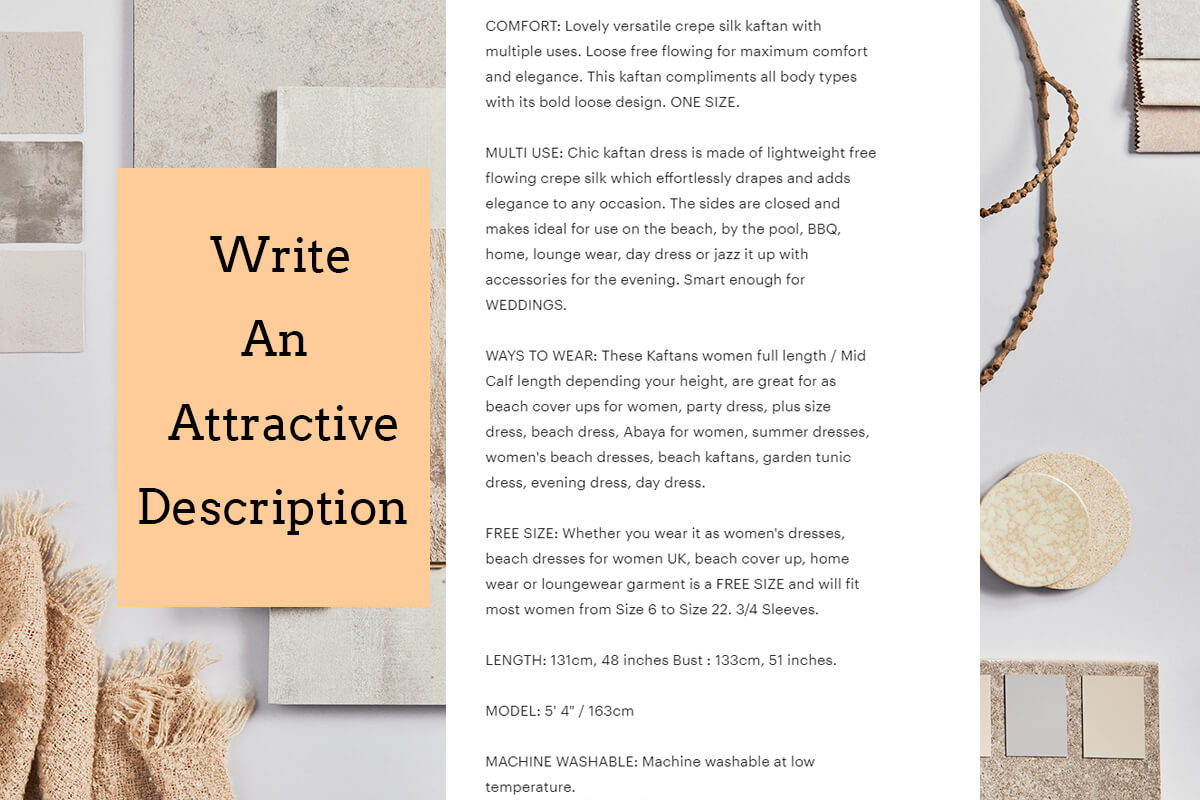 4. Take appealing product photos
Taking appealing photos is vital to drive more sales on Etsy. For one thing, Etsy is a marketplace based on crafts and artisan items so people come here for aesthetic products. Your product photos could be one key factor that affects their decision. For another thing, attractive photos can set your product apart from your competitors', thus, generating more sales.
Here are some photography tips you may refer to.
Take photos in natural light rather than harsh light with dark shadows
Choose a clean background for your primary photo
Show variations to let your customers know what they can choose
Use props to present the size of your product
Show product details with closeup pictures
Take a picture to tell your customers how to use the product in a certain scene
Add descriptive texts to help buyers understand the photos
The first photo often appears among search results. It can affect if customers click on your product at first glance. Therefore, make sure this photo clearly displays your product.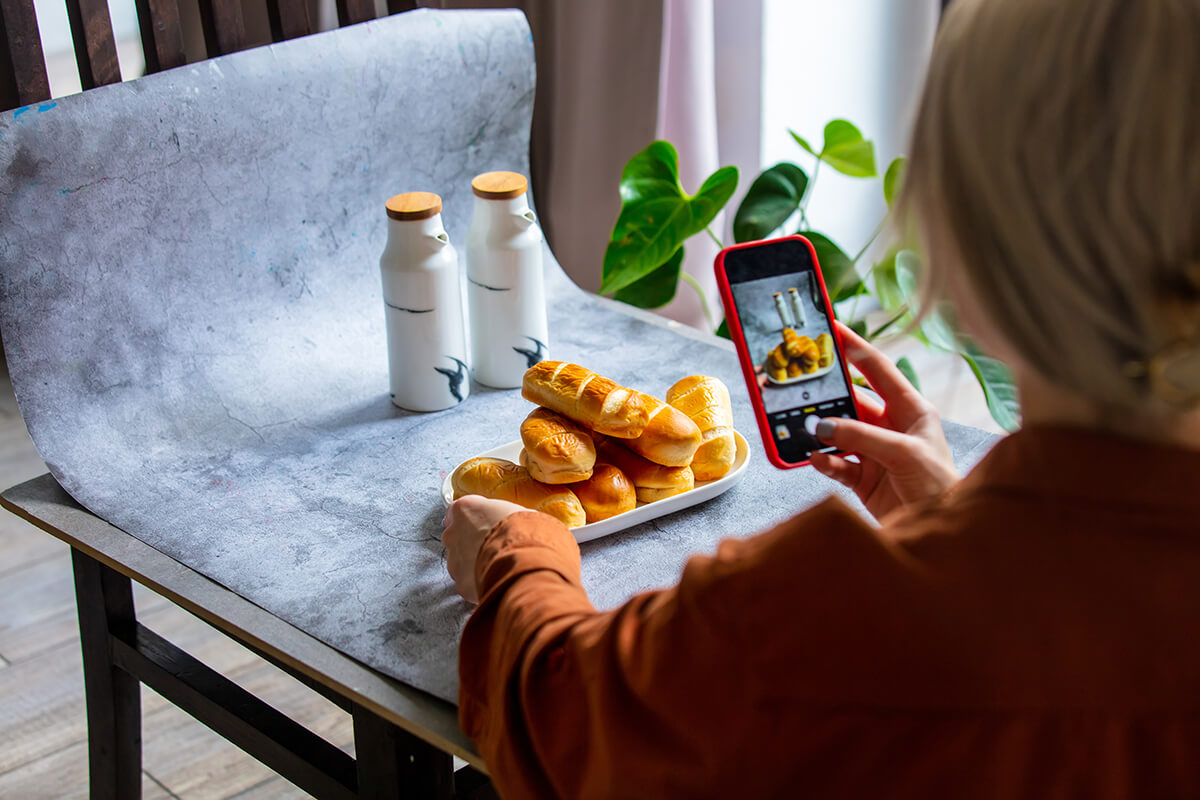 5. Set a reasonable price for your product
The price is a key factor that directly affects sales. A reasonable price can enhance the chance of getting more sales on Etsy. A high price will lower the conversion rate and a low price could hurt your profits.
So you had better implement a pricing strategy when setting a price for your product. Take your unique selling point, customer base, and competition into account in this process. And then make the price align with the critical criteria you set.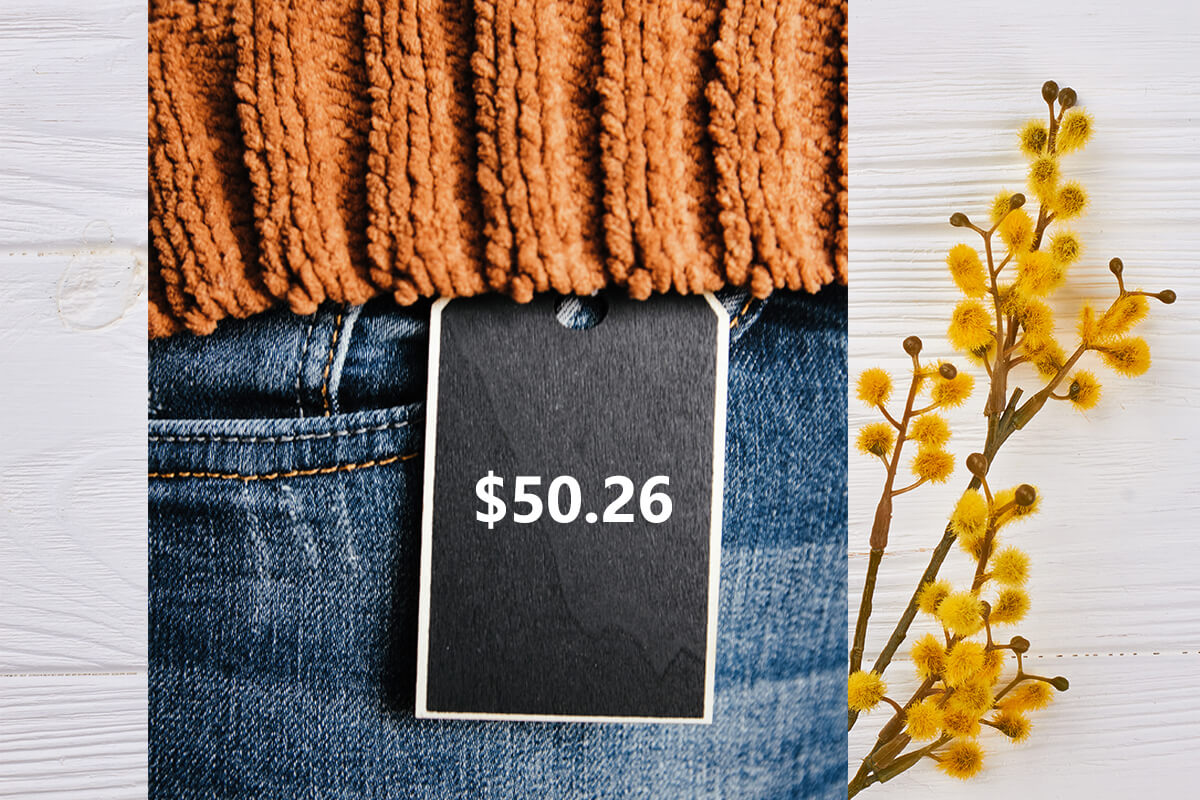 6. Provide free shipping
With the development of eCommerce, consumers today prefer products with free shipping. Etsy also claims that free shipping products are given priority to rank higher.
But offering free shipping service doesn't mean sacrificing your profits. You can include the shipping cost in the product price. And you may set a minimum order amount for free delivery to ensure a decent profit.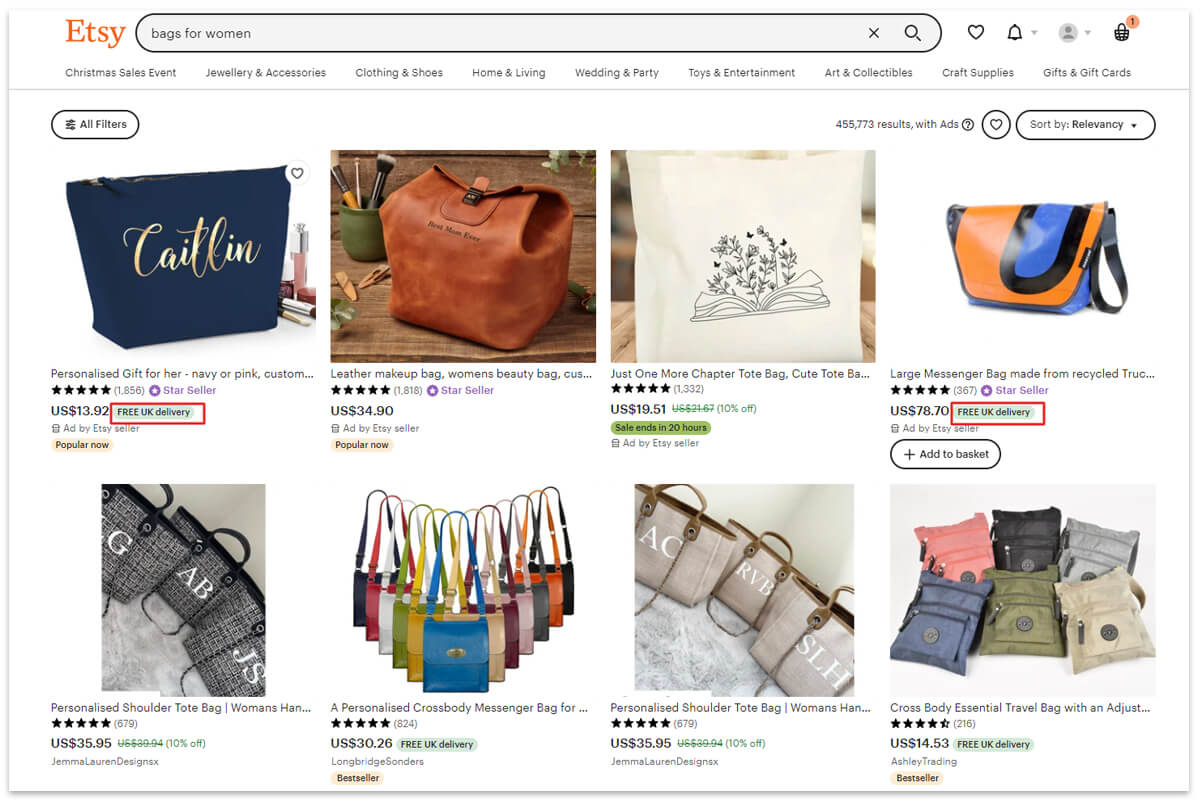 7. Optimize products with a low conversion rate
Products with a low conversion rate can be improved to make sales on Etsy if done properly.
Customers may view the product on a result page or open the product link, but not buy it at last. This reminds you to check out what's wrong with your listings. You can check according to what we mentioned before this section, such as listing quality, keywords and photos.
8. Add new products regularly
New listings can get free traffic for a certain period of time on Etsy. That means if you add new products on a regular basis, you may get constant traffic in your store.
When you have only tens of listings in the storefront, you had better add more listings to attract customers. Adding variations to an existing product is an option. Also, you can do product research and develop a new product that solves pain points your competitors fail to.
9. Cross-sell in your store
Cross-selling is selling products related or complementary to one another, such as toothpaste and toothbrush. Proper cross-selling can add additional value to your product and prompt clients to order the product at a higher cost, which will increase your total sales amount.
With this selling tip, you may offer accessories that work together with the already purchased product or create a bundle of what you sell. The notice is that you should understand your customers' needs and provide add-ons they want.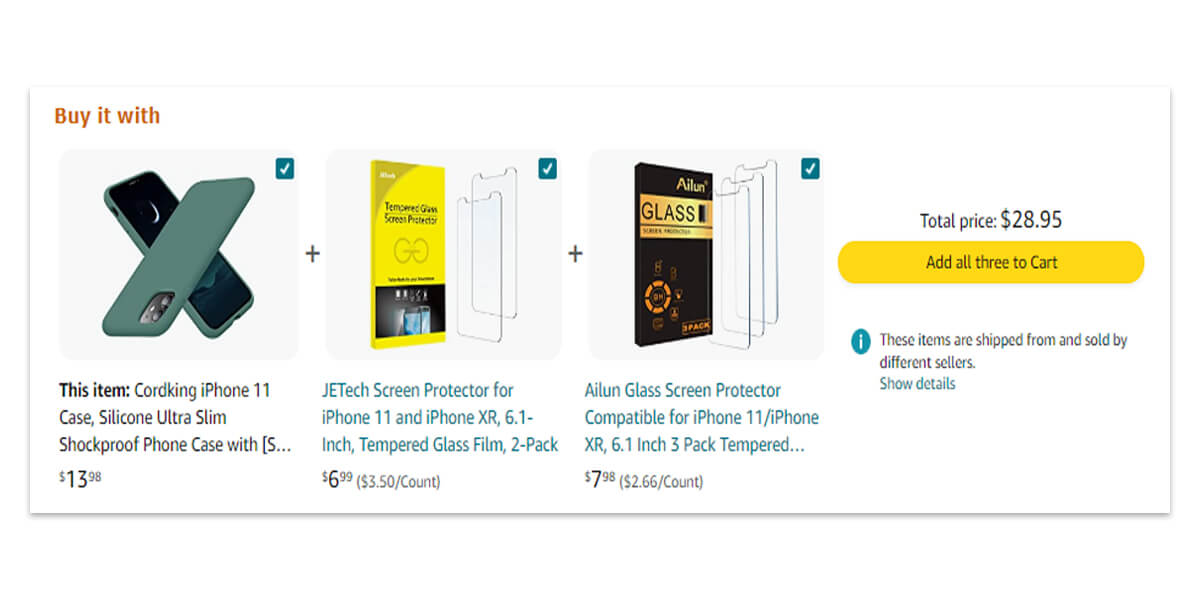 10. Offer excellent customer services
Excellent customer service is vital to make a satisfying shopping experience and improve customer retention.
Before order shipment, you need to contact your customers via email or telephone and confirm order information with them.
Once the order is shipped, sync the tracking number in time so that they can keep track of their package.
After the customer receives the order, kindly send them a message to inquire about their shopping feeling and improve what they are unsatisfied about.
For any queries about the return and exchange, answer them within 24 hours and provide a reasonable solution.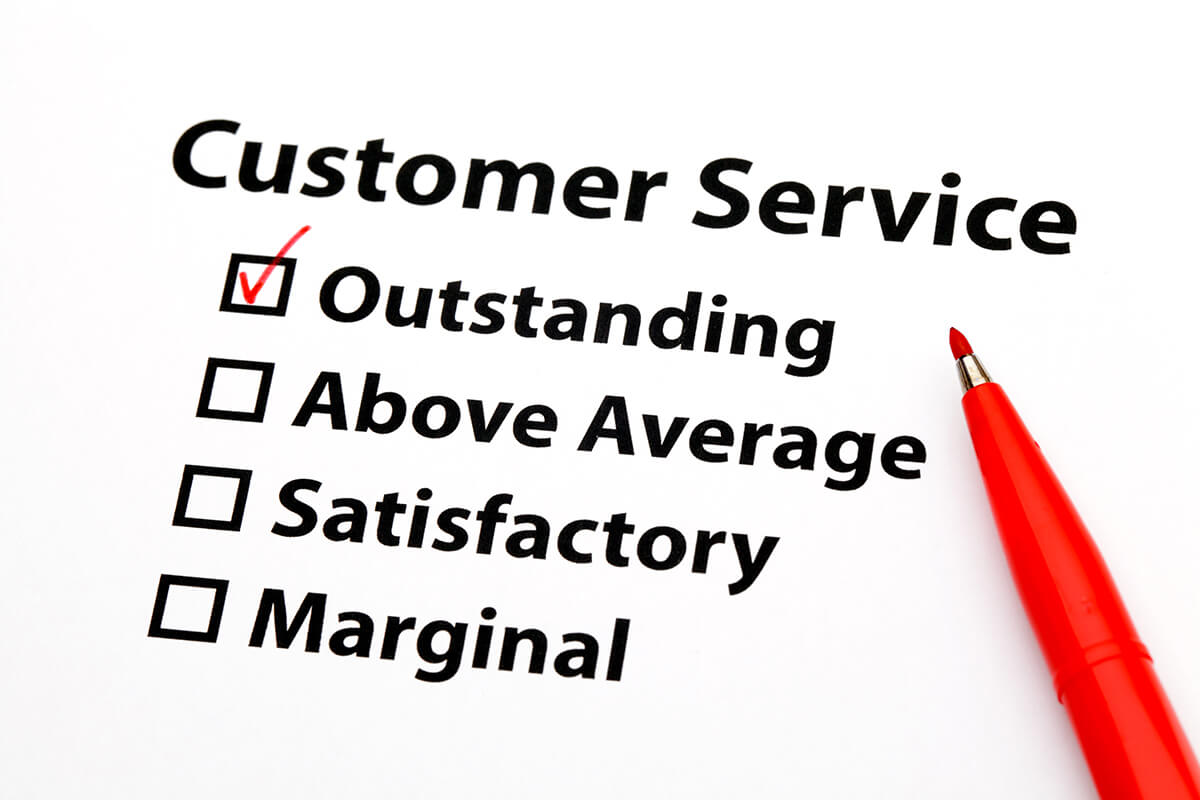 11. Make use of Etsy Ads
Etsy ads serve as an effective tool to improve your product visibility and make more sales. With this marketing method adopted, your listings can be presented throughout Etsy and rank on the top of a result page.
To make good use of Etsy ads, we recommend you
Set a sufficient daily budget for advertised listings( this aims to quickly test which listings are worthy to be advertised)
Continue ads of high-quality listings( that have a high conversion rate)
Track ads that perform badly and optimize related listings(You may close the ads with a constant bad performance)
Don't let the total budgets of the ads exceed the profits you will earn from these listings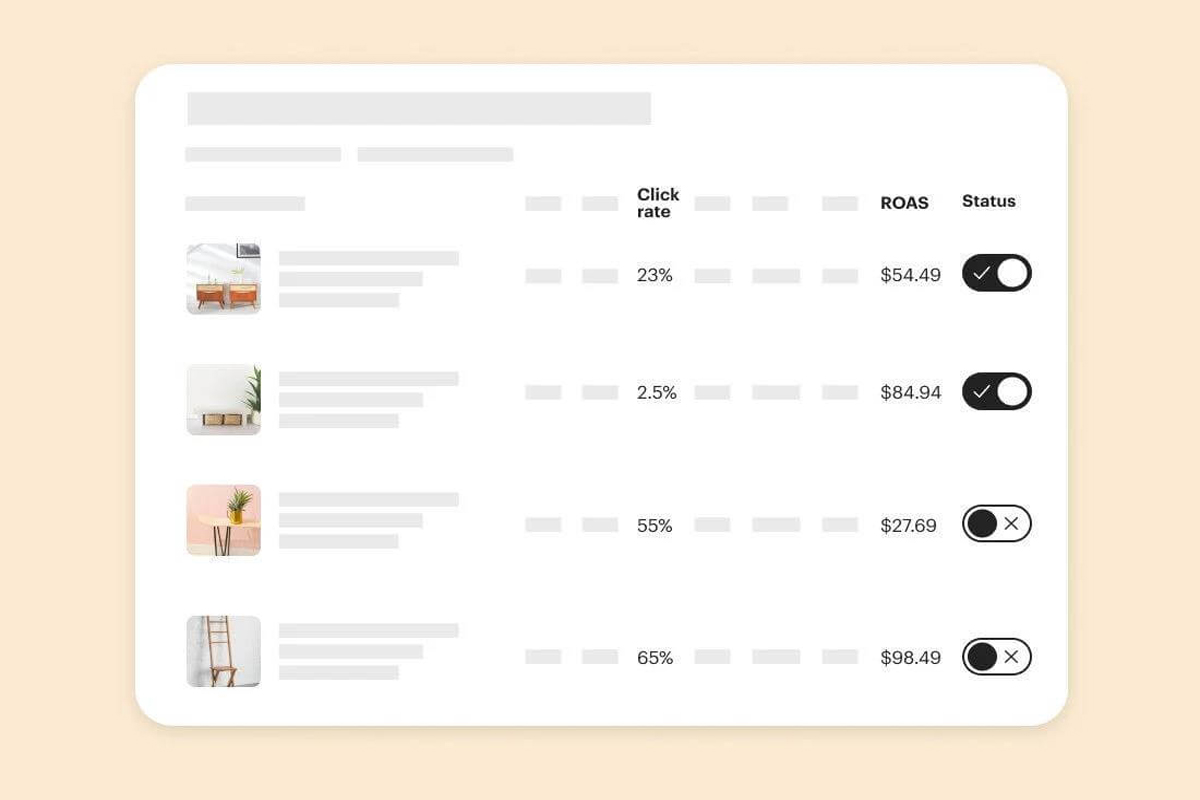 12. Take advantage of social media
Social media provide another way for customers to find your products.
Among different social platforms, Pinterest could be the most powerful one to promote an Etsy product. Etsy itself covers a customer base of 5 million on Pinterest, which is more than that in other social channels. Additionly, Pinterest is popular with people because they can get inspired by ideas on this platform. And an Etsy shop with aesthetic items is more likely to be loved by users from this channel.
When you launch a new product, you can inform your followers on Pinterest. Offer them coupons or discounts, and tell them how to apply your product in detail. This is a good way to invite them to place orders.
You can also share something informative with them to build a good relationship, which may transform into sales in the long run.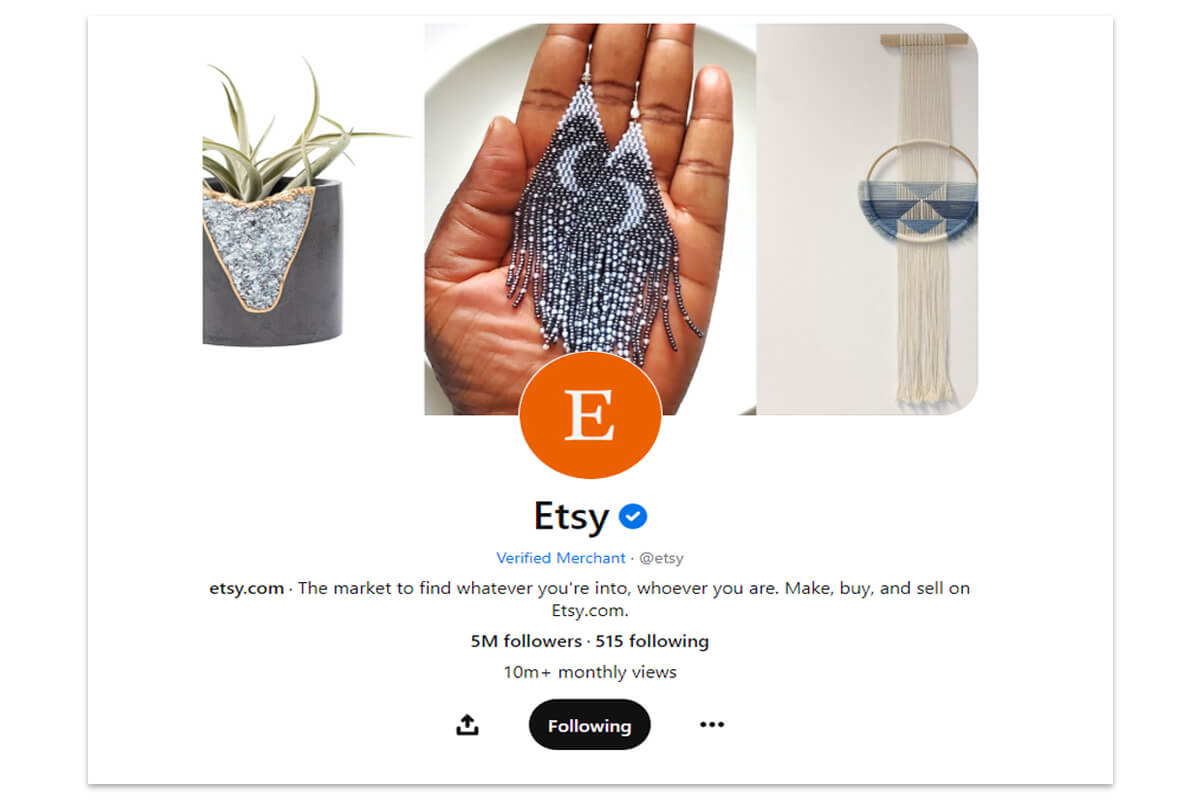 13. Create promotions with user-generated content
User-generated content (UGC) is the text, videos, reviews, and pictures created by customers. This kind of content can be reliable evidence of whether a product is good or not to your prospects. Promoting merchandise with UGC will boost buying confidence of these customers.
You can include a thank you card in the product package to encourage customers to post a review with images or a video. And then re-promote products with their content on your marketing channels.
It also works to quote what your customers share about their shopping experience on social media. But remember to ask for their approval before you do that.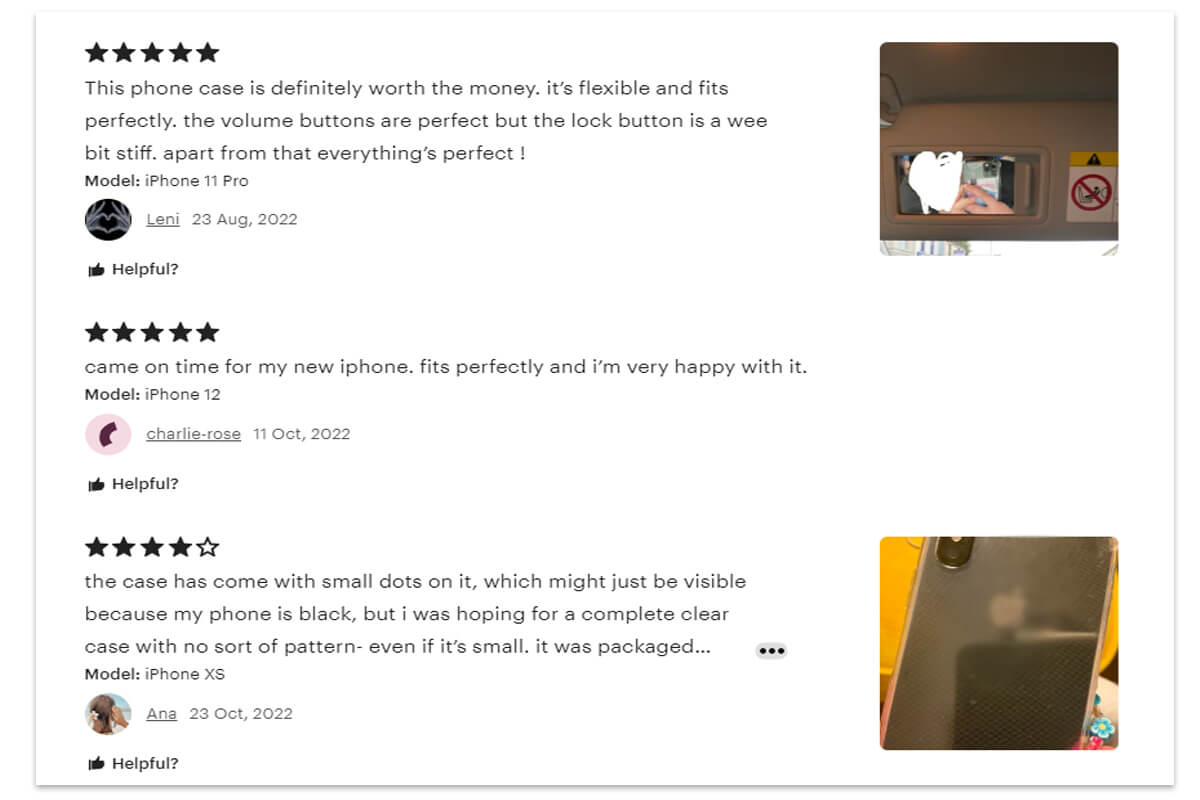 14. Reward repeat customers with discounts or freebies
Repeat customers are loyal customers who may bring more sales than new ones. Offering them discounts or freebies to thank them is good to nurture your relationship, which will help increase purchases in the future.
To implement this tip, you can create a coupon and share the promo code with these customers, or send a freebie to them with their orders.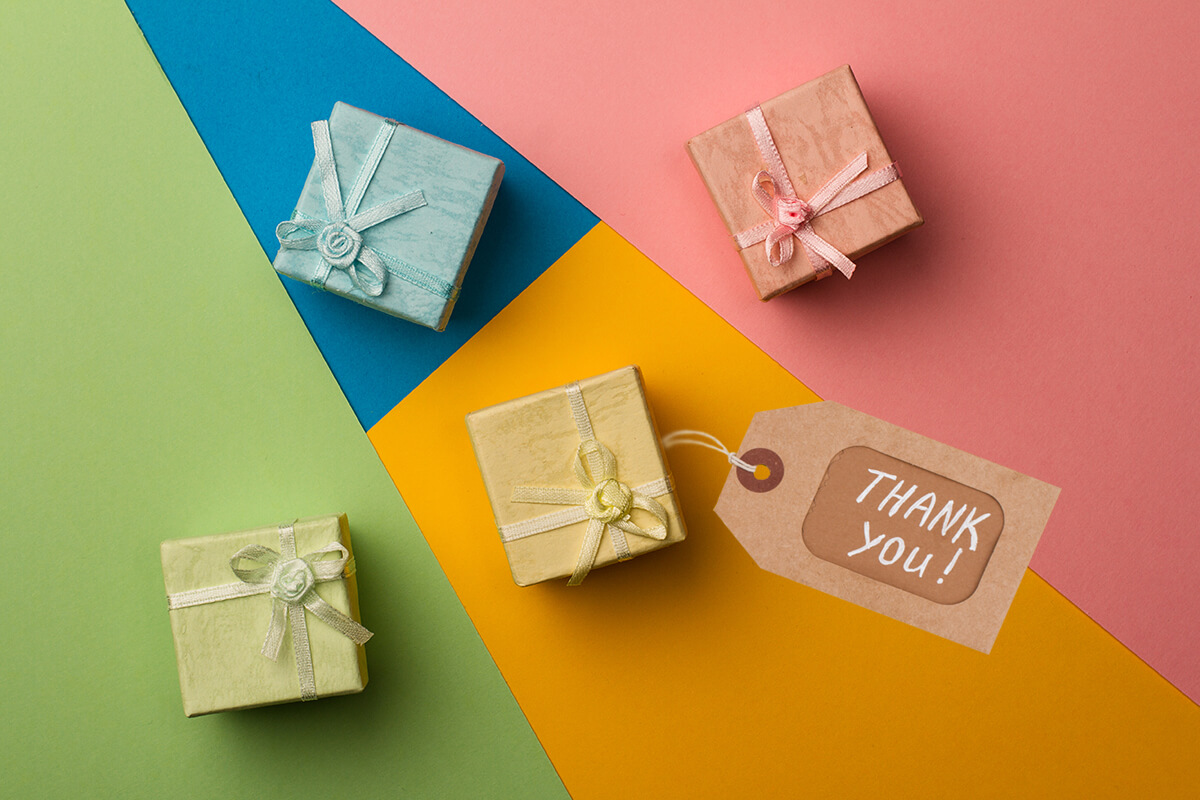 15. Create an Email list
An email list is helpful to generate more sales on Etsy. But emails from customers are not available to the seller. To make up for it, these two ways work.
Start a blog and call on your target audience to subscribe to your blog
Add your email address to your social profile and encourage your clients to subscribe to your email
After creating your email list, you can promote your products or services via email regularly. For instance, share with the subscribers your new arrivals and big deals, or recommend holiday products in a certain period.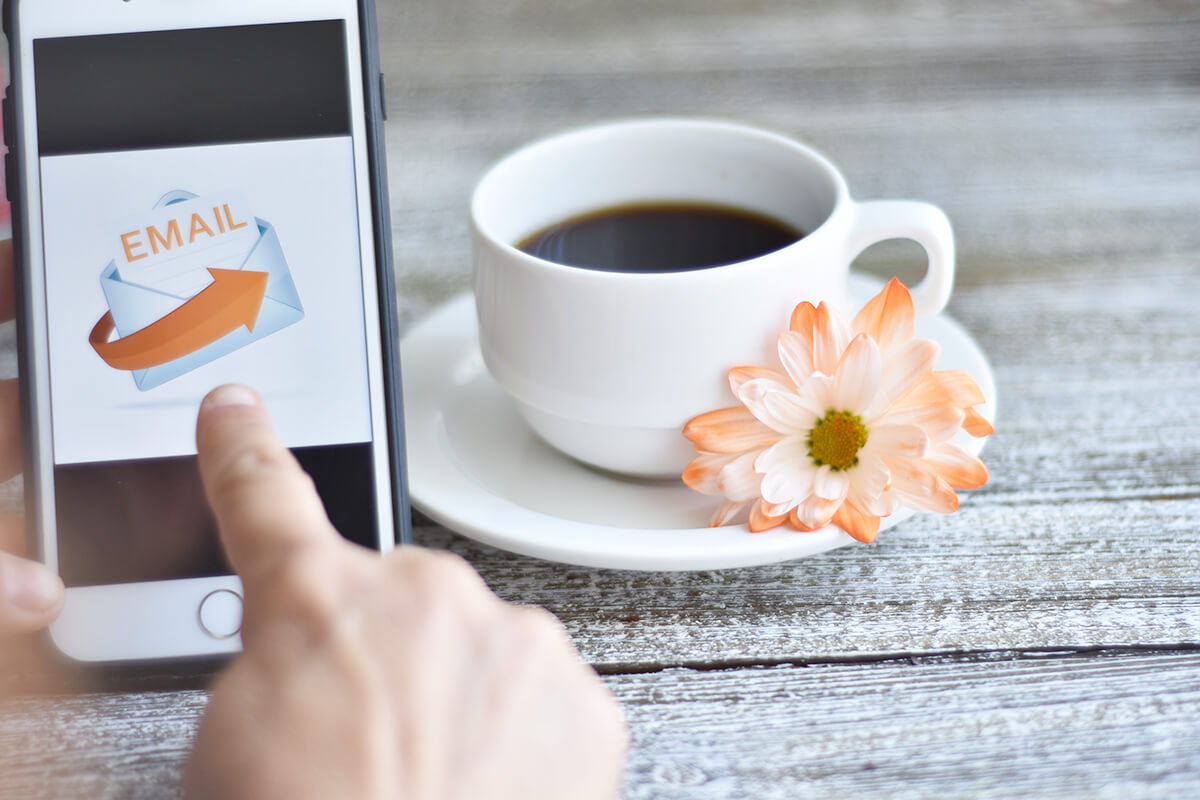 Conclusion
How to make more sales on Etsy? The answer lies in the tips we recommend above. You don't need to implement every strategy, but choose some fit for your business.
If there is any question, please let us know in your comment.