Best Christmas Products to Increase Your Sales In 2023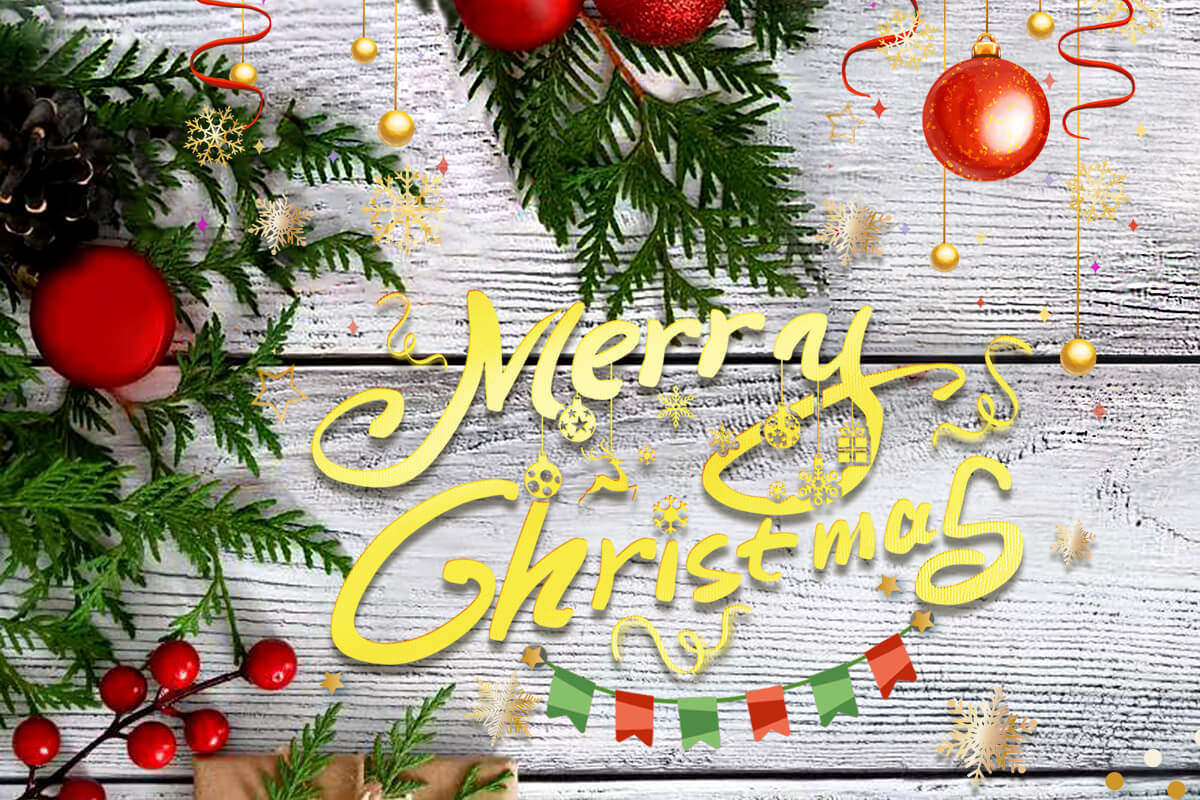 Are you expecting to get more sales in the upcoming Christmas? Have you already found your winning Christmas products to achieve your goal?
This Christmas falls on December 25, 2023. As a traditional holiday, it revolves around gift exchanging and family gatherings and is celebrated across the world. But it is not just for celebration, it also serves as a great chance for dropshipping businesses to make big sales.
Though challenged by economic uncertainty, the outlook for Christmas sales in 2022 remains positive. According to a survey from Numerator, there are 96% of consumers planning to celebrate Christmas. And over half of them think they will spend more than $200 on this festival. Besides, NRF projects that the holiday retail sales during November and December will increase between 6% and 8% over 2021 to between $942.6 billion and $960.4 billion. Meanwhile, the total retail sales during the Christmas season in the UK are forecast to reach $82.2 billion. This means Christmas as the most popular festival in the US and UK is a good selling opportunity if you target these markets.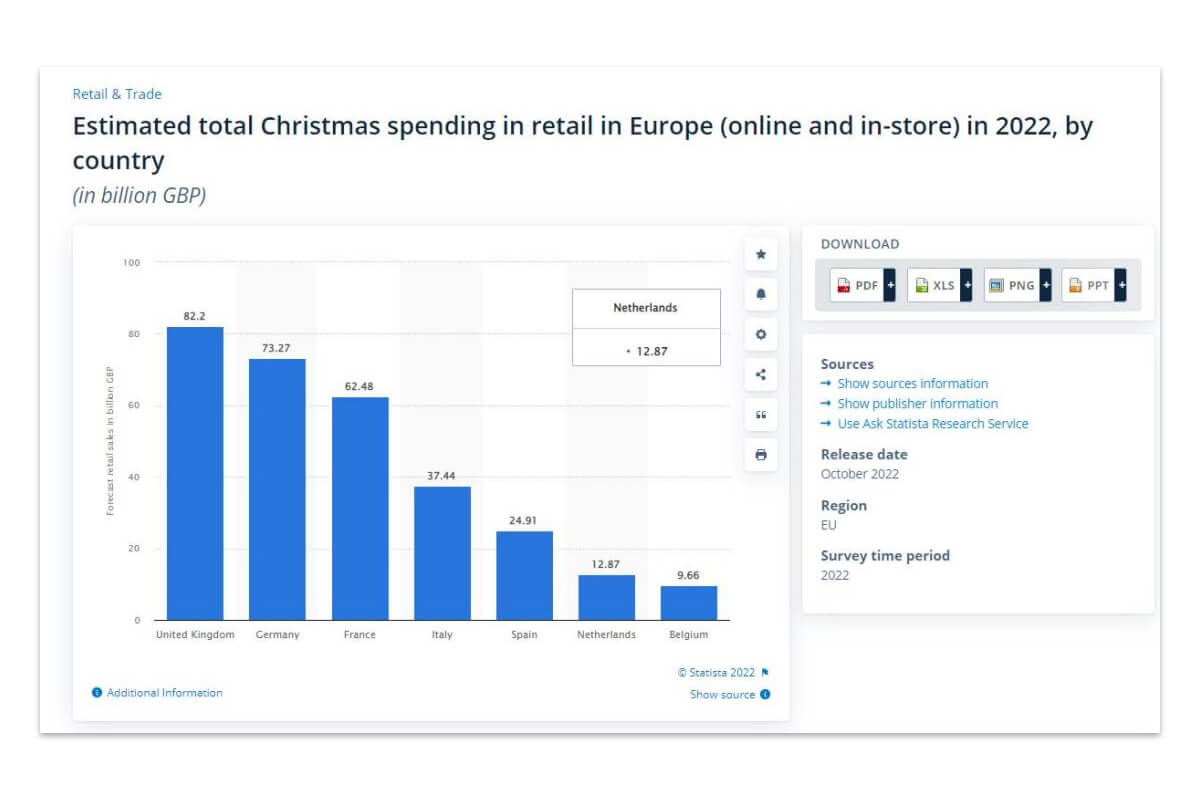 To take the chance, finding potential products could be your top priority. However, it is overwhelming to choose from a sea of products.
For your convenience, we work with our experienced sourcing team and curate a list of brilliant product ideas you may refer to.
Let's dive further to learn about them.
Best selling products during the Christmas season 2023
From Christmas outfits to decorations, there is a wide range of products that could top customers' carts. Here are some we recommend you sell in your store.
Christmas clothes
Christmas clothes are useful to get people into the mood for the festival. Ugly Christmas sweaters look funny and can help you create pleasant interactions with your family. Cute Christmas stockings can make children dream a sweet dream in which they expect a pretty gift the next day.
If you sell prospective items in this catalog, your odds of making quick money will increase. Take a look at the related products below to get inspiration for what you can sell.
Christmas costumes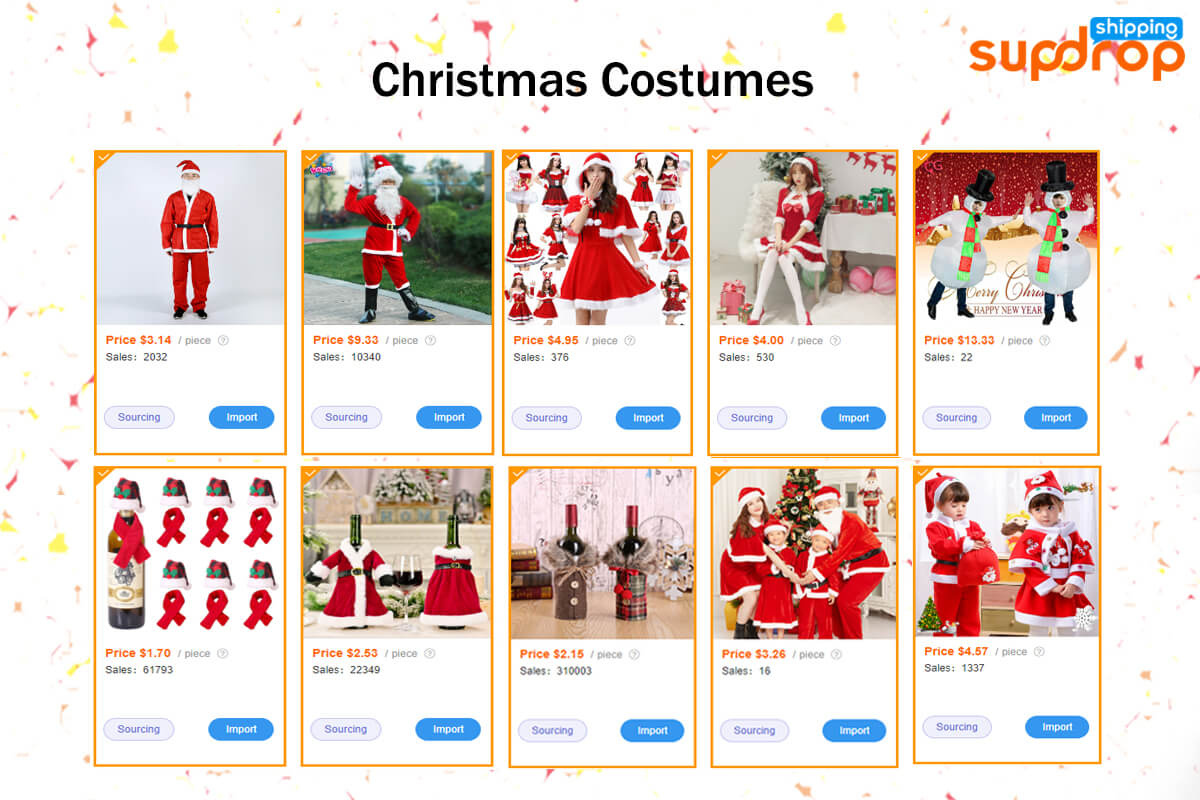 Christmas costumes can enhance the atmosphere of a party whether held at home or outdoors. They are in high demand during the Christmas season. Search the keyword "Christmas costumes" at Ahrefs, you will see the monthly search volume on Google in the US is 12K and the global search volume is 24k. The huge traffic suggests that consumers are willing to pay for such products and you may generate more holiday sales with them.

Christmas sweaters
Since Christmas is a winter holiday, sweaters could be both decorative and functional. A Christmas sweater is helpful to set the mood for this holiday. In the meantime, it can keep people warm throughout the whole winter. Therefore, Christmas sweaters are probably to be popular among people.
Type in "Christmas sweater" in the search box and add filters "worldwide" and "past 5 years" on Google Trends. Among the related topics, "Sweater" is in an index of 100, which suggests customers are highly interested in this product. Meanwhile, "ugly sweater" in the related queries sees a 100 search frequency, they are more likely to be winning products.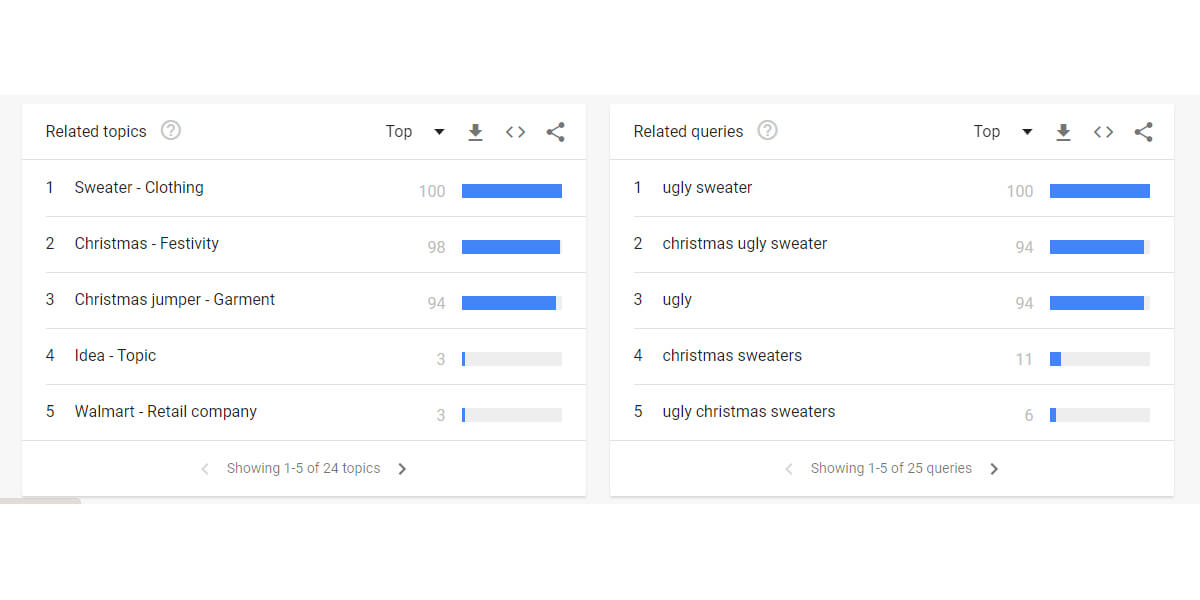 Christmas pajamas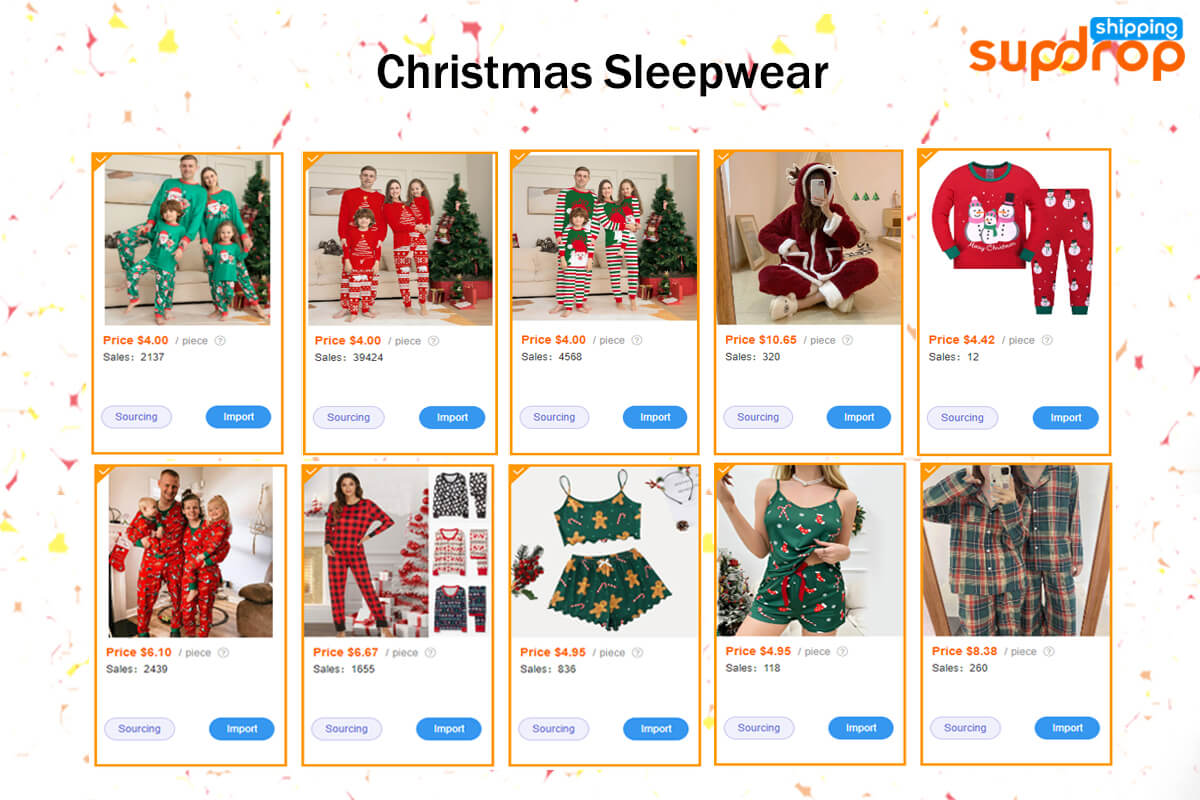 With the effect of the covid-19 pandemic, staying at home with family and friends on Christmas could be a choice for many consumers. Fashionable and comfortable sleepwear can keep them warm while raising the festival vibe.
In this case, Christmas pajamas will be a trend. When you search "Christmas" on Google Trends, you can find that in the related queries, the search frequency for "Christmas pajamas" increases by 500%. This number showcases that pajamas are perhaps successful products on the Christmas holiday.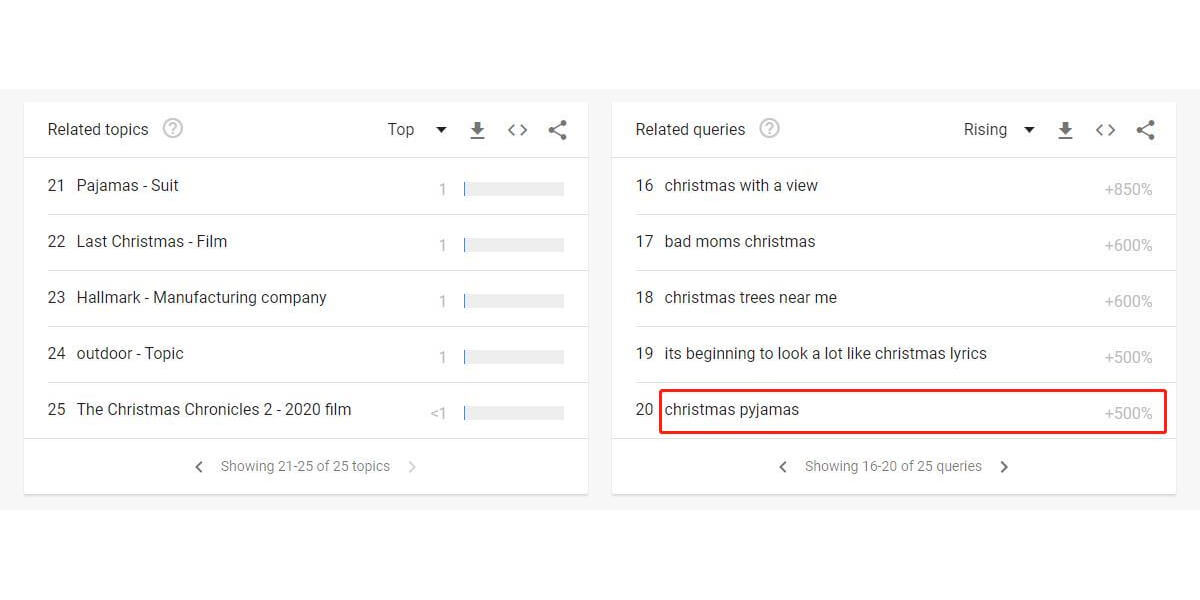 Christmas stockings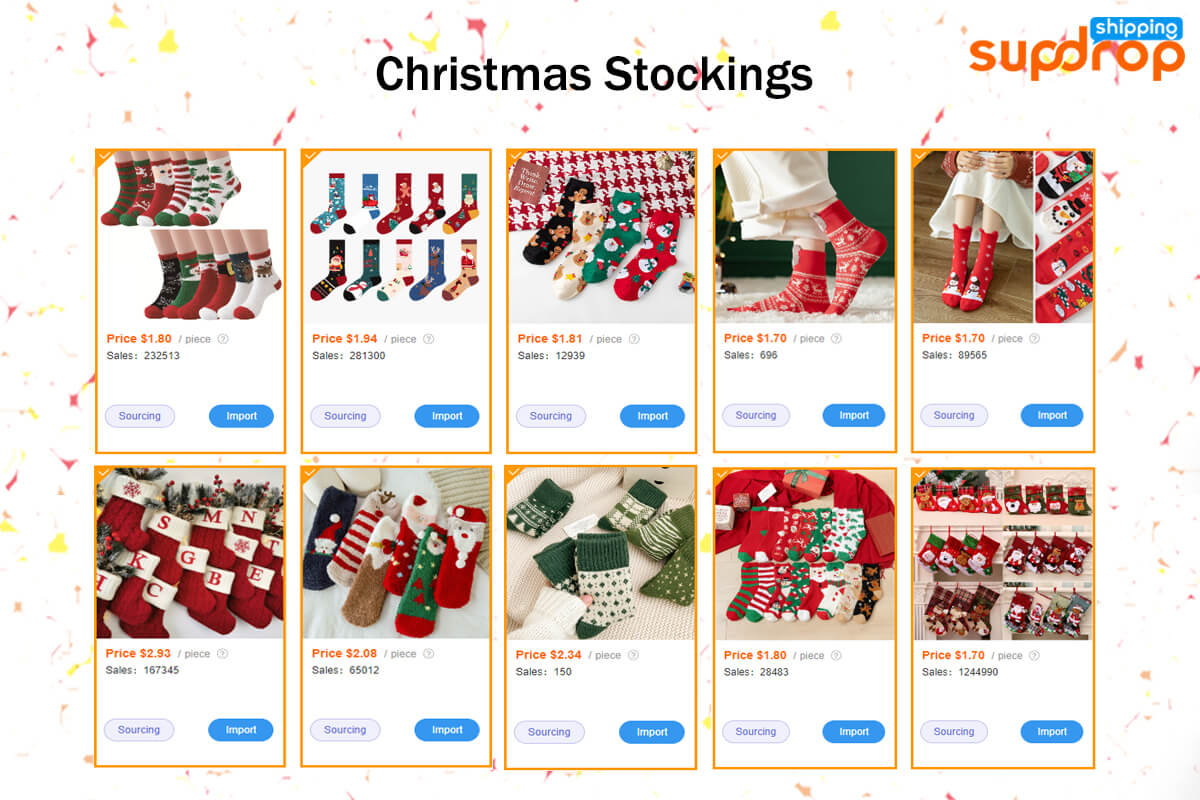 It is a tradition to put gifts for children in stockings on Christmas eve. Socks with different styles, colors, and patterns can also help decorate a Christmas scene. Thus, Christmas stockings are nearly a must-have for families with kids. If you give these products a try, you can probably boost sales this holiday season.
Christmas slippers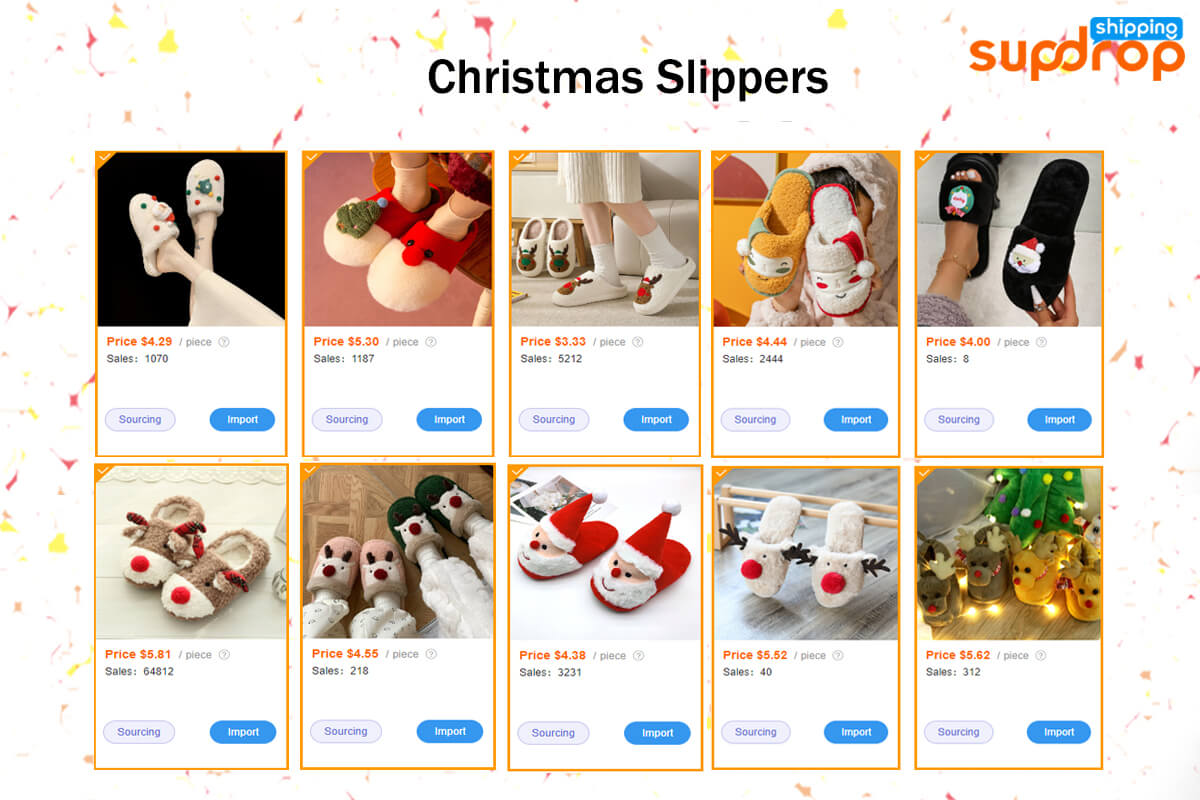 Along with Christmas pajamas, slippers are necessary buys for those who choose to stay at home on the Christmas holiday. A pair of warm slippers make people gear up on a cold day. You can cross-sell pajamas and slippers to entice people to purchase at a higher cost and increase your total sales.
Christmas decorations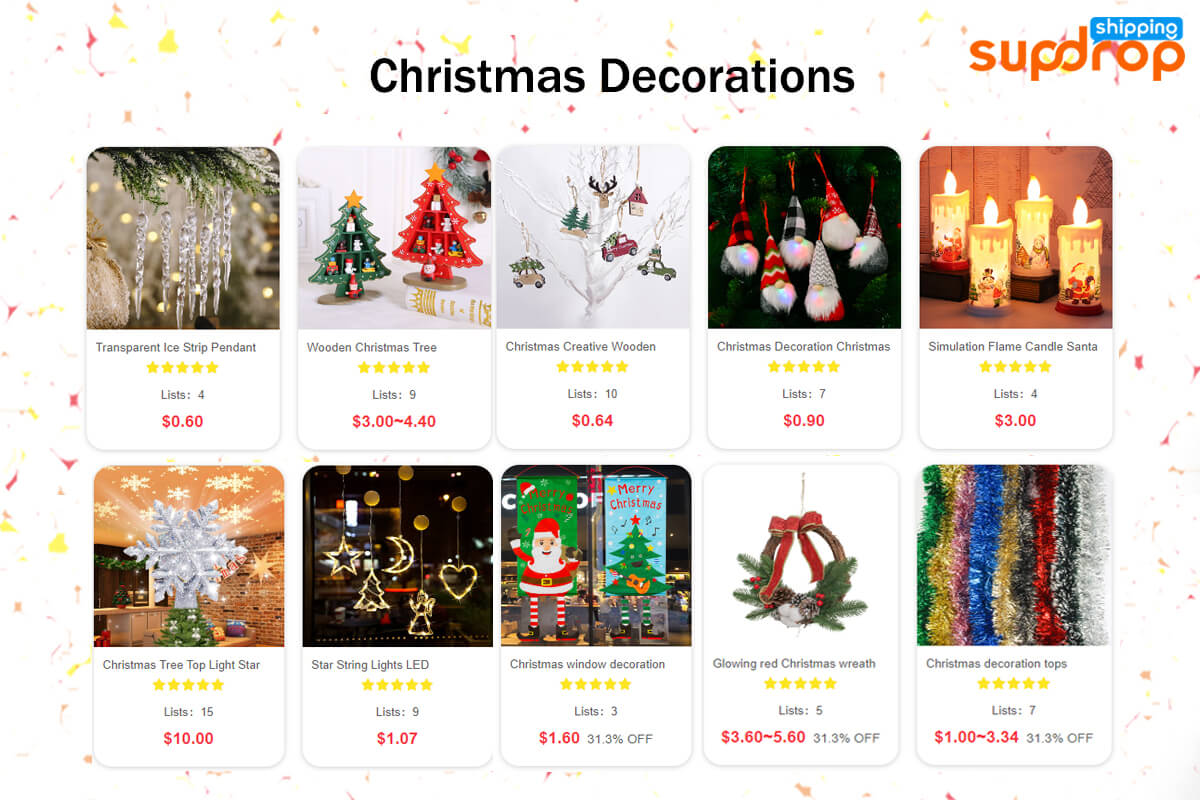 From stickers, wallpaper, and wreaths, to banners and tree lights, decorations can be seen on every corner at Christmas. They are so helpful to enhance the Christmas atmosphere, and therefore, in high demand as well.
Search "Christmas decorations" on Google Trends, and you can find that searchers worldwide show a high interest in this term every Christmas holiday.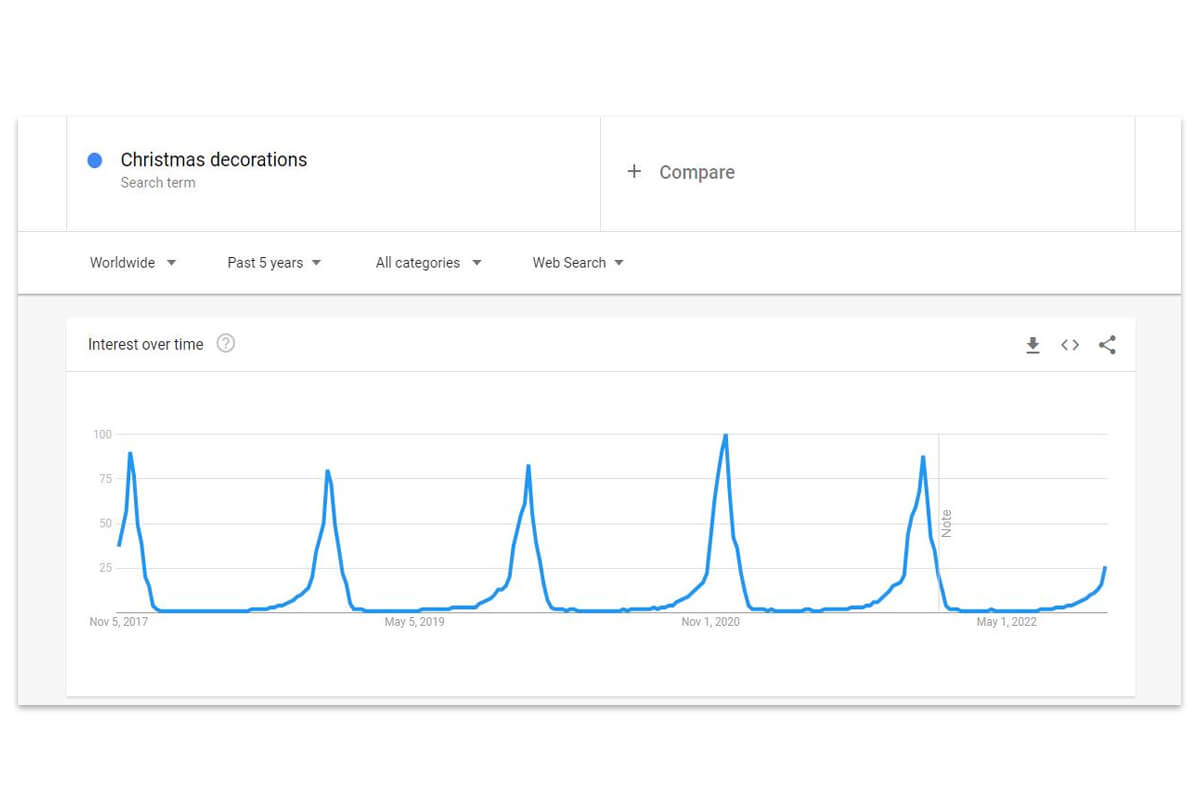 Similarly, explore data about this word on Ahrefs and you will see huge traffic for it. The global search volume is nearly 505K. Amazing, right? So you had better sell such products to boost your dropshipping growth.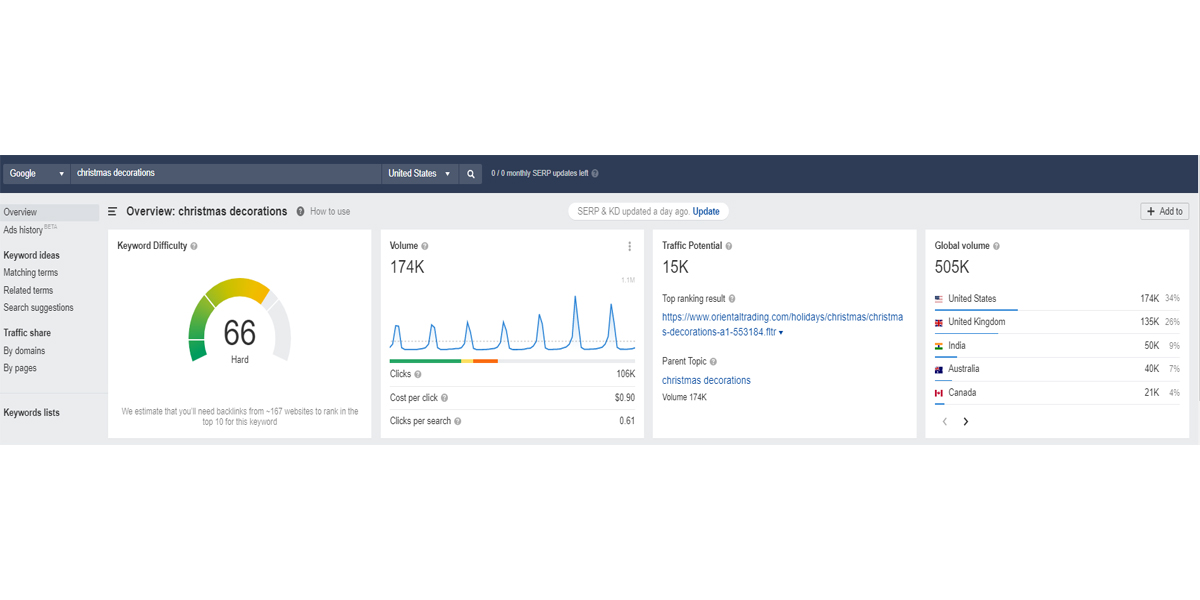 Christmas party supplies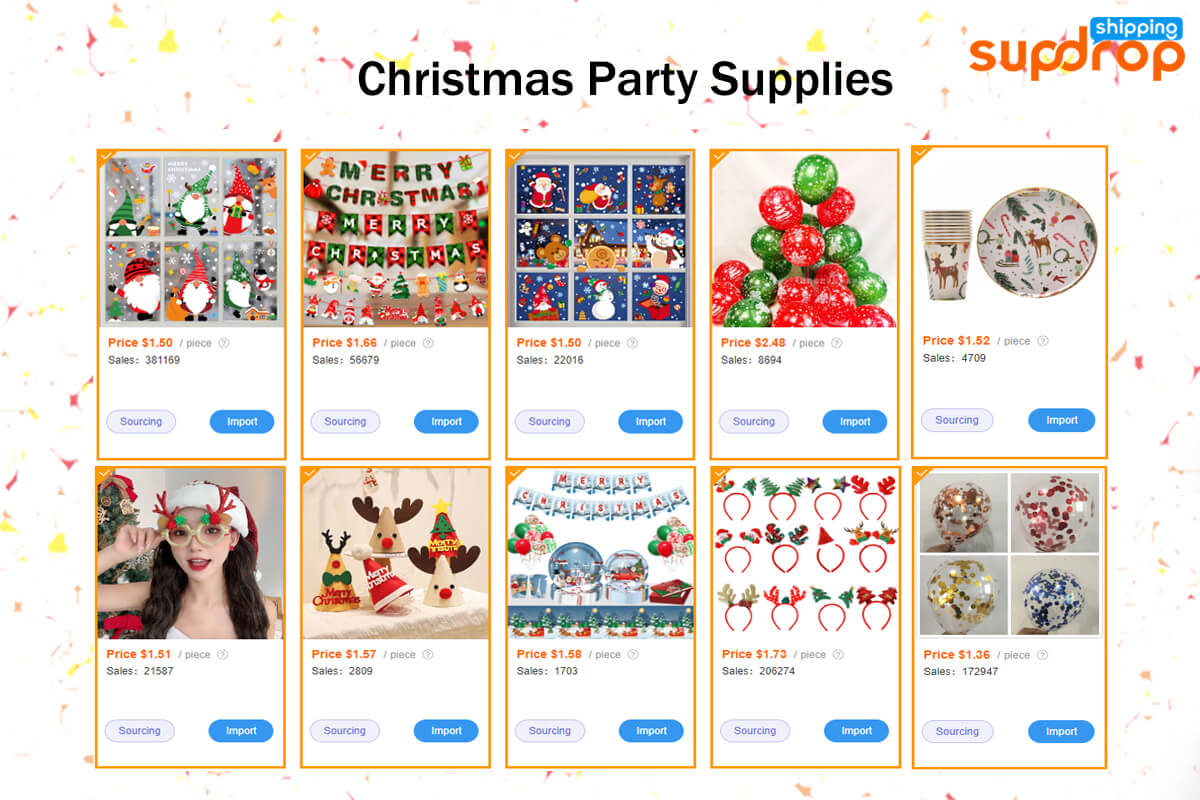 Christmas is hard to be perfect without a party. That is the reason why party supplies are vital in this holiday season. Decorate the party background with various colors of balloons with friends, hang gifts on a Christmas tree, or wear a mask to say Merry Christmas to someone. With party supplies, your party comes to life.
Christmas cards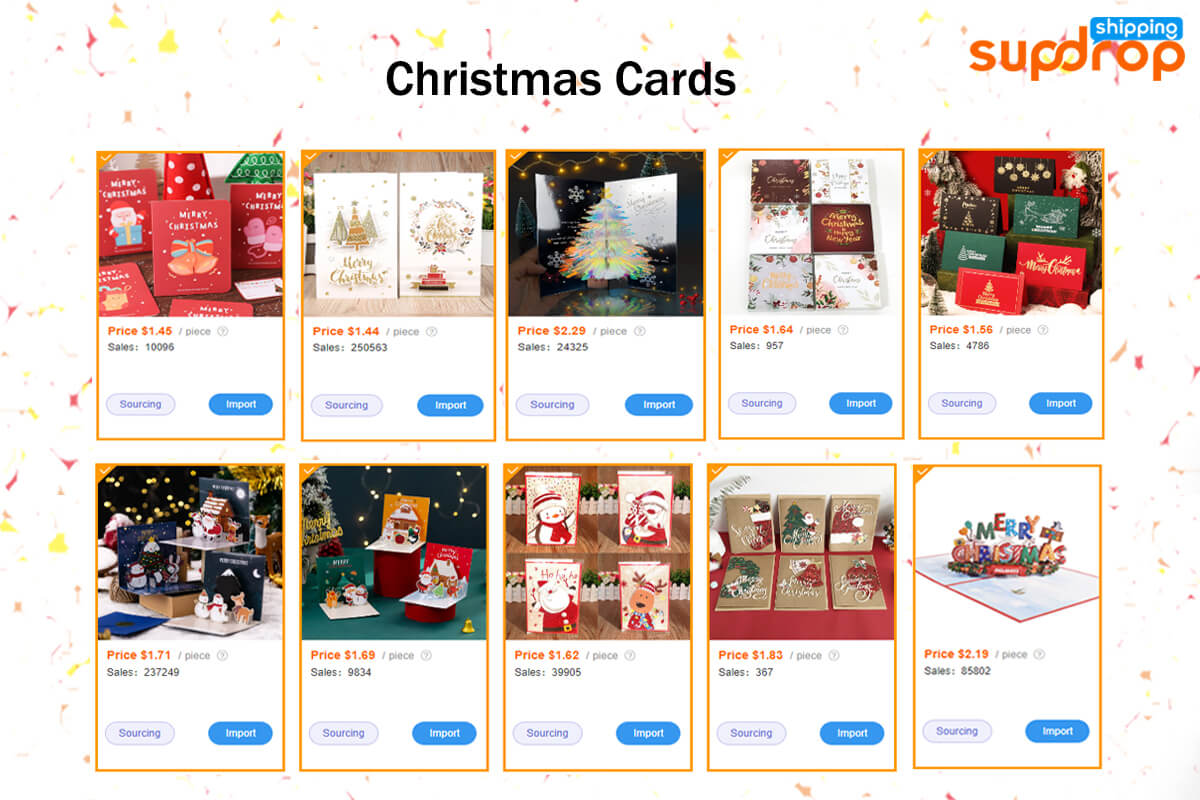 Nothing is more heartwarming than receiving a card from a friend or family on Christmas. Imagine it, you read cards with best wishes on Christmas eve when you sit around the fireplace. What a sweet moment it is! But don't stop here. Your customers could love that as you do. You can offer them different kinds of delicate and beautiful cards in this Christmas sale.
By the way, Christmas cards can also be applied in the New Year. You can constantly sell them for a long time until January.
Christmas wrapping paper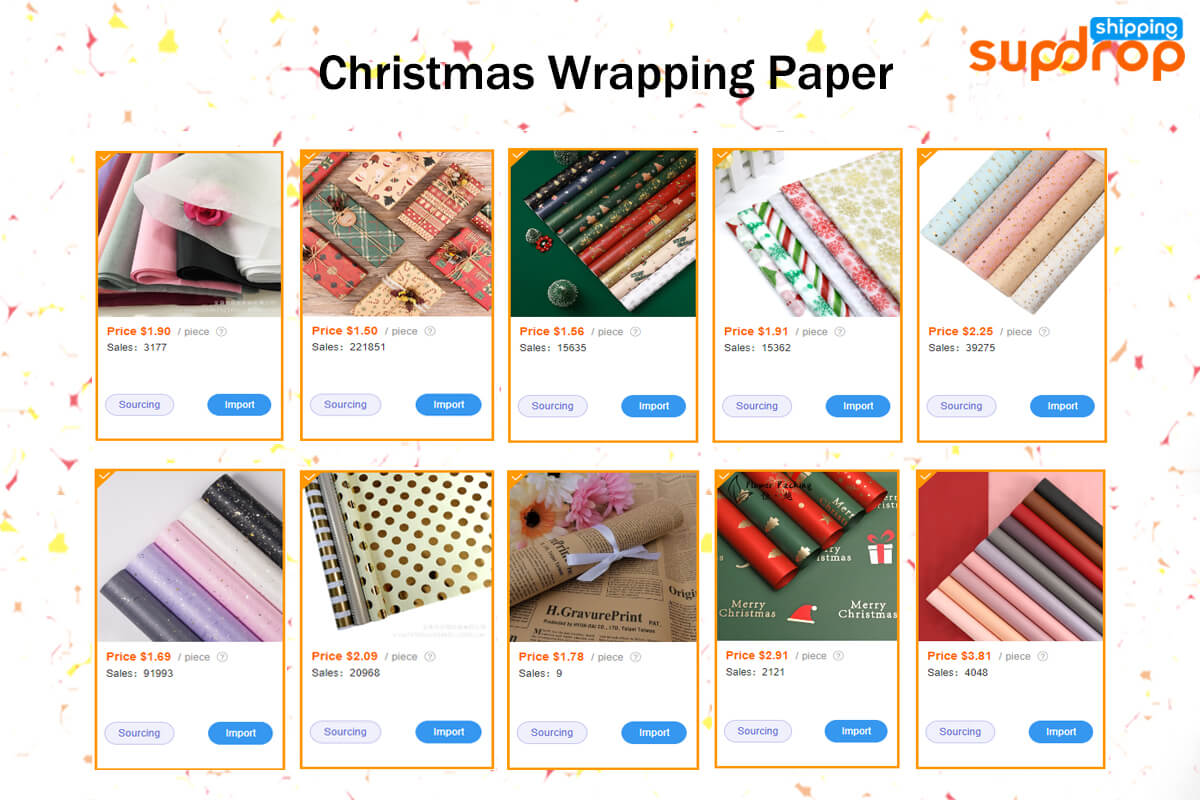 Since gift exchange is a major part of Christmas celebrations, gift wrapping paper is highly demanded in this festival. Maybe it saves time to buy a gift that is already packaged well, but sending a gift with a unique package can better express gratitude, love, and wishes to families. So make Christmas wrapping paper available to consumers in your shop.
Christmas gift bags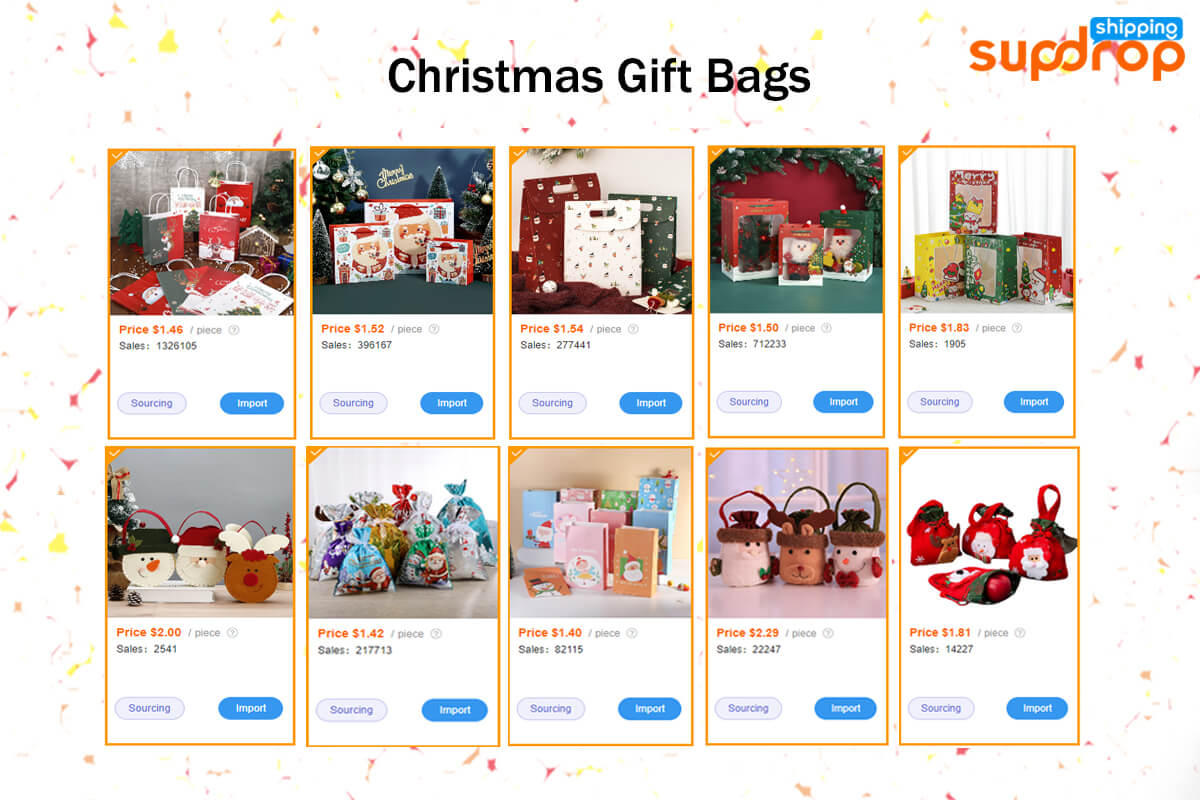 Compared with wrapping paper, bags are reusable, durable, and easy to store. A large number of customers may prefer to wrap their gifts with bags. On this occasion, you can sell Christmas gift bags with wrapping papers at the same time to increase your selling chances.
Christmas pet supplies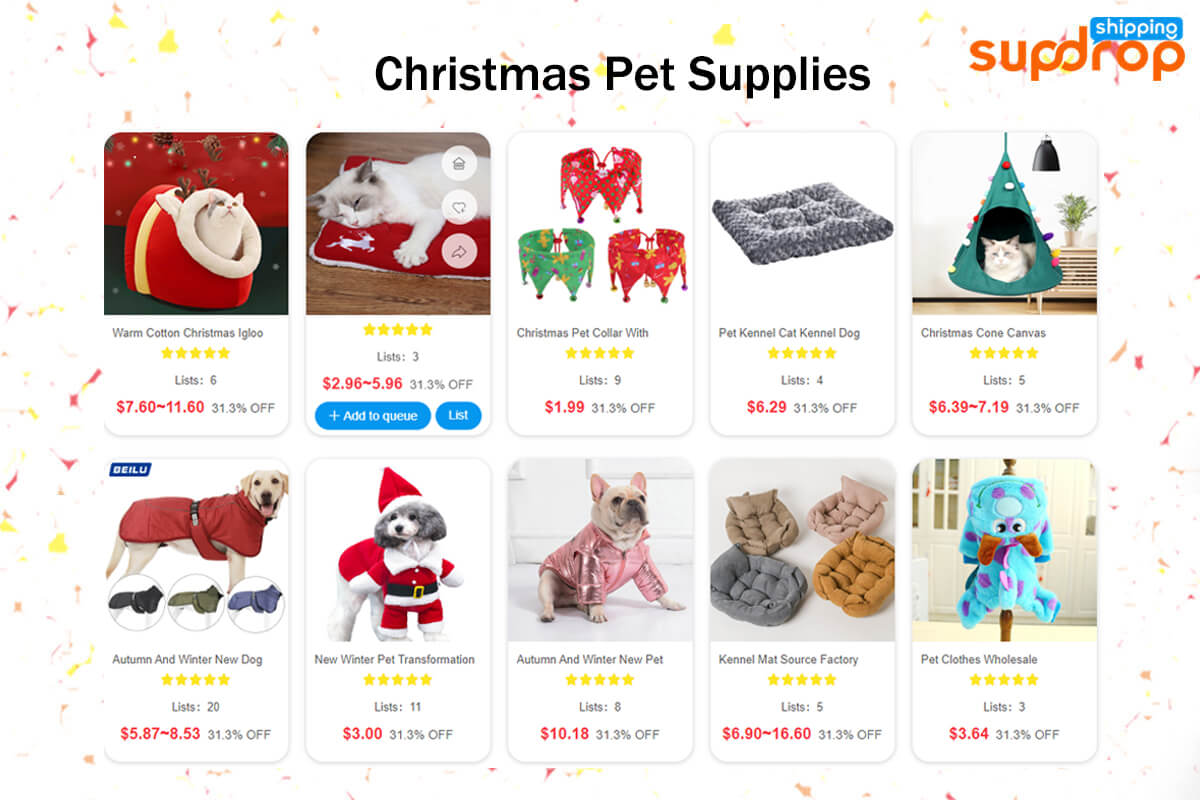 Pet supplies are probably successful Christmas products to sell. Pets are friends of humans. When we face loneliness, frustration, and depression, pets are good companions to help brighten our mood. So we should express our love and gratitude to our pets on Christmas day. Keeping this in mind, it is not hard to conclude that consumers can be willing to spend for their pets during the Christmas season. According to Google Trends, the popularity of Christmas pet supplies in the 2020 and 2021 Christmas periods reached a peak of nearly 100. Thus, pet supplies can still be hot selling this Christmas 2022. Whether you sell pet clothes or pet beds, it will boost your chances of growing revenue.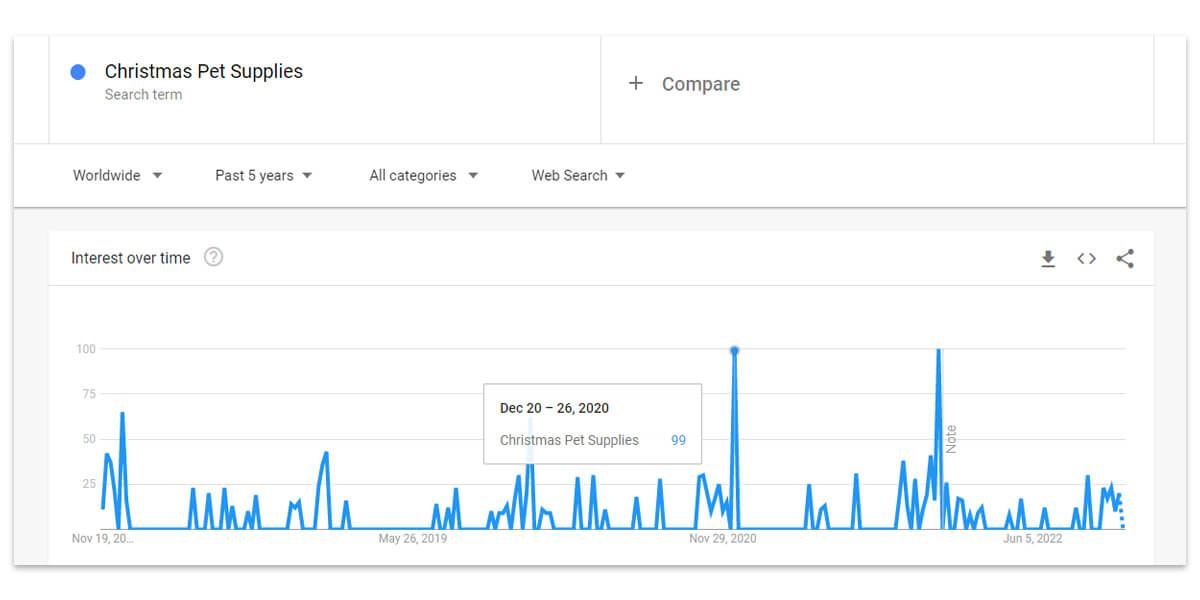 Tips for Increasing Sales on Christmas
Finding winning Christmas products is the first and foremost step to increasing Christmas sales. But it could be not enough. You may still need to arm yourself with some good selling tips.
Here are some proven tips for you.
1. Sell personalized products with Sup Dropshipping
These days people tend to opt for personalized products when they purchase them for a holiday. No exception for Christmas. So it is easy to come across the terms "personalized" and "customized" when you search for something for Christmas. The keyword "personalized Christmas ornaments" embraces a total of 35K monthly search volume in the United States according to Ahrefs. Personalized items not only cater to consumers' demands but also make your store stand out from the competition. Every seller wants to make quick money in Christmas sales but many sell common items in the market. If you walk ahead of them and sell customized products, you are more likely to get more sales and scale your business.  
Sup Dropshipping is the best partner to work with in personalizing your products.
Below are the reasons.
Hundreds of print on demand products in various categories for your choice
Plenty of free mock-ups and patterns available to you
Free and simple design tool Drop Custom allows both you and end consumers to add your unique designs
Low price and NO MOQ for POD products
Offer professional photography and video-shooting service
Provide quality inspection services to you before shipping your products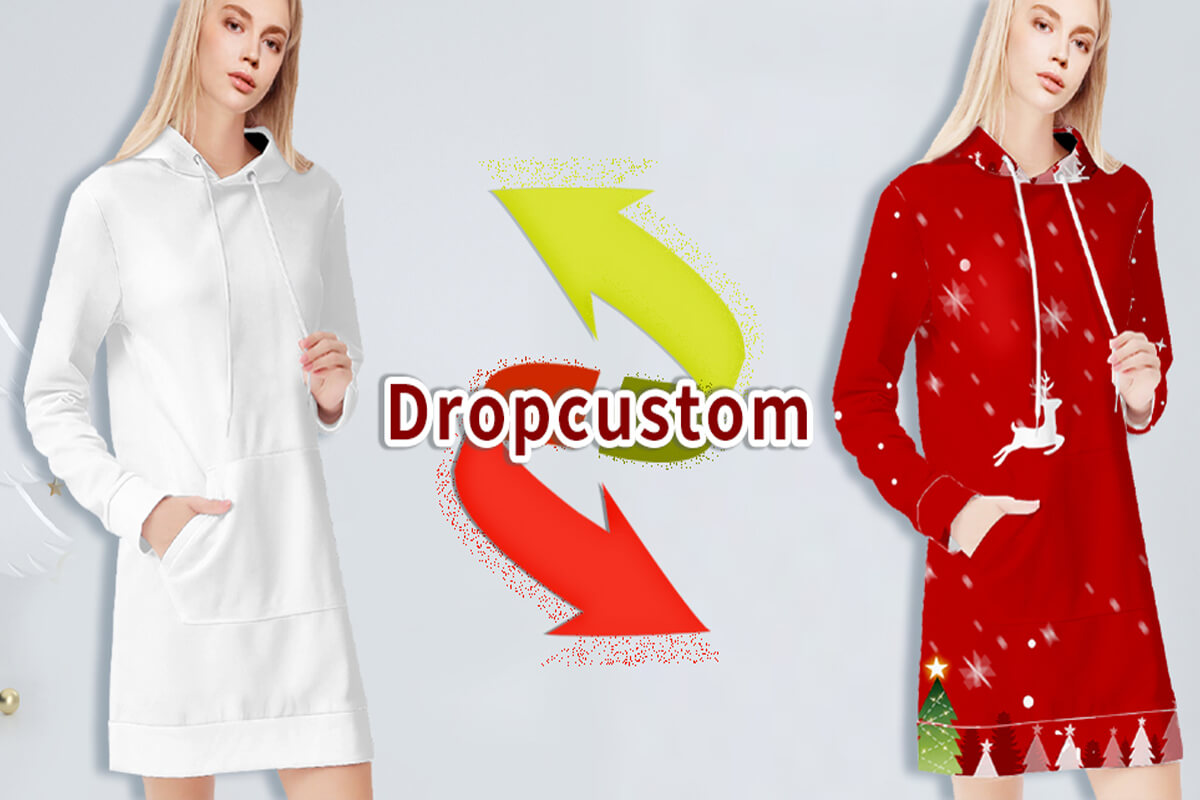 Besides print on demand products, Sup offers you hundreds of top-selling Christmas products, which you can import and sell to your customers directly. Just check them and maximize your chance of success.
2. Strategically pricing
The product price is a key factor that affects your customers' decisions. Thus, you should set a proper price for your goods during the Christmas holiday. Read this step-by-step guide to properly price your products.
Furthermore, to prompt your customers to make purchases, you may provide them with discounts and coupons. Usually, a 5-15% discount or a $1 to $5 coupon is a good offering. Just keep in mind to include the discount in the product price.
3. Provide free shipping
With the development of eCommerce, consumers today tend to purchase products with free shipping. Therefore, remember to offer free shipping service during Christmas sales. And to ensure you earn a decent profit, you can add the shipping cost on top of the product price.
4. Marketing your products
Marketing is crucial to increase product visibility. Whatever you sell for Christmas, the item should be seen by your clients first before they place an order. Hence, implement some marketing strategies to reach your customers. Here are the top 5 digital marketing tips that will do your help.
5. Provide excellent customer service
Excellent customer service contributes to improving customer satisfaction and loyalty. And high customer satisfaction is beneficial to establishing your brand awareness through word-of-mouth.
Therefore, you should
Contact your customers via email or telephone to confirm their order information before the order shipment.
Sync the tracking number in time so that they can keep track of their package after the order shipment.
Provide a reasonable solution to them within 24 hours whenever they contact you for a return or refund.
6. Decorate your storefront
The storefront is what comes to the first sight of your customers when they enter your store. A decorative and Christmas-related storefront can better attract them to place an order than an ordinary one. So add a Christmas theme to your store, and decorate the storefront to impress your customers.
Wrapping up
Christmas is an important festival for love, care, and celebration. But more than that, it is a great opportunity to get more sales for businesses. With prospective products and some effective tips, you can easily take your dropshipping business to a higher level.
Don't miss this opportunity anyway. It's your time to get quick money in a short period.
Good luck to you. And Merry Xmas!