9 Best Selling Print On Demand Products for Christmas (& Design Ideas)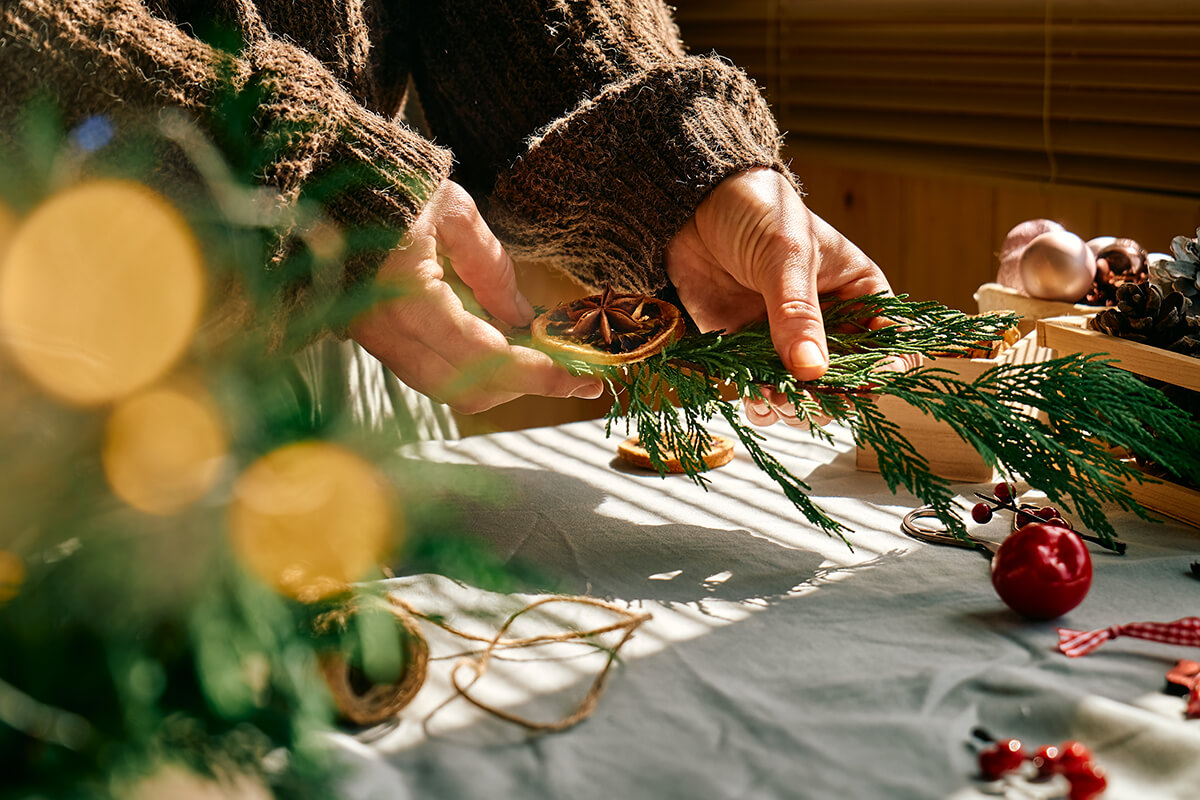 The Christmas season presents a lucrative opportunity for all business owners since there are more shoppers during this time of the year. But with so many e-commerce sellers out there, it's challenging to make your products stand out. So, how can you grab your target audience's attention towards what you're offering?
Although you have a lot of competitors during the festive season, it's still possible to get your products noticed. How? It's through offering the best selling print on demand products for Christmas! Compared to other gift items, print-on-demand products exhibit a more personalized touch. With their uniqueness, they tend to attract more shoppers, allowing you to land more sales.
But what kind of print-on-demand products usually sell well around Christmas? If you're not sure, this article can help you figure out what to sell during the holiday season.
Top-Selling Print-On-Demand Christmas Products
At Sup Dropshipping, we're geared with several years of experience in the print-on-demand business, providing us with rich insights into what people really like! That's why we're excited to share some of the top-selling print-on-demand Christmas products. Check them out:
1. Christmas-Themed T-Shirts
Do you know what people like at Christmas? Family get-togethers and parties! To truly embrace the festive spirit, people enjoy dressing up for the occasion. Therefore, you should seize this opportunity to sell Christmas-themed t-shirts. T-shirts are a versatile type of apparel. They cater to any age and gender, can suit various styles, plus they're comfortable to wear!
To boost your sales during Christmas, focus on appealing to families, friend squads, and corporate teams. Marketing to a group of people encourages bulk purchases of your Christmas-themed t-shirts, resulting in increased profits.
Print-On-Demand Christmas T-Shirt Design Ideas
If you're searching for fantastic Christmas t-shirt design ideas for your print-on-demand business, you can find inspiration in e-commerce stores like Shein. Simply type "Christmas t-shirt" into Shein's search box, and you'll discover numerous Christmas design ideas!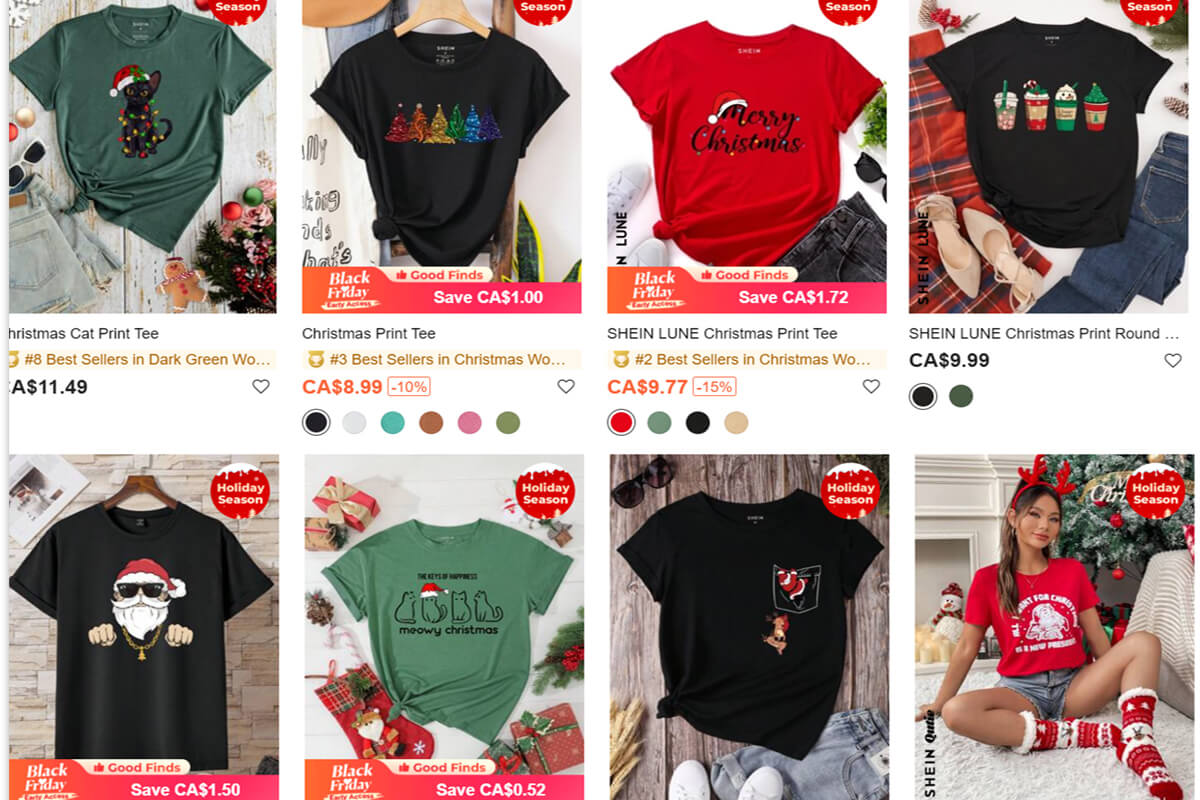 2. Ugly Christmas Sweaters
Why ugly Christmas sweaters? If you're living under a rock, we're here to inform you that ugly Christmas sweaters are, in fact, a thing in the United States, Canada, and the United Kingdom. These countries hold a National Ugly Christmas Sweater Day every third Friday of December. It's a special day when people intentionally wear ugly Christmas sweaters that feature gaudy designs, loud patterns, and tacky imagery. Some Christmas sweaters are even decorated with 3D ornaments and flashing lights! So, if you want your sales to skyrocket, make your print-on-demand Christmas sweater designs ugly, funny, and outrageous.
Print-On-Demand Ugly Christmas Sweater Design Ideas
Etsy is the place to brainstorm design ideas for your ugly Christmas sweaters. Just type "ugly Christmas sweater" into Etsy's search box to find various options and get your creative juices flowing.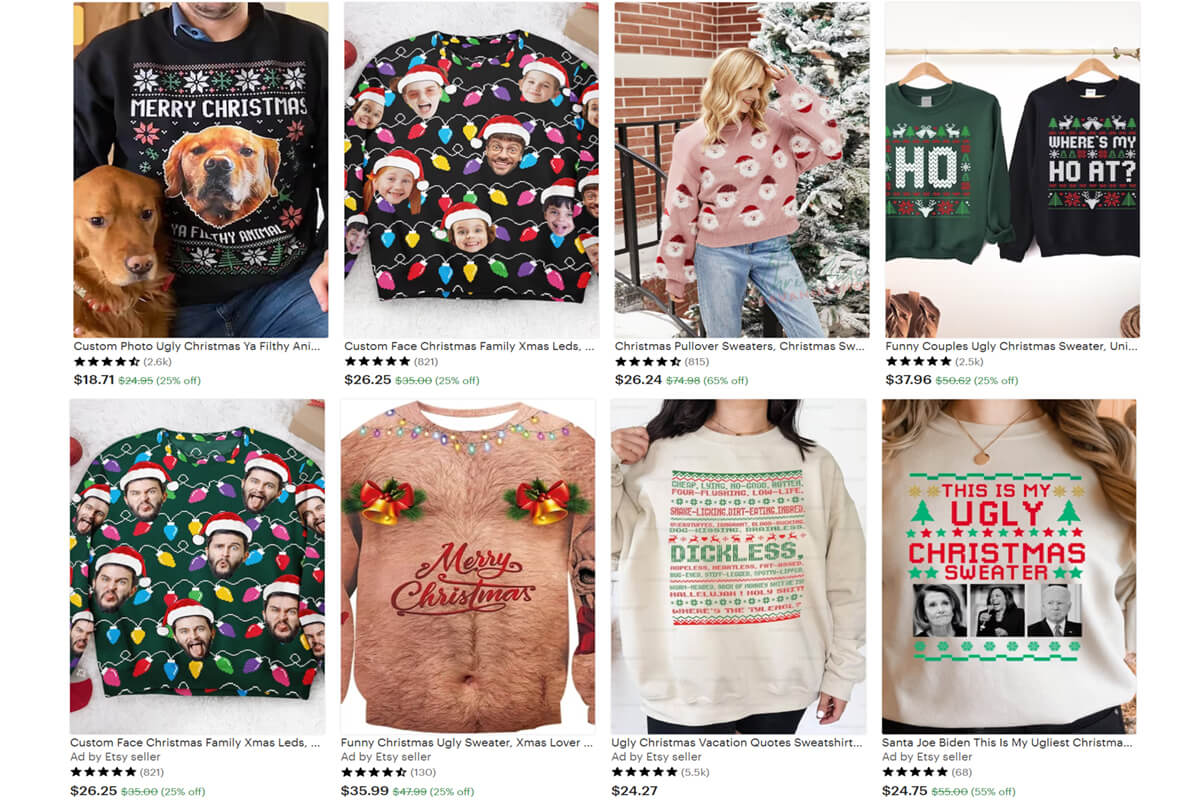 3. Holiday-Themed Baby Onesies
According to a report, there has been a decline in the birth rate worldwide. In 1950, there were about 5 births per woman on average, but in 2021, it has dropped to 2.3 births per woman. Does this mean that the baby clothing market isn't profitable anymore? Despite the birth rate decline, the baby clothing market is expected to grow by 30.62 billion dollars from 2023-2027, so you don't have to worry.
If you want to cater to the baby industry, consider selling baby onesies with a festive theme. First-time parents are particularly enthusiastic about dressing up their babies, especially if it's their child's first Christmas! Baby onesies rank among the most popular baby apparel. Therefore, focusing on this product can strongly appeal to parents.
Print-On-Demand Holiday-Themed Baby Onesie Design Ideas
To help you design beautiful holiday-themed baby onesies, visit Pinterest. Pinterest is a social media platform that focuses on visual content and discovery. So imagine the tons of design ideas you can get there for your print-on-demand business. In its search box, type "Christmas baby onesie" or "baby Christmas onesie ideas."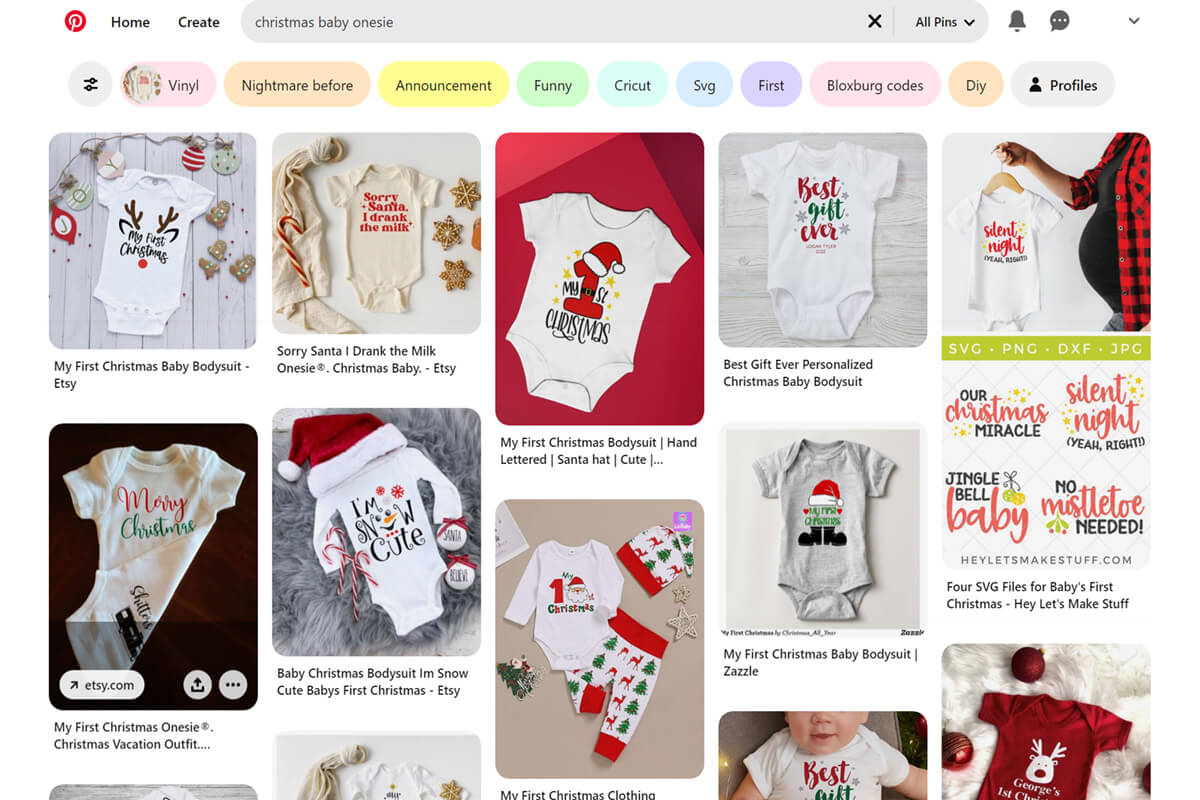 4. Fitness Motivation Water Tumblers
After the holidays, many start hitting the gym or doing home workouts to get in better shape and feel healthier. Getting fit is usually at the top of most individual's New Year's resolutions list. This is an excellent time for you to make more sales for your print-on-demand business.
And getting fit is not only about weights or yoga mats. People need hydration, too! So, opt for selling water tumblers with a fitness motivation theme to keep people on track with their fitness goals. While you can also sell Christmas-themed water tumblers, it's more advantageous to sell fitness motivation water tumblers since they can be used at any time of the year.
Print-On-Demand Fitness Motivation Water Tumbler Design Ideas
For water tumbler design inspirations, simply search "fitness motivation tumbler" on Pinterest, and you'll be presented with many design ideas and workout quotes.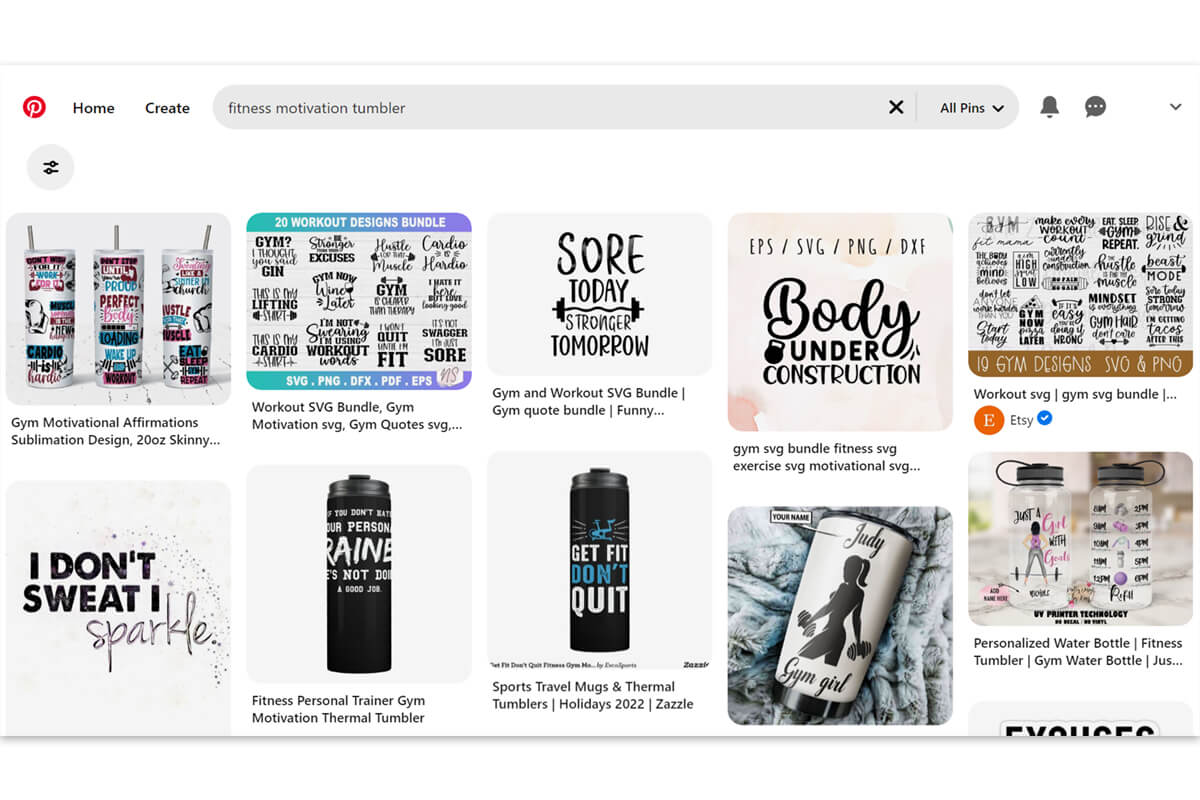 5. Holiday-Inspired Tote Bags
You should also consider adding holiday-inspired tote bags to your list of items to sell during Christmas. Unlike other bags, totes are more practical and versatile. They can be used for shopping, carrying things, or as everyday bags! Moreover, totes have a unisex style that's appealing to both men and women.
For increased sales, offer your holiday-inspired tote bags to companies. They often gift their employees with gift baskets full of goodies during their corporate Christmas parties. You can market your print-on-demand tote bag as a cheaper alternative to wooden gift baskets to encourage bulk purchases.
Print-On-Demand Holiday-Inspired Tote Bag Design Ideas
If you need more design ideas for your tote bags, you can check Etsy. Search for "Christmas tote bags" and take a good look at the designs of the best-selling and popular tote bags on the platform.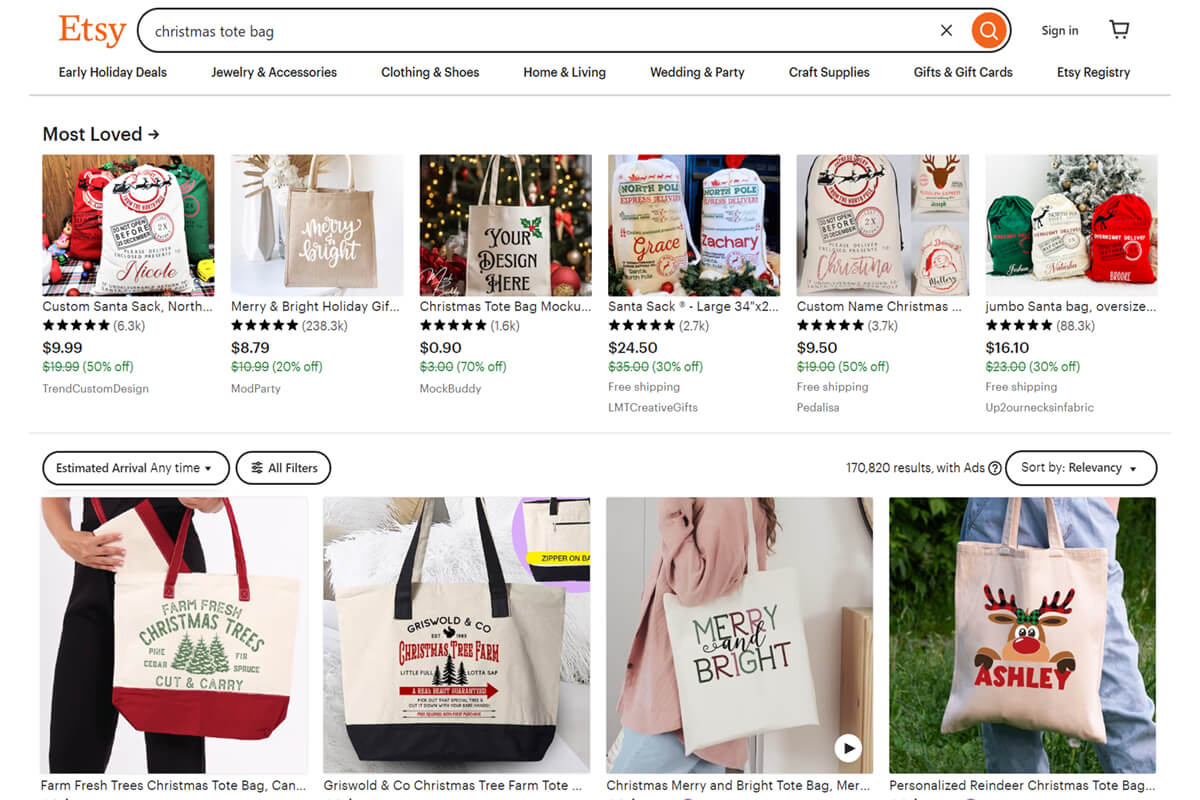 6. Christmas Mugs
If you're thinking of the best selling print on demand products for Christmas, include personalized mugs in your store catalog. Mugs are affordable and practical. That's why they're popular Christmas gifts!
The possible target consumers for Christmas mugs include individual buyers seeking thoughtful gifts for their family and friends during the holiday season. You can also sell to companies looking to buy gifts in bulk for their clients or employees.
Print-On-Demand Christmas Mug Design Ideas
For beautiful Christmas mug designs, you can combine joyful messaging with seasonal and festive elements such as nativity scenes, snowflakes, Christmas trees, Santa Claus, candy canes, mistletoes, and stars. Alternatively, you can visit Amazon to spark your creativity. Simply type "Christmas mugs" in the search bar, and you'll find a wide array of design ideas.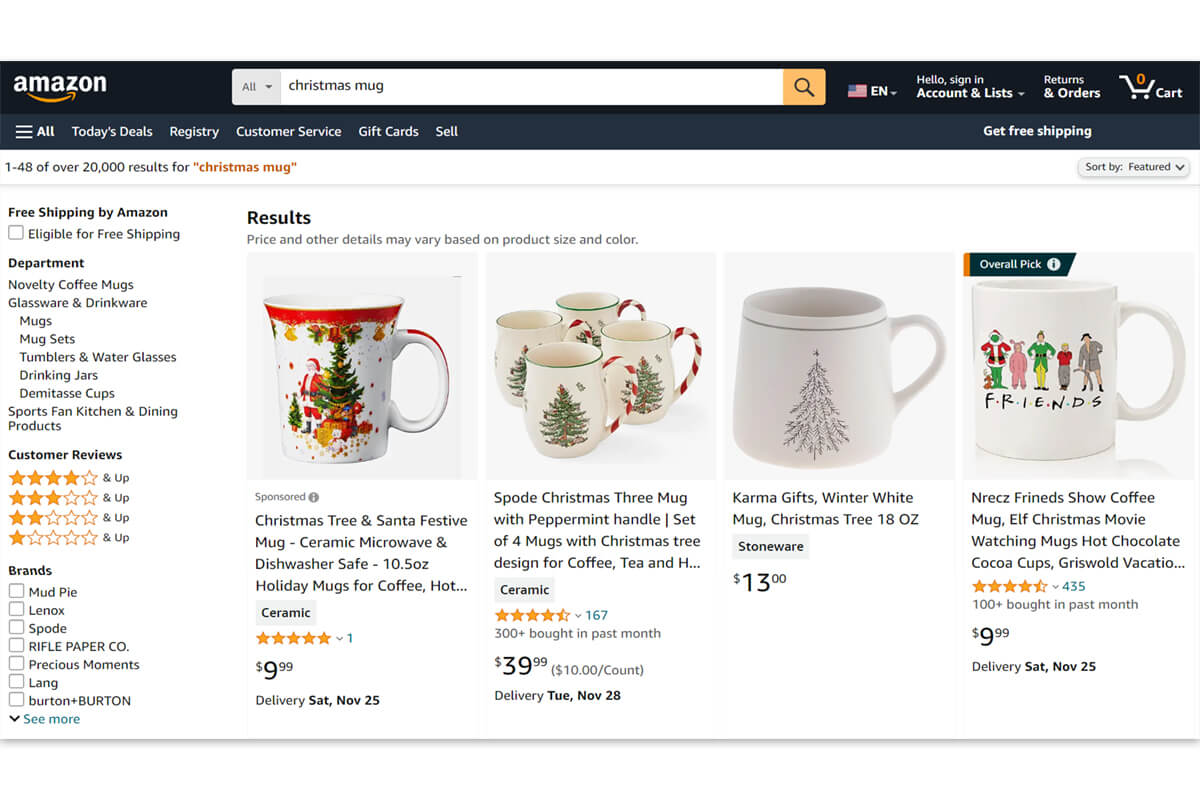 7. Season-Inspired Trucker Caps
With so many family get-togethers and corporate events on Christmas, it has become customary to sport a matching look. However, some might not be into wearing the typical Christmas-themed clothing. So, why don't you try selling season-inspired trucker caps?
Trucker caps can be a popular attire for various Christmas gatherings and parties. They're easy to take off when the event is over. This allows everyone to switch back to their regular attire and enjoy the rest of the festivities without feeling overdressed!
Print-On-Demand Season-Inspired Trucker Cap Design Ideas
You can design your print-on-demand trucker caps with classic holiday imagery or cheerful Christmas messages. For more design ideas, just type "Christmas trucker cap" on Google Image Search.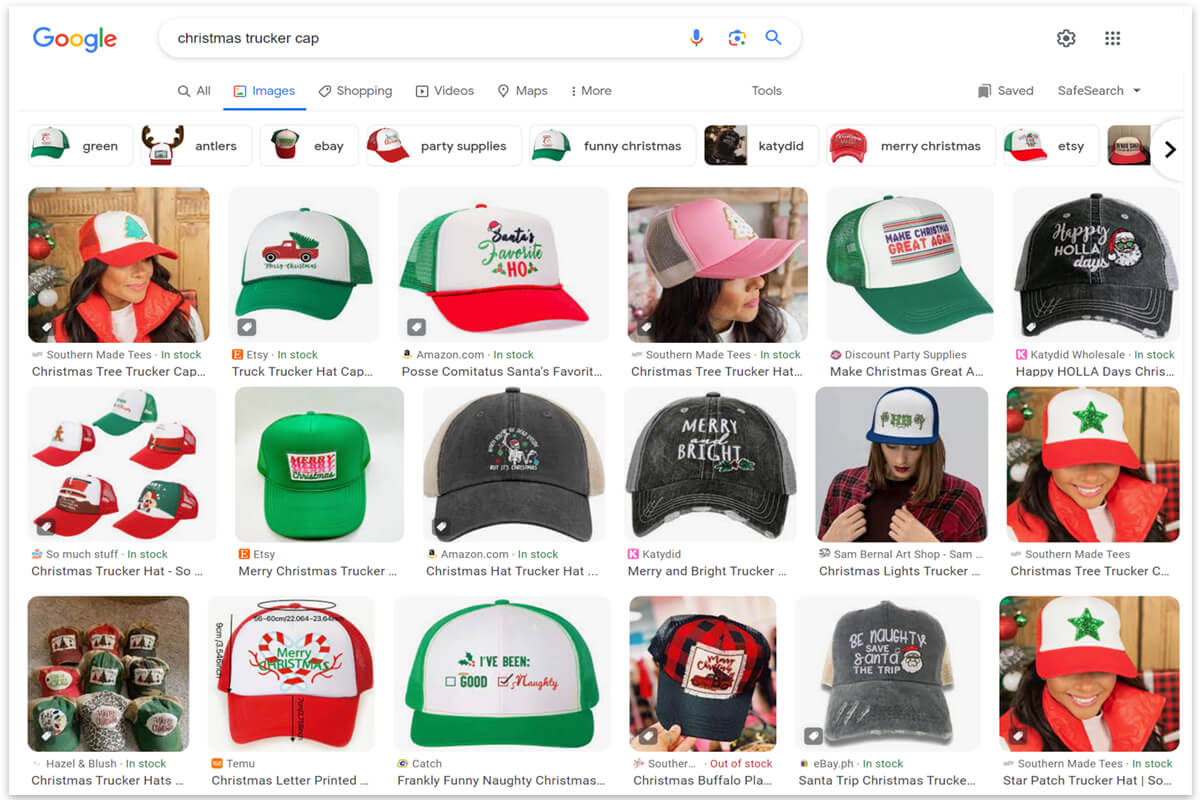 8. Graphic Mouse Pads
Anyone who owns a computer deserves a new mouse pad on Christmas. Just like tote bags and mugs, mouse pads are practical and budget-friendly. They're perfect for work, gaming, and casual browsing.
Your target consumers will definitely love these print-on-demand products since mouse pads can be given as professional gifts to employees or co-workers or as personal gifts to family and friends. Even if the recipient doesn't own a computer, mouse pads can be used as a decorative desk accessory, a cushioning pad for writing or crafting, or a base for handheld electronic devices.
Print-On-Demand Graphic Mouse Pad Design Ideas
Your graphic mouse pads don't have to be exclusively Christmas-themed. You can also create mouse pad designs tailored to the preferences of your target market. Designs can be family portraits, animals and pets, nature and landscapes, or inspirational quotes. For more design ideas, search "mouse pad designs" on Pinterest.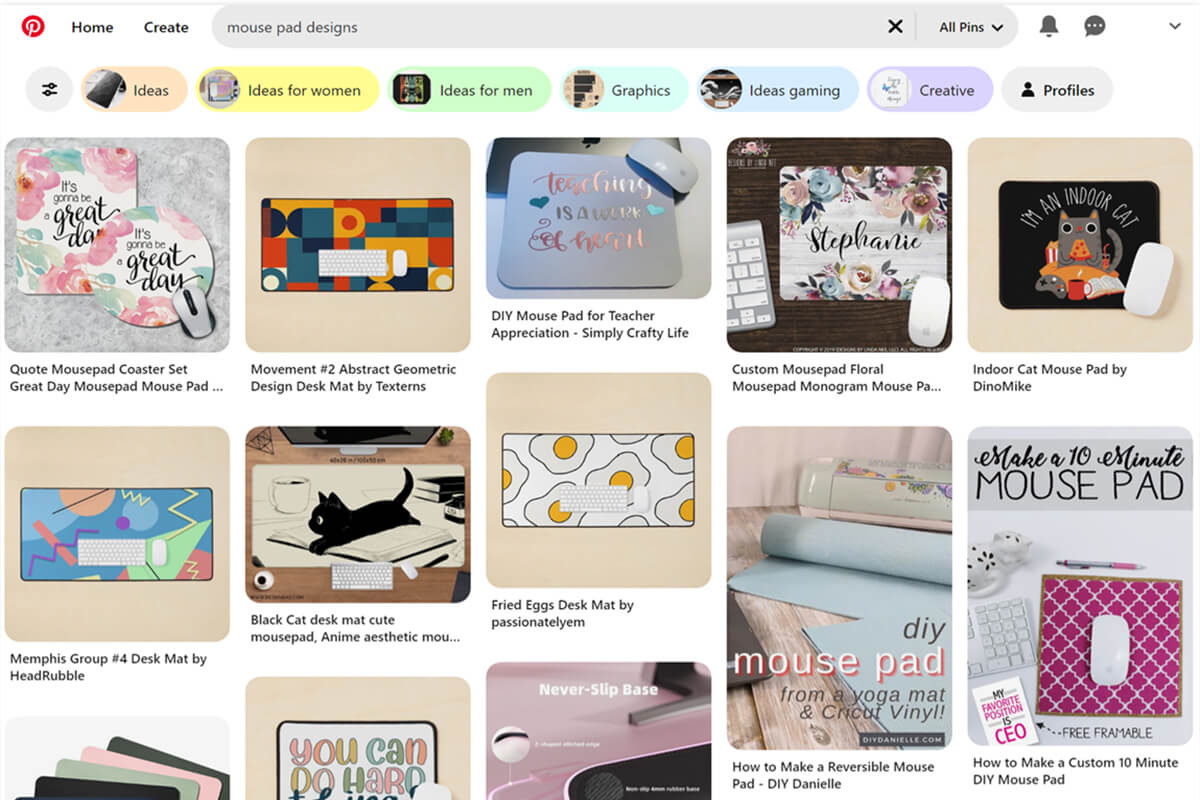 9. Festive Pet Scarves
Do you know about the pandemic pet adoption boom? Based on a survey, 78% of pet owners acquired more pets during the pandemic, resulting in greater demand for pet accessories and supplies. Despite the increasing prices of household commodities and living expenses, pet owners are still determined to pamper their fur babies during the holiday season.
To make the most of this opportunity, sell print-on-demand pet scarves with a festive theme. Christmas pet scarves offer a more budget-friendly option among pet owners who can't afford full Christmas pet costumes.
Print-On-Demand Festive Pet Scarf Design Ideas
Give your pet scarf products a real Christmassy vibe by using classic Christmas colors such as red, green, and white. You can design them with traditional Christmas elements or add a funny message that suits a pet's personality. For more creative ideas, type "pet scarf Christmas" on Pinterest's search box.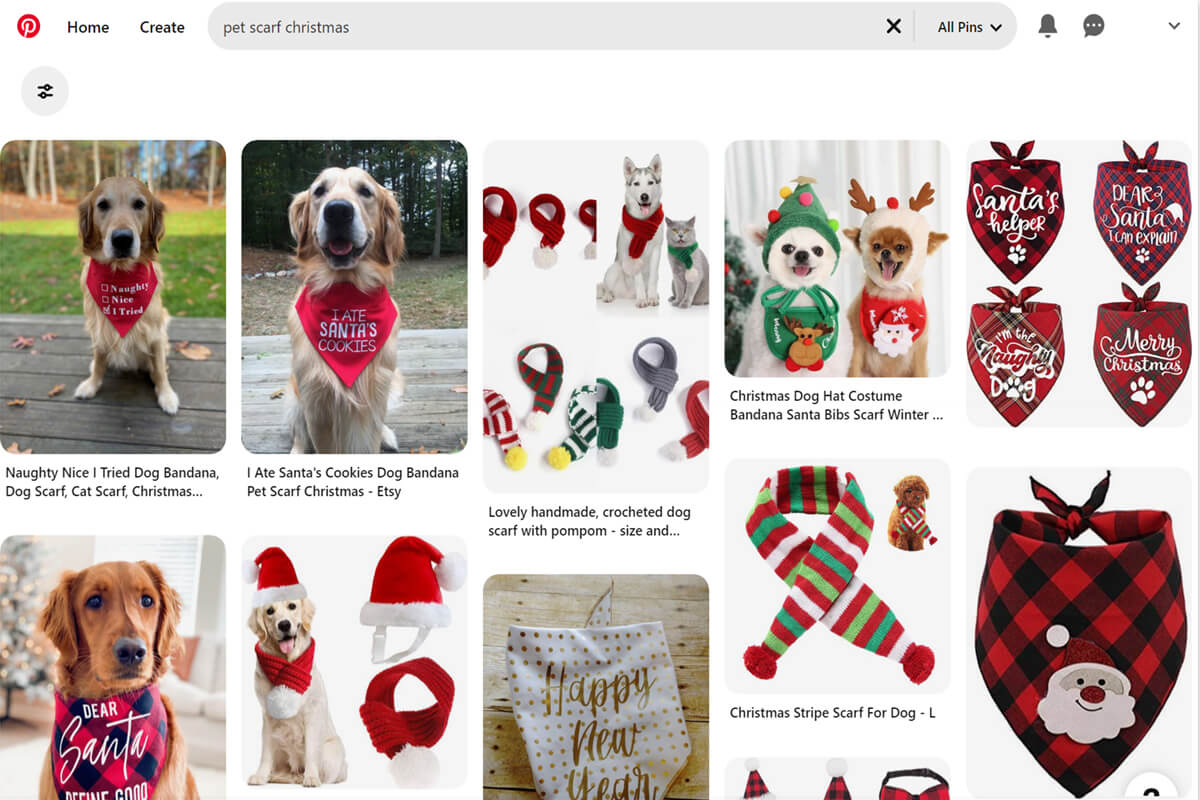 Tips to Boost the Sale of Your Print-On-Demand Christmas Products
Now that you already know the best selling print on demand products for Christmas, the next step you need to do is to promote your products effectively. To enhance your sales during the Christmas season, here are some actionable marketing tips:
1. Create Realistic Mockups
Most print-on-demand suppliers come with a mockup generator. But some of their mockups seem flat and unrealistic. As much as possible, choose mockups that display the product in action or being worn. This way, potential customers can better visualize themselves using or wearing the item.Sup Dropshipping's Print-On-Demand Service allows you to create realistic mockups for your product designs. We have diverse product models, plus we keep updating our mockup selection every week, so your shop's products will stand out.
2. Start Selling Early
Have you heard about the Rule of 7 in marketing? This means the average consumer needs to view your product messaging at least 7 times before taking action. To make this work, start selling as early as November and consistently promote your print-on-demand products so that your brand stays at the top of your customer's minds when they're ready to buy.
3. Provide Promotions and Discounts
Since it's Christmas, people are expecting promotions and discounts. To attract more buyers to your print-on-demand Christmas products, run flash sales, countdown deals, special product bundles, or early access items.
4. Double Your Marketing Efforts
If you want to increase your sales on Christmas, you need to double your marketing efforts. By ramping up your marketing initiatives, you can prevent your offerings from being overshadowed or overlooked during this bustling and competitive holiday period. Post more on social media, launch email marketing campaigns, and collaborate with influencers to help your products gain more visibility.
Frequently Asked Questions (FAQs)
1. What are the best selling print on demand products for Christmas?
The best selling print on demand products for Christmas are t-shirts, ugly Christmas sweaters, baby onesies, fitness motivation water tumblers, tote bags, personalized mugs, trucker caps, graphic mouse pads, and pet scarves.
2. What are the things to consider when choosing print-on-demand suppliers?
Selecting print-on-demand suppliers involves various factors, such as the supplier's range of products, quality standards, customization options, availability of mockup templates, fulfillment speed, integration capabilities for print-on-demand, and transparent return policies.
3. Where do I find design ideas for print-on-demand products?
To get design ideas, check out what your competitors do by visiting their websites and social media. See what designs are popular and put your unique spin on them. You can also look at Amazon, Shein, Etsy, Shopee, and Lazada for more inspiration.
Summary
Christmas is not only a joyful time for shoppers but for e-commerce sellers as well. It's the season to make more money! That's why offering the best selling print on demand products for Christmas gives you an edge over other e-commerce sellers who only offer general Christmas merchandise.
However, it's good to note that the success of your sales still depends on how you market them. Sometimes, even the best products go unnoticed due to the lack of promotion. So, don't forget the marketing tips we have shared earlier.
If you're looking for a reliable print-on-demand supplier, Sup Dropshipping is a worthy choice. We're an all-in-one fulfillment center based in China specializing in dropshipping and print-on-demand solutions. You can learn more about our print-on-demand services here.