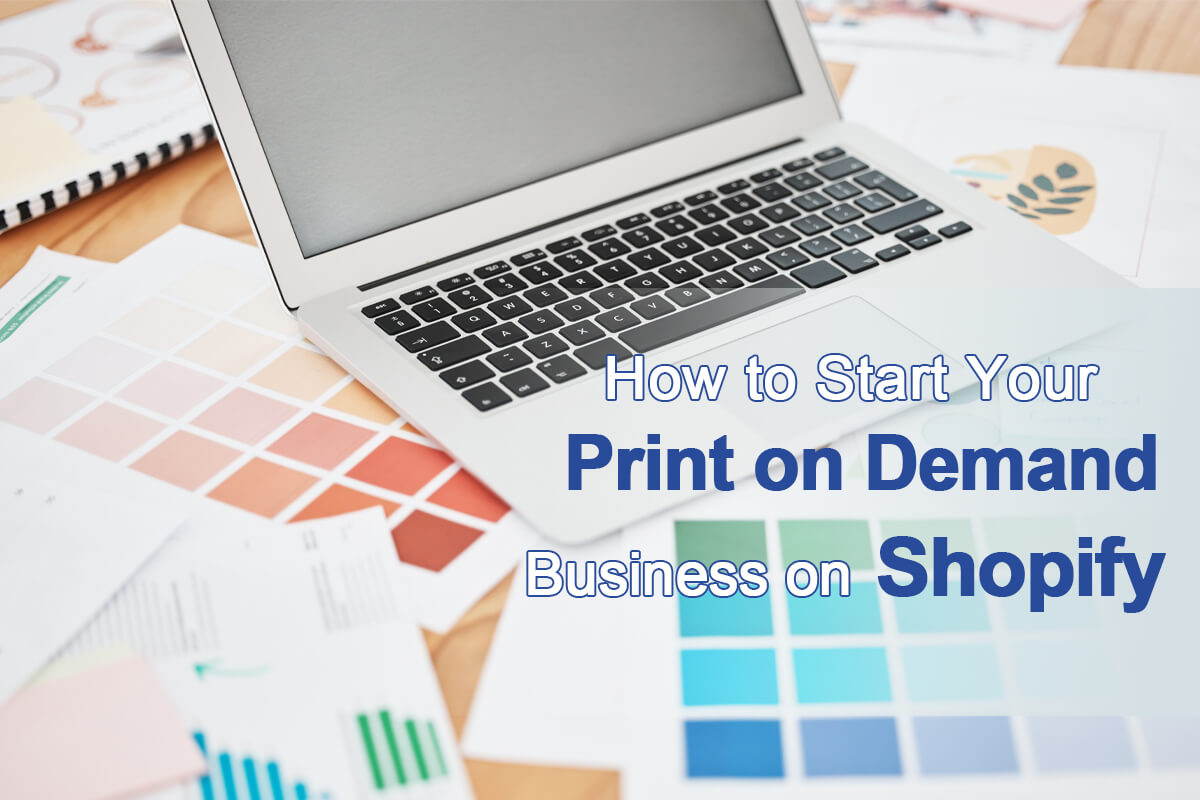 How to start a print on demand(POD) business on Shopify? That could be what many of you want to figure out.
With an increase in demand for personalized products, POD has been a more trendy business. According to Google Trend, the popularity of the keyword "print on demand" has been growing worldwide since 2016.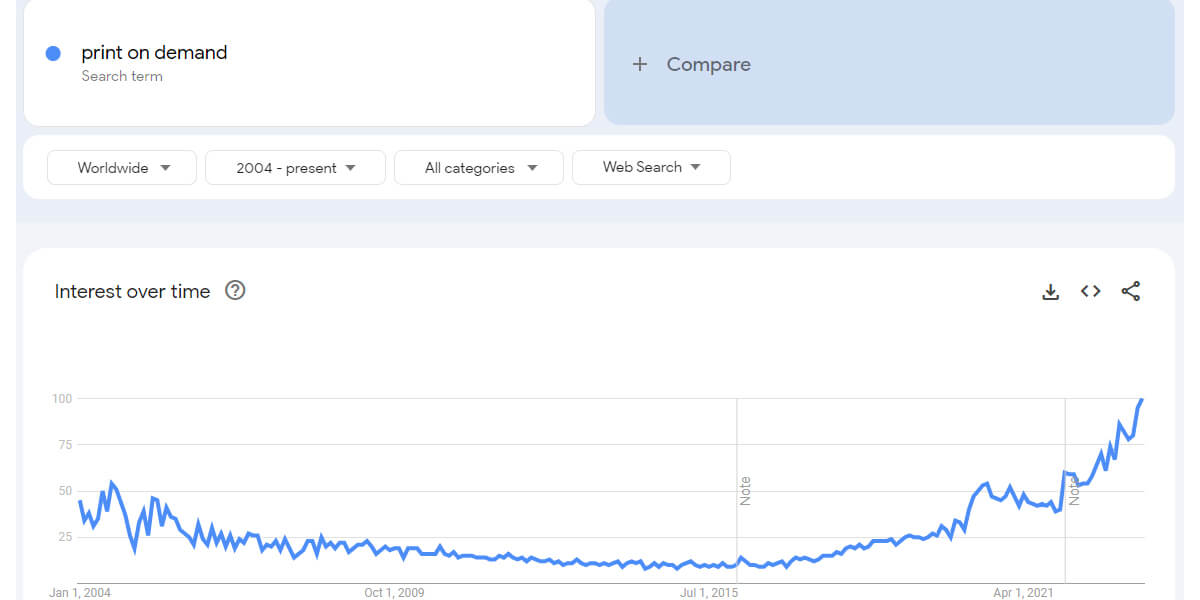 As one of the leading eCommerce platforms, Shopify is no doubt a good option for a POD business. You can see the top related topics and queries for "print on demand" on Google Trend revolve around Shopify.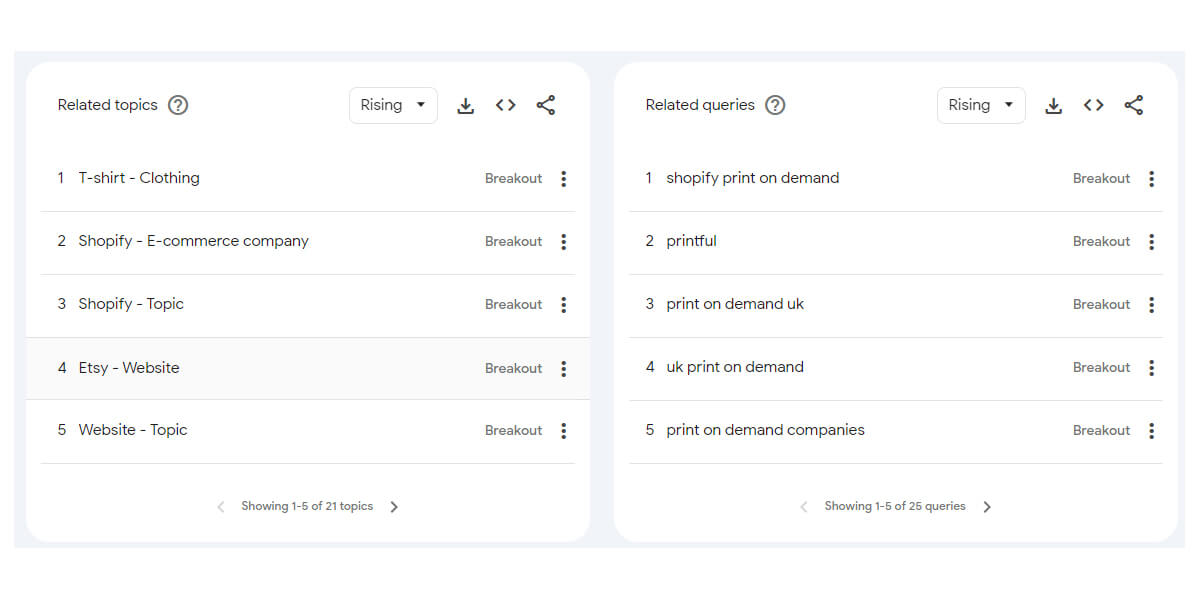 So now it is time for you to learn how to set up your POD business on Shopify from scratch. Let's dive in!
What is print on demand
Print on demand is a fulfillment process where you sell a designed product and the POD supplier fulfills the order after a sale is made.
A print-on-demand business is easy to start. All you need to do is create a store, design your products and sync your orders to the supplier's system. Then the rest of the tasks are automatically handled by your supplier.
There is little risk to run a POD business. You only buy a product after you receive an order and you don't have to invest in the stock of goods. So you wouldn't be stuck in a surplus of goods.
Last but not least, POD makes growing your brand easier. You can add your brand, logo, and design on white label products from your POD supplier. Therefore, your brand is more likely to be remembered by your customers.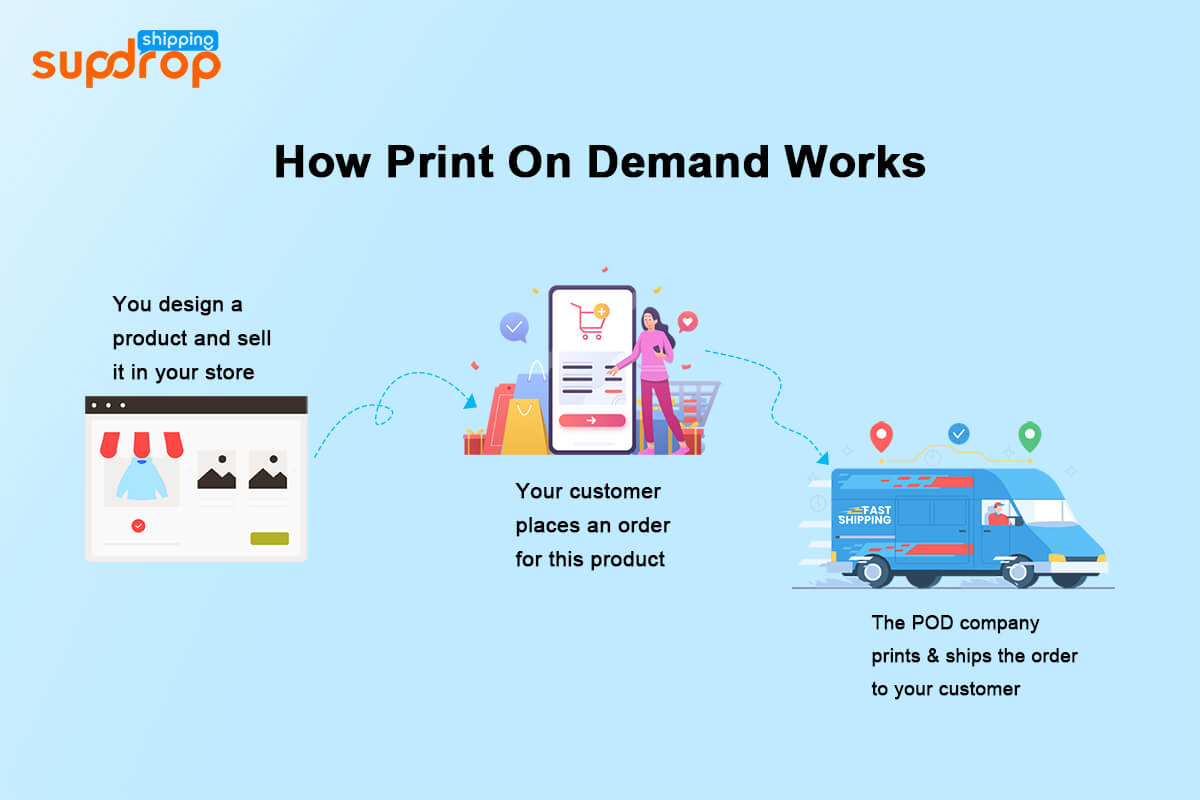 How to start a print on demand business on Shopify
Shopify is one of the most influential eCommerce platforms across the globe. It has been developing at a rapid speed in recent years. To data from Statista, the total revenues of Shopify were over 4.6 billion U.S dollars in the fiscal year 2021, an increase of over 4 billion since 2015.
Due to the success of Shopify, many print on demand suppliers start to partner with this company and develop their apps to integrate their system with Shopify stores. These apps are easily accessible and convenient to use. To work with a supplier, all you need to do is find the app this supplier provides and connect it with your store.
Here are steps that help you start your print on demand business with POD apps on Shopify.
1. Find your niche
Finding a niche is crucial to a business. And here is why.
A niche can help you build your brand. When you specialize in a specific area, you are likely to become an expert. Your profession rewards you with the customers' awareness and recognition of your brand.
In addition, focusing on a niche means saving time and energy. You don't need to spend a lot of time researching and managing a wide range of products. You can put your efforts into something else that matters.
Most importantly, by selling in a specific segment, you can target your audience effortlessly. In a niche, your products are sold to a group of consumers with specific needs and preferences. So it is easy for you to identify your target audience.
Notice: The number of print on demand niches could be more limited than that of general niches because you have to ensure products in your POD niche are printable.
2. Create a Shopify Store
After you find the niche to specialize in, you should set up your Shopify store.
The steps are as follows.
Click the button "Start free trial" on the home page of Shopify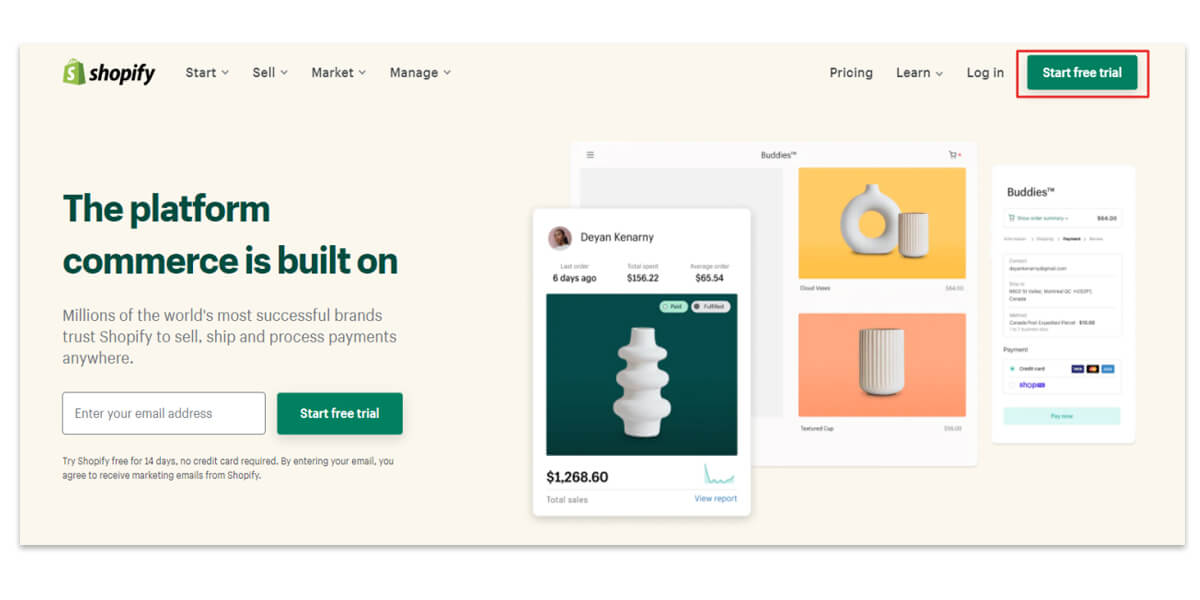 2. Fill in your information & click "Create your store"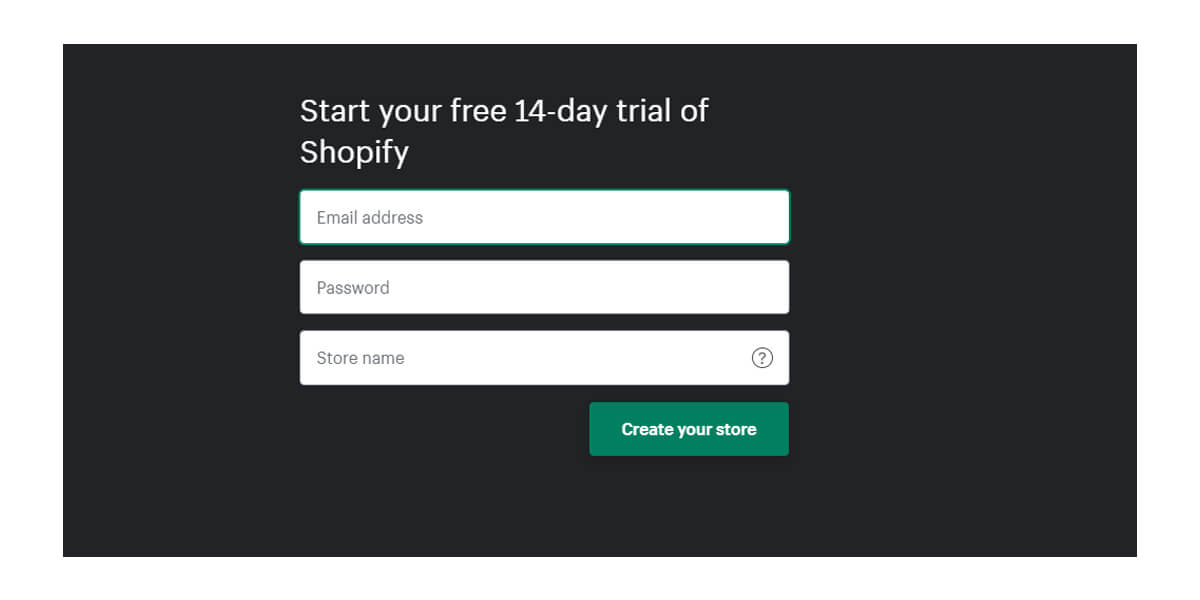 3. Provide some more information Shopify requires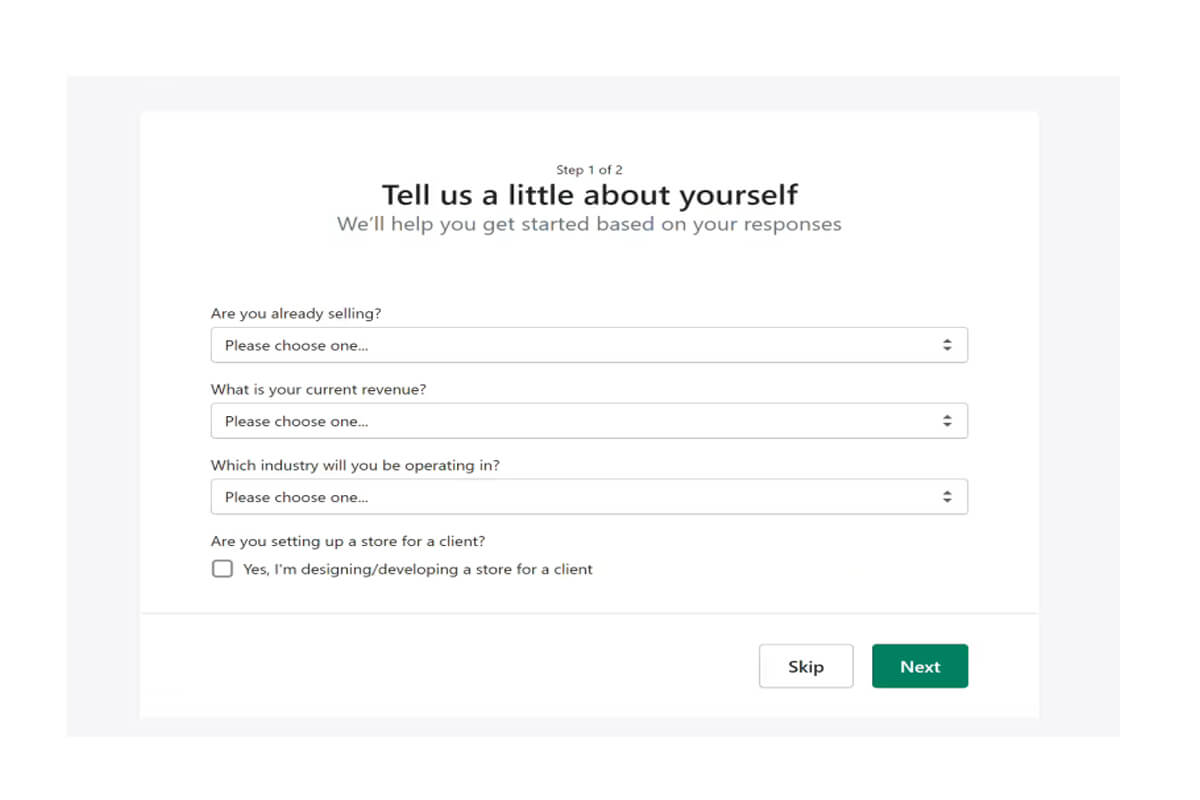 4. Decorate your store
With the steps above, your Shopify store is finally created. Remember to choose a theme to customize your store. There are over 80 free and paid design themes on Shopify for your choice. You should choose one in line with your niche and ideal style.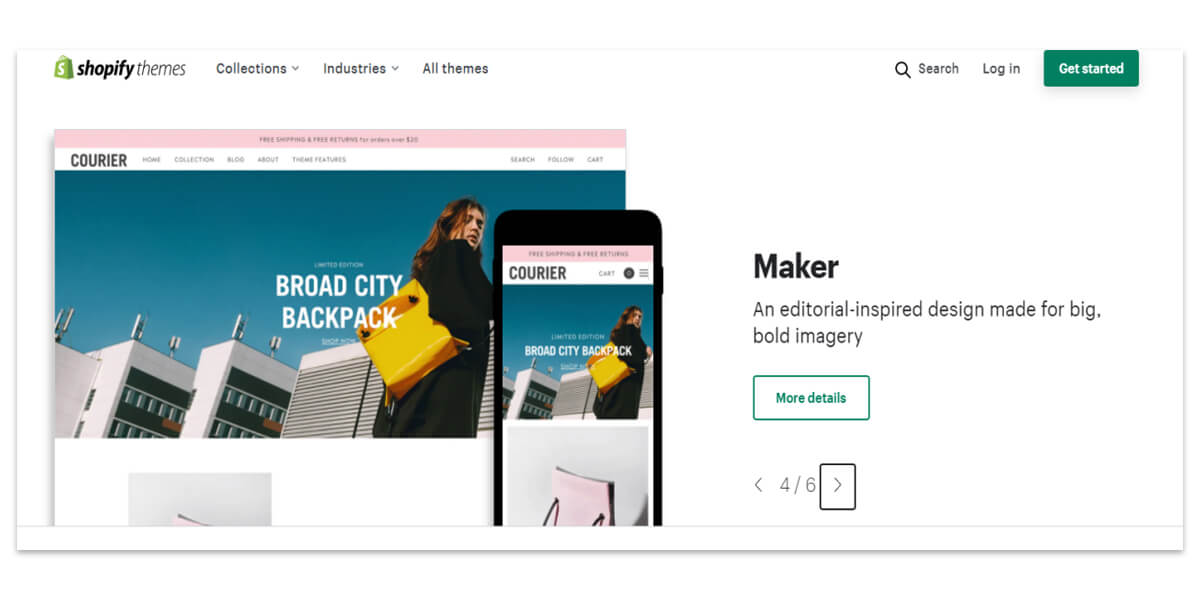 3. Pick up a Shopify print on demand app
A POD supplier plays an important role in a print-on-demand business. Like a dropshipping supplier, the POD company prints and fulfills orders on your behalf.
So be careful and take the following aspects into consideration before you choose a POD app on Shopify from a supplier.
Free to use For any beginner, the less you invest, the less risk you take. Compared to a paid solution, a free one could be more suitable for you.
Fast delivery time Delivery time is one significant factor your customers consider before they place an order. Make sure you work with a POD supplier who provides faster printing and shipping services.
Qualified printing skills The quality of printed products connects closely with the printing skills of your POD supplier. With qualified printing techniques, the supplier can better provide your customers with products they expect.
For your convenience, we sort out a list of the top print on demand apps that can help you start your POD business on Shopify. We will talk about them in detail later on.
Even in a niche, there are still a sea of products. Which should you sell?
Solve customers' problems Products that solve problems customers encounter are probably hotcakes in a market. Figure out what problems your target customers have and what products you can sell to help them.
Not common in retail stores Winning products must be those that are not often seen in a retail store. Imagine that, why does a customer choose you for a product they can't touch before they pay when the product is touchable in a local store?
High profit margins Earning profits is the key to the survival of a business. You should ensure the products you sell are profitable. Also, only a high profit proves the product worth your care and effort.
Unique in appearance or function Unique products in appearance or function can attract the attention of customers. And therefore, they are more likely to be hot-selling.
5. Design your products
The core of a POD business is to design a product.
If you are skilled at designing, you can add your unique design to your products. If not, just utilize designs and mock-ups from the print-on-demand apps on Shopify.
Alternatively, you can hire a professional designer if you have a higher budget. And to make your product profitable, ensure your selling price covers this expense.
6. Fulfill your order
Having designed your products, you can list them in your store. Once you receive an order from your customer, sync your order information to your Shopify POD app and let your supplier fulfill and deliver the order for you.
Print on demand apps on Shopify
There are plenty of print on demand apps on Shopify to facilitate your business. We select the best POD apps for your reference.
Let's take a look at them one by one.
Printful is a well-known print on demand company, which provides over 300 premium products in general catalogs. There are plenty of design patterns for your use with no minimum order requirements. Their free built-in design maker allows you to customize products even if you have no design experience. After a sale is made, Printful handles the order fulfillment for you.
Pricing Free to use; Printful Pro $49 monthly or $539 annually; Printful Plus $9 monthly. Both charge plans permit a 14-day free trial. A 20% discount can be applied to a sample order.
Shipping Printful's global warehouses make it possible to stock your inventory near your target market and ship your orders to the destination fast. And the processing time of an order is usually 2-5 days.
Branding service Not only print-on-demand service is available on this platform, but also branding service. On Printful, graphic design, photography, and video service are accessible to you. You can also customize your package and add pack-ins to your orders.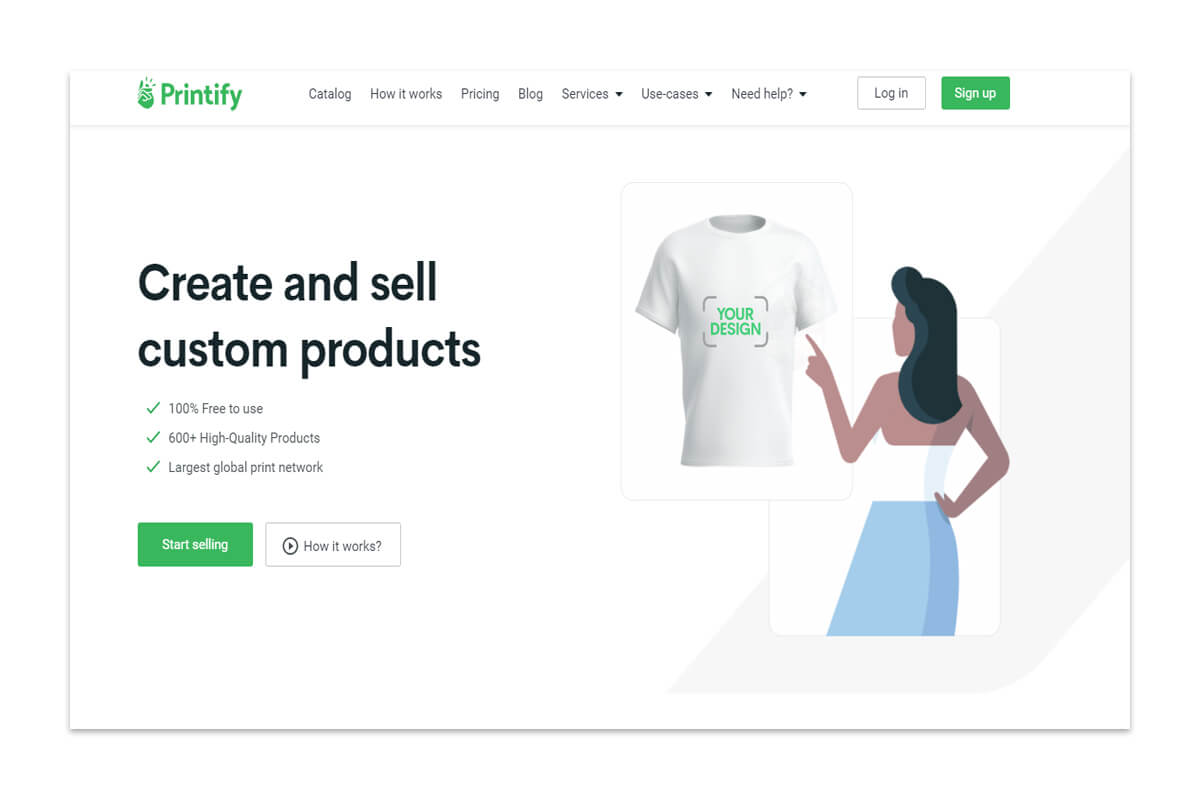 Similar to Printful, Printify offers print on demand services to individuals and businesses. There are more than 600 customizable products on this app. They cover catalogs including T-shirts, hoodies, shoes, bags, socks, hats, phone cases, mugs, stickers, and more.
Pricing ThePrintify app is free to use for a start-up. For businesses that are scaling, an optional premium plan charges USD 24.99/month.
Shipping Printify is in partnership with more than 90 print facilities across the world, so your order can be printed near your location and delivered timely. Local deliveries take 2-3 business days while international shipping usually takes 10-30 days.
Design and Preview With the free Mockup Generator developed on this app, you can design a product easily and preview if it is what you want.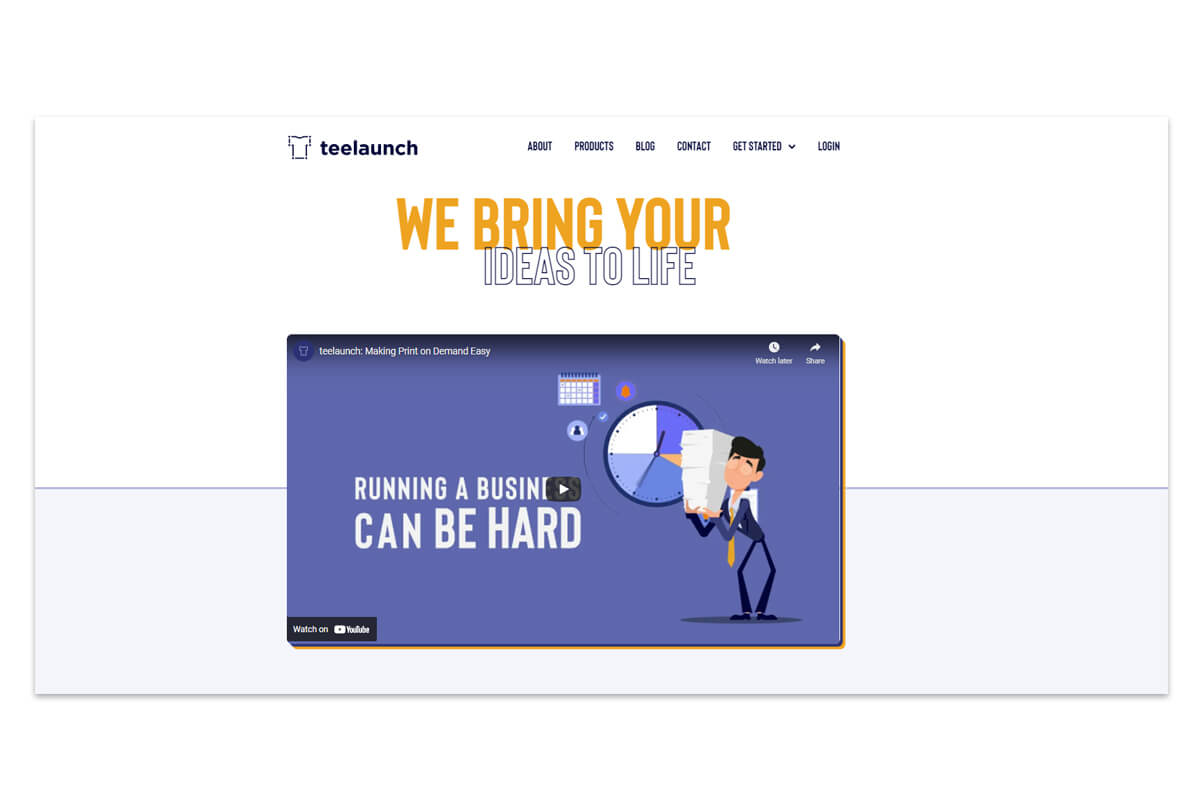 As you can see from their logo, Teelaunch mainly prints T-shirts on demand. There are over 300 quality products on this platform.
Pricing Free to use. You just need to pay for the costs of the product and shipping fees.
Shipping Teelaunch has been in partnership with factories around the globe. For businesses near these factories, working with Teelaunch can reduce shipping costs and make the delivery fast. The processing time for most orders is within 3-7 days.
Excellent customer service Besides the reasonable price for products, Teelaunch is also rated high by its customers because of its satisfying customer service.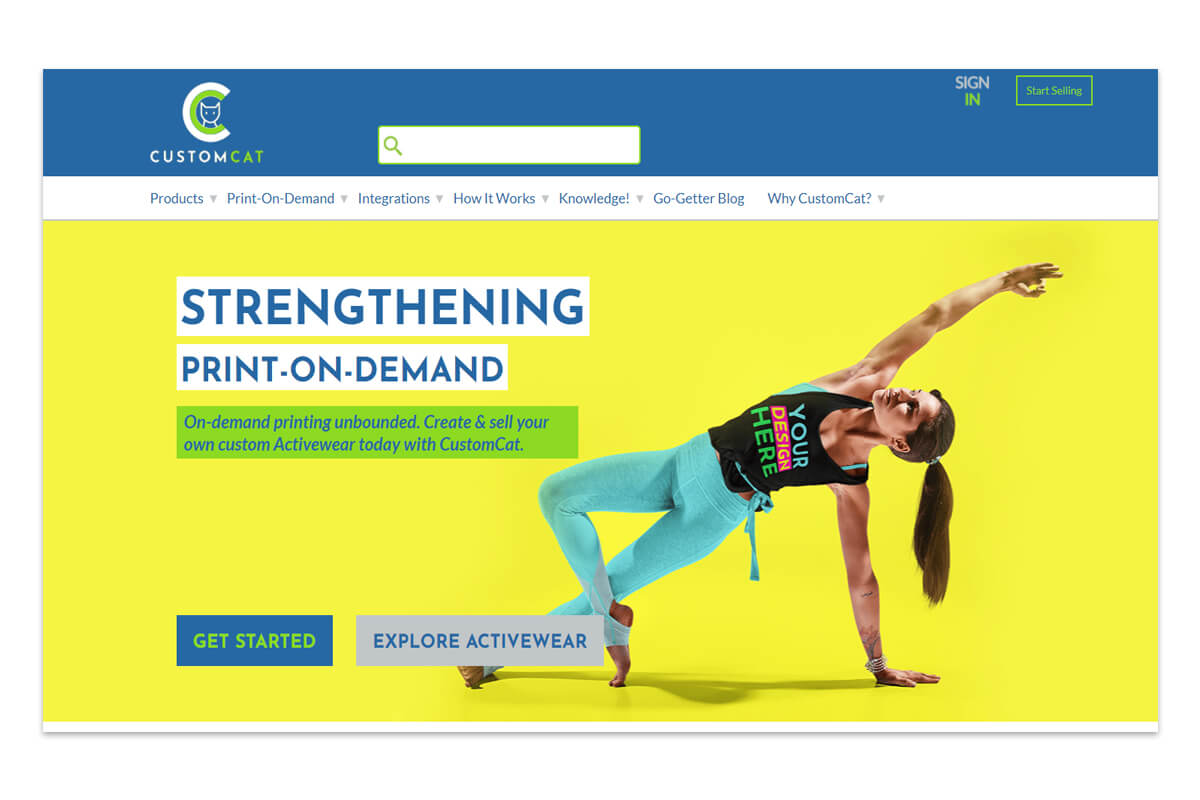 Custom Cat is another Shopify app for print on demand services. On this app, you have access to hundreds of customizable products in the categories of apparel, housewares, and accessory.
Pricing Free of charge. If you sell 15 or more items per month, a subscription plan of $30 is optional. This plan allows you to enjoy a 30-day free trial.
Shipping Custom Cat ships orders in the world. The average fulfillment time of most orders is within 3 days.
Different decoration types Different design methods, such as direct-to-garment (DTG) printing, dye sublimation, and embroidery are supported on Custom Cat. These printing methods can improve the quality and features of your products.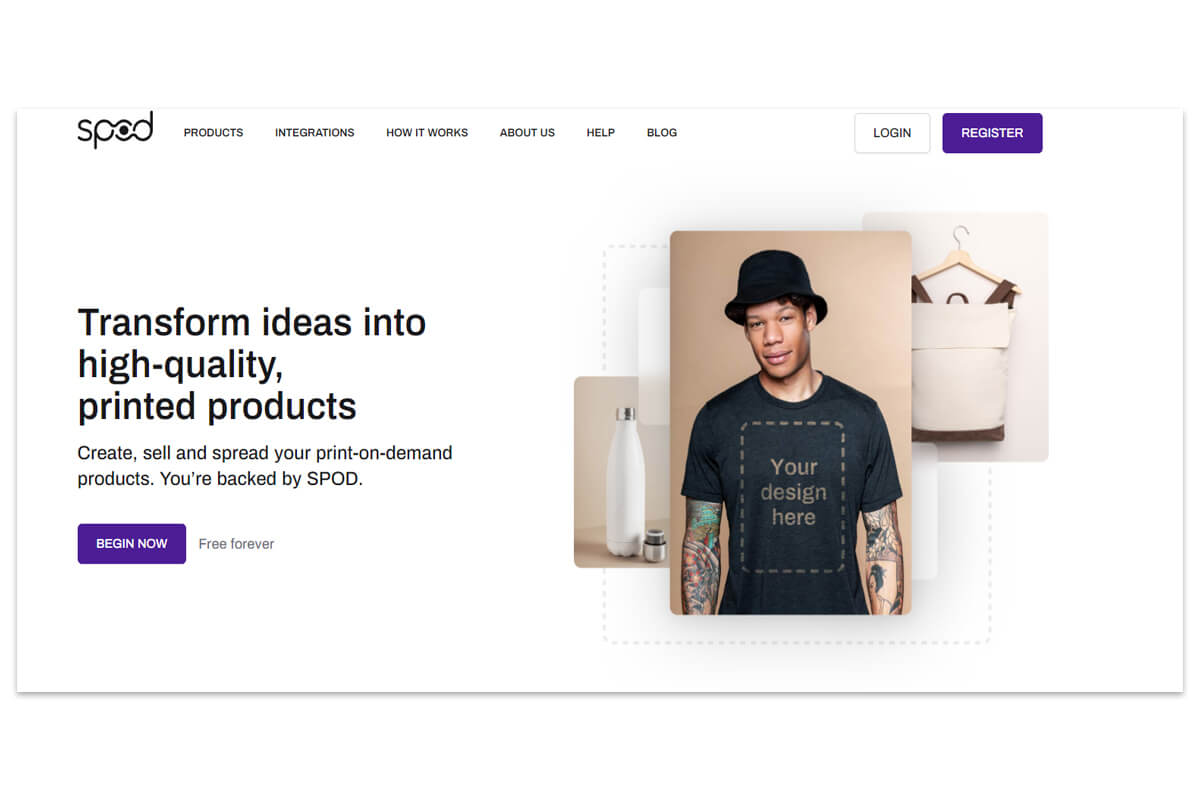 SPOD is a print-on-demand app on Shopify as well. With this app, you are accessible to over 200 unique products in general catalogs. A lot of free designs can be used.
Pricing This app is free of charge. You only pay the product costs and shipping fee once an order is placed.
Shipping Facilities of SPOD are located in the US and EU, which means you can nearly sell to the world when choosing this company. Additionally, their fulfillment team usually ships out orders within 48 hours.
Eco-friendly This POD service provider adopts a water-saving printing technique, produces without paper, and ships orders in plastic-free packaging. That is eco-friendly and good for environmental supporters.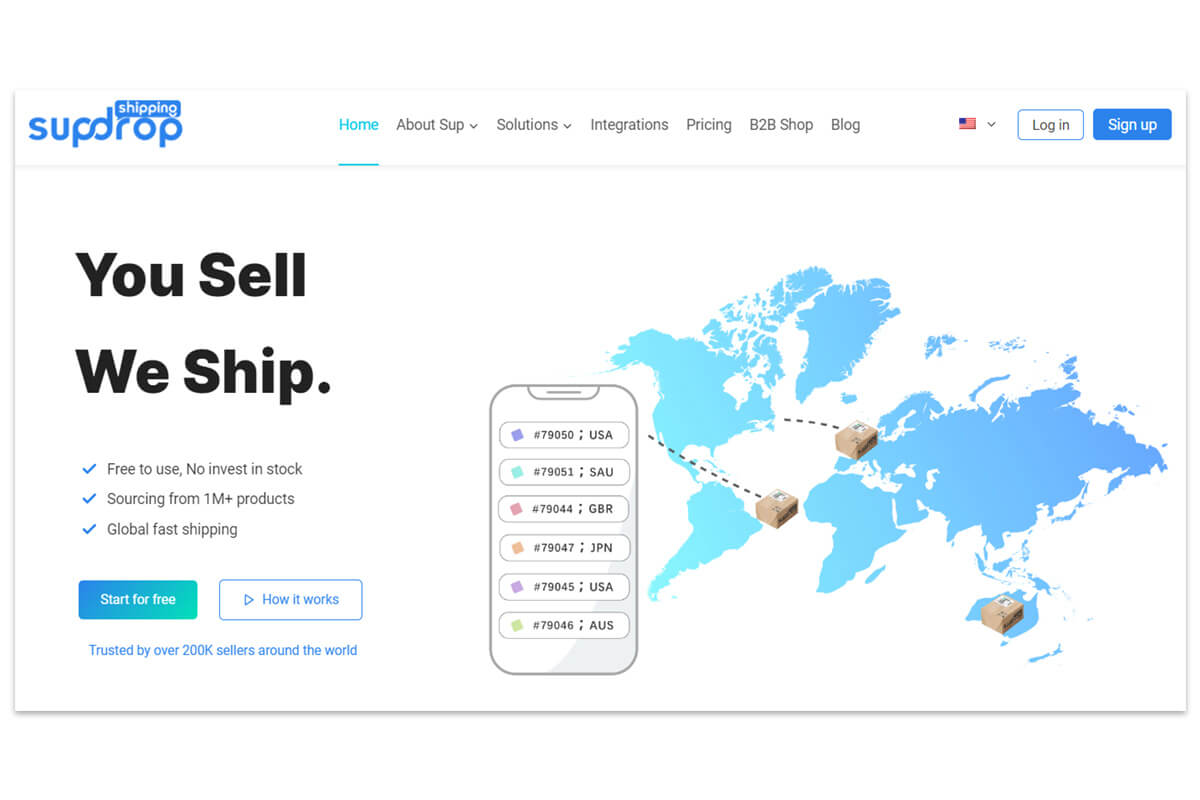 As a dropshipping service supplier, Sup Dropshipping also provides customers print on demand service.
In the POD section of Supdropshipping, there are nearly 300 print on demand products in general niches. Both you and your customers are allowed to add your exclusive designs with the free DROPCUSTOM Creator. Meanwhile, free patterns are available for you.
Pricing Free to use. You only need to pay the costs of the product and the freight charge.
Shipping Though located in China, Sup ships orders worldwide. You are allowed to choose the courier by yourself. The delivery usually takes 5-15 days.
All-in-one service By adding theSup Dropshipping app to your Shopify store, you can easily find a winning POD product with our sourcing service. In addition, Sup deals with the order fulfillment and shipment for you. All you need to do is create your design and list the product in your store. The quality inspection service is offered to ensure the quality of your products.
Tips to work with a POD supplier
Working with a POD supplier seems easy, but it is still a little tricky. Some tips may help and benefit you.
Order samples Though you can preview the product you design on some POD platforms, there is a chance the designed product your customer receives is a different one. Therefore, you had better order a sample to check the print quality before you sell it. If you find it not satisfying, just find a new supplier.
Adopt unique designs Unique designs make your brand stand out among your competitors. So make sure your designs are exclusive to differentiate your products from those in the market. Be careful to check if a free pattern you apply is already used by other sellers. Research your competitors before you apply any design.
Avoid Intellectual property infringement Whether you use a design from yourself, a POD app, or a designer, you should always pay attention to the infringement problem. Research with some tools like WIPO, USPTO, and EUIPO to check if the design could cause intellectual property violation. Because any infringement may result in a loss on your business.
FAQ
What is the difference between Print On Demand and Dropshipping
Print On Demand is a kind of dropshipping business. The only difference is that you or your customer design(s) the product before you sell it.
How much does it cost to start a print on demand business on Shopify
There is little upfront investment in starting a POD business. You don't need to stock goods and you only buy a product after you receive an order.
Besides, some print on demand apps on Shopify are free to use. The only cost is the basic Shopify plan of $29 per month.
Is print on demand profitable
Yes, it is profitable though some print on demand businesses claim they earn thin profits. You can make profits when you pick up a profitable niche, get some winning products and work with a reliable supplier. Meanwhile, you should use unique designs and take some tips.
Wrapping Up
Starting a print on demand business on Shopify is a good choice to dive into the evolving eCommerce world and share the cake. Even though there could be challenges on your road, with a proper POD app from a reliable supplier and some strategic tips, you can be successful. Hope our article is helpful for you.
If you have any questions, please let us know in your comment.