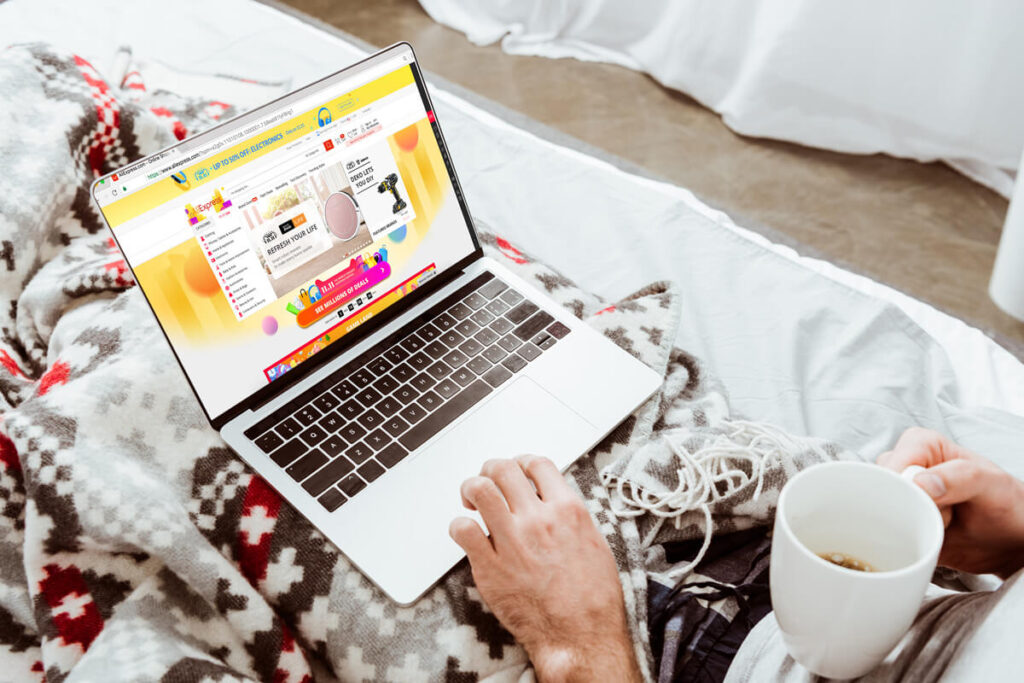 Whether you're already a dropshipper or just want to get started, I'm almost sure you've heard of AliExpress. AliExpress is the most popular dropshipping platform for sourcing low-cost products from Chinese suppliers. As one of the largest retail websites, it offers new dropshippers a way to get started in any niche with no upfront costs and a small profit for themselves.
For starters, AliExpress meets all the requirements for dropshipping, but it also has many limitations. Due to some unsatisfying products and unreasonable shipping services, wise dropshippers have started to look for alternative dropshipping websites for better product profits.
If you are one of those scaled dropshippers looking for some good AliExpress alternatives, you've come to the right place. In this article, we've put together a list of the top AliExpress alternatives that provide users with quality products at lower prices. Therefore, you can maintain a reasonable profit margin by utilizing alternatives to gain a competitive advantage based on your needs and preferences.
Let's take a look at some of the issues faced by dropshippers using AliExpress. We will also show you some of the best AliExpress dropshipping alternatives that can maximize your profits.
Why Do We Need Alternatives to AliExpress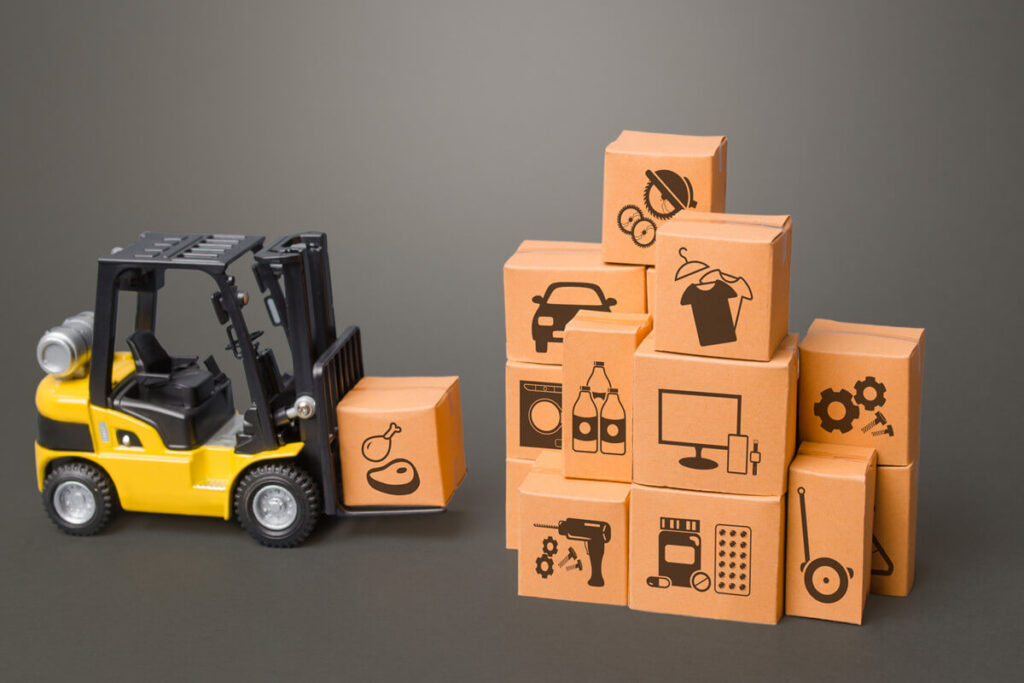 AliExpress has always offered a wide variety of products at very competitive prices, but it's not for everyone.
Here are the main reasons why you should look for alternatives to AliExpress:
Uncontrollable product quality
With AliExpress, you will face a few situations. Some suppliers on AliExpress sell low-quality goods at low prices, and some of them sell low-quality goods at high prices. The reason for the uneven product quality is mostly because the platform does not properly control the quality of unknown brands.
Often, such products are of lower quality than they describe and may not work as expected. This can lead to dissatisfaction with your customers because you are the only one to blame when your product has quality issues.
Low-profit margins
Low-profit margins are one of the biggest problems dropshippers face today. This problem usually has a lot to do with the quality of the products, especially if the quality of the products is not high, cheap goods can not add much profit. When other sellers sell the same item at a lower price to attract new customers or build a brand, it also minimizes your profit potential.
Low prices usually mean low-profit margins. When you buy cheap products from AliExpress, you cannot sell them at good prices. So how could you earn better profits? Think about it, if you're only earning a small percentage of each sale, that means it may take some orders to start earning enough to cover your expenses.
Complicated refund/return process
When your customer has a quality problem and asks for a return, it's not easy to solve the problem because the return process is very difficult. It can take months to return the product to the supplier, and then wait even longer for a refund.
First, you need to take responsibility to communicate with your customers and then deal with your disputes with suppliers. If the supplier cannot resolve the refund or return, you can only complain to AliExpress. However, this results in a longer resolution process and time, which is cumbersome and inefficient.
Restrictions on private label products
When selling products online, branding yourself is a very important thing. You can buy white label products, put your logo and brand name on them, and sell it as private label products. For dropshippers looking to grow their business organically, this allows you to promote your brand and build customer loyalty to your store.
The only problem is that AliExpress does not provide custom labeling and packaging services. This leaves you missing opportunities to promote and increase sales. You should look for an alternative that gives you the freedom to sell customized products.
How to Choose the Right AliExpress Alternative
1. Reliable suppliers
When choosing alternatives, it is important to check whether the suppliers on the platform are reliable and whether they offer quality products. In addition, you also need to understand the level of supplier engagement on the platform. After you send a message, please pay attention to how quickly the supplier responds to you. This will give you an idea of the supplier's accountability, a supplier with unreliable response times can be a poor partner.
2. Shipping solutions
Since dropshipping is an over-competitive market, you need suppliers with fast-paced supply chains to gain a competitive advantage. Suppose your supplier takes too long to ship your product. In that case, you'll lose out to your competitors because customers will happily go elsewhere to buy if they promise faster delivery times.
To find the most suitable dropshipping supplier, we recommend that you place a test order before making your final selection.
3. Professional customer service
Customer support is very noteworthy, it's just that most people tend not to realize the impact. Before you decide to partner with a supplier, you should ask him or her some important questions. This is an important step in how you can find out if this supplier is worth working with.
A reliable supplier makes their products and services transparent to you to develop a long-term relationship with you. If the supplier does not hesitate to answer any of your questions honestly and can deal with possible problems in time, then it will be of great help to you.
4. Customized labeled products
If you are creating a one-of-a-kind product for your customers, there will be less competition and more room for growth in your niche.
A full-service dropshipping agency can be of great help throughout the process. If you use a dropshipping agency that offers labeling as part of their service, they should be able to source, store, and ship for you.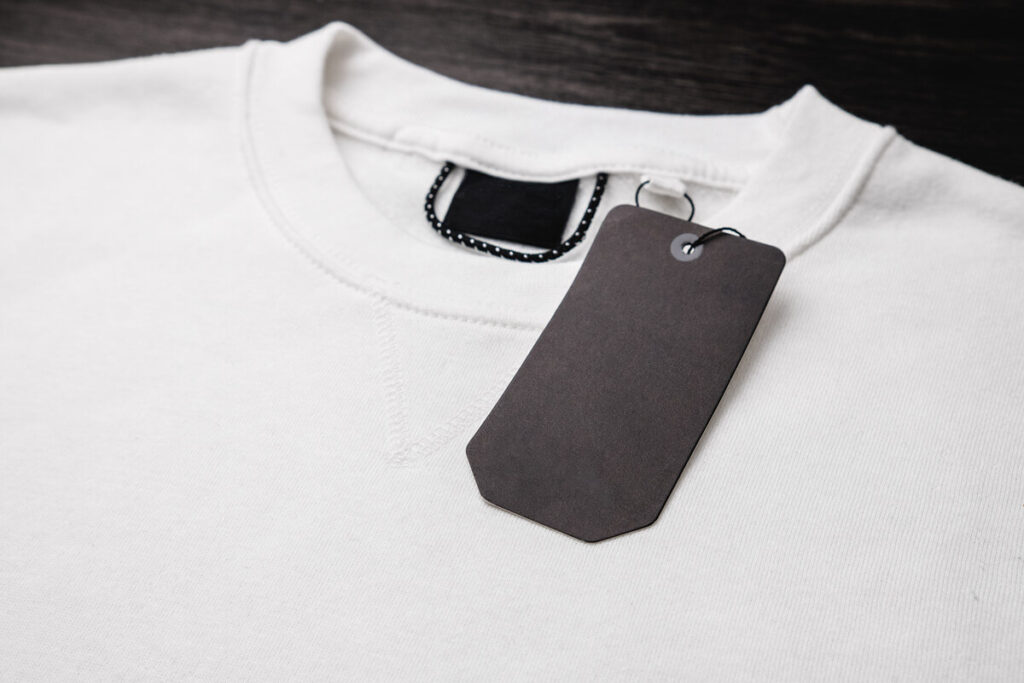 The Top 8 Alternatives to AliExpress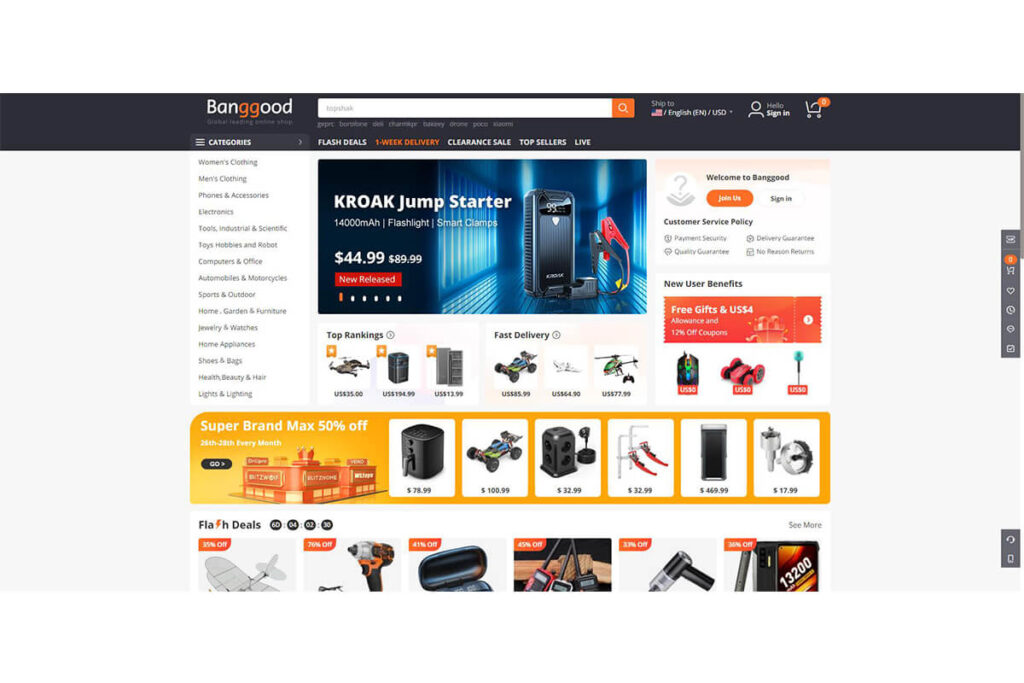 Banggood is one of AliExpress's competitors, offering low prices on a variety of quality products. It's also a Chinese-based website that offers a selection of over 250,000 solid products for sale. The top-selling dropshipping products are electronics and auto accessories.
A wide range of branded and non-branded items are also available on Banggood. One of the advantages of selling non-branded products is attaching your own brand to products, which is private label dropshipping. The best part is that they have a dropshipping affiliate program that allows you to get extra discounts.
Shipping and Delivery
Multiple shipping methods and free shipping options are offered by Banggood for buyers. They have warehouses in CN, US, EU, and ship internationally. Shipping to the US and Europe takes 2 to 30 days. If you're shipping to countries like South Africa, Argentina, and Peru, it can take up to 90 days.
Payment Methods
Many payment methods are available, including:
BGpay (Banggood wallet)
Paypal
Visa
Credit Card
Wire Transfer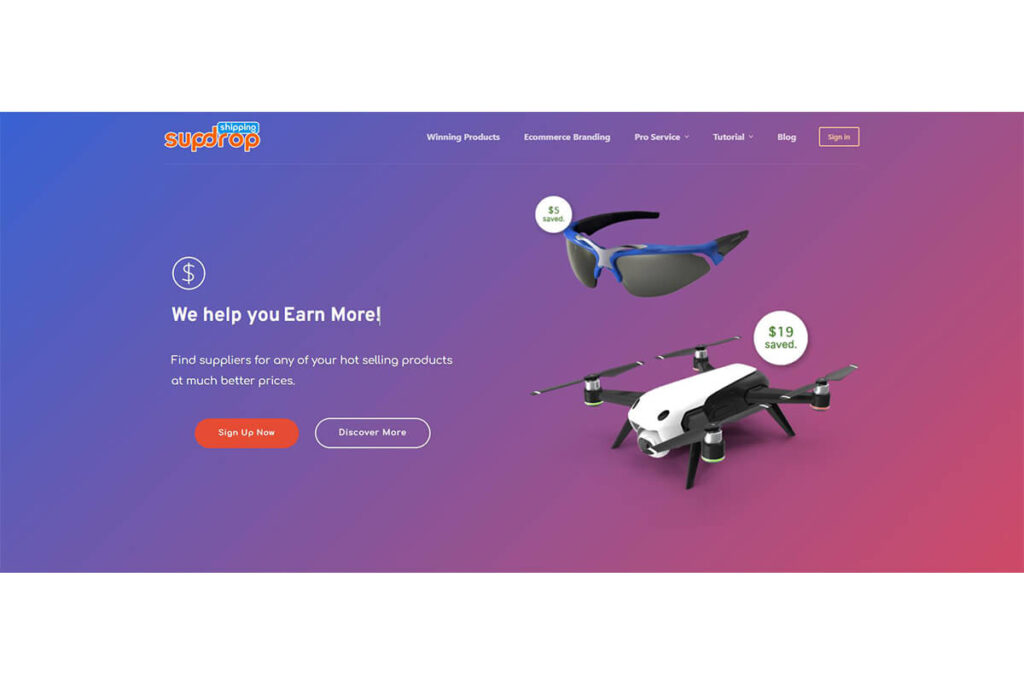 Sup Dropshipping was established in Hong Kong in 2010. As a dropshipping agent, it cooperates with many enterprises. Sup not only provides you with product sourcing services but also inventory management, order fulfillment, and branding services.
You can source by images or post free sourcing requests. Our experienced sourcing team will help you find the best supplier. What's more, there is no monthly fee for using the Sup Dropshipping app. You only pay for product and shipping costs, with tax and fees included. No worries about hidden fees.
The main functions are as follows:
Import a supplier's products into your dropshipping store
Logo engraving & custom packaging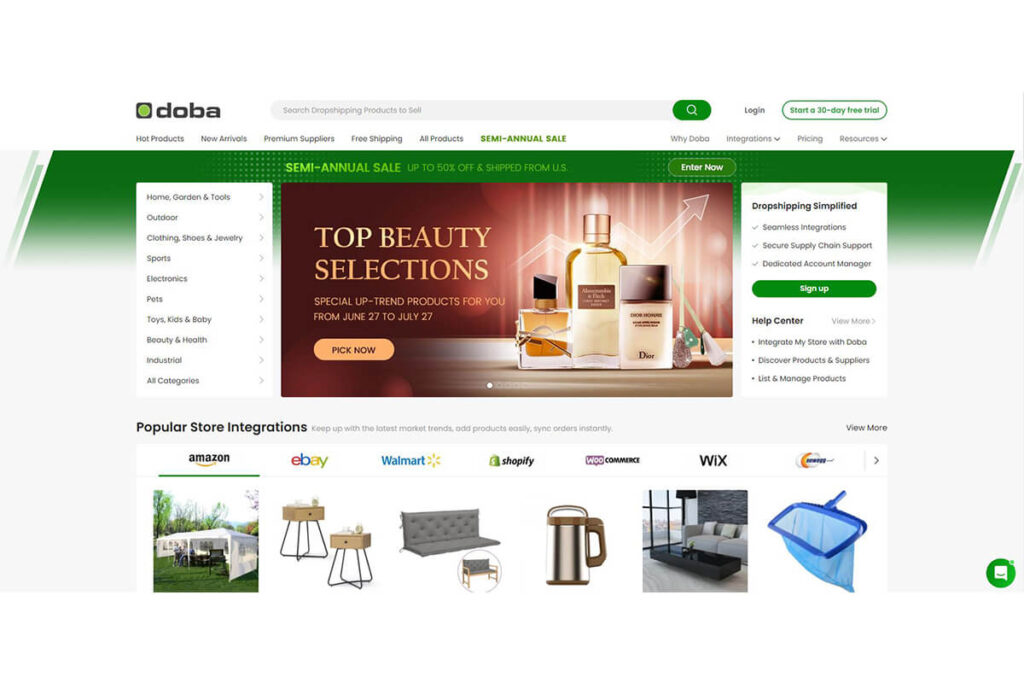 Doba is widely regarded as one of the most comprehensive dropshipping stores on the market. It essentially consolidates many different suppliers into one convenient place, providing a very detailed directory of suppliers for you to choose from. That is, it acts as a middleman that connects the dropshippers with the suppliers.
It does most of the hard work for you by contacting suppliers and sending products to customers on your behalf. This means you don't have to worry about managing the suppliers you work with.
In addition, Doba provides some help:
Find and filter products
Inventory management
Featured product list
Active inventory
Price Change Alert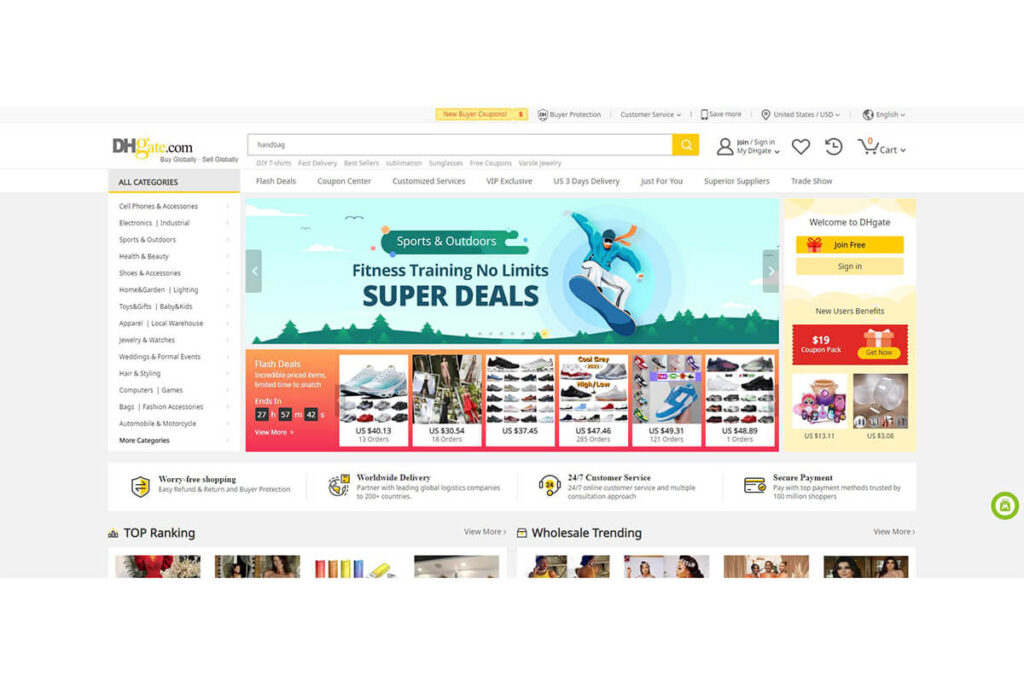 DHgate is a Chinese B2B and B2C cross-border e-commerce marketplace offering a wide variety of products at the cheapest prices. The best thing about it is that most products have no minimum order quantities, which means it's a dropshipping beginner-friendly website. And if you order in bulk you will get a discount. If you're looking for a similar solution to AliExpress, DHgate might be the way to go.
Shipping and Delivery
It uses different shipping methods to ship products from Chinese manufacturers. It usually takes about 3 to 15 business days for delivery, depending on your location. You can also track your logistics online with DHgate order tracking for the following freight services: EMS、UPS、DHL、FedEx、ePacket.
Payment Methods
It accepts PayPal as an indispensable payment method for customers, as well as credit cards, wire transfer, and Western Union.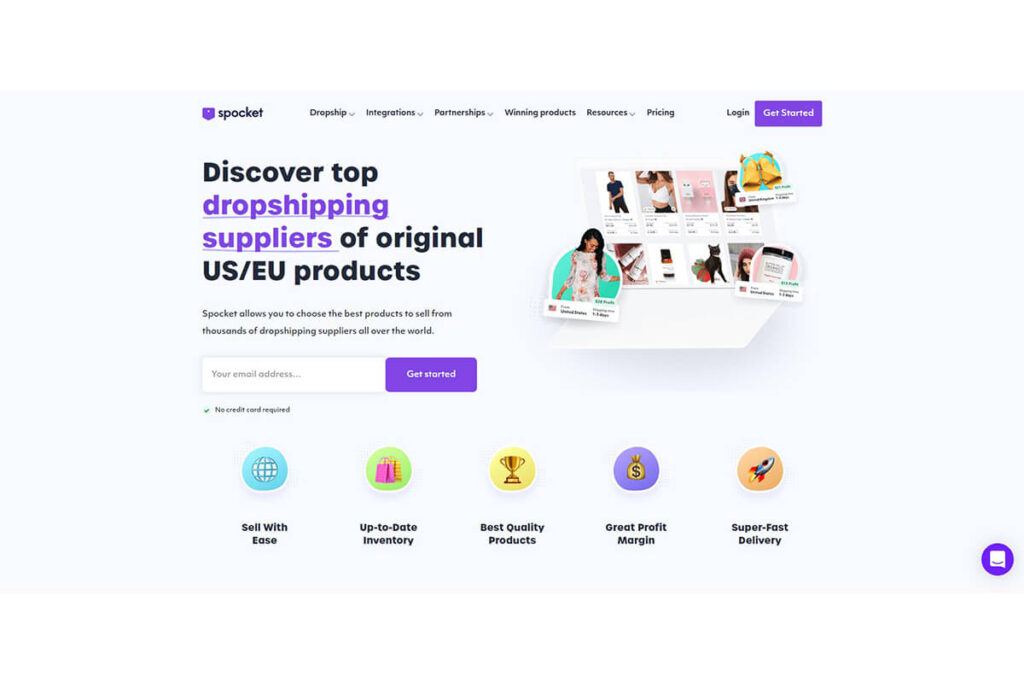 Spocket is a dropshipping service that integrates with Shopify, WooCommerce, and more. The advantage of it is that you can source products from the US and these shipping times can be as short as 2-5 days.
There are four plans of Spocket, the basic plan is completely free, the starter plan is $24 per month, the professional plan is $49, and the empire plan is $99. But the features you can use with the free plan are limited, and some products are locked behind higher plans.
Some useful features are:
One-click purchase option
Order fulfillment
Order tracking
Uniform shipping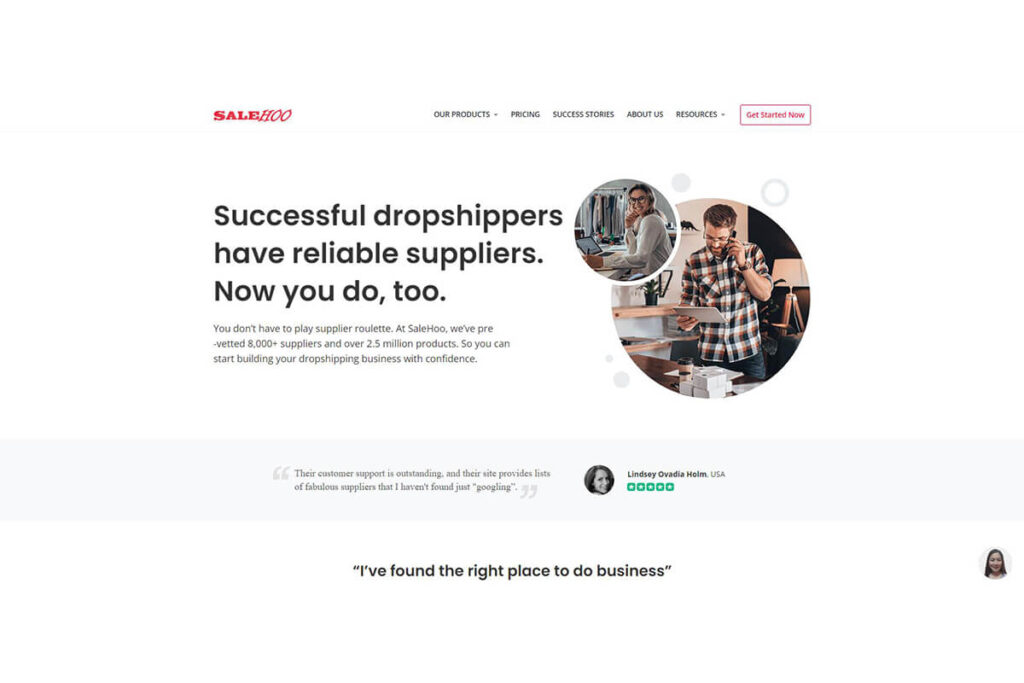 Salehoo is one of the most reliable dropshipping e-commerce platforms with fast shipping whether you're buying pet supplies at a lower price or something else. It always vets its suppliers, so you'll have a more trustworthy experience when you buy dropshipping products.
Its diverse dropshipping and wholesale catalogs are a proud aspect of Salehoo. While you pay for their services, in exchange you get access to suppliers around the world.
Shipping and Delivery
It offers popular shipping methods for your dropshipping business, they cooperate with DHL, UPS, and many more shipping companies for your convenience. Shipping time depends on the shipping method you choose, usually 7 days for shipment.
Payment Methods
Payment methods include PayPal, Google Wallet, and credit cards.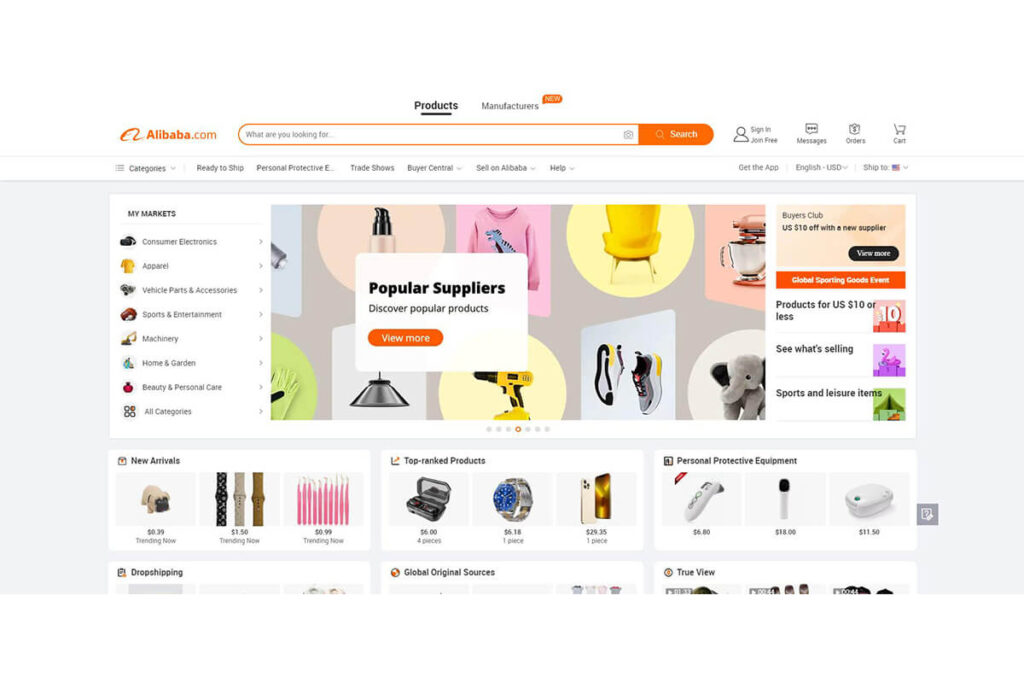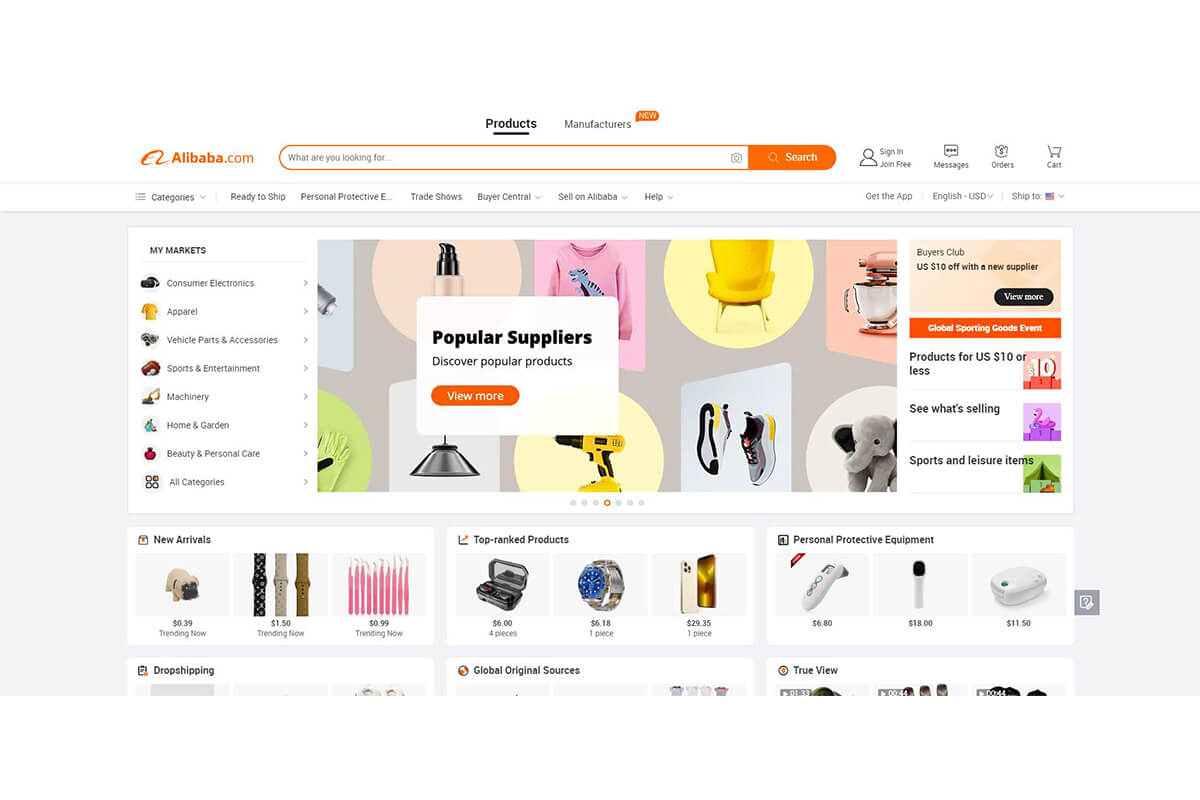 There is no doubt that Alibaba is an excellent wholesale supplier. It operates on a B2B model and has been providing online sales to many retailers around the world for many years.
Alibaba is essentially a global trading platform that offers bulk products. You can usually find bulk items, which means you'll need to buy a lot at once to get the discount.
Shipping and Delivery
Alibaba allows various shipping methods, you can choose to express fast shipping or standard shipping. The shipping time is about 15 to 45 days, depending on the distance. You can choose the following methods: Express, air, or ocean freight.
Payment Methods
Payment options for purchasing a dropshipping product include:
PayPal
Bank Transfer
Western Union
Credit Card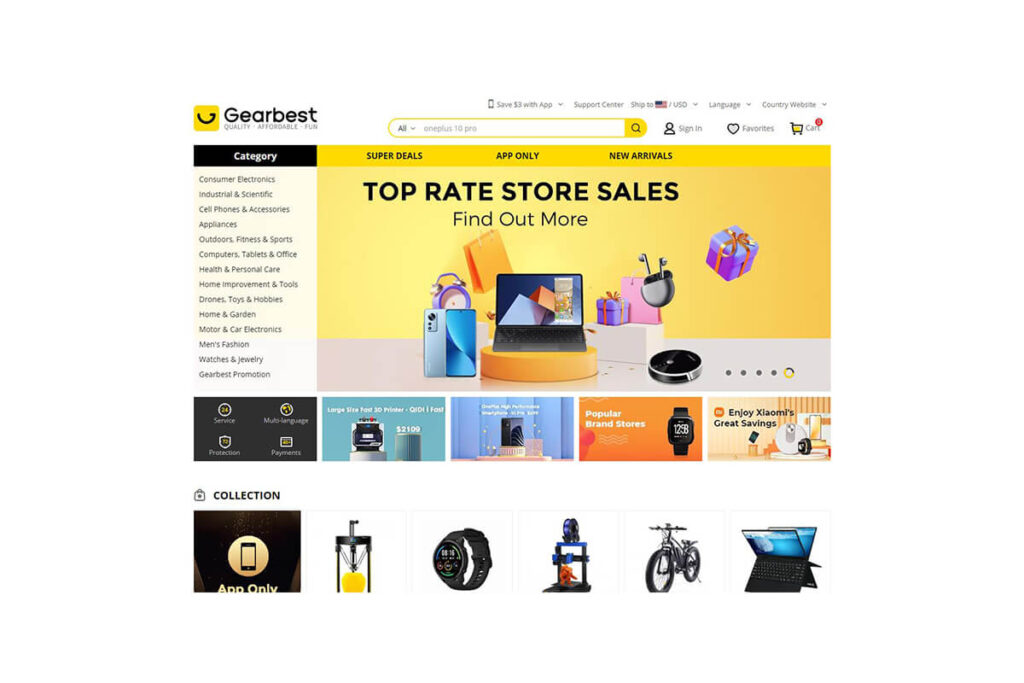 Gearbest is one of the most popular alternatives to AliExpress, mainly because it has thousands of products and also offers fast shipping options. Because it targets Western markets, they make sure that all products listed are of high quality. Each product is subject to multiple quality checks such as inspection, testing, tracking, etc.
In addition, it has a "Top Searches" feature that lets you see what people have been searching for lately to see what's trending.
Shipping and Delivery
I uses shipping services such as DHL, EMS, and FedEx to set up a proper shipping system. They ship worldwide, excluding South Sudan and Palestine. It takes 3-7 days to ship from the local warehouse and 7-30 days to ship from China.
Payment Methods
All popular payment methods are supported:
Visa
Mastercard
American Express
PayPal
Summary
Dropshipping can be an excellent idea for online businesses, but it also has difficulties and challenges to get over. Choosing the right supplier is one of the hardest parts of starting an online store.
When you realize AliExpress may not be the best choice for your supplier, it is always time to get an alternative. But be careful to check your supplier's features, policies, and terms, read reviews, and order some samples before working with them.
Dropshipping businesses rely on pricing, product quality, and shipping speed. If you do everything right, there should be no worries about your sales. I hope this article will help you find your ideal AliExpress alternative with a better online shopping experience.