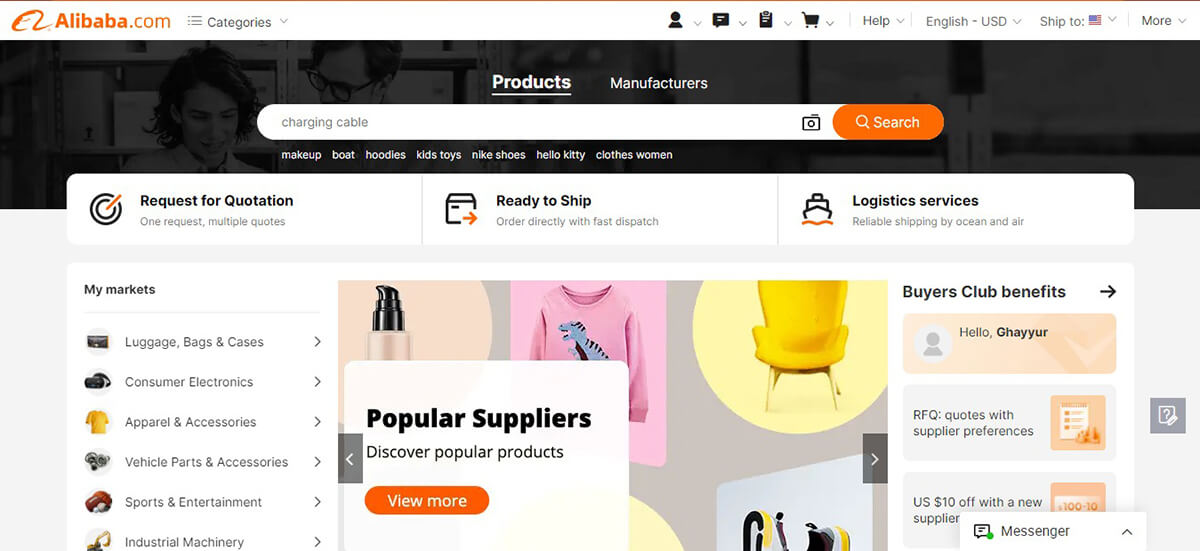 Alibaba needs no introduction in the global business sphere. It has been the largest e-commerce powerhouse for retailers worldwide. Buyers have a multitude of opportunities to access a wide array of products from suppliers from China and other countries.
However, achieving successful purchases on Alibaba requires a methodical process. You may encounter hundreds of suppliers offering the same or similar products at different prices. Should you buy products with the lowest prices? Or do you need a more comprehensive approach to placing your order safely?
In this guide, we'll lead you through 7 essential steps that will empower you to confidently navigate the Alibaba platform and secure your desired products.
Let's dive in!
Things You Should Know Before Buying from Alibaba
Before you decide on buying from Alibaba, we thought to clarify certain facts that you need to know.
Alibaba is a Wholesale Platform
If you know about Alibaba, you would most probably be aware that it is a B2B wholesale marketplace. It is primarily aimed at bridging the gap between the wholesale suppliers and retailers.
That's why most products sold on Alibaba come with MOQs. You may still find products from some suppliers with an MOQ of one piece. But that's not the essence of Alibaba.
Alibaba Group has a different website named AliExpress for retail orders. It works on a B2C business model, where consumers can order products piece by piece.
Alibaba Sells Physical Products
Although Alibaba is an online marketplace, it is primarily known for selling physical products. So, don't expect to buy digital products like software, apps, or eBooks on Alibaba.
Alibaba Is a Directory of Wholesale Sellers
Alibaba is a platform where buyers can explore a variety of international suppliers. Alibaba does not sell any products of its own.
It just provides an online platform, so international buyers may interact with them and buy their required products. You may call Alibaba a directory of suppliers.
Alibaba supervises the purchase process and intervenes to facilitate both parties, where required.
Wholesalers vs Manufacturers
Alibaba hosts thousands of suppliers. These suppliers may be direct manufacturers or factories, wholesalers, or middlemen.
You would have to contact suppliers to Alibaba and inquire if they are the direct manufacturers or wholesalers.
Step-by-step Guide on How to Buy from Alibaba
Now you have a brief overview of what Alibaba is all about, let's start with the steps on how to buy from Alibaba safely.
Here's how you can purchase products from Alibaba in 7 simple steps:
Step 1. Create an Alibaba Account
You need to register yourself on Alibaba before you can buy anything. You may do it by clicking the log-in button on the top of the Alibaba homepage.
Click the "Join for Free" option.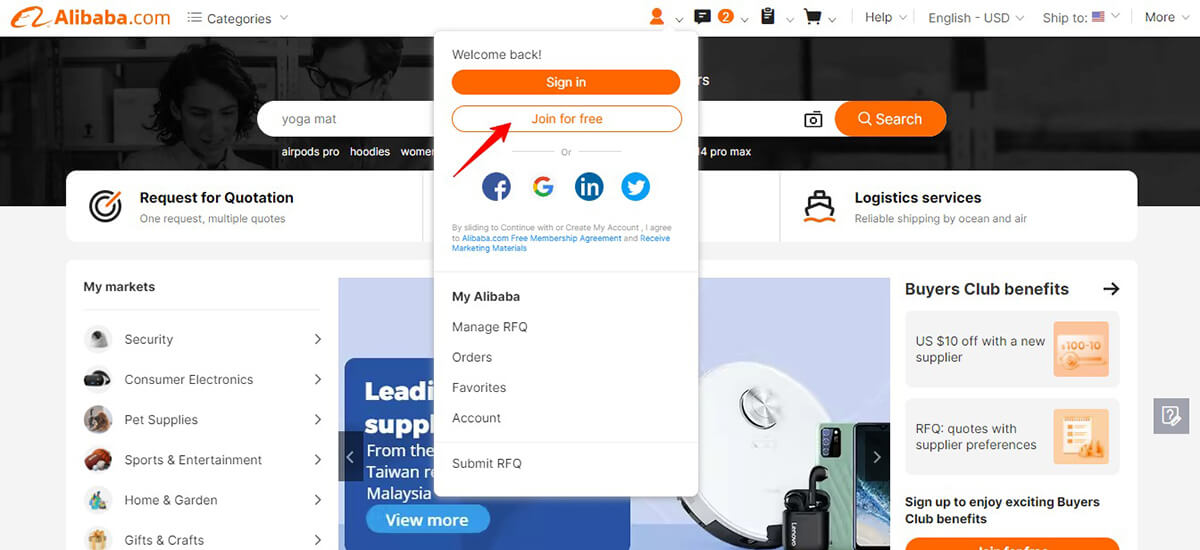 You may have to perform a little security check if prompted.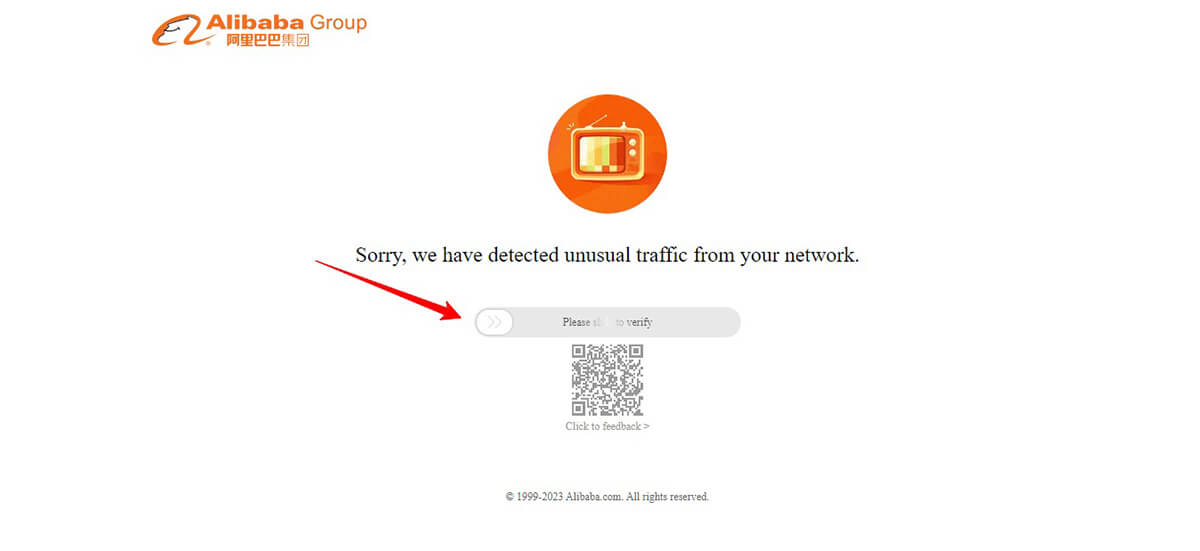 Then, you need to fill up the form by providing the information.
Alibaba also asks about your company's name. Don't worry if you don't have a company yet. You can write any name. It doesn't matter much for general buying from Alibaba.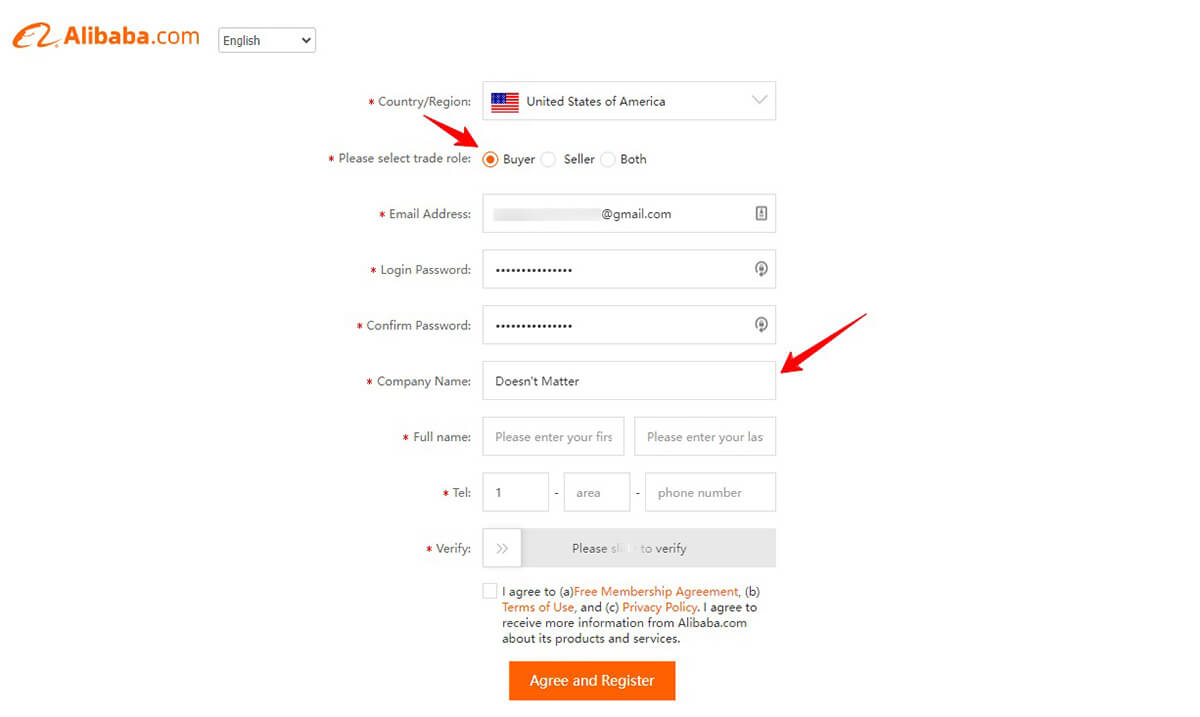 Remember to provide a valid email ID, as you have to verify your email for the next step.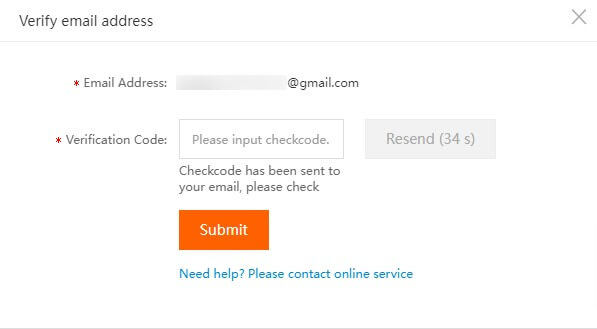 We also advise you to use a valid phone number, as you may want to get updates on your phone sooner or later.
After putting in the verification code successfully, you will see the "Buyers Club" page.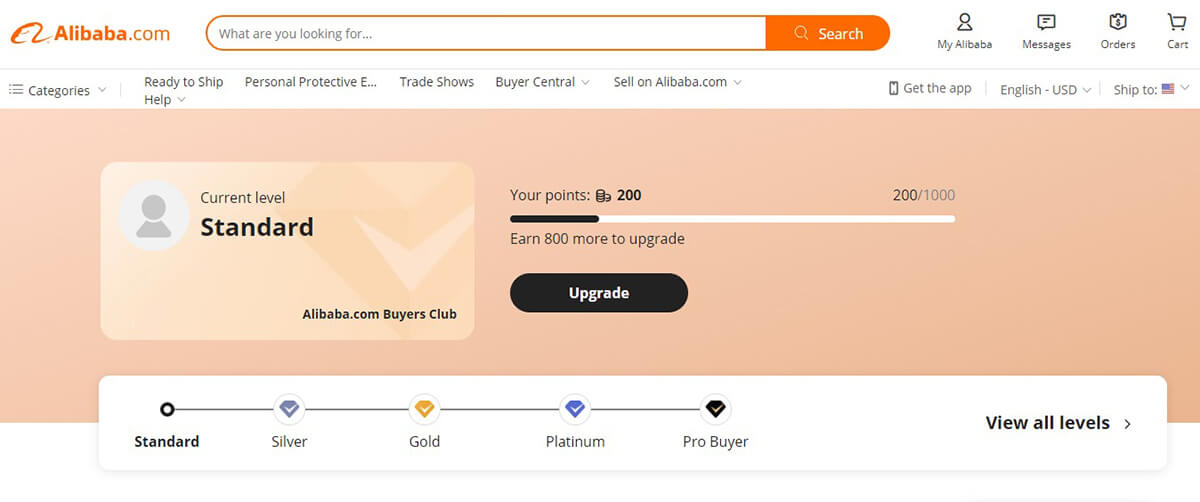 You may ignore this page completely and move on to search for your products if you are not interested in upgrading your buyer membership.
Note: If you are interested in upgrading your buyer's membership to avail discounts on your purchases, you may do so by earning Alibaba points. You have to verify your business and earn points by visiting Alibaba frequently and spending money on buying products from Alibaba.
Step 2. Search for Your Products
Here's the fun part. You can start searching for your desired products right after creating your account on Alibaba. Alibaba has a very large database of products.
With millions of products on this gigantic platform, it may be a little hard to dig into the exact product of your choice.
Follow the tips mentioned below to find the required product in less time:
Use the Right Keywords in the Search Bar
You can use the search bar on the top of Alibaba's homepage. Try writing general terms related to your products in the search bar if you don't have the exact keywords in mind.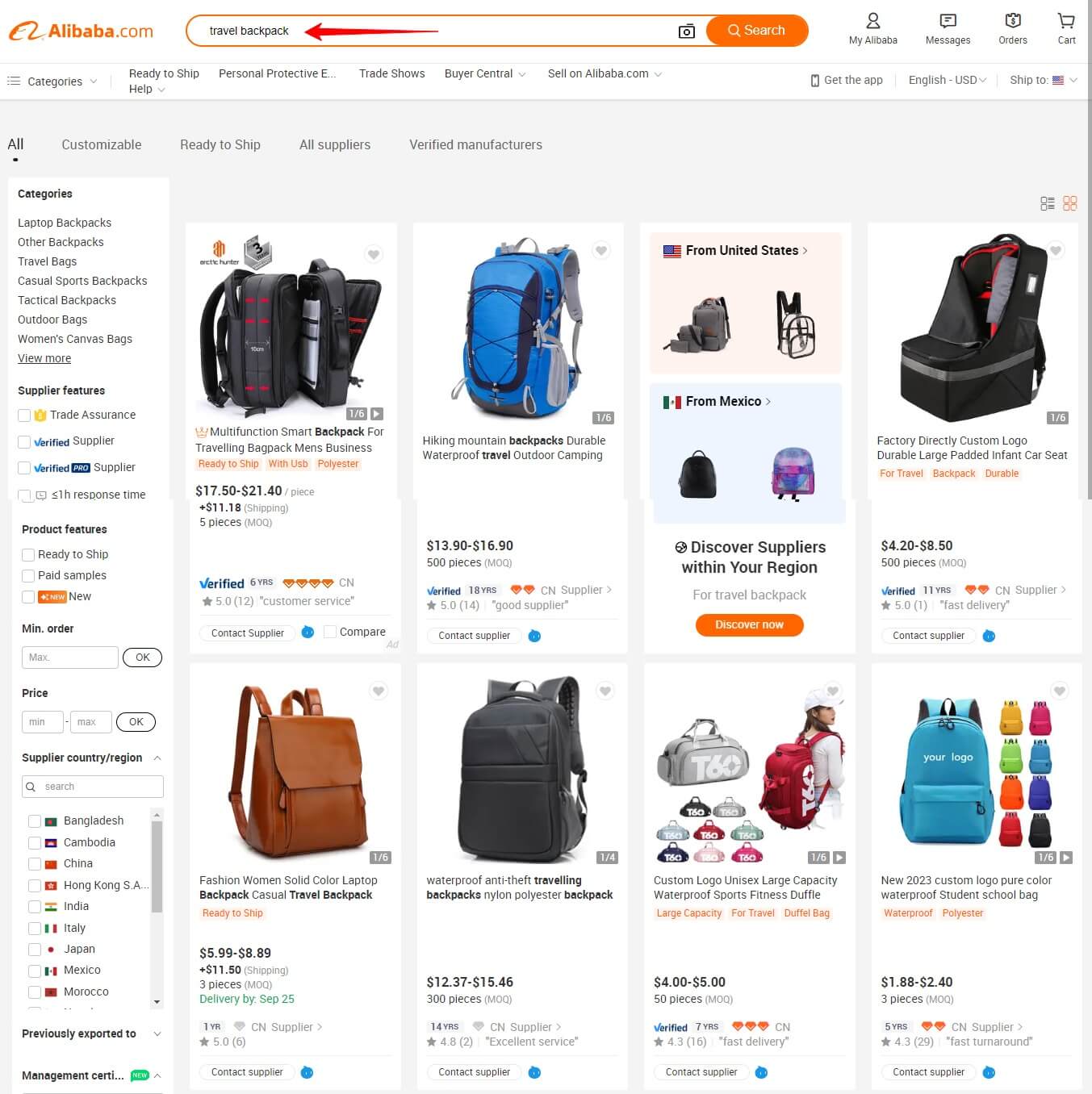 Alibaba will show you plenty of products related to your search term. Look at the product's pictures and click the ones you are interested in for more details.
Use more focused or detailed keywords in the search bar for more accurate results.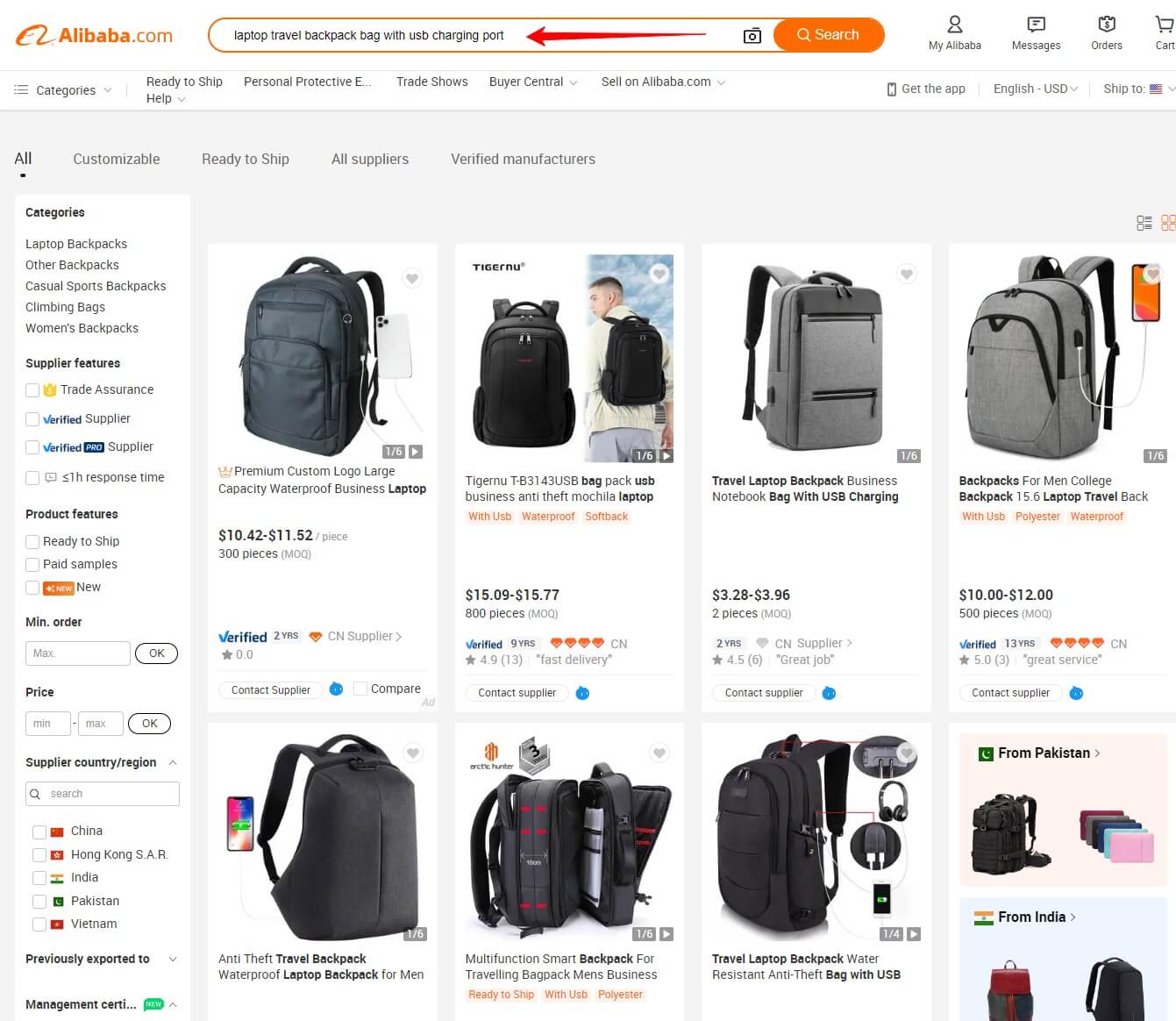 Try Image Search
Image Search is one of the most advanced and useful features of Alibaba. If you have a picture of a product, you can just upload it on Alibaba Image Search, and you will have results for the products similar to that picture.
Click the camera icon on the search bar and upload the product's picture.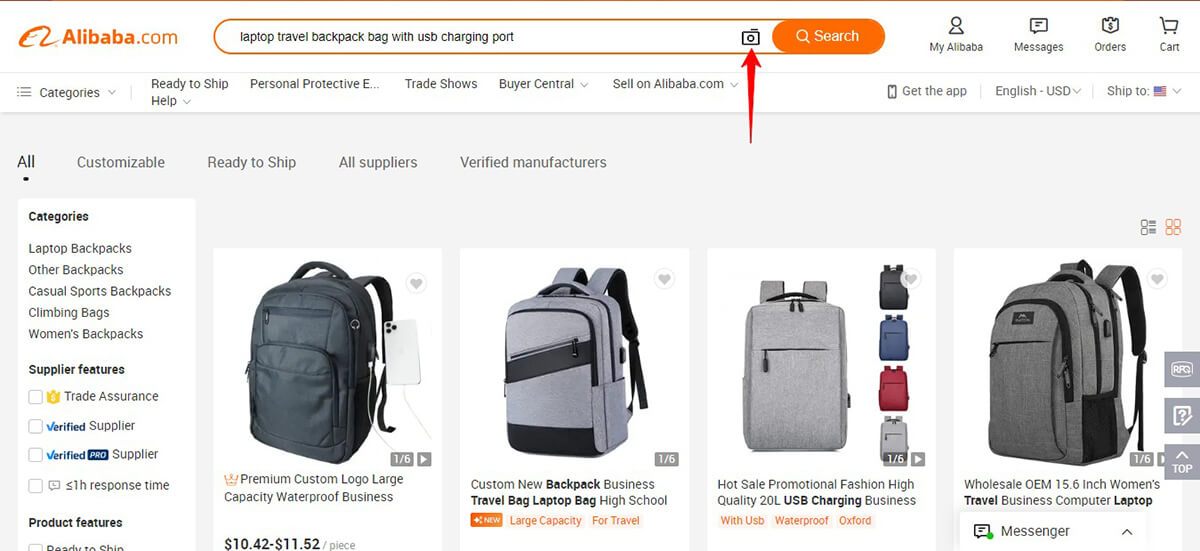 Alibaba will show the same or similar products that closely look like your required product. Click on the most closely matched product to read its description.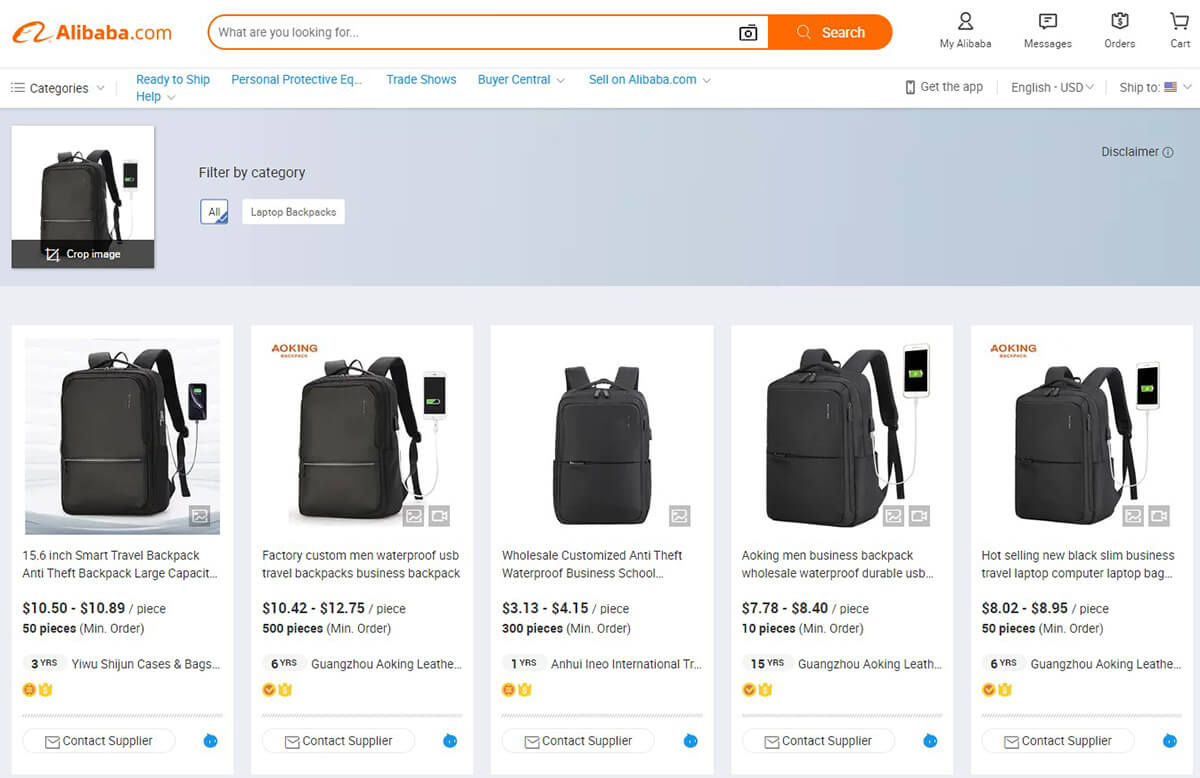 Use Filters to Refine Your Search
Alibaba has loads of filters to refine your search, so you can find your required product in less time. Look at the left side of the search results to narrow down your options based on the filters you select.
In addition to the supplier's features, MOQ, and price range, you can scroll down to see more useful filters about the product.
Depending on the type of products, these additional filters may include options like special features, style, closure type, lining material, etc.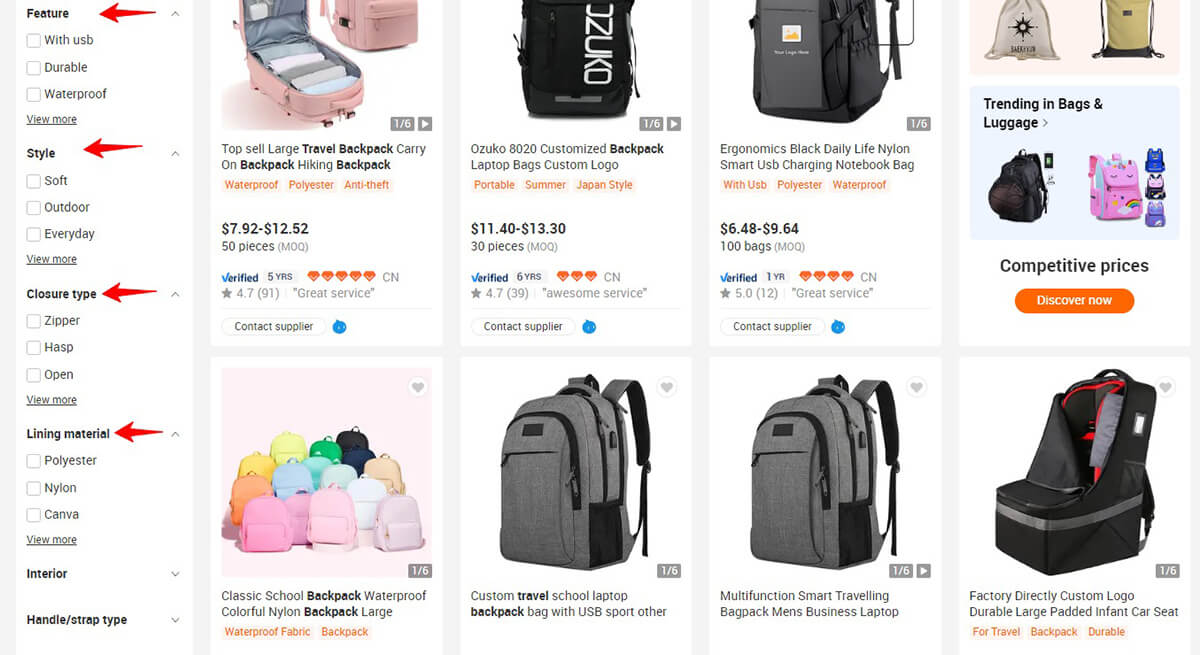 Explore Alibaba RFQ
One of the easiest ways to find your desired products is to use the Alibaba RFQ(Request for Quotation) feature. If you don't want to spend time searching for your product, use this feature to get quotations from relevant suppliers.
You can access the Alibaba RFQ option on the top left side of the Alibaba homepage.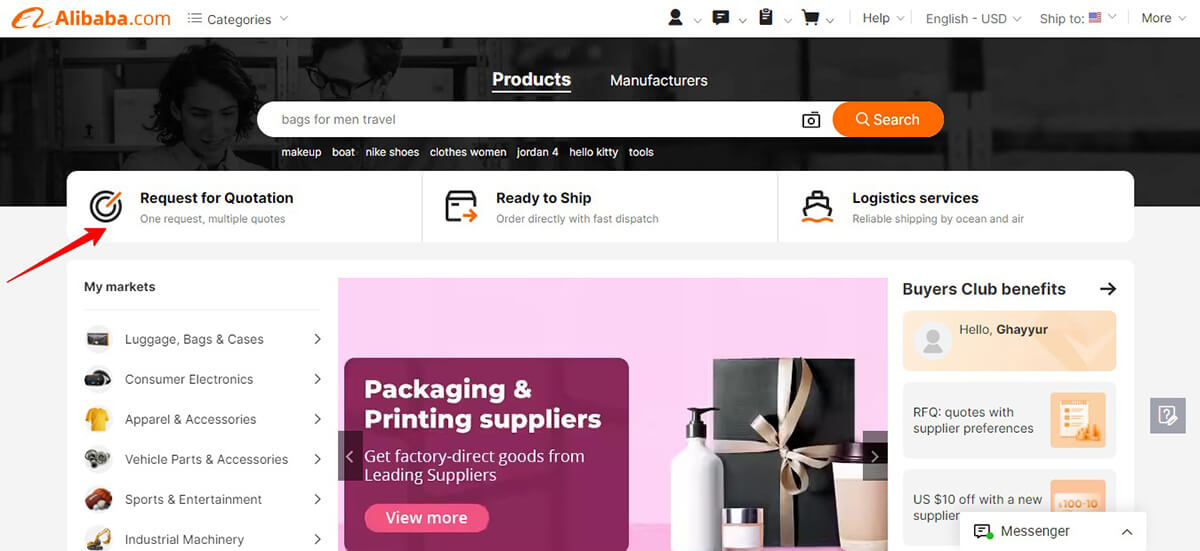 You just need to write down your product's requirements. You may also upload the relevant images or other documents.
All interested suppliers will contact you within hours, along with the best prices they can offer. Alibaba RFQ is an ideal option for those who want to buy customized products that require instructions.
It will be easier for you to shortlist the suppliers from the quotations you get in response to your RFQ.
Step 3. Find Reliable Suppliers
Choosing reliable suppliers is crucial for buying safely from Alibaba. That's why you can't always rely on the suppliers with the lowest prices.
It is quite possible that you get a lot of suppliers for your required products at Alibaba. So, how would you choose the best out of them?
Consider the following tips to choose reliable suppliers on Alibaba:
Choose the Right Supplier Category
You must know about the supplier categories on Alibaba. This will help you make informed decisions about selecting the right suppliers.
Alibaba has categorized its suppliers into the following four categories:
Trade Assurance: Alibaba provides protection as a mediator for all orders placed under this program.
Verified Suppliers: Alibaba has verified the supplier's company details and manufacturing capabilities via third-party companies like SGS and SUV.
Verified Pro Suppliers: Alibaba's Verified Suppliers with a professional history of successful transactions.
<1h Response Time: Suppliers with a track record of responding to queries in less than an hour.
Gold Suppliers: These suppliers have a paid membership on Alibaba to maximize their selling capabilities. These suppliers also have a "Gold icon. They are "Verified" and may also offer "Trade Assurance" services.
If you are new to Alibaba, you should prefer placing orders with suppliers who accept Alibaba's "Trade Assurance" service.
Supplier's Overview on Alibaba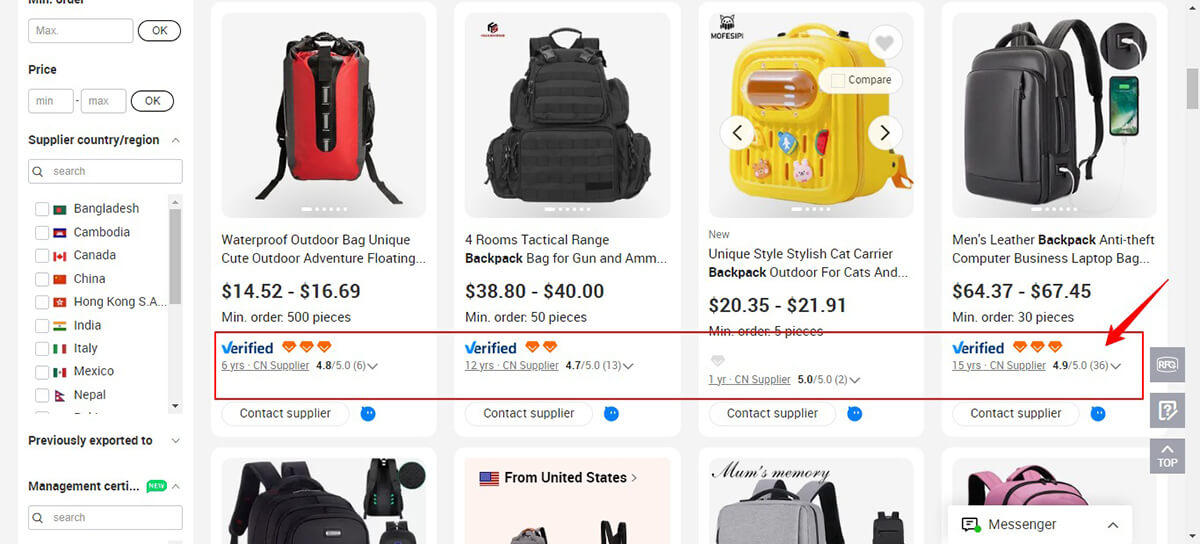 When you see the search results, you will notice a brief overview of every supplier. This overview includes the supplier's performance and business history on Alibaba.
You should also check if the supplier's history and performance is reliable.
Use Filters to Shortlist Suppliers
Consider using the supplier filters on Alibaba to shortlist your preferred sellers. You can find these filters on the top and left-hand side of the search results page.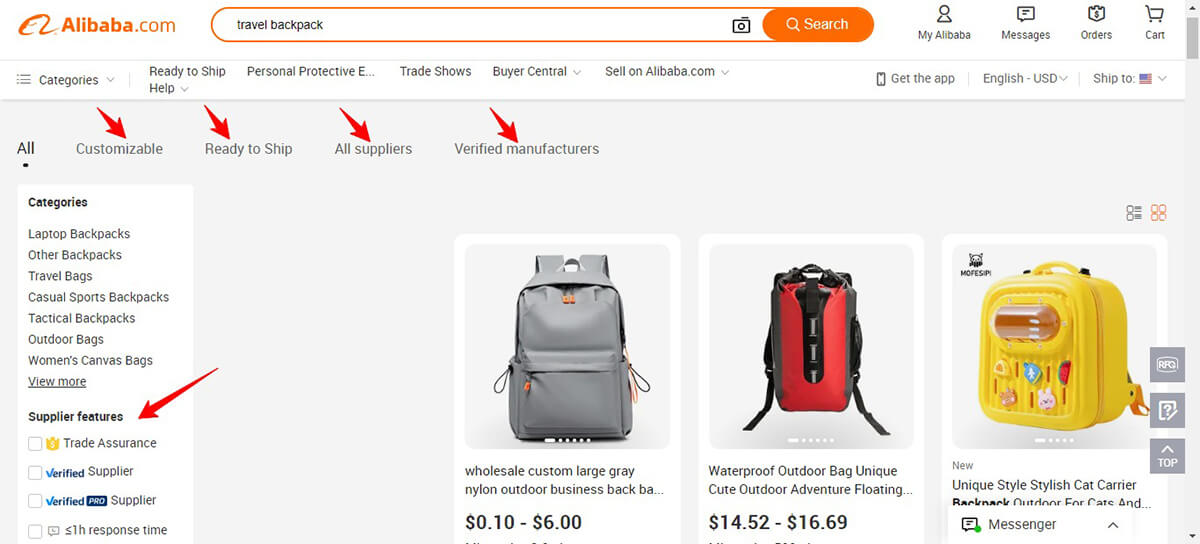 Compare Multiple Suppliers
For large orders, you must shortlist a pool of suppliers on Alibaba and compare their offers. You can use Alibaba's amazing "Compare" feature. Just hover over your mouse on a product and click "Compare."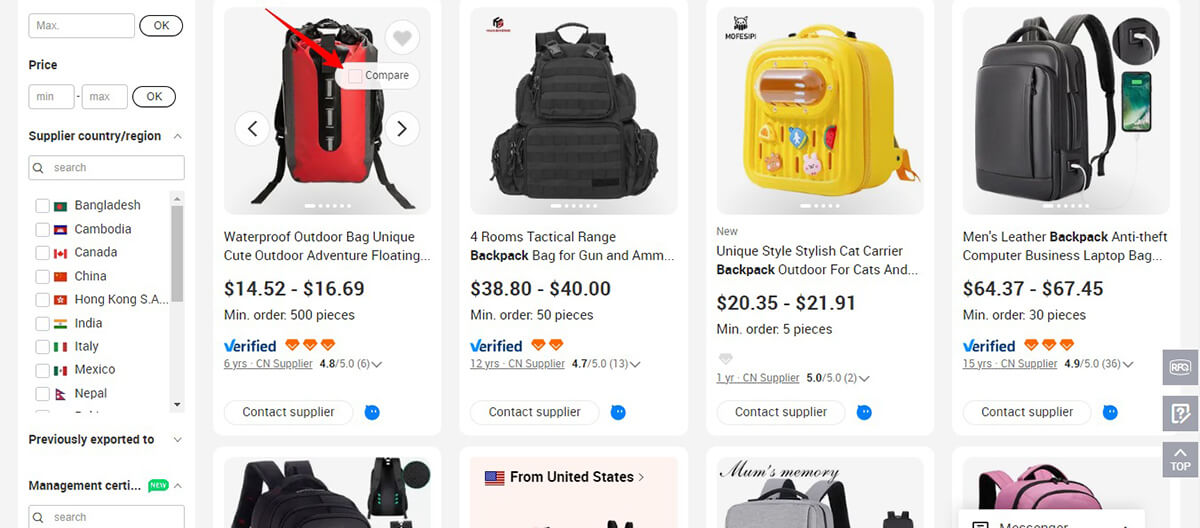 You can select different products to check for factors like MOQs, price, supplier history, etc.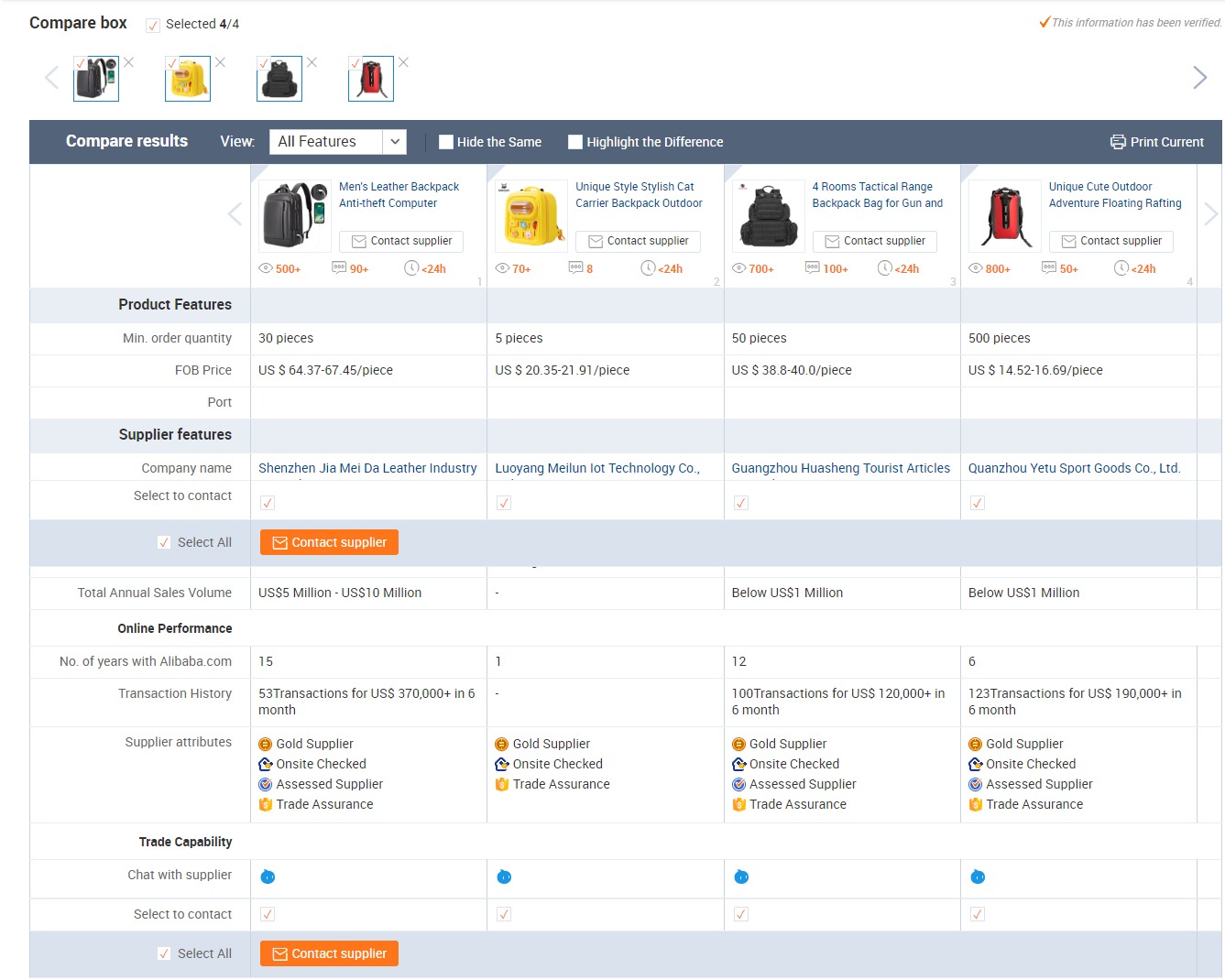 Check Every Detail
You should try to find a direct manufacturer on Alibaba. If you are not too sure about how a product looks in reality, you can try finding suppliers who have a 360 VR showroom.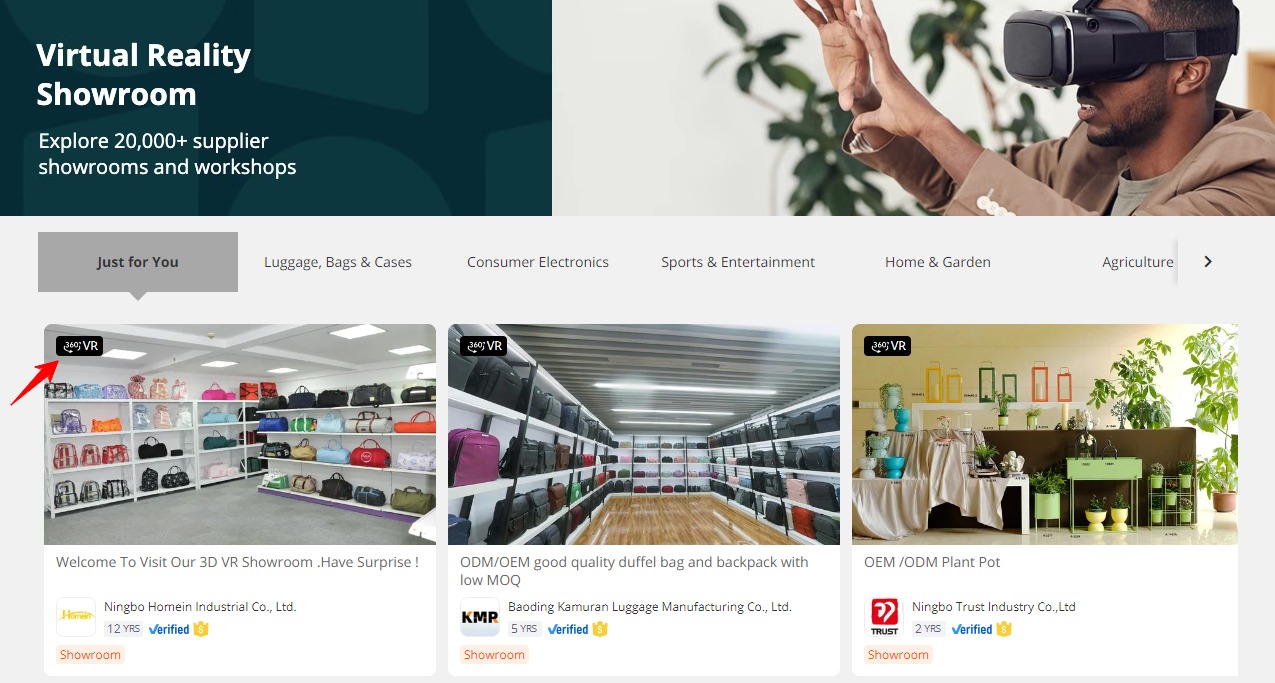 You may also prioritize suppliers on the basis of the extended services they offer. These services may include expedited shipping, storage, inspection, etc.
Don't forget to read customer reviews of suppliers to have a better idea of their previous transactions.
You can check all the details of a supplier and a product at the end of the product page, as shown in the screenshot below: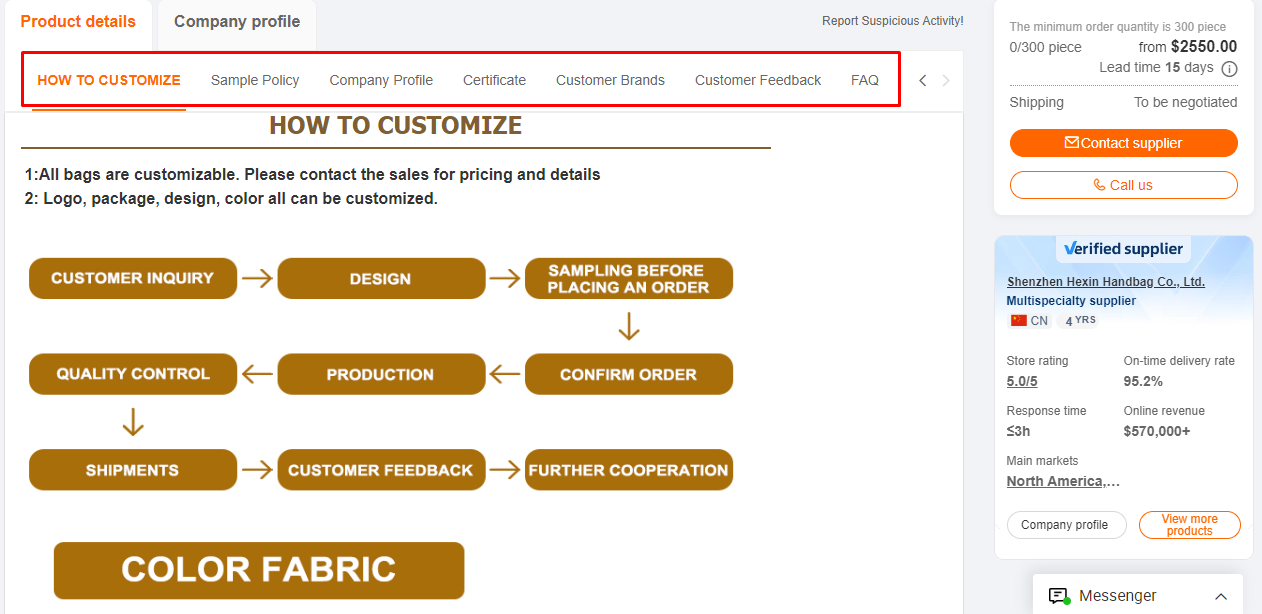 Step 4. Communication with Suppliers
Having good communication with suppliers is crucial for every business. You must ensure that you communicate every detail of your order to your suppliers on Alibaba.
Use Alibaba's messaging system to contact suppliers and discuss as much as you can.
You should keep the following points in mind while communicating with your suppliers on Alibaba:
Discuss Minute Details
You must discuss every detail about your order with your suppliers. You should inquire about product specifications, MOQs, pricing, customization options, etc. A slight misunderstanding may lead to an unpleasant buying experience on Alibaba.
Overcome the Language Barrier
As Alibaba hosts suppliers from multiple countries, you may face language barriers while talking to some suppliers. You must confirm that your suppliers have clearly understood what you have told them.
Ensure Two-Way Communication
The true essence of communication is always a two-way phenomenon. You must ask about your supplier's history, certifications, references, etc.
At the same time, you should also tell them about your business. Ensure a professional tone throughout your communication so your suppliers take you seriously.
Step 5. Negotiation and Finalizing Terms
When you have shortlisted the products and suppliers, it is time to finalize your order on Alibaba. By this time, you must have gathered quotes from relevant suppliers.
Consider using the following tips for an effective negotiation to finalize your order:
Negotiation Prices and MOQs
Alibaba suppliers have mentioned their prices, MOQs, and payment terms on their product pages. But you can still bring them to a negotiating table if you talk to them professionally.
If you want to negotiate the prices, share the prices you got from other suppliers on Alibaba. This will make them offer some discounts, especially for large quantities. You should also ask for samples for approval before they dispatch the whole shipment.
Similarly, you can also negotiate MOQs and pricing terms with them.
Finalize the Packaging and Design
You should also discuss the packaging of each item in your order. Ask them to show pictures of the packaging of your products. If you want special packaging for your product, you must communicate all the details. But this may incur additional costs.
Don't take anything for granted on Alibaba. If you have any special labeling or customization requirements, you must communicate beforehand.
Double-check Your Shipping Terms
You must clarify shipping costs and methods used to ship your products. Ideally, you must have basic information about Shipping Incoterms, and know what shipping incoterm your supplier has agreed upon.
Shipping Incoterms will decide clear responsibilities between you and your supplier. You must also discuss insurance, quality inspections, customs duties, taxes, etc.
Get a clear range of dates from your suppliers about when you should expect your order to arrive. This is crucial to claim any refund or return requests, especially under the Alibaba Trade Assurance program.
Step 6. Payment for Your Orders
By this stage, you must have finalized your product and supplier. It is the time you pay for your supplier according to the payment agreement. In the case of bulk orders, you may agree to partial payments until you approve the samples.
Consider the following tips in mind while paying for your orders on Alibaba:
Avoid Paying Outside Alibaba's Platform
Alibaba charges service fees to sellers for using its platforms and services. You may encounter some sellers asking to make payments outside Alibaba to avoid fee deductions.
Plus, Alibaba has an escrow system to withhold the payment until the buyer is satisfied. It specifically happens in the case of Trade Assurance.
Some buyers develop enough trust with sellers to make deals outside Alibaba's platform, but it is not safe. You must keep Alibaba as a guarantor between you and your supplier. So, the best option is to pay using Alibaba's platform.
Choose Secure Payment Methods
Alibaba offers multiple payment methods. Some common payment methods accepted at Alibaba are mentioned below:
Wire Transfer (T/T)
L/C
PayPal
Apple Pay
Google Pay
Pay U
Alibaba Online transfer
Visa and Mastercard
Western Union
Most of these payment channels are secure. But you must ask your supplier to accept the payment using your preferred payment method.
For example, if you are comfortable using PayPal, tell your supplier that you are comfortable paying via PayPal due to secure transactions and ease of use.
Utilize Alibaba's Buyer Protection
Use Trade Assurance offered by Alibaba to protect your order from payment to delivery. If any dispute arises between you and your supplier, Alibaba will assist both parties in reaching an amicable solution that is acceptable to both.
Although it is optional, new buyers should always make use of Alibaba's Trade Assurance program.
Step 7. Take Follow-ups
Hold on! The process of buying from Alibaba is not over yet. Most buyers think of payment as the last step on how to buy from Alibaba. But taking follow-ups with your buyers is probably the most important step to ensure the timely delivery of your orders.
Have the following tips in mind while doing follow-ups with your Alibaba suppliers:
Take Periodic Updates
Successful Alibaba sellers may have hundreds of orders to process at a time. They may get busy enough to ignore or delay your orders.
Therefore, you must take periodic updates about the current status of your delivery so that your orders stay on their priority list.
Receive Shipment and Tracking Information
When you place an order on Alibaba, your supplier starts to prepare your orders. It takes some time for the orders to be dispatched, even in "Ready to Ship" orders.
When the supplier confirms the shipment, Alibaba sends an automatic update via email to inform the buyer. If you don't get that email in the promised time, you must contact the seller to inquire about the status of your order.
If the products have been dispatched, you must confirm the date of dispatch and get the tracking information from your supplier.
Keep Monitoring Your Shipment
Monitor the shipment's progress and estimated delivery date. If you are unable to track your shipment after the dispatch, you must contact your supplier. He will check the status of your shipment and share it with you.
What Are the Best Alternatives to Buying from Alibaba?
While Alibaba is a good platform to buy products at affordable prices, it may not be the best platform for every product. It is also likely that you may not find your required products on Alibaba. So, what are other options?
Here are a few of the best alternatives to buying from Alibaba:
Wholesale Markets in China
Although Alibaba is home to suppliers from all around the world, it is still famous for hosting Chinese suppliers. So, if you are looking for an alternative to buying from Alibaba, you may directly visit Chinese wholesale markets.
China has a variety of wholesale markets in places like Yiwu and Guangzhou. These markets are home to international buyers. Visiting such markets may open new horizons for your business in terms of product variety, quality, prices, etc.
Many Chinese sellers may still not be present on Alibaba due to language differences. If you physically visit wholesale markets in China, you may have a chance to crack more profitable deals.
B2B Sites Like Alibaba
Another alternative to buying from Alibaba is to explore B2B sites like Alibaba. These websites work in ways similar to Alibaba. Consider exploring sites like DHgate, Made-in-China, and Global Sources.
You may still encounter the same sellers on these platforms. But it is also possible that you get better products and sellers on these platforms compared to Alibaba.
Dropshipping Agents
Hiring the services of a professional dropshipping agent is the best alternative to buying from Alibaba. If you have no time to explore all the ins and outs of Alibaba, the best is to hire the right person for the right job. By doing this, you may focus on other important aspects of your business.
A dropshipping agent is usually a company that provides dropshipping services including product sourcing, branding, product checks, and order fulfillment. The dropshipping company typically assigns you a sourcing support who specializes in finding high-quality products at the most affordable prices.
If you want to source from China, you may consider working with Sup Dropshipping. With a vast network of suppliers from China and years of sourcing experience, we can help you find the supplier that best suits your needs. This will save you time, effort, and money in the long run.
FAQs about How to Buy from Alibaba
Read the answers to the following questions that most people frequently ask while trying to buy from Alibaba. These answers will help address your existing or potential queries:
Who Needs to Buy from Alibaba?
Alibaba is a platform that caters to various types of buyers, including individuals, small businesses, wholesalers, retailers, and even large corporations. If you're looking to source products at competitive prices, whether for personal use or for resale, Alibaba can be a valuable resource.
Why Should I Buy from Alibaba?
Buying from Alibaba can offer several advantages, including access to a wide range of products, competitive pricing due to direct sourcing from manufacturers, the potential for customization, private labeling, and the opportunity to establish relationships with suppliers worldwide.
What Types of Products Are Best to Buy on Alibaba?
Alibaba offers an extensive array of products, but certain categories tend to be more popular for buyers. These include electronics, apparel, accessories, home goods, beauty products, and more. It's best to focus on products that align with your target market and business goals.
How to Private Label Products from Alibaba?
Private labeling involves branding products with your own label or logo. To private label products from Alibaba, follow these steps:
Identify a product and supplier on Alibaba.
Communicate your private labeling requirements to the supplier.
Develop your branding and packaging design.
Provide the design to the supplier for implementation.
Review and approve samples before production begins.
Is Buying from Alibaba Safe?
While Alibaba is a legitimate platform, safety can vary based on suppliers. Buyers who do not exercise caution may also get scammed at Alibaba.
To enhance safety, you should ensure the following:
Use Alibaba's Trade Assurance service for secure payments.
Research and verify suppliers' profiles, ratings, and reviews.
Communicate extensively with suppliers to establish trust.
Request product samples before making larger orders.
Should You Buy Dropshipping Products from Alibaba?
Dropshipping involves selling products without holding inventory. Alibaba is more popular for wholesale orders. The best option to find products for dropshipping is AliExpress. But you can also find suppliers on Alibaba who offer products at low MOQs.
While you can find dropshipping suppliers on Alibaba, keep the following points in mind:
Ensure your chosen supplier supports dropshipping.
Confirm the supplier's reliability and product quality.
Test order processing and shipping times before scaling.
Conclusion
Alibaba has helped many retail businesses around the world to become profitable and successful. Buying from Alibaba can be a lucrative and rewarding endeavor if approached with careful planning and diligence.
Keep the 7 essential steps in mind that we shared in this article for buying successfully from Alibaba. By following these guidelines and being diligent throughout the sourcing process, you can harness the potential of Alibaba to find quality products at competitive prices.
But you need to be vigilant with every step. Just to reiterate, buying from Alibaba depends on thorough research, clear communication, and due diligence in selecting suppliers and products.If you want professional assistance with sourcing products from China, just contact us via live chat. Our sourcing expert from the relevant niche will guide you through every step.