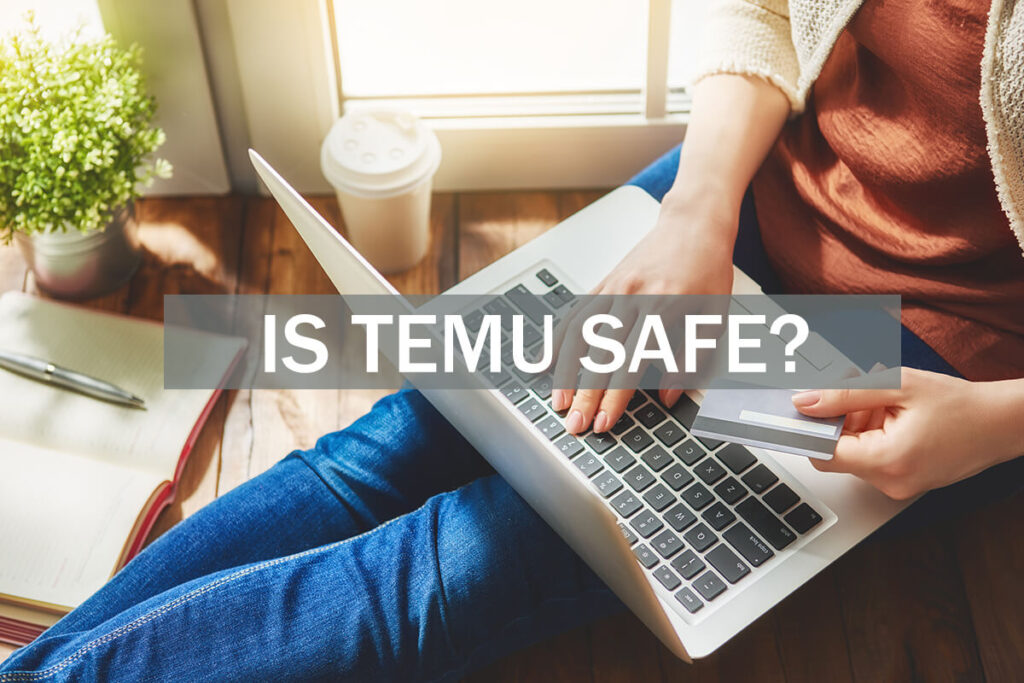 Temu has taken the eCommerce world by storm since it's launched. People are raving about products of extremely low prices on the platform. They love affordable goods and share their shopping experience on social platforms.
On the other hand, some people are skeptical about if Temu is safe to use. They worry about product quality and data security.
So is Temu safe or a scam? Should you buy from Temu?
In this article, we will uncover the secrets of Temu for you.
What is Temu?
Temu(tee-moo) is an emerging online marketplace that is located in Boston, Massachusetts. It is the sister company of the Chinese shopping site "Pinduoduo", and both of them are owned by PDD Holdings.
Since launched, Temu has seen increasing popularity over the past months. According to Statista, Temu has gained over 100 million active users in the United States as of April 2023. It ranks 1st on the Google Play app store.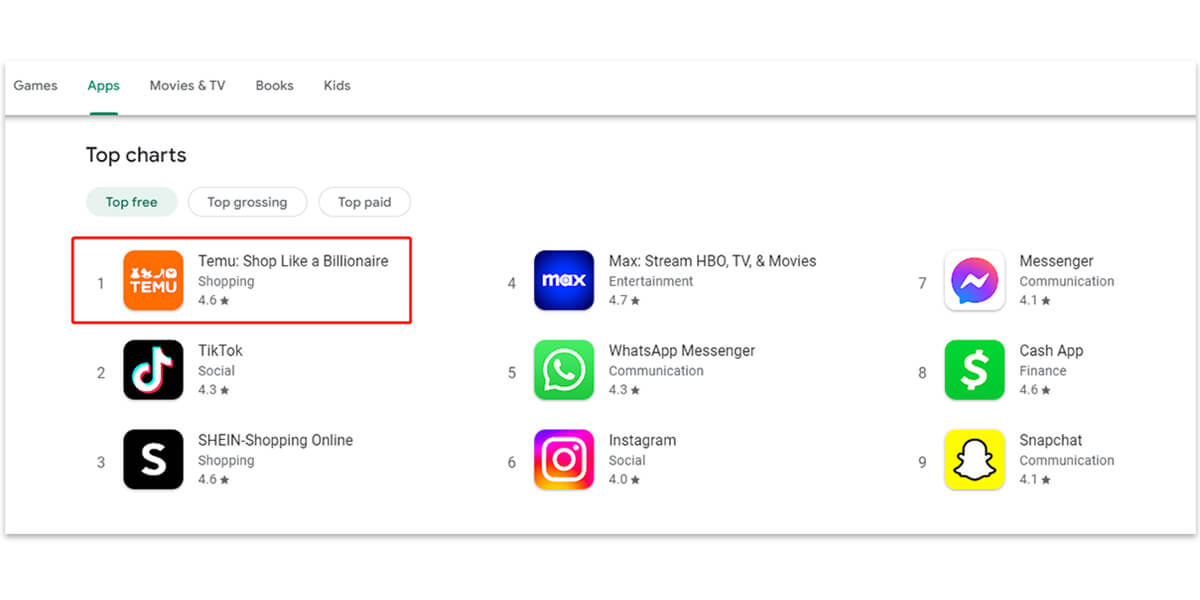 The word "Temu" means "TEAM UP, PRICE DOWN". It suggests that this company aims to work together with sellers to offer the most affordable and quality products for buyers. They want buyers to "Shop Like a Billionaire".
Temu provides a wide range of products across different categories from clothing to electronics. You can find nearly everything you need on this platform. On top of that, the products are heavily discounted and at very low prices. Most of them can be shipped for free using Standard Shipping or when your order amount is over US$129.00.
Is Temu legit and safe?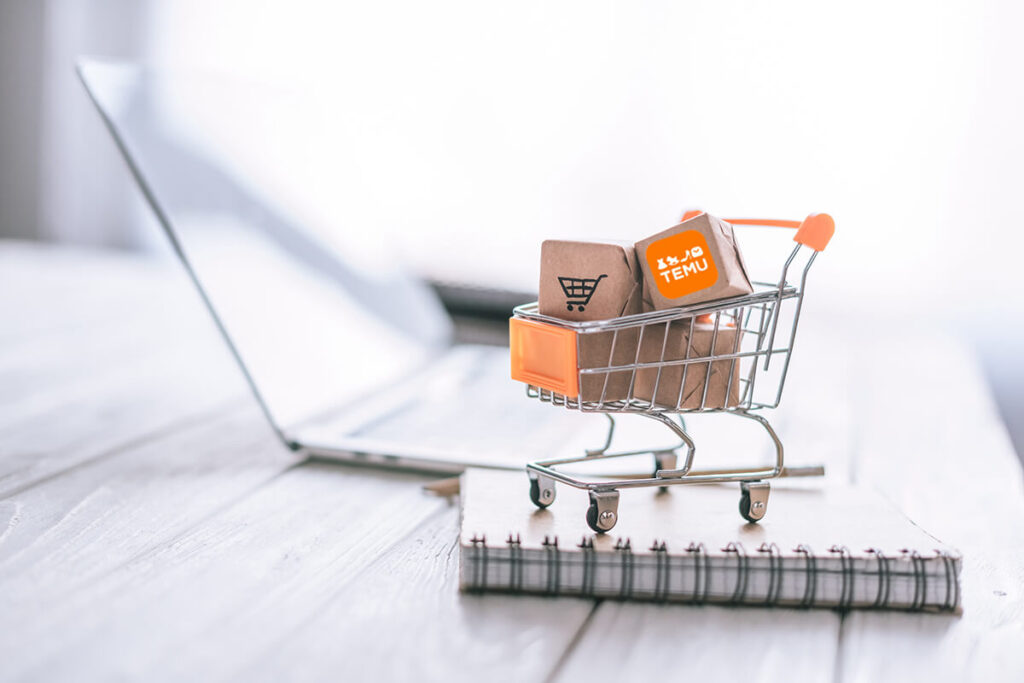 It's easy to connect a very low price with a scam. Yet, Temu is legit and safe to use even though it offers incredibly cheap products.
You can get a sense of it from the following aspects.
Seller verification
Temu is a legitimate online marketplace where third-party suppliers sell. When you place an order, the seller prepares the order and Temu lets it shipped by their logistics partners.
To protect buyers from scams and fraud, Temu set a series of rules for sellers in partnership. For example, the company issued Code of Conduct, which ensures suppliers comply with laws and standards in this market.
Purchase Protection program
Temu has a Purchase Protection program to add a more layer of security to your shopping. Under this program, you can request a refund within 90 days of purchase in the following cases.
The item you receive is not as described on the detail page or shown in the photos
The item you get is damaged
Your item is not delivered within the estimated time or missed in transit
The first return for every order is free. You can return the items you want to get refunds from together to avoid additional shipping costs.
Safe payment methods
As for payment security, Temu takes multiple safe payment methods. For example, it accepts major credit cards such as Visa, MasterCard, JCB, and Discover. PayPal, Apple Pay, Google Pay, and Klarna payments are also supported.
If there is something wrong with your order, credit cards and PayPal provide you the option to file a dispute and get your money back. Additionally, Klarna or other similar payment options allow you to buy first and pay later. You can check your items carefully and then confirm the order before you pay for it.
Data and personal information security
Pinduoduo was removed from the Google Play store because Google found malware in the app. So consumers are suspicious about whether its sister company Temu would sell their personal information.
Not like Pinduoduo, Temu is located in Boston and operates based on the laws and regulations in the US. Though not accredited by the Better Business Bureau, it still garnered hundreds of positive reviews.
Temu collects your personal information including contact data, location, transaction data, and so on. You may find such information is also collected on other shopping platforms like Amazon. In some cases, Temu may use your data, but they will ask for your consent first.
Why is Temu so cheap?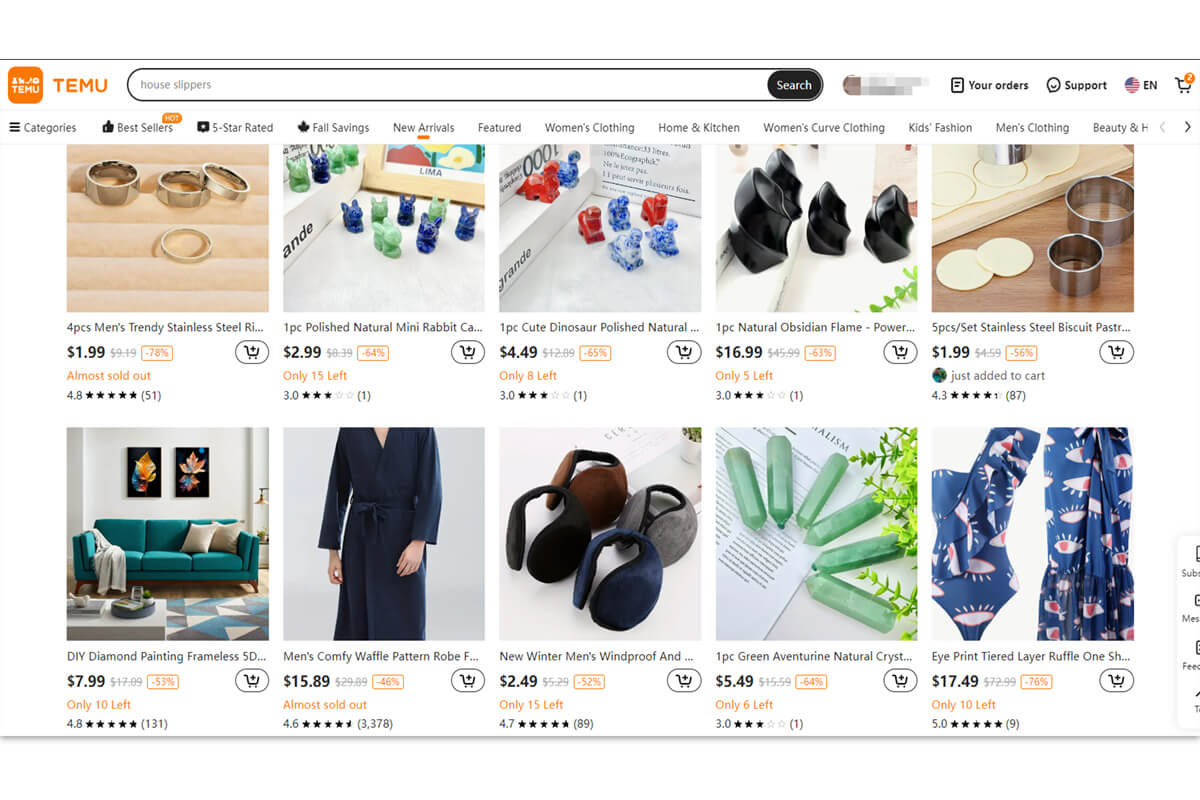 At Temu, you can buy a smartwatch at $13 and a shirt at $5. Why stuff is so cheap?
Temu has built relationships with a vast network of suppliers in China. Most of them are manufacturers who sell directly to consumers. When a sale occurs, Temu charges a small amount of commission from sellers. Except for Temu, there are no other middlemen to share profits with the sellers. As a result, sellers can set a low price but still earn a high profit. Customers can pay a few dollars and get an item up to their expectations in most cases.
How to buy from Temu safely?
While Temu is legit and safe, you may still come across a scamming seller as you do on other marketplaces.
But with some effective tips, you can minimize the risk of being scammed and buy safely.
Here are the 6 best tips you should keep in mind when buying from Temu.
1. Check store ratings and product reviews
It is important to check the store rating and product reviews before making a purchase.
The store rating provides insights into the services and product quality of a seller. A rating of 4.5 or higher out of 5 usually suggests the seller is worth working with. You can also check how many goods a seller has sold out and how many repeat customers the seller has gained. We recommend you buy from those who have hundreds of transactions at least.

Product reviews give more details about the product quality and the shopping experiences of previous buyers. Some sellers claim they sell the best items at a low price. But chances are that their items are not the same as described on the site. This is where product reviews come in. You can get a clue about what the product really looks like through the photos and feedback from other buyers. But meantime, take negative reviews with a grain of salt. Be sure to leave a page when you find the product has a high rate of bad reviews.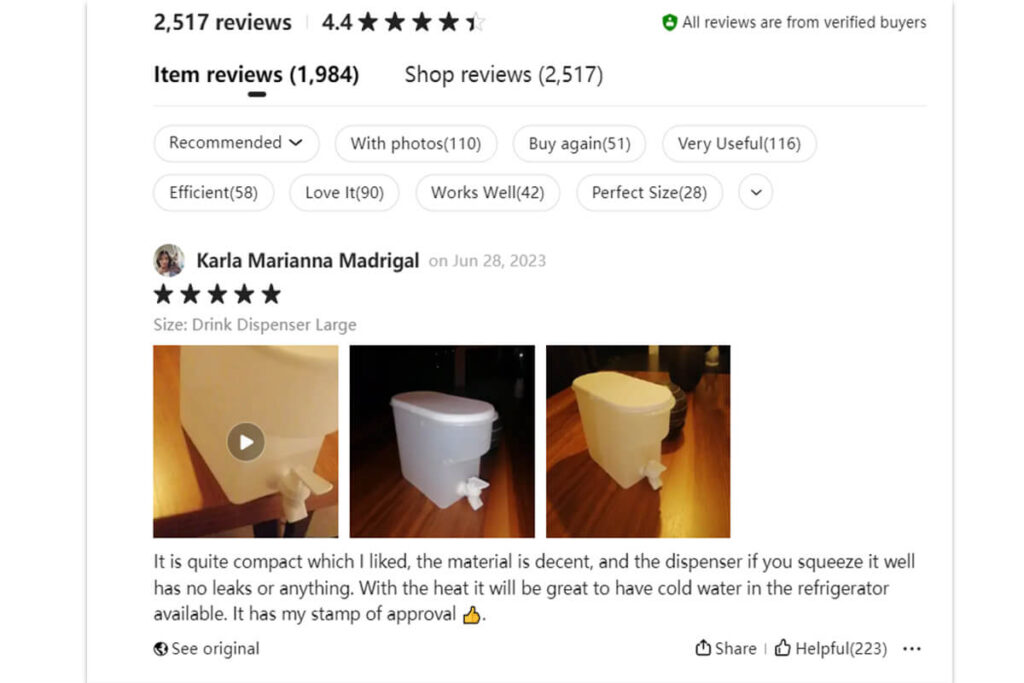 2. Choose a safe payment method
Temu accepts various payment methods. You can choose a secure and widely used payment option. For example, you may make payments with PayPal. Compared with credit cards, using PayPal requires you to register and enter personal information on their app. However, PayPal is reputable and safe enough for your personal information. It also allows you to file a dispute against charges when your order has a problem.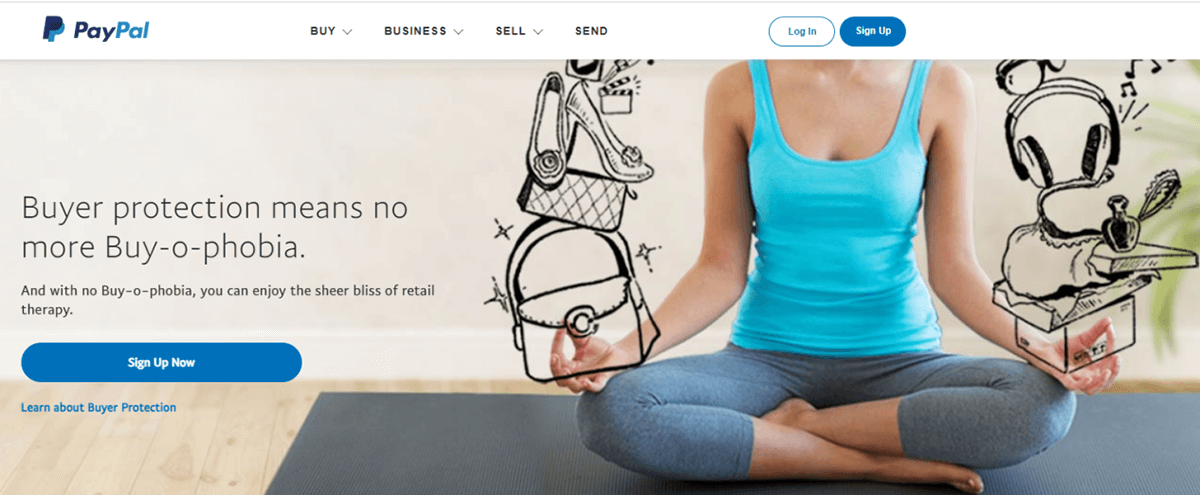 3. Understand shipping times and check your order status
Shipping times vary depending on locations, shipping methods, and other factors. Generally, it takes 6 to 25 days for Temu to deliver an order. Because Temu ships most products overseas, the order can be delayed and even lost in transit in some cases. This is why some buyers say their orders have never arrived and Temu is a scam.
So check your order status periodically with the tracking number provided after the order is shipped. If the shipping status has not been updated for a long time, contact customer service immediately.
4. Don't make deals with a seller outside the Temu website
You may come across sellers who entice you to make deals with them outside of Temu. Don't do that whatever they say. Instead, always stick to making purchases through the Temu website or app.
Temu only protects your transactions and handles disputes on this platform. Reputable sellers won't ask you to do business with them privately. Avoid engaging with sellers who try to take the transaction off-site or ask for personal information via email or other communication channels.
5. Buy a sample before placing a large order
It seems bothering to order samples before placing a large order. But it will pay off in the end. By buying samples, you will know if the product meets your expectations in terms of quality, appearance, and functions. Also, you can have an idea of how long it actually takes for delivery. At the same time, you can find out whether the supplier can solve your problem in a timely and proper manner.
6. Don't expect too much
You get what you pay for. It is not realistic to expect a high-quality watch for a few dollars. While Temu offers great deals, you had better not expect too much about what you get. Otherwise, buying from alternatives to Temu could be a better choice.
Temu alternatives
Temu is not the only platform even it is safe to buy from. You can take a look at it alternatives for a better buying experience in one aspect or more.
Here are the 5 best Temu alternatives we select for you.
1. Aliexpress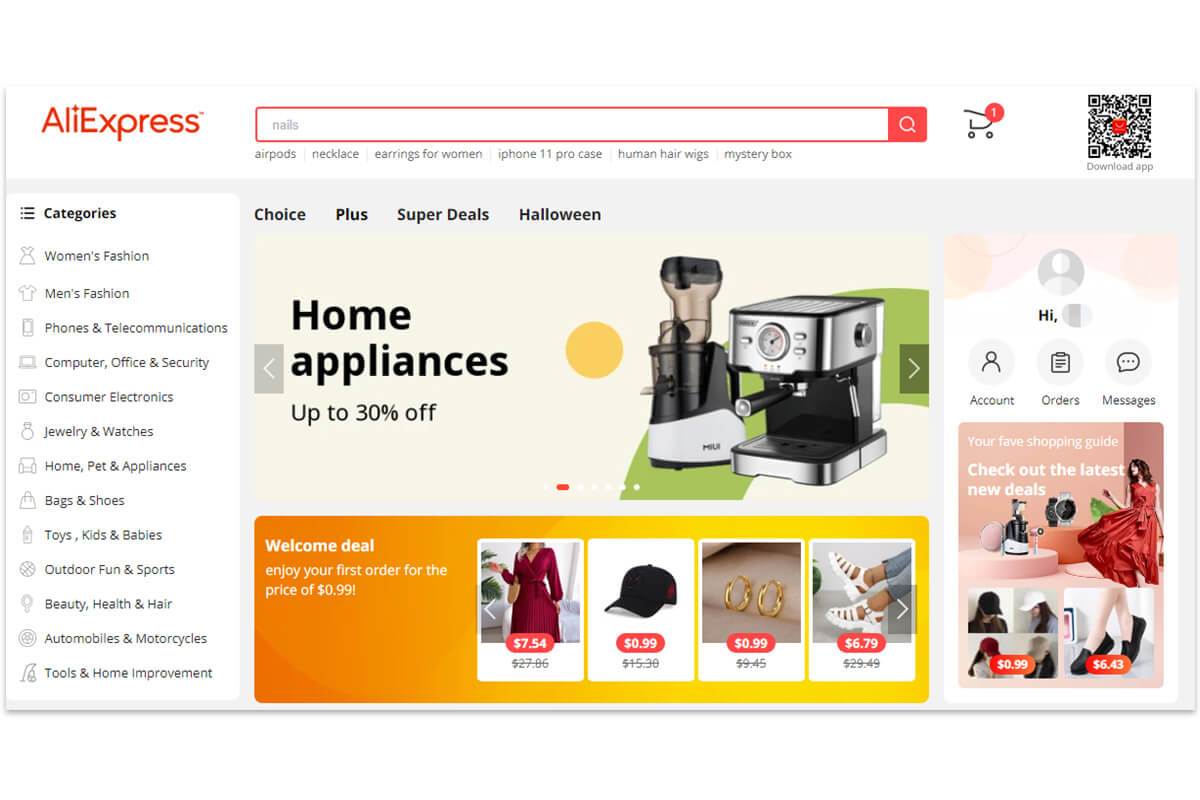 Aliexpress is a B2C marketplace that connects suppliers in China with buyers worldwide. It offers over 100 million products across various categories such as consumer electronics, accessories, and clothing. In comparison with Temu, Aliexpress owns a wider selection of products, and the price could be a little lower. However, it could take a longer time for Aliexpress to ship the products.
The similarities between the two platforms are that goods on Aliexpress also have no MOQ and they are already designed. You have limited or no customization options.
2. Alibaba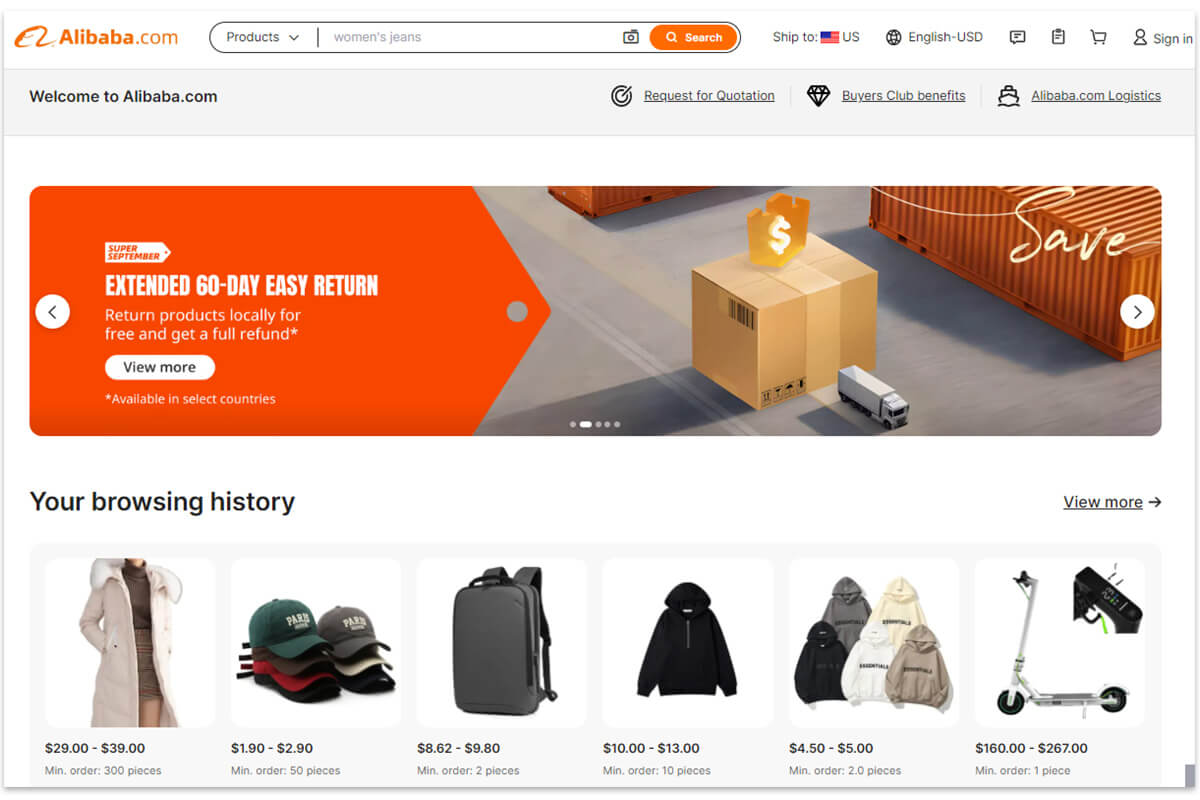 Alibaba is an international B2B(business-to-business) platform. This platform makes a wide range of competitive products from China available to global buyers. Some products are even not easy to find on other eCommerce platforms.
With Alibaba, you can purchase products in bulk at a manufacturing price. Plus, many suppliers provide private labeling and white labeling services. You can customize products and build your brand.
3. 1688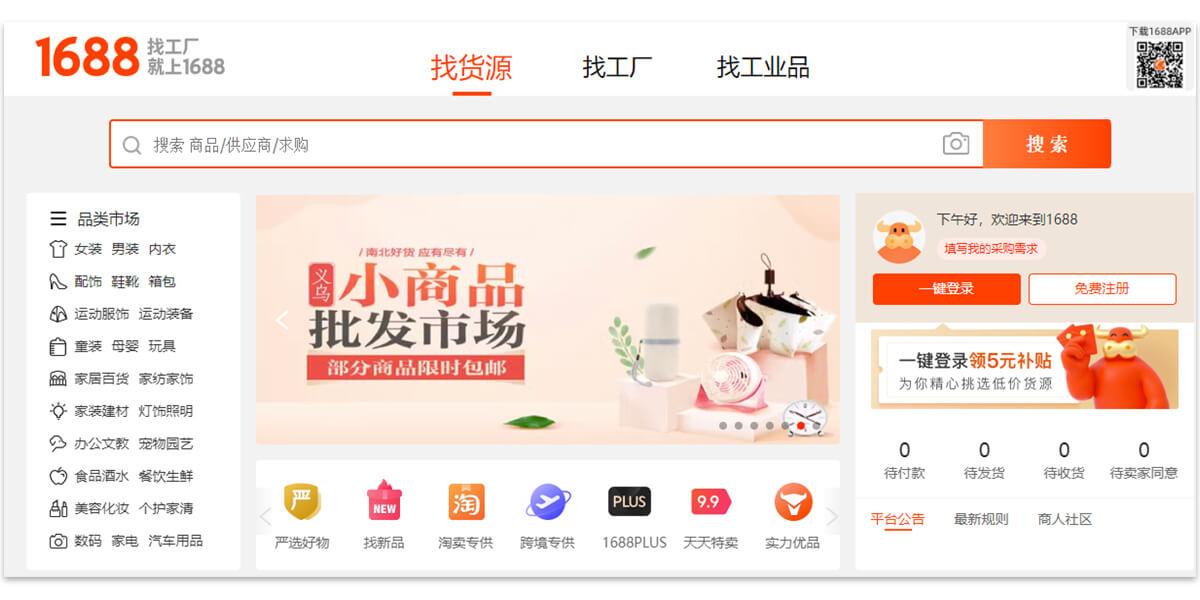 1688 is a sister site of Alibaba that caters to domestic businesses in China. As a wholesale market, 1688 offers a diverse range of products including clothing, beauty products, accessories, and so on. Most products are from manufacturers and wholesalers. Compared to Temu, these products are much cheaper as there are no international shipping costs to consider.
The drawback of 1688 is that their products have MOQ requirements. But with the development of dropshipping, now you can buy one piece.
4. Shein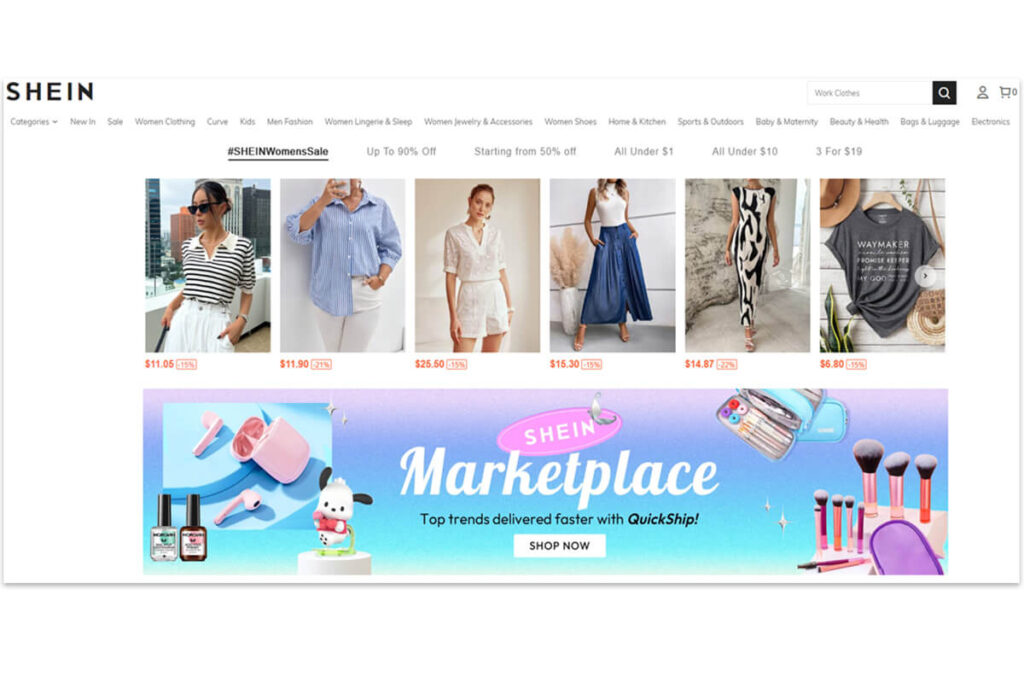 As a well-known fashion retailer, Shein offers a vast range of clothing, shoes, and accessories to global buyers. It caters to consumers who have different tastes and preferences for fashion products.
The product price on Shein might be higher than on Temu but still affordable. When your order amounts reach a certain standard, you can get discounts and enjoy free shipping service.
If you specialize in the fashion field, Shein can be a good supplier for you.
5. Sup Dropshipping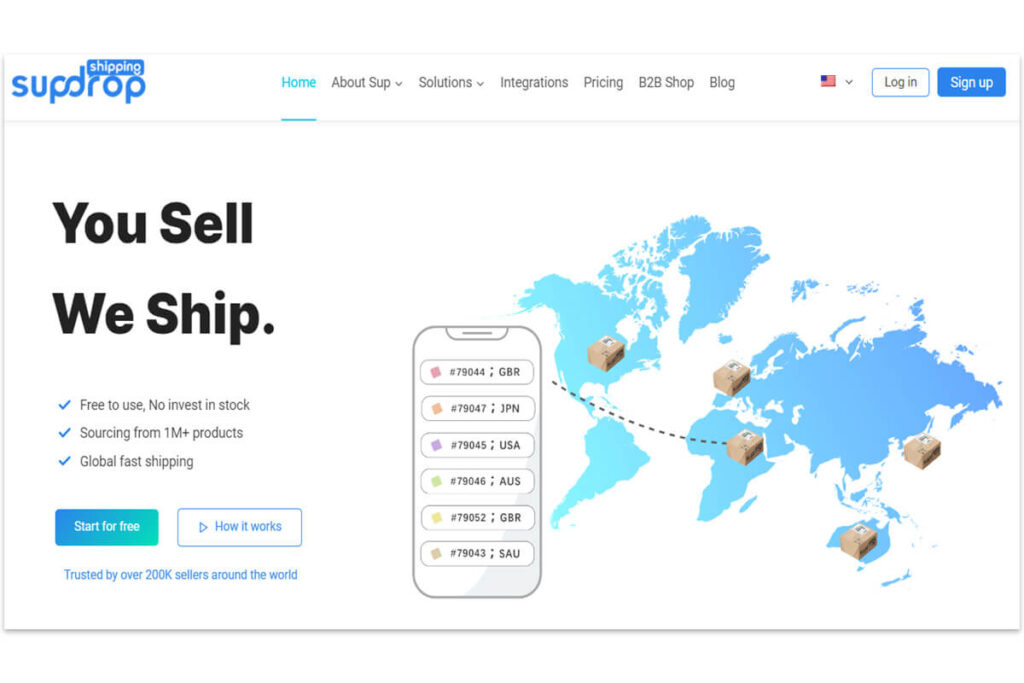 Sup Dropshipping is a dropshipping company based in Hong Kong. We provide you with an all-in-one solution from sourcing to shipping.
With a diverse network of suppliers and years of experience, we can help you find high-quality and affordable products efficiently. Like Temu, we don't require MOQs, so you can either buy one single piece or more at once.
Our platform integrates with major e-commerce platforms and markets seamlessly. It is easy for you to import and list products to your store. When your customer places an order from you, the order will be automatically fulfilled. Before shipping it, we conduct product checks to ensure the item is in good condition.
Beyond that, we offer various customization options to brand your business. You can customize product packaging, white label, or print products on demand. Most of our tools are free to use. Only relevant service fees are needed.
FAQ
1. Is Temu legit?
Though some customers complain about their bad shopping experiences on Temu, it is still a legitimate site.
Temu is owned by PDD Holdings, which is a Nasdaq-listed company. There are various proactive measures in place to protect buyers' transactions at Temu. For example, Temu launched a Purchase Protection program. This program allows buyers to get a full refund when their orders are not delivered, items arrive damaged, or items are not as described on the site.
2. Are Temu products good?
Overall, the product quality is good. But you get what you pay for. If you buy a $3 T-shirt at Temu, you can't expect it to be of the same quality as a $30 T-shirt on Amazon.
3. Can you dropship from Temu?
Temu is a direct-to-customer marketplace where dropshipping is not allowed. But you can sell products from Temu if you work with Sup Dropshipping. We have a vast base of products from suppliers in China and other countries. We can help you find quality products at competitive prices.
4. How long does Temu take to ship?
The shipping time depends on the destination and shipping methods. Typically, it takes 6-25 days for Temu to ship an order.
5. How to get free items on Temu?
Temu offers free items to attract customers. You can get free stuff by registering a new account, playing games, referring Temu to your friends, applying coupon codes, or becoming a Temu influencer.
Conclusion
Temu is a legitimate online marketplace and safe to use. However, this is not a guarantee that you will never encounter problems like poor quality products, late delivery, or undelivered orders.
Third-party suppliers sell on Temu. And not all of them are reputable. To avoid being scammed by unscrupulous sellers, you should take some proactive tips. Look for an alternative to Temu for better quality and more customization choices if necessary.
You May also interested in…