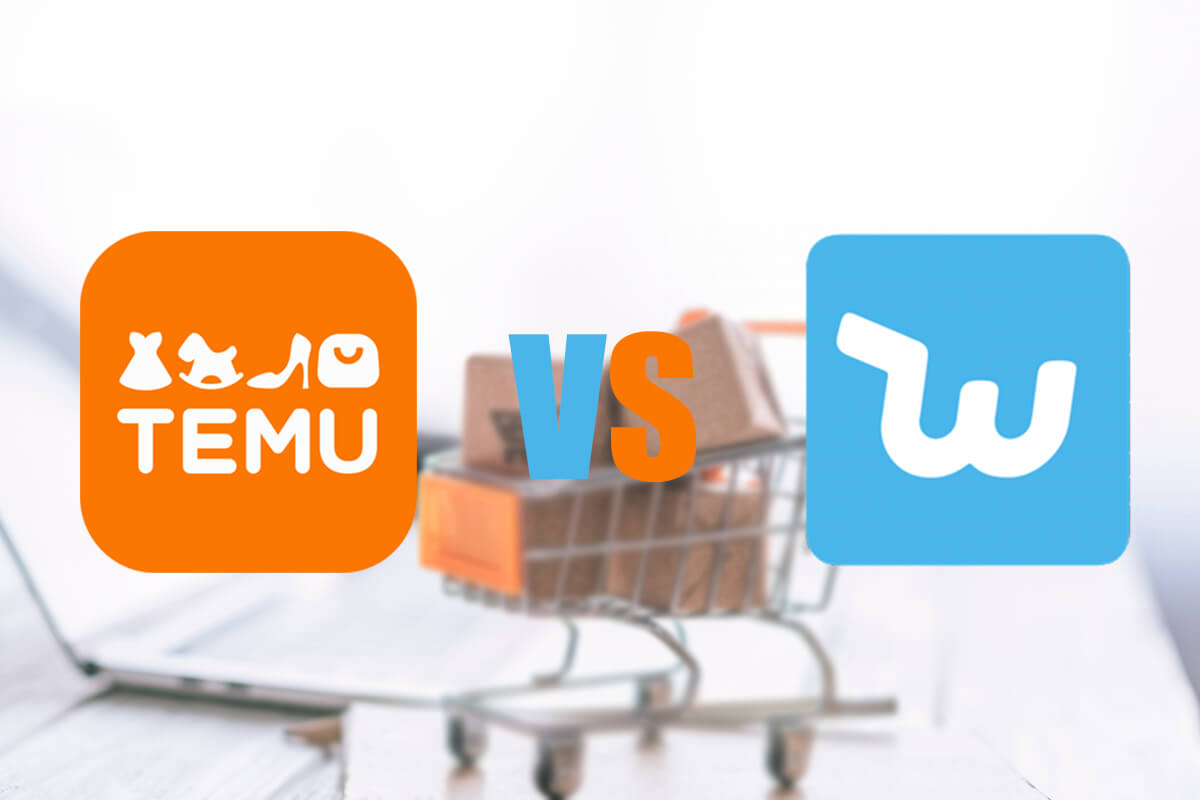 With the rapid development of eCommerce, you can now import products with a few clicks on the keyboard. Online marketplaces make it never easier to find affordable and quality products and resell them in your store. Because of a variety of products and ultra-low prices, Temu and Wish have made themselves stand out among these marketplaces. Temu is like Wish in some aspects. As a result, many retailers and dropshippers find it hard to decide on Temu or Wish.
To help you make an informed decision, we will compare Temu and Wish in some important features in this article.
Let's get started.
Temu vs Wish: overview
What is Temu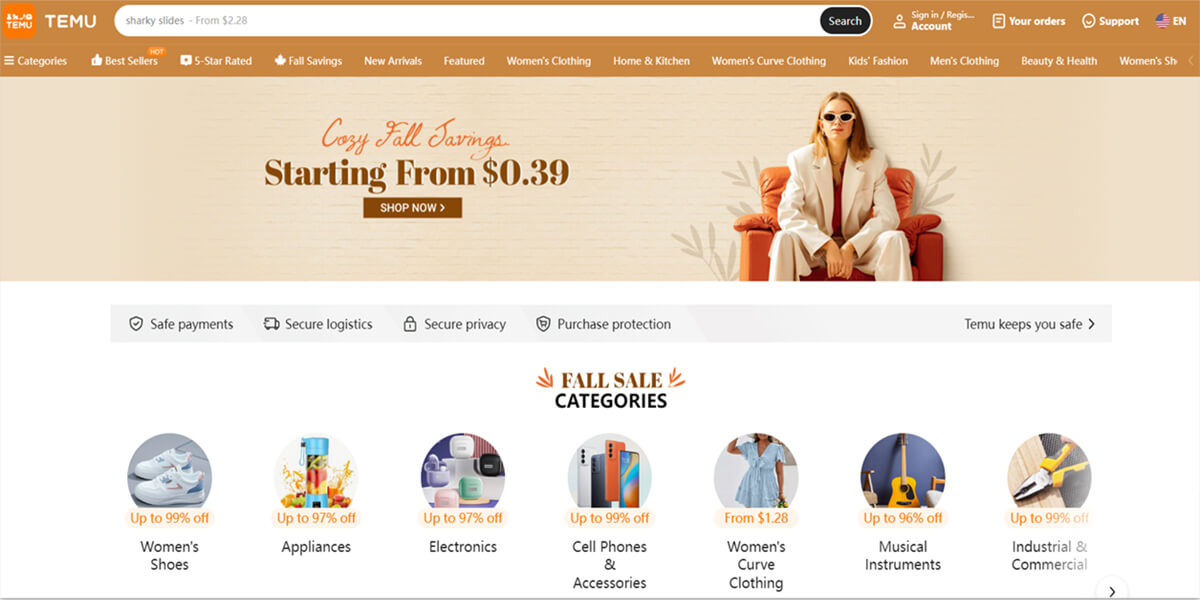 Temu is a legitimate online marketplace that was founded in the US in 2022. It is owned by PDD Holdings. Though not far since launched, Temu has gained over 100 million active users in the United States as of April 2023. According to Similarweb, Temu has garnered monthly visits of 286.6 million.
Temu provides a vast selection of products covering from clothing and jewelry to home products and electronics. The majority of products are shipped from China, and thus they are at low prices. Temu also offers heavy discounts, flash deals, and seasonal sales to help you shop like a millionaire.
What is Wish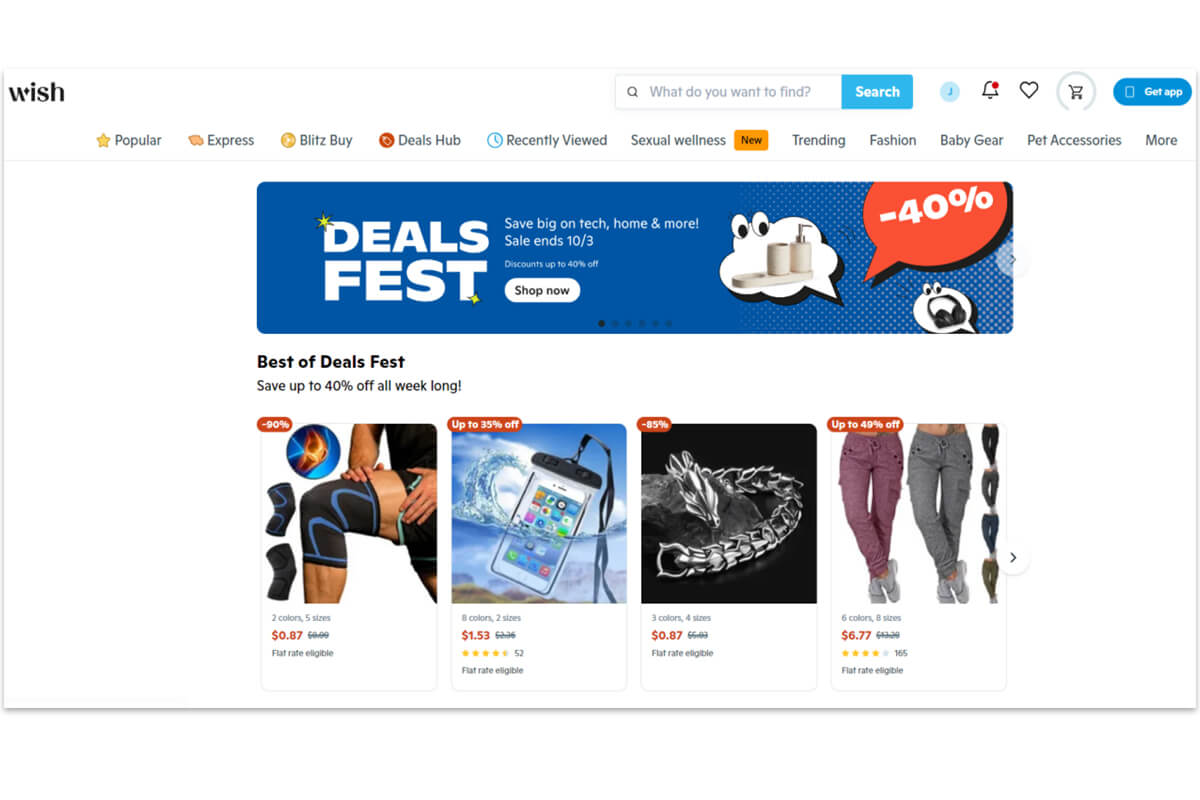 Wish is a well-known online marketplace that was based in the US. Since launched more than one decade ago, Wish has expanded its presence in the major countries of the world.
Similar to Temu, Wish offers an extensive range of products at competitive prices. From electronics and clothing to pet supplies and home decor, you can find almost everything on Wish.
Wish connects worldwide buyers with suppliers from China and other places. As most products are shipped overseas, it can take a long time for delivery. The advantage is that Wish offers various discounts and cost-effective shipping solutions for lots of items.
Temu vs Wish: an in-depth comparison of their features
Now you have had a general idea of Temu and Wish, let's explore and compare their key features in detail.
Website interface
When you head to the homepage of Temu, you can see a well-organized interface. Temu sorted out products and included them in different categories. It is easy for you to navigate a category and find a product. For recommended products, you are allowed to get a quick overview by hanging over the product. After clicking on "Quick look", you can see similar items you might be interested in.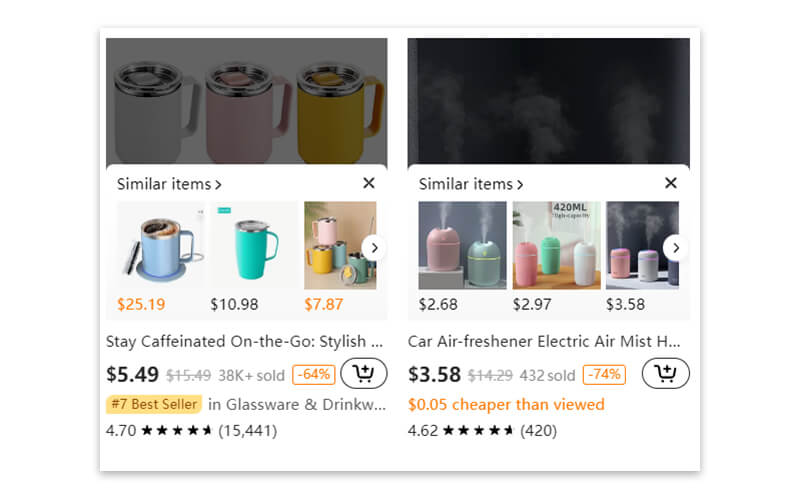 Unlike Temu, Wish didn't categorize products, at least, not all products. Instead, it sorted out products and listed them as "Popular", "Express", "Blitz Buy", "Trending", "Fashion", etc. So clicking a category to find an item is not that easy in some cases. But you can still search for it by typing keywords in the search box on the top of each page.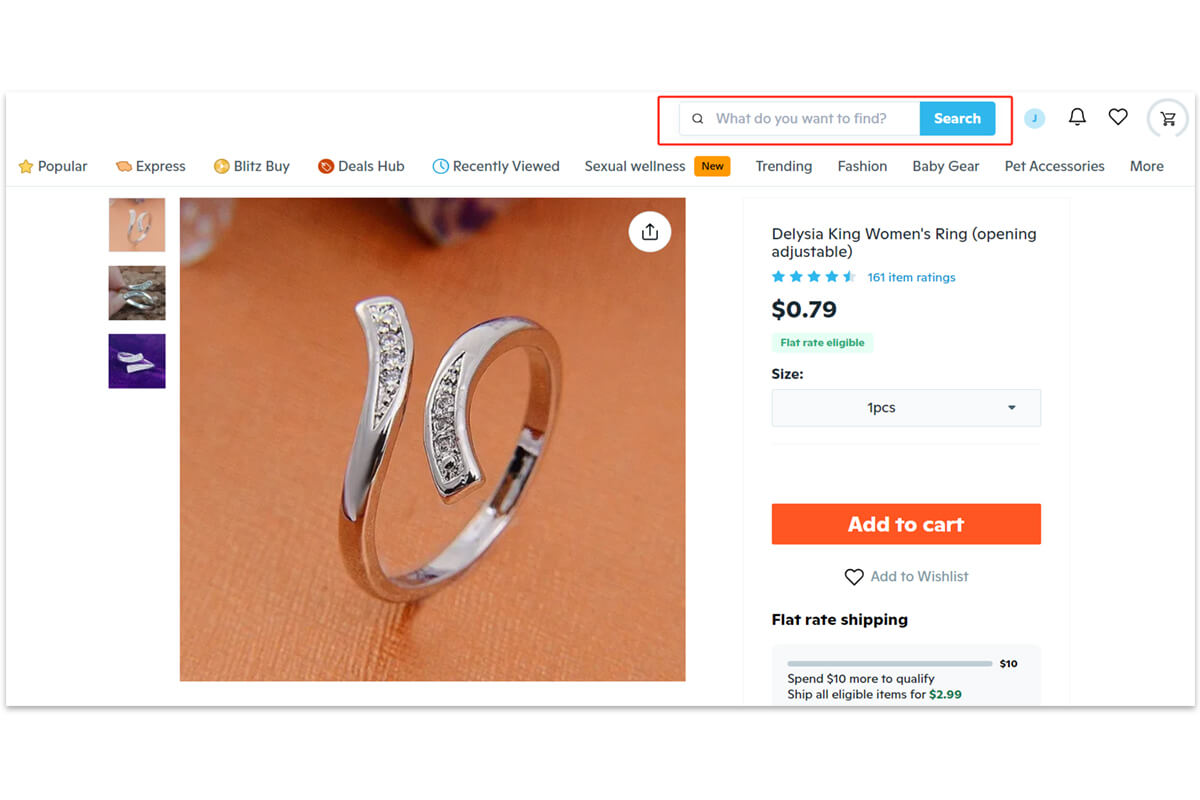 Product categories
In terms of product variety, both Temu and Wish provide a wide range of products. They have similar categories like clothing, electronics, home products, pet supplies, and automotive accessories.
Thanks to a vast network of suppliers in China and resources from its sister company Pinduoduo, Temu hosts a wider selection of products than Wish. However, Wish offers some categories of products that might be not easy to find on Temu. For example, Wish allows sellers to sell sexual wellness products, baby gear, drinks and smokes items. But Temu even doesn't categorize these products for customers.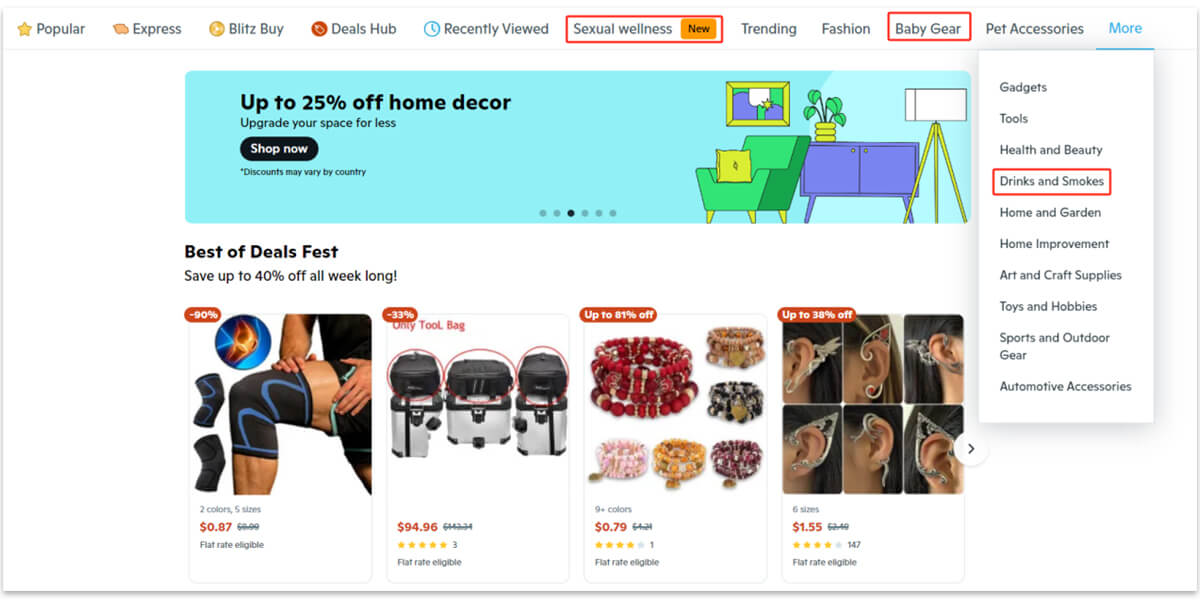 Product quality
Temu and Wish are both popular online marketplaces. They just serve as an intermediary to connect sellers with you. Most often, the product quality directly depends on the seller you make deals with. Sellers on these platforms are vetted through a strict process. Most of them are reliable and committed to offering high-quality products but some may not. This is why some buyers thought highly of the items they bought while others criticized the product quality.
If you want to lower the risk of buying an item of bad quality, you should always check the seller ratings, descriptions, and product reviews before a purchase. Ordering a sample before buying large quantities is a good way to check if the product meets your expectations.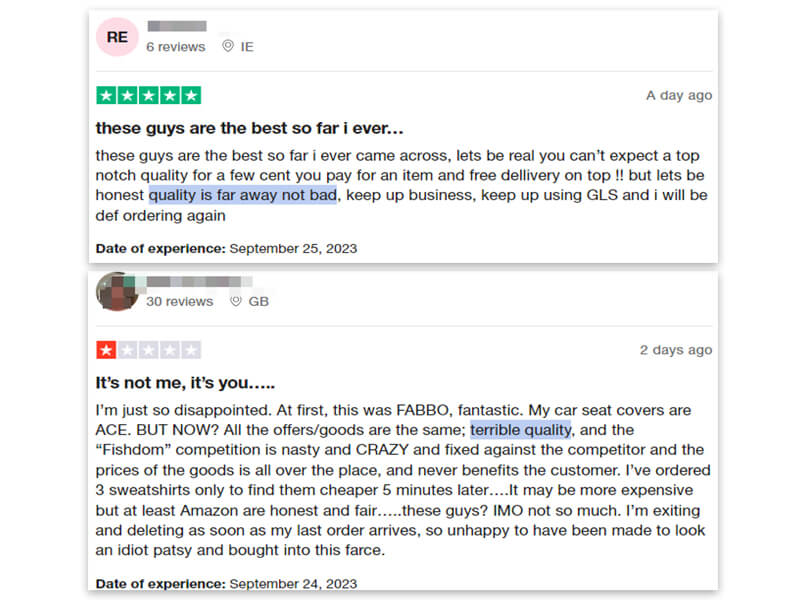 Pricing
When it comes to pricing, both Temu and Wish provide low-priced products in comparison with other marketplaces like Amazon. These two platforms offer customers various discounts on lots of products.
However, Temu is much cheaper than Wish due to its robust supply chain and pricing strategy. Temu aims to drive sales and help you save money with meager profits. Most products on this marketplace are not only at incredibly low prices but also eligible for free shipping.
In comparison with Temu, product prices on Wish are slightly higher. Additionally, you need to pay shipping costs in most cases.
For example, I want to buy a cat toy as shown in this picture.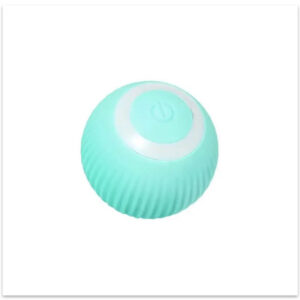 After searching for "cat toys" on Temu, I found some cat toys of the same type. I can get one only at the cost of $3.08 including the shipping fee. The seller specializes in pet supplies and has a rating of 4.74 out of 5. And most reviews for this toy are positive. So I think this offer is a nice one for me.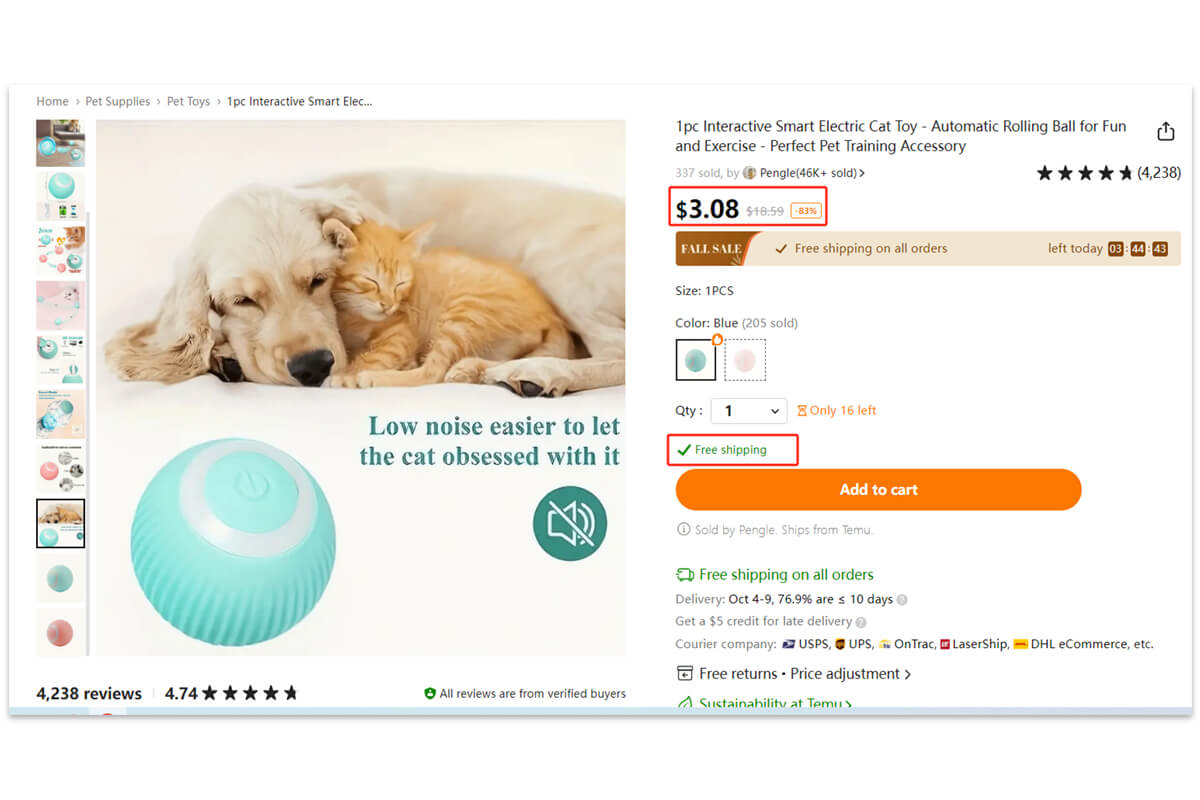 But when I searched with the same keyword on Wish, I found that options for cat toys are not as various as on Temu. And I need to pay $4.77 plus $0.99 shipping fee for the cat toy I'm looking for. Though the offer is also not bad, I prefer to buy from Temu and receive my order in a shorter time.
Payment methods
On Temu, you can pay with PayPal, Apple Pay, Google Pay, Cash App Pay, Afterpay, Klarna, Affirm, and credit or debit cards. Payments through credit cards like Visa, Mastercard, Discover, American Express, JCB, Diners Club, and Maestro are all supported. If you use Klarna, Affirm, and Afterpay, you are eligible to buy now and pay later. This will add more security to your transactions.
Like Temu, Wish also accepts multiple payment methods. They include PayPal, Google Pay, Apple Pay, Pix, iDeal, Klarna, Afterpay, Ebanx (Credit Card, Boleto, Oxxo), debit cards(Visa or MasterCard), and major credit cards(Visa, MasterCard, American Express, Discover, Maestro and Cirrus). Not all the payment options are available in your region. You need to choose one among those shown at checkout. Some payment options like Klarna and Afterpay allow you to pay with 4 interest-free payments.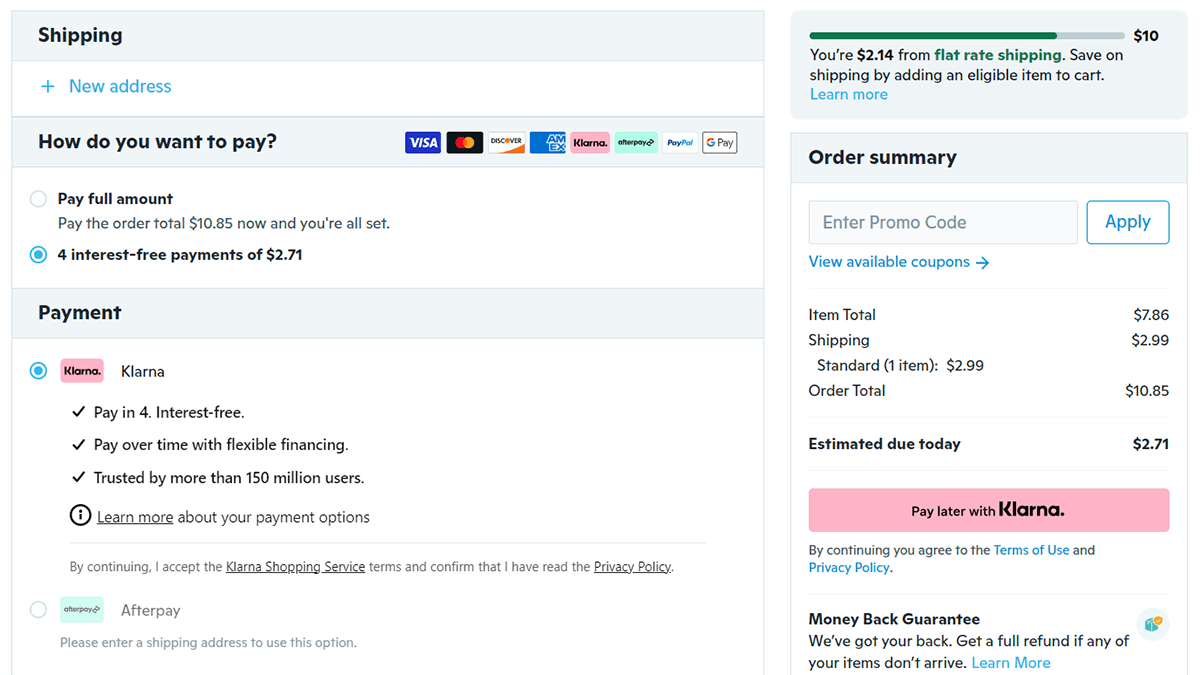 Shipping times and costs
The majority of products on Temu and Wish are shipped from China. However, the shipping times and costs between these platforms can be different.
Typically, it takes 6 to 25 days for Temu to ship an order. Free shipping is applicable to almost all Standard Shipping orders, and Express Shipping is free for orders above $129. You can track all your orders with the tracking information provided. Another good thing is that you can get a $5 credit if your order is late.
Wish offers multiple shipping methods depending on the item and the destination. They include Standard Shipping, Wish Express, 2 Day Delivery, Flat rate shipping, and Ship to Store. With my research, I found that most sellers provide Standard Shipping and Ship to Store. The former usually costs $2.99 and takes a shorter time while the latter costs $0.99 and needs a longer time for delivery. Anyway, the shipping times are typically 10 to 30 days to the US. When your order has not been delivered by the Refund Eligible date on your Order History, you can contact Wish customer service and ask for a refund.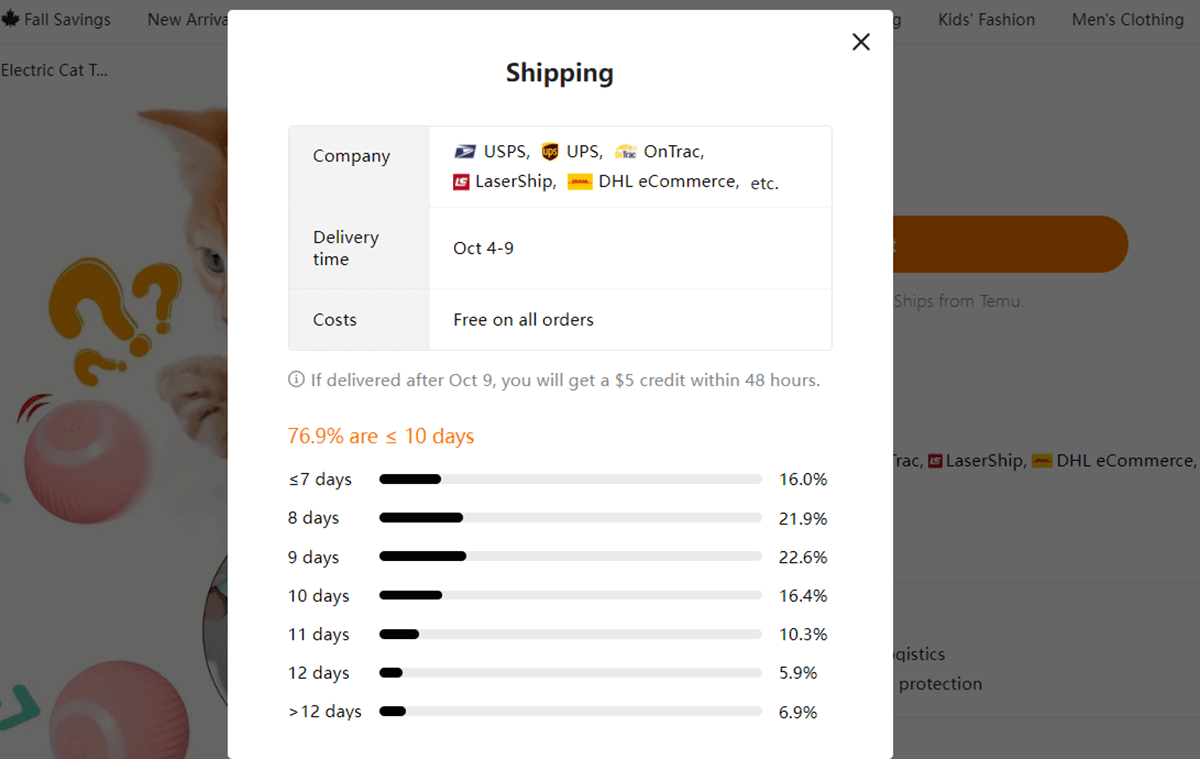 Return and refund policy
Temu allows you to return an item that you are not satisfied with within 90 days since your purchase. No shipping fee is charged for the first return for every order. For the second return, you need to pay a $7.99 shipping fee, which will be deducted from your refund. And the refund can be given back to your original payment account within 5-14 business days. You need to send back the package within 14 days after you submit the return request.
Different from Temu, Wish allows you to return an item within 30 days since its delivery. If your item is eligible for return, you can contact Wish customer service to initiate the return. Mostly, you bear the shipping costs to return the order.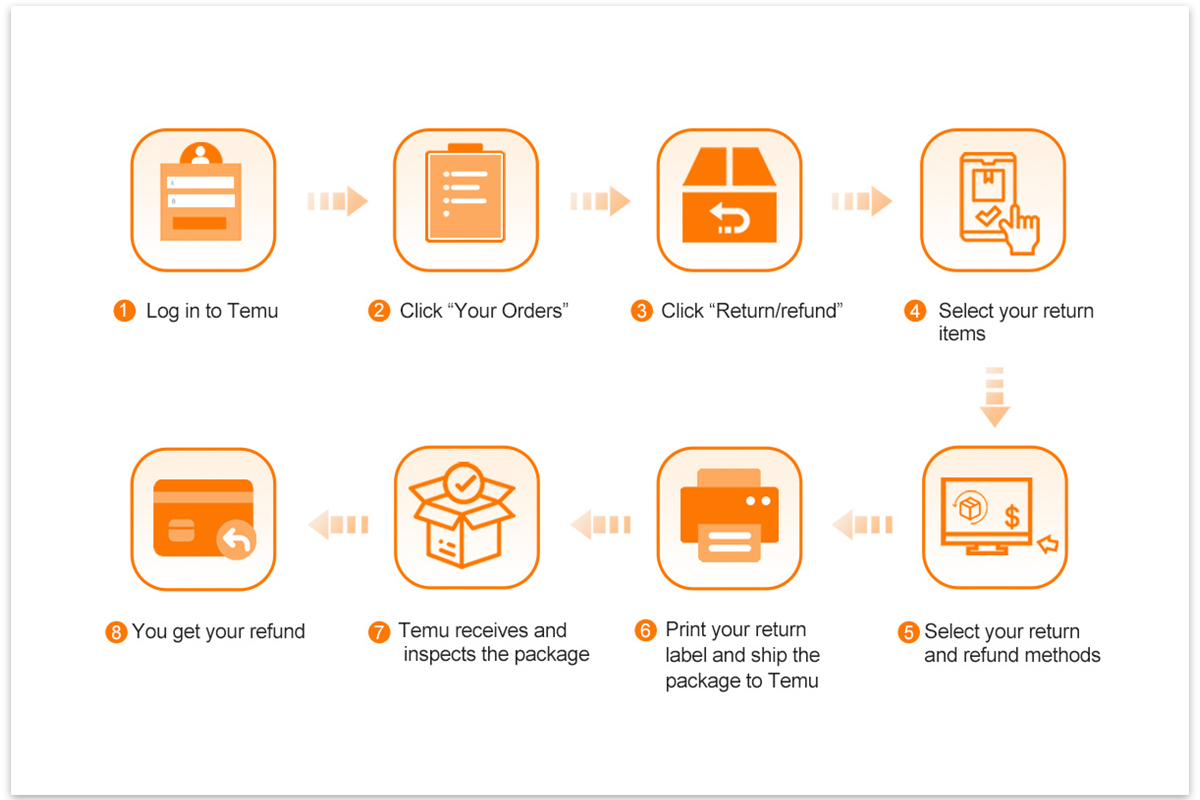 Customer service
On Temu, you can contact customer service through live chat or social media. Temu customer support is available 24/7. Meantime, Temu gives you direct access to the seller. It is convenient to address any concerns or solve problems regarding your orders.
On Wish, you can contact the support assistant via live chat. But it may take some time to get a reply from a person instead of the bot. Alternatively, you may contact Wish's customer service through social media if you follow their accounts. As I followed Wish on Instagram, I tried to message them to inquire details about a phone case. Unfortunately, 8 minutes passed and I got no answer.

Customization
Because Temu and Wish are both marketplaces, they sell already-designed products and offer limited customization options.
When I searched for customizable products on Temu, I did get plenty of results. But I can only change the size, color, and pattern provided in most cases. The good news may be that I can add some basic designs to a handful of products. Anyway, there is little chance for me to design what I want on Temu.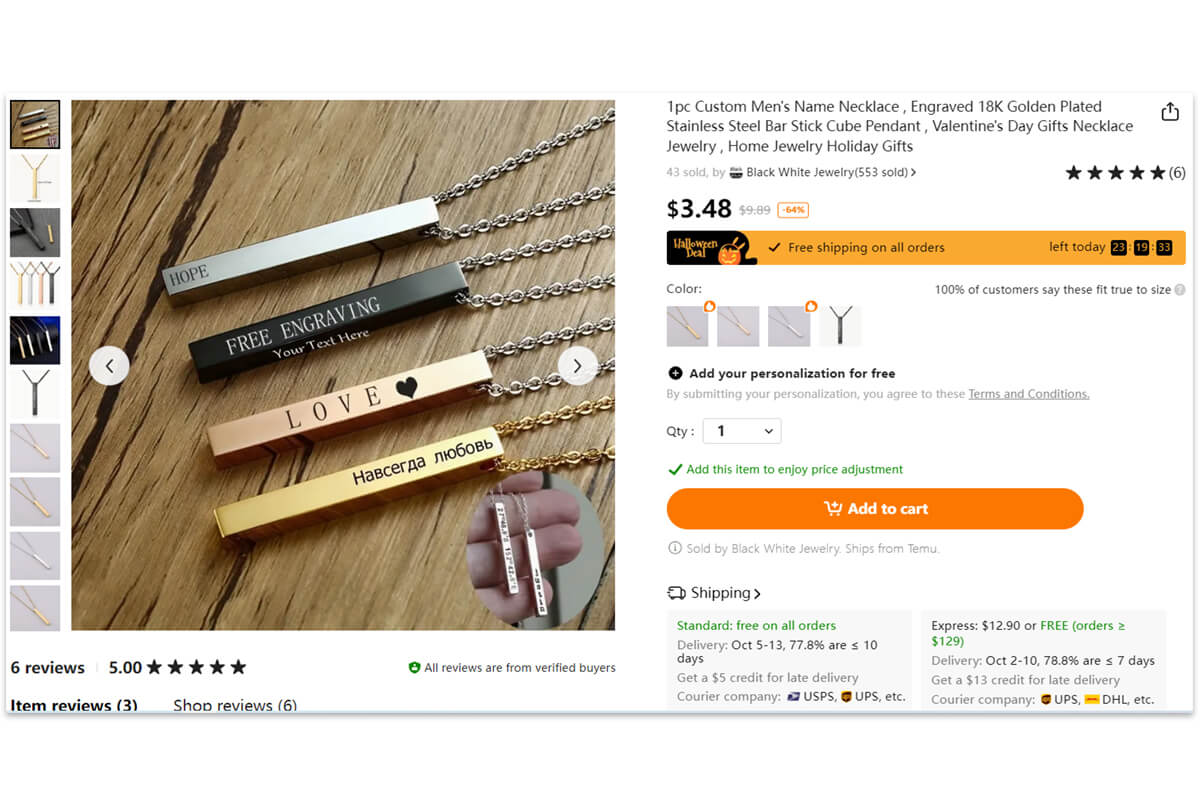 Then I did the same on Wish. The result is that I found some items that seem not to be popular among consumers. Then I entered another keyword in the search box. The drop-down menu only shows a few niches. Apparently, Wish provides less customization choices than Temu.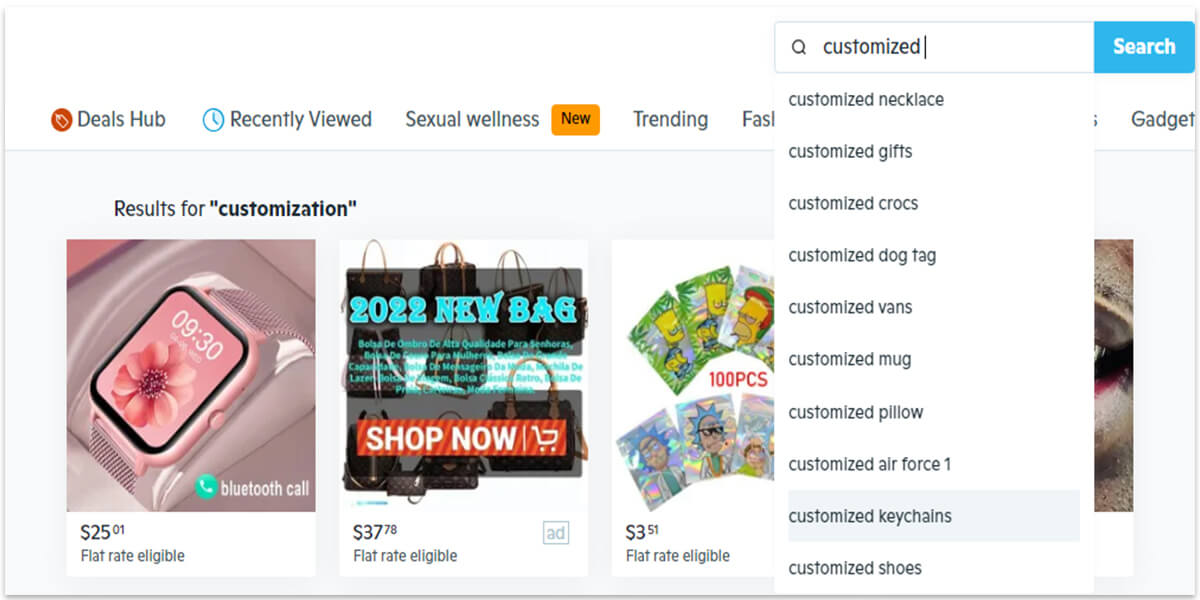 TIP: Demands for personalized products are increasing day by day with the evolvement of eCommerce. If you want to build your brand, cater to market demands, and stand out from the competition, you can work with Sup Dropshipping.

Sup Dropshipping is an all-in-one dropshipping company based in Hong Kong. From sourcing to shipping, we handle everything on your behalf, which frees you up from a lot of hassles.

With a diverse network of suppliers and years of experience, we can help you find competitive products efficiently. Like Temu and Wish, we don't require MOQs. You can either buy one single piece at a low price or buy in bulk with various discounts applied.

Our platform integrates with major e-commerce platforms and markets seamlessly. It is easy for you to import and list products to your store. When you receive an order, it will be automatically fulfilled. Before the shipment, we conduct product checks to ensure the item is in good condition.

The most incredible feature of Sup is that we give you various customization options to brand your business. Except for basic customization like adding your logo or brand name, we also allow you to customize product packaging, white or private label your products, or print them on demand.
Temu vs Wish: a summary
Feature
Temu
Wish
Website interface
user friendly
a little hard to navigate
Product categories
clothing, electronics, home products, and more
clothing, electronics, home products, care products, etc
Product quality
depend on the seller; quality products in most cases
depend on the seller; quality products in most cases
Pricing
very low
slighly higher
Payment methods
multiple payment options; buy now pay later choices
multiple payment options; buy now pay later choices
Shipping times
6-25 days
10-30 days
Shipping costs
free shipping on almost all orders
$2.99 for Standard Shipping, and $0.99 for Ship to Store
Return and refund policy
return within 90 days since the purchase
free return for the first order
return within 30 days since the delivery
the buyer bears the shipping fee
Customer service
live chat or social media
live chat
Customization
limited customization options
A few customization options
Temu vs Wish: which is better?
Temu outperforms Wish in terms of the website interface, product variety, shipping, return and refund policy, customer service, and customization. So personally, I think Temu is better than Wish if you take these aspects seriously.
But you should still consider Wish if your niche products like baby gear are not easy to find on Temu. In addition, Wish has a wider presence in the world than the emerging marketplace Temu, which mainly targets the US market currently. If your markets are somewhere else instead of the US, you may choose Wish for a smoother shopping experience.
What is worth noticing is that Sup Dropshipping will be a better solution than Temu or Wish when you intend to brand your business. At Sup, you can access a vast variety of customizable products that are high-quality and cost-effective. You can design your products at your will. The design tool is free and easy to use. Various mockups and patterns are available to you at no charge. As our printing suppliers are located across the globe, we can process and ship your order at a fast rate.
Frequently asked questions
1. What is the difference between Wish and Temu?
Both Wish and Temu are US-based online marketplaces, but they are different in some important aspects.
Wish is an established marketplace that has a wider presence in the world. It sells some kinds of products that might not be easy to find on Temu. Most products are not categorized on this marketplace, which may result in poor shopping experiences for some customers. Additionally, Wish takes a longer time to deliver an order.
On the other hand, Temu is a new marketplace that was founded in 2022. It has a significant impact on the market in North America. With a diverse network of suppliers and resources from its sister company, Temu can provide more product choices in general categories and at lower prices. Temu's robust logistics system also gives it an edge on shipping times.
2. Is Temu better than Wish?
Temu outperforms Wish in some features such as the interface, product variety, pricing, and delivery. However, Wish has its advantages when it comes to global presence and products in some special categories. If you are not sure which to choose, you may read our comparison guide carefully to make an informed decision.
3. Why is Temu so cheap?
Temu is so cheap for several factors. Firstly, most products are shipped from China where production material and labor costs are lower than in Western countries. Additionally, Temu connects buyers directly with the manufacturers and suppliers, eliminating multiple middlemen. Another reason is that Temu benefits from the resources provided by its sister company Pinduoduo. Pinduoduo has had close connections with a vast network of suppliers. This allows Temu to get better prices from these suppliers.
4. Is Temu safe to buy from?
Temu is a legitimate company and it is safe to buy from.
Temu launched the Purchase Protection Program to secure your payments. You can request a refund when your order is not as described, arrives damaged or late, or it doesn't arrive.
5. Are Temu products good?
Overall, the products on Temu are of good quality. So people go after Temu products and sing praises of them on their social platforms. However, there are still low-quality products like those you come across on other marketplaces. You need to read the product description carefully and check product reviews from other buyers before the purchase. Buy a sample to check if the item meets your expectations if you plan to place a big order.
6. How long does Temu take to deliver?
Temu's shipping times can be affected by various factors such as the destination and shipping methods. Typically, it takes 6 to 20 days for Temu to deliver for Standard Shipping and 4 to 9 days for Express Shipping. In most cases, your packages can arrive between 5 to 14 business days.
Temu vs Wish: conclusion
Temu vs Wish? I guess the answer may come up to your mind now.
Each platform has its unique features that make it outperform the other. But overall, Temu is better than Wish in multiple aspects such as product variety, pricing, and shipping.
Whether Temu or Wish, you don't have to make a choice between them. When you want to develop designed and personalized products, working with Sup Dropshipping will suit your needs better.
Certainly, there are other alternatives to Temu and Wish (e.g.AliExpress) that may work for you as well. We will curate a list of them in the next articles. Keep your eyes on our website!
Temu complaint: They shipped things I didn't order. Some I hadn't even seen before. When I complained about overcharging, they sent a load of items that were lower quality. Had obviously been used and returned, damaged. When we tried to iron it out with them, they lied to our credit card company and we were forced to pay hundreds of dollars extra. They cheated us Big Time! Wish they hadn't cheated us and committed fraud. The products prior to problems were nice and I was pleased before the big mixup and phony handling. So sorry. I wanted a good continuing business arrangement until this CROOKED exposure.

Hello Jaklyn, thank you for sharing your experience, and we feel sorry to hear that.
This is a sad result of industry competition. Customers only choose products with lower price, so manufacturers have to change their materials with inferior ones to lower their cost.
Temu is known for low prices, and their suppliers are strictly limited on price. So Temu products may be unstable due to cost reasons.