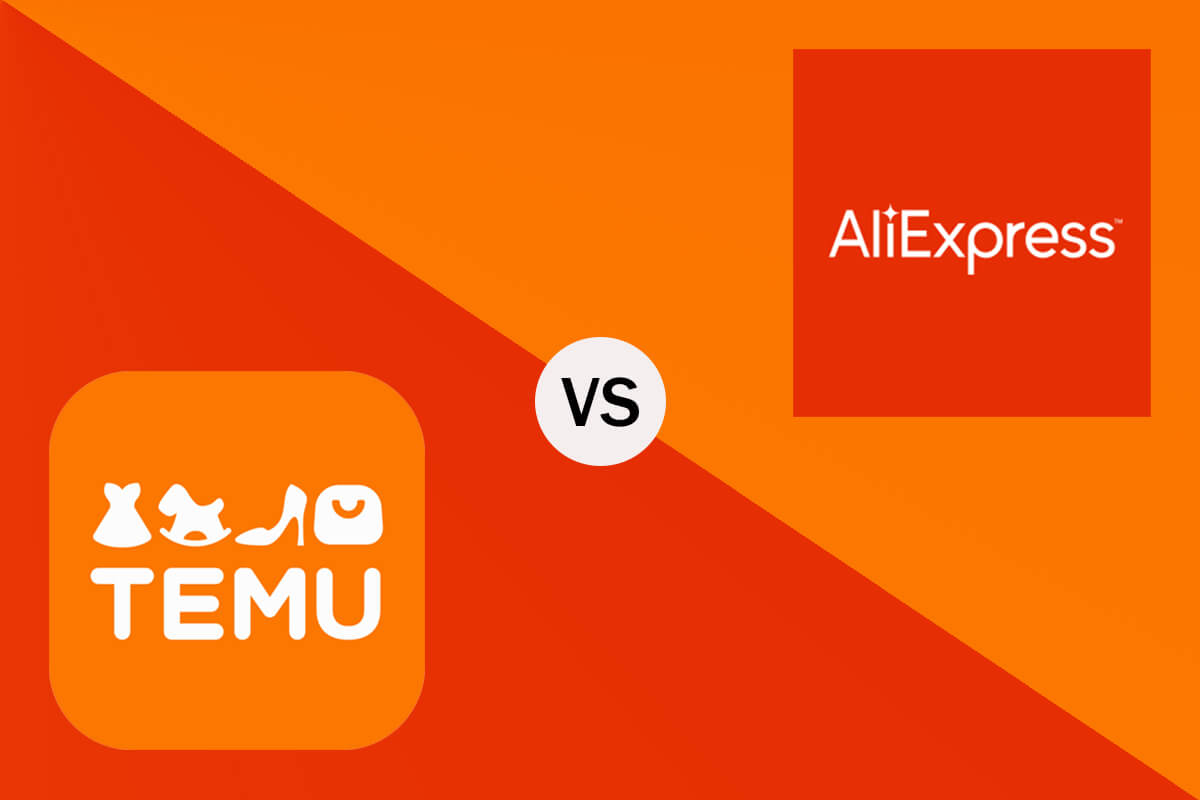 Many retailers and dropshippers are used to sourcing from AliExpress because it offers a wide selection of products at low prices. But with the increasing popularity of Temu, they have to look at this competitive emerging online marketplace and make a choice between Temu and AliExpress.
If you are one of them and still consider which to choose, Temu or AliExpress, you've come to the right place.
In this article, we will compare these platforms from multiple aspects. Read on so that you can make an informed decision.
Let's dive in.
Temu vs AliExpress: Overview
What is Temu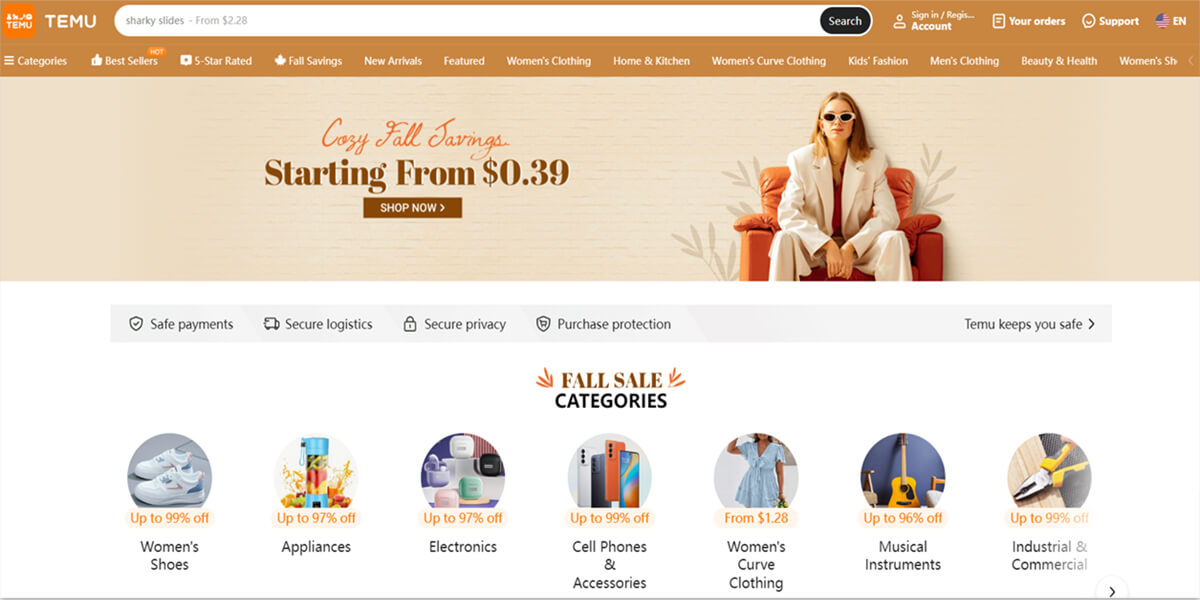 Temu is a US-based online marketplace that was founded in 2022. It is the sister company of the Chinese shopping site "Pinduoduo", and both of them are owned by PDD Holdings.
Temu is legit and safe to use. Though not far since launched, Temu has gained over 100 million active users in the United States as of April 2023. It is ranked No. 1 on the Google Play app store.
Temu provides a wide range of products covering from clothing and beauty products to household items and electronics. You can find nearly everything on this marketplace. On top of that, the products are heavily discounted and at very low prices. Many sellers offer free shipping for their products.
What is AliExpress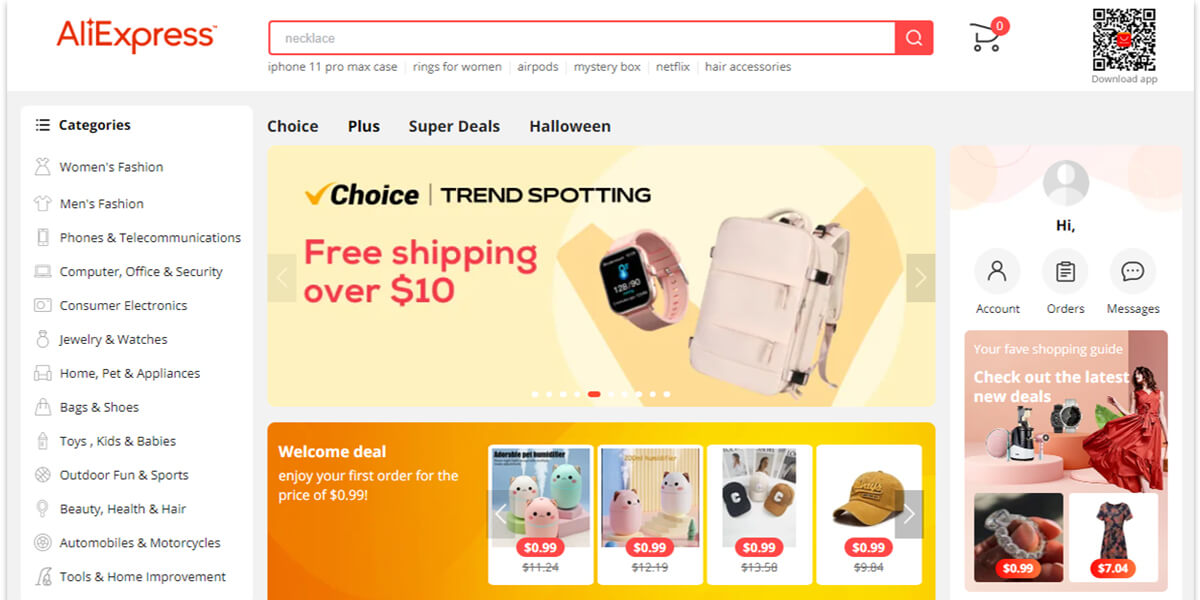 Aliexpress is a legitimate B2C marketplace that was founded in China in 2010. It is owned by the Alibaba Group, one of the largest retailers and e-commerce companies in the world.
Aliexpress connects Chinese suppliers with global buyers. On this marketplace, there are over 100 million products across various categories such as consumer electronics, accessories, and clothing. Most products are sourced directly from wholesalers and manufacturers and at competitive prices.
Though based in China, Aliexpress ships around the world with its robust logistics system. The only drawback is that it can take a long time to ship overseas.
Temu vs AliExpress: A Head-to-head Comparison
Temu or AliExpress? Without a complete comparison, it could be not fair to conclude which is better.
So let's take a deeper look at the comparison between their features.
Product range
In terms of product range, Temu provides a variety of products in different categories. These products cover clothing, electronics, home products, pet supplies, etc. They are low-priced and mostly shipped for free, which allows you to earn a high profit in your store.
Like Temu, Aliexpress also offers a wide range of products such as clothing, electronics, household items, and motor parts. With more than a decade of development, Aliexpress owns a vaster product base than Temu. As of now, AliExpress claims they have over 100 million products on the homepage. If you click "Automobiles & Motorcycles", you can find there are more small niches in this category. But it is not the case when you click "Automotive" on Temu.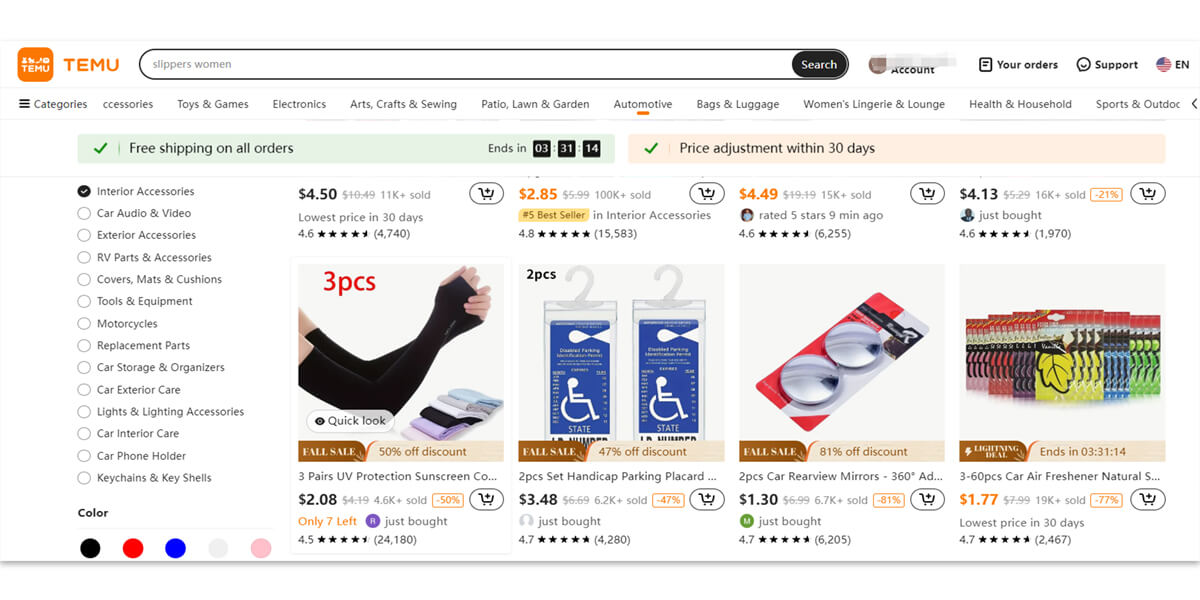 Product quality
Product quality largely depends on the sellers. Both Temu and AliExpress are an intermediary that connects third-party sellers with buyers. Most sellers are reliable and committed to offering quality products while some may not.
But overall, products from AliExpress can be of higher quality than Temu. On AliExpress, there are a handful of reputable suppliers like Sony, Canon, AMII, Disney, etc. Though Temu issued a Code of Conduct to ensure sellers abide by their regulations, some sellers may provide lower quality products to match the price. And it is not easy to come across a famous brand in Temu currently.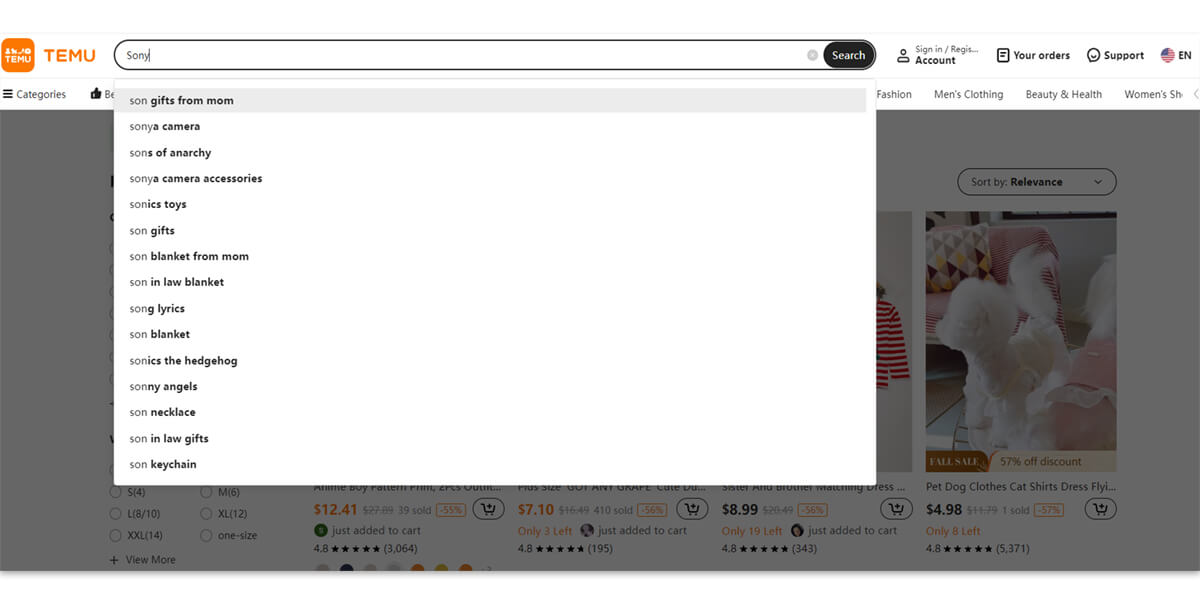 Product price
Overall, products on Temu are cheaper than on AliExpress.
Temu takes the eCommerce world by storm with extremely low prices. It is dedicated to working with sellers and suppliers to offer the most affordable products to buyers. Most often, you can get heavy discounts and free shipping on your orders.
On AliExpress, the product prices are also low. Various discounts can be applied to many products. But as you have to pay shipping costs in most cases, some cheap products seem not so cheap. The advantage of buying from AliExpress in terms of pricing is that you can get a lower price when you buy in bulk. Sellers often provide bulk discounts though the price is already low.
For example, I want to buy a pizza cutter as shown in this picture.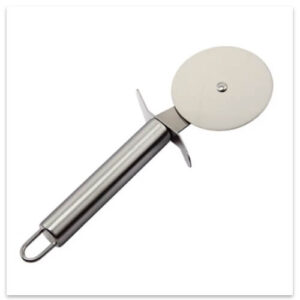 After research, I found that it costs at least $2.21 in total to get one on AliExpress. And I have to wait for a longer time to receive my order. (I searched for other pizza cutters of this type, and they are more expensive than this one.)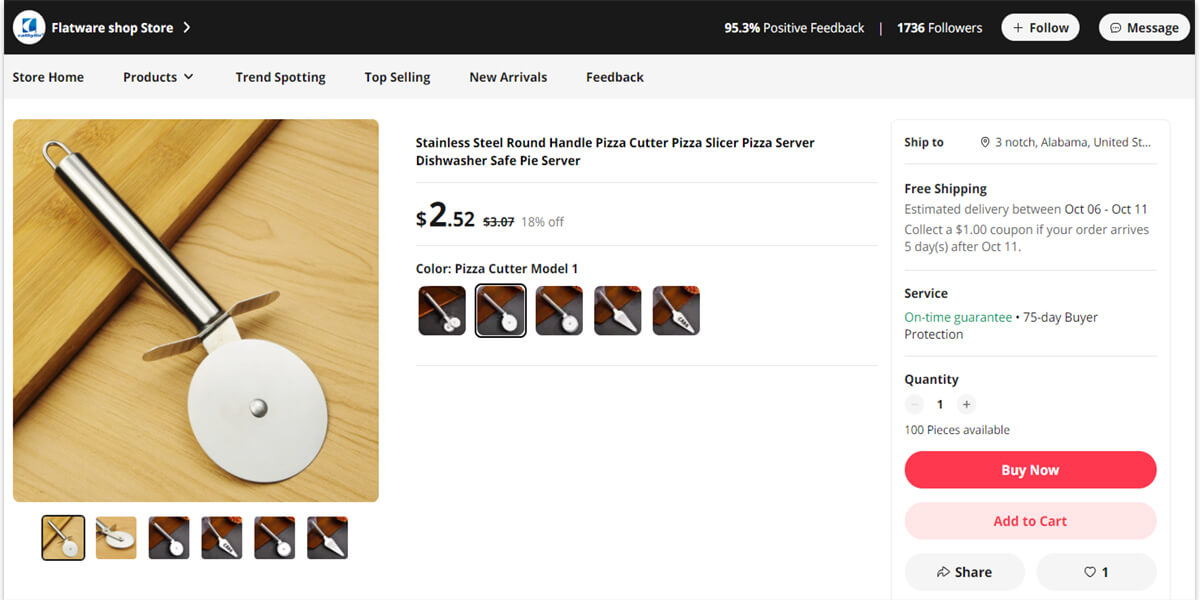 On Temu, I can pay $1.49 to buy a similar one. This pizza cutter will be shipped for free. The seller is rated 4.7 stars out of 5 stars and has sold more than 100,000 items(including 11 pizza cutters of this kind). Not a bad offer for me.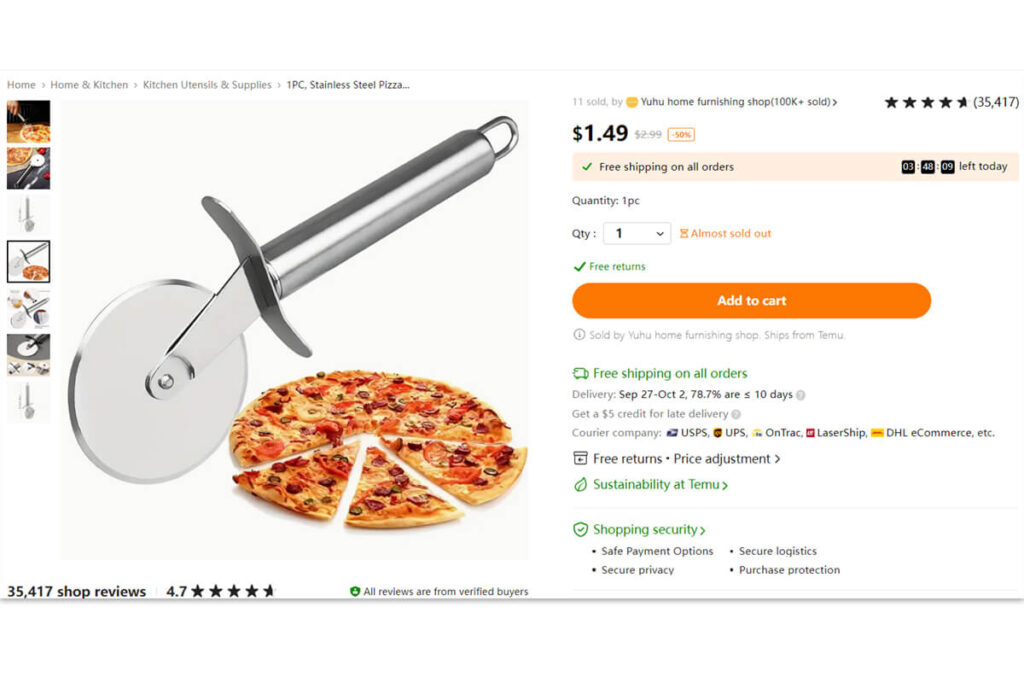 But if I am scaling my business and I need to buy large quantities at once, I will choose AliExpress. Because many AliExpress sellers offer coupons or discounts for bulk orders.
Payment methods
Temu takes credit and debit cards from most major card issuers, which include Visa, Mastercard, Discover, American Express, JCB, Diners Club, and Maestro. In addition, making payments with PayPal, Apple Pay, Afterpay, Google Pay, Klarna, Cash App Pay, and Affirm are supported, too. Payment options like Klarna and Afterpay allow you to buy now and pay later. This adds more security to your transactions.
In comparison with Temu, AliExpress takes more payment methods as it caters to buyers worldwide. Except for credit and debit cards, you can pay with Alipay, Western Union, WebMoney, bank transfer, and your local payment solution. You just need to choose one according to your needs and preferences.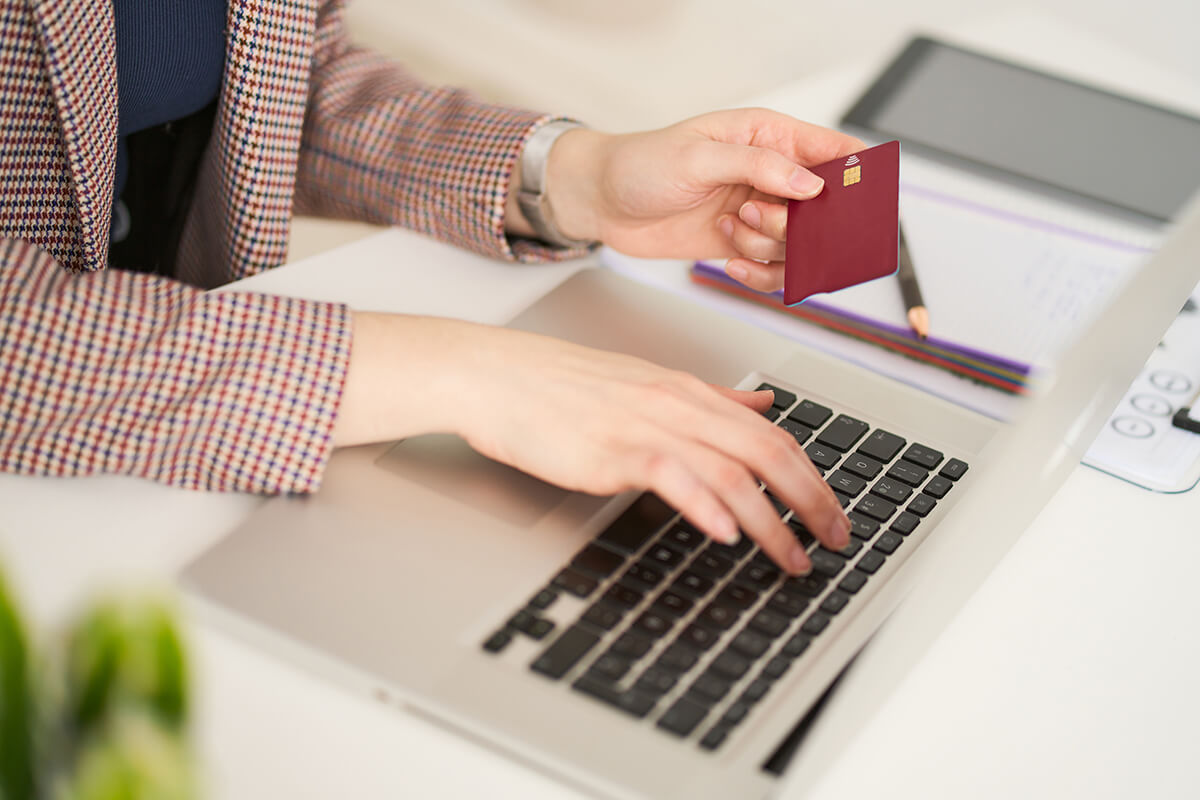 Shipping times and costs
The majority of items on Temu are shipped from China though it is located in the US. Even so, Temu can ship your order within 6 to 25 days. If you choose Standard Shipping, your orders will be shipped for free in most cases. For Express Shipping, free shipping is available for orders above $129. Tracking is accessible for almost all orders.
Like Temu, Aliexpress has Standard Shipping and Premium Shipping. Besides, other shipping methods like DHL, FedEx, EMS, Cainiao Standard, and Cainiao Super Economy Global are also available. But most sellers provide buyers with Aliexpress Standard Shipping and Cainiao as shipping options. These two shipping methods are much more cost-effective but slower. Though they are free to use for lots of products, you need to wait for 14 to 60 days to receive your orders.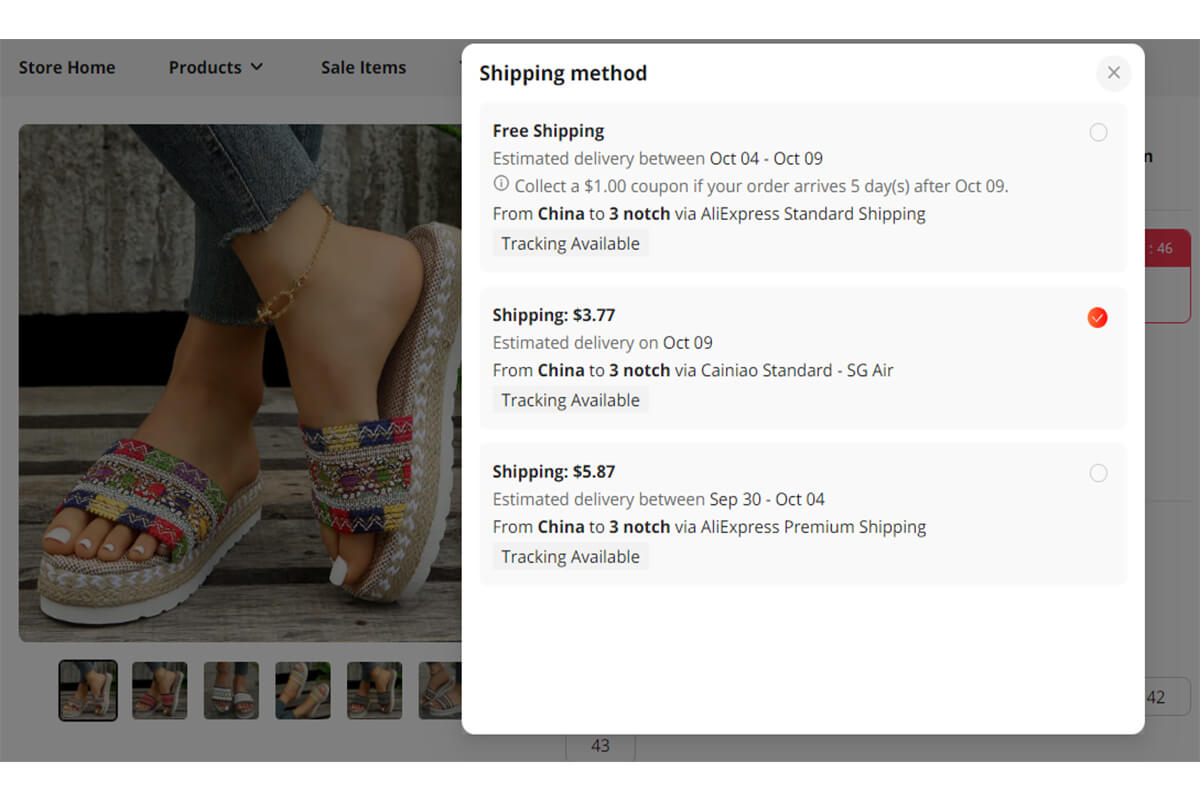 Buyer protection
Both Temu and AliExpress protect customers with a buyer protection policy in the following cases.
Your order doesn't match the descriptions or photos
Your item arrives damaged or missing parts
Your item is not received within the promised time or was lost in transit
However, there are some differences between their policies. The protection period on Temu is 90 days, and you can return the item within 14 days after you submit your return request. Free shipping can be used on your first return for every order.
On Aliexpress, the protection period is 75 days, shorter than Temu. You can place a return request within 15 days from receiving the order. Free return service is only available on items with a "Free Return" label.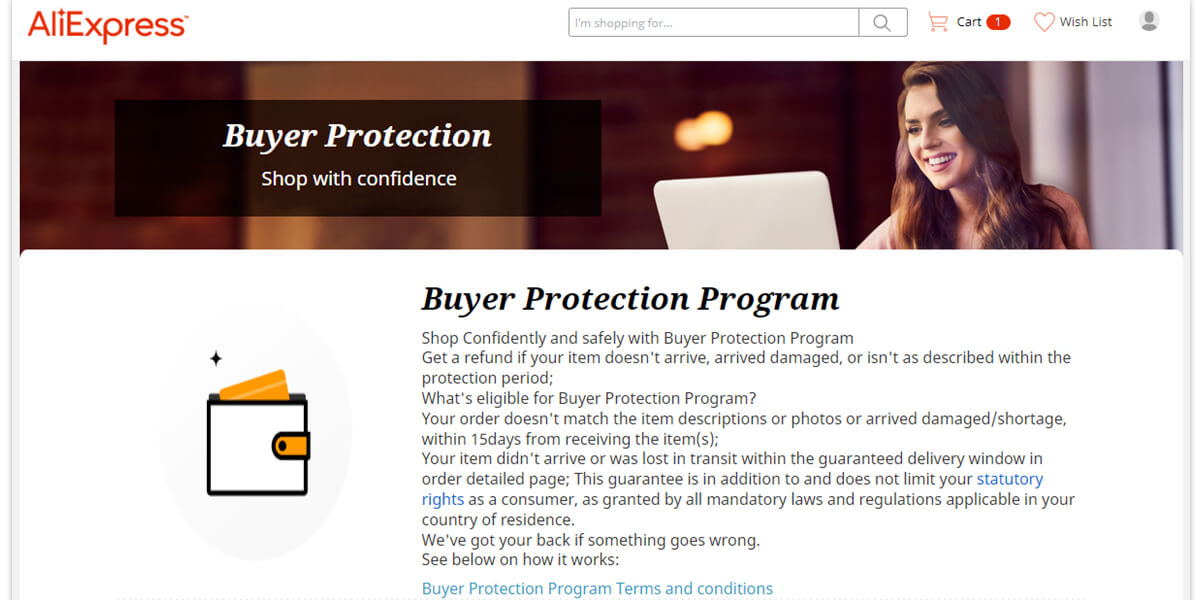 Customer service
You can contact customer service on Temu by sending messages or using social media platforms. The live chat works 24/7, so you can get a response to your queries or problems at any time.
If you buy from AliExpress, except for using messages and social media, you can get in touch with customer service through WeChat. AliExpress may reply to you slower than Temu from my previous experience.
Customization
Temu and AliExpress are both retail marketplaces where most items are already designed. Therefore, there are not many customizable products, and you have a limited chance to customize a product.
But generally, AliExpress gives you more customization options compared with Temu. Searching customization products on each platform, and you will see that.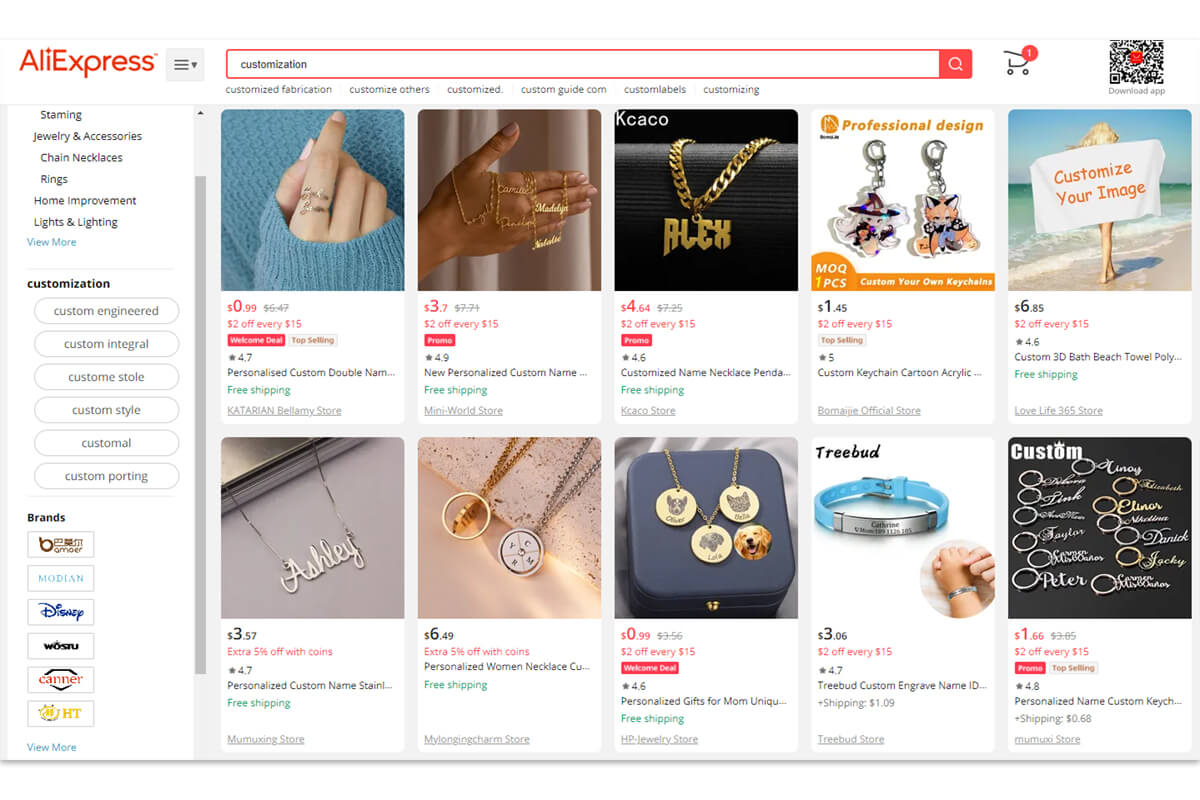 Dropshipping
Dropshipping is a business model where you sell without inventory and the supplier fulfills orders. Though Temu and AliExpress don't require minimum order quantity(MOQ), not each one is equally friendly for dropshipping.
Temu claims that they don't support dropshipping. Instead, they encourage customers to buy directly from this marketplace. If you insist on dropshipping with Temu, you may fill in your customer's address at checkout.
Different from Temu, AliExpress supports a dropshipping business. It has been one of the major sourcing platforms for dropshippers across the globe. AliExpress developed the Dropshipping Center to help you find a winning product and make product analysis more efficiently. With the image search function of this tool, you can find a winning product with a few clicks.
TIP: Demands for personalized products are increasing day by day with the development of eCommerce. If you want to build your brand, cater to market demands, and stand out from the competition, you can work with Sup Dropshipping.

Sup Dropshipping is an all-in-one dropshipping company based in Hong Kong. From sourcing to shipping, we handle everything on your behalf, which frees you up from a lot of hassles.

With a diverse network of suppliers and years of experience, we can help you find competitive products efficiently. Like Temu and AliExpress, we don't require MOQs. You can either buy one single piece at a low price or buy in bulk with various discounts applied.

Our platform integrates with major e-commerce platforms and markets seamlessly. It is easy for you to import and list products to your store. When you receive an order, it will be automatically fulfilled. Before shipping it, we conduct product checks to ensure the item is in good condition.

The most incredible feature of Sup is that we give you various customization options to brand your business. Except for basic customization like adding your logo or brand name, we also allow you to customize product packaging, white or private label your products, or print them on demand.
Temu vs AliExpress: A Summary
| Feature | Temu | AliExpress |
| --- | --- | --- |
| Product range and quality | a variety of products at high quality | a vaster base of products at high quality |
| Pricing | low prices; different discounts on most products | lower prices; various discounts |
| Payment methods | multiple payment methods | multiple payment methods |
| Shipping times and costs | typically 6 to 25 days; free shipping for most orders | usually 14 to 60 days; free shipping for many products |
| Buyer protection | a 90-day protection period; return the item within 14 days after your request | a 75-day protection period; return the order within 15 days from receiving it |
| Customer service | contact by sending messages and using social media | contact by sending messages, using Wechat or social media |
| Customization | a few customization options | limited customization options |
| Dropshipping | dropshipping is not allowed | dropshipping is allowed; provide useful dropshipping tools |
Temu vs AliExpress: Which Is Better for You?
Temu vs AliExpress? Which to choose relies on your preferences and needs.
If you prefer faster delivery times, better buyer protection, and heavy discounts, you may choose Temu. Fast delivery is essential to improve customer satisfaction and retention.
Otherwise, dropshipping from AliExpress would be a better choice if your customer is not in urgent need for an order. AliExpress can offer you products of better quality, and support multiple payment methods. Meanwhile, AliExpress is good for dropshipping with more customization options and dropshipping tools.
Additionally, Temu doesn't ship to the world as AliExpress. The products and services are not available to customers in some regions. If your market is based on such a region, you had better buy from AliExpress or other alternatives to Temu.
Temu vs AliExpress: Conclusion
Temu or AliExpress? That is not a question.
Each of them has features that make it stand out from the other. You just need to choose Temu or AliExpress based on your needs and preferences.
If you still have difficulty making a choice or you need a better solution than Temu and AliExpress, then Sup Dropshipping is the go-to for you.
Honestly, we not only provide a variety of high-quality and affordable products but also allow you to customize them as you desire. Most importantly, we conduct product inspections to ensure your items are in good condition before shipment. Our delivery time is as fast as Temu with the US warehouse.
Start your journey with Sup Dropshipping and get a $100 COUPON as a new user today!